Dressed in lewk costumes — which even have Christmas nails — and yes, there it is a Christmas festival. In a very honest way, I like every holiday nail trend from Easter nails to Christmas nails. However, Christmas nails really add something unique to people who celebrate Christmas.
The absolute best thing about Christmas is the theme. I love to play around with Christmasy elements like stars, mistletoes, gingerbread, snowflakes, etc. Moreover, I also love to sing and enjoy everything that is good which includes Christmas nails and makeup ideas!
30+ Festive Christmas Nails
Before we move ahead with the inspiration for Christmas nails, there's one question that lingers around in the mind of every girl – How do you do Christmas Nails?
Well, there's a no different process for the same. You have two choices, you can either go for DIY (do-it-yourself) or look for the nail artist or designer! The main thing you need to care about is the design and color combination. Christmas is among the festive seasons, you gotta attend parties and get-togethers. You would want to look your best even with your manicure, right?
Now, you can move ahead with the best Christmas nail designs.
1. Simple Christmas Nails
Let's start off with simple nails for Christmas. As you can see the nails are painted in plain colors. You can play around with the formula of nail paint like glossy, matte, shimmery, halo-effect, or glittery!
2. Christmas Acrylic Nails
Acrylic nails have been in trend for quite a few months now! So, make sure you consider this option for your Christmas nail ideas. You can see how different colors and elements nail artists have used to make the nails look prettier!
3. Candy Cane Nails
Who doesn't know about the candy cane? Christmas brings along candy cane, mistletoe, and gingerbread. Try these candy cane nail designs this year to look ultra cool!
4. Festive Xmas Nails
Xmas nails are all about having a Christmas tree on your nails and its elements. As you can see in the images, you will find Christmas lights, trees, and decorations on the nails. For the designs, you can use Christmas nails press-on available on the internet.
5. Glitter Red Christmas Nails
Red is the color of Christmas apart from white and green. You can also pick the glittered red nail paint for this look. Apply the glossy coat and then using stencil or white paint create snowflakes to get the exact Christmas nails.
6. Polar Bear – Cute Christmas Nails
Feeling cute? You might wanna show it with these Christmas nail designs! Aren't they the cute Christmas nails you came across today? For this you will have to invest in Christmas nail art supplies.
7. Red and Green Christmas Nails
The classic Christmas red and green nails are what you need to rock at the party! When you can't think of anything, go with red and green nail paint on alternate fingers.
8. Christmas Nails Short and Spiky
Who said short Christmas nails aren't good looking enough? Get these short Christmas nail designs and make your fingers feel strikingly hot and classy.
9. Classic Christmas Colors Nail Art
You can always play around with the colors side by side with Christmas nail art. Look at the images we found on classic Christmas colors nail art for this year!
10. Light Pink Dreams
Light pink is the color of winter! And as Christmas comes around the same time, the pink Christmas nails are all you need to look all dreamy and gorgeous!
11. Red and White Classic Mania
The classic red and white combination goes well with the Christmas nail ideas too! There are many nail art options available when you look for the red and white nails for Christmas eve.
12. Deep Green and Silver
Another festive combo for the Christmas nails is deep green and silver. You can either paint all fingers in deep green and draw patterns on them with silver or do the vice-versa.
13. White Porcelain Nails
If colors are too much for you, how about going porcelain white this Christmas? The white nails will go well with the bling-y outfit for the party!
14. Classy Holidays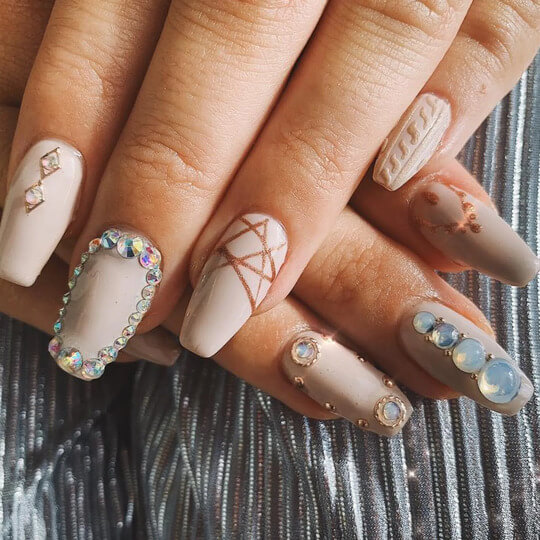 Make your holidays cool and classy with the white and blue Christmas nails this year. You can play around with glitters, keep it matte, or add Christmas nail stickers.
15. Cool Snowman
Just like the polar bear nails, the snowman nails are also the cutest among Christmas nail designs. You can add glitters, and other elements of Christmas eve onto the nails.
16. Easy Christmas Nail Art
Among all the complicated designs on the list, here are some awesome and easy Christmas nail art for newbies. These are the easiest nail art you can do this Christmas to make it merrier.
17. Nightmare Before Christmas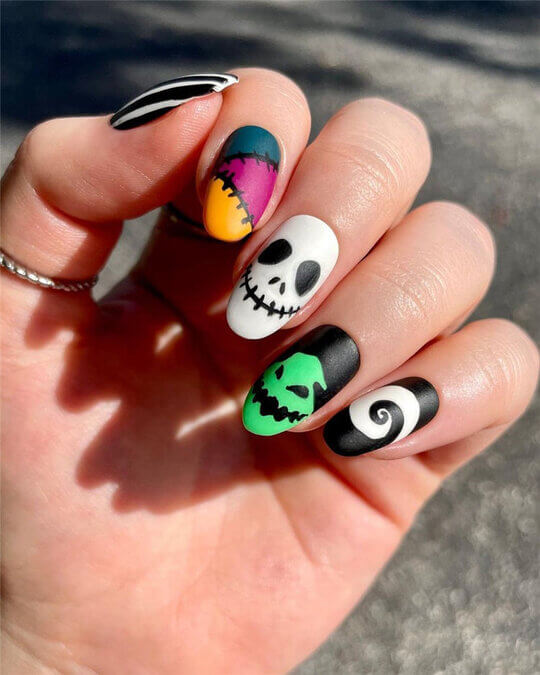 You can still keep the gothic vibe alive at Christmas with these nail designs. There's a reason we named it nightmare before Christmas. They are a little spooky but all cute at the end.
18. Red and Glass
For party-perfect nails, try the red and glass effect nails. They are glittery and glossy altogether. Along with that, they are easier to DIY. All you have to do is apply the glitter nail paint and add a glass paint coat for the final touch!
19. Ice Queen Christmas Nails
Who's the Ice Queen of Disney world? Elsa, the fairy that could turn everything into ice/snow. Let her be the inspiration for your next Christmas nail idea.
20. Blue Christmas Evening
Other than white, blue is also among the cold colors. And it is a color that you can find in many shades with different glitters and shimmers. Try to make your evening 50 shades of blue with these nail designs.
21. Elegant Christmas Nails
With the word elegant, I instantly click the metallic nails image in my mind. However, make sure you get decent-quality metallic nail paint for an elegant look. Apply one coat of any metallic color and you are good to go!
22. Stary Christmas Nails
As we come near the end of the list, let's look up to the sky and take inspiration! Not literally, the stars' Christmas nails are also one of the most beautiful designs you can go for this year. Get your hands on Christmas nail stickers with stars and other galaxy elements and stick them on your nails.
23. Reindeer Nail Art
Next one on the list is Reindeer nail art. You might be thinking how do you put reindeer on nails? Well, you don't literally have to draw a reindeer, you can always take the help of stickers or press on to complete the nail art.
24. Mistletoe Christmas Nail Art
How can we forget the mistletoe nail art? You can either do it yourself or ask your nail artist to get it done for you! They can be all glittery, shimmery, or even matte.
25. Rainbow Christmas Nail Design
Take the inspiration from rainbow and get yourself the rainbow Christmas nail design this year. You can add the elements as you like, from candy cane and snowflakes to reindeer.
26. Northern Lights on Nails
Get the northern lights on your nails with these amazing Christmas nail ideas. You can get this Borealis nail design in a matte as well as a glossy finish. Ask your nail artist to give you the most iconic nails with these ones!
27. Holographic Christmas Nails
These are the most beautiful nails you can get for the Christmas party! They will look perfect even during the day. You won't need to go to the nail artist for this one. Why? You can get holographic nail paint or powder on the internet.
28. Gold Christmas Nail Ideas
This is your cue for getting a gold nail paint this Christmas. You can either go for the matte gold or the glitter and glossy one. However, we would recommend the latter one. You can add the elements of Xmas trees and ornaments in the form of stickers.
29. Brown Christmas Nail
Another exceptional Christmas nail idea is brown nail paint. You can paint your nails in brown color and give different effects on different fingers for the perfect look. You can also pair your brown nail with gold or copper nails.
30. Play Around with Designs and Elements!
Last but not least on the list is the universal one. Confused? Yes, this nail paint idea is to bring a solution to that. Christmas is all about gifts, candies, parties, and much more. All you have to do is select the elements as per your choice.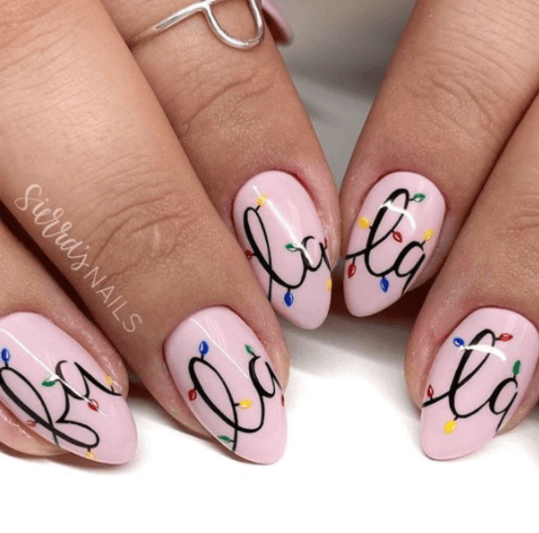 Fashionterest's Picks For Christmas Nails!
Make it Christmasy this year by creating your own nails. Christmas nail art can vary from simple to extravagant and 'wow factor' nails. With the simple, stylish, and elegant Christmas nails on the list, select one or mix and match to find the one for you! After you select the Christmas nail design, tell your nail designer what to do.
Learn more:-