How about starting to explore the beach nails for the coming summer from now itself?
Well, obviously it's that Christmassy time of the year when there is snow falling all around. And you are not in the mood to go for a beach holiday. But it is also true that summers are not far away anymore. And beach nails are a significant part of your must-prep list. Right?
Well, the styles of beach nails that people are loving now will have the same craze during summer too. So, we have thought of getting you covered now. This will help you stay ahead in planning your beach nails for the upcoming summer season. In this blog, we will discuss a variety of summer beach nails. We will discuss many attractive options, from beach color nails, beach toe nails to trendy nails, neon bright summer nails, and whatnot!
Let's dive in…
1. Sunny Summer Nails with Striped Nail Art
This is going to be the trendiest beach nails. Well, this is also true that it is one of the prettiest beach nails. This nail consists of a bright and sunny yellow color.
It symbolizes energy, freshness, and optimism. When you wear some yellow nail art one above the other, you will feel cheerful. Moreover, you can easily attract everyone's attention with this nail art design.
2. Pretty Hot Pink Cheetah Nails
The hot and happening pink nail color creates an emotional touch, especially when you blend it with a cheetah nail art.
This is one of the best beach nail designs that you can wear over a nude base, having black and pink cheetah tear marks. This will look awesome.
Moreover, if you spice it up with some glitter strips, it will add more drama to it. This will surely turn this nail art design to be a masterpiece.
3. Short Lime Green Neon Nails with Fruit Nail Art
Neon nails are definitely on-trend and it is certainly going to be one of the best ones in in this year as well. Interestingly, the neon hues suit all types of skin tones.
Also, this nail art design can do wonders on tanned skin too. Just go for the lime green neon nails and accentuate them with some fruit decorations. This will certainly make your nail art look stunning!
4. Green Nails with Sunflower Nail Art
This brings in a complete beach vibe! It is a combination of fantastically glossy green shade that you can wear with a bright yellowish sunflower nail art that you can get hand-painted with a touch of creativity.
This is one of the best beach nails. It is truly amazing! If you get some golden glitter touches added to it, you can add to the beauty of this nail art.
This will certainly give you a beachy look!
5. Bright Hues with Accent Leaf Nails
You will surely love these beach nails. It is a dreamy and unique combination of bright colors.
You can blend light blue with pink and white-colored nails and this will give you ca perfect look. Moreover, you can include some colorful dots beside the leaf nail arts, which will make this beach nail design look super attractive!
6. Ombre Palm Summer Nails with Purple Glitter
Palm nail art is one of the most charming nail designs. You can wear this ombre-themed palm tree nail art with rhinestones attached at the nail base, This looks super cute! It is truly one of the prettiest beach nails. If you spruce this nail art design with some beauty, it will turn into a masterpiece.
7. Mint Green Beach Nail Art with Flamingo Nails
You will fall in love with this super vibrant green shade of nail art. This nail art lies just between the dark green leaf nail art and the mint green base. If you go for this beach nail design, you will surely have a soothing look. Moreover, if you get a pink flamingo imprinted in your green beach nail art, it will surely help you have glossy green and pink nails.
8. Summery Beach Nails with Mermaid Nail Art
This is one of the most fresh-looking beach nails. As the summery beach nails will give you total summer vibes, this nail art design is truly a remarkable one. Of course, the beautiful combination of palm, mermaid, and beach nail art is absolutely worth a special mention. Besides, if you add glitters, it will help you have a perfect beachy look.
9. Gorgeous Ocean Nails with Floating Lotus
Of course, this is one of the most attractive beach nails. As these nails have a blue ocean theme which has white waves and a floating lotus as well, they look really awesome! So, what are you waiting for? Go for these stiletto-shaped summer beachy nails this coming summer and you will be the true fashionista.
10. Cotton Candy Skies Nail Art Design
This simple, subtle, and one of the most gorgeous beach nails looks really unique. They look really awesome on hand-painted palms. They are stunningly beautiful on candy skies nails. They look extremely awesome and great on summer days.
11. Colorful Bold Summer Nails with Intrinsic Decorations
Summer nail colors are truly eye-catchy! These nails are a beautiful blend of blue, purple, and pink colors. This beachy nail is simply charming! You can just get it decorated with some astounding decorations over the nails and your nails will look really elegant.
12. Seashell Almond Nails
The almond-shaped beachy nail design is one of the finest nails that you can have for a trendy look. Its color looks too close to the color of sand, which makes this beach nail design a unique one.
So, if you are someone who doesn't love a too loud beachy or watery look but still wants the beachy vibe to thrive in you, these seashell almond nails are for you.
13. Mermaid Press-On Nails
This beautiful beachy nail design is a truly stunning one. It is an easy-to-go one. If you are in a hurry, you can get the mermaid press-on nails very easily. It looks extremely unique and sophisticated. So, don't wait anymore. Get the mermaid press-on nails painted on your nails and you will look very attractive.
14. Pastel Beachy Nails
The pastel beachy nails are an easy option for you. If you want to have a smooth and beautiful spring to summer transition, you should go for pastel nails.
Just opt for a soft color palette that is versatile and delightful and this summer pastel nail polish can be easily carried on for a long time, beyond the Easter festivities and what not! Pastels have a variety of colors and hues, which include purples, pinks, light blues, etc.
All you need to do is just paint your entire nail with different pastel shades and this will definitely help you have the most beautiful French manicures!
15. Color Blocking Nails
This is one of the most alluring beach nails. The color-blocking nails are beautiful and versatile. There are different color combinations available in color-blocking nails that can be achieved in a variety of hues.
All you need to do is just apply a darker polish for the base and then cover it with a glitter polish for the second block. This will altogether create a very chic look! You need to remember that the better contrast you will create, the more awesome it will look.
16. French Tip Nail Design
This is one of the trendiest beachy nail designs since the 1970s. It looks elegantly fresh and adds a sense of coolness and charm during the summer months. Just use a glitter polish on the top of it and couple it with another whitish color. This will altogether make the French tip nail designs look absolutely beautiful!
17. Animal Themed Beach Nail Design
This beautiful and exciting beach nail design is a perfect one if you love being funky. Also, if you are an animal lover or you want to unleash your wild side, the animal-themed beach nail design should be your biggest choice for a beach holiday.
This is such cool nail art that you can get it done on your nails while being on-trend. The Animal Themed Beach Nail Design comes with different animal print options like a cheetah, cows, leopard, zebra, tiger, etc. You can get a lot of YouTube videos available on the internet where you can find the brightest animal-themed beach nail designs.
18. Negative Space Beach Nail Design
The negative space beachy nail design looks very beautiful and creative! You can try this asymmetric look to give this stylish manicure a fresh update. Moreover, based on the way you are styling it, this negative space beach design can make your new nail growth less noticeable. A negative space beach nail design will help you have beautiful art on your nails throughout your entire beach vacation.
19. Retro Feel Beach Nail Design
If you want to go for a grand millennial look on your next beach vacation, this retro feel beach nail design is the best option. By retro, we mean having flirty floral and pretty polka dots. You can get one of these nail art designs painted on your nails to have the most stylish retro look that you can imagine on your next beach holiday.
20. Summer Nails with Assorted Colored Tips
This summery beach nail design is one of the most rocking nails for a bright and sunny holiday. In this nail design, you should have a nude base color and blend with neon way lines on the tips to have an extravagant look. The neon hues in the above nail design come in different shades like neon lime, neon orange, neon strawberry, etc.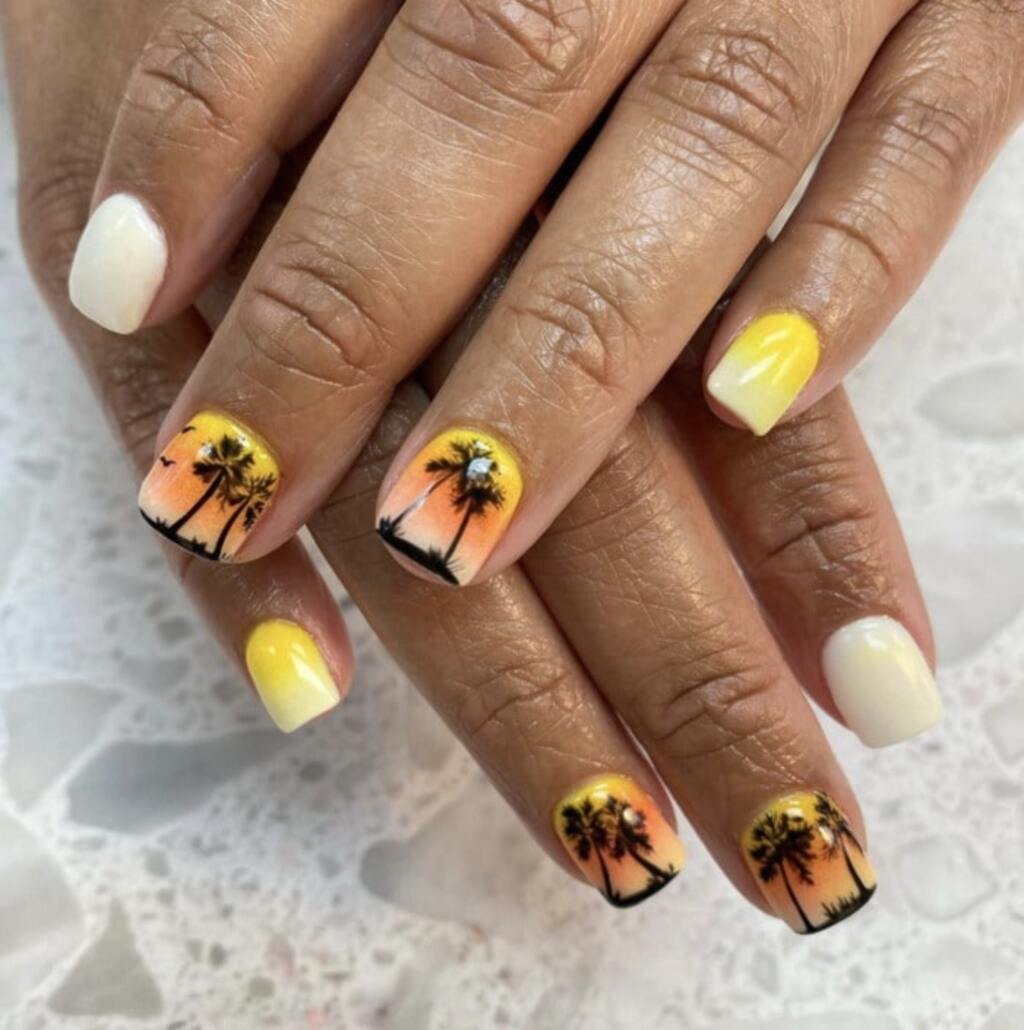 To Conclude
The beach nails are awesome! They come in different beautiful hues and combinations. The above beach nail designs are truly amazing! If you want to get beach ready in the most beautiful way for the coming summer, don't forget to get your nails painted in these most attractive color combinations and designs that we have discussed in this blog.
Find out more:-