When it comes to the most trendy nail designs, purple is reigning the era! There is a diverse array of purple nail designs which you can flaunt with any look. The purple and pink nail designs, purple nails, and light purple nail designs can transform your wedding and party look!
Purple is a super-rich color that can give your nails the most luxurious appearance. With the touch of royalty, chicness, and a bold look, purple nail designs are everyone's favorite now! The top celebrities seem to be very excited about their summer purple nails, lavender nails with design, purple nail art, etc.
The purple nail designs look amazing with many vibrant colors, ranging from exciting contrasting mixes of green and orange to a lot more subtle combinations. Depending on how dramatic you want your look to be, you can go for the light or dark shades of purple.
What Do You Like Most? the Pretty and Easy-To-Apply Pastels or Bold and Beautiful Neon?
Moreover, purple nail designs are extremely versatile. It looks fantastic as glittery and ombre design both! Also, if you want to accentuate your look more, add some pretty and girly nail arts to it, like butterflies and it will look simply awesome. If you are a woman with the strongest desire for something beautiful and symbolic, purple nail designs are your thing!
In this blog, we will discuss the most stunning purple nail designs of all time.
Dark Purple Nail Designs
Source: aliradar.com
Source: brainstudy.com
If you love standing out in the crowd, dark purple nails are the best! You can wear it easily. Though dark purple nails have a less intense look compared to black polish, they still have a super-rich look that can draw people's attention to your hands.
The purple nail designs look fabulous on different shapes and lengths of nails. Moreover, you can also make it look even better by adding some personal touches, it can be painting a feature nail of a different shade of purple or incorporating some tiny-miny diamantes.
Want a vampy look complementing the purple nail designs? Just wear a matching lipstick shade or eyeliner with it, and that's it! All you need to do is wear this lacquer with confidence and you will be able to enjoy the attention that it will bring.
Purple Ombre Nails
Source: Brainstudy.info
Source: pinterest.com
Purple ombre nails look dreamy and gorgeous! They can be a superb choice for any woman. When it comes to purple ombre nails, we can see a perfect blend of two colors, one light and the other a darker shade. This can be a perfect way to wear multiple nail shades. So, if layering is your thing, purple ombre nails are just perfect.
Coming to the kind of vibes you can create with purple ombre nails, if you want a simple and subtle look, go for light short nails and nude-shaded lacquers. However, if you are looking for a darling and solid look, mix the purple with nude shades like white or black and it can transform your manicure like never before. You can go for many appealing color combinations with purple ombre nails to best reflect your style.
Matte Purple Nails
Source: pinterest.com
Source: pinterest.com
Your next trip to the salon can never be successful without the matte purple nails. Irrespective of all other purple nail designs, this one has no shine, which makes it more subtle!
No doubt, purple is an outstanding hue but the matte effect of this nail design creates a much more toned and furnished look. This kind of look has a gorgeous impact on all kinds of nail stripes shapes and lengths. All you need to take care of is that either you paint the entire nail or just go for the tips. This will bring an excellent look!
Purple Glitter Nails
Source: nailpolishart.com
Source: sosonail.com
Purple nail designs are simply out of the box. Further, if you want to add an extra touch of a little sparkle in your life, go for purple glitter nails. The most unique aspect of pairing purple hues with glitter nail lacquer is the stunning appearance that it has. If you go for such glittering purple nail designs, it can transform the most basic manicure to be an interesting one!
Some people think that glitters are only for the festive season but it's not like that. All that you need to do is keep an eye on whether you are placing the glitter. The right placement can make you feel less is more. How to do that? Just paint your nail tips and not the entire nail. You will end up creating the most extraordinary look.
Blue and Purple Nails
Source: pinterest.com
Source: pinterest.com
Blue and purple nails are the most striking combination. These colors have a quite similar look, making this combination one of the most sophisticated pairings. It can have a flattering look on all kinds of fingernail shapes and lengths.
What you need to do is pick light or dark shades and mix and match it with shimmery and matte finishes. Now, while creating the final look, you need to go for an Ombre approach, paint one shade over another, or combine the two colors to create beautiful nail art.
Pastel Purple Nails
Source: reddit.com
Source: nailartdesign.com
When we talk about the best nail arts in the town, the true combination of pastel and purple is a true classic!
They are always in style because of the soft texture and easy-to-wear attribute. Moreover, there are also different shades of purple nails that create a great look, from baby blues, candy pinks, to pretty purples. This is one of the best purple nail designs which can create a dreamy look.
If you are looking for a girly appearance, complement the pastel purple nails with pastel clothing. However, for a toned-down look, you should stick to wearing solid and neutral shades with pastel purple nails.
Neon Purple Nails
Source: nailartdesign.com
If you are a fan of bright colors, neon purple nails are the best option! Neons are truly bold and attractive and it is one of the best purple nail designs of all time. Although you can always experiment with different nail art options, neon purple nails are one of the best options. This depends on how dramatic you want your nails to be, based on the fact that you can mix and match this amazing nail design with other colors. This is very easy to wear and you can make a style statement with minimal effort if you opt for neon purple nails.
Also Read : Ombre Nail Colors: Painting Your Nails with Radiating Shades
Purple and Green Nails
Source: pinterest.com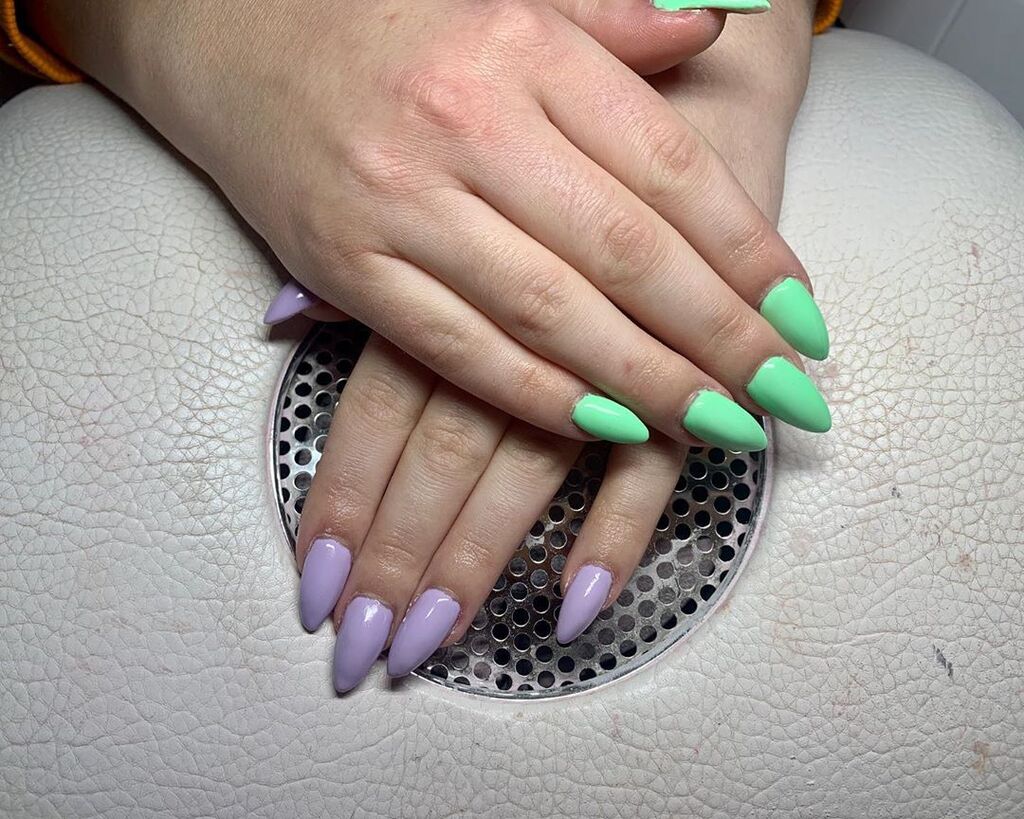 Source: pinterest.com
Purple and Green nails are some of the best purple nail designs. Purple and green nails create the brightest finish and these two contrasting shades look awesome together. They complement together very well and that's the reason why you can transform even the most basic manicure to be the most interesting one.
Green represents nature and purple defines luxury and royalty. All you need to do is experiment with both light and dark hues of green and purple and this will certainly be one of the most exciting purple nail designs of all time.
You can just simply paint the tips of your nails or create a unique look with this purple design. It suits all types of skin tones and can add a pop of vibrancy to your appearance. Moreover, you can spruce up this purple nail design with flames as an art. Just make sure you are including that with your purple nail design and they will represent passion and rebirth!
Holographic Purple Toenails
Source: pinterest.com
The purple hues are not only for your fingernails, but they can accentuate your toenails as well. If you are someone who doesn't care to take your feet out when the temperature is on the warmer side outside, go for this holographic purple pedicure. It can help you get that perfect look for such a purpose. Holographic purple nail designs are people's favorite for years because of their reflective look. This kind of nail design has a very highly shining lacquer which is created by the addition of an exclusive pigment. So, this purple nail design is easy to notice. So, if you want a stunning effect while catching the sun, go for this nail design.
Purple Marble Design
Source: pinterest.com
This is one of the unique purple nail designs which creates a very outstanding look, different from all other styles and designs. The purple marble design is a combination of many styles, there is a little bit of marble, a little bit of Ombre, and a little bit of Monica. So, if you want a very trendy look, purple marble design is your thing!
Wrapping Up
So, here we are with a very effective list of purple nail designs that include the most stunning purple hues with the craziest nail arts ever! If you are a purple freak, you must already be loving these nail designs. Go for these purple nail designs and flaunt it in your own style. No one will be able to take their eyes from such high-quality creativity.
What are you waiting for?
Paint your nails purple and go rock it!
for more, you can browse through Fashionterest.