The days and trends are long gone when you just had to settle for a single shade while getting your manicure done. The varying styles have made it possible to try different colours and give your nails the brightest look and feel. A perfect outfit of the day isn't complete with a dull regular nail enamel; that's why ombre nails colors are the new voguish design amongst young women worldwide.
The best part about ombre nail designs is their ability to look classy and beautiful no matter what nail shape you own right now. They would blend in with your nail size, and you would want to take a peek at your nails every now and then. Social media has different ideas when it comes to ombre nail colors. All sorts of influencers and celebrities are endorsing the ombre nail designs, and they look marvelous.
If you are from that group of audience who still isn't much wary about ombre nails design, then you have stumbled upon the right place. This blog will give you a detailed insight into the varying ombre nails colors and techniques to make your fingers look just flawless.
What Are Ombre Nails Colors?
When it comes to Ombre shades, it is not held down to specific nail designing options; a wide range of celebrities and mega stars wear street-style outfits and chic wardrobes that mainly have ombre color patterns. Ombre is a fashion where different colors, from a very hazy or light shade to very dark color shades, are blended.
This amalgamation of tones emerges as a dual or multi-color palette; on attires and nails. There are even hair color options available with ombre tones, giving an exquisite look.
Instead of sufficing yourself with the same old plain base coat, you can make your nails look more edgy and sharp by choosing two shades that fuse to give a bluish hue, peach shade, or even try to make the white shade look chromatic.
Ombre nail colors are suitable with either a coffin or stiletto nail design. You could go with long or short coffin ombre nails, whichever goes best with the shape and size of your hands.
Coffin ombre nails are a style where your manicure technician would file your nail until it is long and pointy. Then the technician would file the tapered edge or the nails until it appears in shape similar to a ballerina slipper or a coffin.
Further, you can choose multiple shades that amalgamate to give a perfect hue tone. Young women mostly prefer to go with short coffin nails ombre style. Some women might find the long coffin nail style less manageable.
Best Ombre Nails Design Ideas
Now that you have acquainted yourself with the distinctive and modish ombre nails colors, it is time to figure out which design would be the perfect fit for you. There are plenty of options available to experiment with while you want to achieve the best ombre nails.
No limitation bounds you to select any singular nail enamel to paint your nails. You have the liberty to play with different shades that intermix into something vibrant and gradient.
Here are some of the best omber nails colors and design ideas to help your nails make a bold statement.
Ombre White Nails
If you have a betwixt taste in choosing a shade for your attire or nails, you sure are a classy one-of-a-kind woman. Thus, Ombre white nails are just right for you. It is a good choice of tone for women who embrace nude shades more than vibrant and flashy colors.
White ombre nails with pearly rhinestones attached to the tip would emanate pure august and celestial-looking nails. You can either choose the short ombre nails coffin style or keep it long and pointy. Both would look exquisite.
If you do not wish to make your white nails look embellished by attaching a sparkly coating of stones, you can keep the shade down a notch and choose a shadowy or blurry white look instead. These Ombre White Nails go perfectly with any casual denim look with a pair of sneakers, giving you a perennial appearance from head to toe.
Black Ombre Nails
An alluring and bewitching black shade is an all-time favorite of every woman, be it a 'little black dress' or a sexy black tone on the nails. As you say, everything black, white, and grey could appeal to you at the next level; similarly, black ombre nails, when paired with greyish or beige shade, look mesmerizing and peachy.
When you choose to wear something achromatic, a murky shade of shadowy black ombre nails could do the trick for you. If you are fascinated by how a long coffin ombre nails would look, you must try it out with a low, smoky black shade.
Red Omber Nails Colors
Red is the symbol of love, but it also symbolizes hotness and a fiery personality. Every woman has a bold side to her, and she sure wants to explore it. What better way to do that than painting the nails red? There is nothing better than ombre nails colors which have varying shades of red.
Red works best when you choose to wear something black. The red color is an eye-popping shade; that's why the red ombre nails colors could do a lot more to your beautifully designed coffin nails or stiletto nails.
Add seductiveness to your attire by blending black or greyish tones with red ombre nails at the cuticles. Dita Von Teese red nails, vampy-looking red color, or a matty red ombre nails colors are some standard red shades that would amplify how your nails look.
Blue Ombre Nails
Icy blue shades while getting an ombre nails colors is the best sort of tone. Blue is the color of royals and has a serene feel to it. You could prefer getting the snowflake nail art over the tip giving it an appearance of an autumn look.
Your manicure technician might suggest getting a blue shade of ombre nails during the summers as it gives a more cool-breezy feel; however, intermingling dark colors like black with azure blue could is a good choice during the fall season.
If you want an even darker shade of blue ombre nails, try mixing a royal blue color with light sky or hazy blue and maybe adding a little white shade at the tip of your coffin-shaped nails.
French Ombre Nails
If you want ombre nails colors that go with your everyday fashion statement and even suit your formal looks for presentations and other meetings, then try getting french ombre nails. These are the most conventional-looking manicure.
By adding the modernistic aspects of ombre nails style, your transition to beautiful yet sophisticated-looking nails suits every attire on any occasion. You can choose a soft pink color to mingle with the darker or nuder nail paint, which looks edgier than a plain white french manicure. French ombre nails finely go with short coffin nails.
Pink Ombre Nails Color
Pink has a chromatic palette varying from darker shades to fluorescent ones and then shifting to a candy hue pink shade. Pink looks chirpy and bubbly, and when applied with an ombre nails style, it makes your finger look majestic. The good thing about any pink shade is its ability to blend with any skin tone, be it dark skin or fair skin similar to porcelain.
For the cuticles of your nails, choose hot pink or fluorescent paint, and then fuse it with a smooth or peach shade. Amalgamating a fluorescent pink with candy or soft pink could be the best kind of omber nails colors. The pinkish tint gives a more womanly touch to your fingers.
Matte Color Ombre Nails
Matty colors have a new modish appearance, be it any color. Imagine trying matty shades for your nails and giving them ombre variation. They would ooze out pure exuberance and joy. Many influencers on social media have showcased ombre nails colors that have matty rainbow shade.
They look incredibly gayish. The dash of powder applied while manicuring matte ombre-style nails might turn to be a more surmounting look. Still, the nail enamel has a plain charm to it. You would want to choose this style on repeat.
Glitter Ombre Nails Colors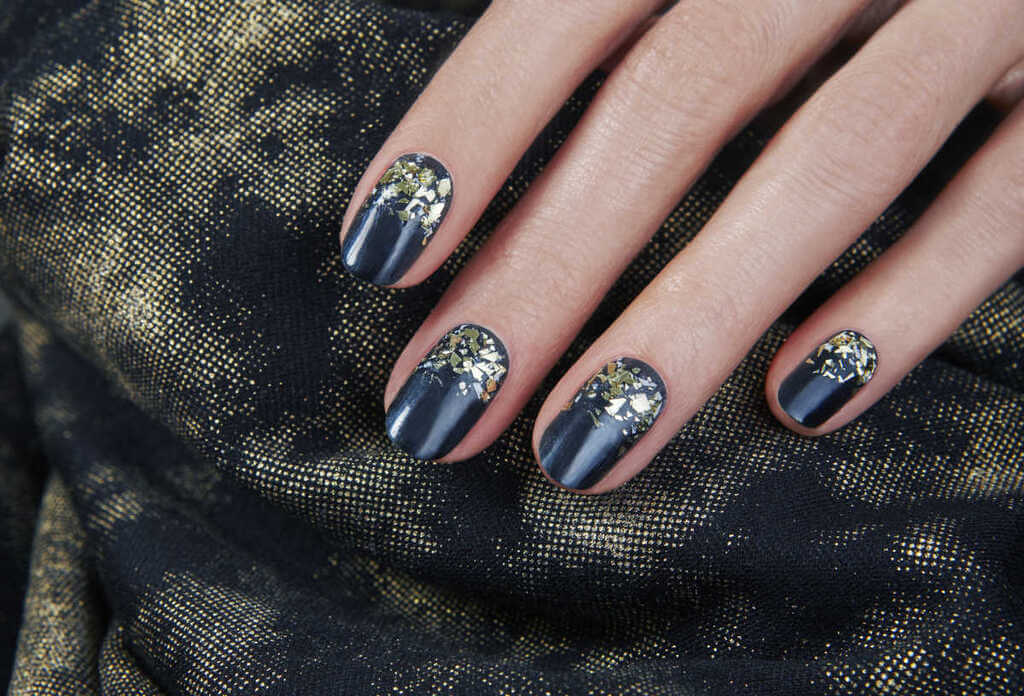 Glitters are the oh-so-best kind of nail color. They can go along with any of your shimmery party dresses and are fabulous to look at. Glitter ombre nails style goes on any bright or soft color, especially if you are a would-be bride.
You could select a slightly hushed tone for your nails, such as a peach mixed with pale, and it is a step ahead towards looking wondrous. A tinge of sparkle at the tip or over the coat would be a cherry on the top. Try using rhinestones at the cuticles; you would be the beautiful bride with royal-looking fingers.
These are a few standard ombre nails colors consistent amongst young women; however, you can find out more from your favorite color palette when you visit the salon. Explore and experiment with whatever colors you feel like flaunting.
Where Can You Get Your Ombre Nails?
Ombre Nail Colors are a unique kind of manicure done, and specific technicians are doing that for you. You need to know that not every salon is specialized in giving the best ombre variation to your nails. You should check online and read reviews and recommendations before choosing to go with a particular nail salon.
When it comes to simple ombre styling your nails, you can DIY at home, but cut and file your nails if you are looking for a specific shape. Start by applying the base coat as the darkest tone, then keep using the shades in variation until they appear in a dual-tone. It is best to look for a professional if you want stones, nail art, or any other specific style of ombre nails colors.
If you already have coffin-shaped nails, you do not need to shape them anymore. Just remember to file and cut them a bit so that they are in their regular size. No specific age group can try ombre nail colors, but it is a trend for younger women. However, on special occasions, you can surely try to do something different with your nails no matter what age group you belong to.
Continue reading:-