Wondering what to do with your nails? The hottest trend in nail designs is short acrylic nails. These trendy short acrylic nails are perfect for any occasion, from weddings to formal events to professional meetings. They're also easier to maintain because you can change your nail polish more often without getting frustrated with long nails, and they're more flattering than long ones.
Thousands of women around the world have trendy short acrylic nails. They are popular not only because they look good butthey last for a long time. If you want to try this trend, here in this article I am penning down the 30 trendy short acrylic nails ideas that are smoking hot as well as cute to try!
But before that,
What are Acrylic Nails?
Acrylic nails are a type of artificial nail. They are made from a mixture of liquid acrylic and powder. Acrylic nails are usually longer than natural nails and can be shaped in various ways.
Acrylic nails have been around for many years and are a popular choice for those who want to have long, beautiful nails. However, there are some drawbacks to acrylic nails. They can be damaging to the natural nail and may require regular maintenance.
If you are considering getting acrylic nails, there are many trendy short nail designs to choose from. You can go for a simple, classic look or try something more daring. Short acrylic nails are a popular choice this year. They are easy to maintain and look great with any outfit.
30 Trendy Short Acrylic Nails Ideas To Try!
If you're looking for a trendy and chic way to style your nails, then you'll want to check out these short acrylic nail designs! From simple and classic looks to more daring and unique short nail designs, there's sure to be a style that suits your taste. Whether you're headed to the office or out for a night on the town, these nail ideas are sure to make a statement.
1. Cute Short Acrylic Nails
Short nails are meant to be the cutest among all, hence, we have kept this nail design first on the list. It is very easy to recreate these short cute acrylic nails. Go for the french tips for the thumb, index, and last finger. For the middle and ring finger, create a cute half flower and you are done. Don't forget to add the upper coat for the finishing.
2. Trendy Short Acrylic Nails Square Pink
The pink color, square shape, and cute short acrylic nails make the best combination ever. Look how this girl has applied the glossy pink color on short square acrylic nails. Pink is the color of the year and goes with all the outfits you'll have in your wardrobe.
3. Almond Acrylic Cute Short Nails
Another nail shape that has won hearts is almond. If you are going with an almond shape for cute trendy short acrylic nails, there are plenty of nail ideas you can do. However, the one I would recommend is the blue and white heart. The heart will only be on the ring finger and for others, the waves of alternate colors will render the look.
4. Short Acrylic Nails French Tips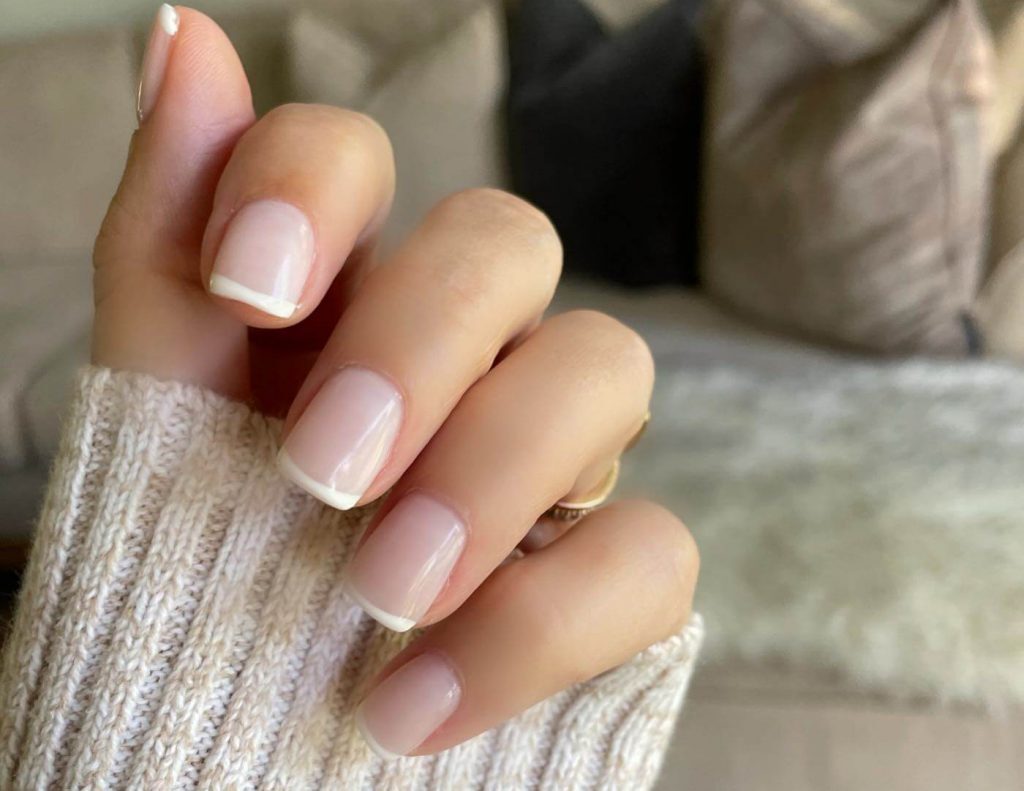 If you want to go basics, the best option is to pick the short cute acrylic nails with french tips. All you have to do is get the arch on the nail tip and you are done. For the nail designs in the image, use subtle or pastel colors for the thumb, index, middle, and last finger. And for the ring finger draw little hearts of all the colors you used.
5. Brown and White Short Acrylic Nails
This is one of the best acrylic cute short nails I have come across. Do you like to carry a statement look? This one's for you! Get your hands on brown and white nail lacquer. Do the french tips, apply the upper coat then add the design as shown in the image, and do the final coating. With these short nail ideas, you are bound to get all the attention.
6. Cute and Colorful Short Acrylic Nail Designs
Another cute trendy short acrylic nails are this one. You will need 5 colors to create this nail design – baby pink, dark pink, white, blue, and orange. Apply the first color of baby pink nail polish. The next step is to draw waves of remaining colors, the lines should be thin, and there should be no gap between them. The placement of the waves can be as per choice (you can take inspiration from the image)!
7. Floral Print Short Acrylic Nails
The ideal summer trendy short acrylic nails are the floral nail art. This one isn't the simple floral, but the studded one. So, you can wear them to parties as well. Draw the flowers on the nail enamel and add diamonds to them to get the final look.
8. Short Acrylic Nails Ombre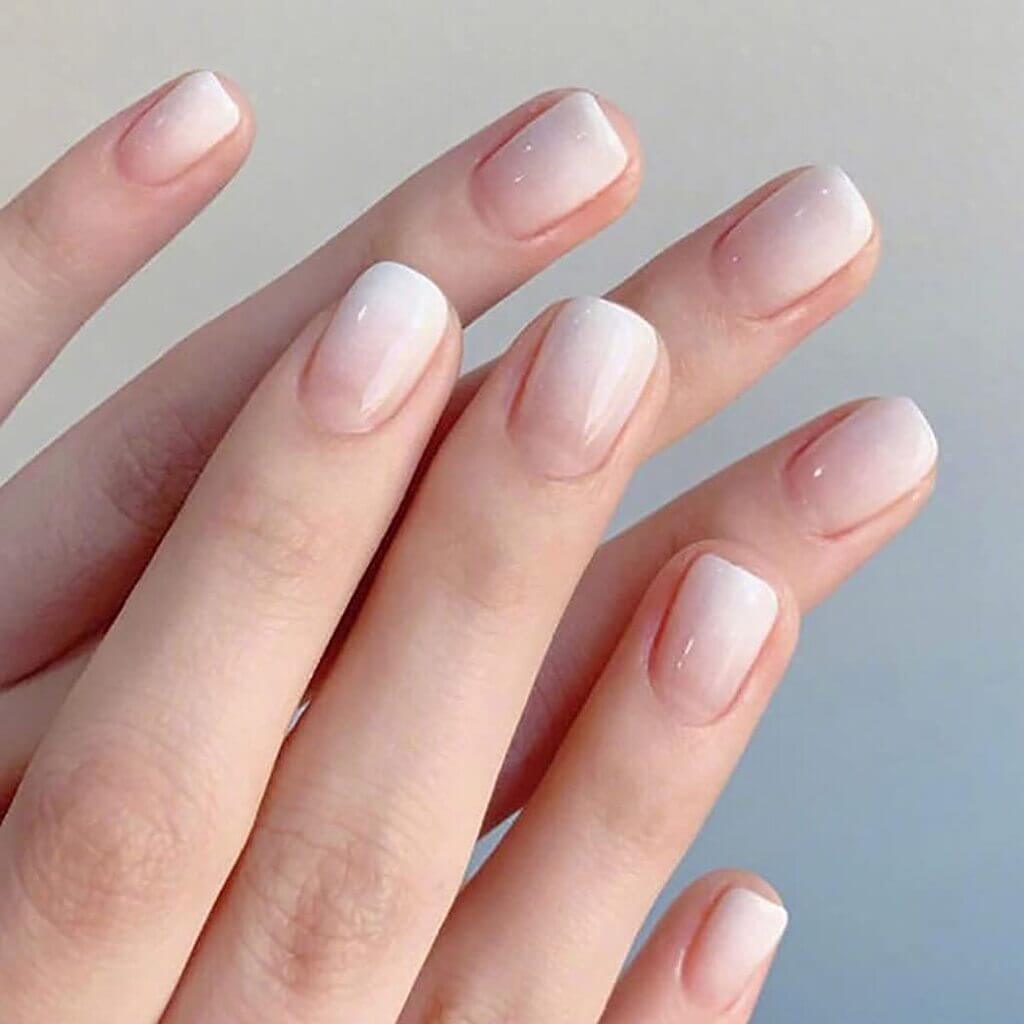 Another short acrylic nail in trend is the ombre ones. Ombre nail design is with us for the past few years and is going to stay for a few more. Get the coffee short acrylic nails and ask your nail artist to give you the ombre look ideal for every occasion.
9. Yellow and Pink Short Acrylic Nails
This simple yet chic yellow and pink nail is ruling the nail art world. The dark pink color on the thumb, neon yellow on the last finger, and off-white color on the middle one balance the look. The star of this nail art is the single thin line of pink and neon yellow color on the index and ring fingers.
10. Short Acrylic Nails Round
Do you know contracting shapes can make your nail art look more appealing? Confused? See the image, the nail artist went with the triangle french tips on round short acrylic nails. The strips of blue, sky blue, and white are adding glamor to nails.
11. Trendy Short Acrylic Nails White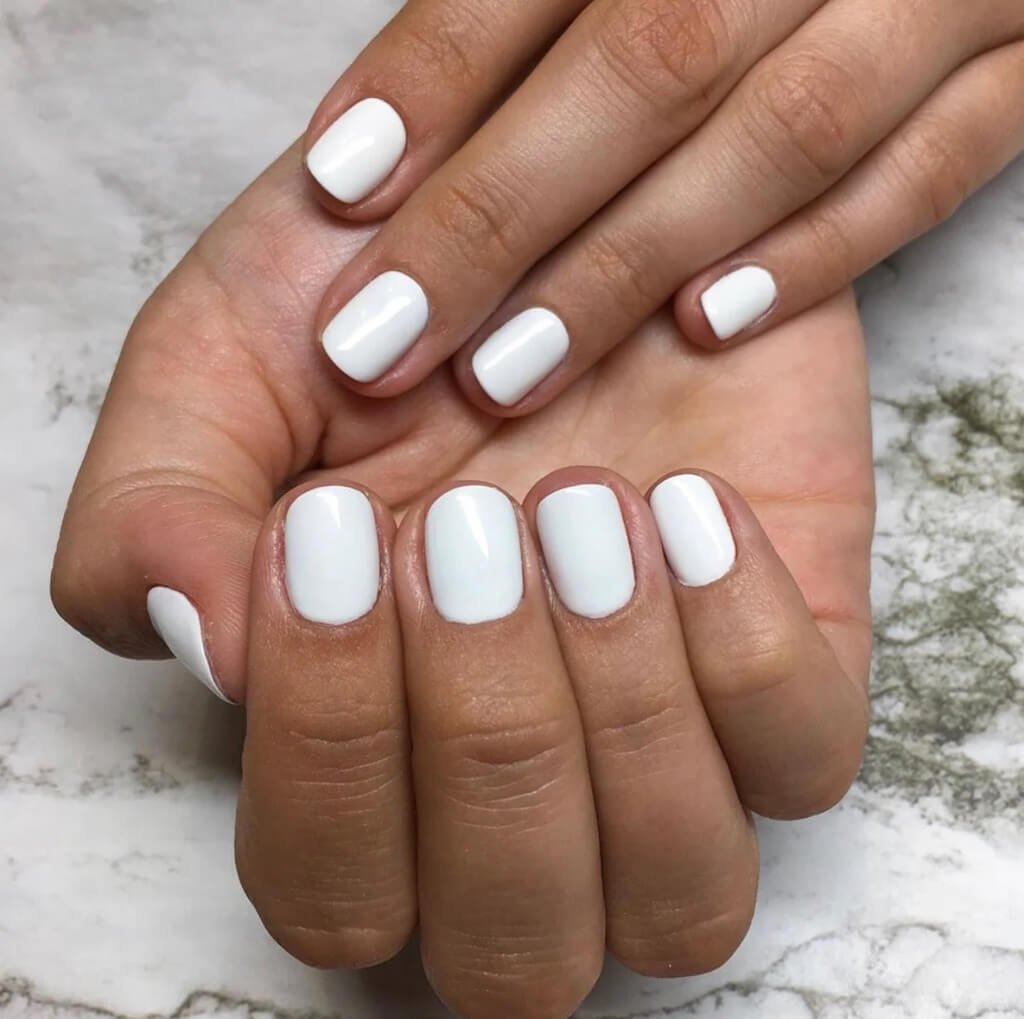 Last but not least on this trendy short acrylic nails list is the white short acrylic nails. No one can ignore the classic white nails with butterflies on the ring finger. The white nails are matte and the butterflies are glossy. Isn't it just looking beautiful?
12. Short Unicorn Acrylic Nails
13. Short Glitter Acrylic Nails
14. Short Smiley Face Acrylic Nails
15. Animal Print on Short Nails
16. Short Acrylic Nails with Stars
17. Different Dots & Shapes on Nail ideas
18. Line Art on Short Acrylic Nails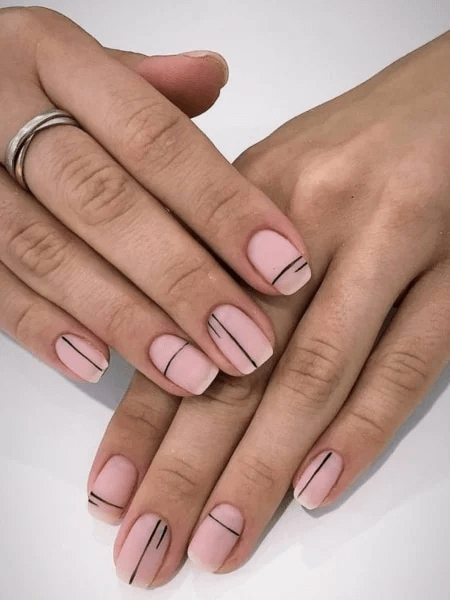 19. Clouds on Short Acrylic Nails
20. Kitty-Kat Acrylic Short Nail Designs
21. V-Tip Short Acrylic Nails

22. Pointy Short Acrylic Nails
23. Astrology Design on Short Acrylic Nails

24. Cute Text Designs
25. Fall Short Acrylic Nails
26. Heart Design on Short Acrylic Nails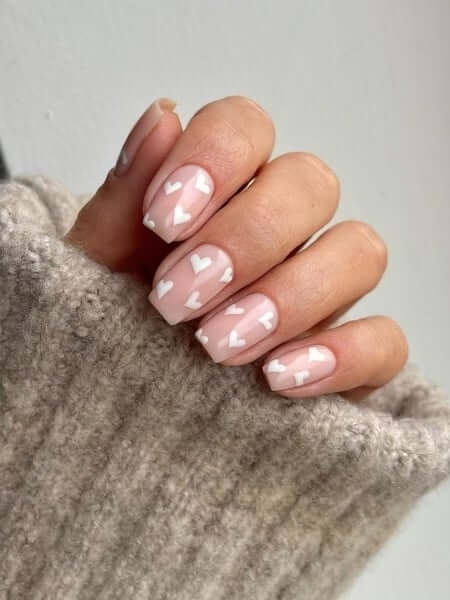 27. Rainbow Pattern on Short Acrylic Nails
28. Beautiful Peach Watermelon Acrylic Nails

29. Short Butterfly Acrylic Nails
30. Gray and Pink, Silver Glitter Acrylic Nails
Final Words on Trendy Short Acrylic Nails
If you're looking for a trendy new style for your nails, consider trying one of these short acrylic designs. They are all unique and fashionable and will definitely turn heads when you walk into a room. Whether you choose something simple or a little more elaborate, you can't go wrong with any of these nail design. So, go ahead and try out one (or all!) of these trendy short acrylic nails today!
For additional insights:-