Are you fond of nail arts? 
Then French manicure is something that allures you all the time. Right? It has created a special place for itself in the fashion world. Though the popularity of French tip nails was interrupted during the mid-2000s, its impressive polarizing look is responsible for re-entering them into the limelight. And now French tip nails are more popular than ever before! 
But in 2023, French nail art or manicure has completely transformed. It is no longer about acrylic squares with white tips. The nail artists emphasize minimal lines, neon nail paints, and stiletto nail shapes instead of boring white stripes. However, if you are someone who wants to have a neutral look, elevating your French manicure with black French tip nails instead of white is a great idea! It has become a popular trend nowadays. 
Well, black French tips nails or black French manicures can bring a unique twist to your look, and you can be sure that it will look great on you, irrespective of your complexion. The black French tip nails look good on everyone because of their universal color. Moreover, you can effortlessly customize the black tip nails according to your style. Whether you opt for black French tip almond nails, edgy black French tip coffin nails, or want to play with the negative space to create a graphic look, personalization is always possible! 
So, you can imagine how amazing it will be if you go for black French tip nail designs! Do you want to try it? Then read on. In this blog, we are going to talk about it comprehensively. Below is a list of the best black French tip nail types that make your manicured hands look prettier! 
Let's dive in 
1. Stiletto Black French Tip Nails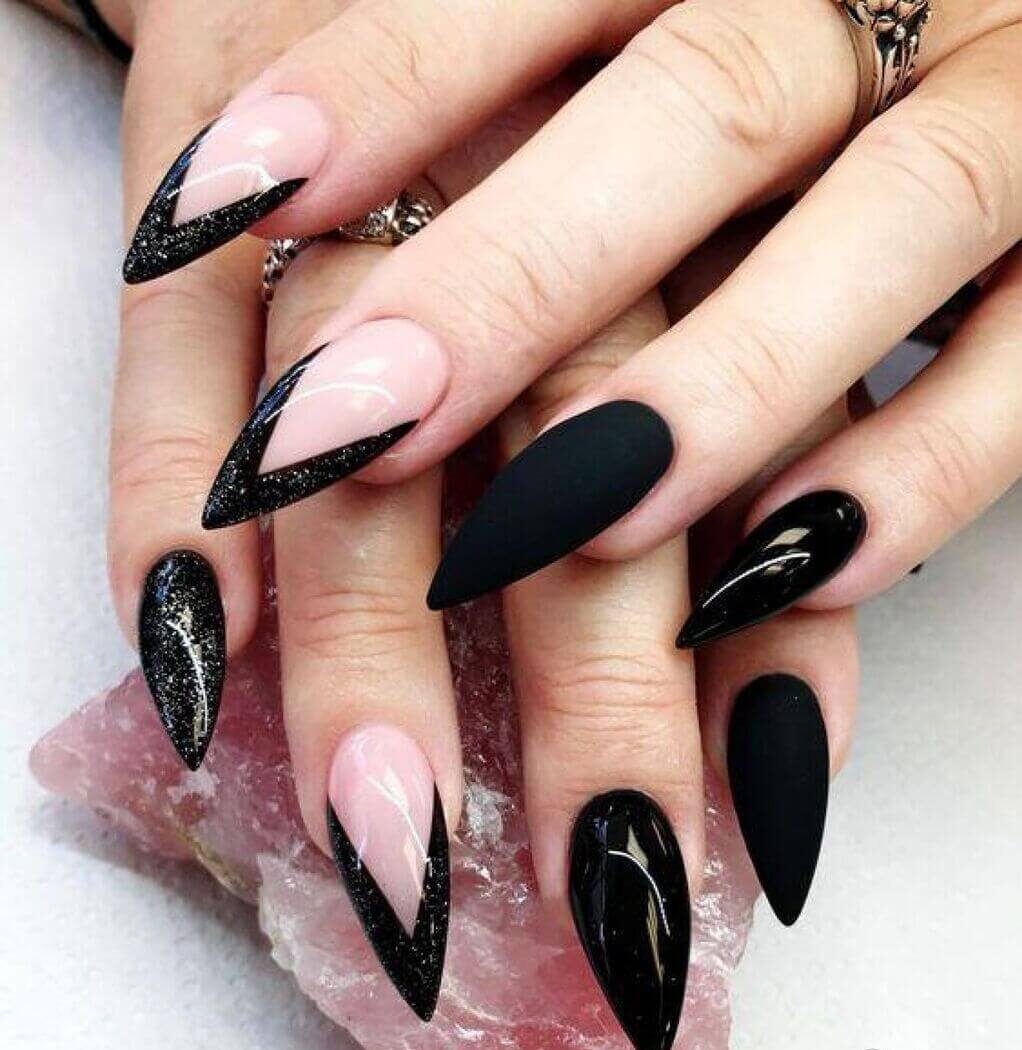 Source: theyou.com
Do you want to add a dramatic vibe to your manicure? Then go for this type of black French tip nails. It looks bold and beautiful, perfect for your summer/spring 2023 look. This type of black French tip nails can go amazing with both formals and casuals. It will bring an intense depth to your overall look. 
2. Almond Black French Tip Nails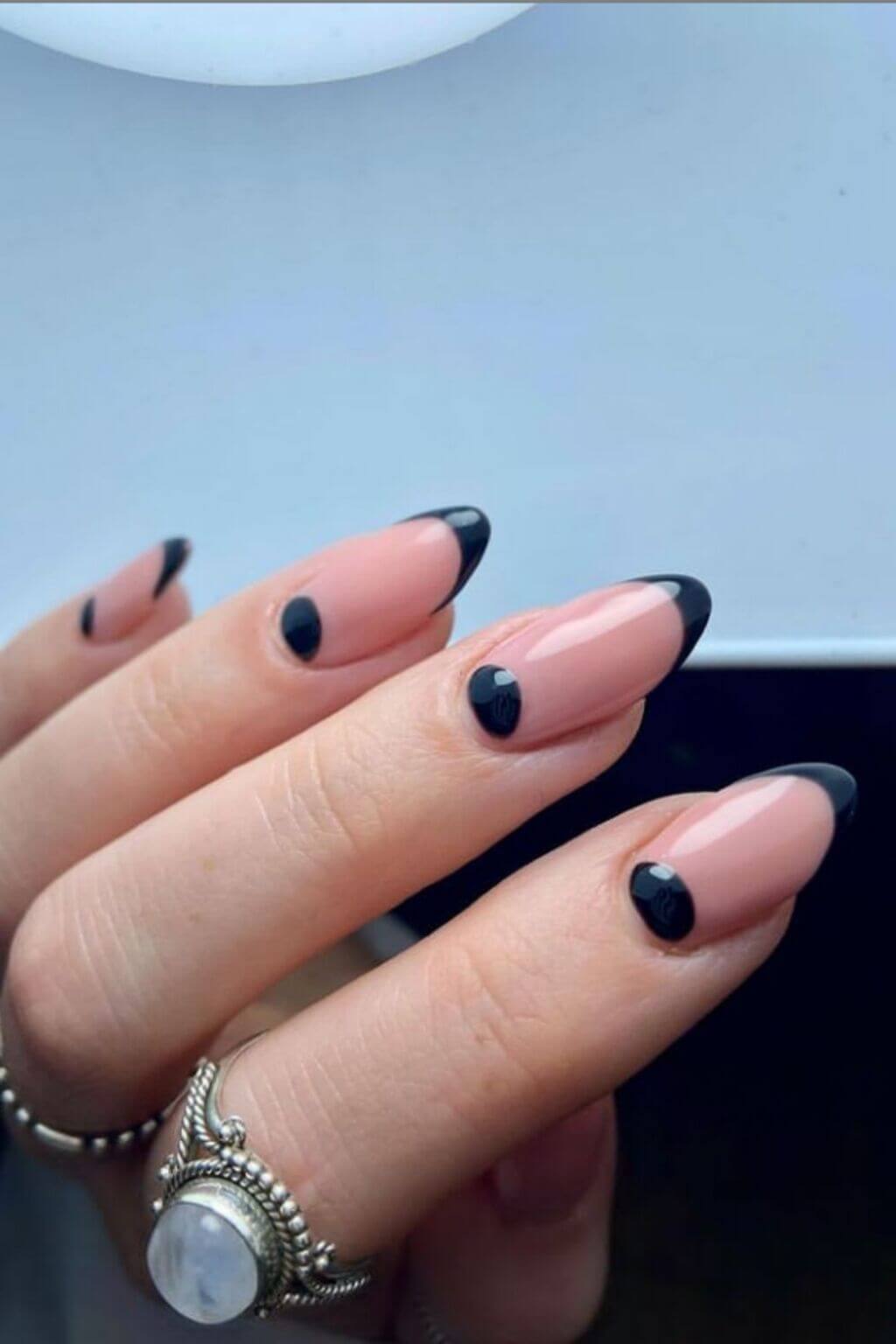 Source: haileyfashionlife.com
The black French manicure is very versatile. Its beauty matches perfectly with all kinds of outfits you can wear. Also, the black French nail designs look great across all types of nail lengths and shapes, from the smaller ones to those with a good length. With Almond Black French Tip Nails, you can completely transform your look!  
3. Round Black Tips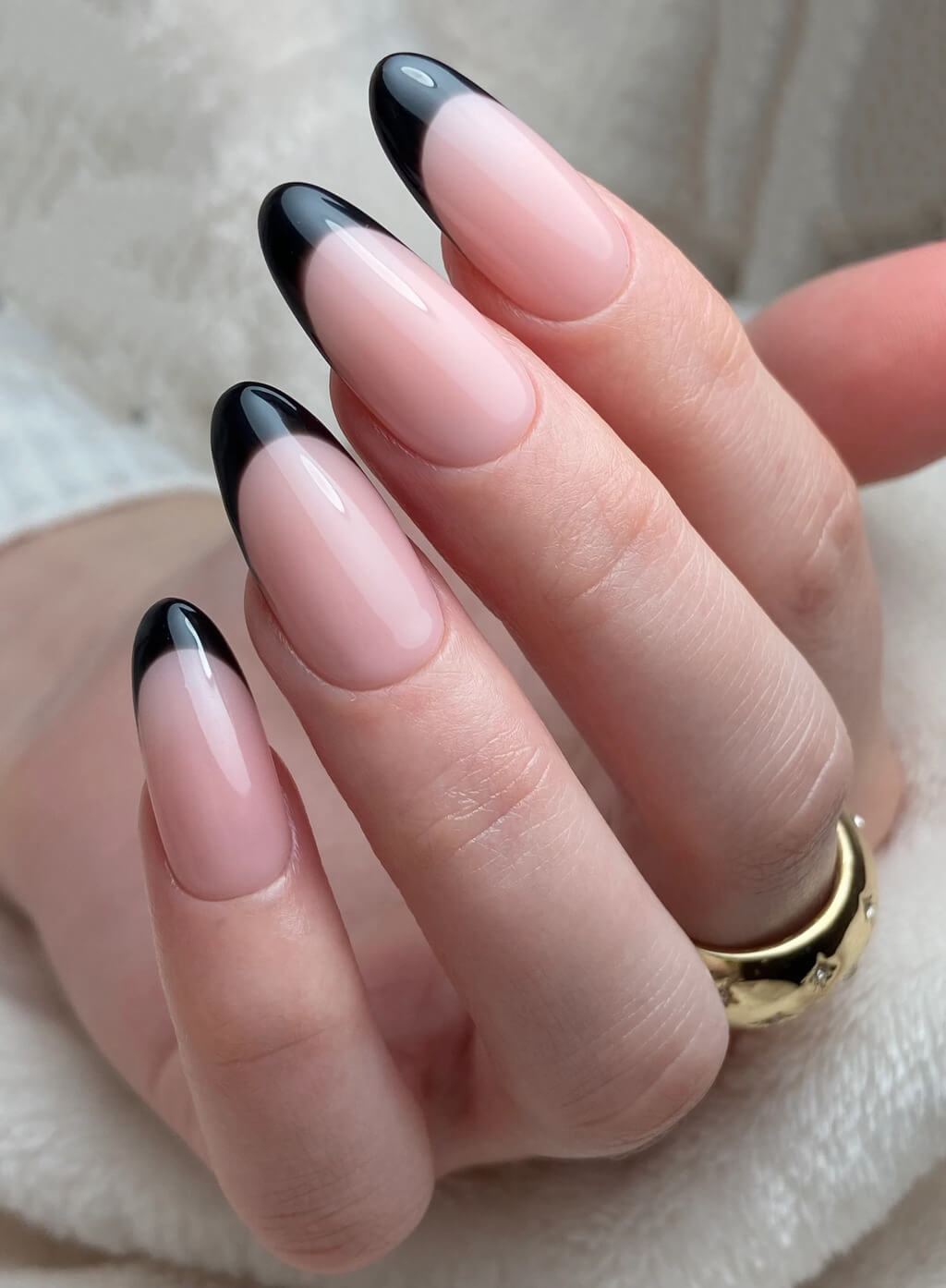 Source: etsystatic.com
The French manicure with round black tips and nails looks very stylish and sober at the same time. You will look spectacular with this black French tip nail design. It is one of the most loved black French tip nails among celebrities. Melissa McCartney flaunted this French nail type while accepting the Icon award at the InStyle Awards of 2021. Haven't you seen that yet? Google out now! 
4. Pattern Clashing Black French Tip Nails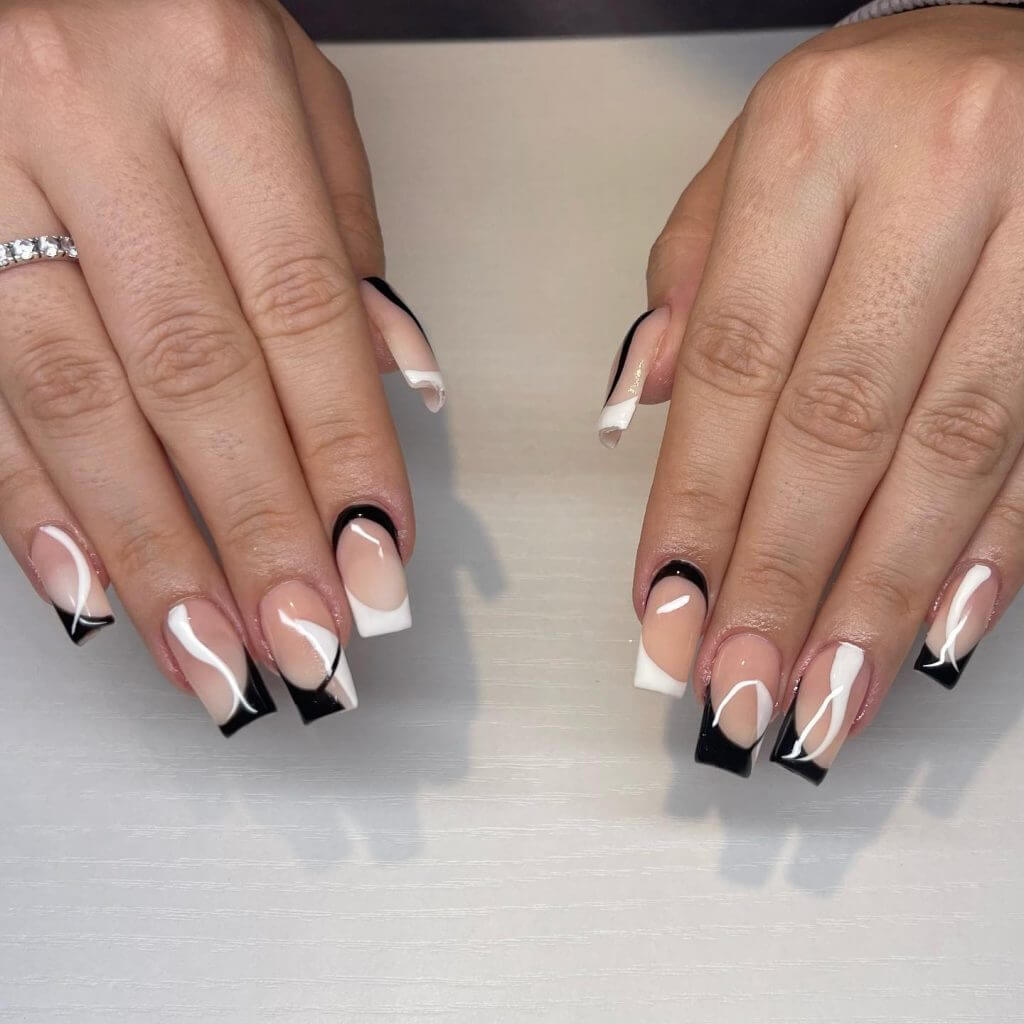 Source: popxo.com
You don't need to be precise to do these black French tip nails. If you want a fancy yet classy French manicure, this black French tip nail is the best one that you can think of. Moreover, you can create this type of nail design very easily. All you need to do is do whatever kinds of design you prefer on a plain black and white French manicure. 
5. Swerves and Curves Black French Tip Nails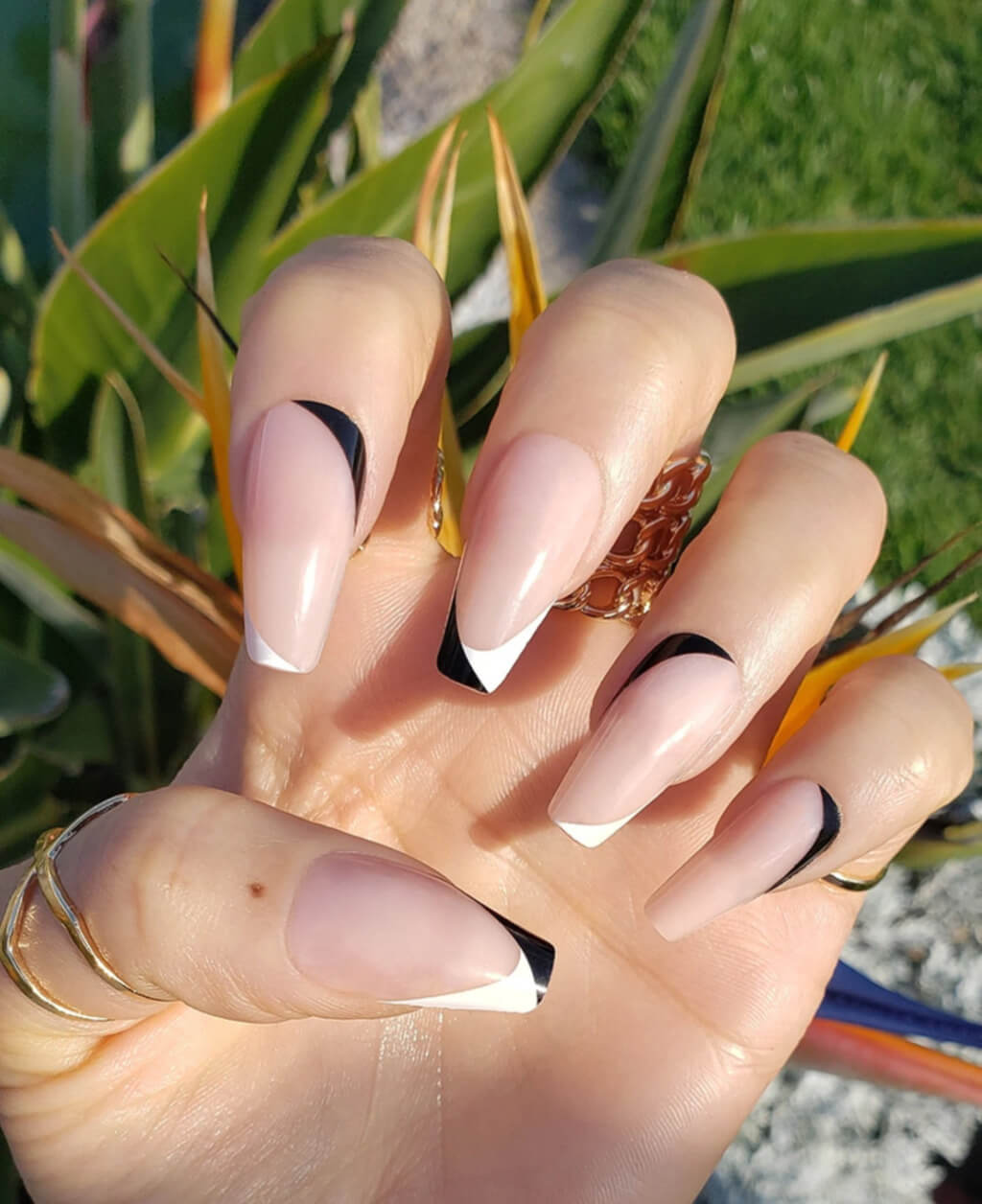 Source: collegefashion.net
This is a 60s-inspired black French tip nail design which is still a trend. This design first popped up on different types of stylish jeans, dresses, and home décor. But soon after its inception, curves and swerves became an extraordinary French nail art. If you want a modish look, you can mix black French manicure with three to four black and white swirl accent nails. This will look out of the world! 
6. Inverted and Outlined Black French Tip Nails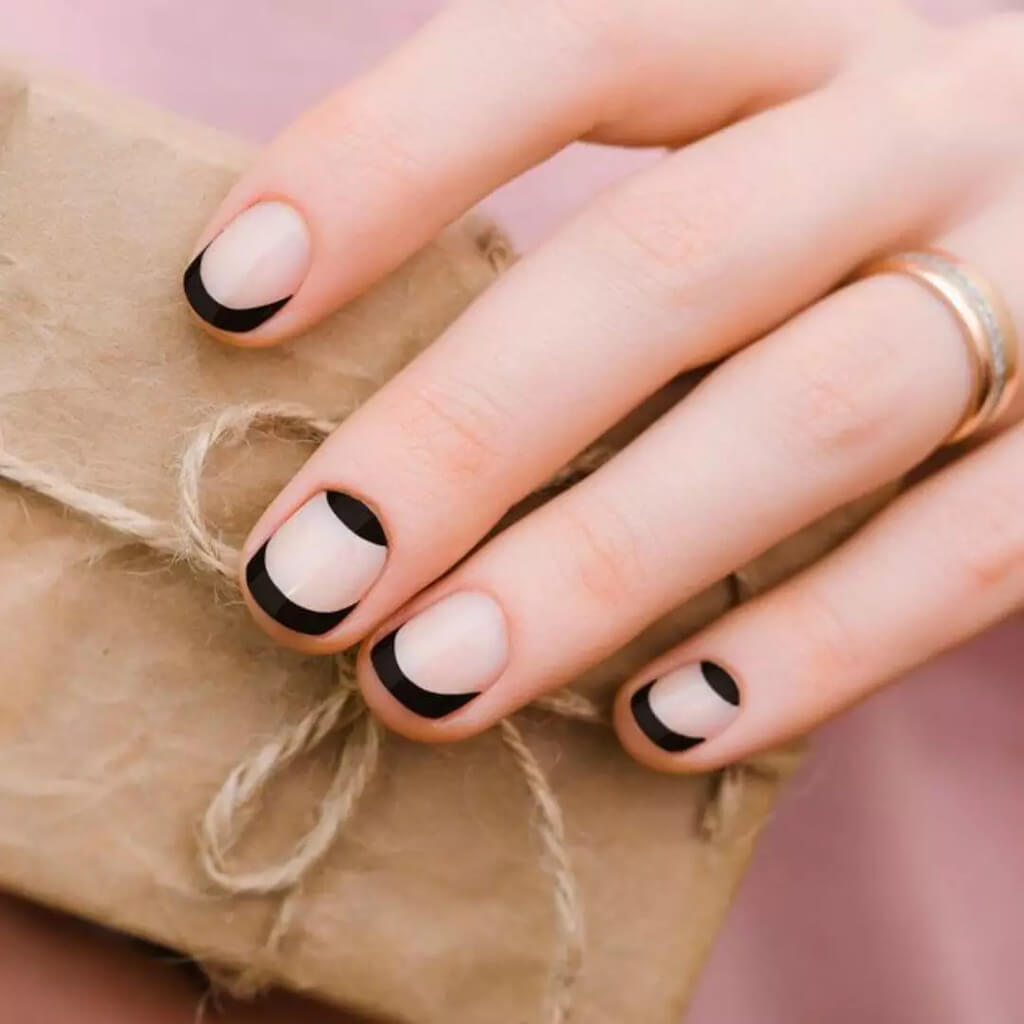 Source: oscarcalcados.com
If you like minimalistic nail arts, this Inverted and Outline Black French tip nails is one of the best options. It is a popular French manicure in which you can play with various line sizes to create the perfect graphic look. Well-known names like Marina Iwakoshi have flaunted this black French tip nail. 
7. Licorice Black French Tip Nails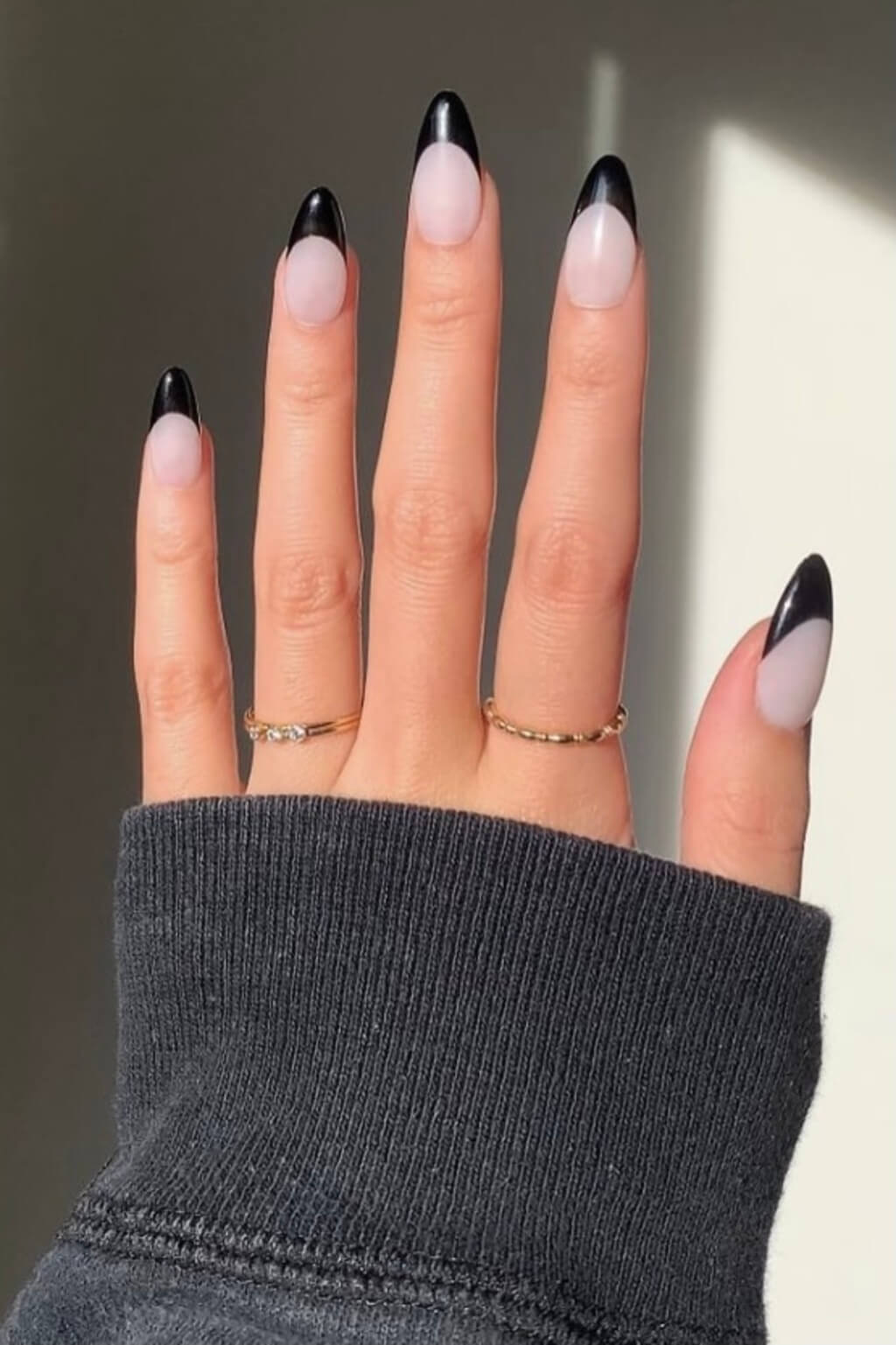 Source: yourclassylook.com
So what if you don't like the taste of Licorice like many others? This black French tip nail looks gorgeous. Its delicate detailing is so stunning that you will surely look fabulous with this type of nail. They are excellent for pairing up any outfit, from casual to formal wear. 
8. Double French Black Tip Nails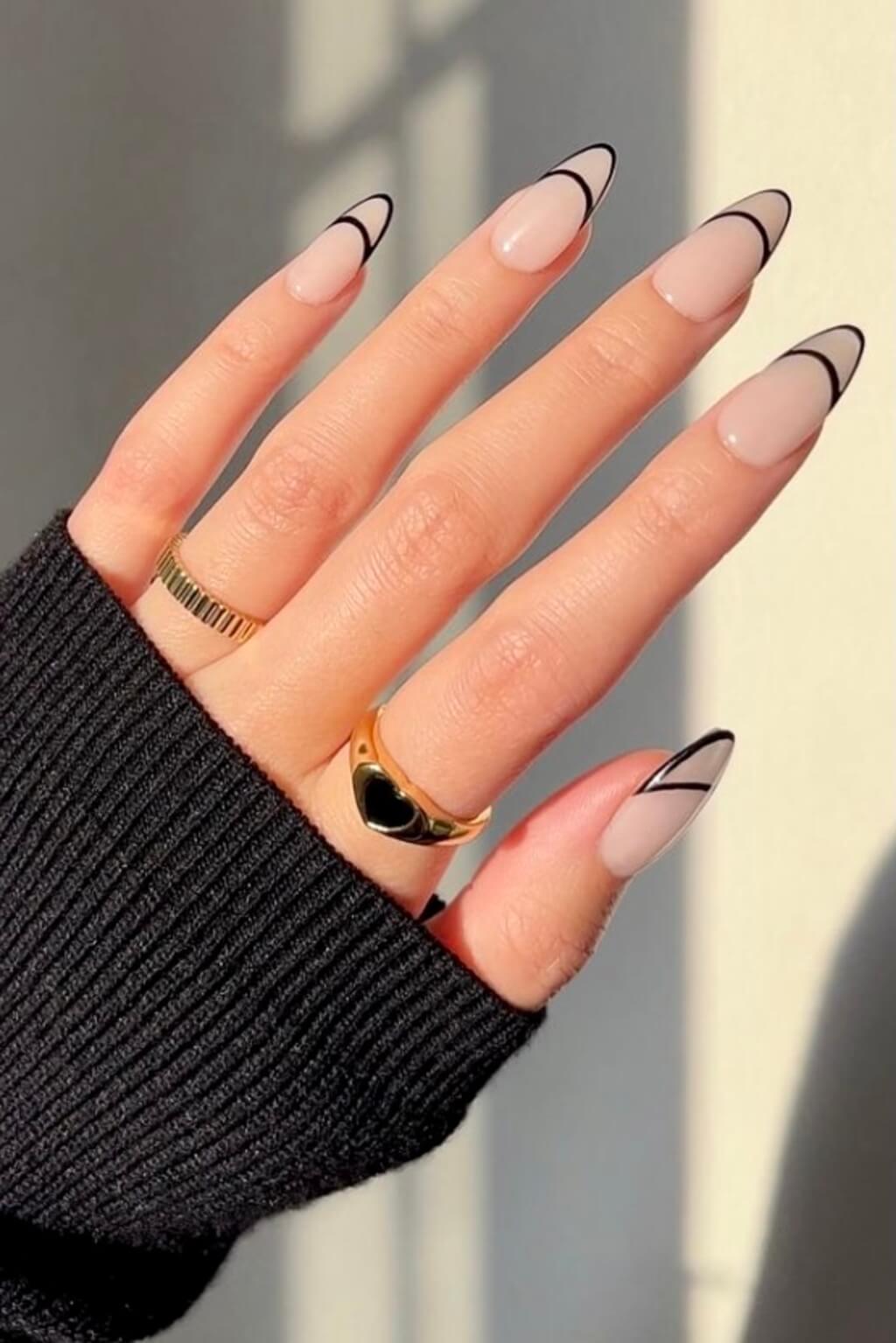 Source: yourclassylook.com
This is one of the most stunning French nail tip designs which can take your manicure look to the next level. With a double layering of thin black designs on a white background of your nail, you can create the most stylish manicure. 
9. Fire Tips Black French Nails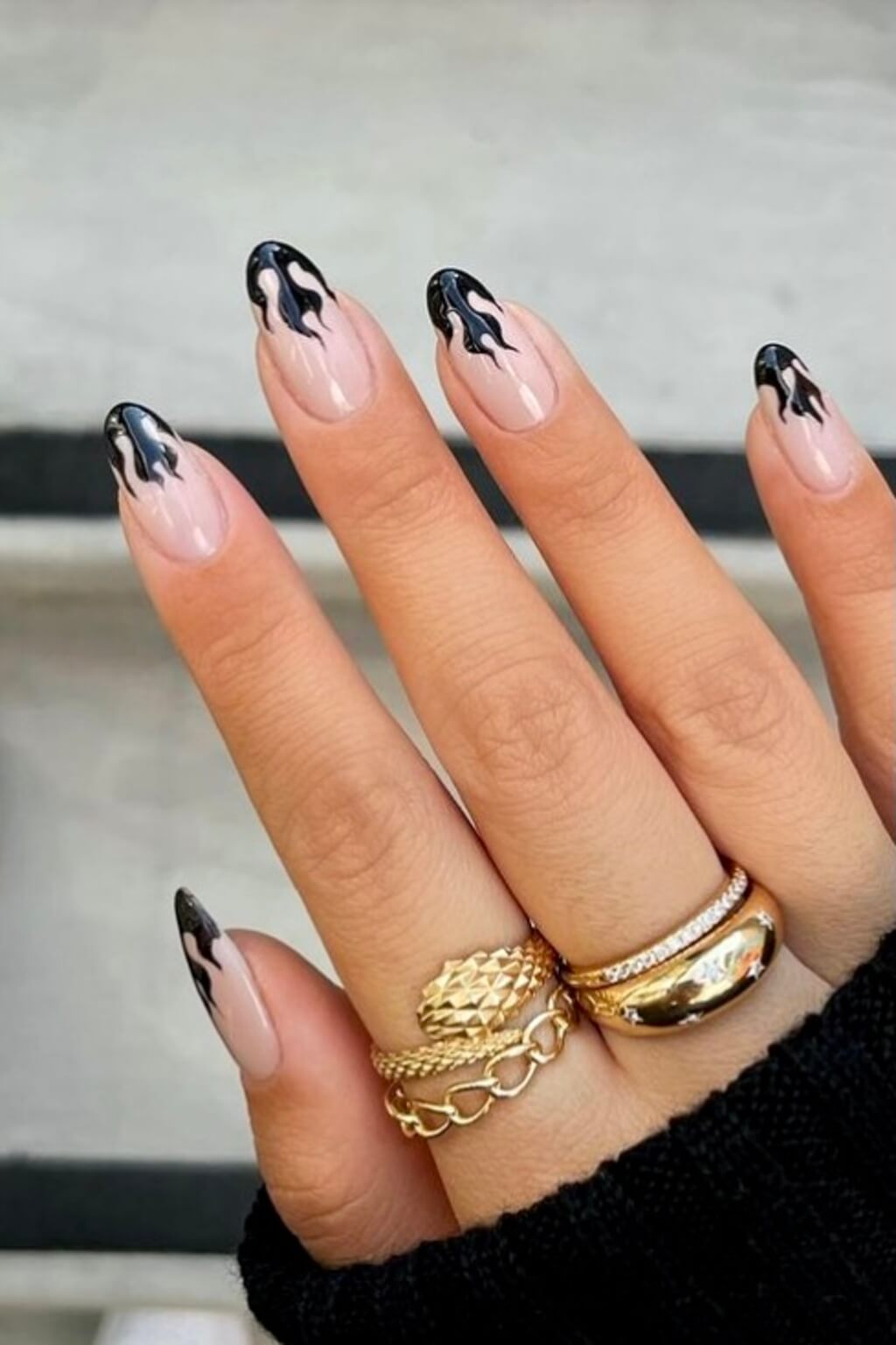 Source: yourclassylook.com
Fire Tips black French nails are one of the most beautiful manicures you will always love. It can create an amazing look with its stylish edges and bold look. If you are a fashionista and love to explore different looks, fire tips black French nail is for you. They are WOW! 
10. Black French Nails with Pop of Color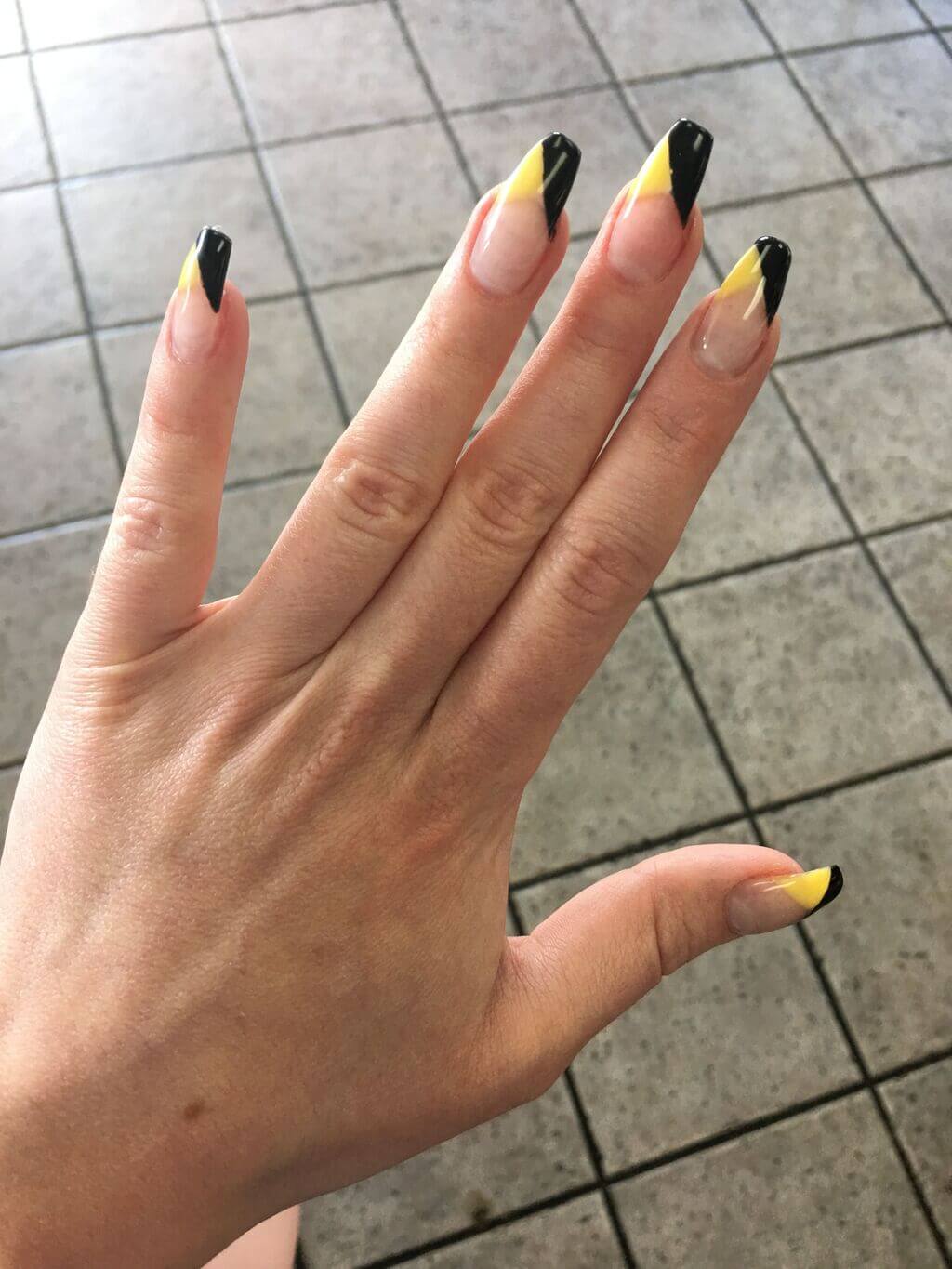 Source: pinimg.com
This kind of French nail design is out of the box. You have a tint of color added with it. Just like how you can wear the tons of black in your closet very diversely; with any color, it is the same with a black manicure. In this type of black French nail design, you can combine the black color with any vibrant shade like yellow, orange, etc. Adding a pop of color to this French black nail design can prove to be the most eye-catching detail in your entire look.  
11. Short Black French Tip Nails with V-Shape Glitter Tint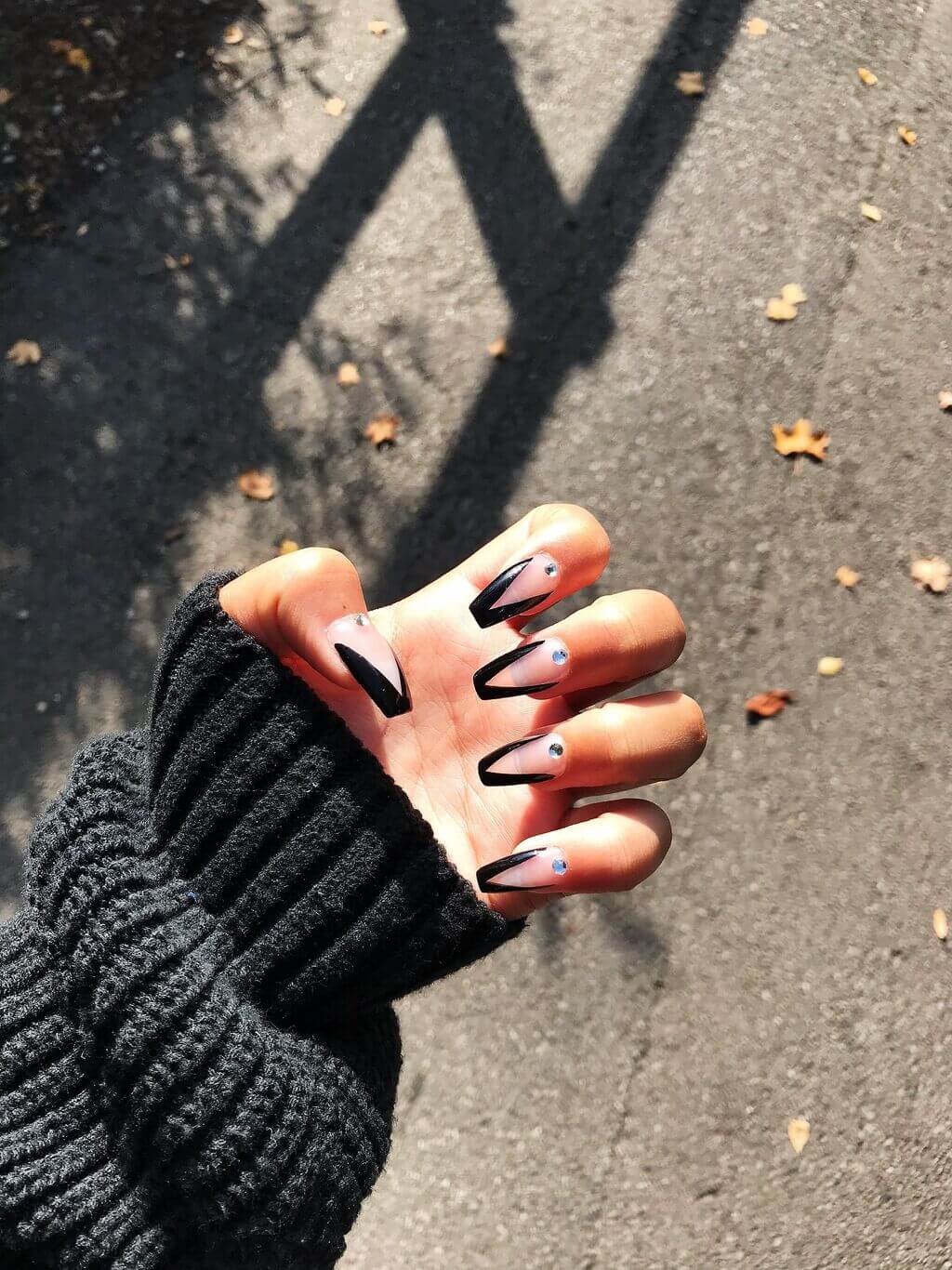 Source: pinimg.com
When it comes to French nail designs, this is a classic one that comes with a twist. To accentuate this nail design, you should have a gold V-shaped line drawn above your black tips. To make this look more beautiful, have a glossy coat on the top of your nail tip. Your manicured hands will look perfect! 
12. Black Coffin French Tips with Roses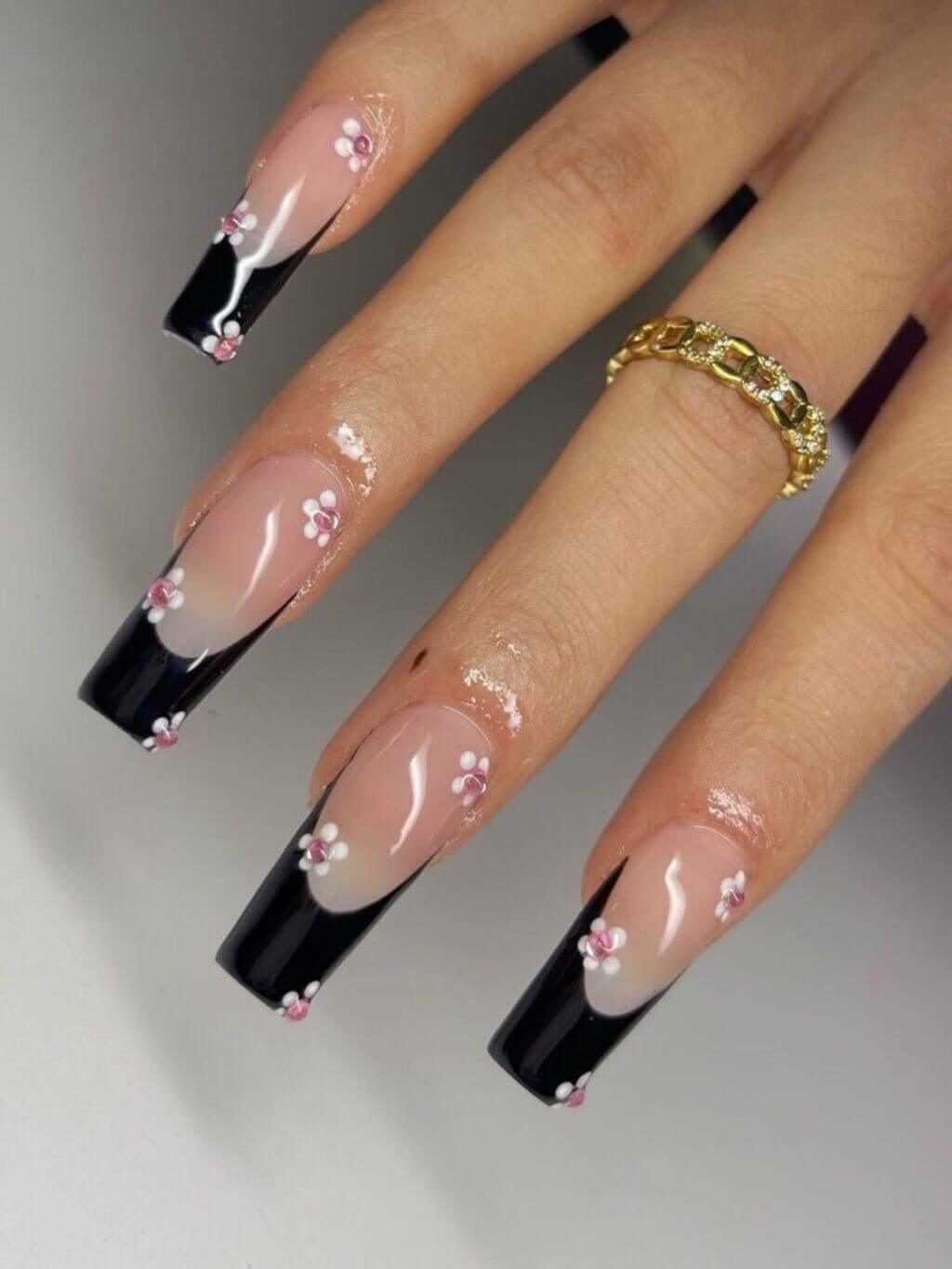 Source: kbeautyaddiction.com
Roses denote romance. To ensure that you are showcasing them vibrantly, have these on your nails with black. This will look amazing and create a beautiful vibe. Applying the floral decals over the nude base of the French tip nail design will look captivating. Also, this kind of black French tip nail design expresses intense femininity.
13. Black Stars French Nails with Golden Accents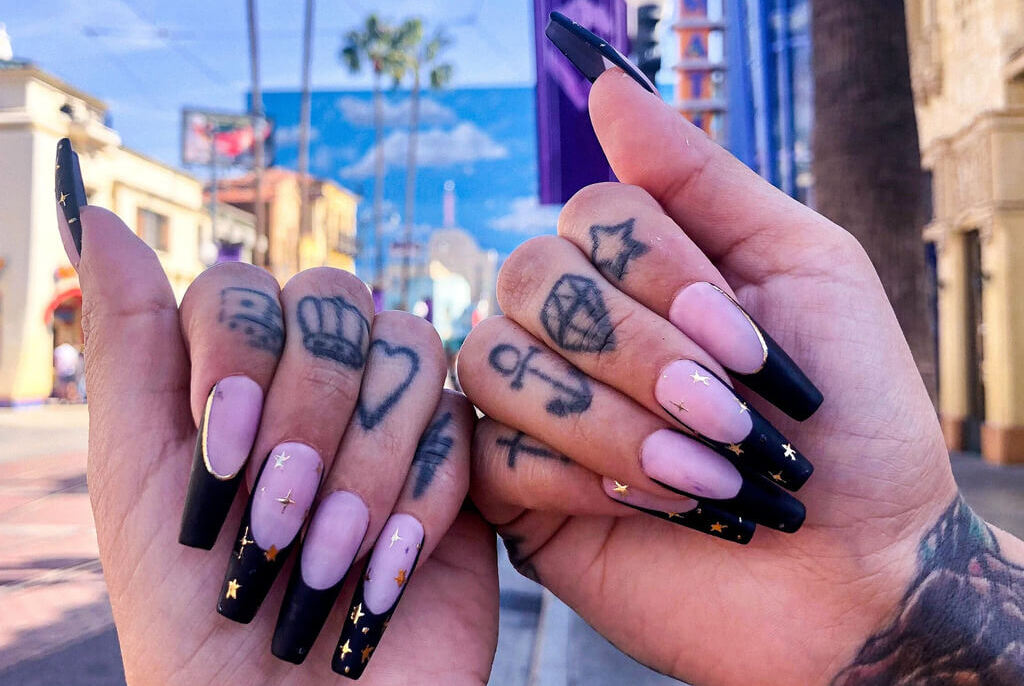 Source: etsystatic.com
There is no surprise that star designs are very popular in black French tips. Even when pained in dark and vibrant colors, you can bring a brighter presence to your nails through this black French tip nail design. Also, accentuating this attractive design with some golden dots and beautifully curved lines will make your manicure look even prettier!  
14. Long and Nude Coffin Black French Tips 
Source: alicdn.com
This black French tip nail is very famous among celebrities. Miley Cyrus once flaunted her rocking extra-long and fantastic black French tips while enjoying a party and said she could do anything she wanted. 
In this type of black French tip nail, the nude gradually transitions into black. This creates an illusion of a narrow end in the middle of your nail while getting flared out at the end. Due to this, it creates a unique and stylish look!  
15. Leopard Squoval Printed Black French Tips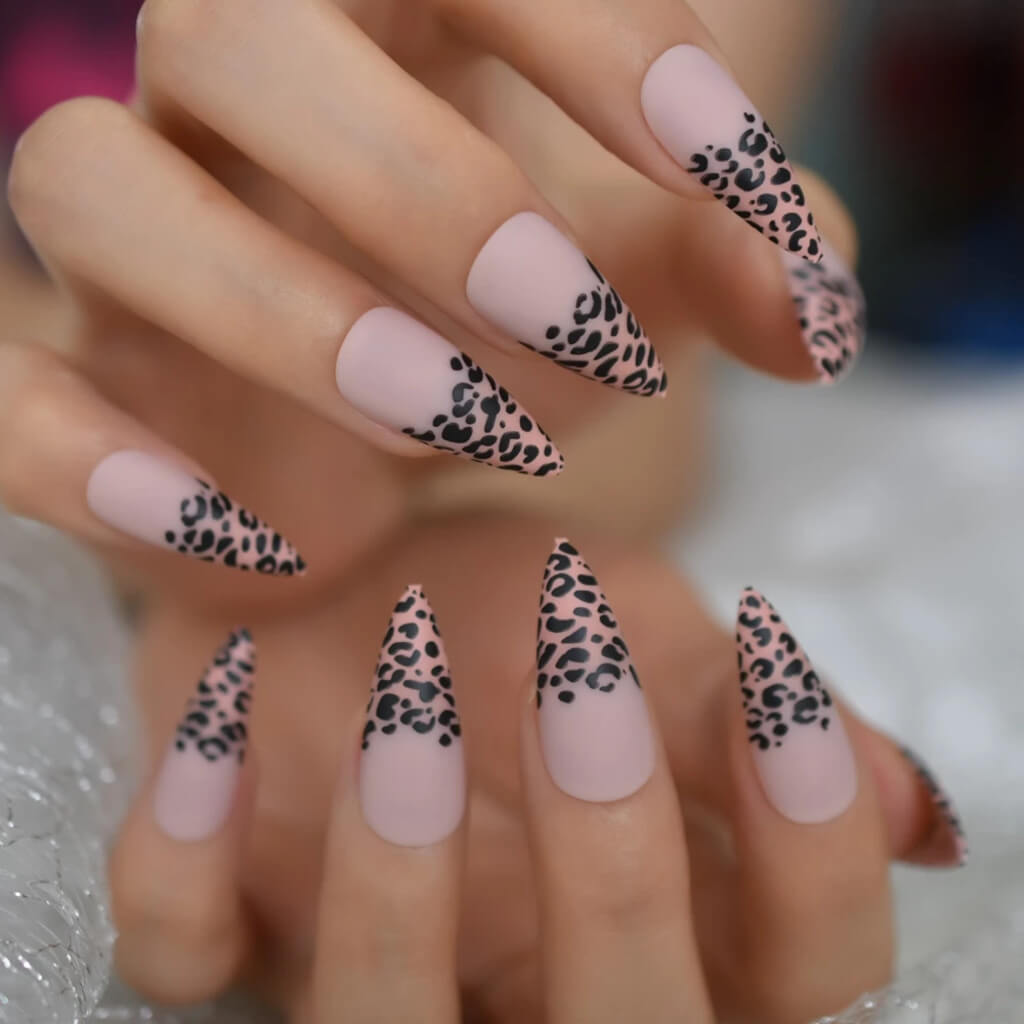 Source: alicdn.com
If you want to give a trendy twist to your conventional black French tip nails, you can incorporate a stylish leopard print design. This will transform your entire manicure look. You can achieve this type of look by having an alternate combination of pattern and black French tips, which will be an overall chic combination.
Also Read: 10+ Black Nail Designs to Get Stylish Nail All Season
16. Black Ladybug French Tips with Almond Vibes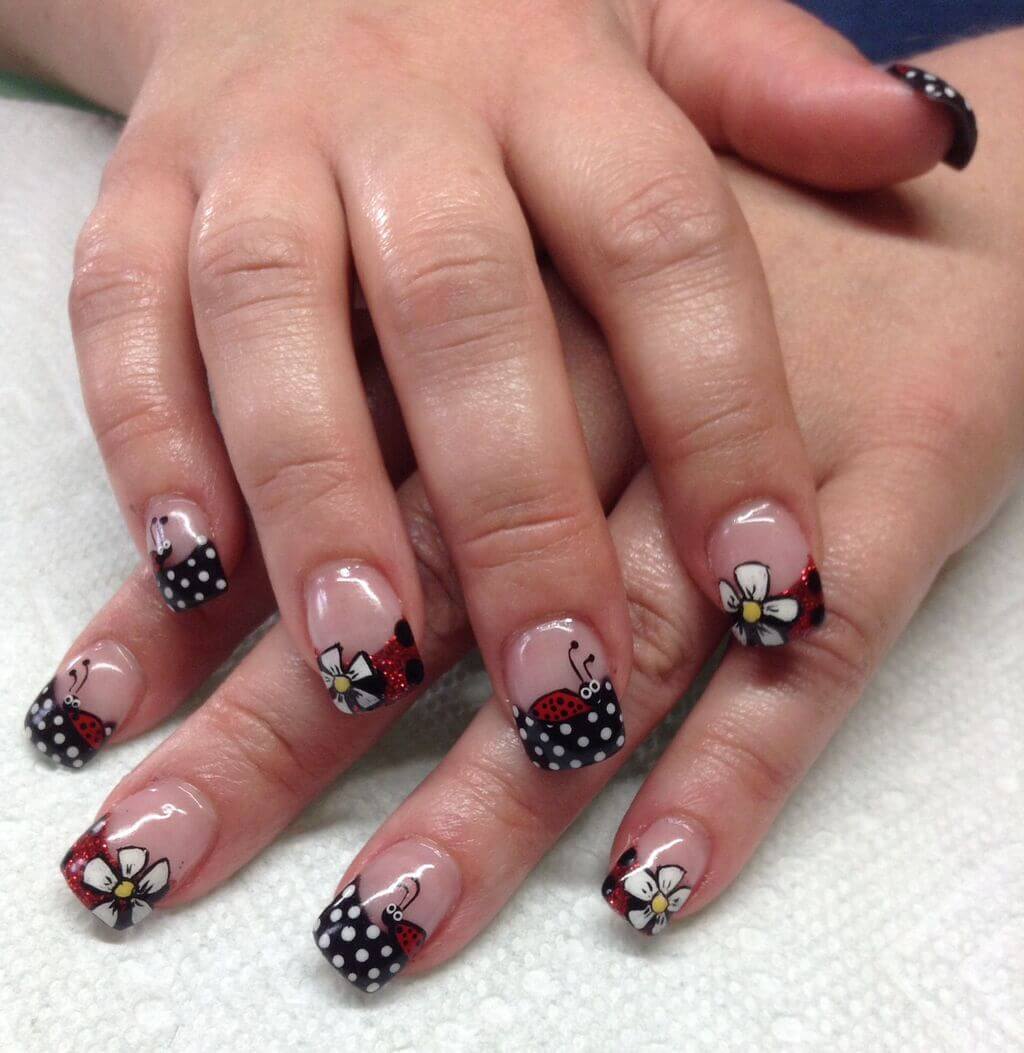 Source: pinimg.com
Do you want to make your life thoughtful? These 3D ladybug decals are the best! They are taking modern nail arts to the next level. The Black Ladybug French Tips is an amazingly unique design. It has a prominent color combination like black or red with the nude. With this kind of a classic threefold combination, this black French tip nail looks spectacular!  
17. Short and Jeweled Black French Tip Nails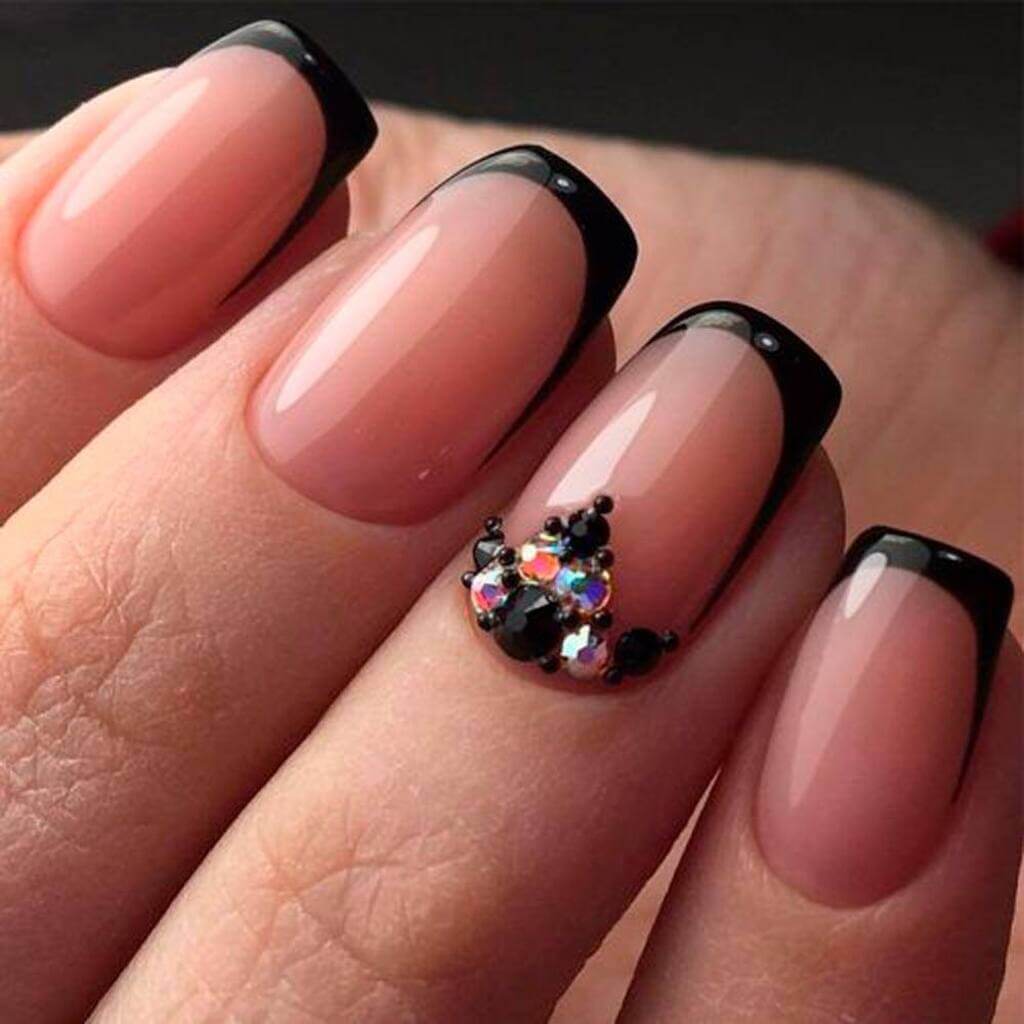 Source: glaminati.com
By having beautiful jewels on the nails of one hand followed by a different kind of that in another, you can give a completely different look to a typical black French tip nail design. And this is what we call Short and Jeweled Black French Tip Nails! They look so exquisite and timeless. If you have believed to date that short nails are not something nice to have, you will prove yourself wrong after checking this out! 
Summing Up 

 
And here we come to a wrap! Simple and chic nails are easy, especially with Black French Tip nail designs. The fun part about this kind of nail art is that you can complement it with any shade that can enhance them. 
 Each of the above looks is a fresh idea, and you know now how you can rock these black French tips. So, what are you waiting for?
For more, you can browse through Fashionterest.