Searching for coffin nails ideas? Welcome to the club! Coffin nails are a component of the new "cool girl" glam style. Do you ever wonder why that is? Because popular celebrities like Kylie Jenner, Rihanna, Blac Chyna, etc. wear them regularly.
It might be tough to choose a perfect nail shape from the ocean of options available. All of them are equally stunning, beautiful, and aesthetic. Still, if you are looking for something bold, flexible, and stylish too – Coffin Nails is the ideal one for you.
It's safe to claim that coffin shaped nails first appeared in the early to mid-1990s. Short squoval nails were the stylish statement at the moment, a new style. Coffin nail ideas, as well as their stiletto style, are still popular today.
In this article, I will showcase a few coffin nails ideas that helped me finalize my coffin nail look, it might help you too. Be with me in this whole blog, and I am sure you will find a few good coffin nail designs for you too.
35 Popular and Unique Coffin Nails Ideas To Go For!
If you're seeking attractive nail designs, this article on coffin nail designs is for you. Coffin nails are a must-have if you are looking to make a statement with your nails. Let's go through some of these amazing coffin nail designs.
1. Lavender Long Coffin Nail Ideas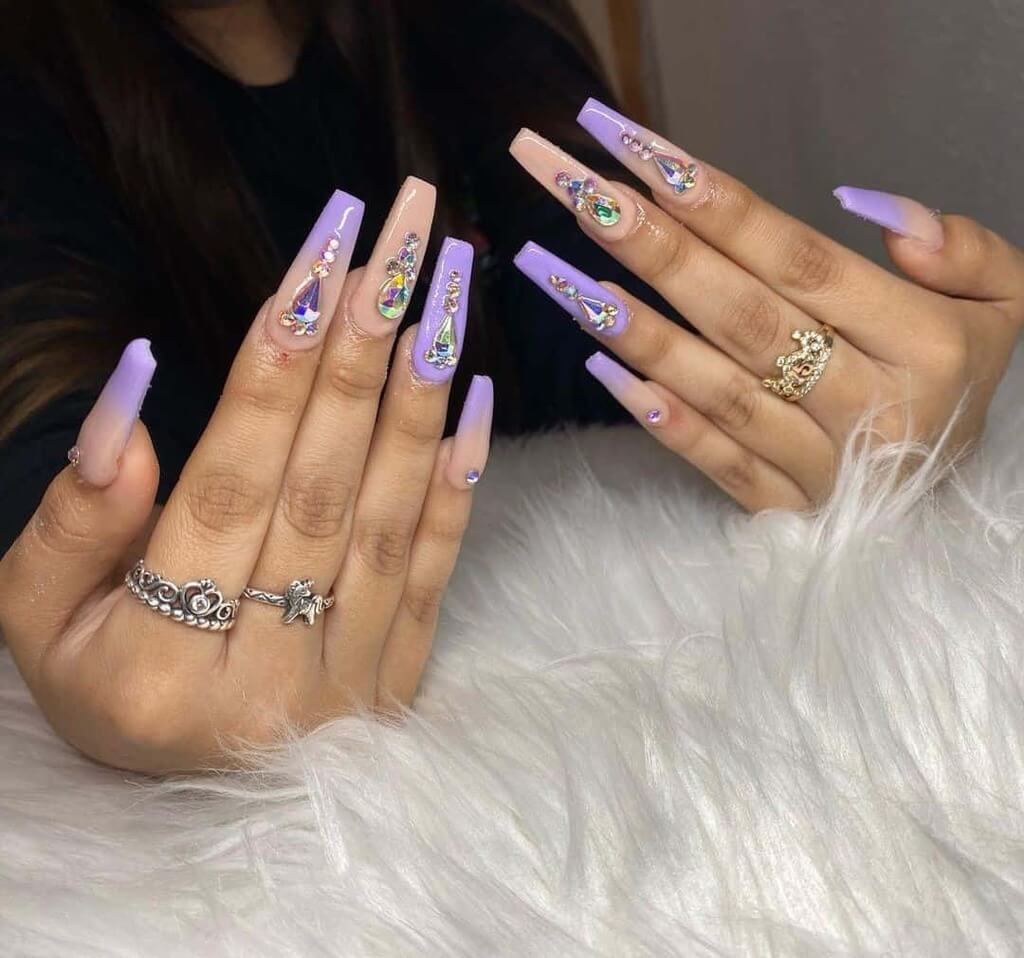 Source: tattooedmartha.com
This long Coffin Nail Idea is a lighter and gentler tint of purple, almost pastel in appearance. This hue is neither very bright nor overly dark. Lavender may already be quite lovely when used alone. You may also add some rhinestones to it to make it more interesting. Fill some nails with small diamonds and a top coat to break up the monotony of hues.
2. French Coffin Acrylic Nails Ideas
Source: hairstylery.com
If you're searching for a unique manicure design that will make you stand out from the crowd, these pink French tips with a 3D design are ideal. If you don't like the color pink, you may get your nails done in any color and they will still look great.
3. Summer Coffin Unique Nail Design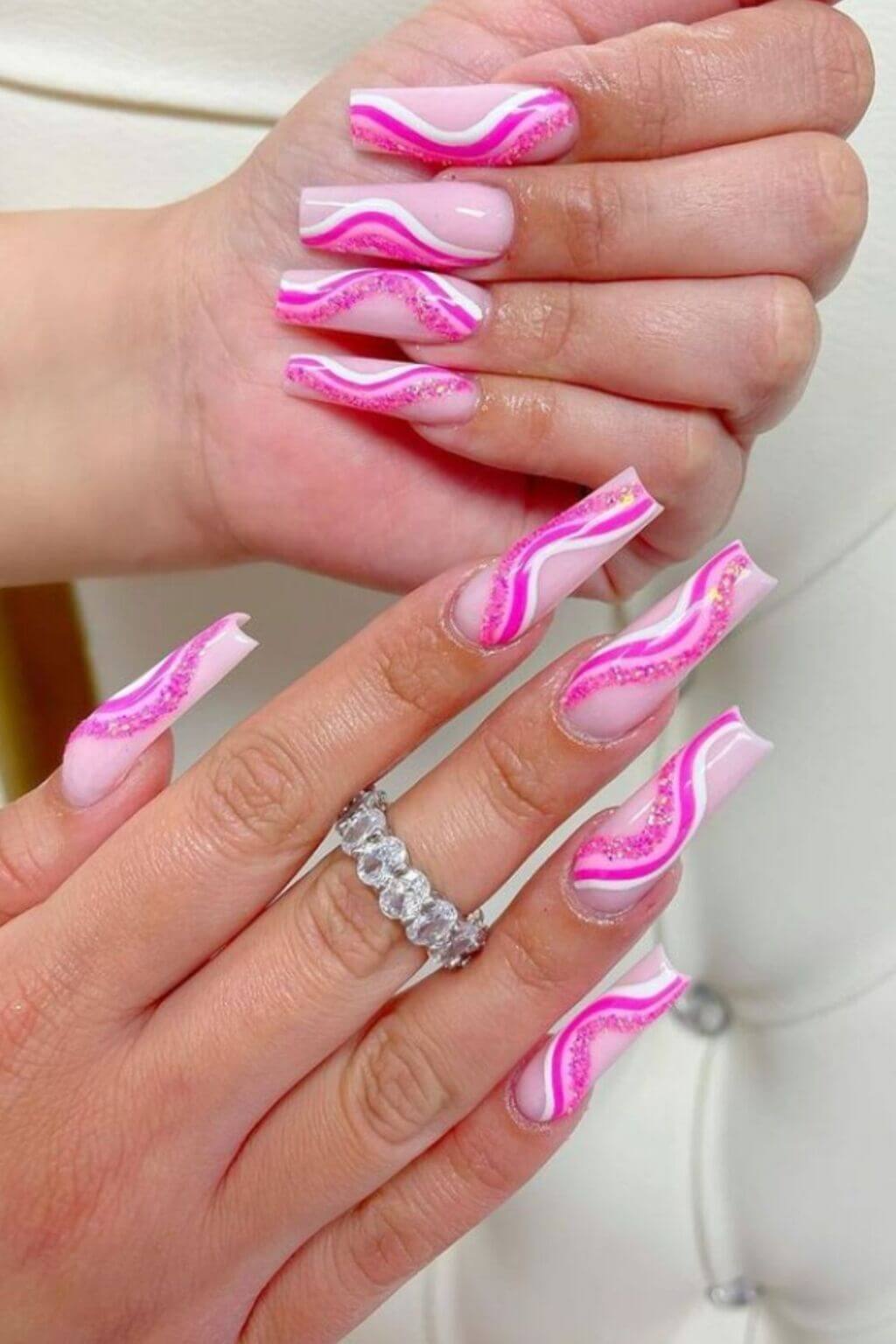 Source: lilyart.net
This is the season to dress as brightly, warmly, and tropically as the weather allows! Make a fruity drink with pastel colors including pink, mint, lilac, yellow, and baby blue. When summer hits, the rules are thrown out the window, and it's time to show off your creativity in the shape of a manicure. Furthermore, there are no gloves to hide behind, allowing your nails to receive the attention they deserve!
4. White Coffin Nails with Design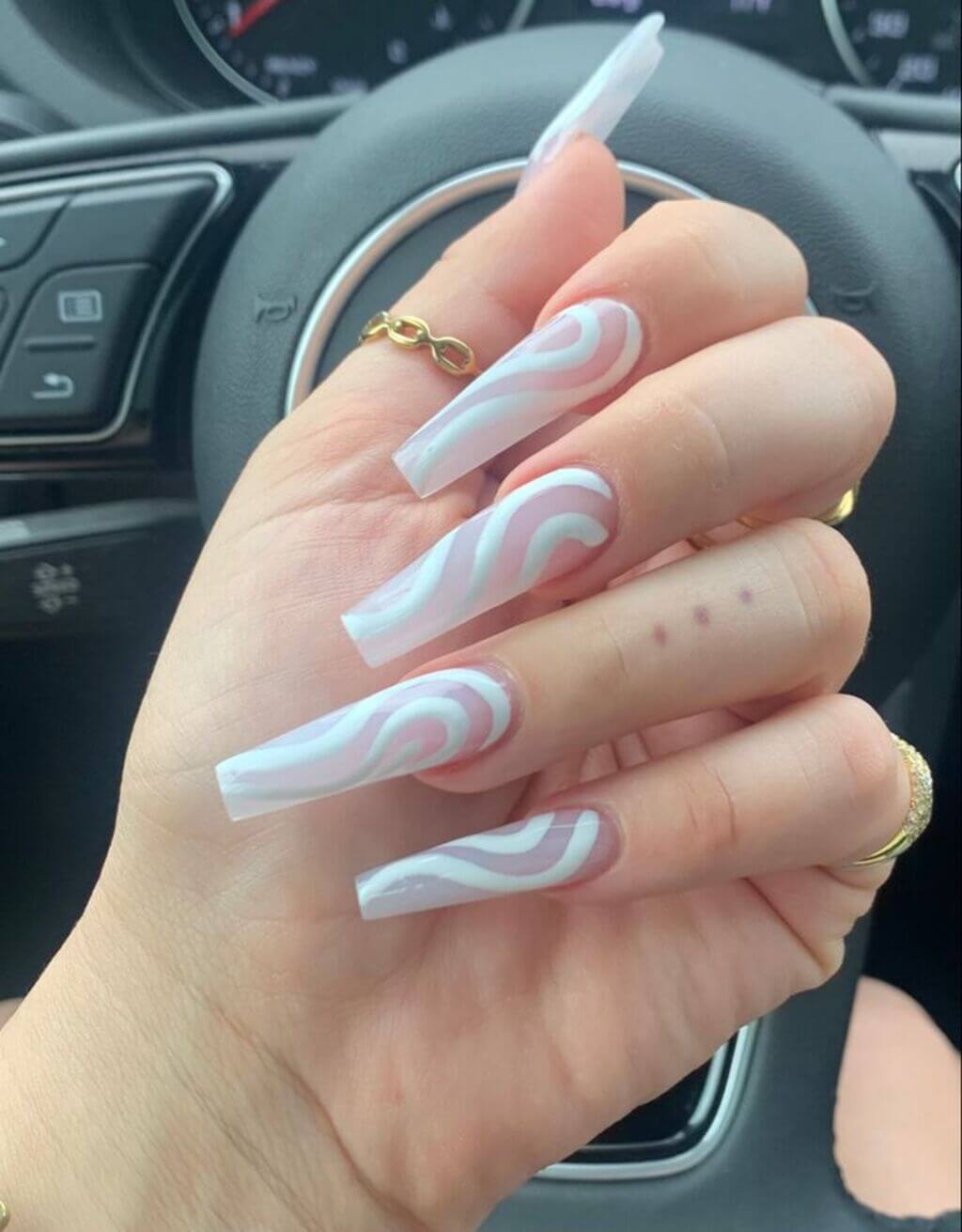 Source: pinimg.com
Painting your white coffin nails with design allows you maximum choice in terms of your wardrobe and the function to which you are going. However, you might want to step up your manicure. To add a feminine touch, put swirls on one of your nails with a white lace manicure design. It will still appear elegant and refined while displaying your good taste and attention to detail.
5. Black Coffin Nails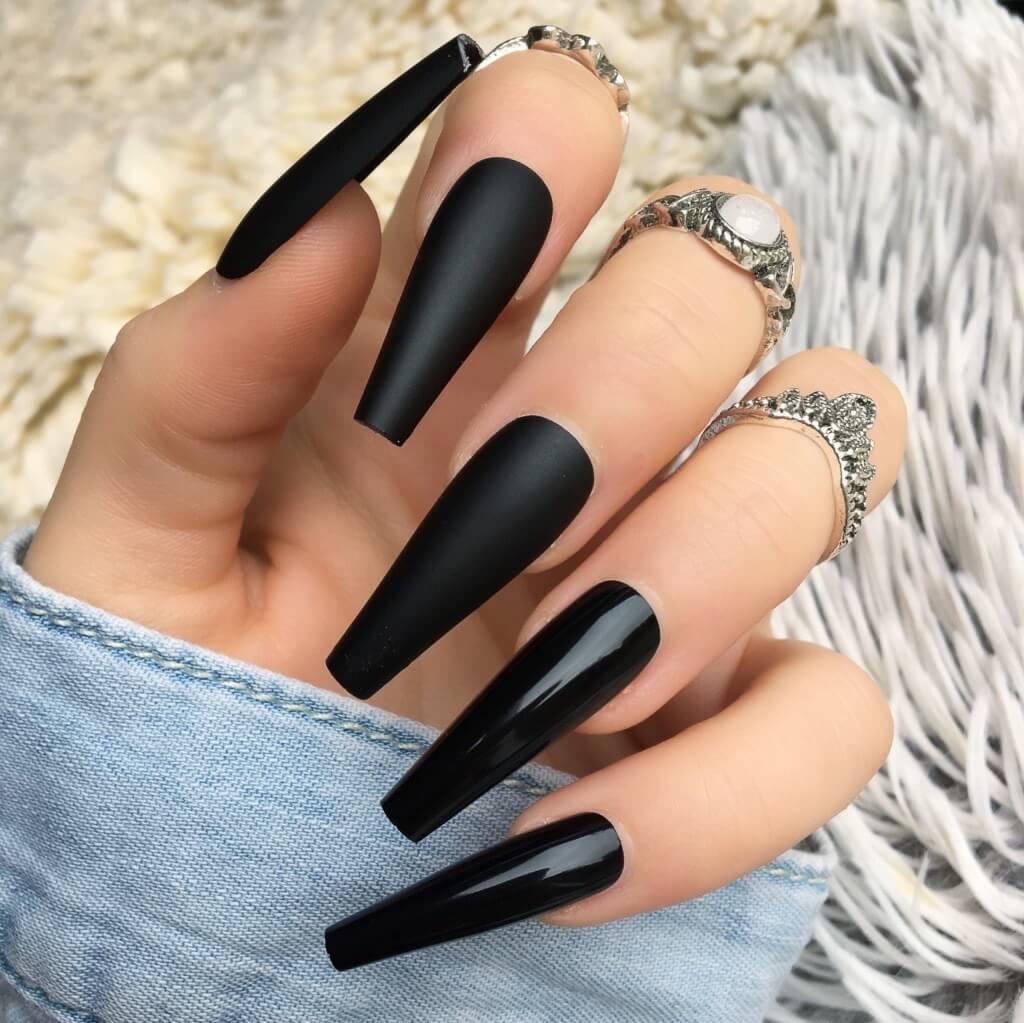 Source: amazonaws.com
Glossy black coffin nails look great with a variety of nail art patterns, but this one is an incredibly simple coffin nail design and quick to accomplish. All you need is a holographic nail sheet and some rhinestones for added bling. You may leave the design straight, as seen in the photo, or you can include any other design or just keep it glossy the way it is.
6. Nude Coffin Nails Ideas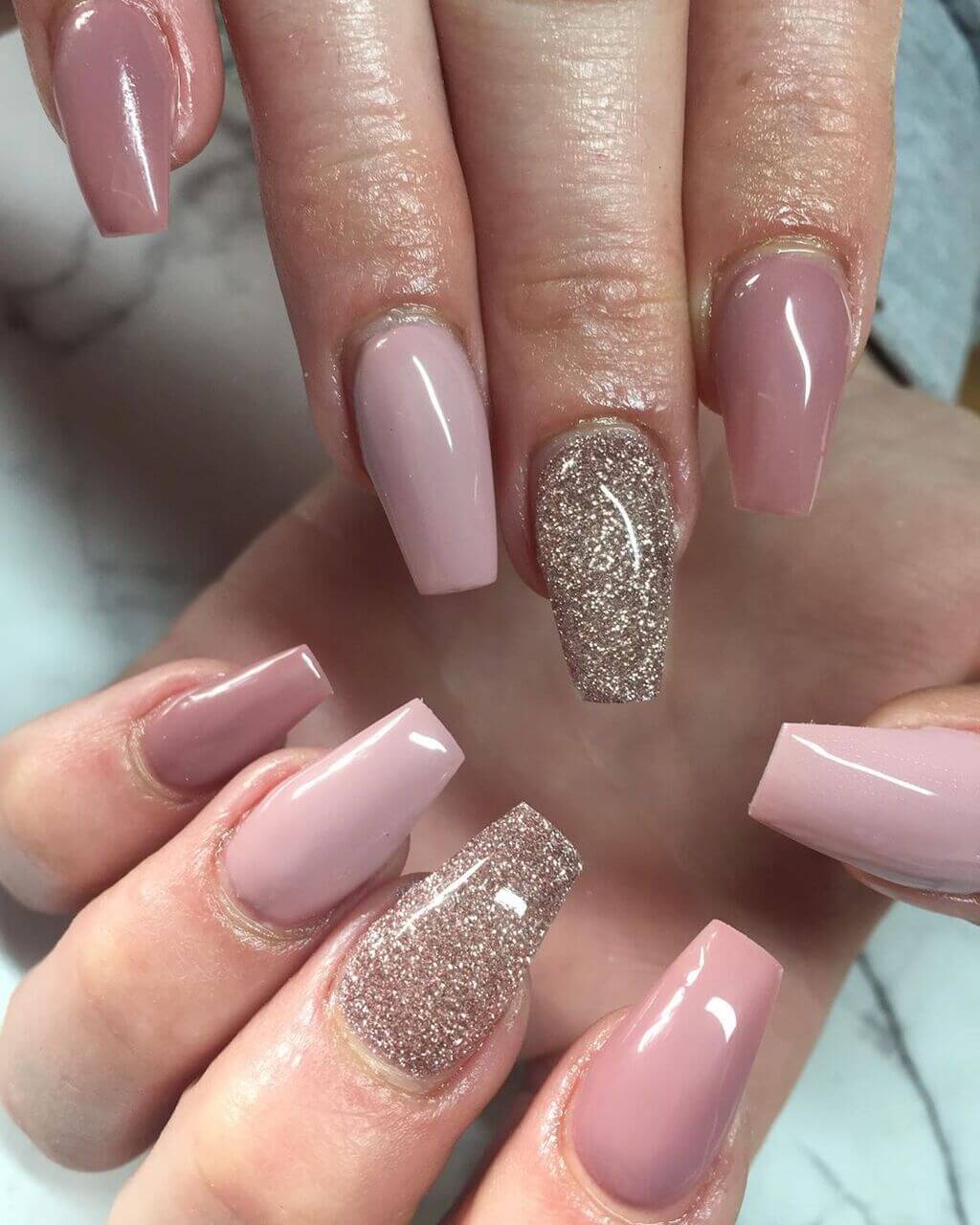 Source: pinimg.com
The nude nail color is still popular. Your nails would be completely beautiful and appealing if you used a nude color and a coffin nail design. When you choose a neutral hue, you won't have to worry about mixing and matching your clothes since they will look great with anything.
Simple coffin nails of nude color are designed in coffin shape with some rhinestones on the accent nail, and you can perform this nail art design at home with your favorite nude color paint, then glue the rhinestones on the accent nail.
7. Metallic Coffin Unique Nail Designs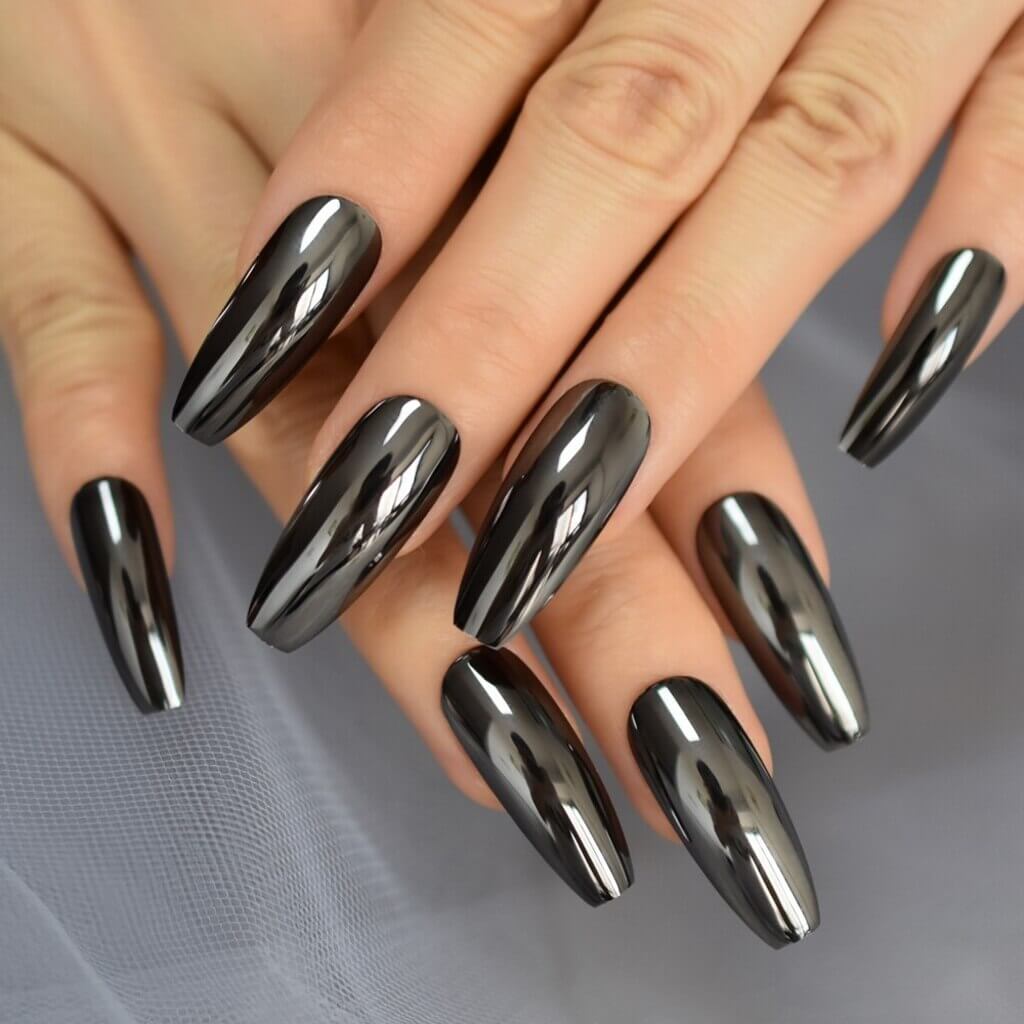 Source: alicdn.com
These stunning silver metallic coffin nails resemble a disco ball for your nails. Clean lines and cuticles create a very beautiful and skilled appearance. I think they would be ideal for your next New Year's Eve celebration. You'll be the center of attention when everyone covets your metallic New Year's Eve tips.
8. Coffin Cute Nail Ideas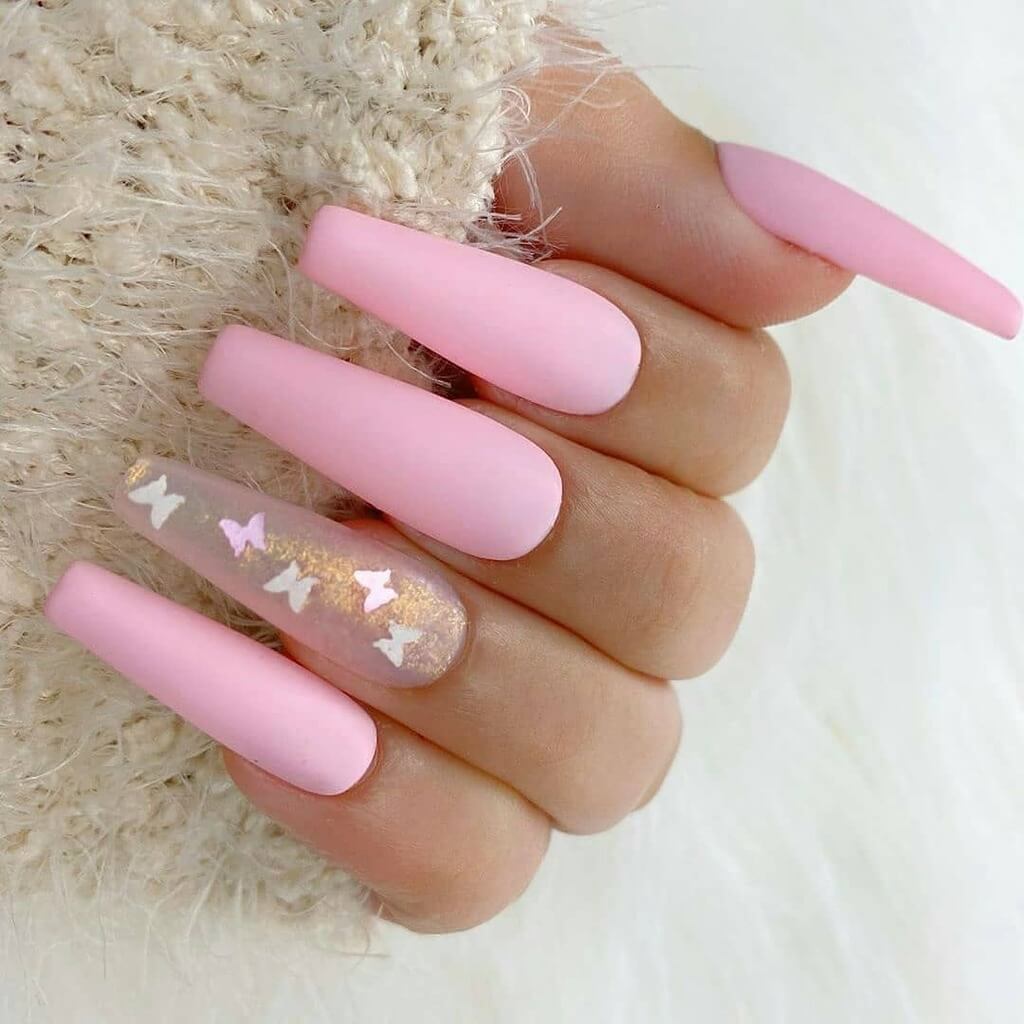 Source: blogspot.com
The stylish coffin cute nail ideas of matte texture are one of the more popular coffin nail patterns due to their adaptability. Yes, it is sophisticated in the way the lacquer spreads over the nails like no other. Consider how the jet-light gray tones blend effectively with the rhinestones. What else could we have hoped for?. Because this is the latest trend, you have the opportunity to express yourself to the fullest.
9. Short Coffin Nail Designs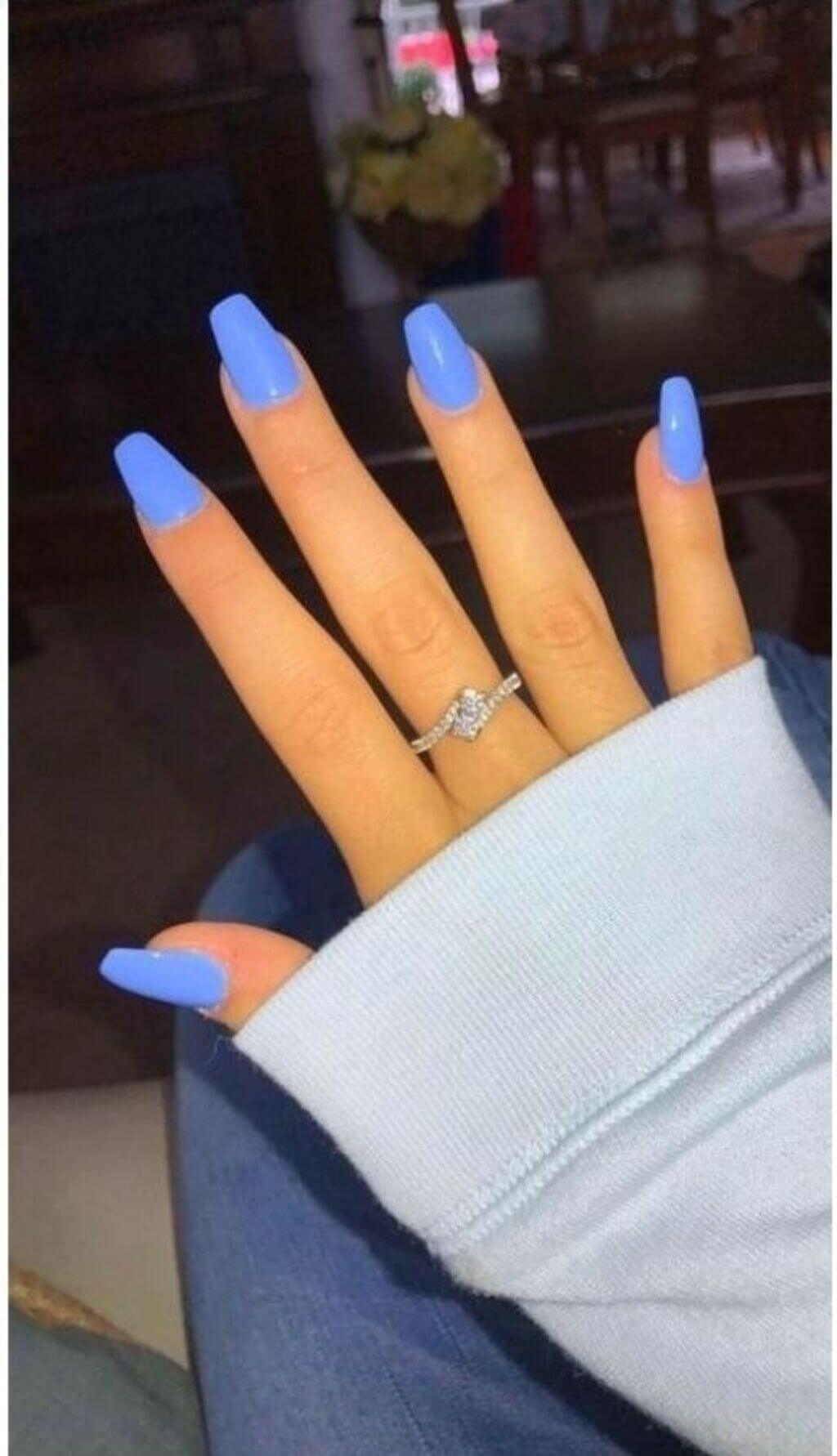 Source: pinimg.com
Short coffin blue winter nails are a seasonal variation on the ever-popular nail form that has been adorning our feeds all year. Instead of rainbow manicure, these designs are focused on exuding a homey and comfortable vibe—think warm neutrals and modern spins on the classic French tip.
10. Coffin Acrylic Nails Ideas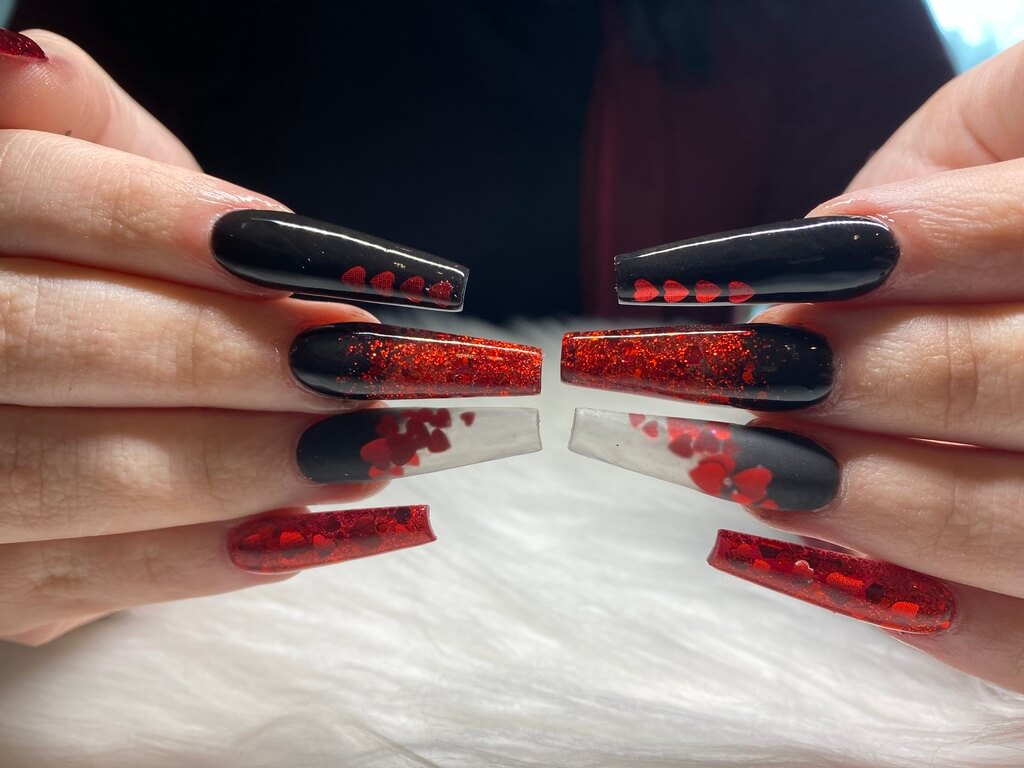 Source: nailcreations1.com
The conventional French manicure is defined by white tips; if you are a lady who likes color and wants something a bit more current, let us present you with the unique French manicure. This look is a wonderful way to experiment with different colors and is especially stunning when coupled with a transparent or nude base coat, which allows the colors to stand out. It is simple to make and customize, and it is simple to wear. Experiment with different color combinations or keep the base transparent until you discover one that works for you. 
11. Light Pink Coffin Nails with Glitter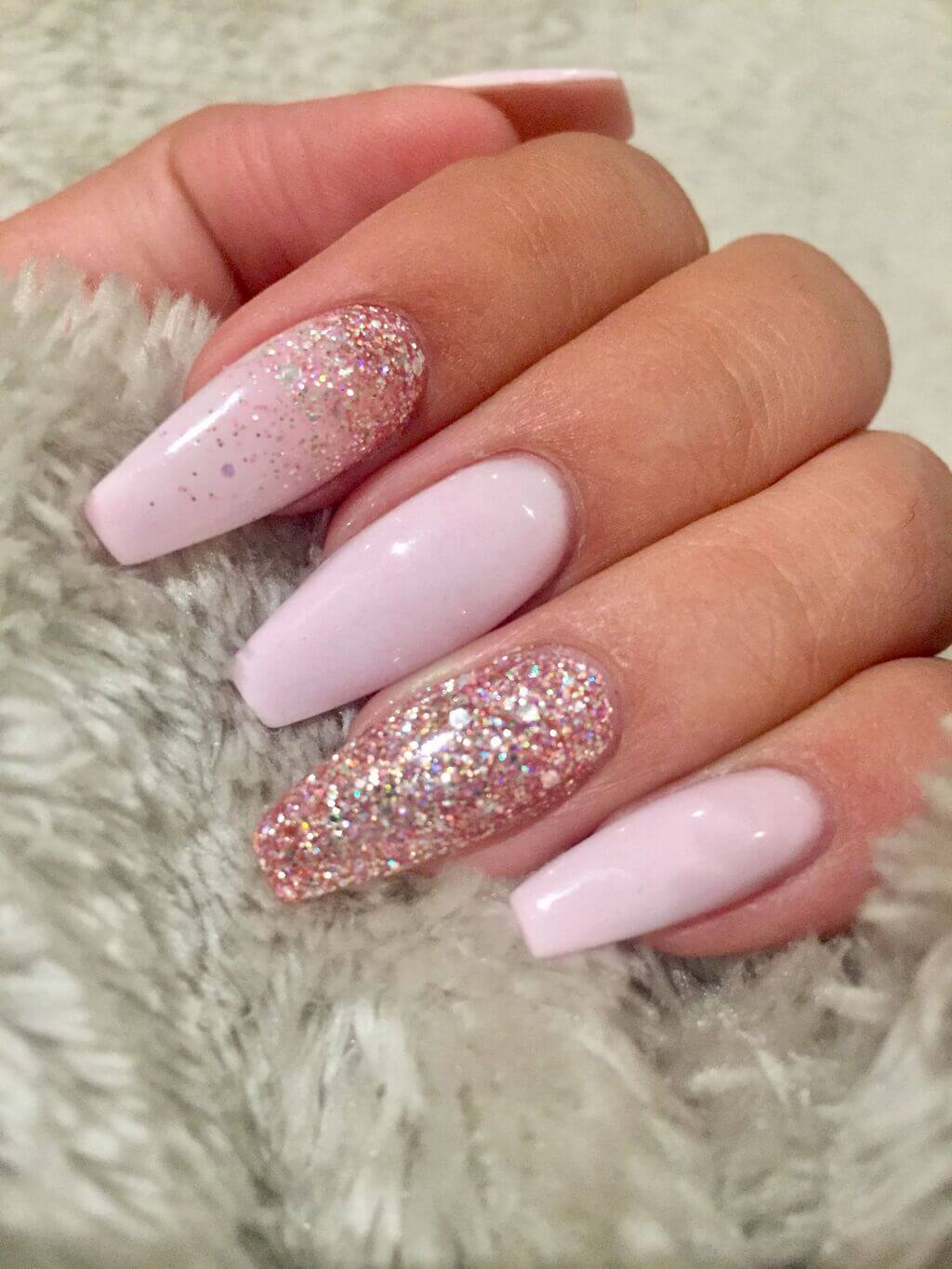 Source: pinimg.com
They look wonderful and are extremely simple to achieve. The first coffin nail with glitter has simply nail paint and glitter on it, but the glitter adds a distinct aspect that makes the manicure look polished and beautifully designed.
Light pink coffin nails with glitter that look amazing when the light shines just right on them, moreover these pink nails are the ideal length.
12. Northern-Light Inspired Coffin Nail Design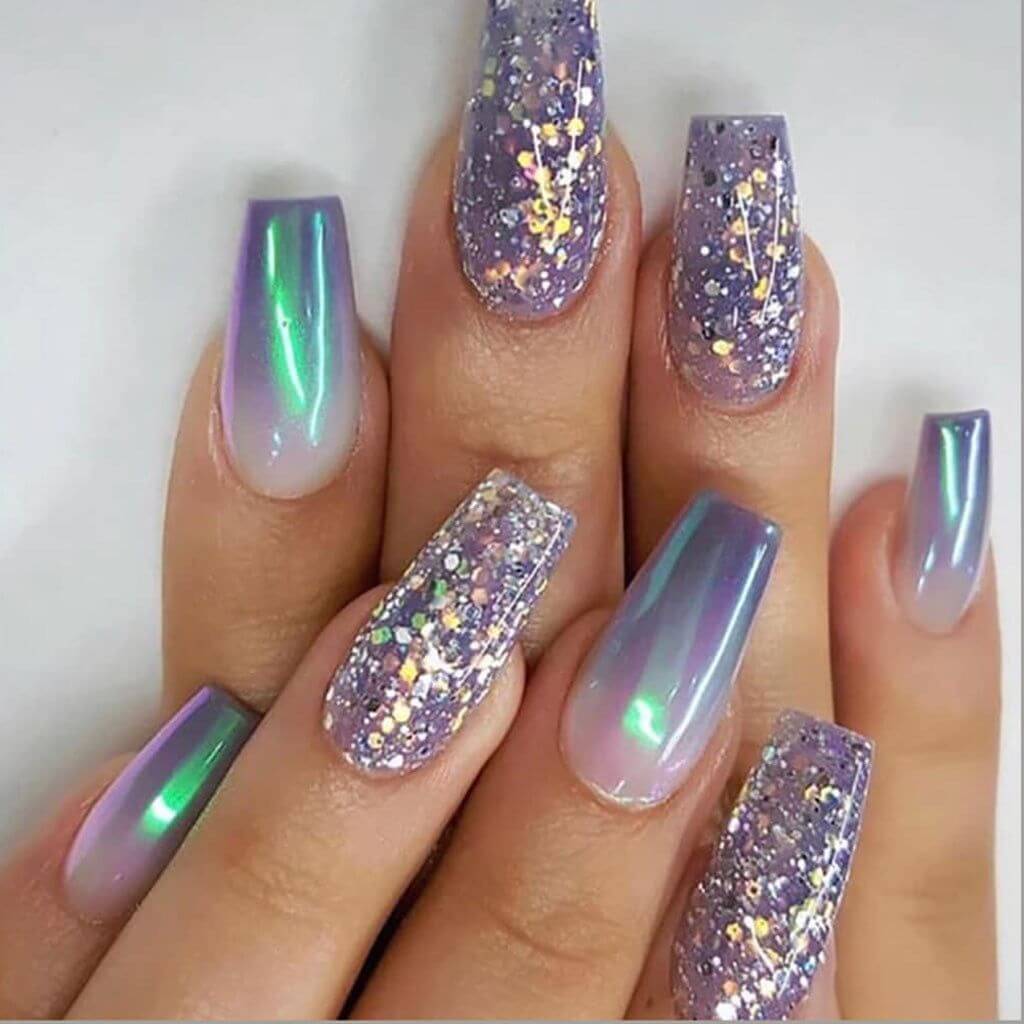 Source: pinimg.com
If you're more interested in the lights than the land in your landscape manicure, northern light nails are the way to go. This exquisite artwork (officially known as the aurora borealis), has an almost uncanny vibe about it. It blends dark forests with the vivid hues of the starry lights for a glam nail art effect that you can't stop gazing at — much like the natural occurrence that inspired it.
13. Coffin Unique Nail Designs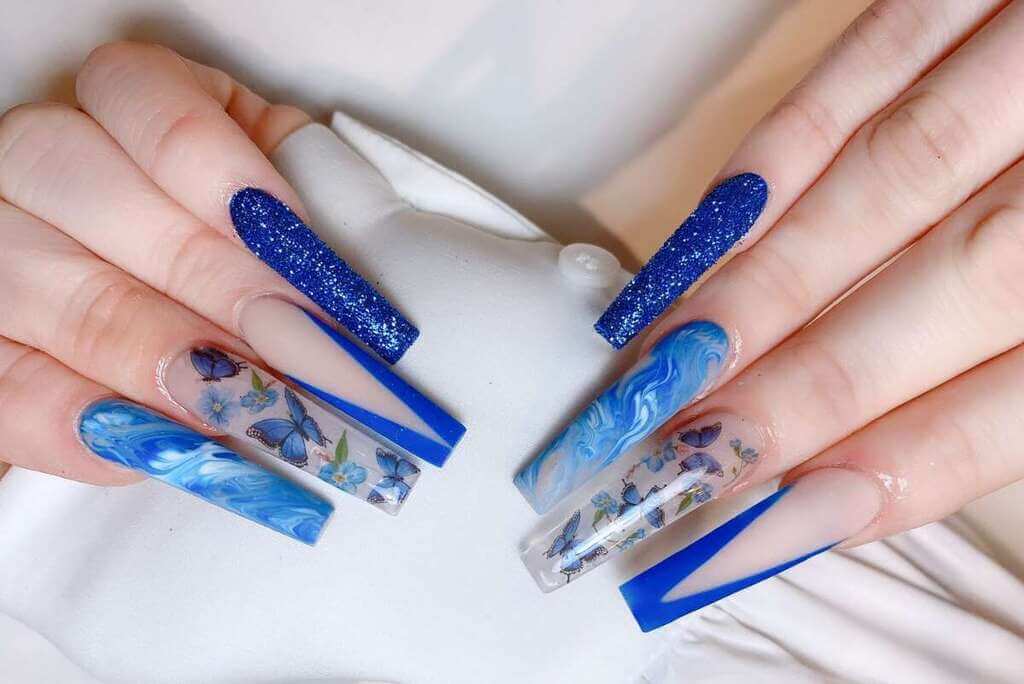 Source: hdnux.com
Unique Purple nail designs have always been popular among ladies all over the world, and when applied to these nails, purple may improve your attractiveness even more, and it is far superior to utilizing any other hue if you want to carry a particular style with you. Consider the popular coffin nail designs, all of which have stylish purple patterns that will make you appear like a diva. Lavender and violet can be used to achieve this look. Matte purple tones also look great.
14. Popular Bubblegum Pink Coffin Nail Designs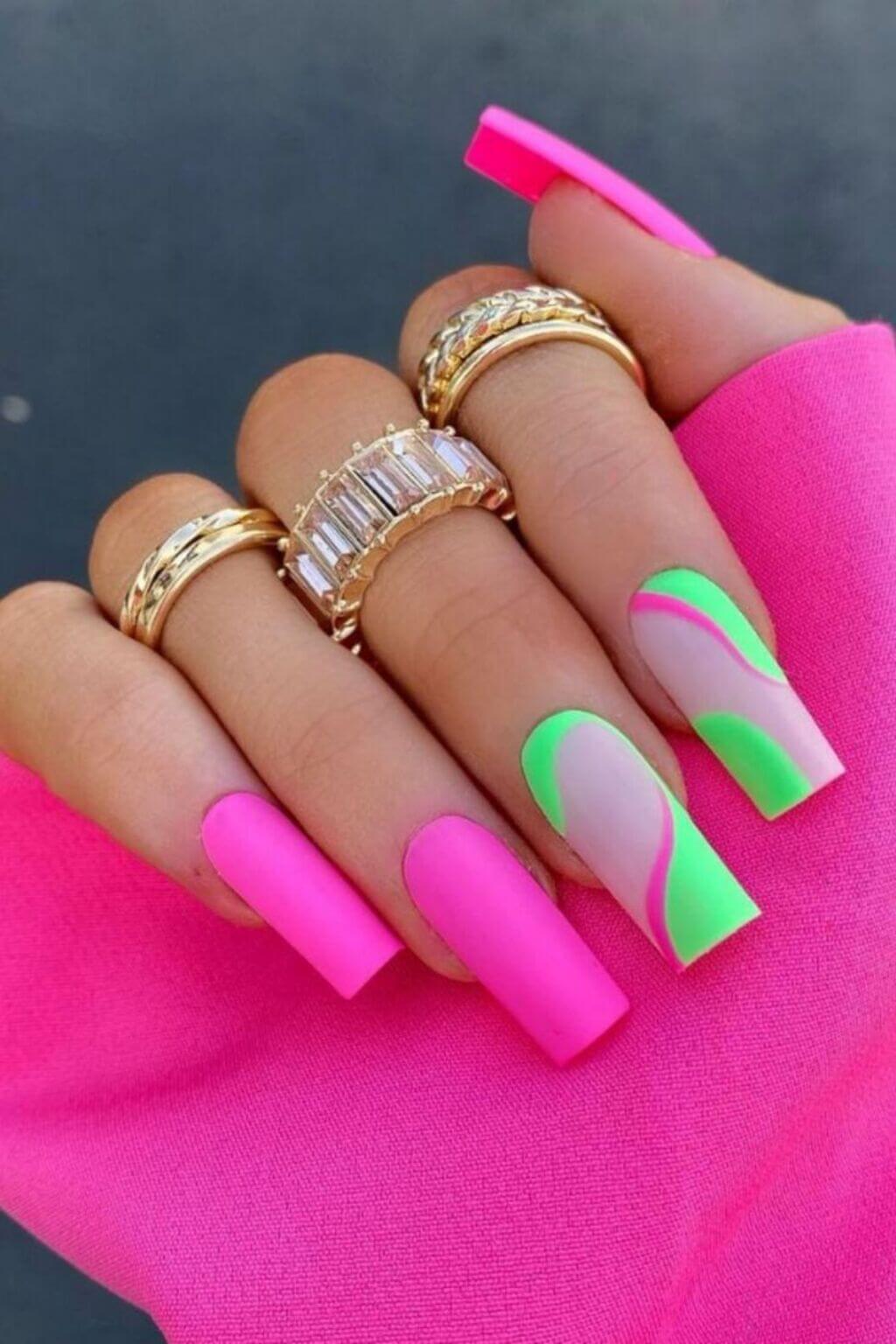 Source: pinimg.com
Bubblegum pink nails read as flirtatious and joyful. However, instead of the conventional glossy finish, attempt a matte finish. You'll still be able to do your own mani at home, but the end result will be much more intriguing.
15. Coffin Simple Nail Designs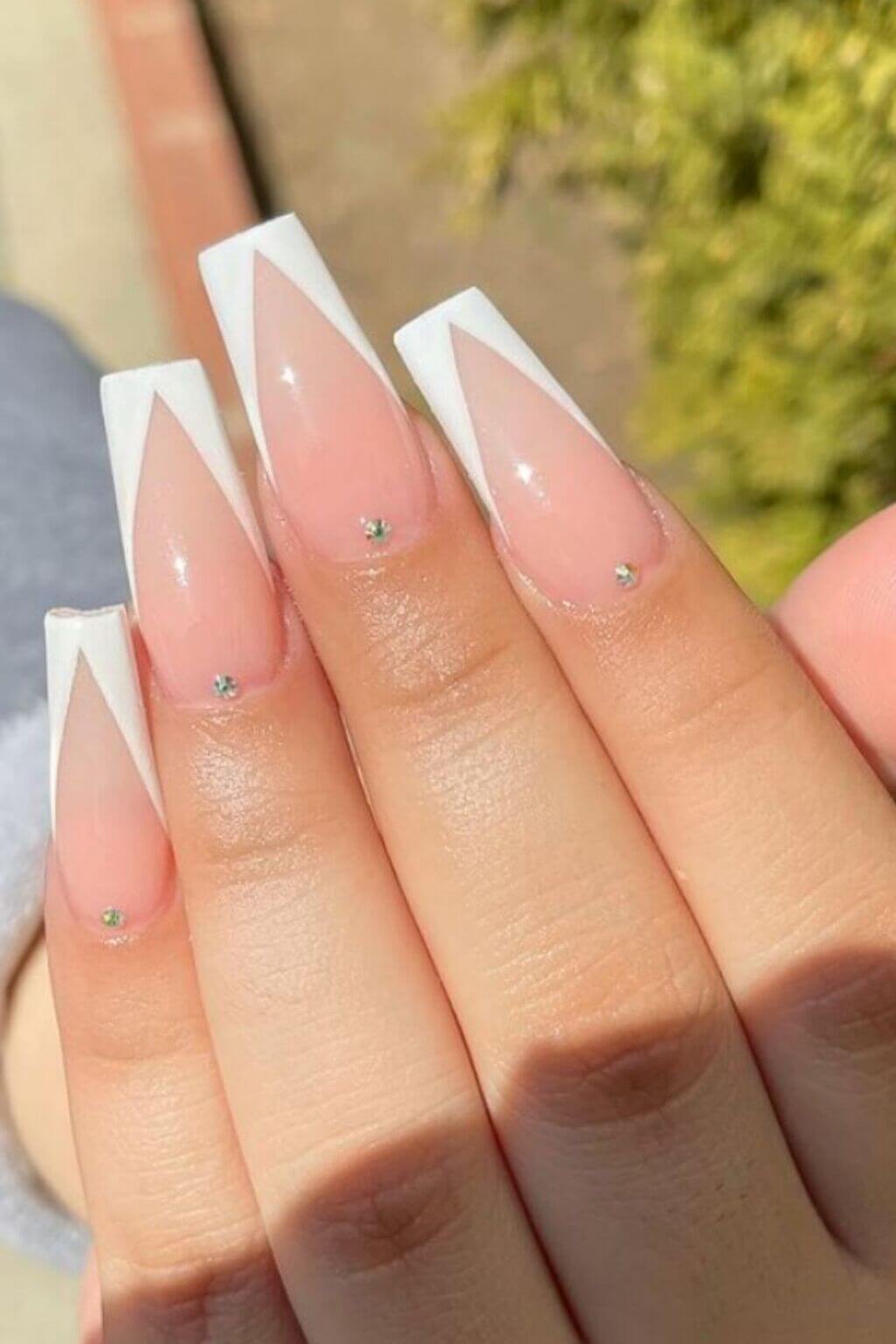 Source: hibeautygirl.com
With a light green matte color scheme, this coffin simple nail design offers a warm and earthy tone. Although the colors are modest, they work well together and will stand out even more when paired with a casual outfit.
16. Spring Coffin Nail Designs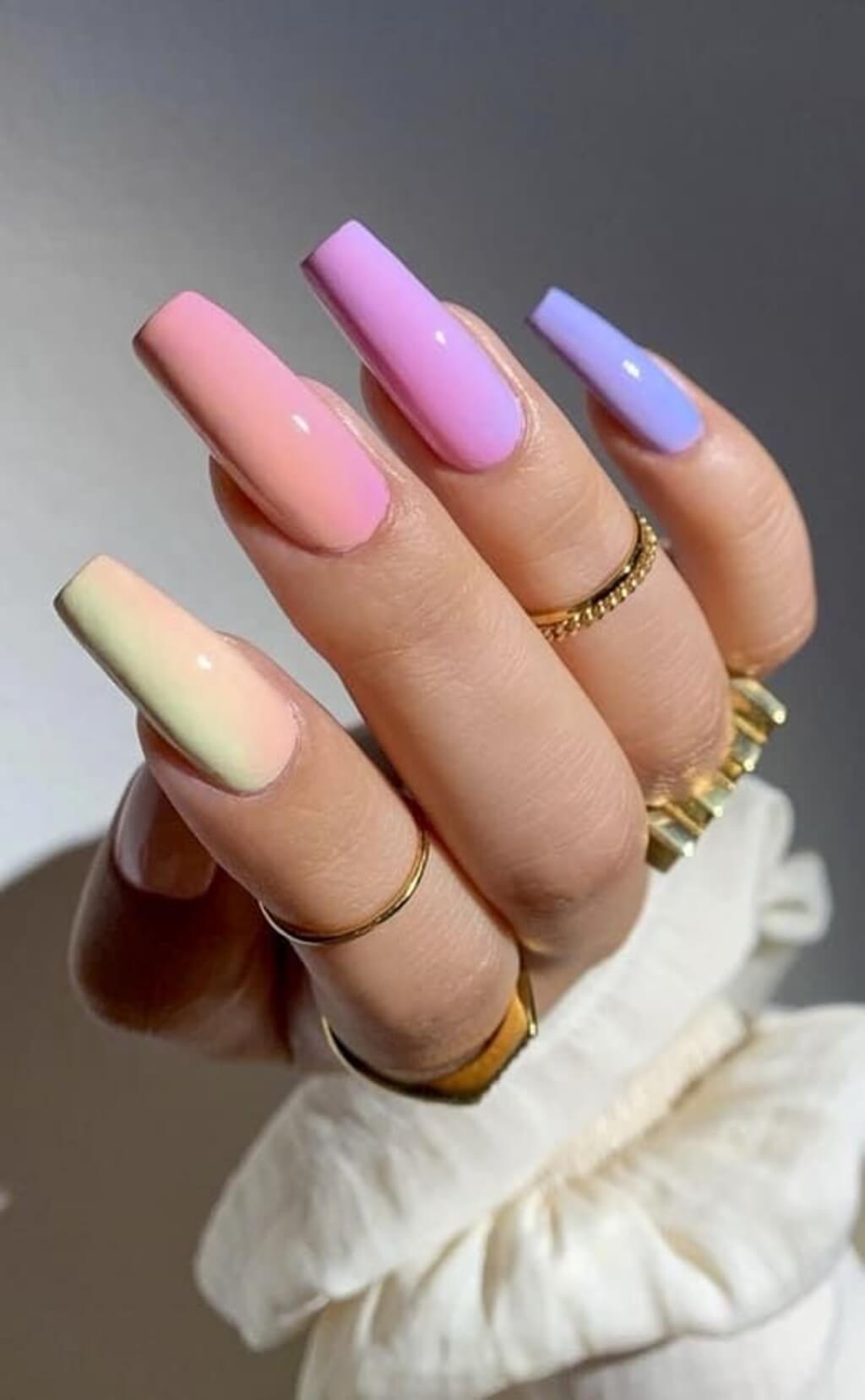 Source: whicdn.com
Spring is a time for new life and new beginnings. It's a vibrant time of year that's also full of positivity, and you can show it out with your manicure. 
Choose your favorite pastel colors and paint each fingernail with a different one when selecting how to make the perfect spring manicure. The end product is simple but elegant, and it works well on various nail shapes and lengths. Long nail shapes are quite attractive since they may stretch the fingernail, making it appear smaller.
17. Geometric Coffin Nail Design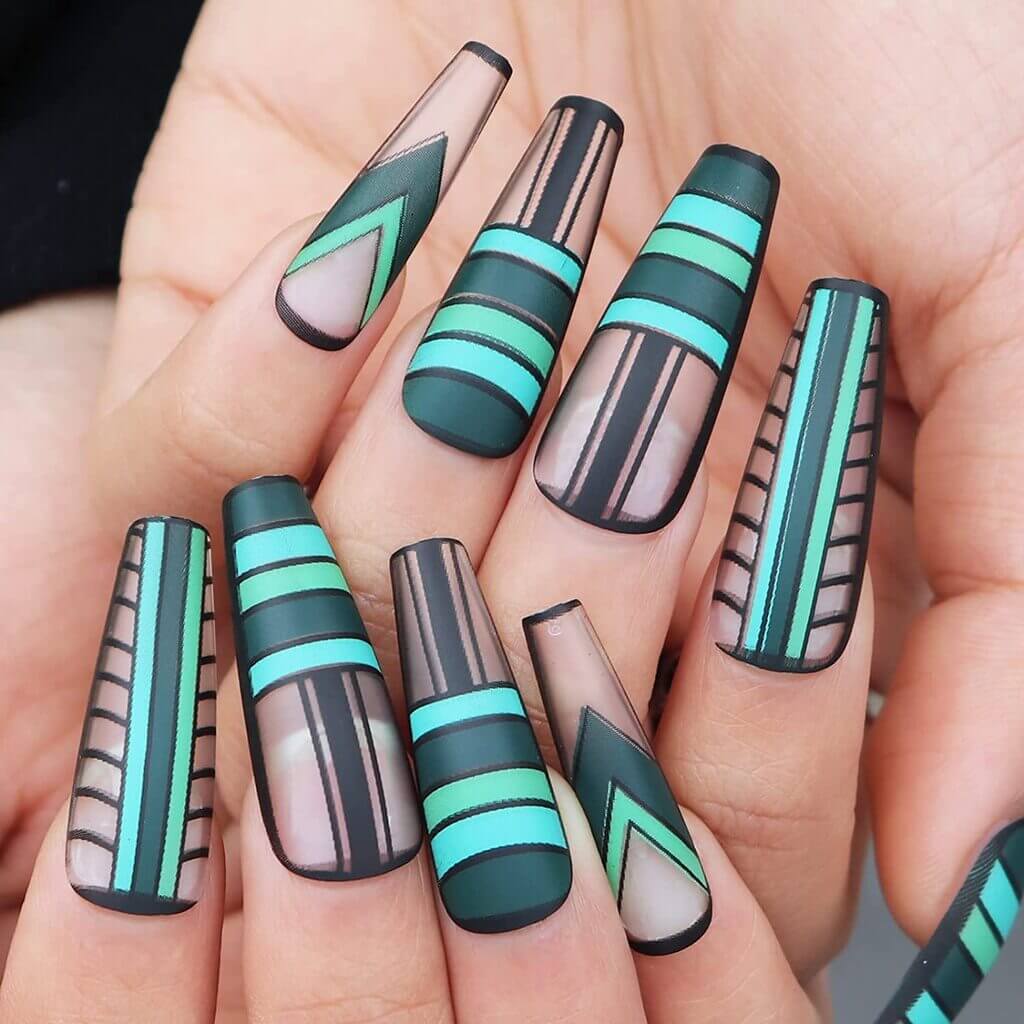 Source: amazon.com
These amazing geometric-shaped beauties are finished in a lovely, mellow matte tone. The geometric pattern stamped into the nail adds depth and intrigue to a simple manicure color and shape style. These stunning nails will take you from the boardroom to the dance floor. These are a flexible choice due to their classic form and fashionable metallic nail color and style.
18. Marble Nail Ideas Coffin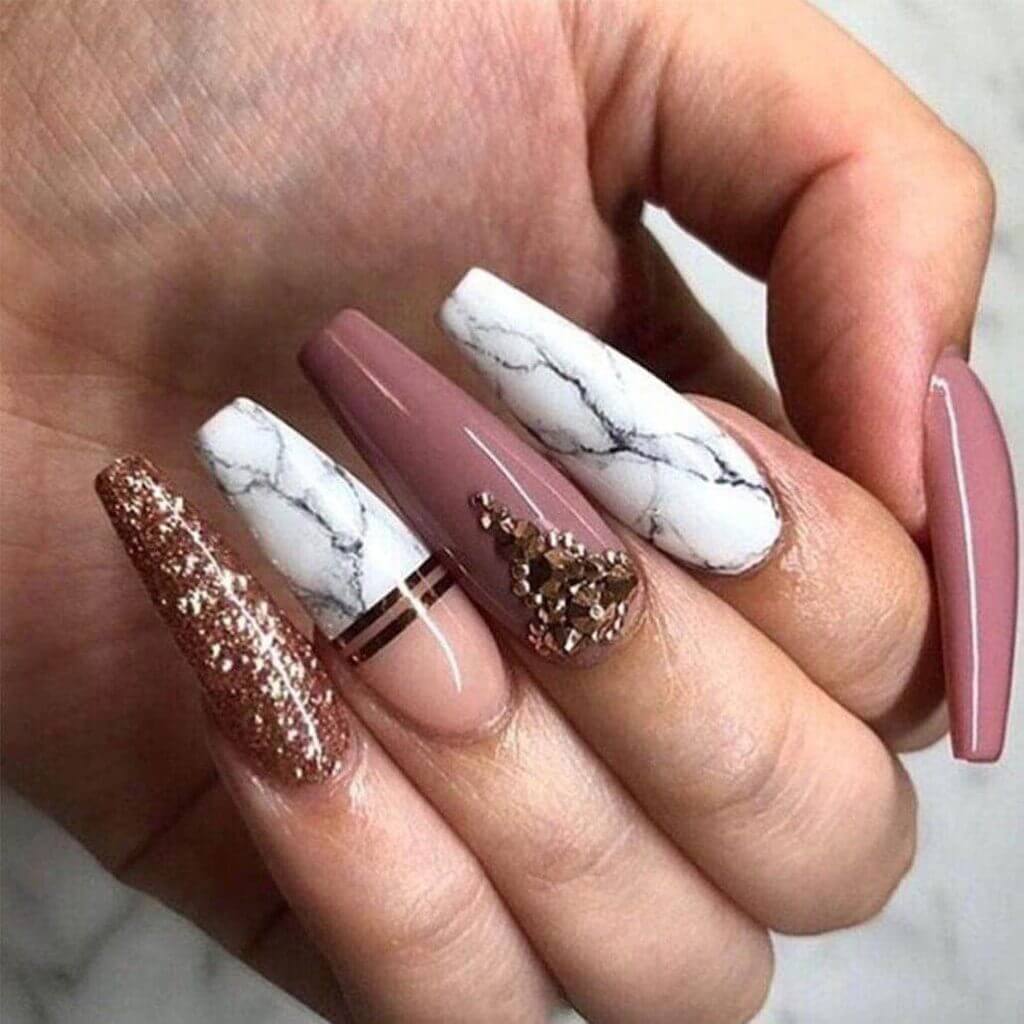 Source: ubuy.hu
Acrylic nail ideas coffin of marble nail art is fashionable, and it pairs well with glitter. Here's a beautiful example. Some of the nails are blue and pink, with two accent patterns. One is made of light blue color, while the other is made of marble with a light pink color. These are stunning nails that would be perfect for a special event. 
19. Embellished Coffin Nail Ideas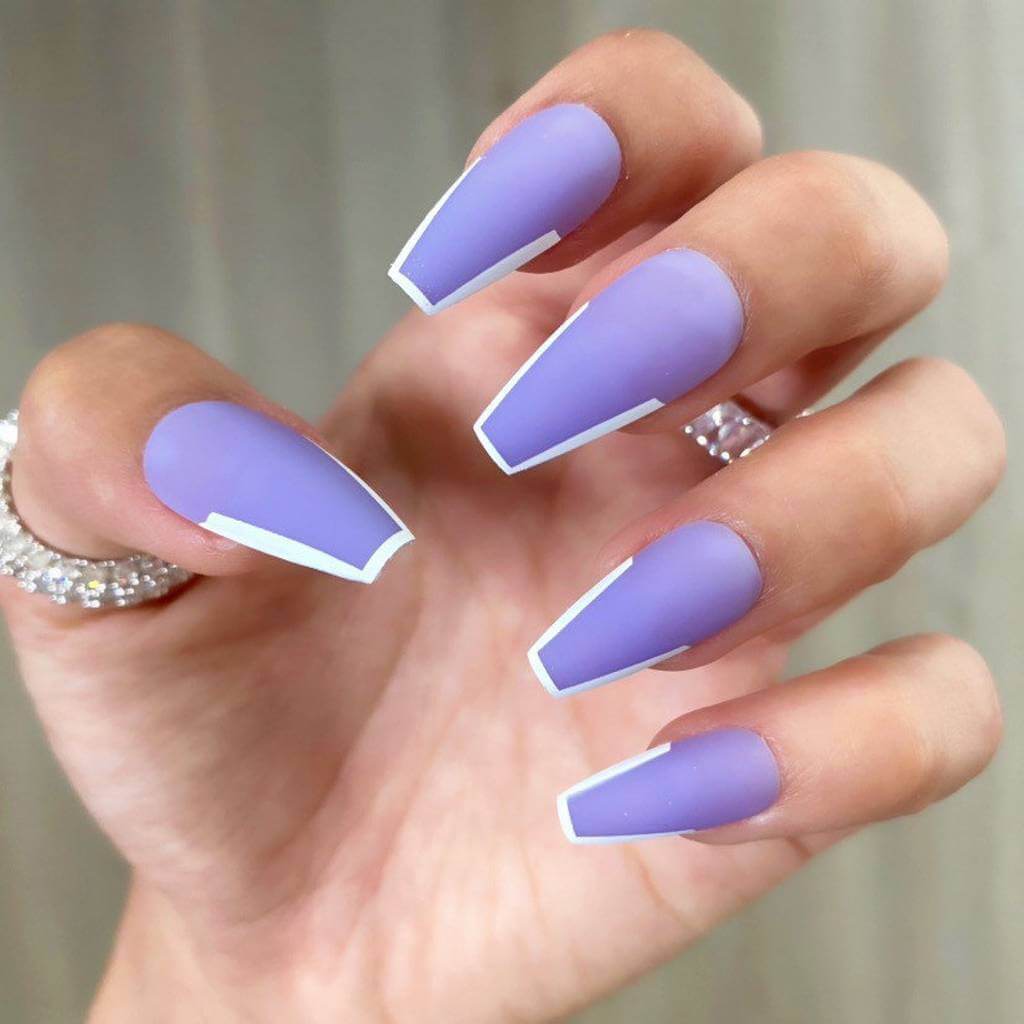 Source: collegefashion.net
Coffin-shaped nails may be quite useful for ladies who wish to stylize their nails with fashionable nail art since they appear unusual and are the current flavor of the season. The 'funkiness meter' may be raised by sprinkling nude accents all over the nails and adorning them with rhinestones for a sparkling effect. You can never go wrong with this amazing combination of nude and stones because it goes with every type of costume or make-up.
20. Burgundy Coffin Nail Pattern Ideas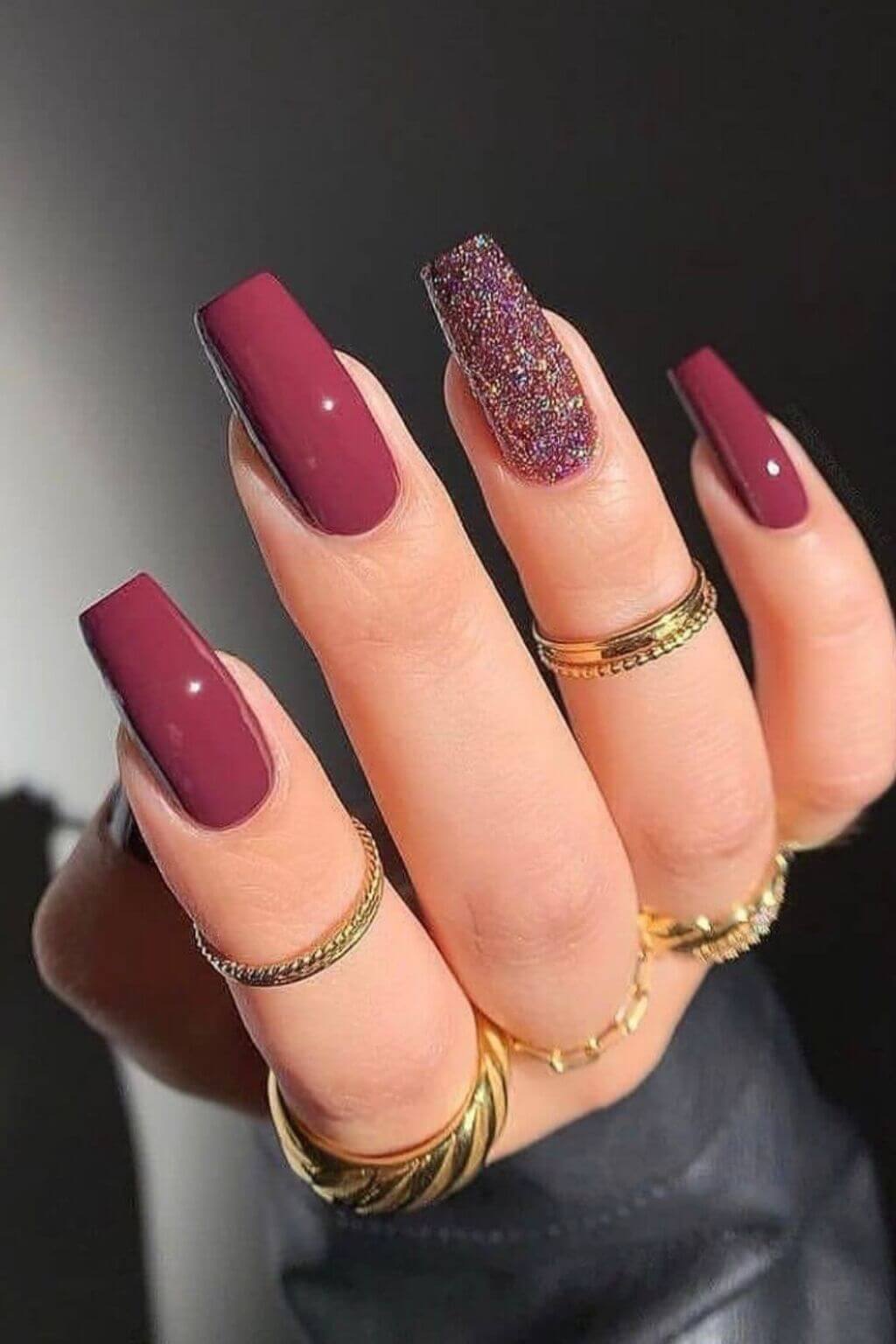 Source: pinimg.com
Burgundy nails are difficult to categorize as adorable coffin nail designs since they fall into the royal nail art genre. Some people may find coffin burgundy nails a little too much. However, if you want a strong and dramatic design, this is an excellent pick for displaying your flamboyant side. You may also experiment with other finishes, such as combining a glossy and a matte appearance. Highlight your ring fingernails with a multi-color glitter accent for a majestic look.
21. Ombre Nail Ideas Coffin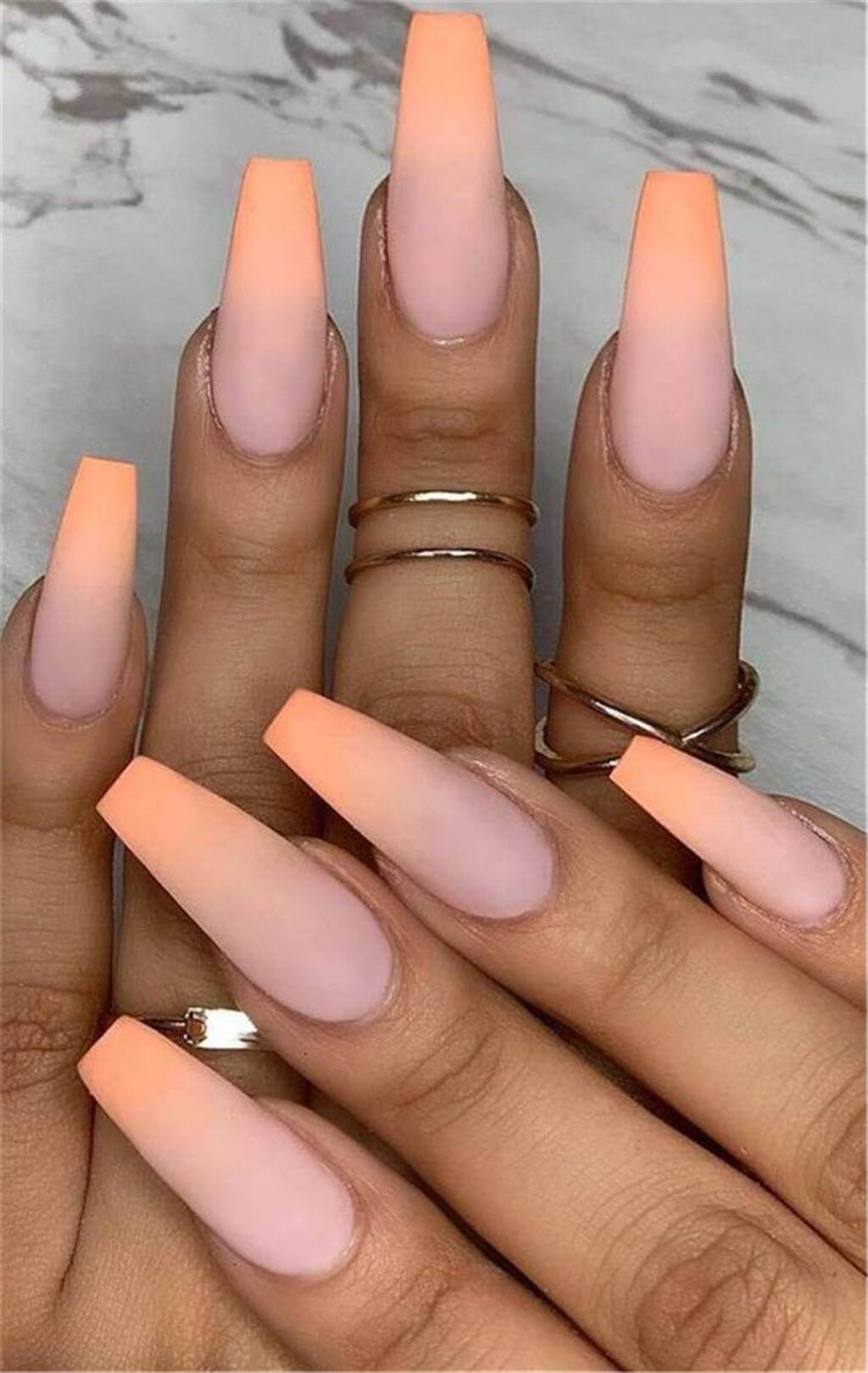 Source: shinecoco.com
One of my favorite coffin nail patterns is ombré neutrals. A neutral that runs from a pink or [bare] base to a white tip is like a modernized French manicure. The ombre nail design gets bonus points because the base color matches the natural nail bed and grows out smoothly. 
22. Matte Brown Coffin Nail Designs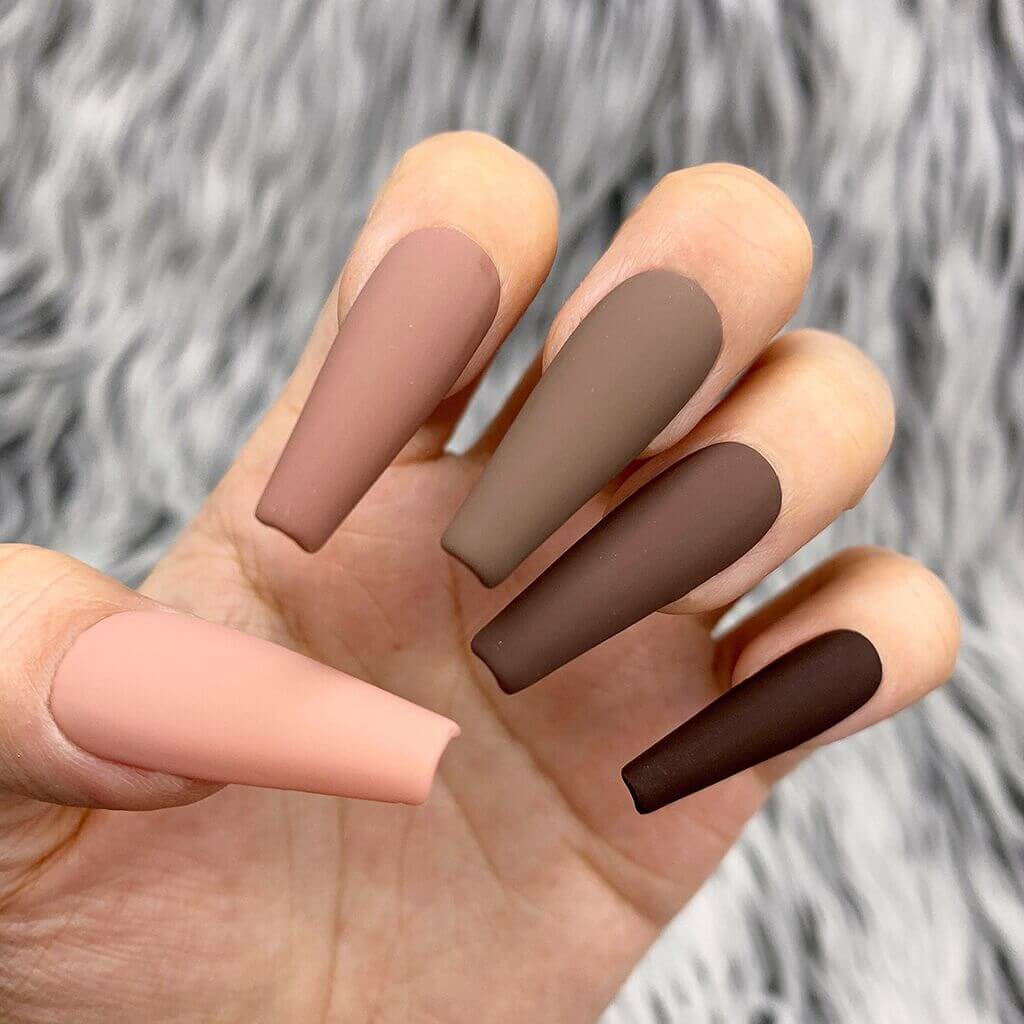 Source: pinimg.com
Brown may not appear to be a fashionable color option at first glance, but these next nails prove otherwise. The coffin nails are a matte brown, as shown in the featured photograph. On the nails, the natural earthy tone looks really gorgeous. We adore this style, which is appropriate for everybody.
23. Coffin Nails With Brand Design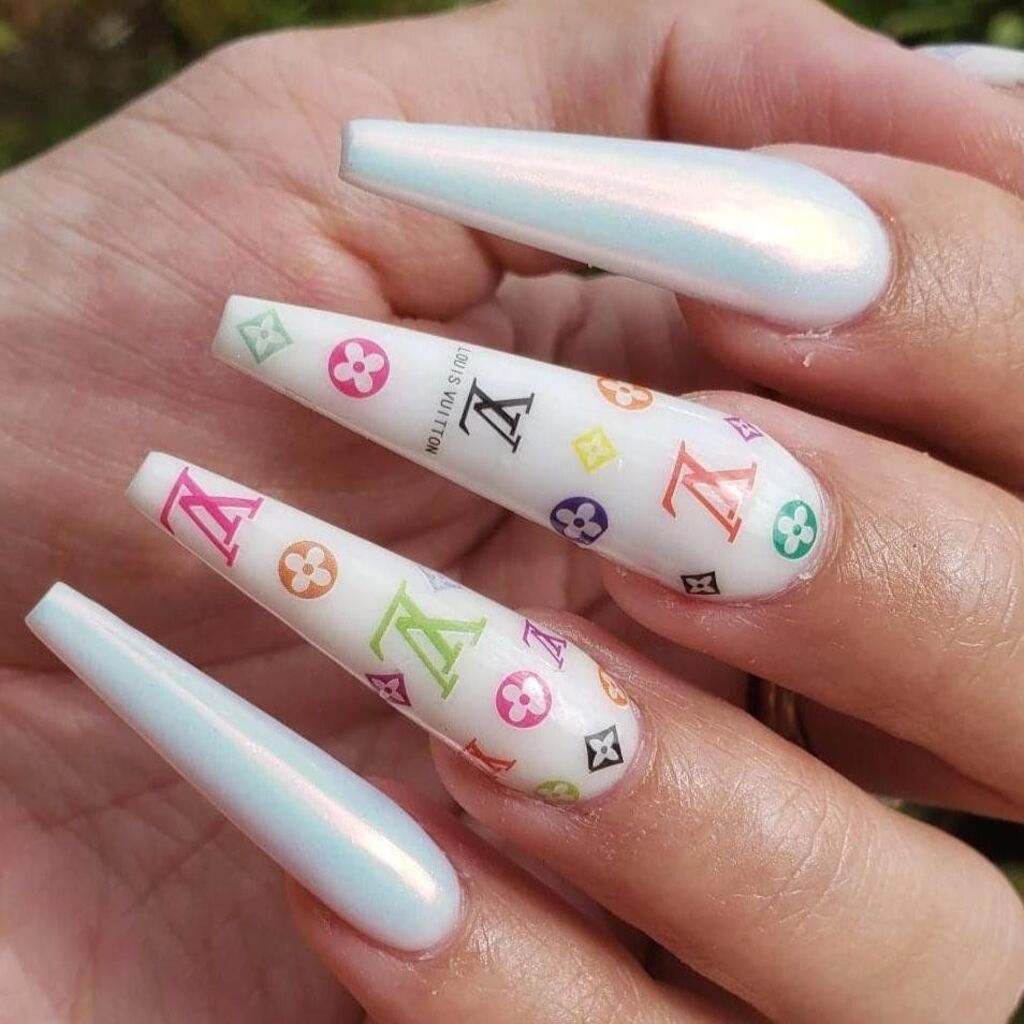 Source: pinimg.com
I am obsessed with this pink  Louis Vuitton manicure design. The Louis Vuitton nail decals provide a lovely texture to the solid and bright hues. A combination of square and ballerina tips creates a one-of-a-kind and eye-catching style.
24. Coffin Nail with Gothic Art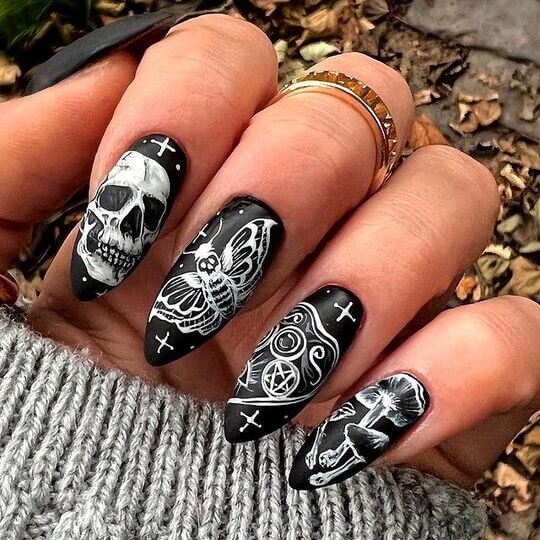 Source: hairstylery.com
25. Coffin Nail with Wave Design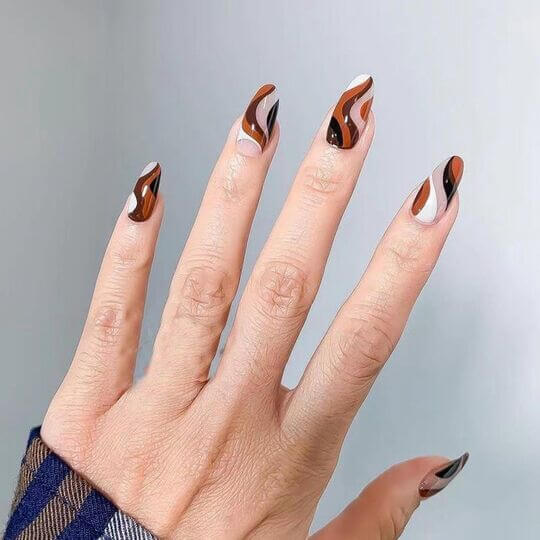 Source: alicdn.com
26. Rainbow Coffin Nail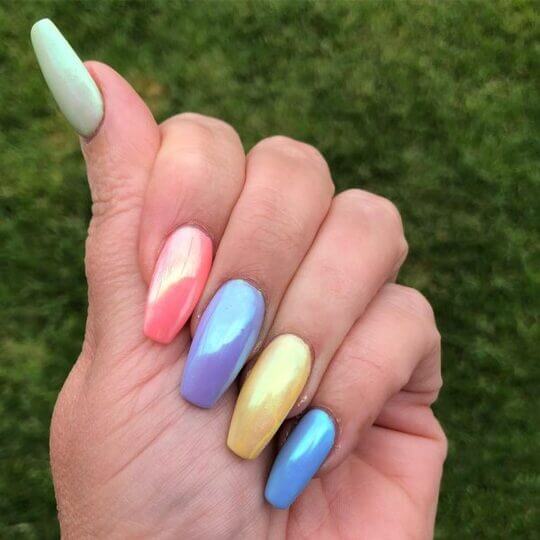 Source: stylishbelles.com
27. Yellow Coffin Nails
Source: stylishbelles.com
28. Fall Coffin Nails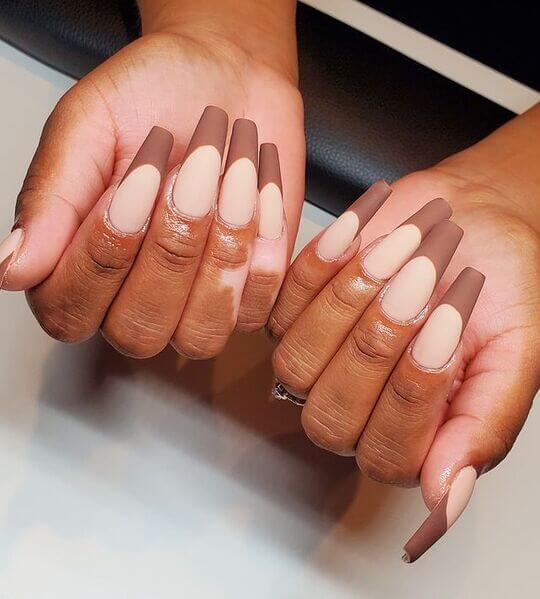 Source: hairstylery.com
29. Christmas Coffin Nails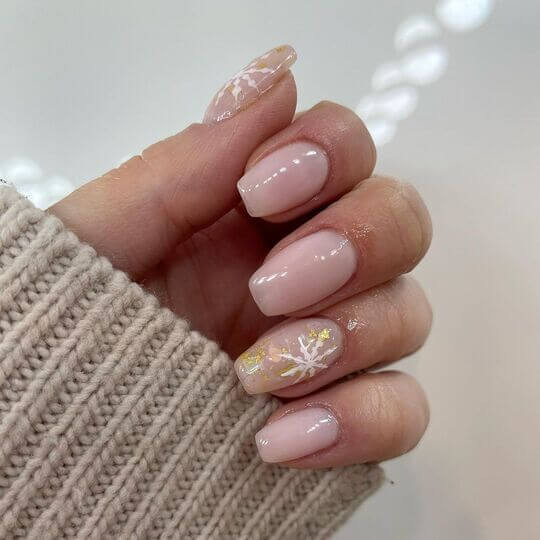 Source: hairstylery.com
30. Valentine Coffin Nails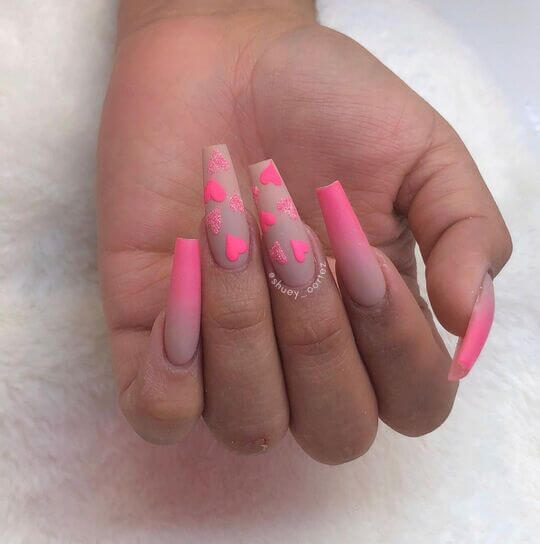 Source: hairstylery.com
31. Coffin Nails with Black and Golden Colors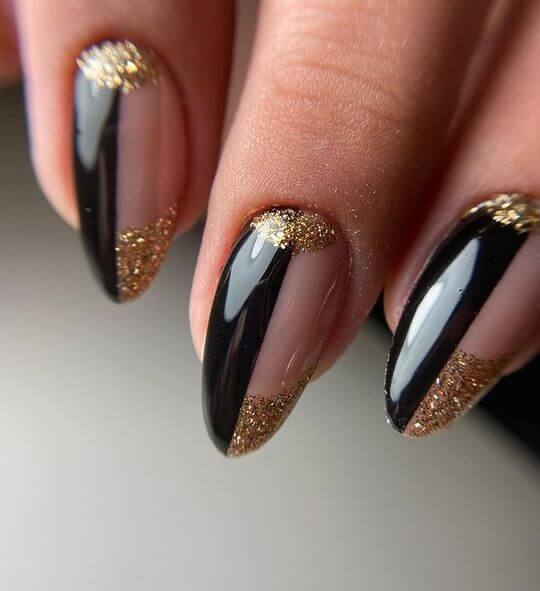 Source: hairstylery.com
32. Rose Golden Coffin Nails

Source: hairstylery.com
33. Coffin Nails with Black and White Nail Art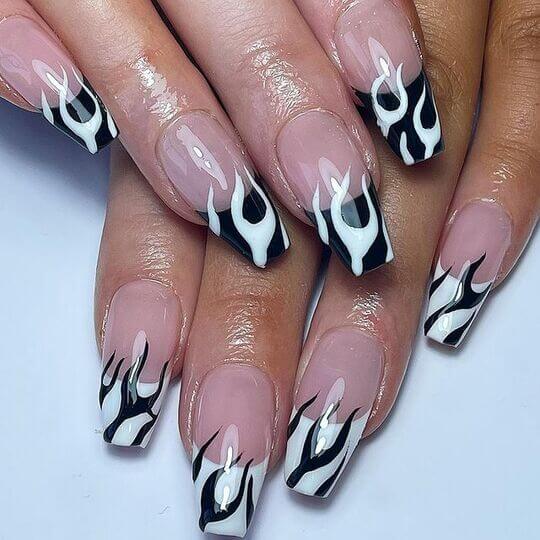 Source: hairstylery.com
34. Halloween Coffin Nails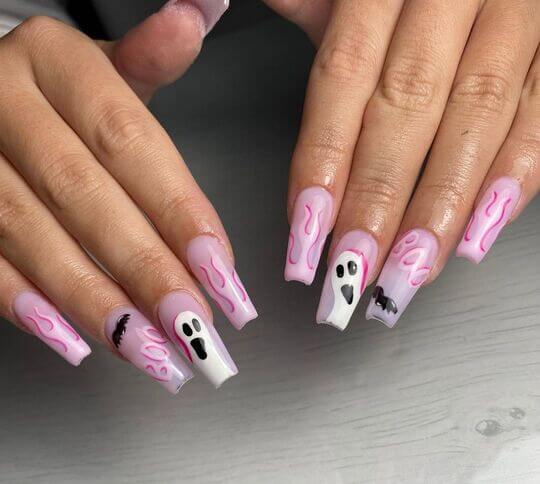 Source: hairstylery.com
35. Beige Coffin Nails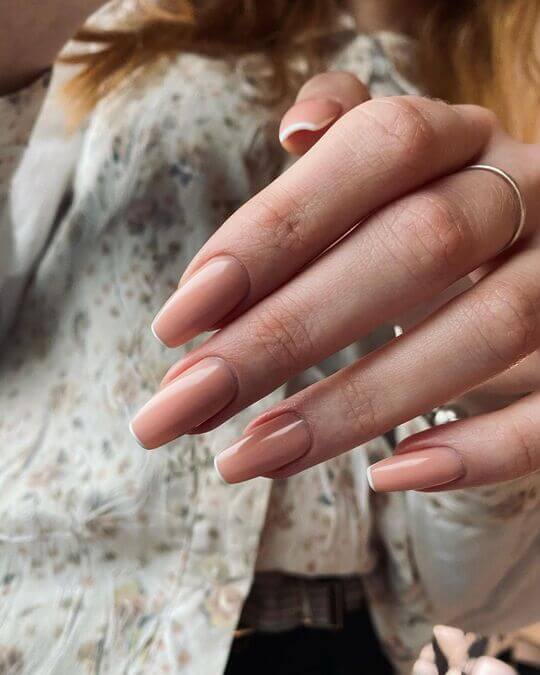 Source: hairstylery.com
Final Words On Coffin Nails Ideas
To sum up things, it might be difficult to decide on your ideal coffin nail ideas while getting your nails done, but coffin-shaped nails are the ultimate go-to nail shape. Coffin nails are ultimately a hybrid of the square and stiletto nail shapes. The square form is represented by the blunt straight edge, and the long slight diagonal side has the same effect as a stiletto nail. 
Whatever the case may be, a coffin nail is a terrific form for making a statement, a beautiful manicure that yet appears sophisticated and reasonable. Just like this coffin nails ideas blog, read more at Fashionterest. Also, to get the trends and tricks on fashion & beauty delivered directly to your inbox, subscribe to our newsletter.
For more, you can browse through Fashionterest.