Jeans – a wardrobe staple for both men and women!

This single piece of clothing is versatile, comfortable, and looks absolutely stylish. However, many people don't find the right pair of jeans while shopping. Sometimes it's too loose at the waist or too tight at the hips. If this happens to you too, then the real reason behind it is that you don't know which kind of jeans are suitable for your body type. Yes, you may already know that there are various fits and types of jeans available on the market, from skinny fit to bootcut jeans. You can wear any type of jeans to dress up or dress down your outfit. However, the real challenge is finding the perfect denim!
Are you also trying to find the perfect pair of jeans? Look no more; you've landed on the right page!
Today, in this jeans guide, I've covered all the different types of jeans. So, whether you're a woman or a man reading this post, you can easily understand the various kinds of denim. So, keep reading till the end and find the best pair that fits you perfectly and makes you feel great.
Let's dive into the versatile world of denim.
Best Types of Jeans for Women
1. Skinny Jeans
Girls, show your gorgeous curves in these gorgeous skinny jeans to get lots of compliments!
Known for their sleek and flattering silhouette, skinny jeans were a staple piece of every woman's wardrobe before the pandemic. They're form-hugging, super comfortable, and go with almost every top you have in your closet. These jeans are about ankle length, so they look best with heels or boots.
2. Straight Jeans
"I'm like every other woman: a closet full of clothes but nothing to wear: So I wear jeans." – Cameron Diaz
If that's the case with you as well, all you need to do is get at least one pair of blue straight-leg jeans like these Levis jeans! Whether you want a casual fit or a semi formal fit, straight jeans can do the perfect job. Plus, they look stylish and are super comfortable. These types of jeans end right before the ankle and have a more relaxed fit than skinny denim. From a round-neck tee to tank tops, these jeans can be styled in many ways.
3. Low Rise Jeans
Low rise jeans, also known as low-waist jeans, were trending everywhere a couple of years ago. Tight crop tops and skinny, low-rise jeans took the fashion world by storm! They sit a few inches below your belly button and give your waist a flattering look. These jeans are available in skinny, straight, and baggy design patterns. For women who want to define and show their waist, these types of jeans are the right choice!
4. Mid Rise Jeans
Women have a love-hate relationship with mid rise jeans! These types of jeans, as their name implies, are right in between high-rise and low-rise denims. The best thing about them is that they flatter most body types and are extremely comfy. So, don't think much and get a pair of mid-rise women's jeans, and who knows, you may even end up liking them more than other types of jeans.
5. High Rise Jeans
High rise jeans need no introduction, as you may already have many pairs of them, right?
High rise jeans, also known as high-waist jeans, are one of the most popular types of jeans among women. This denim is best for girls who want to hide their belly fat and chubby waist, as it will completely hide the waist area and give a more streamlined look. Whether it's your birthday dinner or you're going on a movie date, grab a high-waisted pair of jeans and a solid crop top, and you're good to go!
6. Boyfriend Jeans
Boyfriend jeans became popular when Marilyn Monroe was spotted wearing her boyfriend's loose, baggy jeans. However, this doesn't necessarily mean wearing your man's denims; this fit is actually inspired by the relaxed-fit style of the men's jeans. These denim jeans are a bit tighter around the hips and loosen down on the legs. Boyfriend jeans are well-known among girls and women of all ages because of the casual yet chic appearance they offer. Try these old navy jeans women in boyfriend fit style!
7. Bootcut Jeans
Bootcut jeans are the '60s and '70s style of denims that made an iconic comeback in 2017, and still, people love this style! They have a unique tight fit around the hips and thighs but are loose towards the bottom (below the knee). You can either dress them up or down, as per your liking. Try your bootcut jeans with heels and boots for a distinguished and sophisticated look.
8. MOM Jeans
"I want to die with my blue jeans on." – Andy Warhol.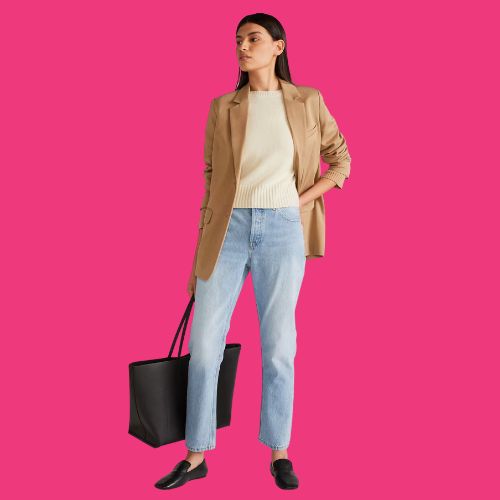 MOM jeans are as loved as the boyfriend and bootcut jeans. They're considered the most comfortable yet chic-looking jeans available on the market. These types of jeans are high-waisted and have a loose fit on the top, which actually looks flattering on most body types. Check out these 80s-inspired MOM jeans by Levis for a vintage look!
9. Flared Jeans
Get the 70s celebrity look with the most fashionable and flattering jeans, known as flared jeans. You can wear them every day or save them for special occasions; it's up to you!
10. Cargo Jeans
Do you like the edgy and tech aesthetics? If yes, you'll surely love these cargo jeans, which offer a utilitarian or military style! They are not only comfortable but also quite functional, like these Dickies jeans.
11. Ripped Jeans
Ripped jeans are edgy, rebellious, and absolutely dapper! These distressed types of jeans are perfect for girls going for a super cool and grungy vibe.
12. Jogger Jeans
Do you want the comfort of your jogger while looking chic? If yes, think no more and get the jogger jeans! Yes, this type of women's jeans has the best of both worlds. You can easily style them with various tops, t-shirts, and shoes. Just keep experimenting to create stunning outfit looks!
Best Types of Jeans for Men
1. Straight Leg Jeans
Straight-leg fit is the most common type of jeans for men on this planet. This is why they're also known as the 'universal cut' jeans or the most versatile jeans. As their name suggests, these denims offer a straight, comfy fit from thigh to ankle. All men should have at least one pair of straight leg jeans in their wardrobe to create classy and timeless looks!
2. Wide Leg Jeans
Live your life in comfortable and breathable jeans, called the wide-leg jeans. With their broader leg opening and relaxed fit, these mens jeans are today one of the fashion statement pieces.
3. Loose Fit Jeans
Fitted jeans look trendy and stylish, but there is the ultimate comfort in loose-fit jeans, and all men need this, right? So, this time, switch up your skinny or straight fit jeans with loose fit jeans to enjoy the baggy look.
4. Regular Fit Jeans
If you're looking for jeans that are not too tight and not too loose, try the regular fit! These jeans have a mid-rise with a tight fit around the top and a wide leg opening. You should have at least a couple of regular fit jeans in dark colors, as you can use these lee jeans for men to create multiple outfits, both casual and semi-formal.
5. Slim Fit Jeans
If you're thinking that skinny jeans and slim-fit jeans are the same, no, they're not! They're not super tight but have a body-hugging style that offers a form-fitting and stylish look without putting much effort in. If you have a slim or athletic body, these types of jeans will look amazing on you!
6. Low Rise Jeans
If you have abs, flaunt it while wearing only low rise jeans!
Low rise jeans or low-cut jeans sit right at the lower part of the waist, giving a sexy look. The fit, overall look, and everything else about these types of jeans are amazing.
7. Mid Rise Jeans
Feel the perfect balance between comfort and fashion with these mid rise jeans! These denim jeans sit naturally at the waistline and offer a flattering look on most body types. You can pair these mens designer jeans with a variety of shirts and shoes to create everything from everyday outfits to party looks!
8. High Rise Jeans
If you want to make your legs look long or elongated, wear high rise jeans! You'll be surprised to know most models and influencers wear the same jean style to get picture-perfect and streamlined looks. From vintage and retro to edgy and modern, you can actually achieve so many outfit styles with a single pair of high-waist jeans.
9. Taper Jeans
Narrow at the ankle, a little wide from the top—we're talking about the tapered jeans fit! From formal to casual, this fit is in trend right now. If you have larger thighs and waists, this type of jeans for men is a must for you. You can buy perfect tapered jeans from top brands like Wrangler and Levis. Also, you can showcase your favorite footwear.
10. Boot Cut Jeans
You may have seen these jeans with cowboy boots; however, they also look pretty good without the boots. They don't have much flare, like wide leg jeans and flared jeans, but they are a bit loose at the bottom. However, they fit naturally on the waist and give a flawless appearance. Buy these mens wrangler jeans, now.
11. Skinny Fit Jeans
The most common way to identify skinny jeans to check the fit is if it's super tight from the waist to the ankle; it is skinny jeans, simple! They might look uncomfortable, but actually, they're not only when you purchase the right pair of skinny jeans for men. You can try mens black jeans or blue denims or any of these options below!
12. Ripped Jeans
If you want an edgy and rugged outfit look, there is no better option than ripped jeans for men!
Here, the jean fabric is ripped, torn, or frayed to achieve this unique appearance. Available in various fits and sizes, these types of jeans for men are trendy and fashionable. Learn How to Fray Your Jeans.
Live Your Dream Denim Life!
Jeans aren't just a garment; they are a way of showing our style and personality to the world! Whether you like the latest trendy style or love the classy retro look, you can find exactly the right pair of jeans. Today, there is a wide range of denim available on the market, from classic straight fits to edgy ripped jeans. So, you can either consider your style or your body type to find the perfect types of jeans.
So, don't think much, as there's a perfect pair of jeans waiting for you!
In case you missed it!