For decades, jeans have been a closet staple for men and women alike. The ease with which they can be styled up or down makes them the perfect addition to any outfit, and styling jeans has never been more straightforward, with various cuts and colours to choose from.  
So whether you are dressing them up for winter with mens boots NZ or keeping it casual in summer with sneakers, jeans will become a fashion favourite in your wardrobe, if they aren't already. 
Before You Start 
The classic blue men's jeans style have been around for what feels like forever. And while this cult favourite has never gone out of style for a reason, changing up the traditional ideas surrounding it, can breathe fresh air into your style. 
Gone are the days when standard blue was all you had to pick. Nowadays, jeans come in various shades– from light wash to dark wash and off course, black. You can also find a variety of bold colours for those who are more daring to stand out. 
The rule around this is relatively simple. The darker the shade, the more formal the look. Remember this when styling your outfits around events and the environments you are a part of. 
Straight Leg
Source: freepik.com
The most common and classic jeans style is the straight cut. As the name suggests, the fall of these pants is straight from the knee to the ankle with a slightly looser fit. You will never struggle to find options for this style. This cut of jeans will always satisfy your basic denim need. Never too tight nor loose, and the mid-rise is never too high nor too low.
The straight cut is ideal if you want to embrace the double denim look. Pair them with a simple white tee and a denim jacket in the shade slightly lighter or darker than the jeans for a casual day look. Alternatively, dress them up with looser layers for a semi-casual evening look. 
Slim-Fit
Source: wallpaperflare.com
The slim-fit cut is optimal if you want something more stylish but still care about comfort and movement. The tapered fit creates a sharper silhouette and transforms them from a simple pair of jeans to formal clothing when needed. 
As mentioned before, darker shades of blue and black will make any outfit more formal. Pair these with a button-up, lace boots and blazer for a look smart enough for the boardroom and date night. 
If you want a more casual look, go for a lighter wash and combine it with your favourite graphic tee and pair of sneakers. 
Bootleg
Source: hearstapps.com
You don't need to live in the wild west to rock the bootleg jeans. Originally designed to fit over a pair of cowboy boots, they have made their way into more mainstream fashion. 
The waistband will sit along your natural waist, a more fitted shape over the thighs, while the hem will always flare out to some extent. 
While they are considered more on the casual side of the spectrum, adding a simple button-up and everyday jacket to your ankle-laced boots will keep you comfortable and stylish. 
If you feel like you simply can't pull off the look correctly, don't stress. They are slightly challenging to style in conventional urban environments. 
Skater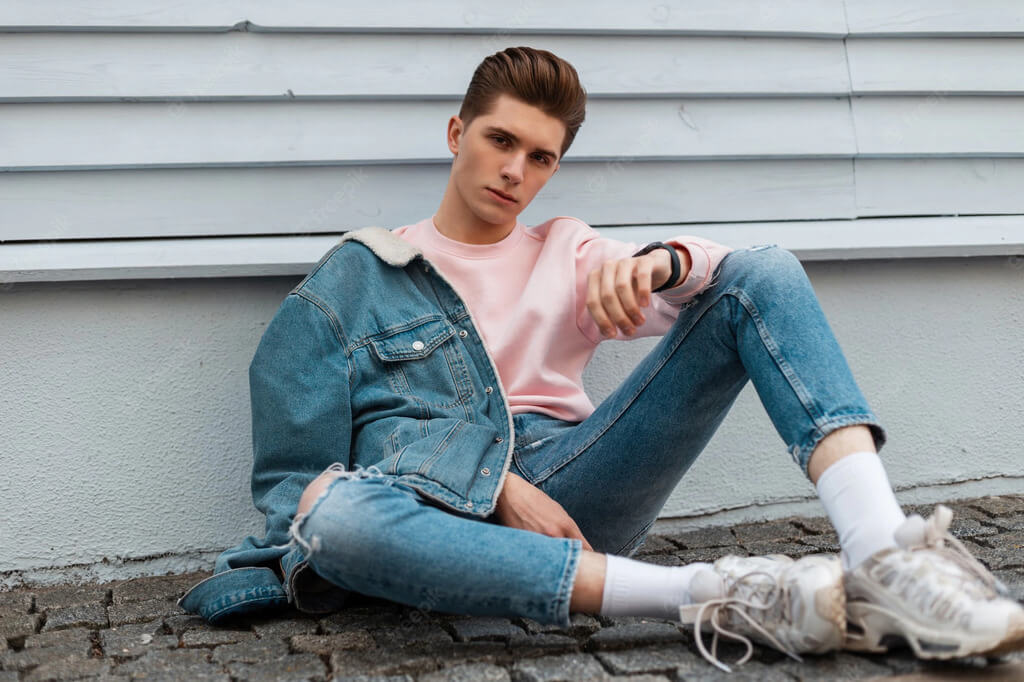 Source: freepik.com
Skater jeans are a great example of street fashion that has found its rightful place in the fashion world. 
Designed with skaters in mind, the loose fit allows optimal movement and comfort, while the cropped hems protect your pants from getting dirty or caught in anything during your day. 
Typically, skater jeans only come in middle or light wash tones, further pushing this item's casual nature. 
When creating an outfit around these, try to stay as close to the original street fashion style as possible. For example, fashion sneakers and a hoodie will offer you the perfect casual day look during the colder months. Swapping out for a plaided unbuttoned shirt and white tee underneath will cover you for the warmer months. 
Also Read: Men's Guide to Rocking a Polo Shirt
Summer 
Source: thebrdwlk.com
A key reason for the success of jeans is their versatility. You can wear them all year round, during all seasons, and style them to fit nearly any social event. 
When styling jeans in summer, avoid overly fitted options; instead, opt for something looser and cropped just above the ankles. Denim is a thicker material, and you want to prevent overheating. 
Pairing jeans with various t-shirts, lightweight collared shirts, and sneakers will carry you effortlessly through the summer months. However, if you want to experiment with a lighter wash or white jeans, this time of year will be an excellent time to start as lighter colours thrive in the brighter, warmer months. 
Winter 
Source: realmenrealstyle.com
Denim in winter might feel like a no-brainer, but you still have options to shake things up. First, try something new with heavier denim straight-leg jeans.
The extra weight pulls the fabric down, creating a sharper edge. Not only will they keep you warmer, but pair them with a semi-casual ankle boot, button-up and winter coat for something stylish and efficient. Alternatively, be the picture of casual comfort with baggy skater jeans and any warm hoodie or bomber jacket. 
In winter, the most important thing to consider is maintenance. With the increase in rain, mud and dirt, keeping your favourite denim pants clean without compromising the integrity of the garment by overwashing it will likely be the more complicated task. It is recommended to wash them in cold water, inside out and as little as possible.