Fashion fades, and denims are eternal!

You, me, and everyone on this planet know that jeans have always been a staple piece of clothing in men's wardrobes, and it is actually for a really good reason. Jeans are versatile, stylish, and, most importantly, super comfortable!

Whether you're going for your weekly grocery shopping or taking your date to a fancy restaurant, denim pants always come in handy! Today, there is a wide range of different types of jeans for men available on the market, from skinny fit to loose baggy denims. So, with a plethora of options right in front of us, finding the perfect pair of jeans is a bit challenging.

Today, in this post, I've gathered some of the top brands and the best jeans for men. From different styles to various fits suitable for several body types, I've tried to cover most of the types of jeans.

Let's dive in.
1. Levi's 511 Slim Fit Jeans
Every guy should at least own a pair of Levi's!
However, if you're still figuring out which one to get, here's a good option for you: Levi's 511 Slim Fit Jeans!
These washed Levis jeans naturally sit just below the waist and feature a slim, straight fit around the legs. This simply means it will give you a comfy fit while allowing your calves and ankles to breathe. They're well-made with high-quality fabric, which is safe to wash and dry while giving you a modern silhouette. The best thing is that this fit is timeless, which means these Levi jeans for men are never going to be out of style! Perfect for any occasion, you can wear their denims practically everywhere.
Key Features:
Made from 98% cotton and 2% Elastane fabric
29-36 Inseam
Zipper closure
Slim Fit throughout
Stretched wash denim
2. Lee Legendary Regular Tapered Jean
Take a look at this classic pair of men's jeans from the brand Lee, which is one of the most trustworthy denim brands. It is mid-rise jeans with a regular fit all over but has a tapered leg, which offers a modern look.
If you're looking for denim that provides the utmost comfort and trendy look, these lee jeans for men will be a great option to consider. These Lee regular tapered jeans are made with stretch-cotton fabric that gives a stretchable fit and moves with you for all-day comfort. You can wear plain shirts for a casual look or a regular round neck tee with these types of jeans, and finish off the look with the appropriate footwear.
Key Features:
99% Cotton, 1% Spandex
Mid-rise and Regular fit
Tapered leg
Zip-Fly with button closure
Two back pockets with no closure
3. Wrangler Rustler Regular-Fit Jeans
If you want budget-friendly denim pants that look both stylish and comfortable, get a pair of Wrangler's Rustler Regular-Fit Jeans! You can never go wrong with Wrangler pants! These types of jeans for men are made with stretchable and high-quality fabric for a practical design. This is a perfect knock-around pair that will work for every event, from backyard football to family outings. With a high-rise style and a straight-leg opening, these Wrangler jeans for men will sit at your natural waist and give you a sleek and stylish look.
Key Features:
High- rise
Regular fit
Straight leg style
Zip-Fly with button closure
4. Madewell Athletic Slim Jeans
The next jeans brand you can try is Madewell. They're known for creating jeans with unique cuts and designs. For example, take a quick look at these Madewell denims. They have an athletic slim fit, which means they are a bit relaxed above the knee and have a tailored fit below the knees.
The athlete fit is extremely good for men with big thighs, as it will provide more room in the thigh and hip areas. These denim pants are made with soft and lightweight material, so you'll feel comfortable all day without compromising on your style. Another great thing is that they're designed with moisture-wicking, temperature-regulating tech.
Key Features:
91% cotton, 6% polyester, and 3% elastane
Athletic slim fit
Machine washable
Zip fly.
It comes with moisture-wicking, temperature-regulating technology.
5. Everlane Relaxed 4-Way Stretch Organic Jean
Celebrities and stylists love Everlane's performance mens jeans—and you should too!
These are four-way stretch organic washed denims that are tested for running, traveling, and everyday use. Made from organic cotton, these jeans not only feel soft on the skin but are also quite easy to style. The brand also offers a 365-day guarantee because they have been wash-tested 50 times to ensure their durability and stretchability.
Attention, active guys! Grab these amazing denims today, and never look back!
Key Features:
94% Organic Cotton, 2% elastane, and 4% Other Fiber
Available in 28-40 waist size
Washed denim look
Relaxed, tapered fit
6. Abercrombie & Fitch Loose Workwear Jean
We all know this brand, as many of us wore Abercrombie denim back in our high school days. But this brand isn't limited to that, as it is still one of the most popular jeans brands in America. Check out these various cool types of jeans for men of all ages!
This one has a relaxed fit and wide silhouette with unique carpenter-style details like a hammer loop and a supply pocket. Style your workwear-style Abercrombie jeans with a hoodie and an oversized puffer jacket.
Key Features:
100% Cotton
Relaxed fit
Available in 28-40 waist sizes.
Authentic rigid denim-type
7. Calvin Klein Relaxed Straight Jeans
From K-pop star BTS Jung Kook to American actress and singer Alexa Demie, the Calvin Klein brand has the top celebrities. Not only their branding and marketing but also their products are pretty cool. Glance at these mid-rise white pants, crafted with organic cotton to support sustainability. Calvin Klein has the best types of jeans for men with a straight-leg silhouette, which gives a relaxed yet chic appearance. They're soft, comfy, and versatile. It comes with a 5-pocket styling and a Calvin Klein logo patch on the back; you can wear this denim in both summer and warmer climates.
Don't hesitate – buy these Calvin Klein relaxed straight jeans to create a super fashionable look!
Key Features:
Organic cotton material
5-pocket styling
Straight leg silhouette
Clean and sleek appearance
8. Naked & Famous Tapered Leg Jeans For Men
Searching for jeans that match your edgy and rugged style? Look no more because this denim from the Canadian brand Naked & Famous is here!
It features a high-rise sitting with a loosely fit silhouette, which will give a perfect fit and comfort. These tapered-leg pants are crafted from premium Japanese selvedge denim, which is both durable and stretchable. They're also quite lightweight, which means you can wear them all year.
Key Features:
98% Cotton, 2% Polyurethane
Zipper closure
Machine Washable
Long-lasting
9. Tom Ford Blue Selvedge Denim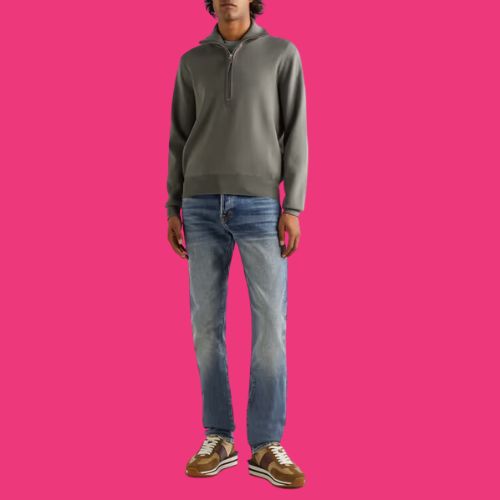 The last type of jeans on the list are these gorgeous men's designer pants from Tom Ford. They're long-lasting, comfy, and meticulously constructed. This denim is one of those types of jeans that have everything from being well-tailored and fashionable to being easy and comfortable to wear.
This durable pair of mid-rise denim pants is made from non-stretchy fabric and comes with a button fly. Available at an affordable price range, you can select these jeans in the right size and color that suits your personality.
Key Features:
95% cotton, 5% polyurethane
Slim fit design
Button fastenings
Available in 30 to 40 waist sizes.
95% cotton, 5% polyurethane
Make a Statement with Denim Jeans!
Choosing the best types of jeans mainly depends on individual style, fit, and budget preferences. From classic regular-fit jeans to trendy wide-leg denim, there are numerous styles and different types of jeans for men available. You can create casual or semi formal outfits with just one pair of jeans. However, remember to check the wash, fit, and key features while buying your favorite denim pants. So, try these best types of jeans from various brands and upgrade your wardrobe.
Explore further:-