Don't spend hours and hours trying to find the perfect pair of jeans; we've got you!

These days, jeans are one of the most common and staple pieces in every woman's wardrobe. They're comfy, versatile, and can be easily dressed up or down, making them perfect for any event or occasion. It can be challenging to find the perfect pair of jeans with so many different types and styles available.

In this blog, I've gathered the best types of jeans for women of all shapes and sizes. So, whether you like vintage-style denim or fashionable boyfriend jeans, there is a pair of jeans for you on the list. A closer look at some of the best jeans brands for women can be found here. So, you can easily find jeans that suit your body type and style. Let's dive into the world of denim!
1. Abercrombie & Fitch Curve Love Ultra 90s High Rise Straight Jeans
Let's start with the jeans for our curvy girls! We're talking about denim that comes with good support and extreme comfort, which is Abercrombie Curve Love denim pants. These are ultra high-rise pants with a 90s straight fit that are specifically designed for curvy bodies. So they will fit you in all the right spaces and give you a flattering appearance.
The best thing is that these denims are made from a soft and lightweight material, so you'll not feel like you're wearing jeans, but they will feel like leggings. Also, these types of jeans for women are durable and easy to style with different tops, shirts, and tees.
Key Features:
99% cotton, 1% elastane
Available in 23-37 size range
Affordable
Machine wash cold
Durable and well-stitched
2. Old Navy Mid-Rise Wow Bootcut Jeans
Here are great mid-rise jeans available at a really affordable price range. This bootcut pair is from Old Navy. Available in sizes 23 to 62, these types of jeans for women are designed to fit petite to tall individuals. While buying these jeans, you don't have to worry about their quality because the brand has tested them thoroughly to determine their durability and longevity.
From the bootcut design to the fit, everything about these denim pants is amazing. It sits at your natural waist and gives the perfect fit at the thigh and hips. You'll surely love the soft feel of the material and the comfort of the adjustable waistband. This Old Navy women's jeans also has a button front, belt loops, and zip fly.
Key Features:
62% cotton, 30% polyester, and 7% recycled cotton
Comfortable and stretchy waistband
Machine wash cold
Comes with belt loops and zip-fly
boot-cut leg fit
3. Madewell Kick Out Crop Jeans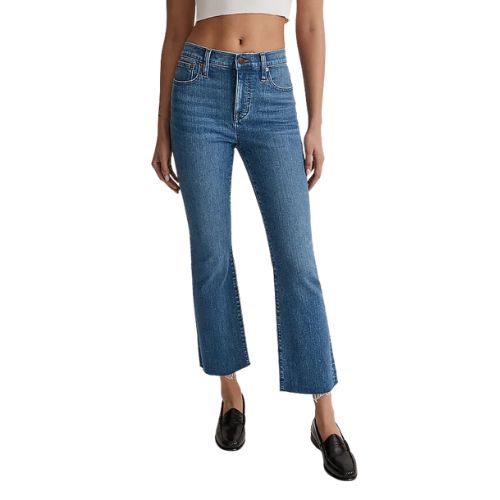 One of the popular types of jeans available in the US market is the Madewell kick-out crop jeans. This one has a curvy fit, which provides enough space around the hip area without creating any gap at the waist. They're also true to size, so order in your exact waist size. Another good thing about these denim pants is that they don't slide down while sitting or standing.
Talking about their material, these pants are made from soft and stretchable material, which gives you a relaxed feel all day. They have other features, like light fraying at the bottom, a copper button, and a slight flare, making them appropriate for both day and night wear.
Key Features:
99% cotton and 1% spandex
Stretchy waistband and flexible material
frayed edges and cropped hem
Available in 23 to 33 sizes.
4. Levi's Wedgie Icon Fit Jeans
Grab the cheekiest jeans and look stunning like a celebrity!
Check out these vintage-style blue jeans by a brand we can't forget: Levi's. This single American brand offers over 170 styles of jeans. So, whether you're looking for a classic pair of straight-leg jeans or something more trendy like ripped jeans, they have it all.
If you take a closer look at these vintage-style Wedgie Fit jeans, you'll know that they have a flattering, tapered leg. Made from organically grown cotton, this denim is quite soft and roomy. Also, Levi's specifically customizes different types of jeans for women to lift and flatter your backside. Get ready to receive plenty of compliments on your backside after wearing these denim pants!
Key Features:
84% cotton, 15% organically grown cotton, and 1% elastane
5-pocket styling
High rise and tapered leg design
Available in 23-32 sizes
Machine wash cold
5. Good American High-Rise Jeans For Women
These trendy women's jeans will give you an hourglass figure, no matter your body type! This super skinny and body-hugging denim will sculpt and shape your waistline, giving you the perfect hourglass silhouette. This is why it is one of the best jeans for women!
You might have already heard about this brand, as Khloé Kardashian co-founded it. It offers a wide range of sizes, styles, and types of jeans for women that flatter all body shapes. Curvy women who want jeans that fit like a glove, look no further! These high-rise denim pants come with a contoured waistband that allows for movement.
Key Features:
46% cotton, 8% recycled cotton, 38% recycled viscose, 7% Elasterel-p, 1% Elastane.
Ultra rise and skinny fit
Contoured waistband
Available in 00 to 26 sizes.
6. Universal Standard Seine Mid Rise Skinny Jeans
If you have enough of the tiny pockets of the women's jeans, this denim can make you believe in women's clothing again! These denim pants have the longest pockets, so you can put your phone, lip gloss, or the stuff you always wanted to keep in your pockets.
Universal Standard is a well-known denim brand that offers high-quality and fashionable jeans. You can find jeans in sizes 00 to 40 and in various styles that flatter various body shapes. They are constructed with soft material that has the right amount of stretch. This is why Seine mid-rise skinny jeans are the best jeans for women in plus sizes.
Another fascinating thing is that if you ever feel that the jeans don't fit you anymore, you can always ask to replace them with a new pair of jeans, and the brand will send you the new denim pants in your new size for absolutely free! So, buy one right now!
Key Features:
73% cotton, 23% polyester, 4% elastane
Inseam lengths range from 27 to 29.5 inches
Available in 00 to 40 waist sizes.
Deep pockets.
Machine washable
7. J.Crew Sur Vintage Slim Wide-leg Jeans
The next denim on the list is this modern-classic denim from one of the top jeans brands, J.Crew! Made from 100% regenagri-certified cotton in the USA, these best types of jeans for women can make you feel stylish, sexy, and, most importantly, comfortable.
As you can see in the above picture, these denim pants have a slim fit across the hips and things but are baggy from the bottom. These denim pants are best for petite girls, as the long, wide legs can offer the illusion of long legs. This is why they give off both an elevated and classy vibe. They're also available in many different inseams; there is no tailoring required. However, if the pants are too long for you, you can always visit your tailor to get them fixed to your desired length.
Key Features:
100% regenagri-certified cotton.
Machine washable
Wide leg fit.
Available in 23-37 waist sizes.
Zip fly.
8. LEE Legendary Boyfriend Jean
Get these jeans, and you don't have to borrow your boyfriend's jeans anymore!
This denim isn't regular denim; these are the legendary jeans from the famous LEE brand. They have the perfect fit, style, and ultra-soft comfort, and what else do we need?
These jeans will not only look good, but they will last you for many years. They're made from sturdy yet super soft cotton fabric, which also offers a great fit. Available in several fabric styles and seven washes, you can choose the one that you think looks best on you. To style them, you can wear them with a t-shirt or top and also cuff your jeans to get a casual look.
So, don't even think twice; order these gorgeous Legendary Boyfriend jeans right away!
Key Features:
70% cotton, 29% polyester, and 1% spandex
Machine washable
Inseam: 28 inches
Mid-rise and relaxed fit
Available in sizes from 0 to 18.
Durable
9. Wrangler Westward High Rise Bootcut Jean
Forget about all the worries about comfort and wearability with this pair of pants! These Wrangler Westward pants are made from 100 percent cotton. These wrangler jeans are thick and have zero stretch, but they are still quite durable. They're super high-rise and offer a dramatic bootcut leg style that looks both attractive and is easy-wearing.
The fabric feels soft on the skin and will not cause any irritation or itching. So, even if you have sensitive skin, you can easily wear it for the entire day without feeling any discomfort. If you love bootcut jeans with a beautiful wash, grab these today!
Key Features:
100% Cotton
Available inseams are 30 inches, 32 inches, and 34 inches.
Size ranges from 24 to 35
Super high rise
Bootcut leg style
Zip-Fly with button closure
Keep calm and wear your denim!
Whether you like the straight skinny fit or any other different types of jeans for women, the most crucial thing is to know what works for your body shape and in which you feel comfortable. Before buying any type of jeans, it's vital to check the material, fit, pricing, and features. This way, you can find the right pair of denim pants without spending too much time and money.
Read More: