Are you looking to purchase the perfect pair of Judy Blue Jeans for women? Shopping for jeans can be a difficult task, especially if you don't know what makes up the perfect pair. You want your investment to be worth it, and it is important that you understand what goes into finding those ideal jeans. Keep reading this blog post to gain insight on how to properly shop for women Judy Blue jeans with all their unique qualities: from style and fit to wash, pocket details, and more! All these considerations are essential when selecting a great pair of denim.
Understand Your Body Type
Unraveling the secret to finding the perfect pair of jeans lies in understanding your body type. Body shape plays a vital role when selecting the proper jeans to exude confidence and highlight the most flattering aspects of your figure. Begin by identifying your body type – be it an hourglass, pear, rectangle, or apple shape – since each category has its unique features that influence the best type of jeans for you. Moreover, knowing your body shape paves the way to explore different styles, cuts, and lengths tailored to accentuate your silhouette while maintaining maximum comfort.
Different Styles of Judy Blue Jeans
Judy Blue Jeans offers a diverse range of styles, catering to every individual's unique fashion sense and body type. From the trendy cropped jeans that effortlessly make a statement when paired with boots or sandals to the timeless skinny jeans that highlight and hug the natural curves of the body, there's something for everyone.
For those seeking a comfortable fit with a retro vibe, high-waisted jeans serve as the perfect wardrobe staple, cinching at the waist and providing a flattering silhouette. For days when comfort is key, baggy jeans allow for the ultimate relaxed and casual ensemble.
Moreover, the versatile Judy Blue boyfriend fit jeans master the art of blending comfort with style, working as the ideal companion for both dressed-down occasions and chic evenings out.
Consider the Length & Rise
When selecting the perfect pair of jeans, considering the length and rise is crucial to ensure comfort and a flattering fit. The length of the jeans refers to the measurement from the waistband to the hem, which determines how the jeans fall on your legs.
To find the right length, consider your body type, the type of shoes you typically wear, and how you want the jeans to fit. The rise, on the other hand, is the distance between the waistband and the crotch seam.
It determines where the waistband sits on your hips, which can vastly affect the overall look and feel of the jeans. A low-rise jean sits below the hip, a mid-rise rests at the natural waist, and a high-rise reaches above the navel.
Paying attention to these factors will help you find a pair of jeans you will enjoy wearing and feel confident in.
Determine Wash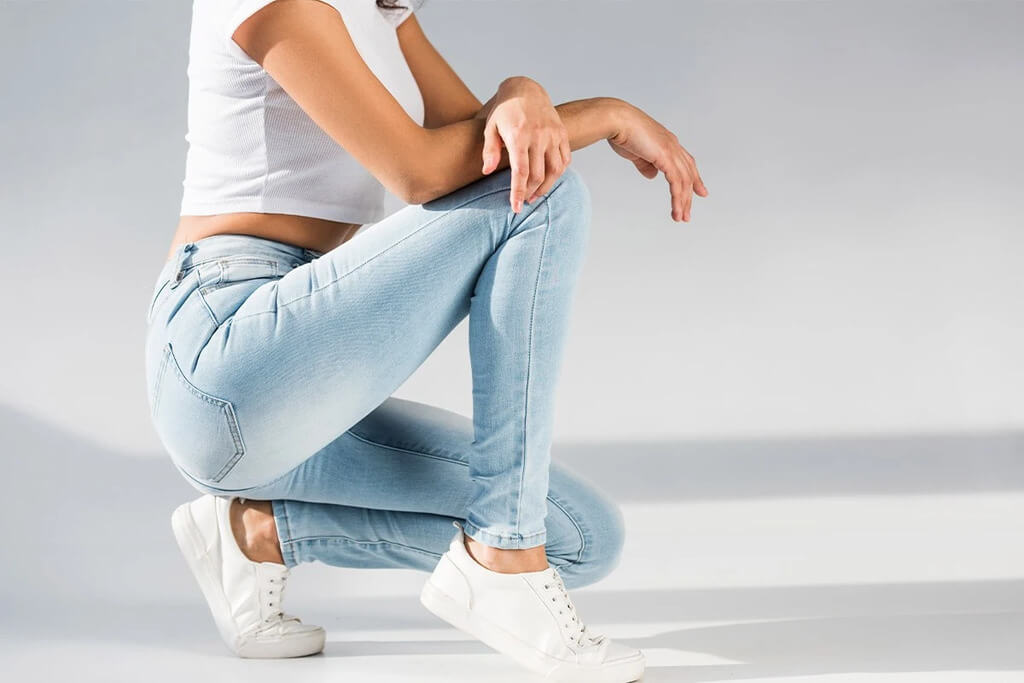 When it comes to selecting the perfect pair of jeans, one key factor in achieving your desired look is choosing the right wash. The wash of your jeans can make all the difference in complementing your desired style statement.
Among the various options available, light wash, medium wash, and dark wash each offer unique benefits and appearances. Light wash jeans exude a more casual and vintage vibe, perfect for a laid-back outfit.
In contrast, dark wash jeans provide a sleek and sophisticated touch, making them an ideal choice for dressing up or for a more professional setting. For those who prefer something in between, medium-wash jeans offer a versatile option that can seamlessly transition from day to night.
Finding the right wash not only enhances your personal style but can also boost your confidence as you rock your favorite jeans.
Accessorize & Style
Accessorizing and styling your outfit is an essential aspect of completing your look and showcasing your unique sense of fashion. By selecting the perfect choice of shoes, jewelry, and other styling pieces, you can effortlessly enhance the overall appearance and make any outfit look more refined and polished.
A well-thought-out styling can not only bring out the best of your attire but also make you feel more confident and express your individuality. From statement fashion accessories like bold necklaces, bracelets, or rings to more subtle and elegant items, it's crucial to discover the right balance for an aesthetically pleasing ensemble.
Conclusion
Shopping for the perfect pair of Judy Blue Jeans can be a daunting task, but with proper consideration of your body shape and selections of styles, wash, length, and fit, you can find the pair that best flatters your figure and is comfortable for daily use.
Consider trying on multiple pairs to determine which one will be the most functional for your lifestyle. Accessorize with shoes, jewelry, and other style pieces to complete the look.
Remember, there are endless possibilities for styling when it comes to Judy Blue Jeans! With that being said, get shopping and have fun!
In case you missed it!