Buying bikini tops and bottoms separately not only means you can find your perfect fit every time but also gives you the freedom to mix and match shapes, prints and colors to express your own style and keep your look fresh all summer long.
Whether you've been mixing and matching your bikini separates for summer, after summer or are keen to lean into your inner creative and experiment with your favourite pieces, we've shared our top tips on how to mix and match bikini tops and bottoms.
Patterns
As fierce lovers of almost any print, from bold animalistic looks to alluring bohemian-inspired patterns, we're certainly here for the mixing and matching trend. The first step to finding the ultimate combination is choosing two prints of a similar style, such as geometric, flirty florals, traditional batik or tropical.
Once you've decided on the print theme, look for colors that complement each other and keep the tones alike, whether it's muted pastels, bright bold shades or classic neutrals. Opting for like prints in complementary shades will ease you into the mixing and matching trend. However, if you're feeling brave, don't be afraid to get creative and branch out!
A bikini top and bottom combination in the same color palette and different prints gives a unique yet polished finish.
Solid Colors
Color blocking is a trend we've seen make its way across almost all areas of fashion, and swimwear is no exception. Mixing and matching a solid color bikini top with bottoms in a complementary or contrasting shade makes for a striking and vibrant finish. Much like when mixing prints, it's best to stick with like tones and choose shades that work well together. For a more low-key look that can't go wrong, pair a colored piece with a classic black or white basic.
Pair solid colors in similar hues, such as pastels or neutrals or play it safe with a classic black or white piece.
Patterns and Solid Colors
When pairing a patterned bikini top or bottom with a piece in a solid shade, the same rules as covered above generally apply. A foolproof method to nailing this look is to choose one color from the patterned piece, whether it's the main color or a secondary highlight, and then opt for a solid piece in the same (or very similar) hue. For an impactful look, choose a highlight color that is only featured sparingly in the patterned piece and really make it pop.
Choosing a color that appears only minimally in print will help to highlight it, creating a striking contrast.
Fabric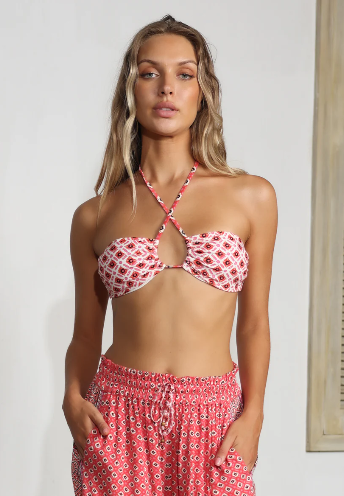 The fabric that your swimwear separates is key to consider when mixing and matching pieces. It's important to look for a bikini top and bottom combination in similar, if not the same, fabric to create some cohesion across your look. Choose the classic, smooth finish we all know and love, or opt for fabrics such as quality all-over texture, terrycloth or crochet knit to add some dimension. Keeping the fabric consistent will also ensure wearability, meaning you won't be left waiting for one piece to dry post-dip!
Choose the same fabric for both the top and bottom when mixing and matching swimwear pieces.
Shape / Silhouette
The shape and coverage of each swimwear separate will also determine whether your overall mix-and-match look is a success. Choose a top and bottom of a similar style and coverage; for example, a cheeky Brazilian style bottom works best with a simple triangle bikini top instead of a more modest tankini top. Keep certain style elements unified, such as thicker straps, metallic charms and tie detailing.
Look for similar cuts and elements and pair these together.
Mixing and matching swimwear separates is a great way to breathe a new lease of life into your existing pieces or create a unique look that's exclusive to you. When building your look around this trend, remember to keep fabrics and color palettes similar, choose a style and silhouette you feel comfortable in and don't hesitate to experiment with different combinations before settling on a final fit.
For additional insights:-