Fashion is like a whole new different world. Every specific garment has at least hundreds of options, be it in regard to prints, patterns, or cuts. From bikinis to jeans and your wedding dress, everything has a style that will fit your personality. Being a plus-size fashion model, I know the struggle behind wearing bikinis. From your to other's thoughts, everything pins you from inside. But hey! Hold up what you have got we are here with the best high waisted bikini bottoms.
Firstly, apparels in the high-waisted form are love, not just for a curvy body but for every girl out there. Women's bikini bottoms come in three styles – high-rise, mid-rise, and low-waist. And this brings me to bust a myth about bikinis. Which one?
Bikinis don't always have to be itty-bitty (low waist) to make you look sexy. Every single girl has a beach body regardless of shape and size. There's an underrated statement that goes like 'Wear what makes you feel confident and comfortable, not only beautiful.'
There's a particular style for every body type. However, the only style that can flatter every body type is high-waisted garments. So if you don't want to wear small bikinis to flaunt your beach body, go for the high waisted swimsuit or bikini bottom.
From the past few years, the high waist is standing tactfully in the fashion industry. It has become the most preferred fit universally. So even if you are spending time near the common community pool or on the beach, the high-waisted bikini bottoms will make you feel confident and pin-up on the fashion trend.
FYI: If you are a beautiful looking plus-size girl, this article is a must-read.
Whether you go for the simple, cheeky, or strappy look, the ones mentioned here in this list will help you slay the swimsuit season.
Best High Waisted Bikini Bottoms
Two Pieces High Waisted Bikini
Whether you want to have full coverage or a chic look, this bikini set is the perfect option. It has a tankini top with the front knot and a high waist bikini bottom. It will provide you with leveled-up comfortness and an ultra-stylish look.
The material used is nylon, spandex, and polyester with ideal elasticity and softness. You can wear this one at the beach, pool party, honeymoon, and SPA vacation. You will get two points in this one – leopard, and marble with different colors.
High Waisted Two Pieces Bikini Set
The bold one on the list is this tasseled V-neck bikini bra and high waisted panty that will hide the belly perfectly. The halter top is adjustable and the high waist bikini has a mesh fabric that adds sexiness to it. It fits perfectly as per the size and gives full coverage.
The fabric used is nylon and spandex giving ideal elasticity. The bra has soft removable pads that provide comfort and great shape. This bikini set comes in various prints and colors like black, white, blue, pink, and rose color.
Scalloped Textured Swimwear High Waisted Bottom with Top
The lace-up bikini is the new trend. The scalloped texture provides grip at both the top and bottom. This type of swimwear will not only help you stay comfortable and look sexy but will also help to get your crush's lovely glare! (Don't mind if someone is feeling envious of you.)
The material used is polyester and spandex. It has a double-layered ribbed texture thick and high-quality fabric to make it more durable and non-see-through. It has cute cut-out edges and a wire-free padded bra with high waisted bottoms.
Women's High Waisted Falbala Bikini Set
This high leg cut and high-waisted bikini bottom come with a flounce or falbala top. The bottom has a striped pattern while the top is in solid pastel color. This one is perfect for tropical vacations, honeymoon, and beachside fun.
It is made of Chinlon and Elastane fabric. The bra is padded and provides great support and comfortness. This bikini set comes in various prints and colors, the plus point is each color and design is beach-friendly.
Striped High Waisted Bikini Bottom
If you are not a floral print person, here's the striped one from Cupshe. It has a front bow knot in the bra and the high leg bikini bottoms. The bra comes with removable pads, to use it as per your convenience. Also, one of the customers reported that it isn't a good one for a booby girl, so keep that in mind.
This one is also made from Chinlon but has Spandex in it for the best elasticity. This beachwear set comes in two different colors black-white, and red-white. Accessorize it with a layered necklace for a chic look.
Women's Leaf Print Lace Up Ruched High Waisted Tankini Set
Tankini sets are more in trend than normal and usual bikini sets. The one here has the sexy back with lace-up straps and ruched high cut high waisted bikini bottoms. Wearing this one on the beach or poolside will give you a killer look.
The material used in the manufacturing of this 'kini is nylon, polyester, and spandex. It has roughly around 19 to 20 designs, and you can also get the high waisted ruched bikini bottoms only. It is perfect for the SPA, beach party, and poolside vacations.
Ruched High Waisted Bikini Bottom with Top
There are very few options available where the bottoms are printed and the halter neck bra with a hook at back is in solid color. This swimwear set is available in different colors and prints. Recreate the retro beachwear look with this outfit and let everyone praise you.
The fabric used is soft, stretchy, and comfortable enough to spend hours in it. This high waisted bikini with high-cut legs provides a flattering figure to everyone. Wear this 'kini set to the honeymoon or beach party.
High Waisted Bikini Off Shoulder Ruffle Bathing Suit
This one isn't too fancy but will still give major #BeachWearGoals. The off-shoulder flounce top with push-up padded bra and high waisted bikini bottom with side hollow out design makes it the perfect summer beachside outfit.
Spandex and Polyester are used in the making of this bikini to get the perfect elasticity and comfortness for the wearer. The bra comes in the strapped falbala as well. This version of beachwear also has many options to select from!
Smocked Green and Monstera Ruffled High Waisted Bikini
Smocking has an entirely different colony of its lover in the fashion industry, since its introduction, many of the fashionistas have made it the statement trend. So finding it in the bikini wears is not something that will surprise me or you or anyone. The ruffle at the edges is giving it a holiday thrill and fancy look.
The material used is Chinlon and spandex to make it comfortable, easy to wear, and handle. It has 17 different options that will allow you to choose from prints and colors available.
Firpearl Women's High Waisted Bikini Bottom 50s Ruched
If you are looking for a single high waisted bikini bottom to pair it with the existing bra or tankini top, here's the answer. The ruched 'kini bottom in the high waist feature from Firpearl has so many loyal consumers.
This bottom doesn't only give full coverage and hides the bombshell, but also is the best option to pair with crop and tankini tops. The material used is nylon and spandex with the ruched pattern in five different colors including black, grey, and blue.
Women's High Waist Leopard Bikini Buckle Front Two Piece Swimsuit
The fashion enthusiast will never say no to the leopard prints. Even if you have so many of them, you won't definitely say no to half-half print. The scoop neck bra has removable pads and an accentuate belt to define the waist. This is the NEW trend in swimwear, you will find at least one in each blog.
The materials used in manufacturing this stylish beachwear outfit are spandex and polyester. The combination of both gives the perfect elasticity and the comfortable to wear. There are six different colors in this beachwear set including hot pink and red.
Lacey High Waisted Bikini Bottoms
Want fancy and strappy bikini bottoms but with full coverage? Go for the high waisted bikini bottoms with strap design on the sides. Whether you want to style it with a tank top, crop top, tube, or lacey bra, this one will go perfect with each of them creating a sexy chic look.
The material used in manufacturing these bikini bottoms is lightweight and stretchable. It regains its original shape after pulling and dries quickly. Also, it has two more colors other than black, which are red and blue. (All brighter and can go with any print and color!)
High Waist Bikini Set Chic Swimsuit
What do you think about print on print beachwear outfit? I guess it is a bold decision, but the best one too. Look at this cute striped and strappy flounce falbala and floral ruched bikini bottom. Aren't they looking sexily awesome? Wear these and you will have hotness without showing much of a body.
As for the material of the bikini set, it is made of polyester and spandex. This swimwear suit has a padded bra, which provides support and gives a great shape. With its 16 different options, you can definitely slay the retro look in modern style.
2PCS Lace Up High Waisted Bikini Bottom and Top
Lace-up bikinis can add hotness anywhere. This high waisted bikini bottom and top also sport the lace-up style. It does seem next to impossible to have a high waisted lace up bikini. Well, the world has evolved so does technology and fashion. It's all about experimenting and coming up with the best lace-up outfit.
The material used in making this is nylon and spandex. The seamless fabric makes it stretchable, soft, and ultra-comfortable. It comes in 8 different colors like white, black, blue, army green, red, white, lemon green, and yellow. The bra is a kind of Bandeau with a square neckline.
High Waisted Bandeau Bikini Swimsuit
The bandeau bra is a combination of cute and sexy. This strapless floral print bra with the high-cut leg high waisted bikini bottom is all you need to slay the sexy version of you on a cruise, beach party, poolside fun, or SPA vacation.
This bikini set is in the form of a co-ord and is very fashionable, both look-wise and fabric wise. The material used in its making is polyester and spandex. This cute floral print swimwear comes in 17 different colors. You will also get the leopard print in it as an option.
Plus Size High Waisted Bikini Set
Most of the high waisted bikinis are ideal for the plus-size body type. Still, we have listed four different bikini sets for the curvy girls to get the perfect one. This one is a combination of polka dot and solid color. Black, white, and red is always the best combination to go for!
The cute flounce bikini top and ruched high waist bottom are made of polyester and spandex. The material is thick, soft, comfortable, and dries quickly too. The top has adjustable straps at the back and the bottom sports the tummy tucker features. It comes in seven different colors and prints.
Plus Size Swimwear Peplum Tankini Tops With High Waisted Bottom
Tie-n-dye is one of the trendiest patterns of the year 2020. So it was bound to be on the list. This swimwear set has a peplum tankini top with adjustable straps and high-waisted bikini bottoms providing full-coverage. You can even create a criss-cross pattern at the back with its straps.
The materials used in making this 'kini are polyester and spandex. The fabric is lightweight, stretchable, soft, comfortable, and dries quickly. The bottom has tummy control features eliminating self-doubt and sanctioning confidence from within. Whether you are on a tropical vacation or surfing on the beach, this one will go perfectly with every summer occasion. (Except for weddings! HAHA!)
Flounce Off Shoulder Bikini High Waisted Bathing Suits
The criss-cross V-neck bikini bra with off-shoulder accentuation is just what you need to slay at the beach party. The high waisted bikini bottom offers full coverage and hides your belly upto a great extent. The bra has removable pads that offer great shape and support to the boobs making you feel comfortable.
The fabric used is polyester and spandex to make it soft and smooth to wear. The super gorgeous part of the bikini is the off-shoulder and adjustable straps that you can convert into a criss-cross pattern as well. With its seven different colors and prints, this swimwear will make you look sassy and sexy!
High Waisted Swimsuit Ruffle Bikini
This one is similar to the above one, except from hollow out design on high waisted bikini bottoms. This set also has a mixture of polyester and spandex in its fabric. These two make the outfit more comfortable to wear and durable as well.
You can wear this swimwear at the beach party, poolside fun, or even holiday playsuit. It has around 18 different variants in its style, prints, and colors, of which eight have mesh fabric with the hollow out design for full coverage.
Women Off Shoulder Top High Waisted Ruched Bikini
Last but not least is the tropical print off shoulder bikini set. The top of this bikini has adjustable spaghetti straps which provide support and great shape. It has removable pads in it making it non-see-through. The tummy control bikini bottom has a ruched pattern and can conceal all imperfections.
As for its fabric, it is made of high-quality soft and stretchable fabric, which is durable as well as dries quickly. The cheeky style bikini set is the perfect fit for the beach fun, pool party, honeymoon, tropical vacation, or any other holiday occasion.
Here's few More High Waisted Bikini Bottoms for Inspiration: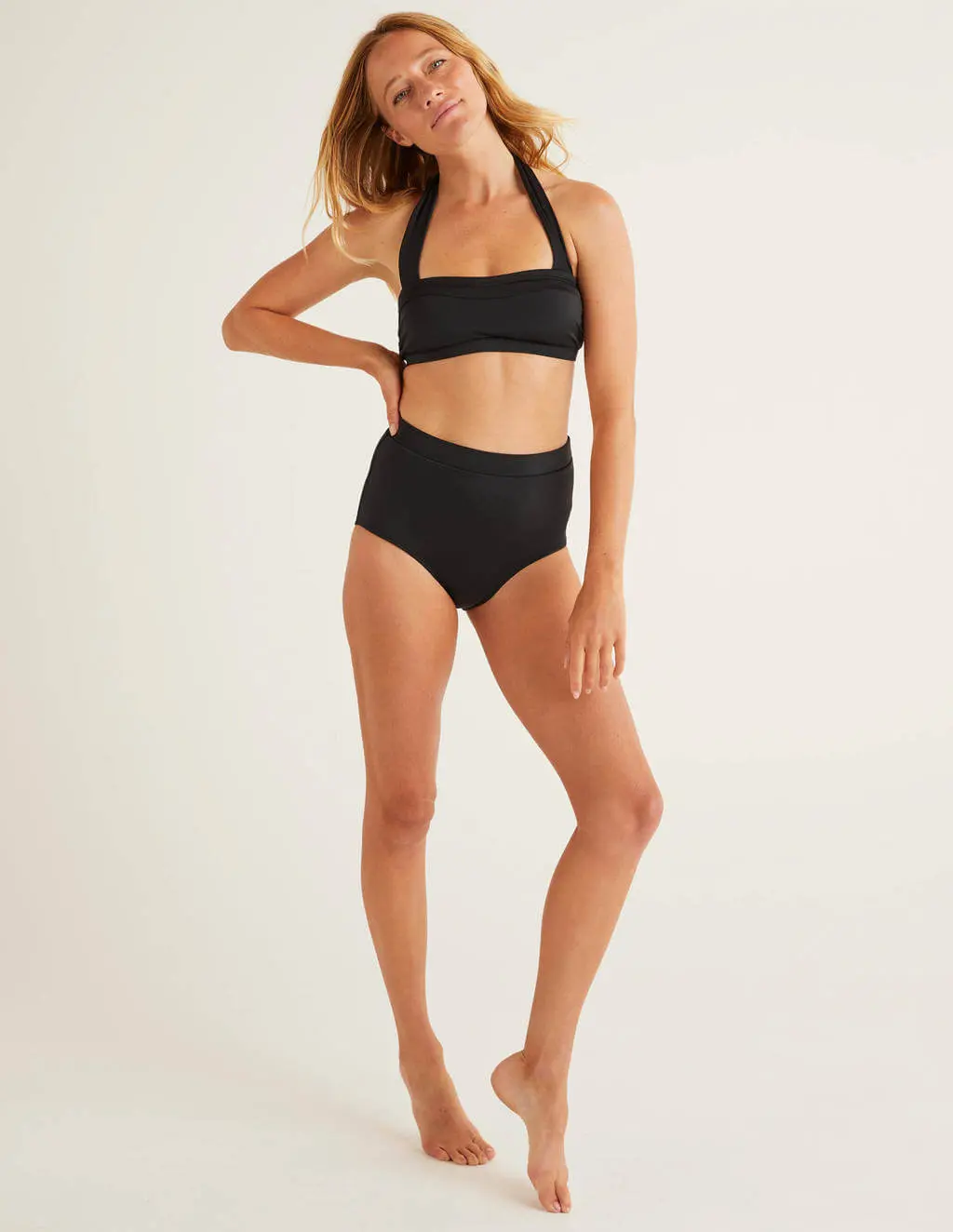 Slay the Summer Season with High Waisted Bikini Bottoms:
From striped to floral and solid colors, you saw every single one on the list. While making and analyzing the high waisted bikini bottom list, I realized there are few trends that are at peak right now. Wanna know which one? Ruched bottoms, Ruffled Tops, and Tankini Bikini Sets.
So when getting your hands on the best high waisted bikini bottoms, make sure you are selecting one of them. As for patterns, florals are the best for beach moments and if you are not a printed person, go for solid colors like orange, green, white, and even blue.
To find out more:-