Have you been searching for the best bikinis to beat the incoming summer heat? Finding the perfect beachwear to slay at pool or beach parties can be difficult. Considering so many bikini websites are available online, you never know which brand you can trust and which you can't.
So, to make things easier for our readers, we have created a list of the top 6 bikini swimsuits you have in your summer wardrobe. If you were planning to buy beachwear for the summer of 2023, you have just landed a jackpot because we have tons to show you.
Some of the best bikinis from https://www.bananamoon.com/us/
Top 6 Bikini Swimsuit Ideas
Since summers are fast approaching and they will be here before you know it, you must ensure that your summer wear, especially trendiest bikinis, and swimwear for the upcoming shenanigans are ready to adorn.
Apart from buying twin sets, you should also learn to mix and match bikinis to make a statement and save your pocket from additional expenses.
So, if you're ready to splurge, here are some of our favorite picks for beachwear for 2023.
1. Animal Patterns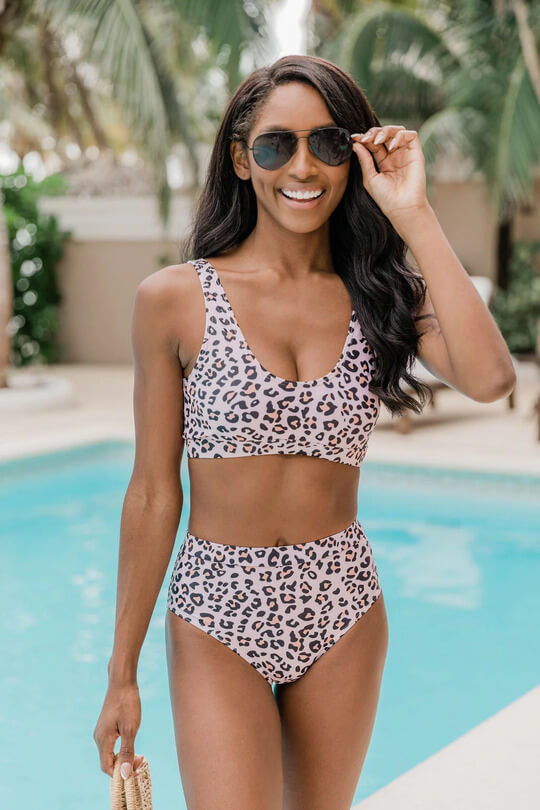 Source: bananamoon.com
Our first pick for the summer of 2023 would be chic animal prints. They have been the rage in beachwear for the longest time, and you never go wrong with them.
Go for a 2-piece swimsuit look, which is classy and chic. Pair your animal-printed bikini with brown sandals and a sun hat, and you will be ready to take the day on in the scorching heat.
2. Take the Plunge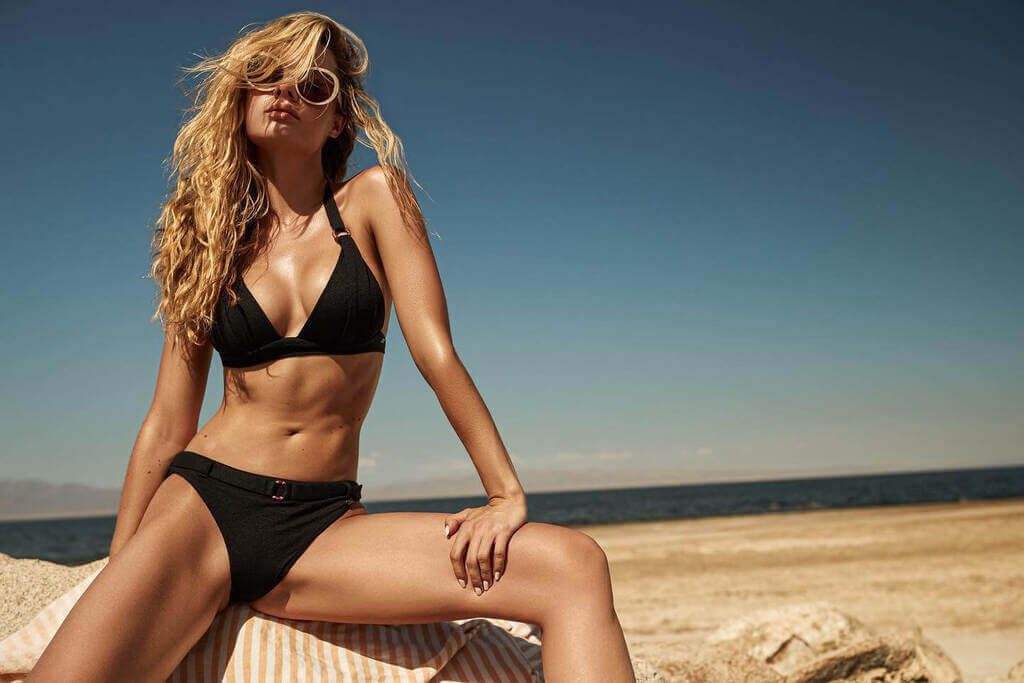 Source: bananamoon.com
Another style that will be so this summer is plunging necklines. Although they have consistently trended in high-end beachwear, they are about to become even more common. You can easily find plunging necklines at Victoria's Secret, La Senza, and Banana Moon brands.
Also, while you're at it, look for checkered prints. The black and white checkered print looks stunning for any day and can be your go-to for most of the summer parties you will attend this season. Pair your bikini with white danglers, black sunglasses, and a gorgeous summer hat to make a style statement people will remember.
3. One Piece Looks Stunning
Source: bananamoon.com
If you're not into plunging necklines and too much exposure, perhaps a one-piece swimsuit is what you need. This classy yet trendy outfit brings out the best in you, and you can pair it up with a front-open kimono to complete your look.
Don't forget to wear a white summer hat and gorgeous sandals before heading out.
4. Try Vibrant Colors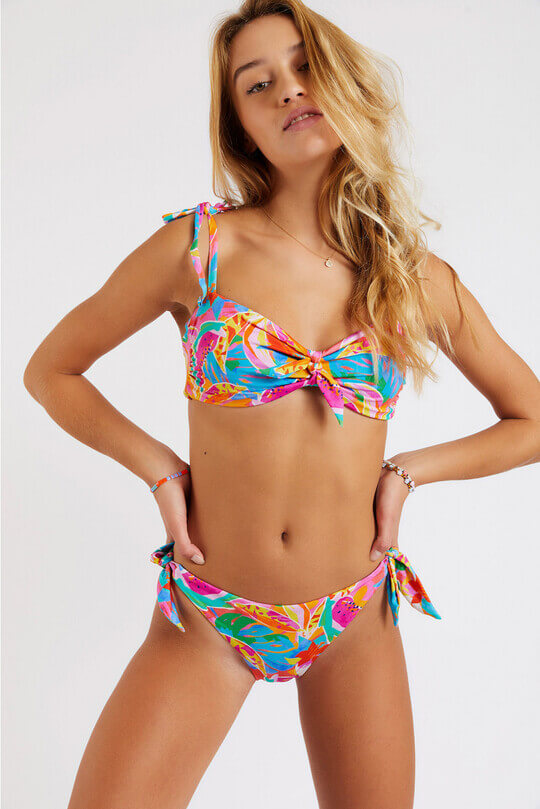 Source: bananamoon.com
Black and white can sometimes get boring, so a yellow, pink, or even green swimsuit is just what you need to lift your spirits and enjoy the beach.
Look for panties and bras with ruffles and bowties. They look chic and trendy. Plus, the vibrant colors will make you look far more desirable.
5. Floral Patterns.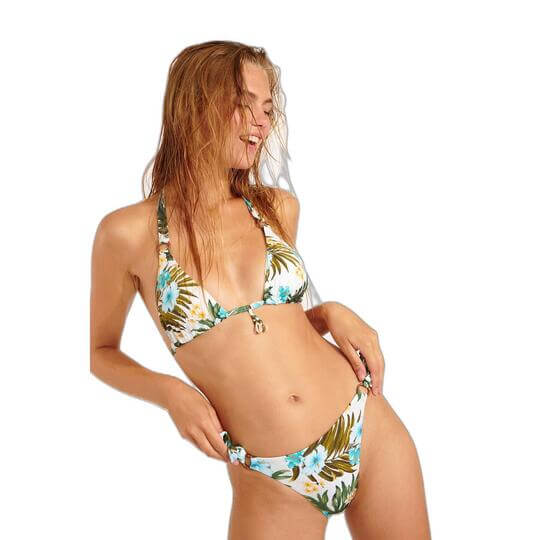 Source: bananamoon.com
Regarding summer outfits, we can never get bored of floral patterns; you will see them trending in beachwear.
If you love going surfing and sensually revealing yourself, you won't find anything better than stunning floral bikinis. Floral patterns are usually available in vibrant colors, so ensure that while you're surfing the market, you're not afraid to experiment with your swimsuit.
6. Splashy Colors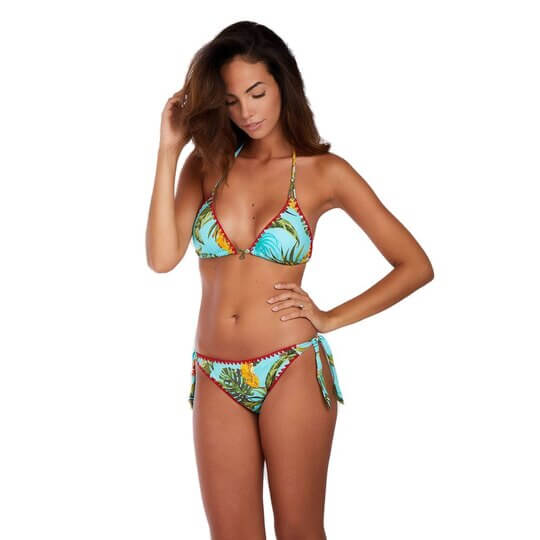 Source: bananamoon.com
Lastly, summer outfits are usually vibrant and colorful. So, why must you avoid trendy and splashy colors for beachwear?
When going out for a summer party at the beach, you will hardly find people flaunting vibrant and splashy colors. This is your sign to try something totally out of the box and flaunt this two-piece swimsuit.
Look for a bikini that combines tons of color for more vibrant and chic beachwear. It's the perfect combination for spending an entire day at the beach or near the pool while enjoying martinis.
Final Thoughts
These are some of the most trendy bikinis styles you will see in 2023. If you are into trendy beachwear and never want to go wrong when dressing up at the pool, choose any of these bikinis, and people will turn heads to see you.
It may be hard to find what suits you best when shopping for beachwear. But if you know where and what to look for, you will never struggle when shopping.
Hopefully, this article was worth your time and attention. Grab your favorite bikini now from the website.