One of the most amazing aspects of pregnancy is the opportunity to buy lovely new outfits. If you're seeking affordable pregnant dresses that also help you feel comfortable while looking lovely, I swear by this list of the top maternity dresses on Amazon. Many women enjoy flaunting their baby bulge and adore, wearing curve-hugging skirts and shirts when pregnant. It reflects the joy of bringing a new life to the world. Baby shower dresses come in a variety of designs and are simple things to toss on and go. If you are pregnant, then you will definitely find these dresses far comfier than pants or any other outfit.
18 Beautiful Baby Shower Dresses
We can all agree that your baby shower dress will be a memorable event outfit. It's the first time you get to truly celebrate the new life you're bringing into the world with others. It's significant and you should definitely recognize it. Take the time to select something special to wear for your extra-special event. If you're searching for some outfit inspiration, we've got you covered for every season. Here are some of the greatest baby shower dresses which include gowns and sleeveless outfits.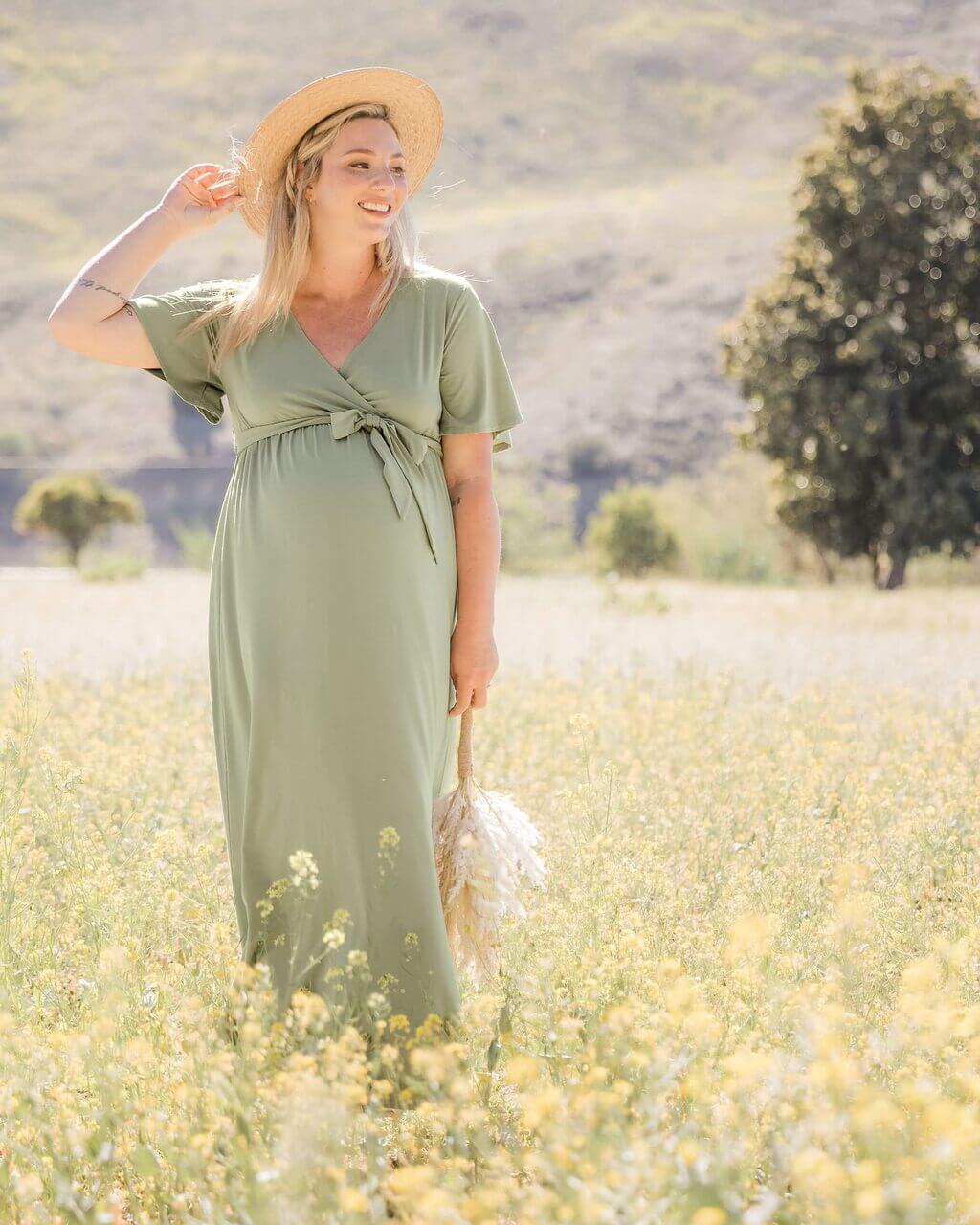 Source: amazon.com

Having a beautiful yet comfortable baby shower dress is a must. The first option on the list is the combination of comfort and style. This Deep V-neck wrap maxi dress is made of viscose and spandex and comes in two colors: rosemary, and terracotta. You can even wear it after giving birth to the baby. It has a pull-aside shoulder making it breastfeeding-friendly. The flowy pattern of the dress will perfectly complement your pretty baby bump.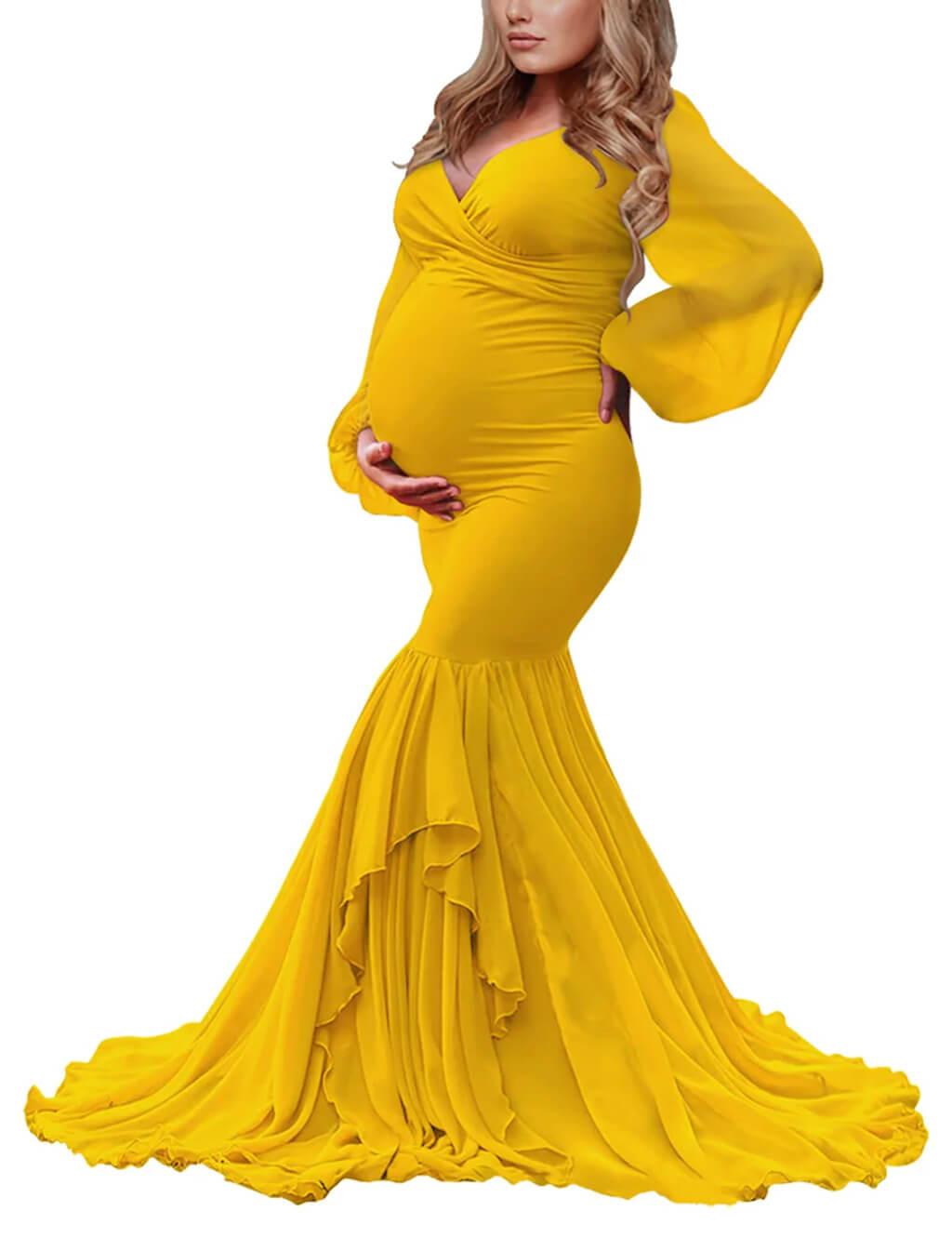 Source: shopify.com

You may now be fashionable while pregnant with this adorable pregnancy outfit, which will make you feel like a star while posing for the camera. While the slim-fit bottom highlights your baby bump, flowy variants with a train hide your flab and evoke princess vibes. You can get this on Amazon in vibrant or dainty colors with different sleeves such as the bishop, drop flutter, or long.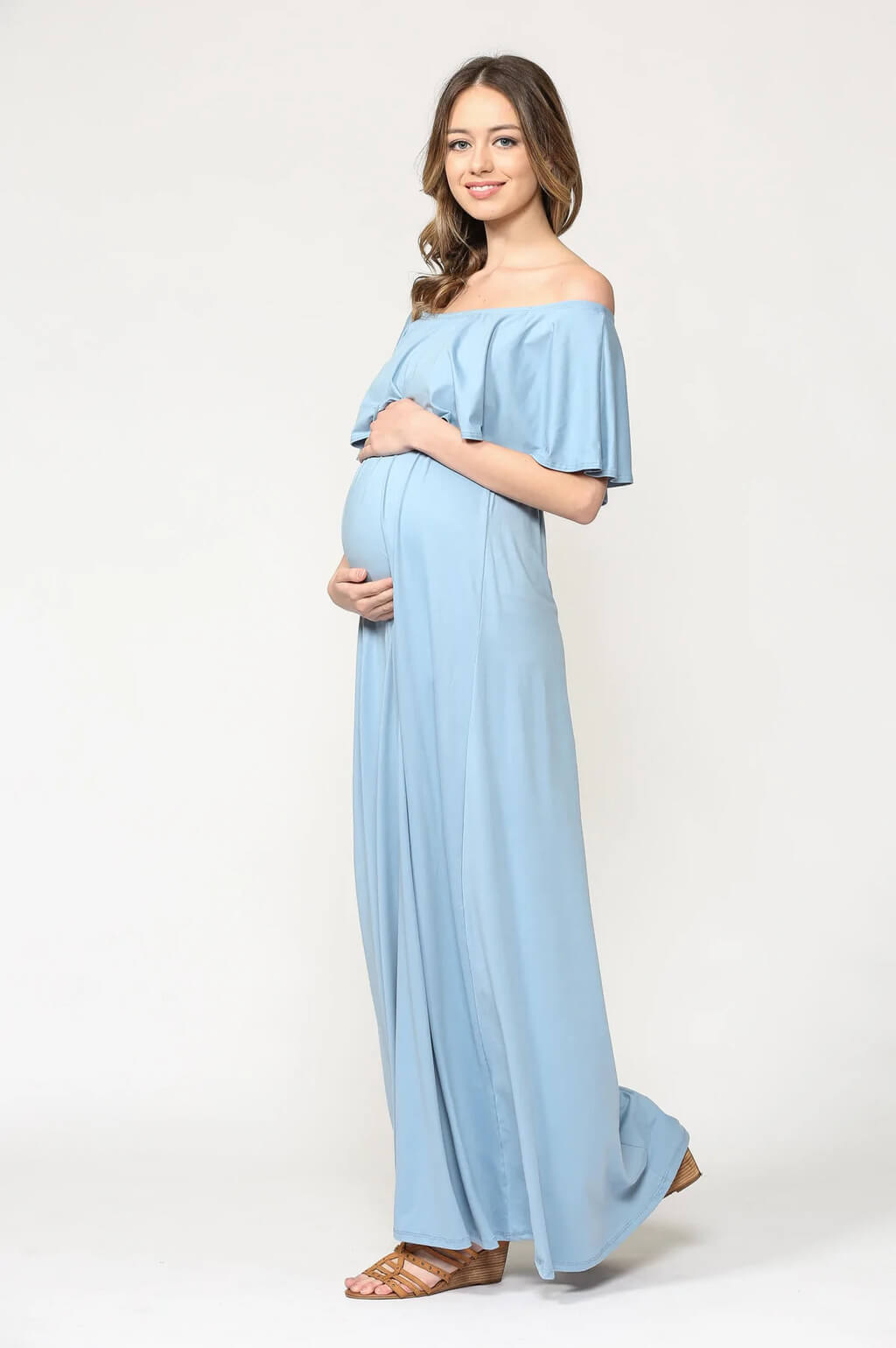 Source: shopify.com

This feminine maxi's fluttery off-the-shoulder sleeve and airy silhouette go above and above for your baby shower. This type of dress includes lovely flowers, charming pastels, and traditional solids, you're sure to find one that matches your party theme. The material of this dress is soft, and you can wear it even after the baby arrives. Also, if you don't want a completely off-the-shoulder dress, it is suggested that you can lay the sleeves on top of it and it will still look beautiful.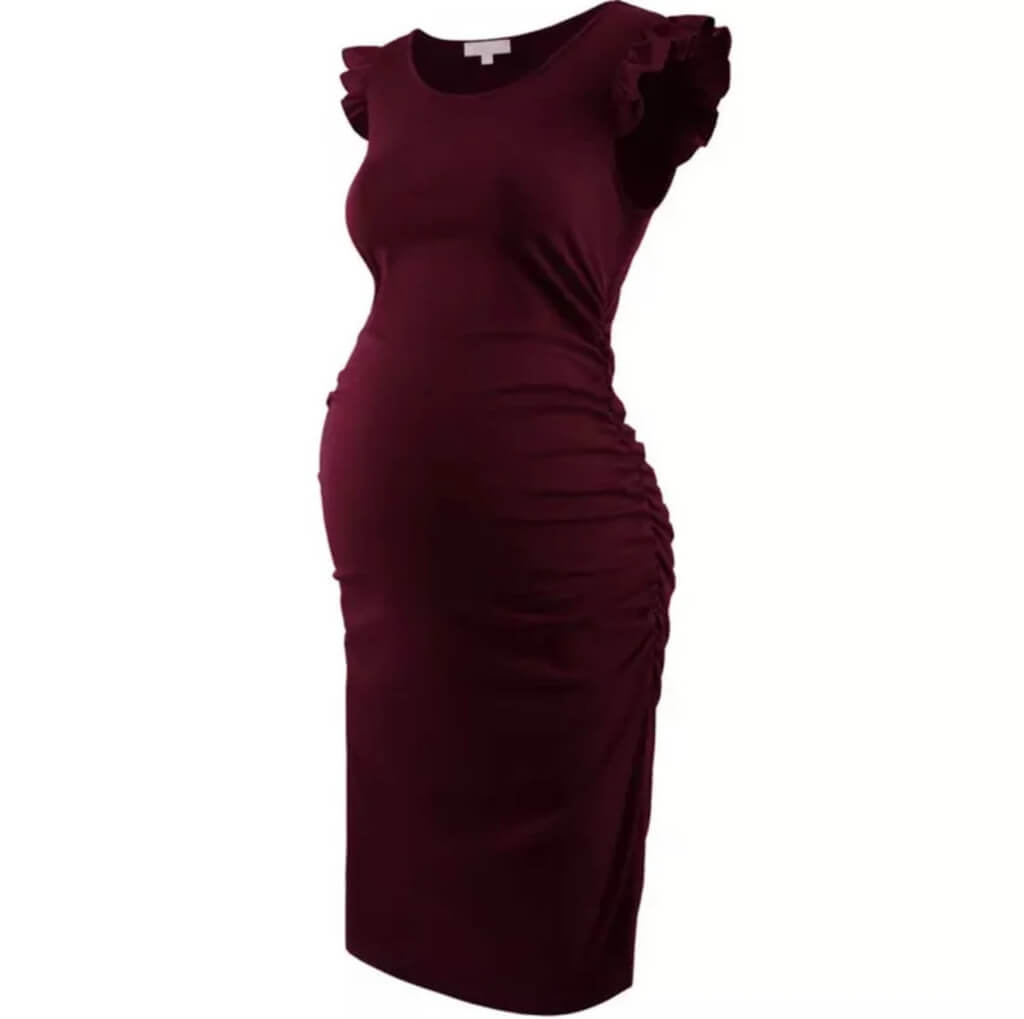 Source: etsystatic.com

This flutter-sleeved dress will make you feel like a princess. The flexible fabric is soft and machine-washable, and it comes in a variety of colors. So, if you like it, you may acquire a lot of them. You can dress it up with jewelry and a blazer or down with a cardigan and shoes.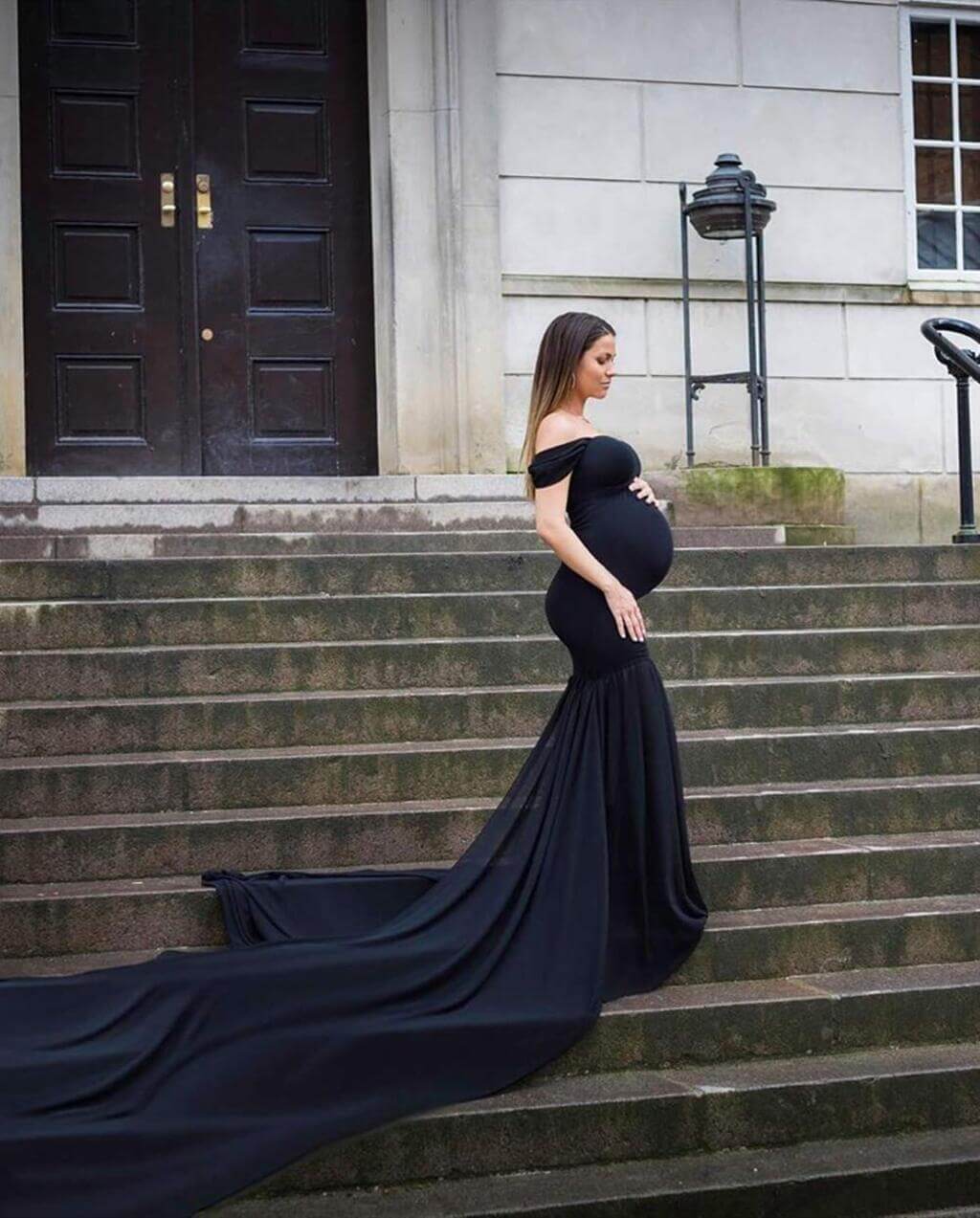 Source: amazon.com

Use this maternity dress for baby shower to draw attention to your tummy, which may provide princess emotions to your photograph. While its lace Baby Shower gown exudes sexiness with a see-through design and front slit, modest alternatives with complete lace overlay and flared long sleeves are also available. You will be completely comfortable because of its airy construction, which offers the appearance of a dazzling silhouette whether you opt for flowing tulle dresses or more flared dresses.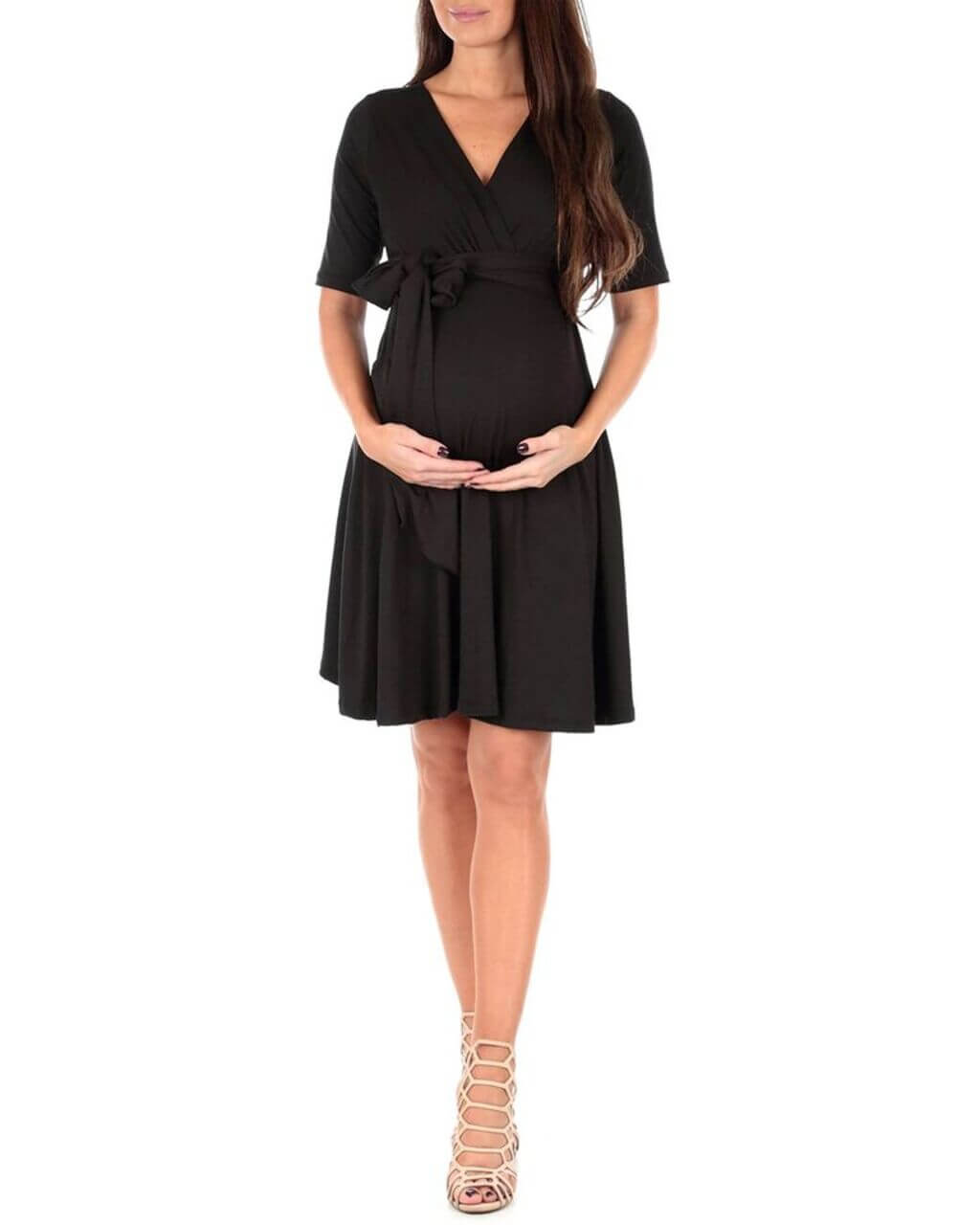 Source: hearstapps.com

This synthetic wrap dress comes in 35+ colors and designs, ranging from strong & solid hues to vivid tropical florals, making it ideal for almost any personal style. The belted waist tie, like the general design of the dress, is both appealing and functional. Maternal mothers will like the V-neckline that can be pushed down for nursing.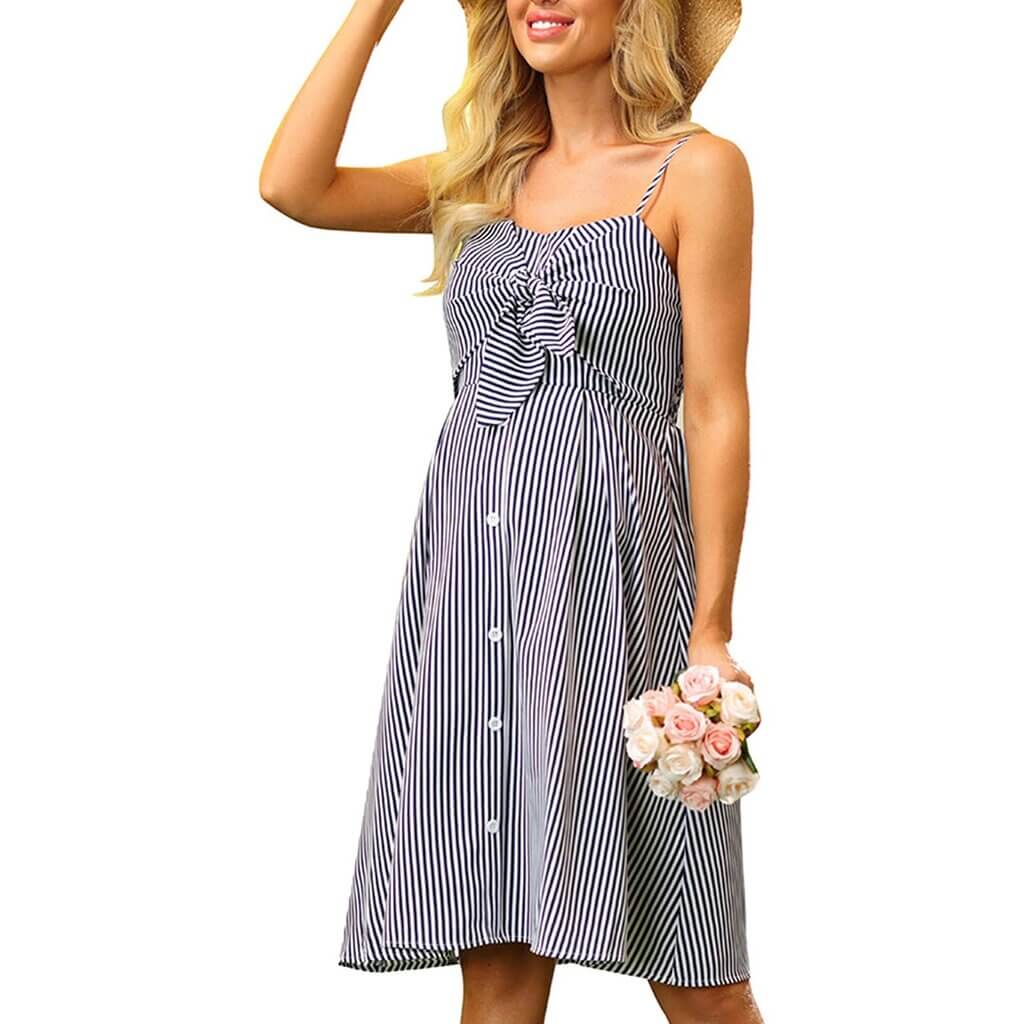 Source: walmartimages.com

They made this dress with a comfortable fabric with ample space for your developing bump, and will become an immediate essential in your summer wardrobe. Pair it with a pair of white sandals and you're set for the baby shower.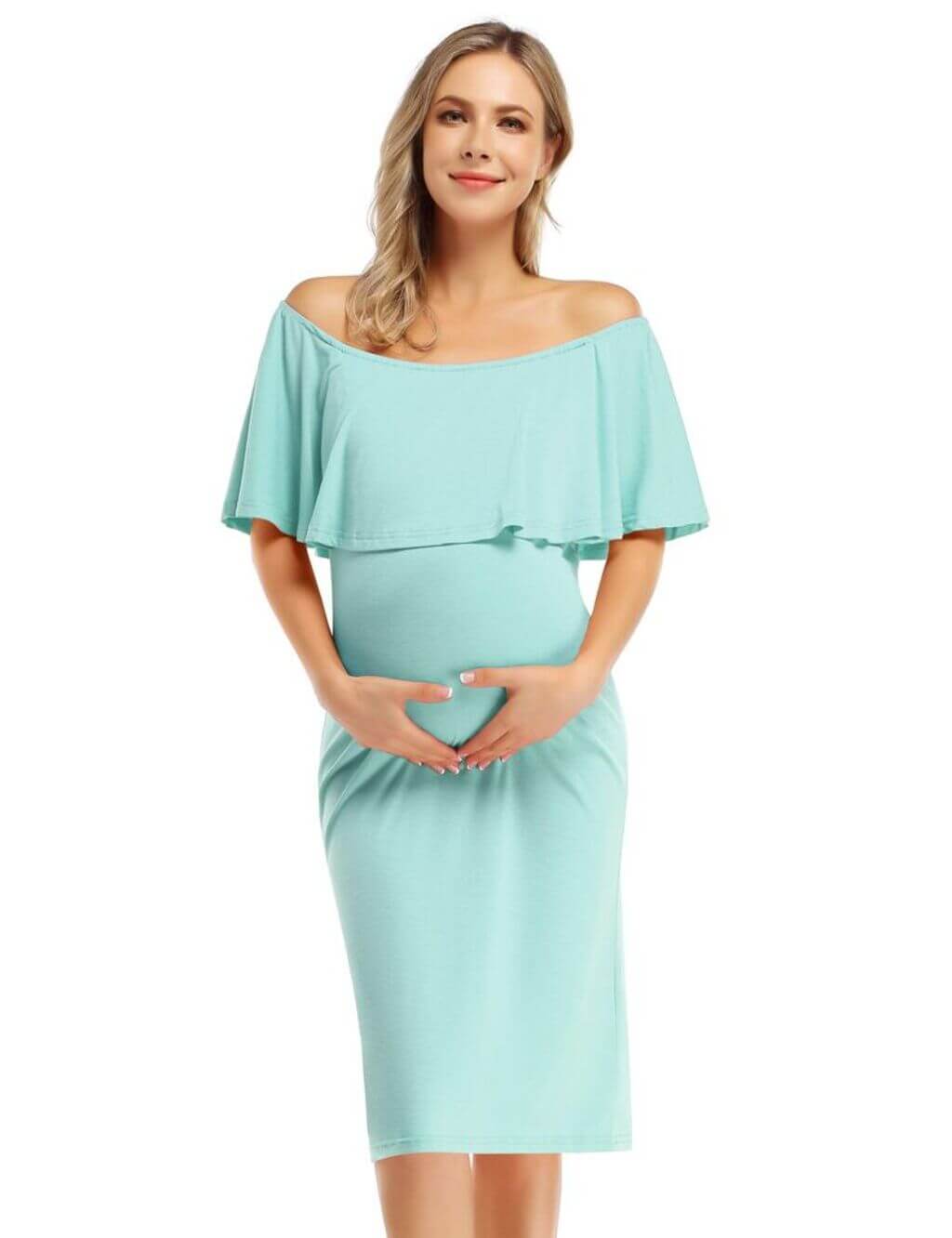 Source: pinimg.com

This premium stretch fabric is breathable against the mom's curves, allowing you to rock the baby shower photos‌ with ease. A variety of designs such as floral, stripes, or solids, as well as diverse cuts such as irregular bodycon and wrap swing, may make appearing stylish an uncomplicated event for all expectant mothers.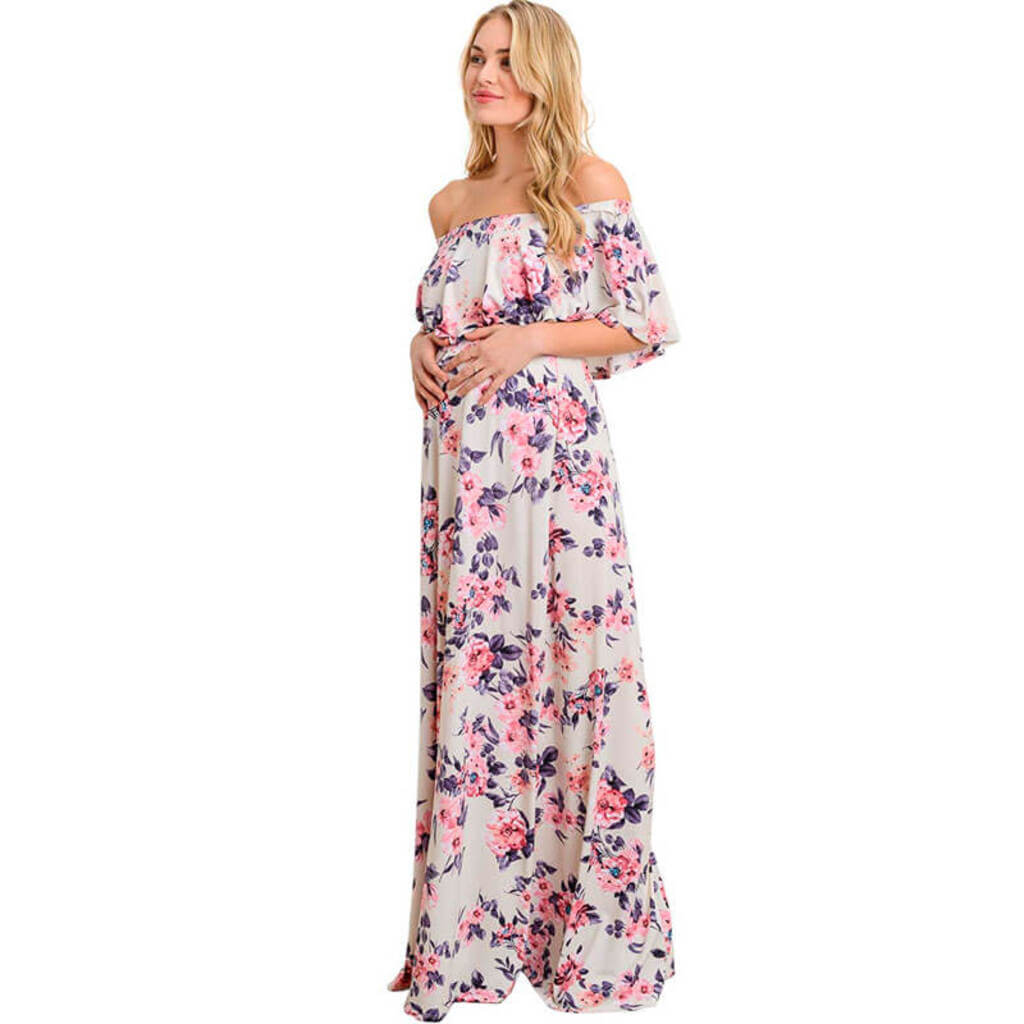 Source: productosdeplaya.com

Floral dresses are popular every season, and this off-the-shoulder piece features a lovely design that will never go out of style. You can dress up this gown with stylish bangles and diamond earrings or toned down with flip-flops and a wide-brimmed hat. Because of the stretch, you can also use it as a swimming suit cover-up!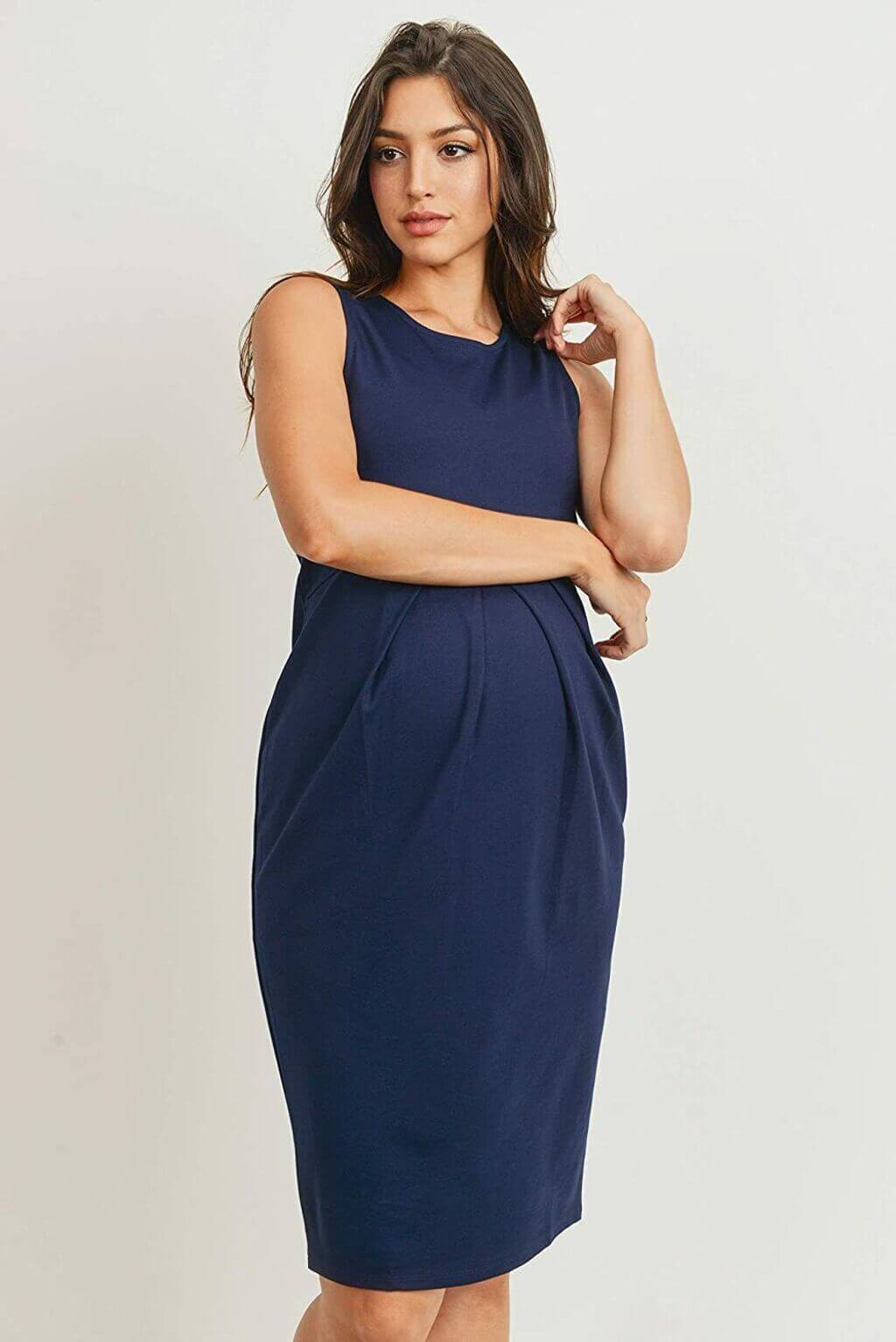 Source: ebayimg.com

Finding a babyshower dress suitable for formal occasions appears to be an insurmountable challenge. Worry no longer: this midi-length viscose-blend dress will put an end to all your worries. Pair it with a delicate necklace and a pair of mules or shoes to complete the look.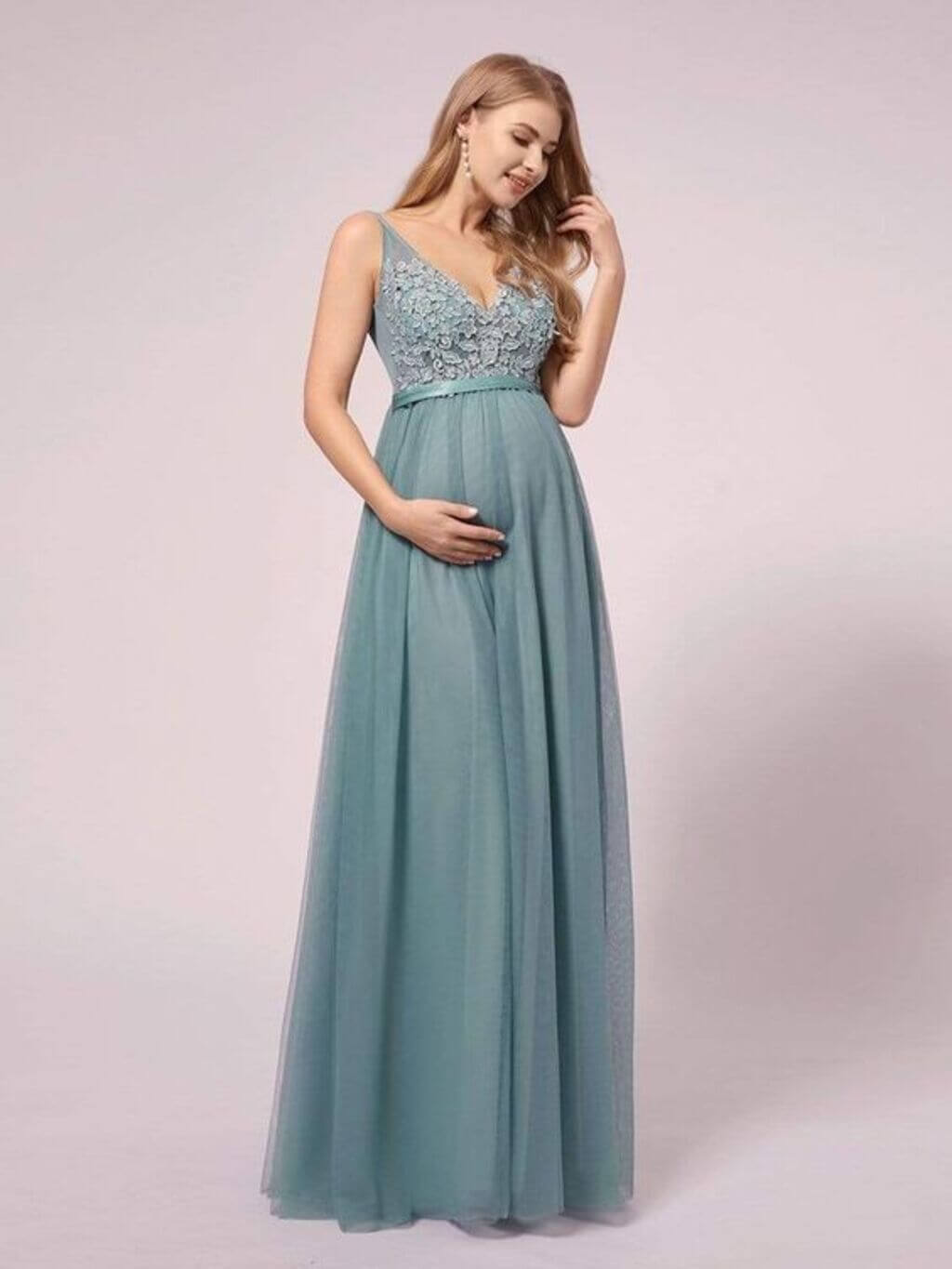 Source: pinimg.com

This excellent quality designer baby shower apparel will flatter your pregnancy. You might choose antique pregnancy dresses with lace sleeves or formal maternity dresses with multi-layered skirts. For a glamorous look during the baby shower photoshoot, choose from a large selection of printed flowers to dainty solids with eye-catching applique work or tightened waist style.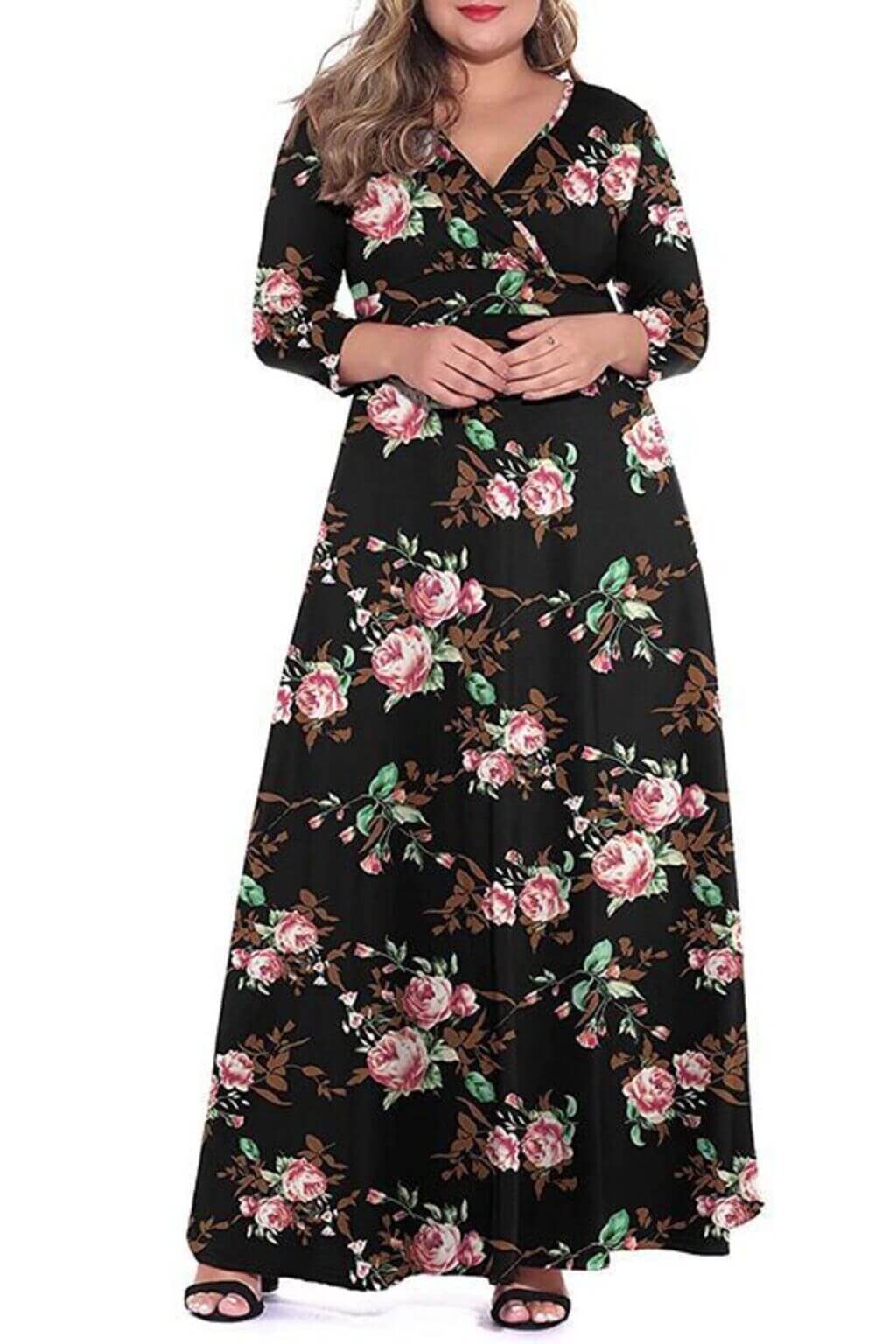 Source: hearstapps.com

This gorgeous dress has long sleeves, making it an excellent choice for baby shower occasions and sometimes even for work. Sure, you could throw on a blazer, cardigan, or scarf, but layers aren't always your friend during those 9 months. This dress is available in sizes XL through 5x, which is amazing.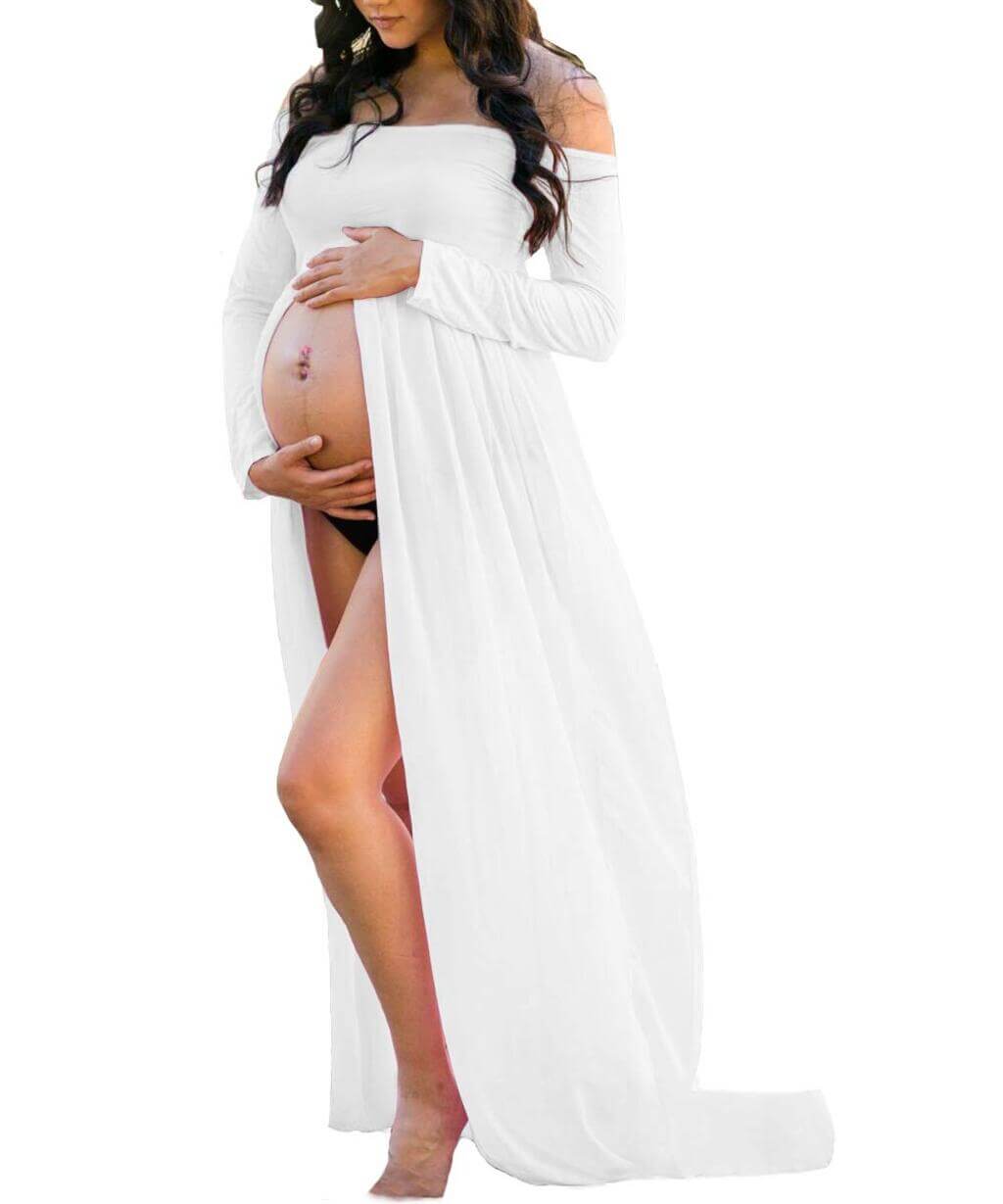 Source: amazon.com

Sexy mommies may show off their baby bulges with elastic and skin-friendly numbers, which are carefully created to fit different stages of pregnancy. Its floor-length gowns may highlight your feminine curves whether you choose to go wild with split front dresses or keep things modest with covered ones. Designer-approved necklines like off-the-shoulder, sweetheart, and V-neck may highlight your shoulder lines and slim neck.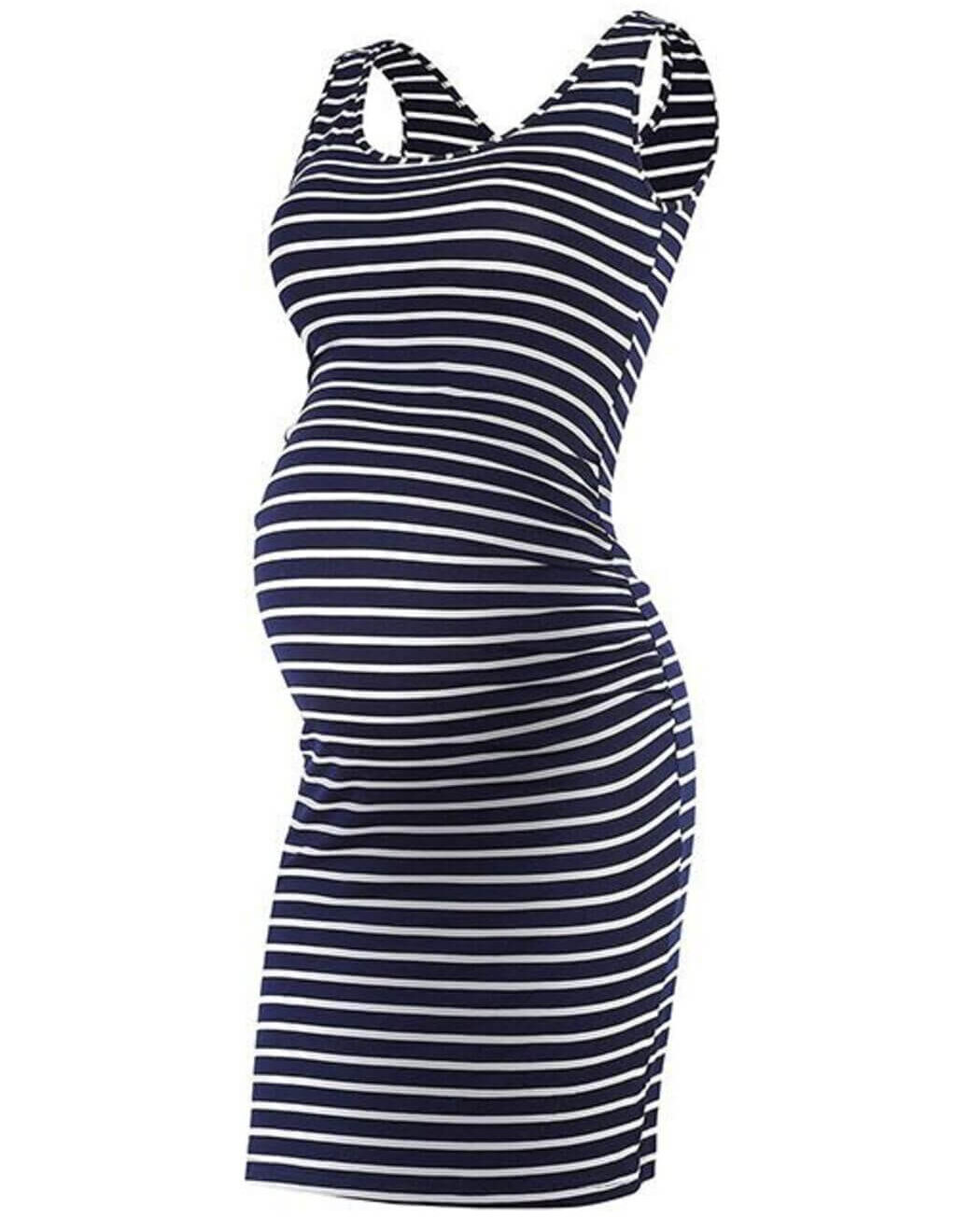 Source: hearstapps.com

It's as simple as getting this baby shower dress and going with it. This striped dress in stretch jersey knit is a simple bodycon that shows off your new contours with ease and elegance. The design is timeless, and it screams to be paired with white shoes and a baseball cap.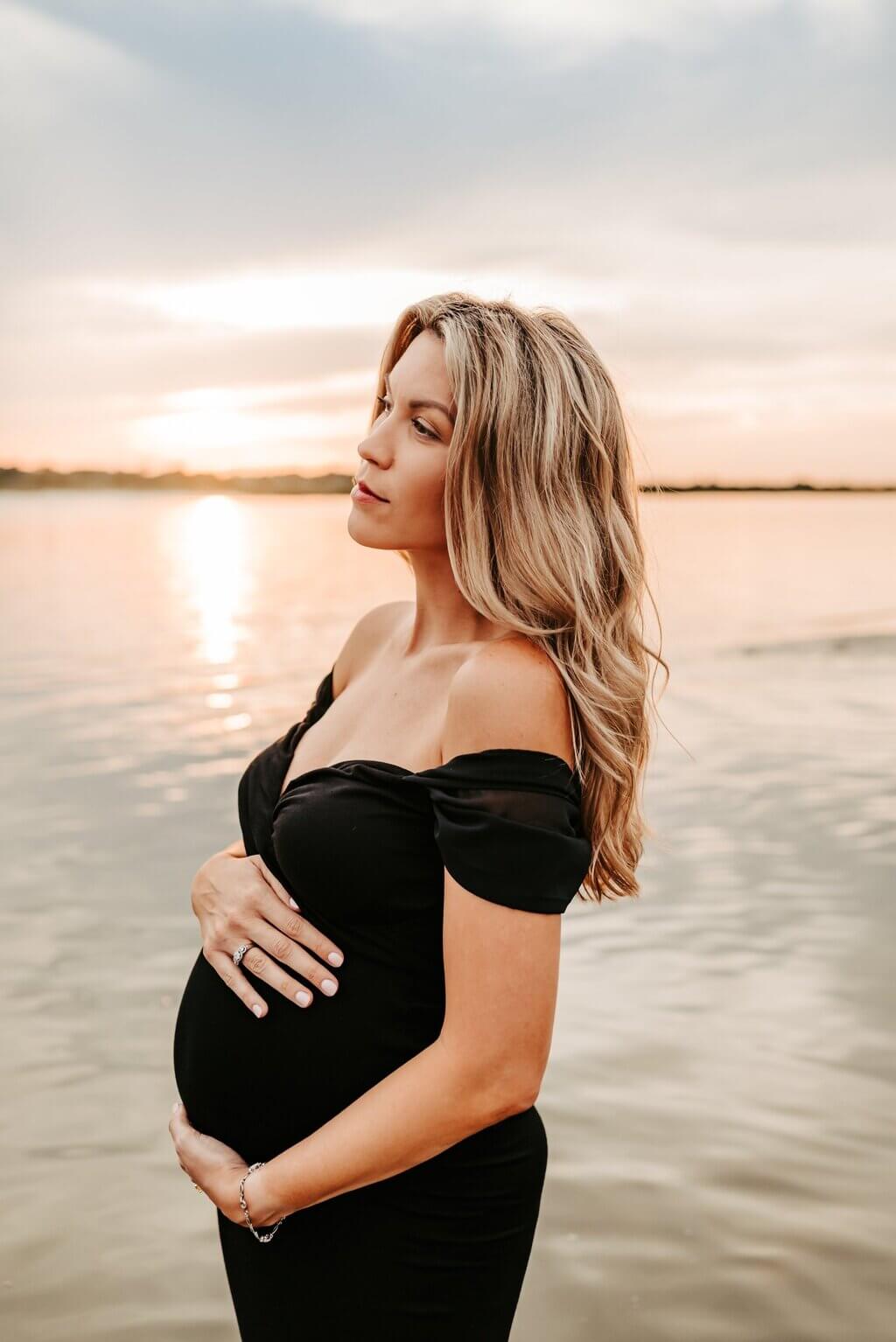 Source: squarespace-cdn.com

Capture memories for a lifetime while looking picture-perfect in this adorable maxi maternity gown for photos and baby showers. The gowns with tight bottoms and chiffon mermaid patterns will ensure an incredibly beautiful look, with the off-shoulder numbers will allow your chiseled collarbone to speak for itself. You may embrace your inner princess by wearing lace gowns with tiered ruffle mermaid bottoms that emphasize your contours without feeling constricting.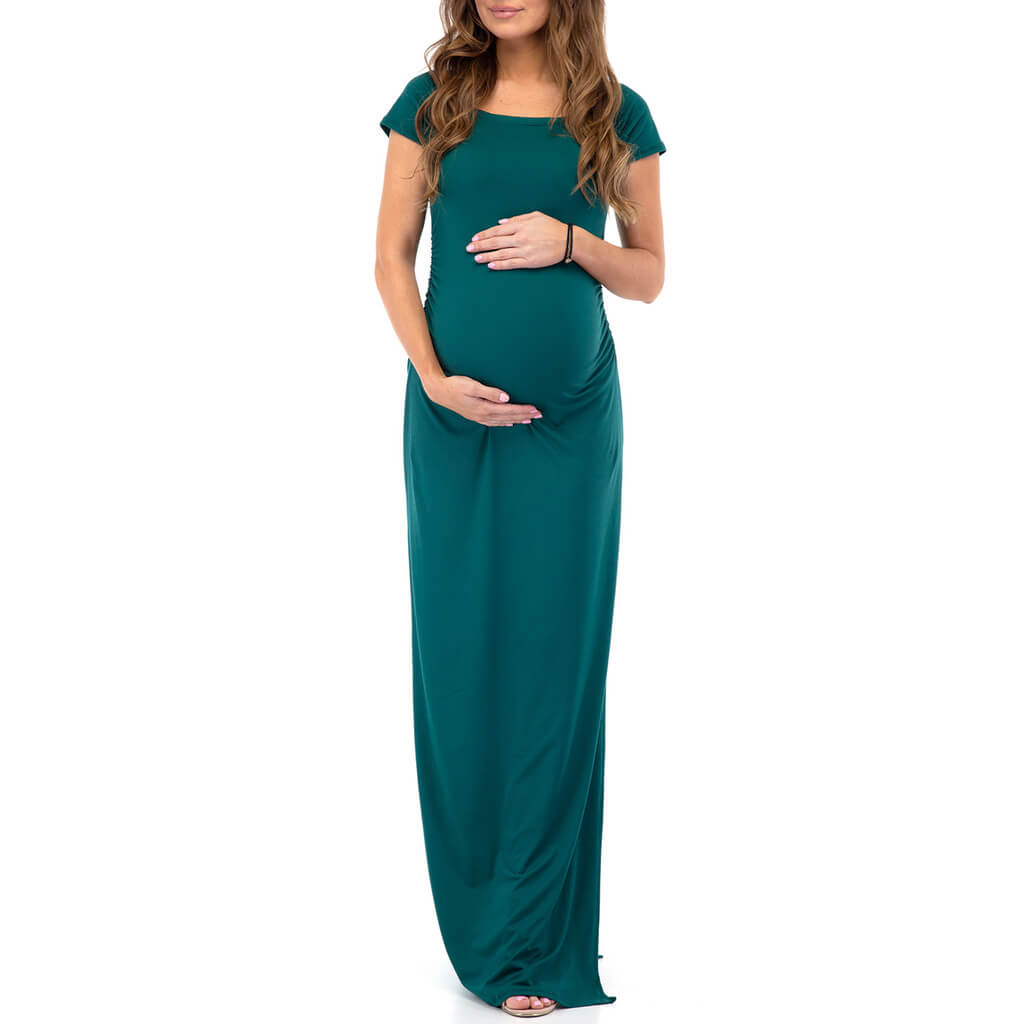 Source: walmartimages.com

The side slits make this dress a little more informal than the others on this list. However, it's still lovely enough to go on a date or to see a performance. It's elastic enough, so getting comfy is a breeze. You can wear this dress as your everyday maternity wear or get a photoshoot done.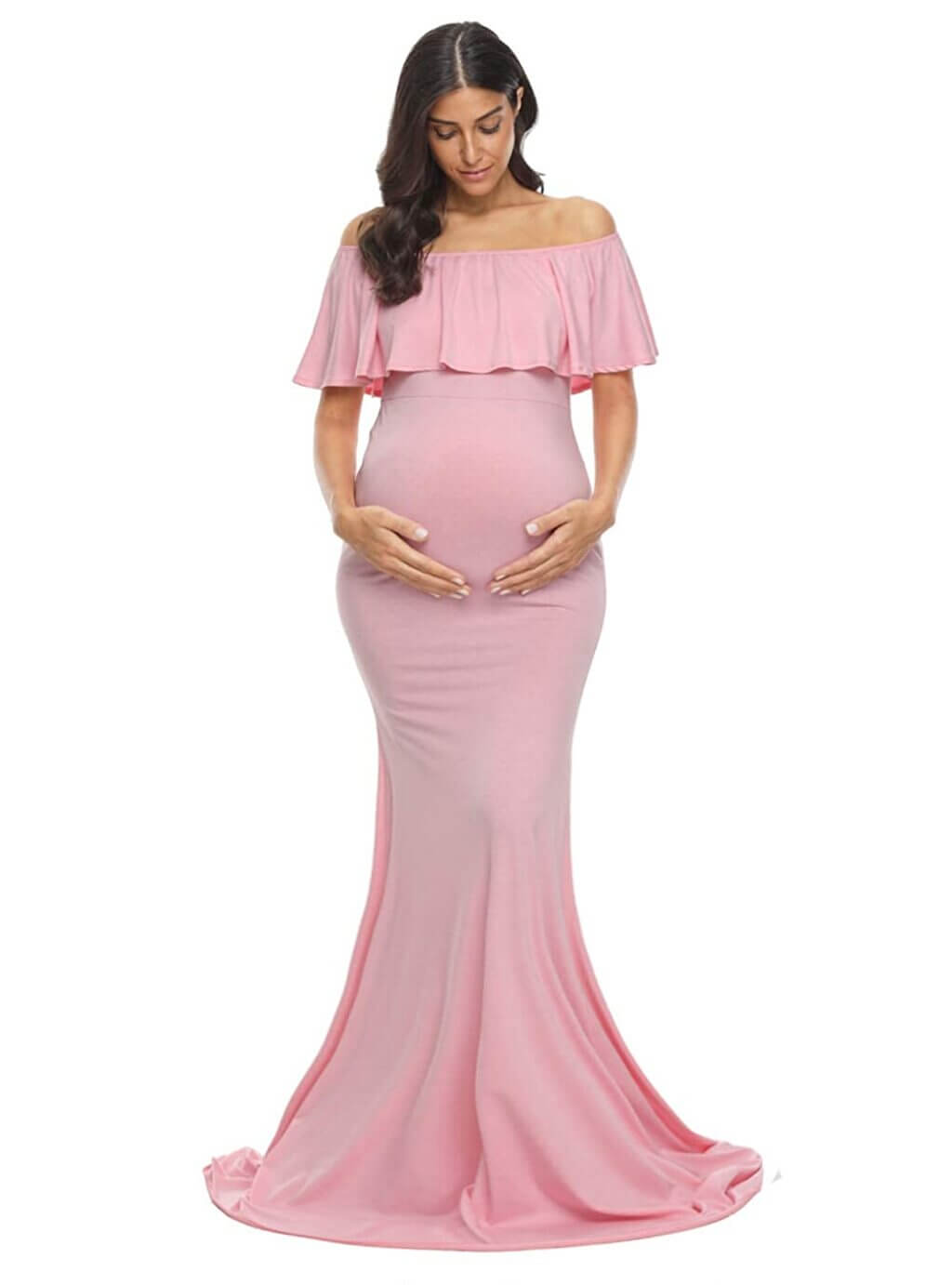 Source: amazon.com

Add a touch of elegance to your maternity baby shower dress with this stunning collection of gowns and midi dresses that nursing mothers may also wear. You won't want to take these wonderfully cozy numbers off, which have innovative patterns to suit your expanding bump while also upping your style quotient. The floor-grazing hemlines of the gowns make it simple to get a formal appearance, whilst the V-neck minis may let you keep things relaxed at a weekend BBQ.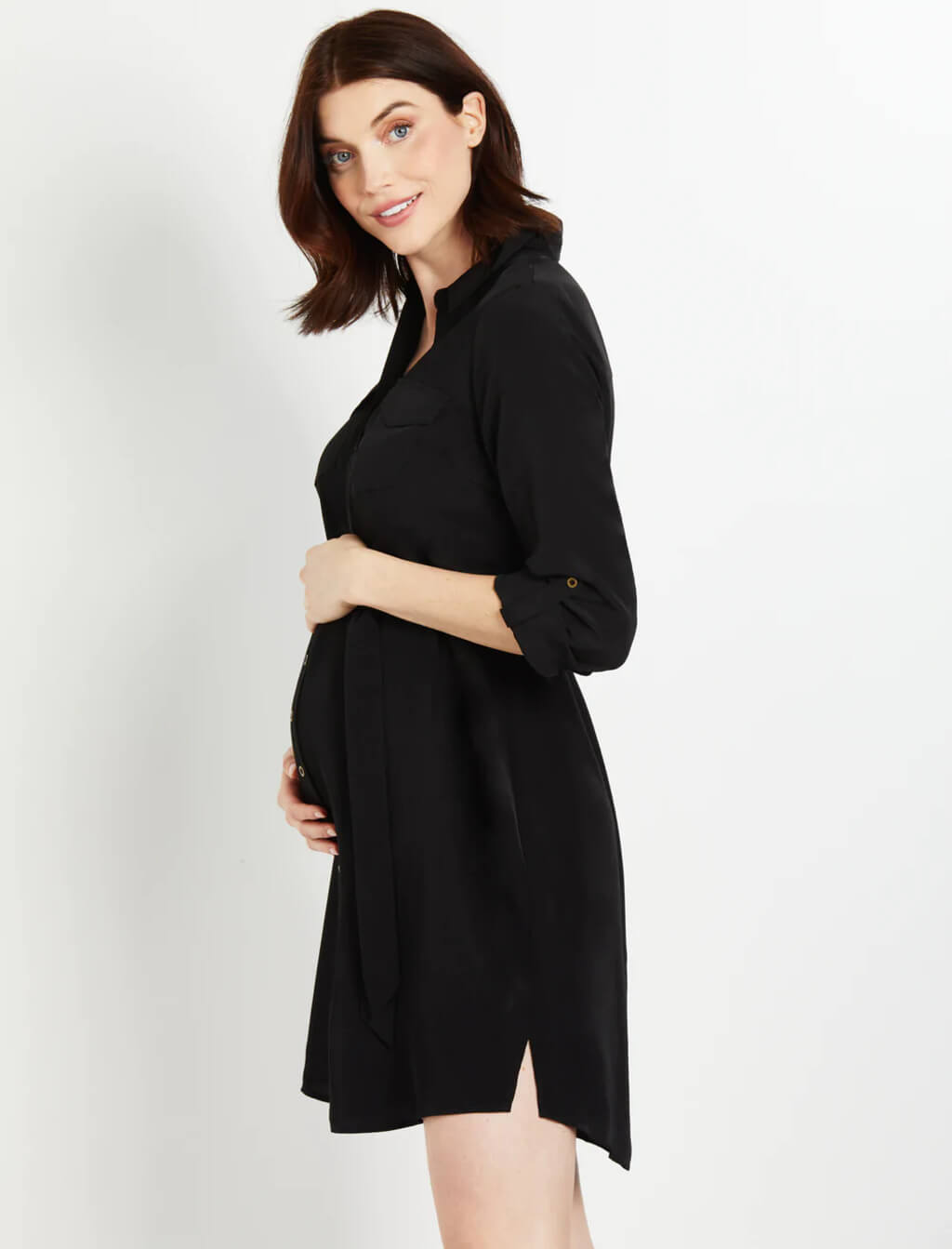 Source: shopify.com

This pregnancy crepe dress would look great with tights, knee-high boots, and minimal jewelry. It's the outfit to go to have a baby shower. Buttons may be problematic while pregnant, but this garment keeps them straight and closed, making them appear smooth and neat. 
Also Read: 15+ Most Trending Mommy and Me Outfits, Dresses & Clothing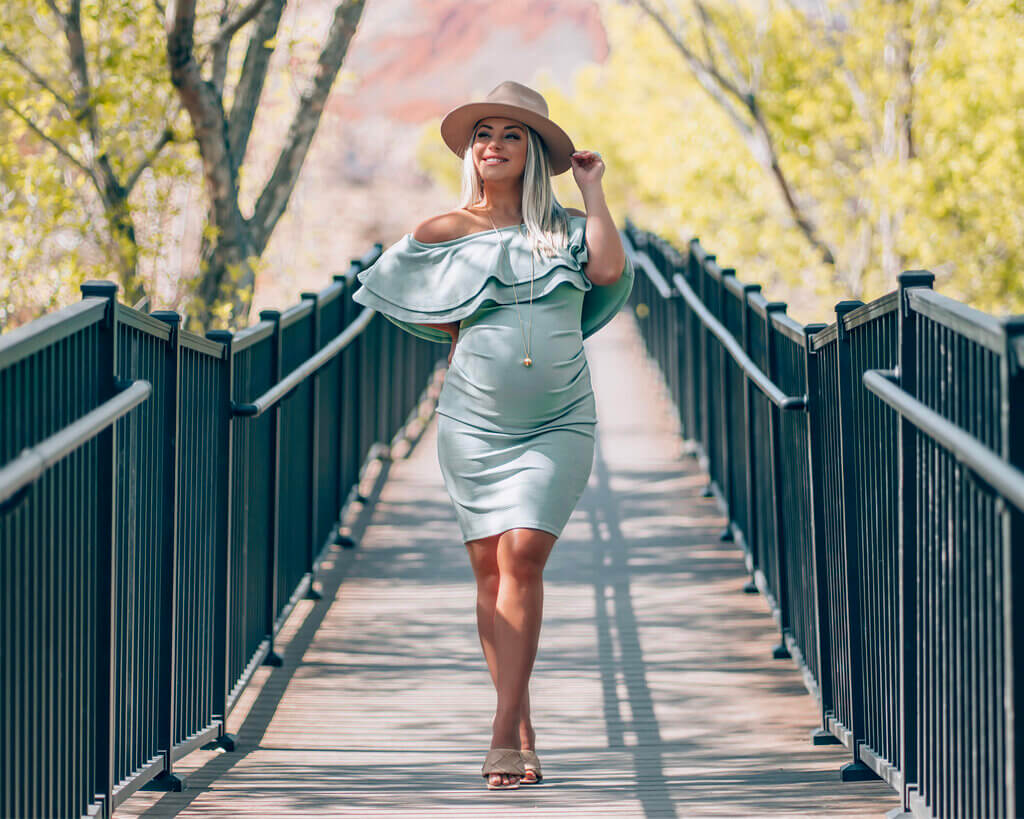 Source: squarespace-cdn.com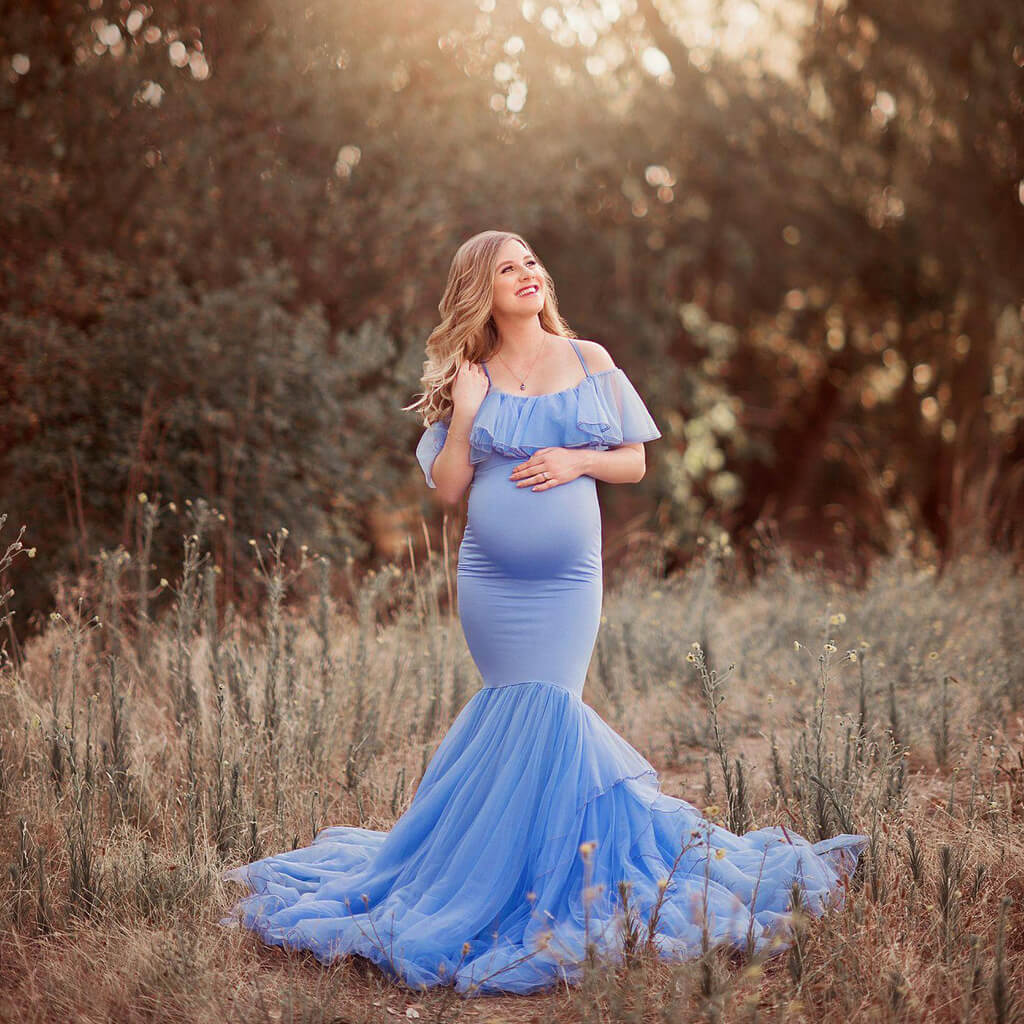 Source: alicdn.com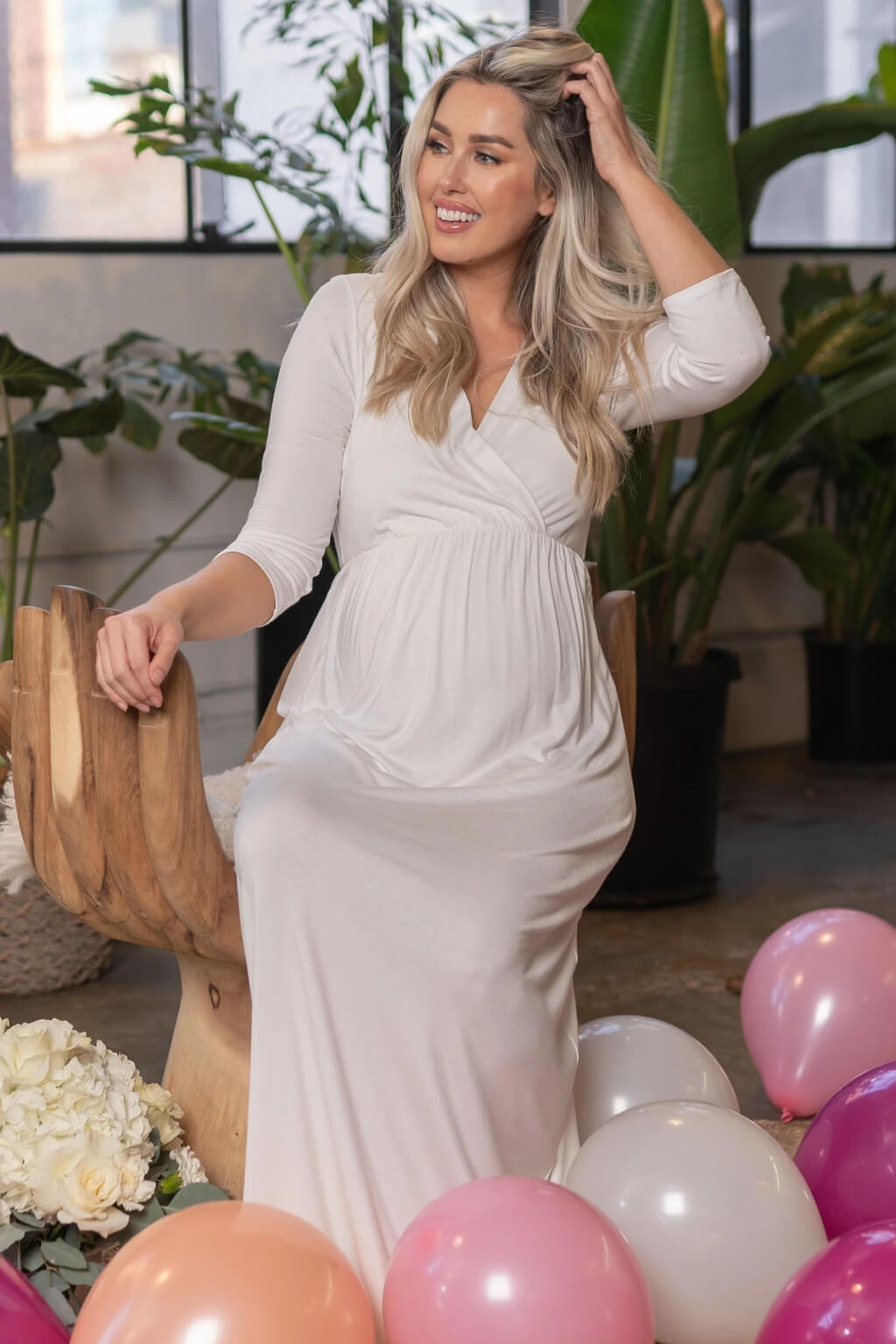 Source: shopify.com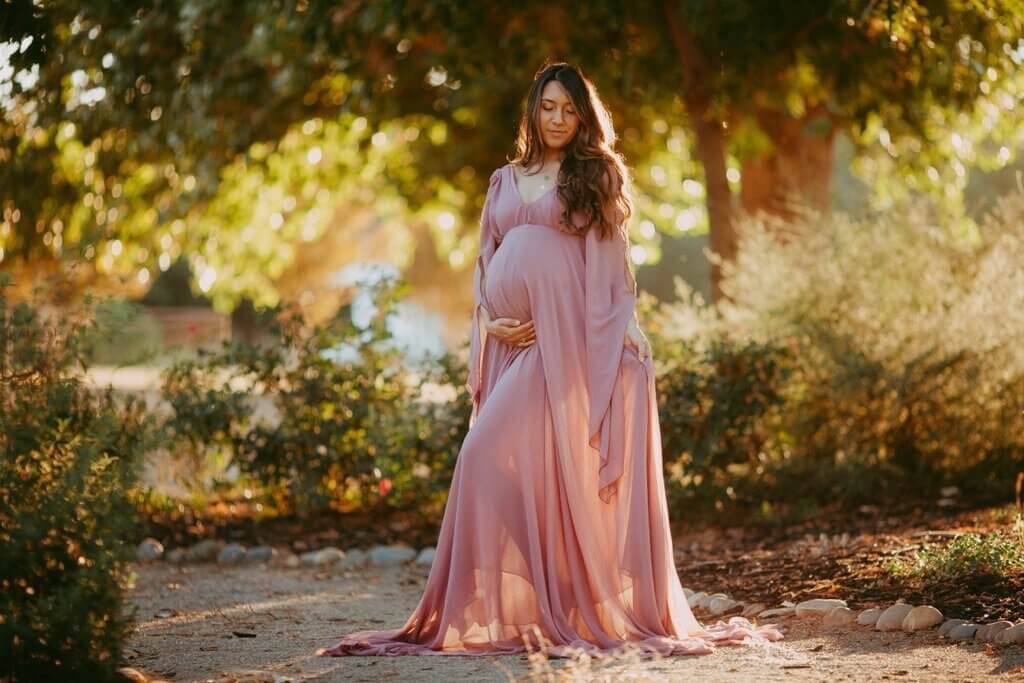 Source: missmadisonphotoprops.com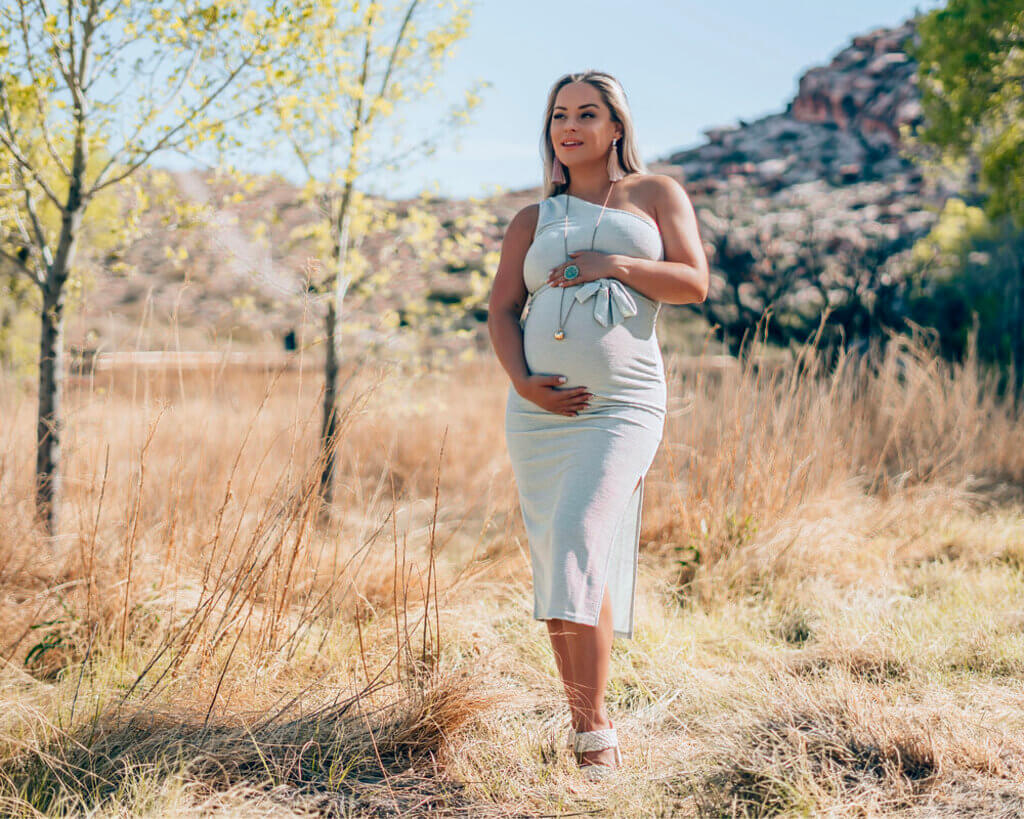 Source: squarespace-cdn.com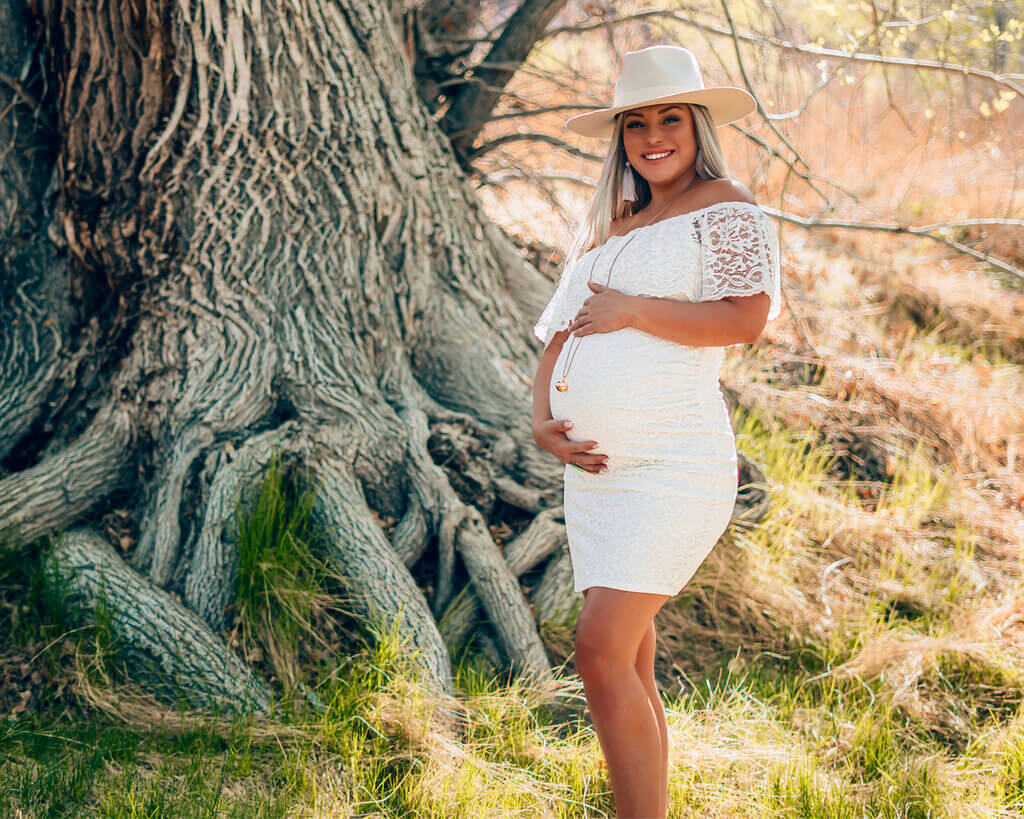 Source: squarespace-cdn.com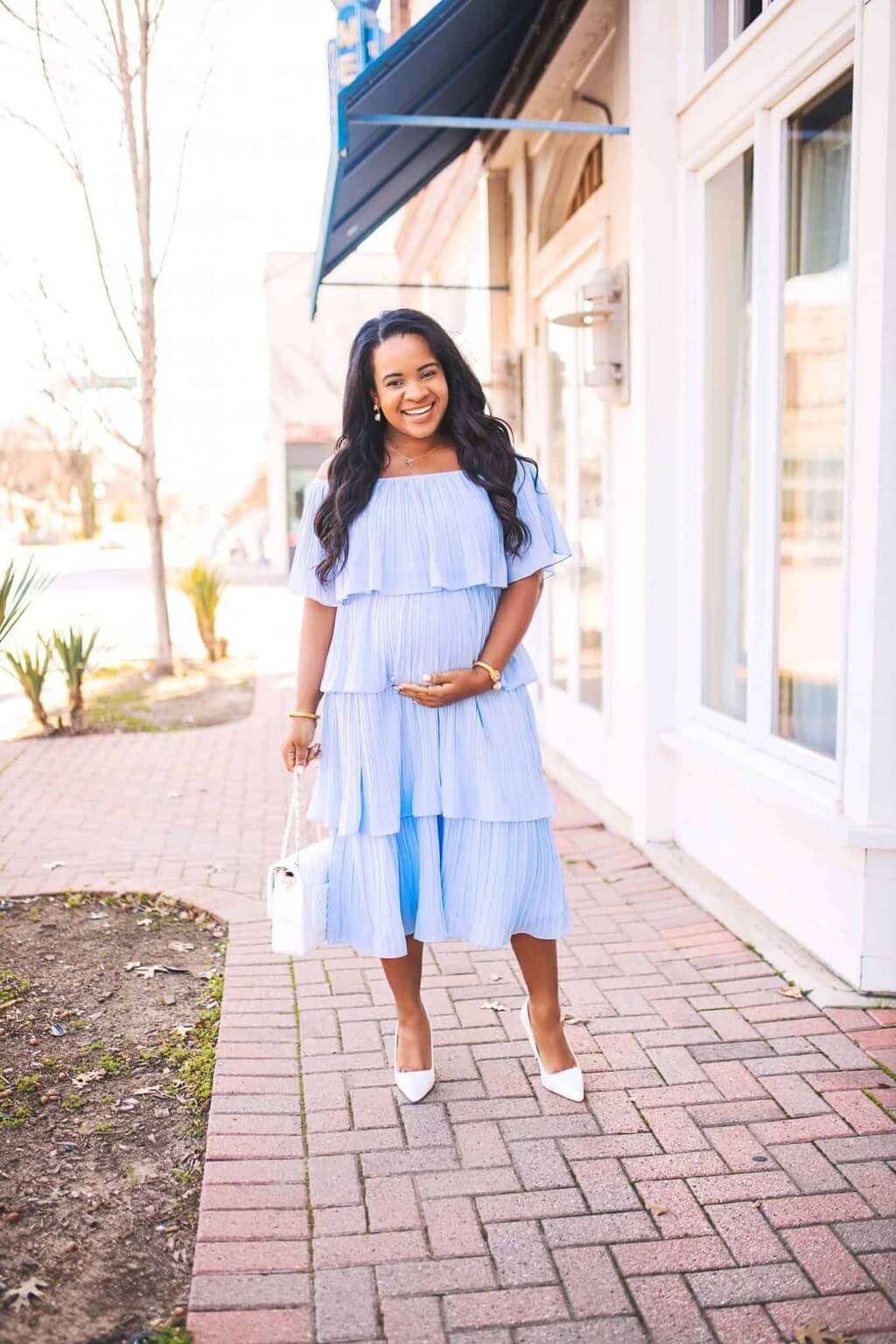 Source: tarynnewton.com
Source: stefanybare.com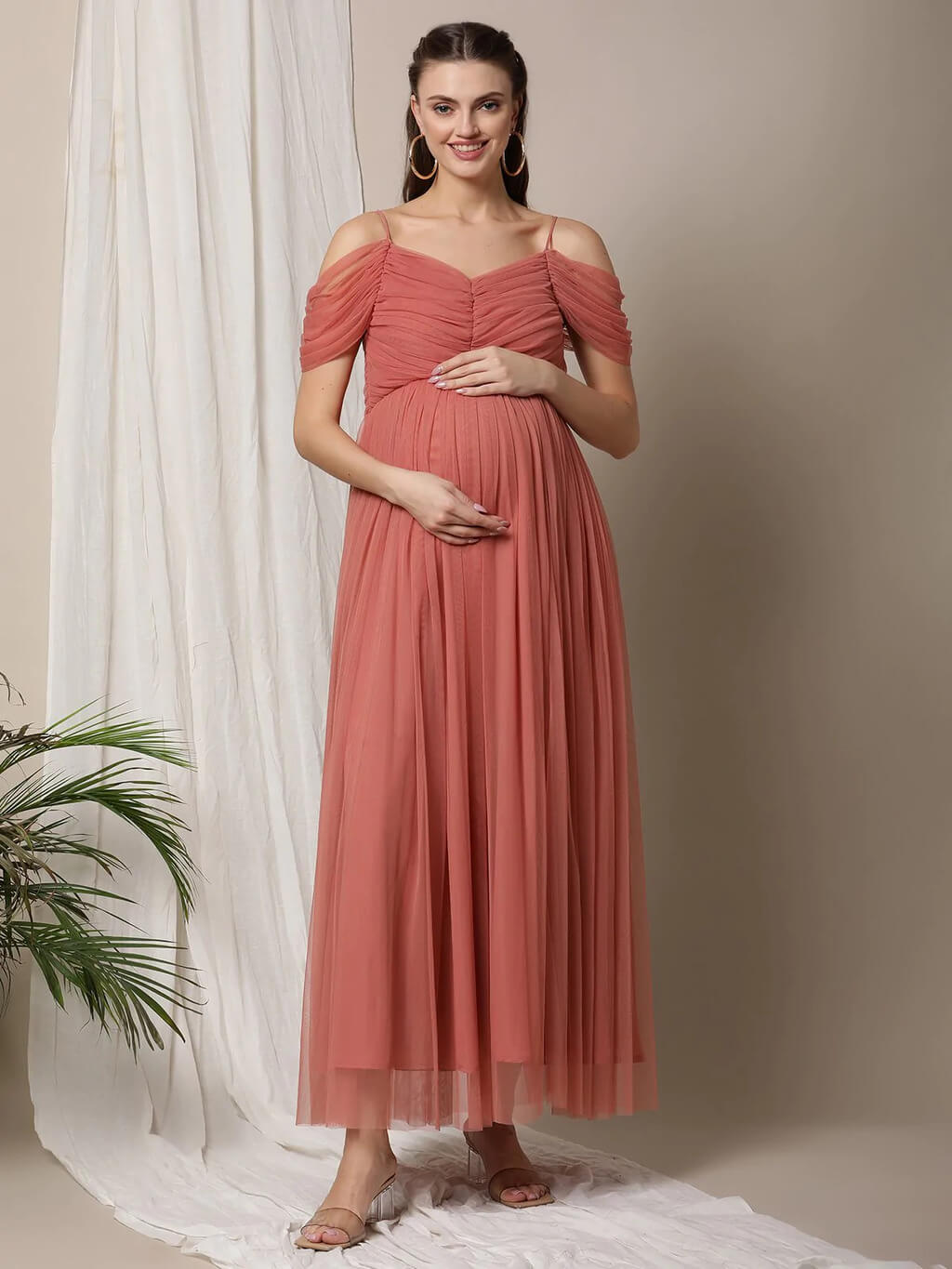 Source: shopify.com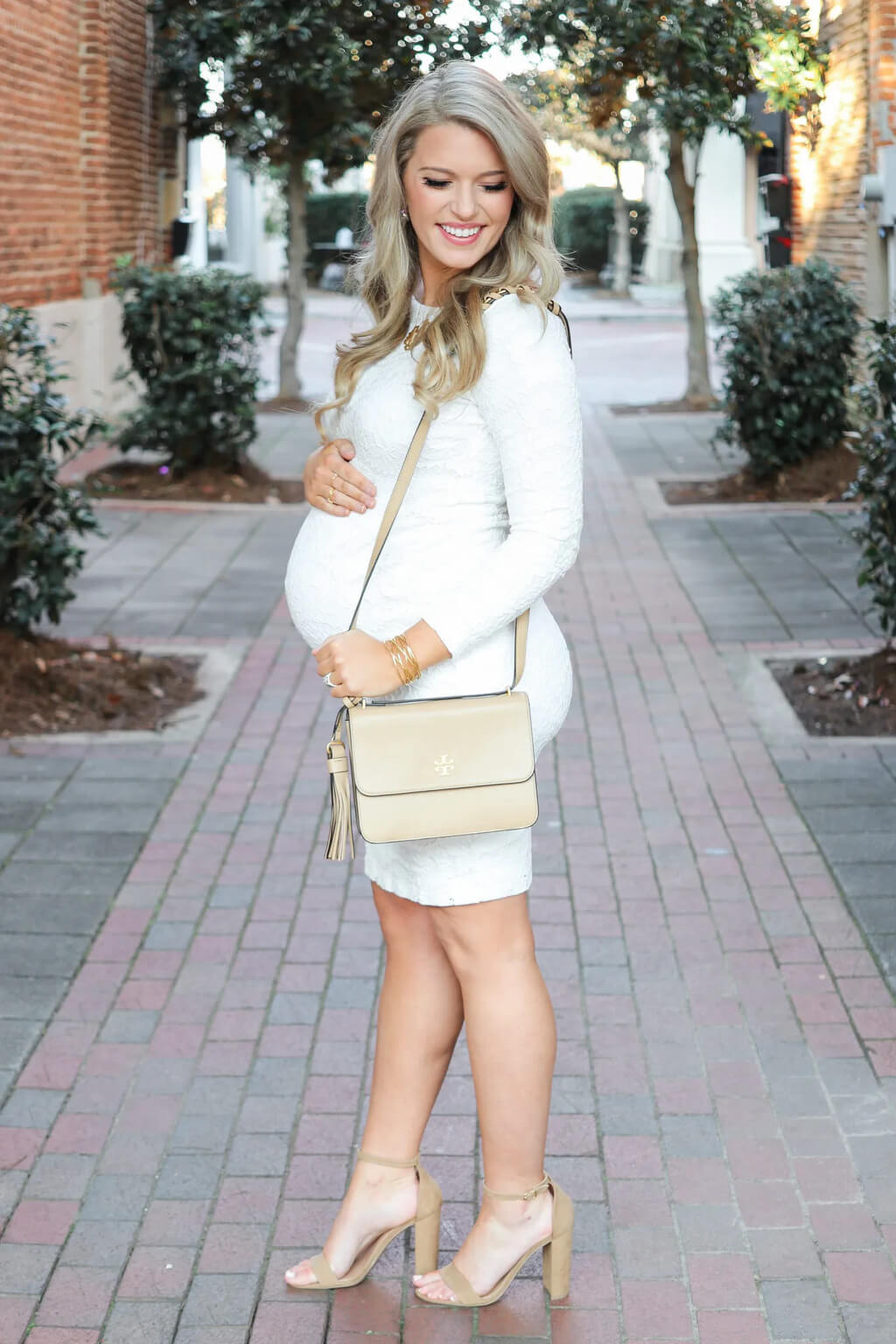 Source: wp.com
The Bottom Line
Finally, summarizing everything, a baby shower maternity dress is a once-in-a-lifetime occasion. The expanding belly size, mood swings, and other pregnancy discomforts may keep the expecting mother down and uncomfortable. So, you may invest in the best baby shower dress that keeps them comfy without sacrificing elegance and color. The pregnant dresses described above include off-shoulder styles, pull-on closures, breathable materials, and many more variations. Get the one you like!
For more fashion inspiration and styling ideas, stay tuned to Fashionterest.