Are you on the hunt for adorable newborn baby outfits? Here is our advice, when it comes to dressing your little one, prioritize comfort and practicality. The slightest discomfort may lead to that particular dress lying under the pile of newborn baby clothes. Baby clothes are full of cute and chirpy options, making it easy to get carried away and buy those tiny miniature fashion statement dresses more than the baby can wear.

These tiny newborn baby clothes may tug at your heartstrings but also at your wallet. So, if you are a first-time mum and want to gear up for your little one's arrival or create a baby registry, we have you covered. We have carefully curated a selection of adorable newborn baby clothes that range from perfect homecoming to everyday wear. Let us know which one steals your heart.
Let's get started and dress up your little one!
Gerber Baby Girl 4 Pack Sleep N Play Footie
Are you looking for something pink for your little princess? Look no further; the Gerber newborn baby girl clothes footie perfectly blends charm and practicality. It features front zippers that facilitate easy diaper change. The breathable fabric gives incredible comfort and warmth to ensure the baby is snuggled during playtime or bedtime.
The availability of plenty of assorted colors and patterns adds a playful touch, making the dress suitable for any casual occasion.
Also, this newborn staple makes an excellent baby shower gift. Imagine the mom-to-be's face when she unwraps this princess dress. Don't believe our words; here is what a satisfied customer has to say, "this product is an excellent value for the cost."
AosWep Cute Giraffe and Zebra Floral Print
We can not get our eyes off this super soft jumpsuit by Aoswep. Made from a heavenly blend of cotton and spandex, this gift is perfect for your little bundle of joy. The snap button on this adorable romper makes a diaper change for new mothers very easy. 
The super adorable romper is best suited for the summer season and is more than just clothing – it's a statement of comfort and style. Aoswep romper is available in vibrant colors and prints, the baby elephant one being the favorite of the users. The prints and colors add a splash of joy to the baby's wardrobe. How about adorning the dress with a bow or a beanie? Pure baby bliss!
Kiddiezoom Newborn Baby Girl Clothes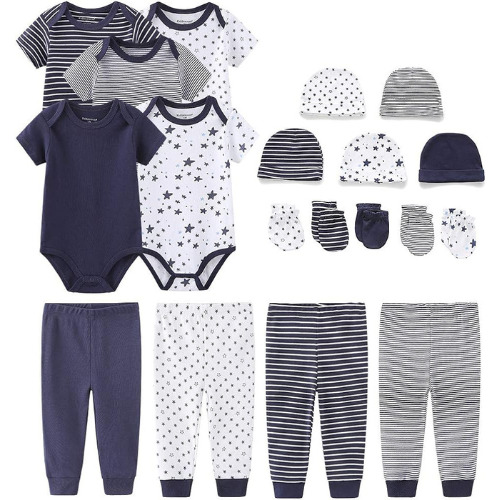 Did we mention our love for light khaki and pastel colors? This 100% cotton baby newborn dress is skin-friendly and an absolute must-pack in the hospital bag. The material feel is luxurious and ensures the baby is wrapped in comfort during the very early months. And guess what? The dress gives a perfect fit for precious photo opportunities. The brand is a true winner in the realm of baby girl newborn clothes. Get ready to make your newborn's stylish entrance into the world. 
GDTOGRT Baby Girl Clothes Ruffle Romper and Floral Pants
Every little princess deserves a wardrobe that's ready for any event, and this breathable ruffle romper is here to steal the spot. Crafted from a refined cotton blend, the material is extremely skin-friendly and looks irresistibly adorable when worn.
Those cute little flaps on the shoulders? They serve a purpose beyond adding a touch of sweetness. In case of any unexpected leaks, you can pull down the body suit over the baby's torso, sparing them the discomfort of doing it from the head. Isn't it a practical and precious solution for newborn baby clothes? So, buy this party-wear romper and let your little one shine in the event.
Oklady Cute Letter Printed Romper Floral Dress
We are absolutely positively obsessed with this dress. With super comfortable cotton material, this gorgeous baby dress is available in not one but 13 different colors. Talk about a rainbow of options for your little one!
The best quality floral romper is super comfortable on newborn skin and ensures skin safety & the royal treatment they deserve. The best part about buying the rompers is that they are easy to wash and have fewer newborn baby clothes to handle. And here is a pro tip: You can put on as many layers as you want to increase the warmth during chilly winters.
MA & Baby Store Newborn Infant Girl Long-Sleeve Sweatshirt
This premium delight for your little one features a symphony of softness with moisture absorption and ventilation function. The magic of breathable fabric makes the baby feel cozy and free, giving them the comfort to move freely while playing. With more than 35 colors available in this pattern, you will always have something warm to pop on the baby. Wait, this set doesn't just stop here; it comes with a colorful matching headband that elevates the style game. Go and buy these adorable baby girl clothes newborn!
Allizzwell Preemie Newborn Infant Rubbed Suit
This is an absolute classic piece of dress on the list of baby dresses. This playsuit features stylish long sleeves with ribbed ruffle shoulders, giving the dress a more feminine look and a charm difficult to resist. It comes in 18 different kinds of kid-friendly options for you to choose the perfect newborn baby clothes for any event you like. You might have to wait longer to order this dress as it sells out fast, so please go and book it now.
Baby Boy Dresses:
The Peanut Shell Newborn Baby Clothes
The cute baby gear set by Peanut Shell is an absolute must-have on the list. The comprehensive set boasts 16 must-have accessories, including 3 short-sleeved bodysuits, 2 pairs of pants, 3 beanie caps, 3 pairs of scratch mittens, 3 pairs of socks, and a sleeping gown. It is a complete package designed to make dressing easy.
The knit cotton material makes it the ultimate choice for the baby boy dresses on the list.
If you are thinking of giving this gift to someone, don't hesitate. The new parents will truly appreciate the adorable safari-themed baby set containing a variety of assortments. Let the new parents unwrap the charming peanut shell baby wear set.
Kutersbabi Toddler Boy Romper Dress
The Kutersbabi romper, with its adorable color, has earned a well-deserved spot on the list of newborn baby clothes. Also referred to as one-piece or bubble, this baby romper makes the diaper change a breeze for new parents.
The Kuterbabi rompers are a versatile dress featuring top buttons and a matching beanie that enhances style & functionality. We love this jumpsuit and hope you find it admirable, too.
Tikoubabe Newborn Baby Boy Outfit
Get ready for an overdose of cuteness in this hipster romper by Tikoubabe. The gray and white colors make an extraordinary combination and increase the level of smartness. We are sure that once your baby wears this, you will want to shower endless cuddles on him.
Tikoubabe brand ensures high-quality use of materials that are breathable, stretchy, and comfortable.
Let's talk about design; the design of newborn baby clothes features an expandable neckline, making the process of babywearing easy and convenient. The graffiti used on this dress is not just for the show but gives a perfect expression of the new baby's arrival– "New to the Crew ".
Joy Duck Store Solid Romper Set
If you look closely at this dress, you will embrace the premiumness of it. The dress is a visual feast of cuteness, trendiness, and unparalleled comfort. The Joy Duck romper set comes in a variety of pastel colors, making it impossible to take your eyes off. This simple yet stylish romper deserves a spot in your little one's wardrobe. And here is an exciting part: a festive deal is waiting for you (as we write). Are you excited to grab the festive deal? Go and press the buy now button!
IBOBOOM Infant Baby Boy Dress
Are you planning a photo shoot for your precious newborn baby boy clothes? Go and grab this cowboy-look-inspired dress for your little one's special moment. The dress is crafted with cotton blend material that is durable and soft on the baby's skin. 
The beautiful dress by IBOBOOM comes with a bow tie and long pants that go amazingly well for events like baptisms, pageant baby boy clothes newborns, weddings, birthdays, Easter Eve, and a lot more. One can also wear the romper alone if not with the suspender. Let's dress up your boy like a gentleman to capture timeless memories!
Renotemy Newborn Infant Baby Boy Clothes
Oh yes, winter is coming; brace yourselves! The classic baby boy newborn clothes romper by Renotemy looks extremely adorable & snuggly on the newborn. The brand Renotemy promises soft texture and good elasticity, ensuring the baby stays comfortable and cozy during the winter season. It is a perfect winter ensemble that comes with a matching hoodie attached to it. If you are thinking of gifting ideas for a newborn or a birthday celebration, this long-sleeved hoodie romper is a thoughtful and practical choice. So, let's make a healthy choice for your baby's wardrobe this season. 
Thorn Tree Newborn Baby Boy Hooded Romper
Include the ultimate must-have in your baby's wardrobe –The baby button-down romper. It is made of super soft, skin-friendly material, making it comfortable to wear daily for the baby. You can make this romper wear for play dates, home wear, or casual wear. It comes in a variety of colors, each one impressive and adorable. Whether you like vibrant shades or subtle pastels, there is a color for every occasion.
And, Concluding the Topic
This brings an end to our cutest collection of newborn baby clothes for summer and winter fun. All the above options will serve different purposes depending on the season you make the baby clothes newborn wear for the baby. These tiny treasures will cover your baby in style, from sunshine to cozy nights. We wish you a happy dress!
Explore Further