Braiding of hair is well-known and healthy too, as it makes them the most adorable protective style for your baby girl's natural hair. These soft and elegant plaits help retain moisture in your child's hair, preventing it from drying out and promoting healthy hair development. There are numerous braided hairstyles to choose from that can complement your child's personality, so you can never go wrong with these incredibly lovely kids braids styles. Let's go through some of the amazing kiddie braid hairstyles to do for your child.
17 Top Kiddies Braid Hairstyles Worth Trying
We have combined some fantastic beaded braided hairstyles for your girls. These kids braided hairstyles look cute and beautiful by adding beads, whether it is one braid, two braids, feed-in braids, or cornrows. Your daughter will have a stunning appearance. These kids braid styles will look wonderful on your daughter and can also be done on natural hair, regardless of whether she is dark or fair-skinned.
So, let's go through them one by one:
1. Kids Braids with Beads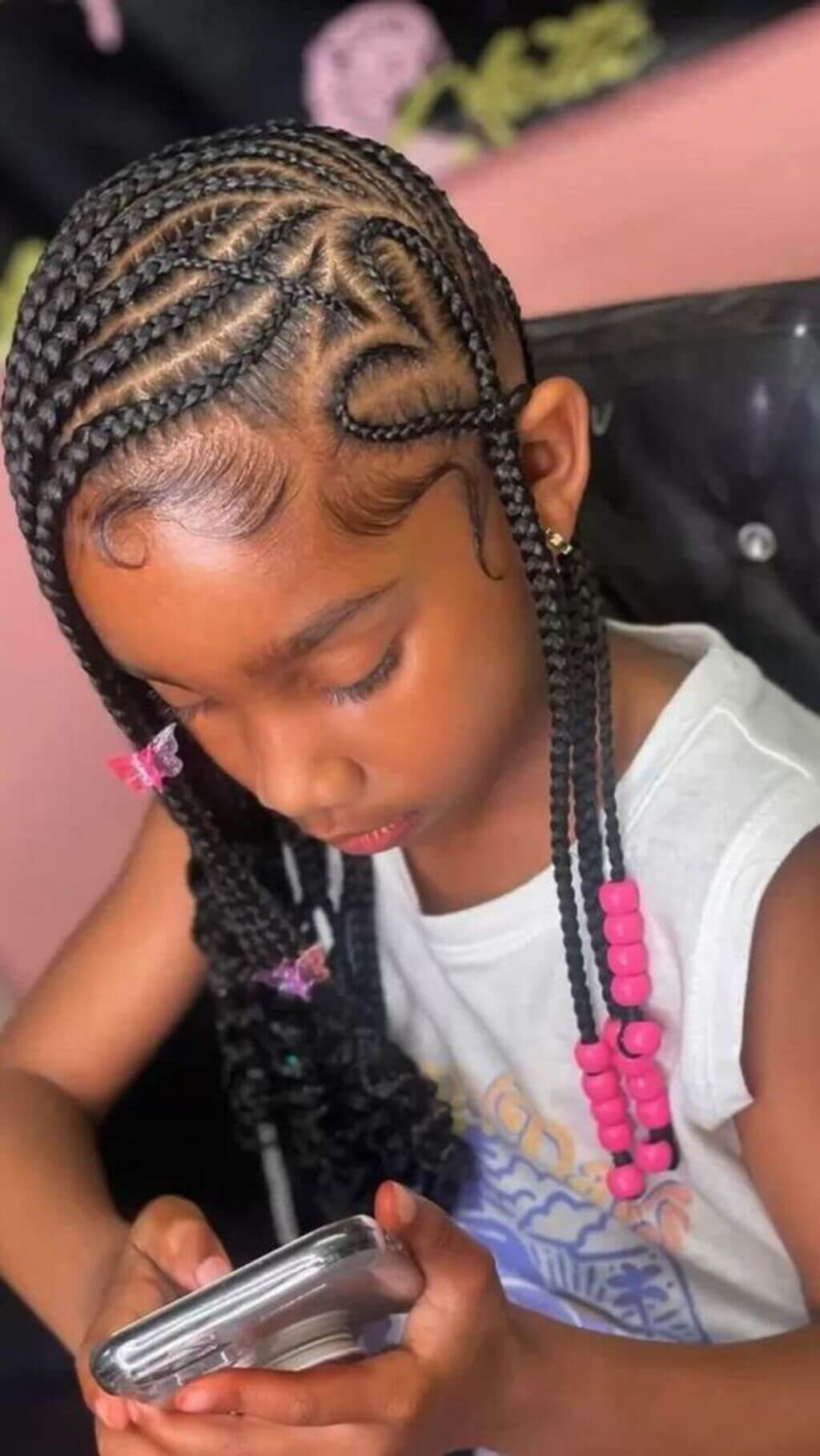 Source: pinimg.com
Kids want to express their individuality, and one of the finesse ways to do so is by wearing amusing hair accessories! When your child enjoys vivid colors or rainbows, beads are a great way to distinguish their cornrow braids. Classic front-to-back cornrows are not only fashionable but also functional. 
They begin with a simple braiding pattern so that you may simply master the technique at home. Second, they are a protective style for Afro-textured hair, and finally, they may be kept in for two weeks, saving you time dressing your child's hair every morning.
2. Beaded Mohawk Cornrows Kids Hair Style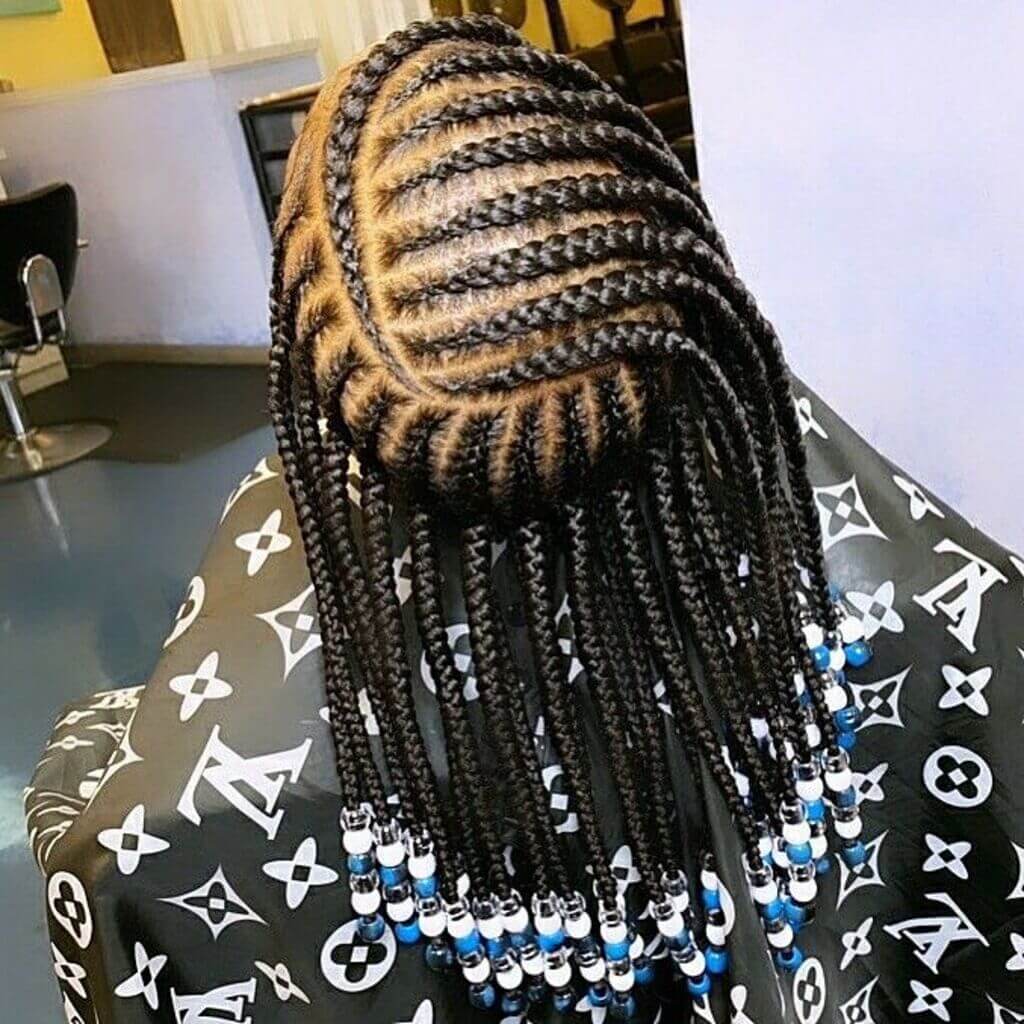 Source: pinimg.com
Due to the complexity of the hairstyle, it is only ideal for children who enjoy having their hair done. If you don't want to deal with such complexity, make the separation and hairstyles basic. They could adopt this hairstyle in their everyday routine.
3. Ponytail with Vibrant Kids Hair Style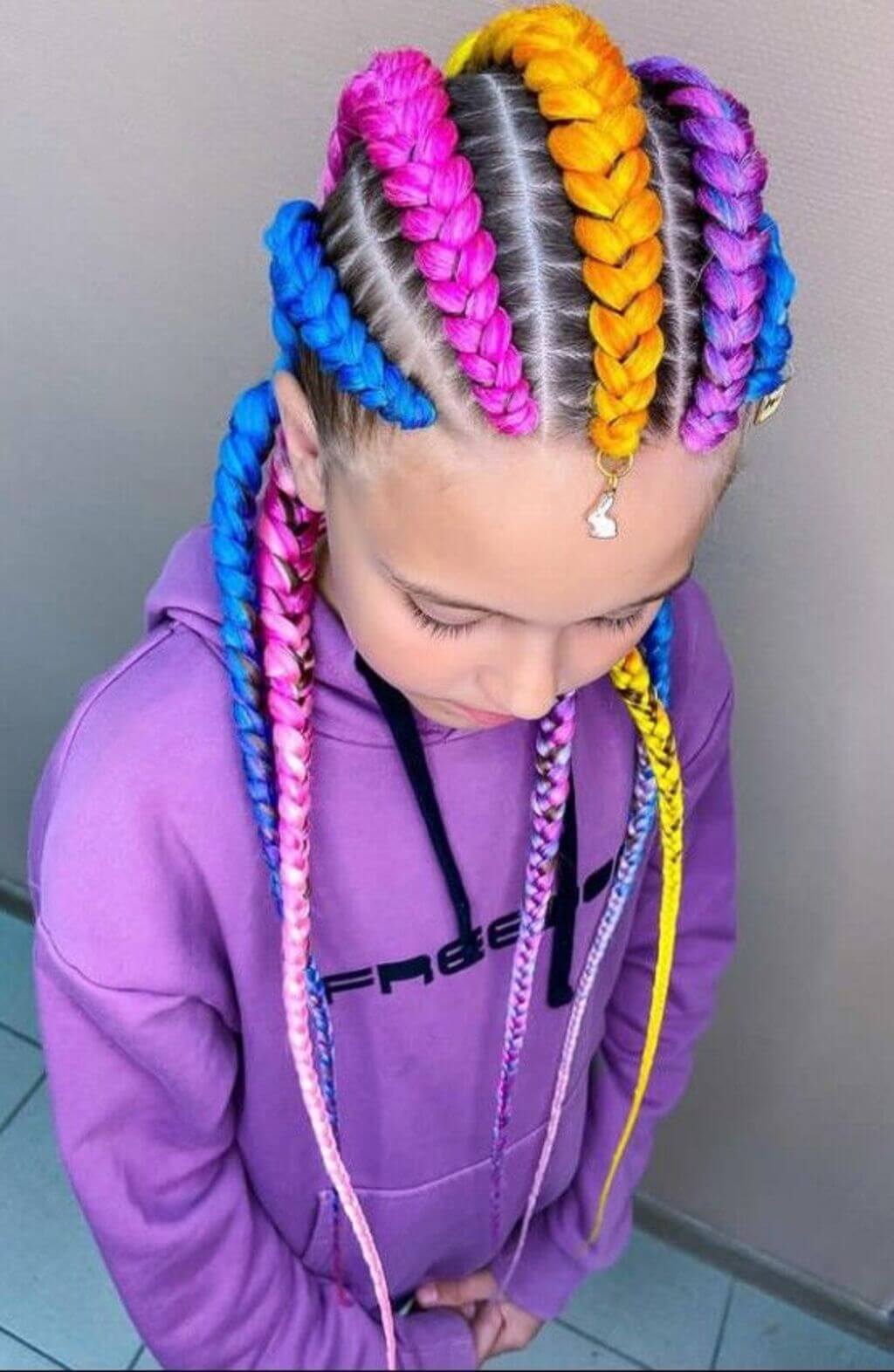 Source: pinimg.com
Ponytails are one of the most popular hairstyles for both adults and children. When properly styled, it looks charming on toddlers. These small girl braids with beads are suitable for youngsters aged 2 to 5 years. You will build a beautifully braided hairstyle with a few well-placed beads to give flare to an already excellent look. After all, your child does not have to wear their braids loose to seem fashionable.
4. The Curled Cute Braids for Kids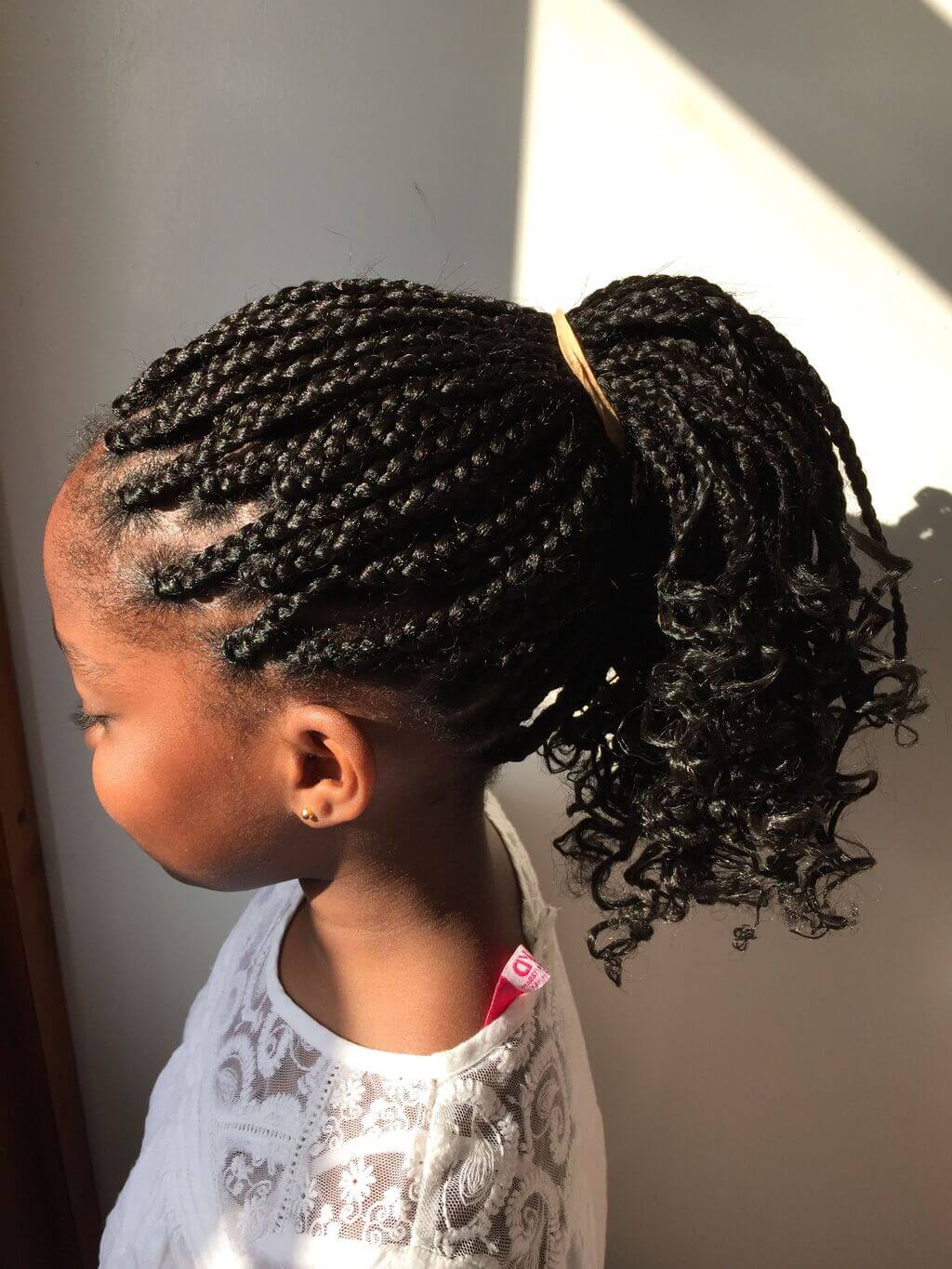 Source: pinimg.com
When plain ponytails became too common, one mother came up with the brilliant idea of incorporating braids into the ordinary pony to liven up the appearance. This is a simple hairstyle that begins with arranging your hair into a ponytail and then tying it with a band. Now, take a healthy strand and braid it tightly from one side. Snake the braid around the pony and secure it at the end without securing the end. This is one of the most recent and attractive braided hairstyles for tiny girls.
5. Bob Cute Braids for Kids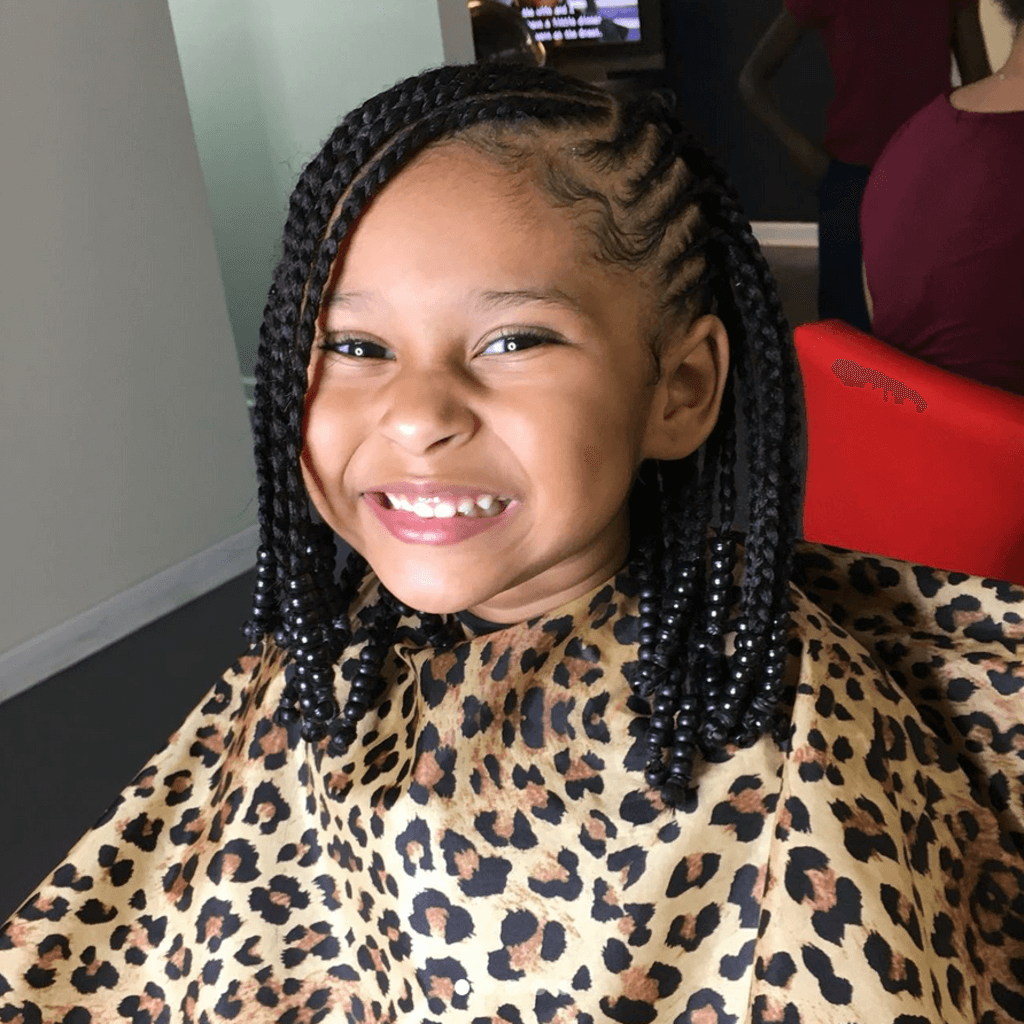 Source: pinimg.com
This kid's braid hairdo looks very cute and desirable. It is ideal for children since it is simple and keeps them out of their way. This might also be a cute haircut for school or a children's party. This hairstyle is perfect for outings and small get-together occasions.
6. Braided Double Children's Braids Black Hairstyles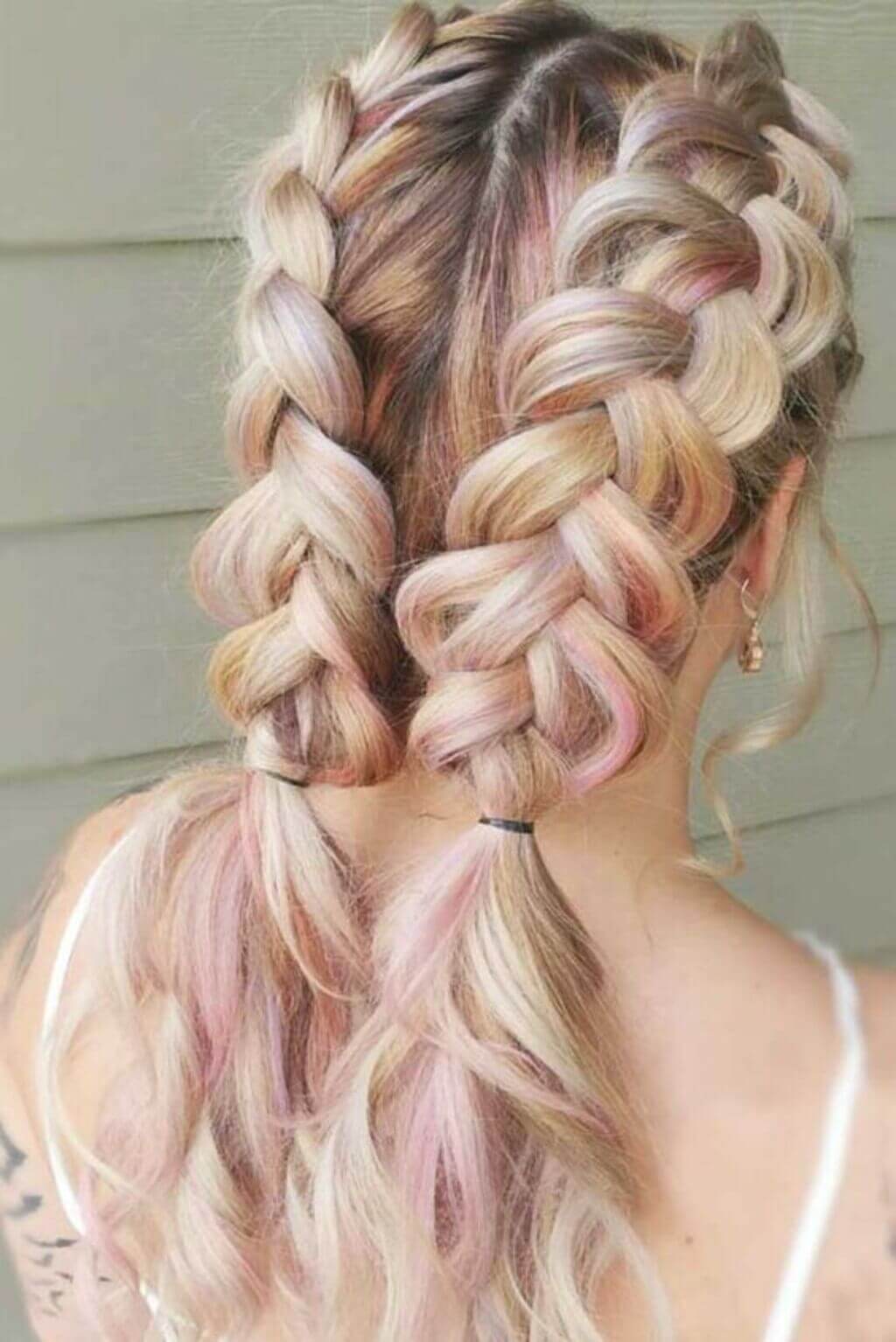 Source: pinimg.com
This is of the best kids braid styles that look adorable and all you need is a professional hairstylist to accomplish this for you; an extension may be added if your child's hair structure is not strong enough or if you want it longer, but you may do this with only her hair and it can be extremely lovely.
7. Short Pigtails with Twists Children's Braids Black Hairstyles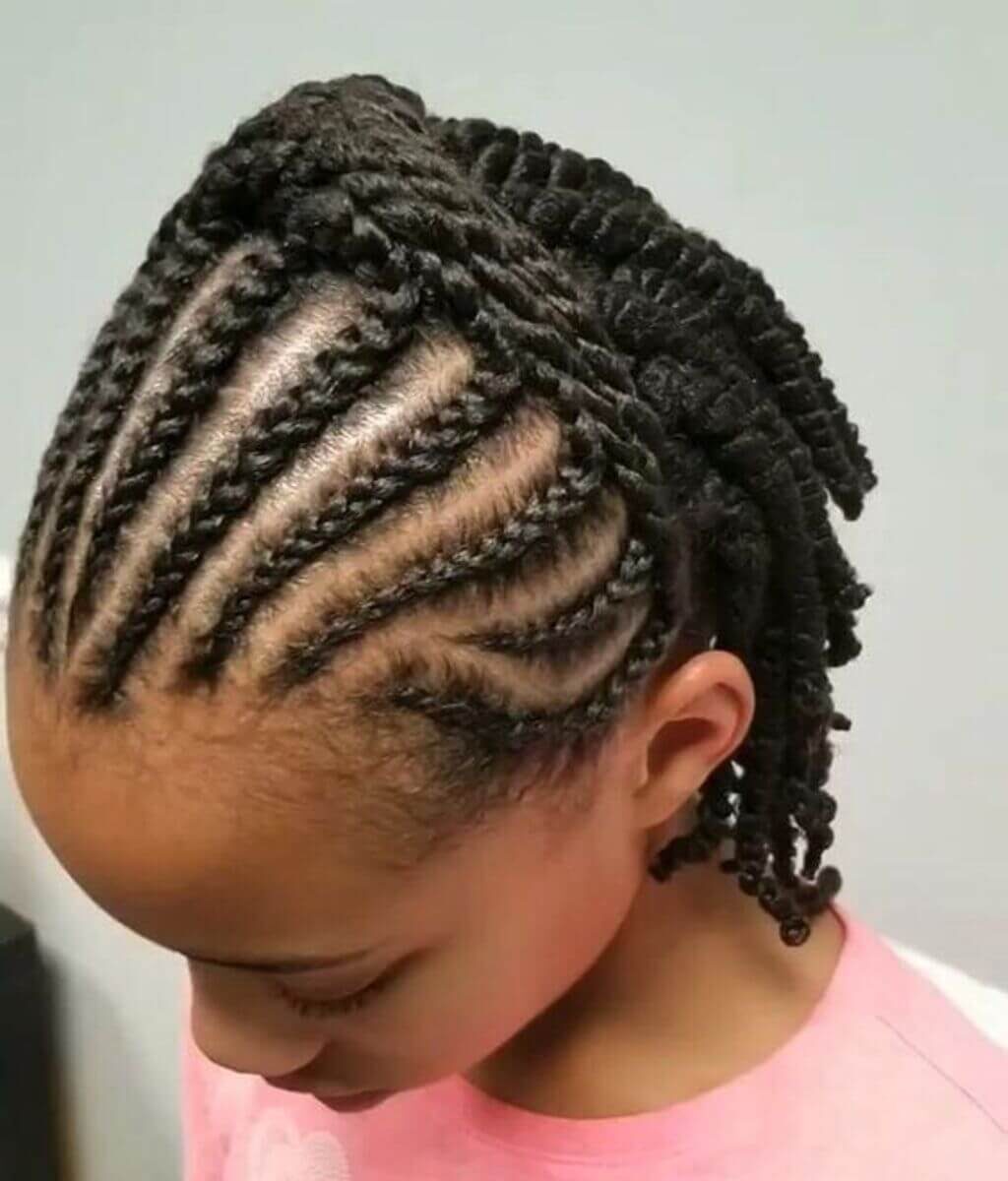 Source: pinimg.com
Pigtail hairstyles provide your girl with a very attractive and appealing appearance. Whatever you want it to be, add some sparkle with beads. You will appreciate the appearance, whether it is a tight or relaxed cornrow.
8. Natural Hair Braided Top Bun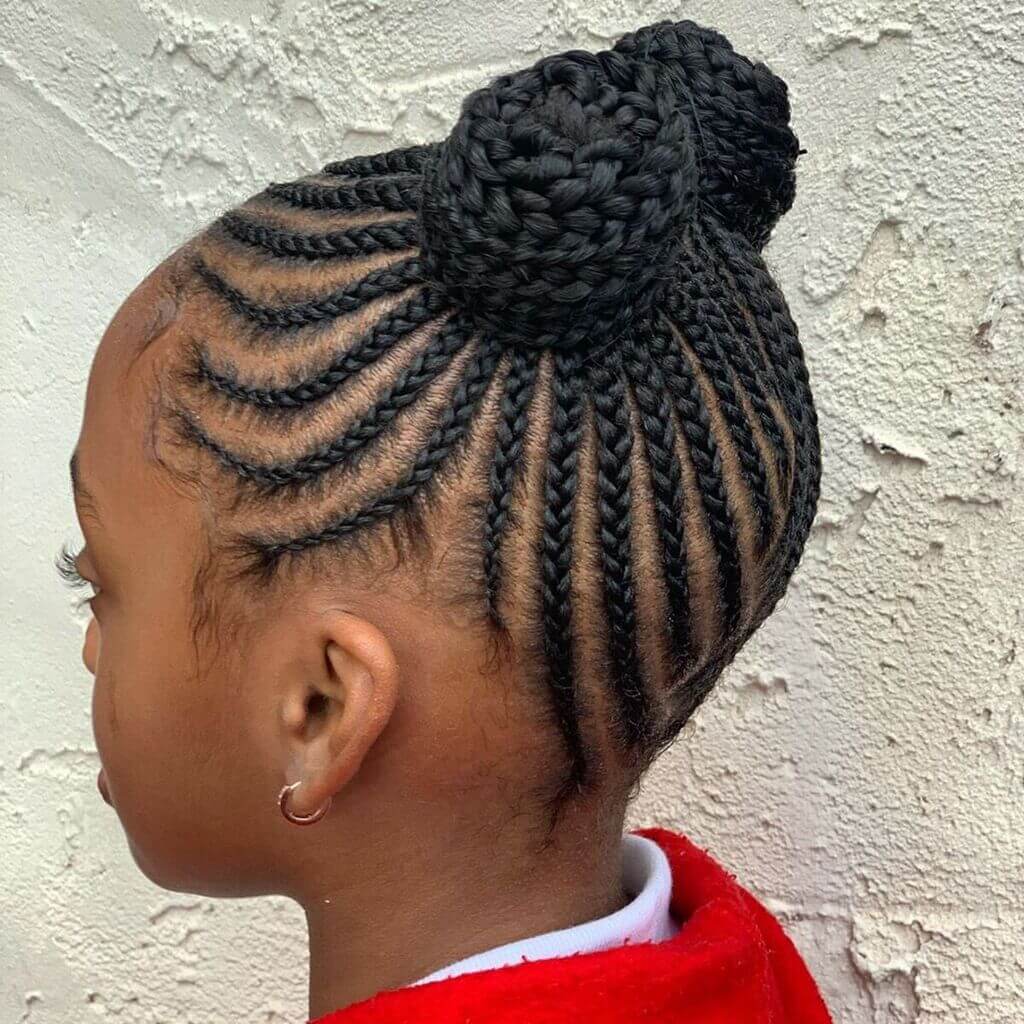 Source: latest-hairstyles.com
Trying to decide between braids and showing off your child's gorgeous curls? Combining natural hair with a braided top bun gives them the best of both worlds. The braided bun is adorable and sticks out in a crowd. Meanwhile, letting the other areas free means this is a very comfy and informal hairstyle for kids.
9. Braid Hairstyles for Kids on Both Sides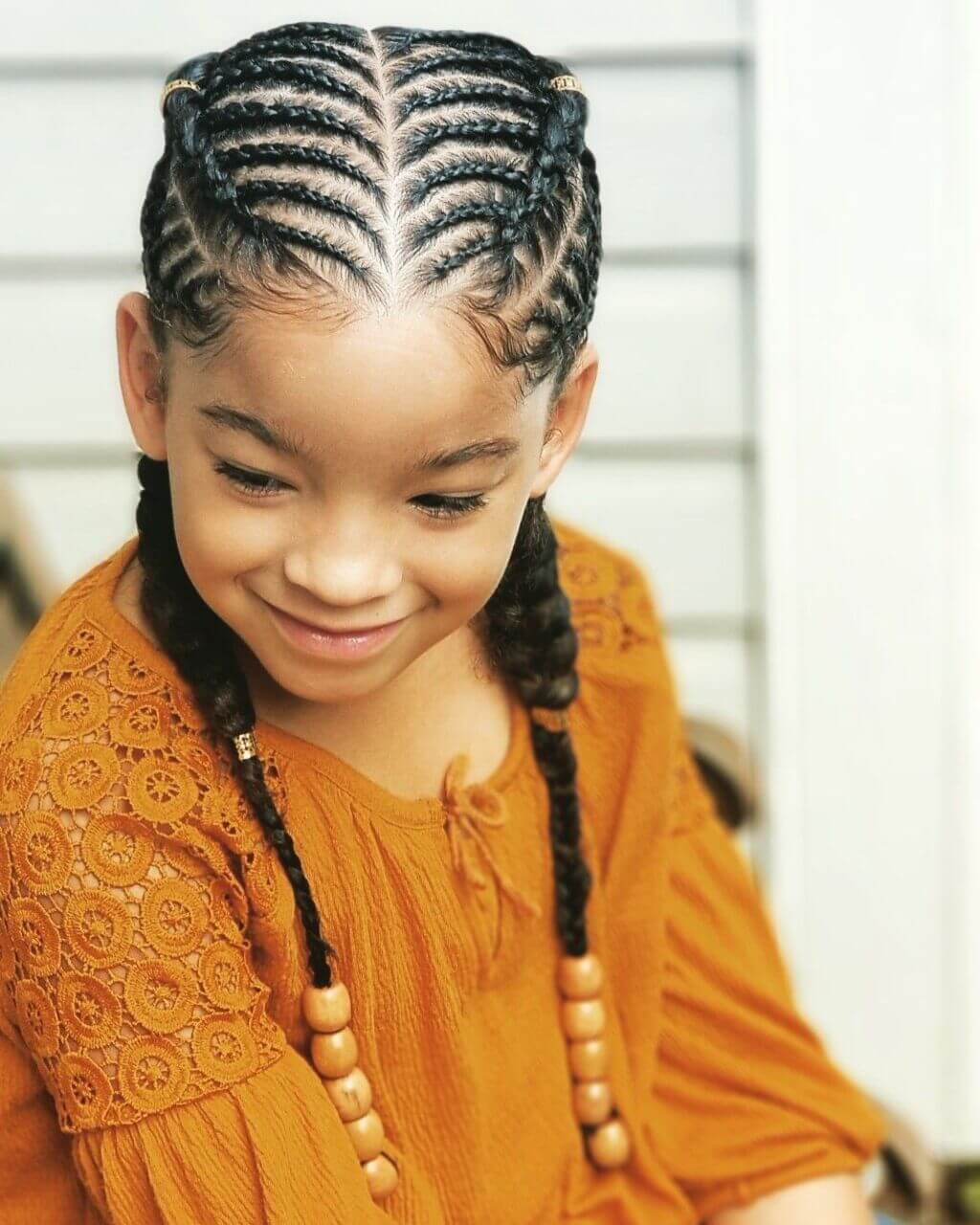 Source: thrivenaija.com
The two-side braid hairstyle, also known as double braids or pigtail braids, is a basic and traditional appearance that is straightforward to achieve. Two-side braids are a terrific alternative if you're short on time and want to tame your child's lengthy hair with more flare than a regular ponytail. These adaptable braids always look excellent and are a fantastic choice for school or sports, whether clean and silky or more loose and bohemian.
10. Beaded Topped Bun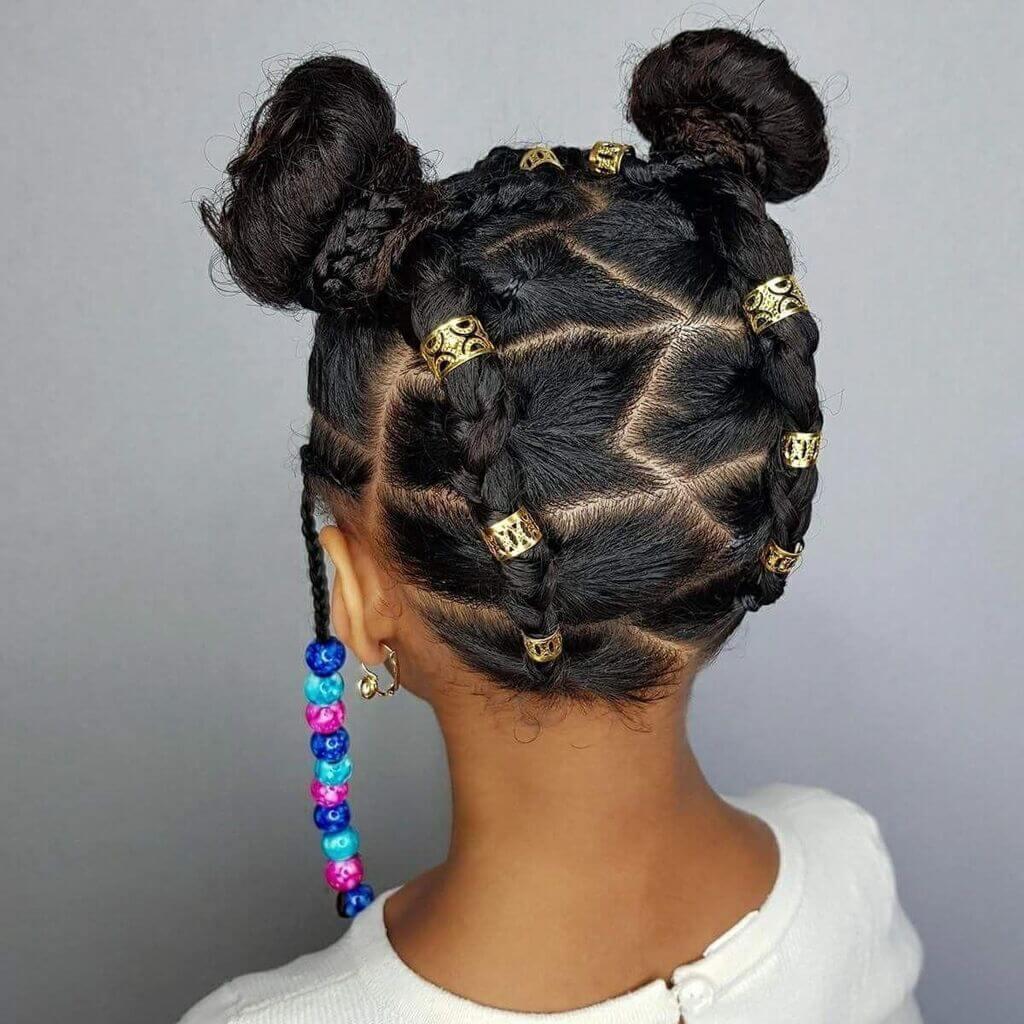 Source: pinimg.com
This daring style with curls is simple to put together. Experiment with this style for attractive and fashionable braids with curls for kids. Of course, the complicated style will require some expertise to hack, but the look is amazing.
11. Heart Cute Braids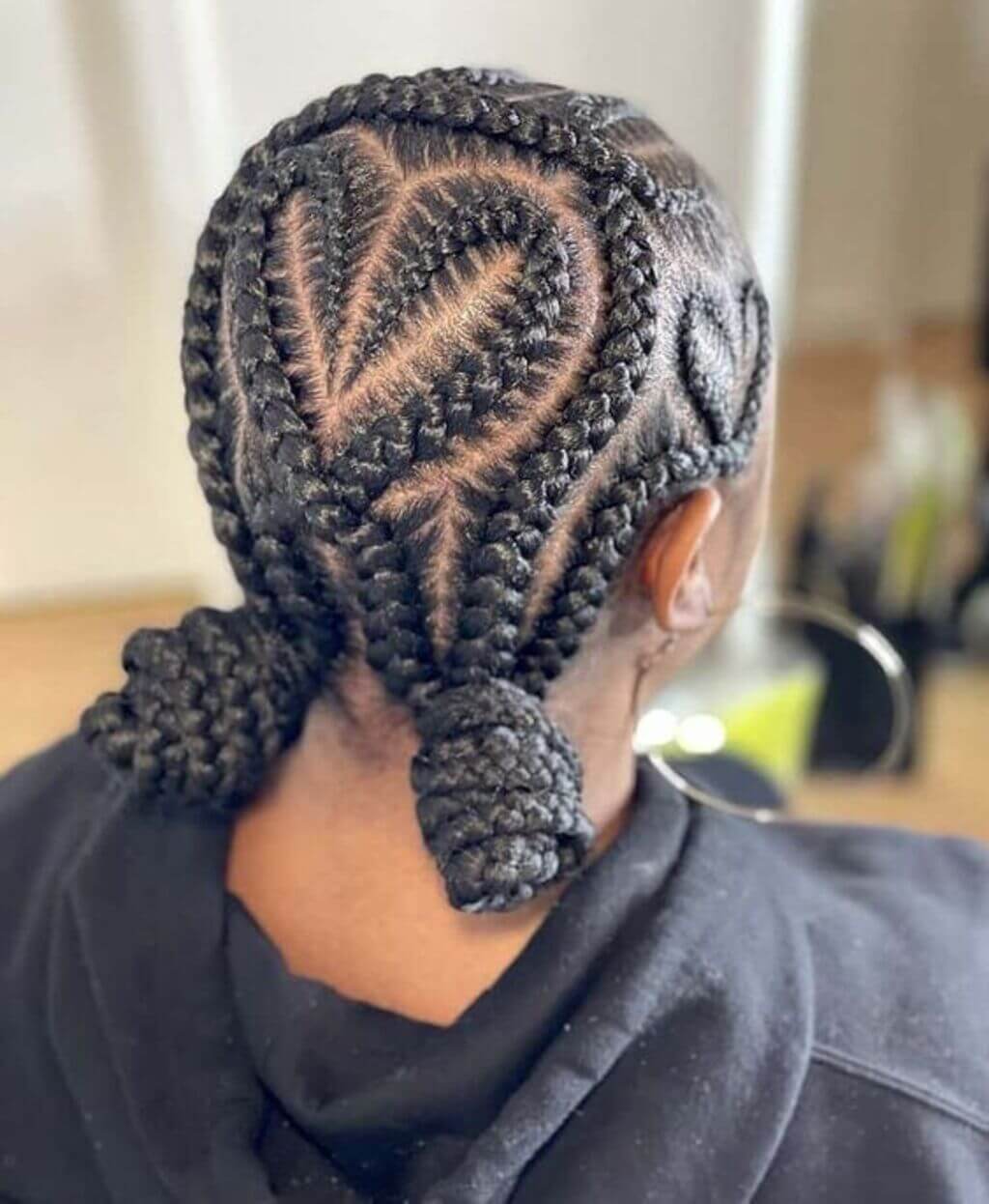 Source: pinimg.com
To get this style, part the hair in the middle and then braid it from the two sides. Attach the braids in a heart form using soft pins and fasten the heart with a knot to keep the shape. This is a relatively modern hairstyle that is both intriguing and adorable. This may also be done with black hair as children's braid hairstyles.
12. Criss-Cross Cute Braids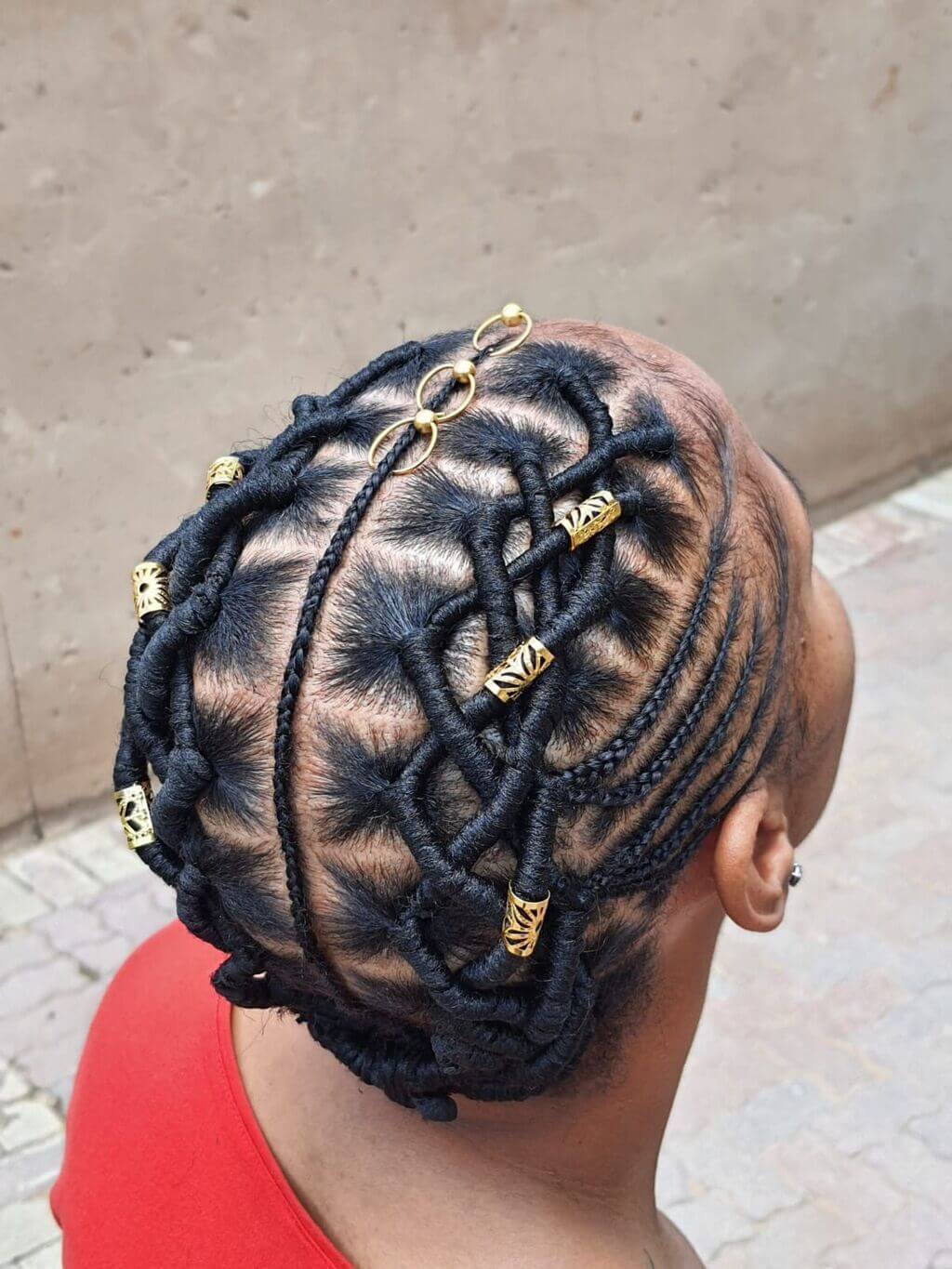 Source: pinimg.com
Why not if you're seeking something very cute for small girls? We've got you covered here. Begin by grabbing the hair from the front locks into a basic two-sided braid. Cross the braids over to the other side and French braid the rest to finish the appearance. To get this look, have hair accessories such as beads on hand. This is one of the most popular toddler braided hairstyles.
13. Side Bun Kids Knotless Braids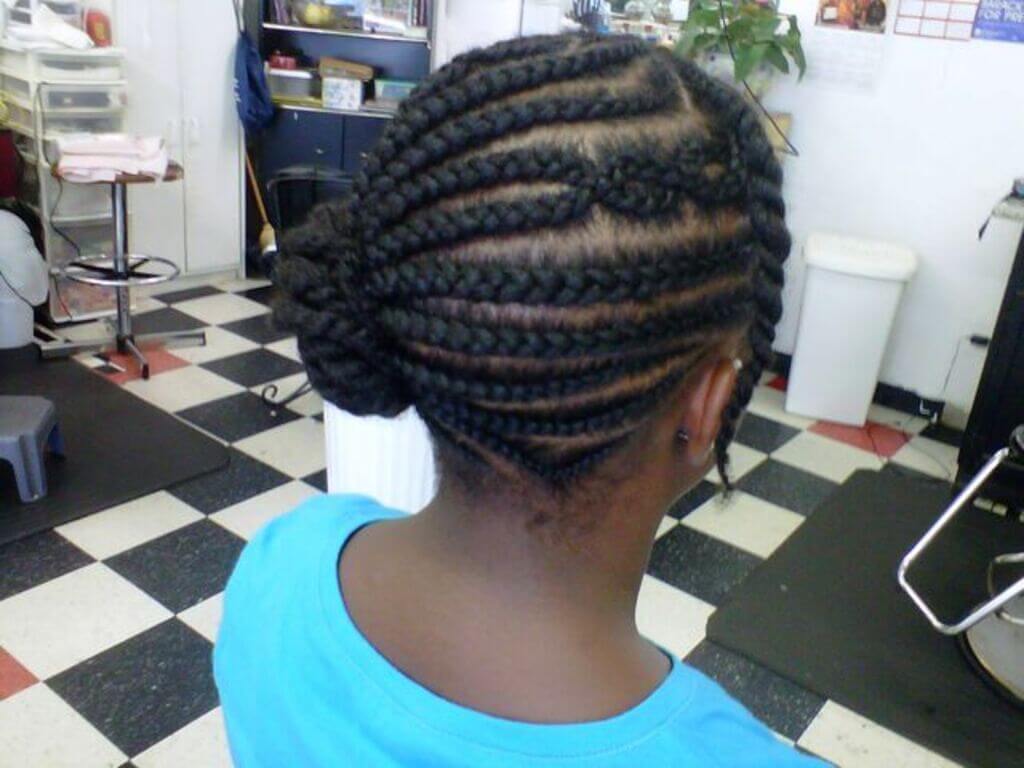 Source: pinimg.com
A braided side bun is a lovely new variation on a braided updo hairdo. While the hairdo is simple to execute (you only need to make one braid), it sticks out and has a charming yet unique style that your young one will enjoy. Make a deep side part in their hair, then smooth it out and plait it in three strands. Finally, twist the plait into a bun and bobby pin it in place. Quick and easy, it's an ideal style for school photos, birthday parties, or a family dinner.
14. Kids Knotless Braids with Two Parts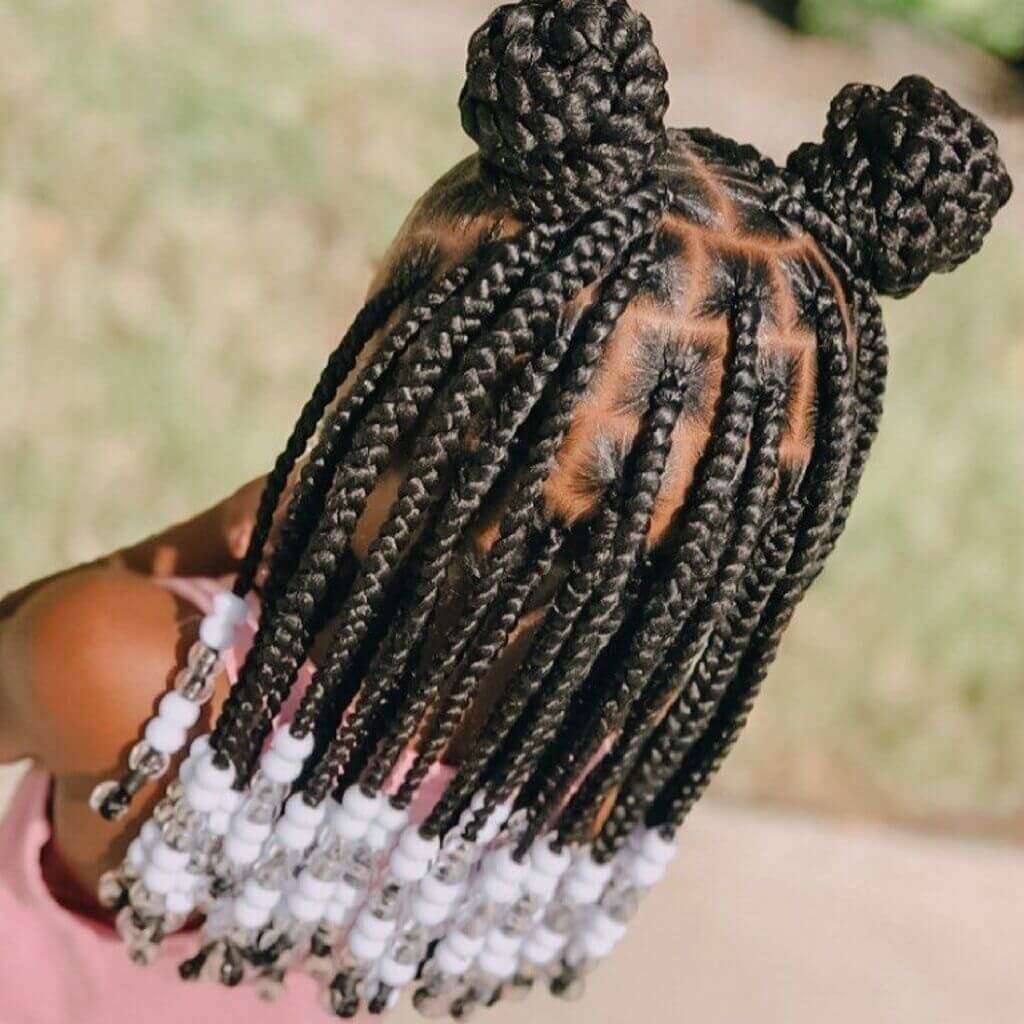 Source: pinimg.com
Small girls look beautiful in braids, and when the traditional hairstyle is reworked to incorporate two side-parted braids, the effect is stunning. When done correctly, this attractive appearance exudes the desired appeal. It is one of the nicest small girl braids with beads that your child will like. 
15. African-Inspired Braids for Children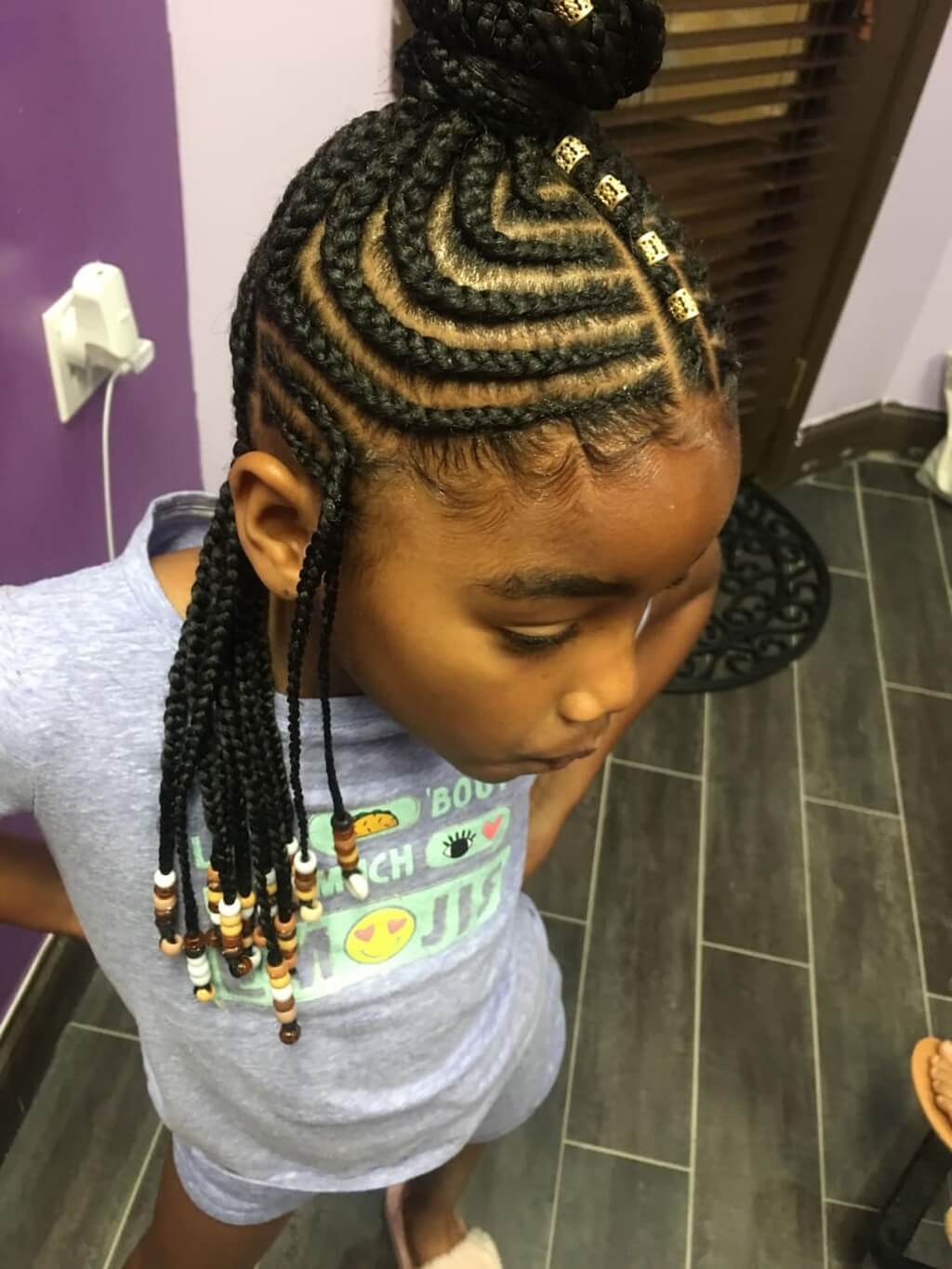 Source: yen.com.gh
Do you want African American kids to braid hairstyles? Given the popularity of these fashionable braids for kids, here is one that is most sought after throughout the world. This is one of the most popular and fashionable box braids hairstyles for kids. You may try different styles with them and always add hair decorations or beads of your choosing, as seen in the photo; it will only improve the style.
16. Jumbo Holo Braid Hairstyles for Kids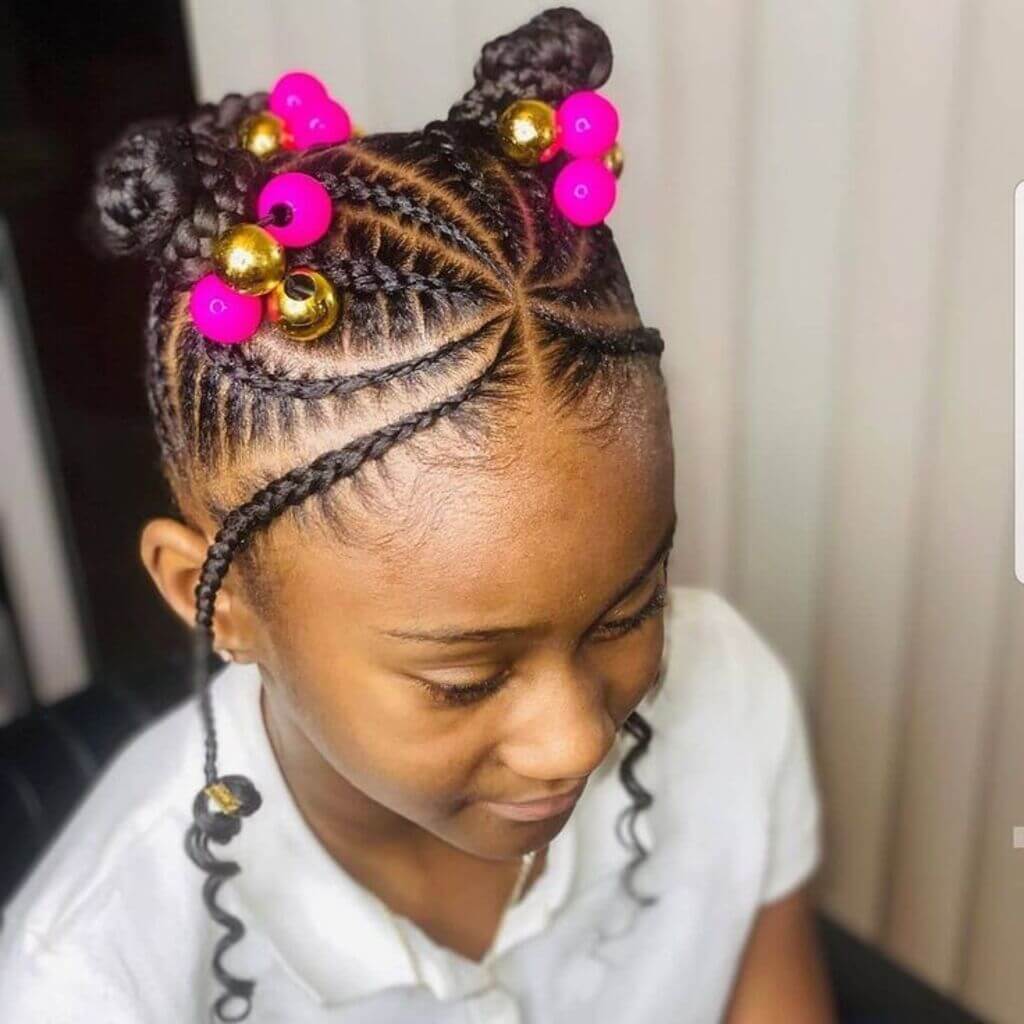 Source: thrivenaija.com
Here's another traditional hairstyle for your daughter, not too dramatic and adding a new depth to cornrow braids, wrapped from the mid-front to the back and arranged on a criss-cross basis. This hairstyle requires only her natural hair and, if desired, hair accessories.
17. Girls' Fishtail Braid Hairstyles for Kids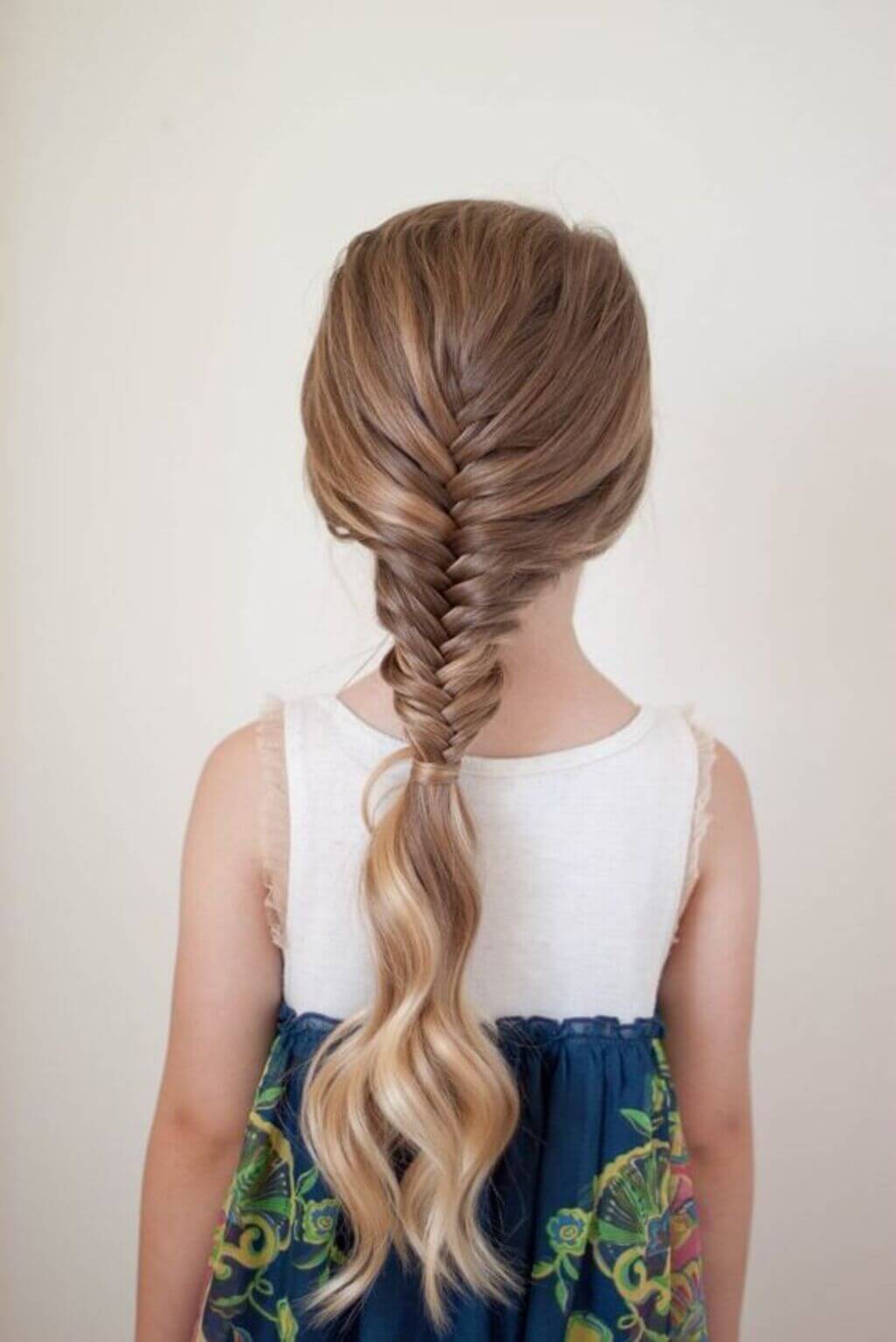 Source: pinimg.com
This is a popular fishtail braid in kids' style. Here this looks adorable, with a wonderful bow elastic tied as a ponytail at the end. Those who work on the smart and style sense for children should not overlook this style since it enhances one's characteristics and style. Kids can appear edgy and charming in this one and will undoubtedly attract attention. Rather than bow hair clips, this plain hairstyle looks very attractive.
18. Braided Updo for Kids

Source: youprobablyneedahaircut.com
19. Braids with Hair Clips

Source: pinimg.com
20. Braided Side Buns with Cornrows

Source: hairstylecamp.com
21. French Braids for Kids

Source: twistmepretty.com
22. Loose Side Braids for Children

Source: more.com
23. Fishtail Side Braid for Kids

Source: wp.com
24. Crown Braid for Kids

Source: cutegirlshairstyles.com
25. Fulani Braid for Kids

Source: glowingfem.com
26. Waterfall Braids for Kids

Source: popsugar-assets.com
27. Bubble Braid for Kids

Source: arinsolangeathome.com
28. Dutch Braid for Kids

Source: instructables.com
29. Snake Braid for Kids

Source: lovehairstyles.com
30. Halo Braid for Kids

Source: cutegirlshairstyles.com
31. Half Up Half Down Braid for Kids

Source: click042.com
32. Yarn Braids for Kids

Source: pinimg.com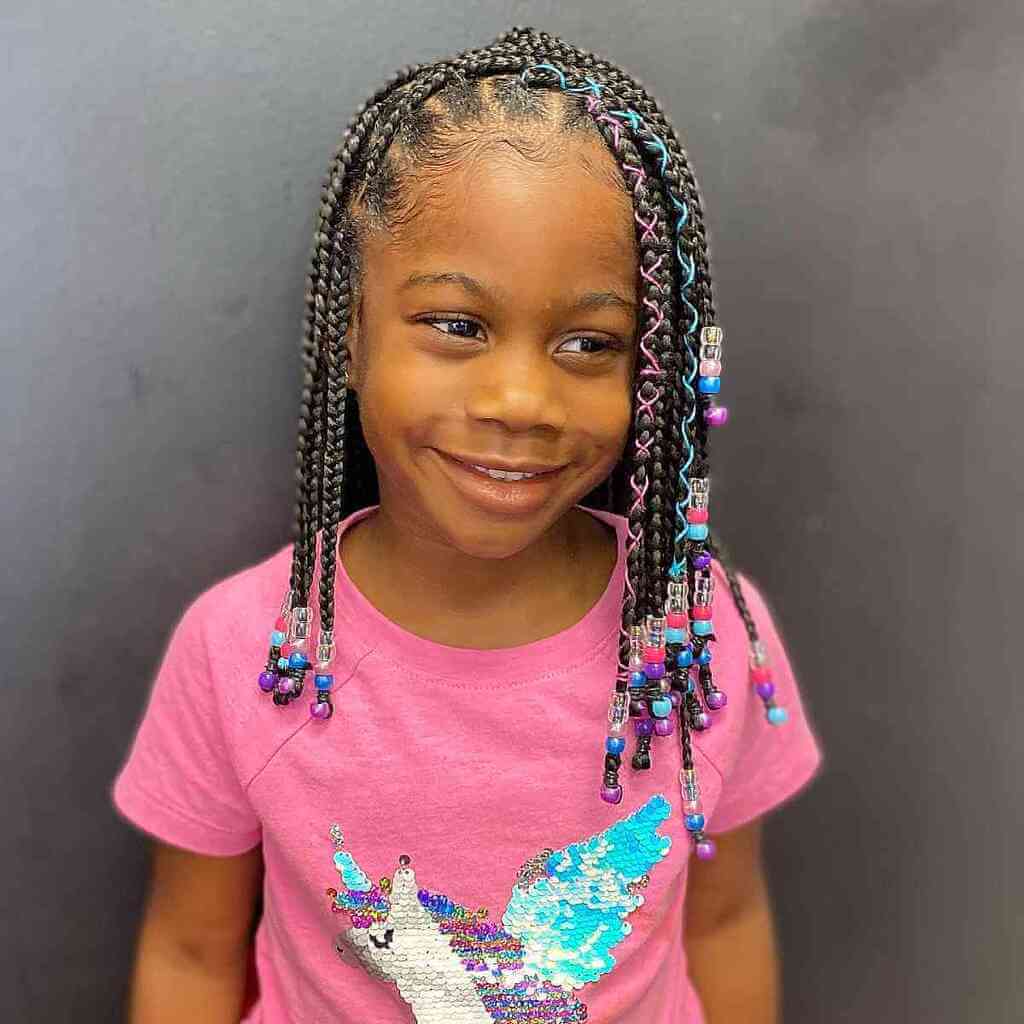 Source: latest-hairstyles.com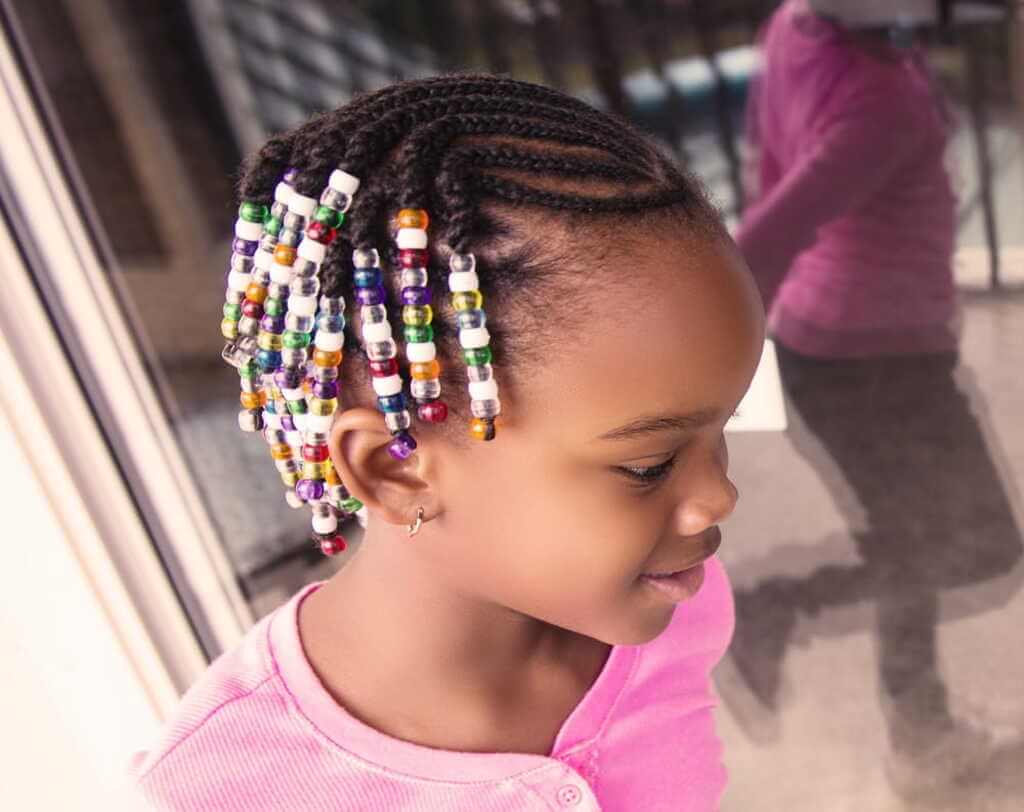 Source: hairstylecamp.com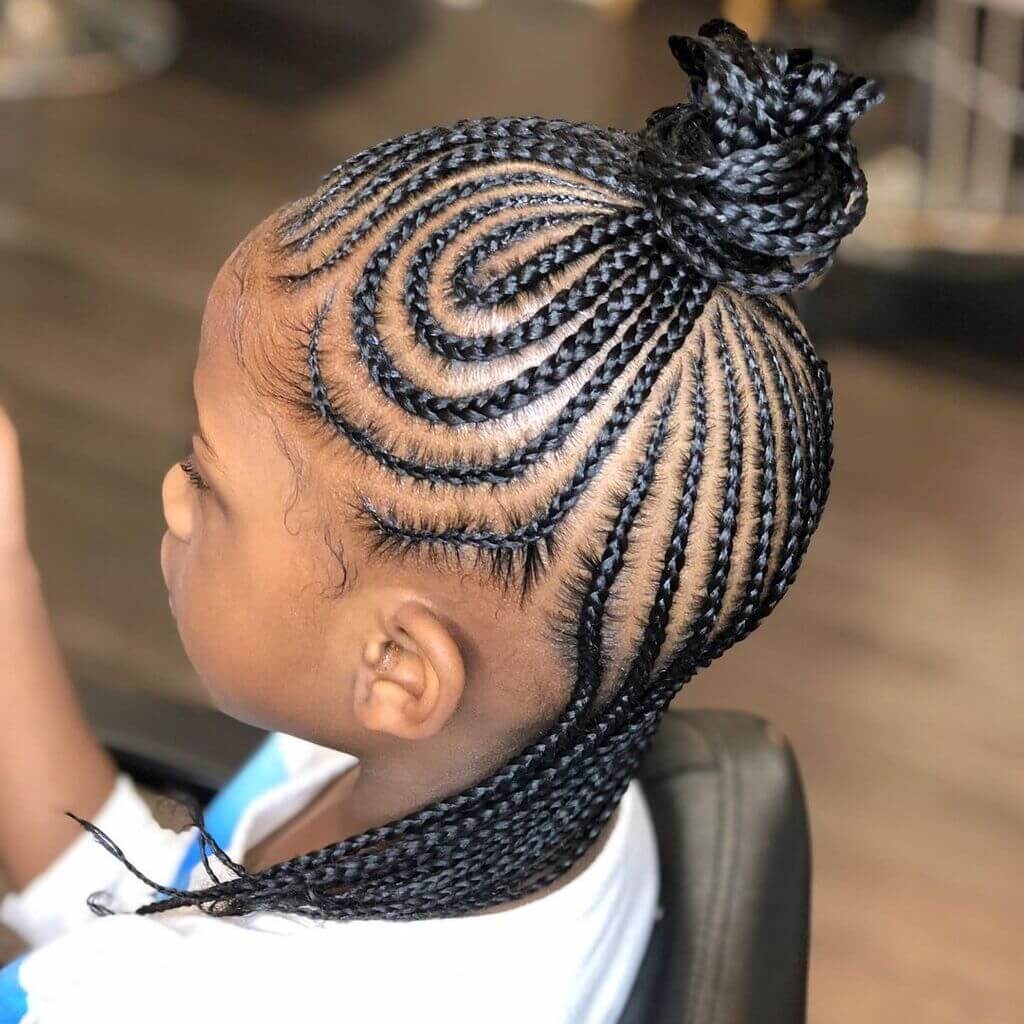 Source: shweshwe1.com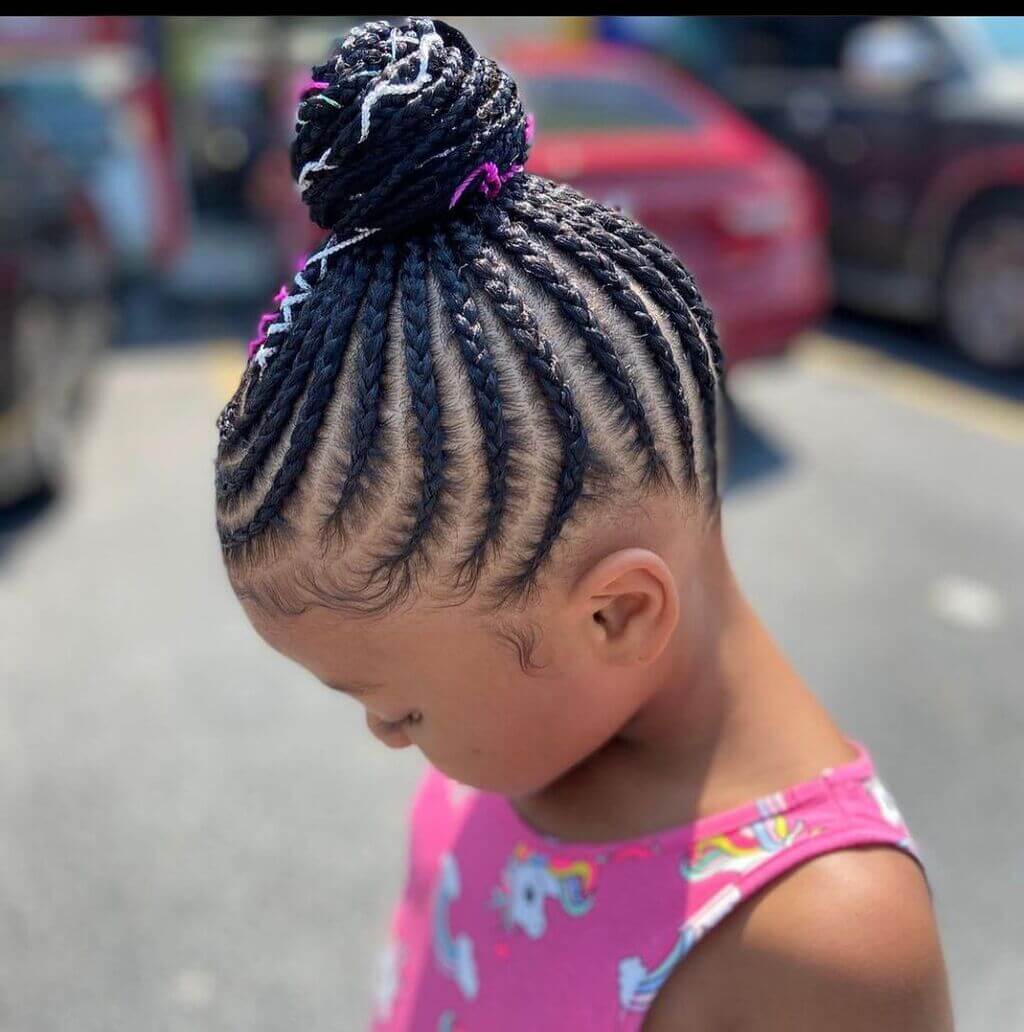 Source: blogspot.com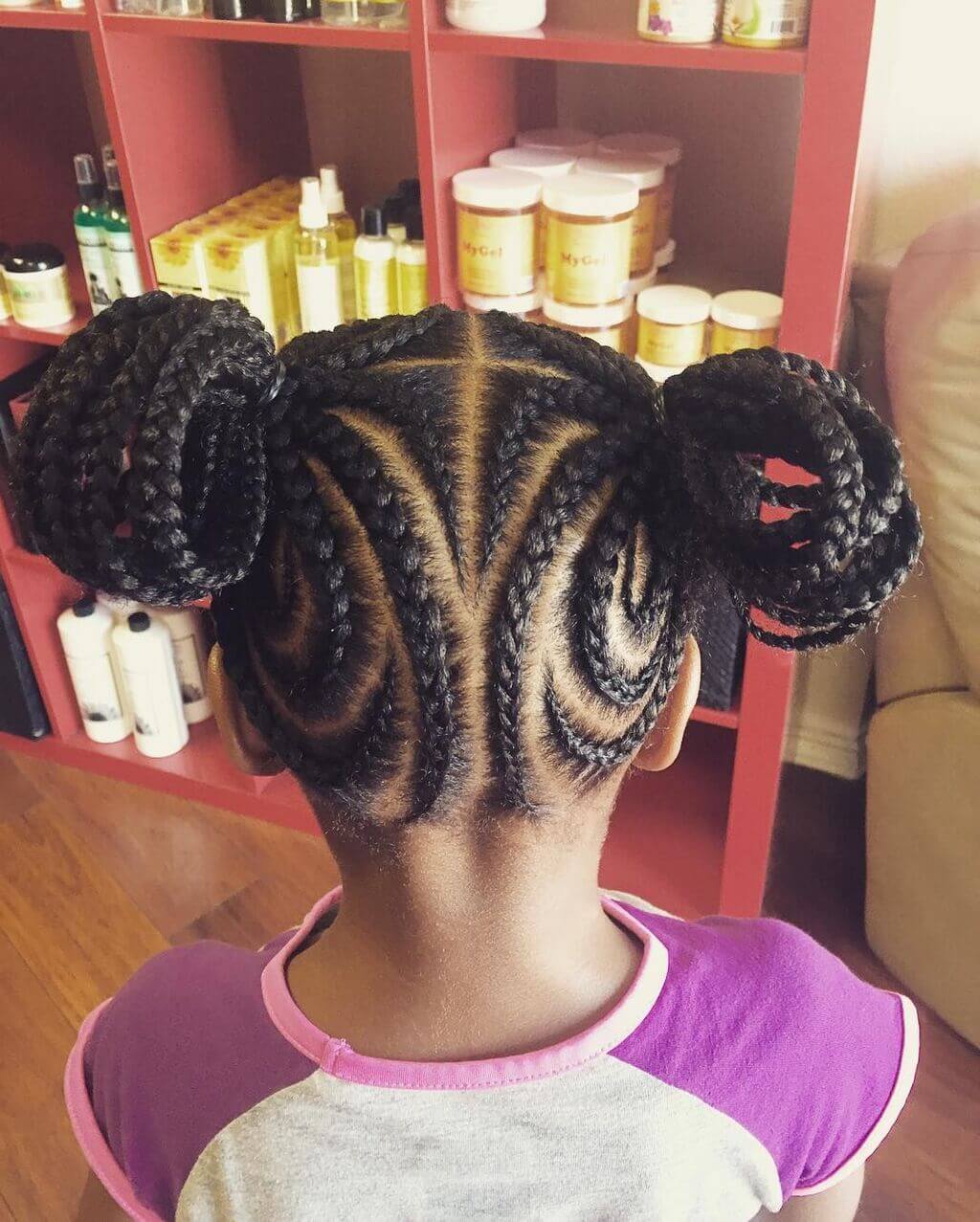 Source: pinimg.com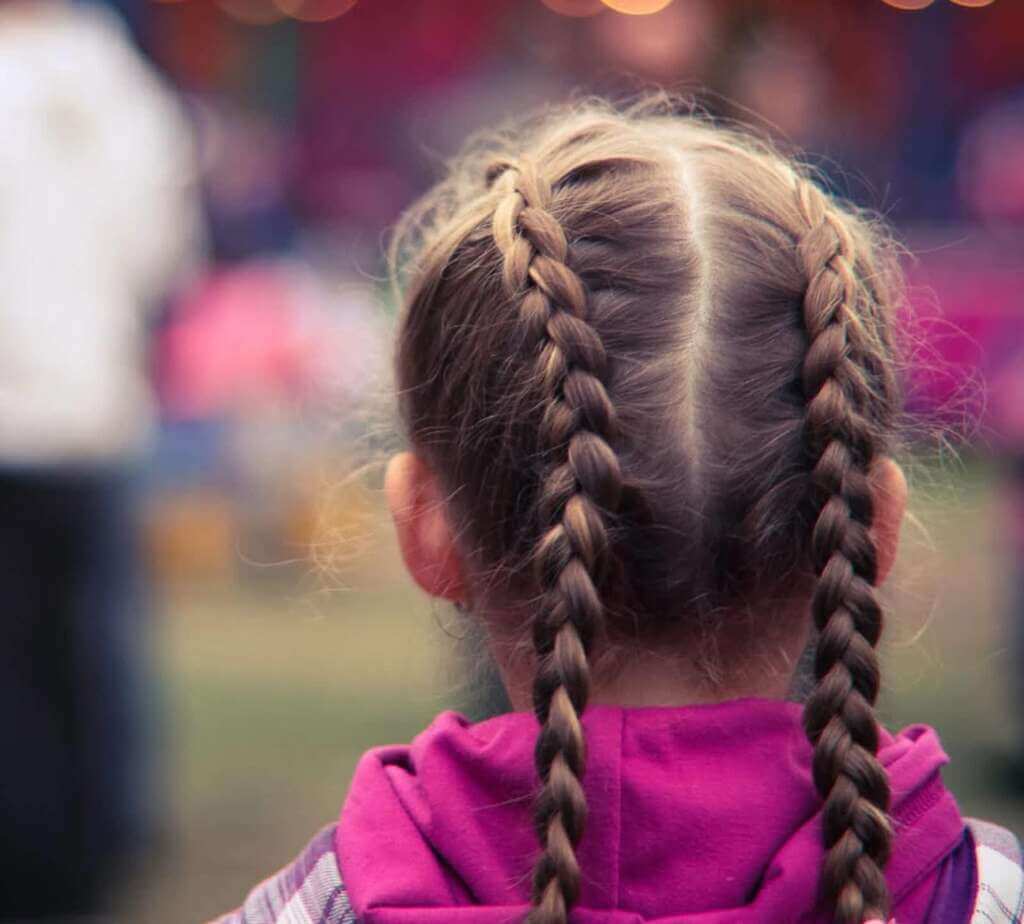 Source: ssmscdn.yp.ca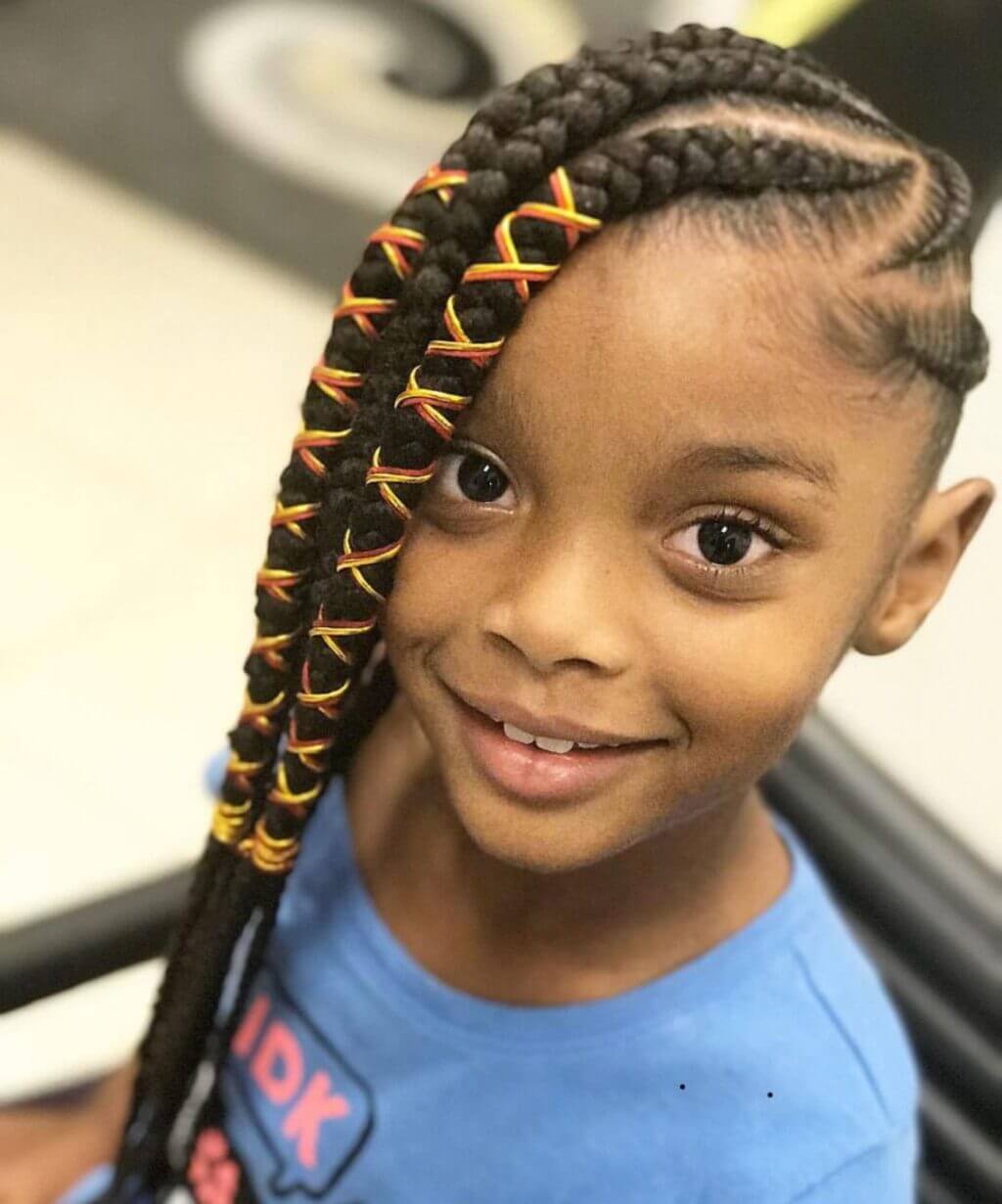 Source: guardian.ng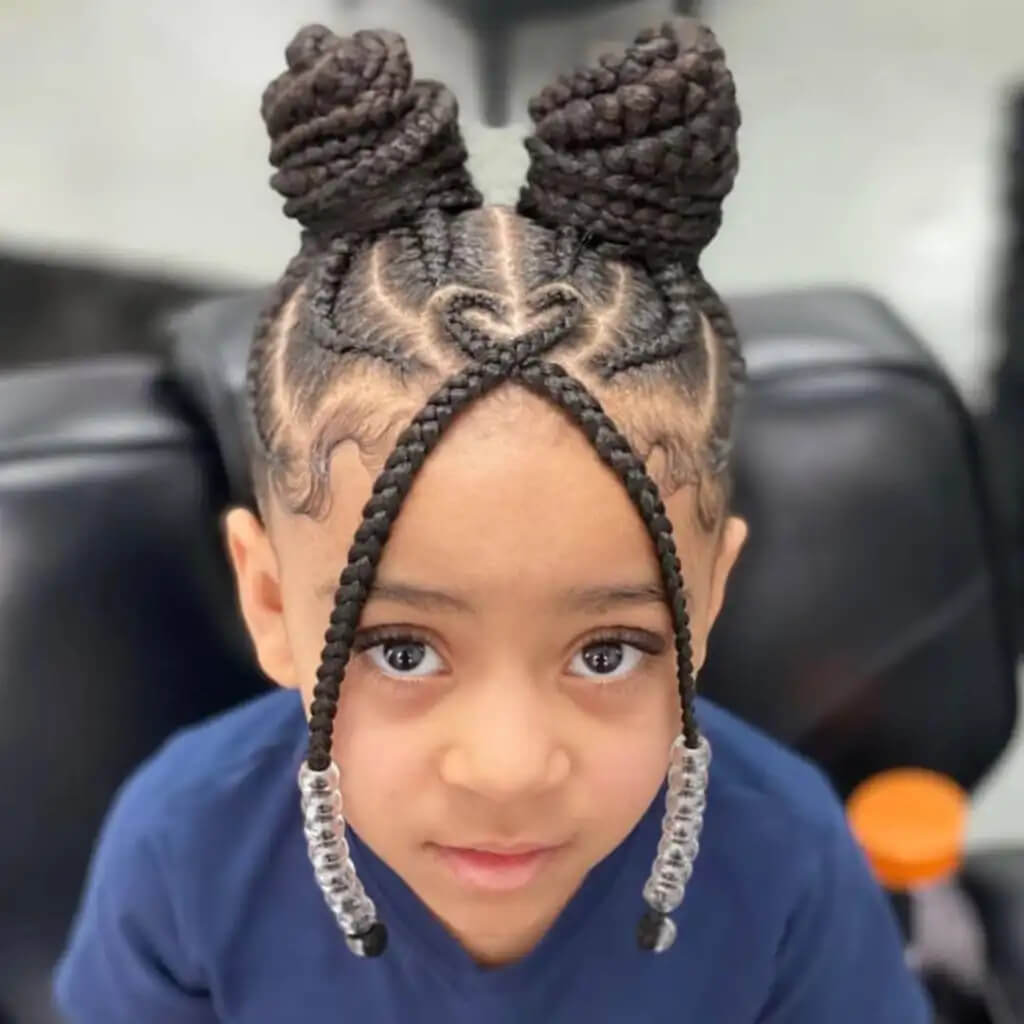 Source: wp.com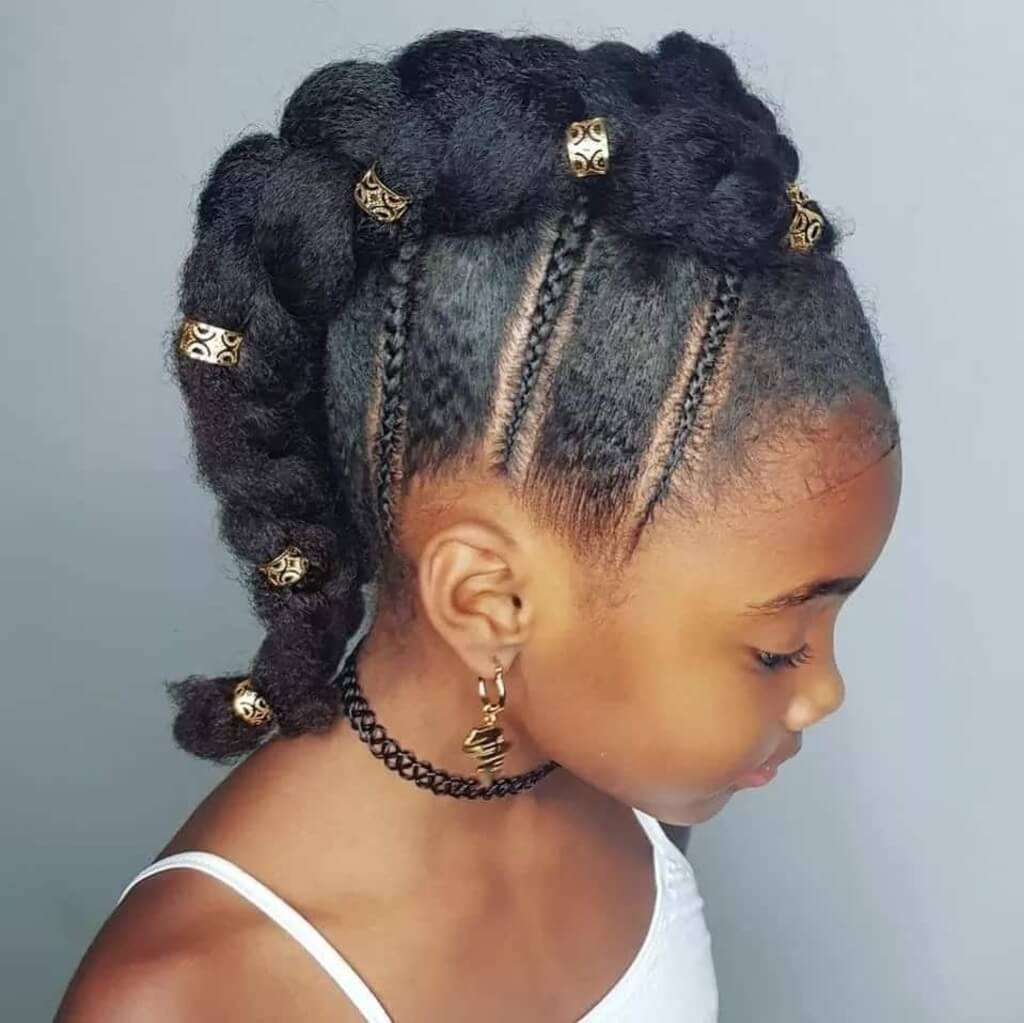 Source: akamaized.net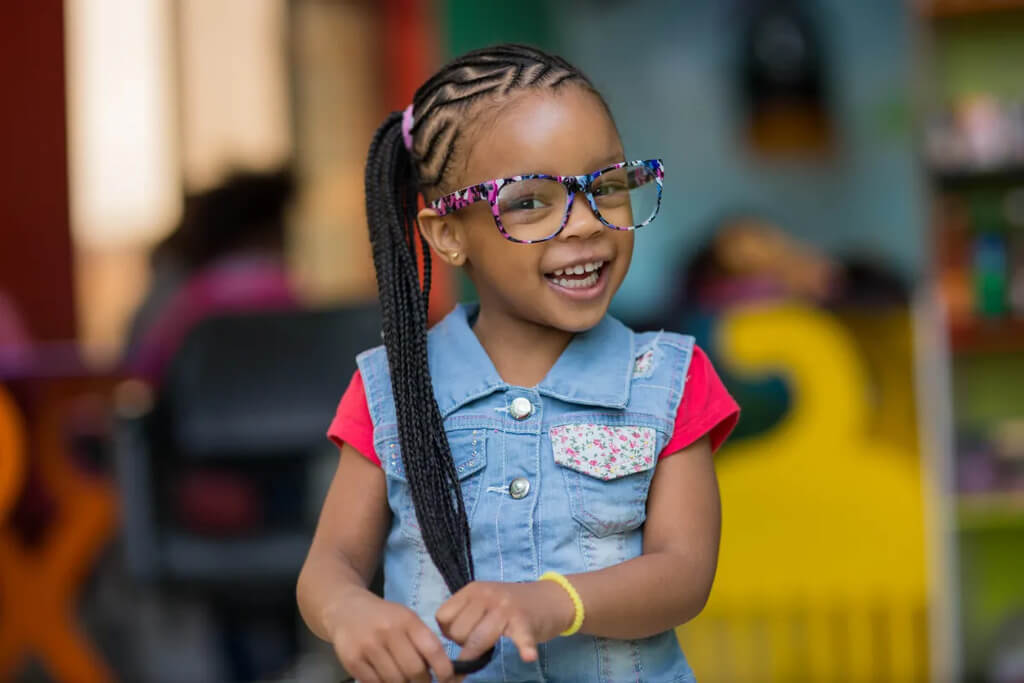 Source: wp.com
The Bottom Line
Finally summing up everything, you won't have to spend a lot of time styling hair because it's quite simple and adaptable to design! Play with your little girl's hair and experiment with numerous ways to style these kiddies braid hairstyles. You're in luck because the above list of attractive kiddies' braids for youngsters is sure to work wonders for you in making your job a lot easier. These hairstyles look stylish while also making your child's appearance gorgeous.
For more such articles on fashion trends for kids, women, or men, stay tuned to Fashionterest.