Jeans have several variations in pattern, design, and style. Low waist, high waist, skinny, baggy, flared, straight-cut, and whatnot. All these styles have ruled the fashion trends and stay fluctuating. 
For instance, if you remembered a few years ago, low-waisted jeans were is super demand, but high waisted jeans have now replaced them. As soon as they came in trend, the fashion industry experienced a boost.
Brands all over the world have embraced them with love and have given different styles to them. Of which, one is high waisted flare jeans. 
Do you know? Now known as Flare Jeans are the Bell Bottoms from the 60s'.
What exactly is flare jeans or pants? The bottom wear that has a bell-like structure and gets wider from the knee down area is flare jeans or pants.
High waisted flare jeans are a modified version of it. They are the most sought jeans style of the year 2020. You will find the flare of the jeans from anywhere between the moderate to extra exaggerated ones. 
This type of bottom wear is loved by women of every age, from 22 to 55. Due to its structure, it is also popular among the moms as that allows them to work and stay trendy (be it house chores, official, or both).
Before we move forward with the styling of this all-rounder piece of outfit, what are the benefits of high-waist? 
High waist somehow works as a tummy tucker. It can hide your bulges, love handles, and front flaps. No doubt! Girls are in favor of high-waisted jeans. 
Styling High Waisted Flare Jeans:
Here I have mentioned 17 high rise bell-bottoms that are loved by fashion enthusiasts around the globe. Get a how-to style guide. Let's get on the ramp!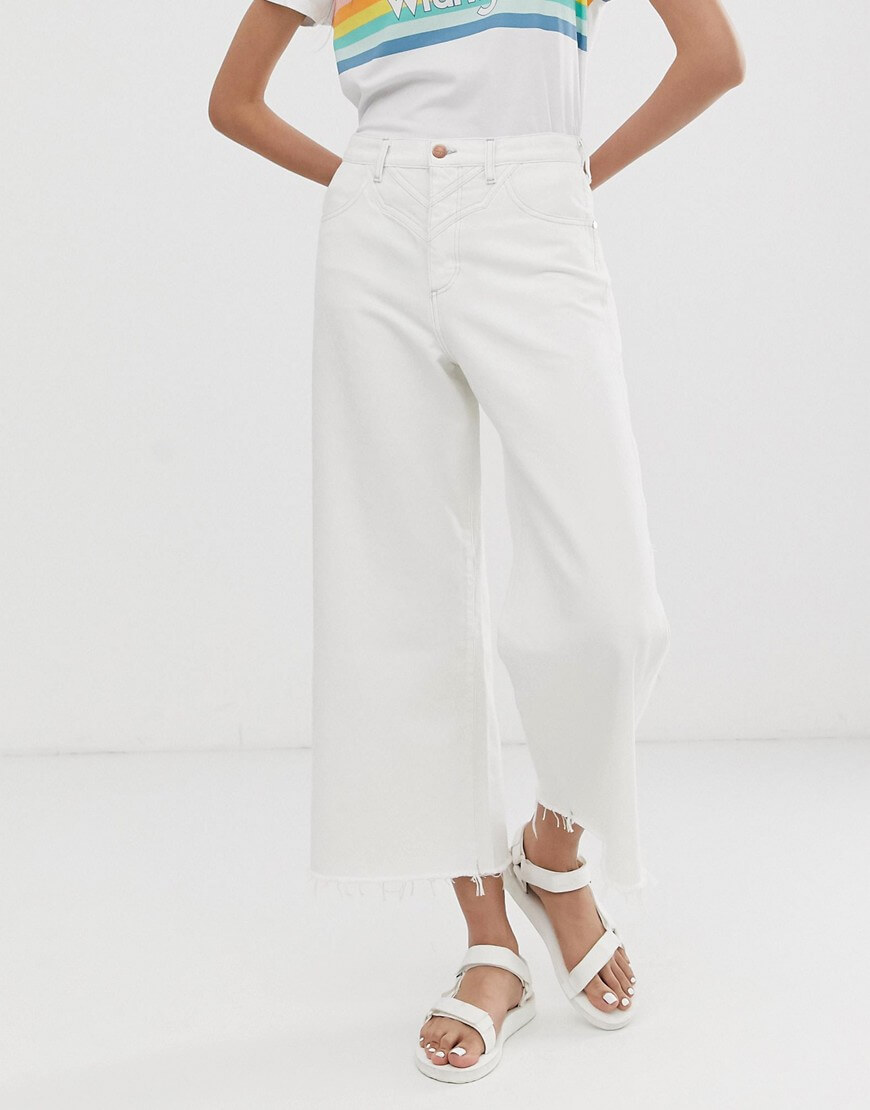 Source: asos-media.com
White on white is a new trend started by influencers. Slay the look of white tucked in shirt or basic tee with the white flare jeans. You can wear a jacket with it to add the color pop. For footwear heels or sandals, both will go with the outfit.
Also Read: How to Stretch Out Jeans Easily? (Without Cutting or Sewing)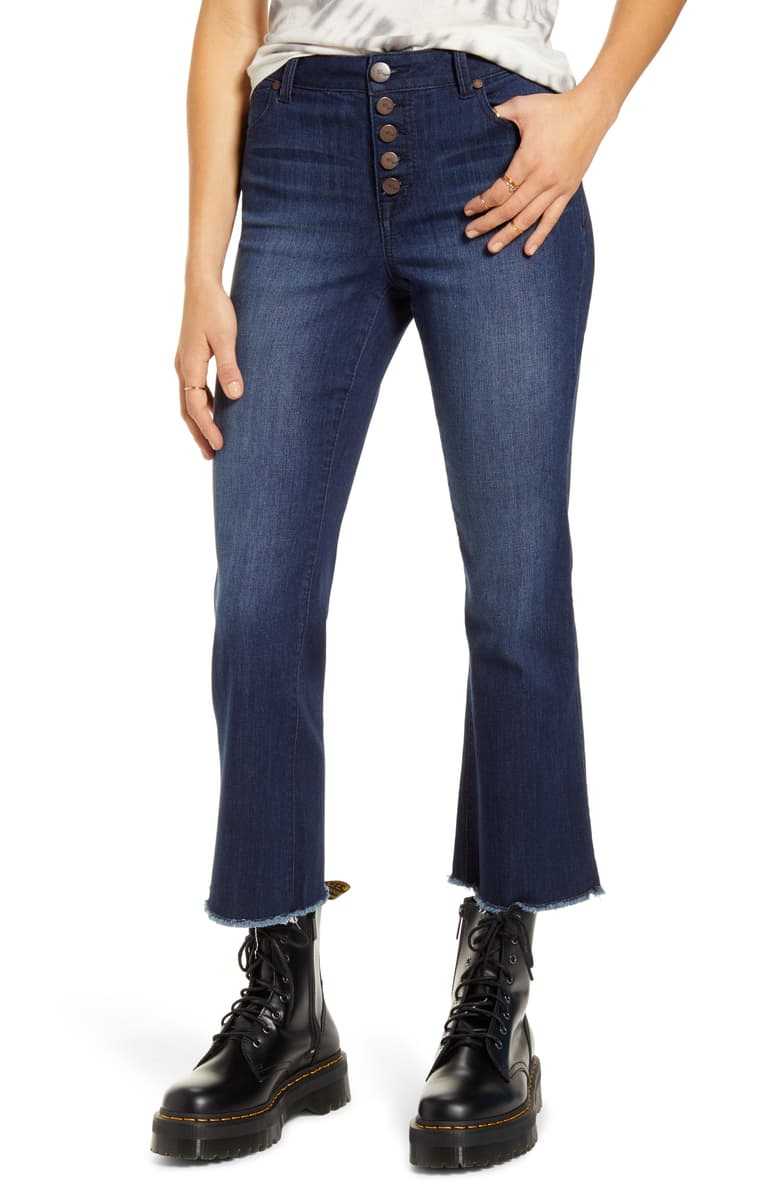 Source: nordstrommedia.com
The button-front flare jeans give the ultimate comfort to the body. You can pair it with a crop top or a sports bra and a jacket. You can also wear a trench coat on it with a basic tee.
3. Raw Hem Flare Leg Jeans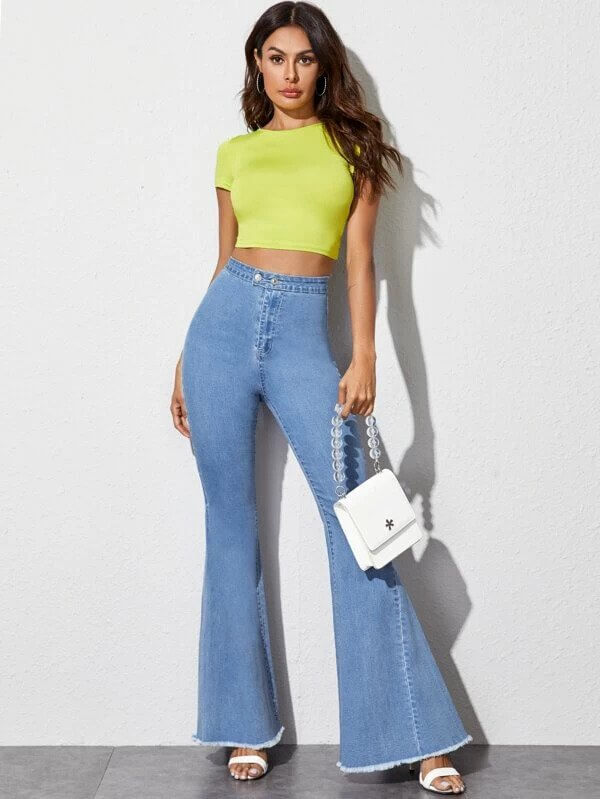 Source: ltwebstatic.com
Flared jeans can add a flair to your life, only if you pair it like a pro. As I said, you can pair it with pretty much everything. But this one here has something special in it, and it is a bell-like flare. Pair it with a halter neck crop top and create a super exquisite look.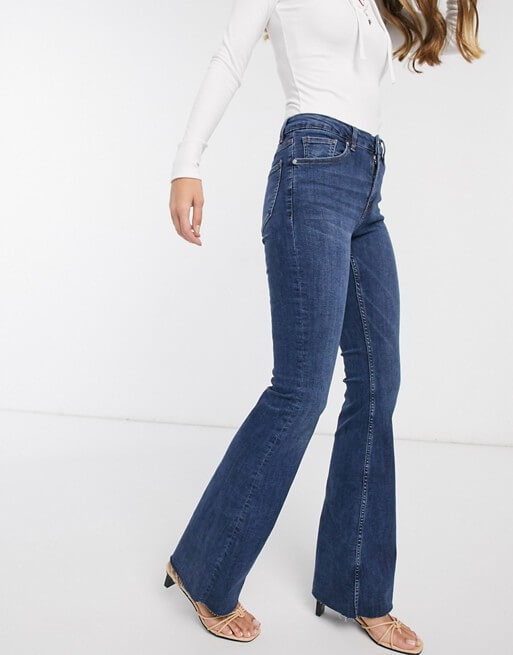 Source: asos-media.com
Be it winter, summer, or rainy jeans are your companions forever. This dark blue denim from Mango will ace up your look even at the formal or semi-formal parties. Pair it with a tucked-in shirt or top and a heel for the final look.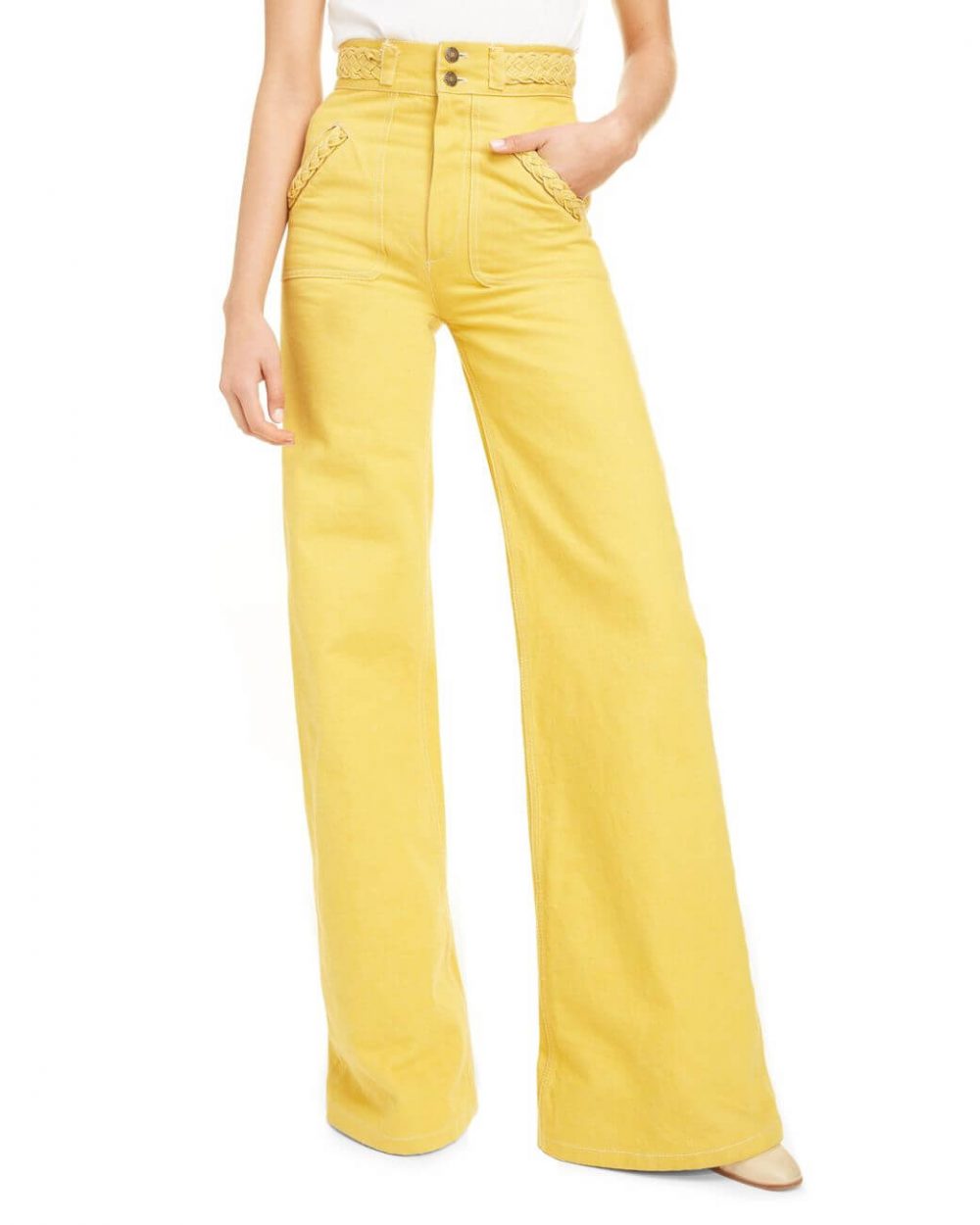 Source: nordstrom.com
The famous fashion designer Marc Jacobs is an idol for many, from his bags to his outfits, leaving an unerasable image. This braided high waist cotton flared jeans is multi-functional. You can pair it with a ruffled sleeved top for the party look and shirt & blazer for the executive look. 
6. Button Fly Flare Leg Jeans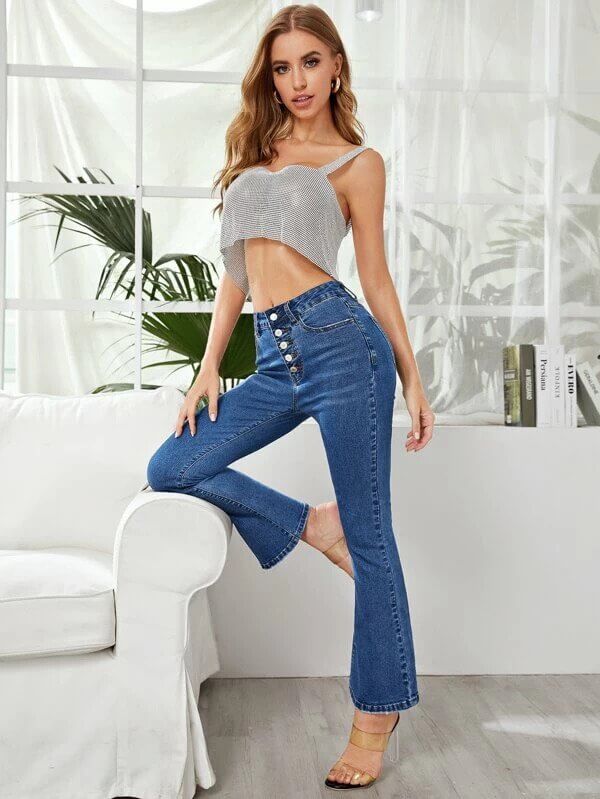 Source: lystit.com
Buttons are the focal point of the jeans. Make sure while styling this, you don't hide them. Pair it with anything the look will turn everyone's head, be it off-shoulder top or high neck balloon sleeve top.
7. Extra Flare High Rise Jeans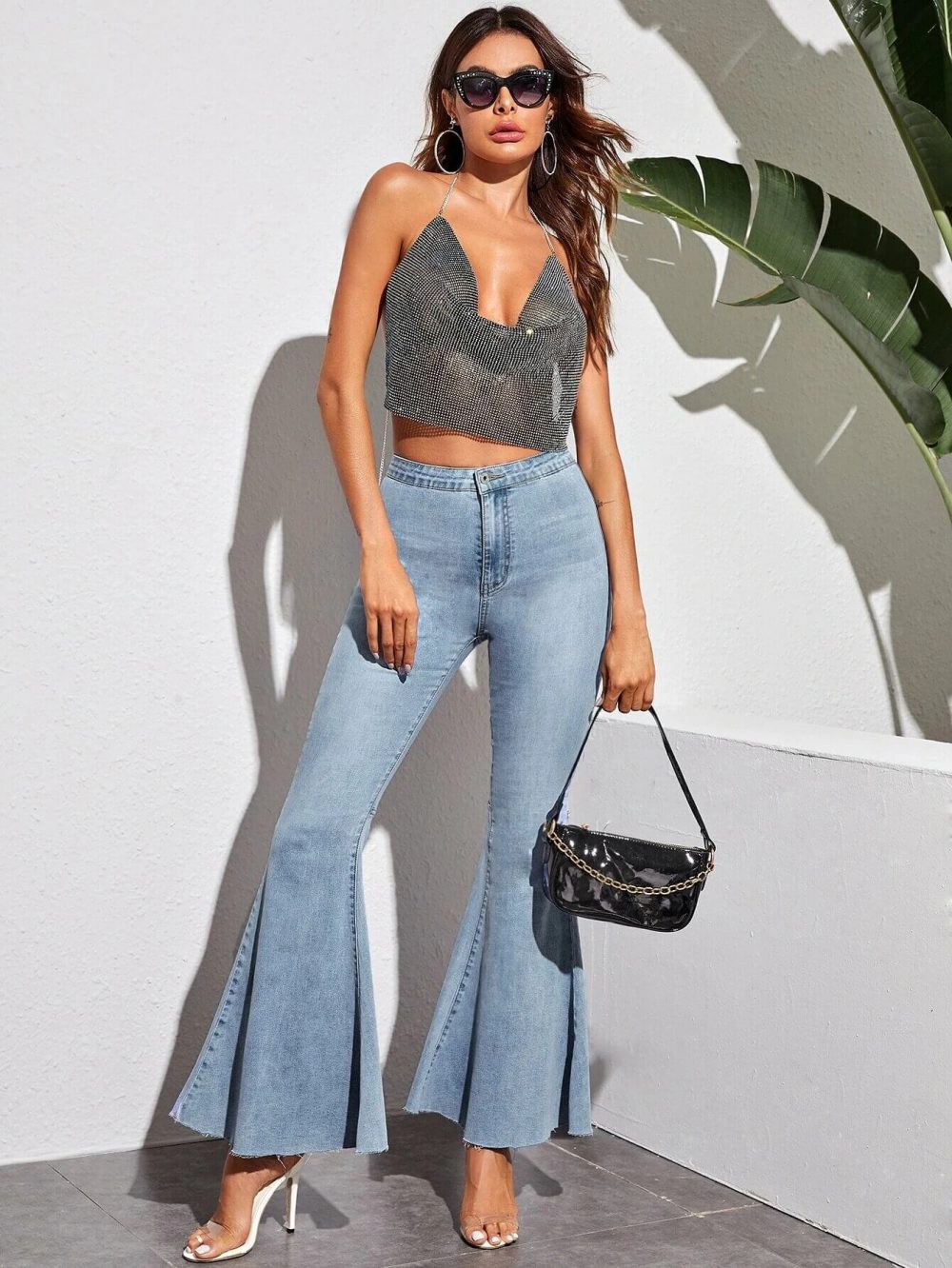 Source: shein.com
Add a dramatic look to the perfect vacation with the extra flare jeans. Oversized crop top, tied up shirt, furry top, basic tee, or bralette-tee, anything will give a nifty outlook to the outfit.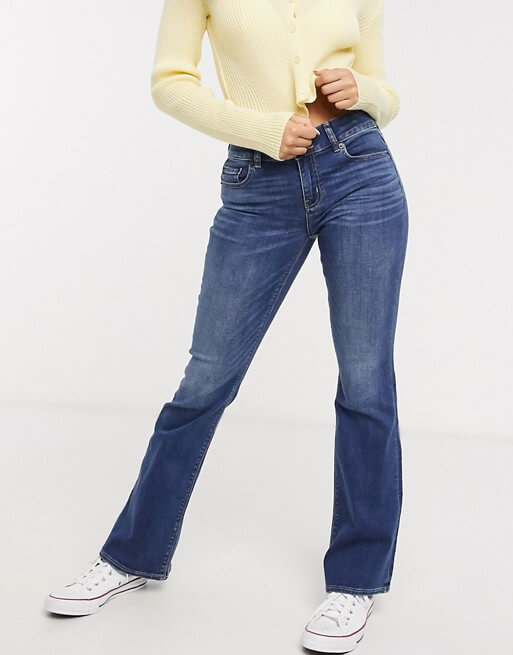 Source: asos-media.com
The American Eagle's not-so-flare(y) and not-so-skinny jeans have a washed-out look, which makes it stand out amongst all. Pairing it with any of the options available will go just right. The addition of canvas shoes is like a star in the sky.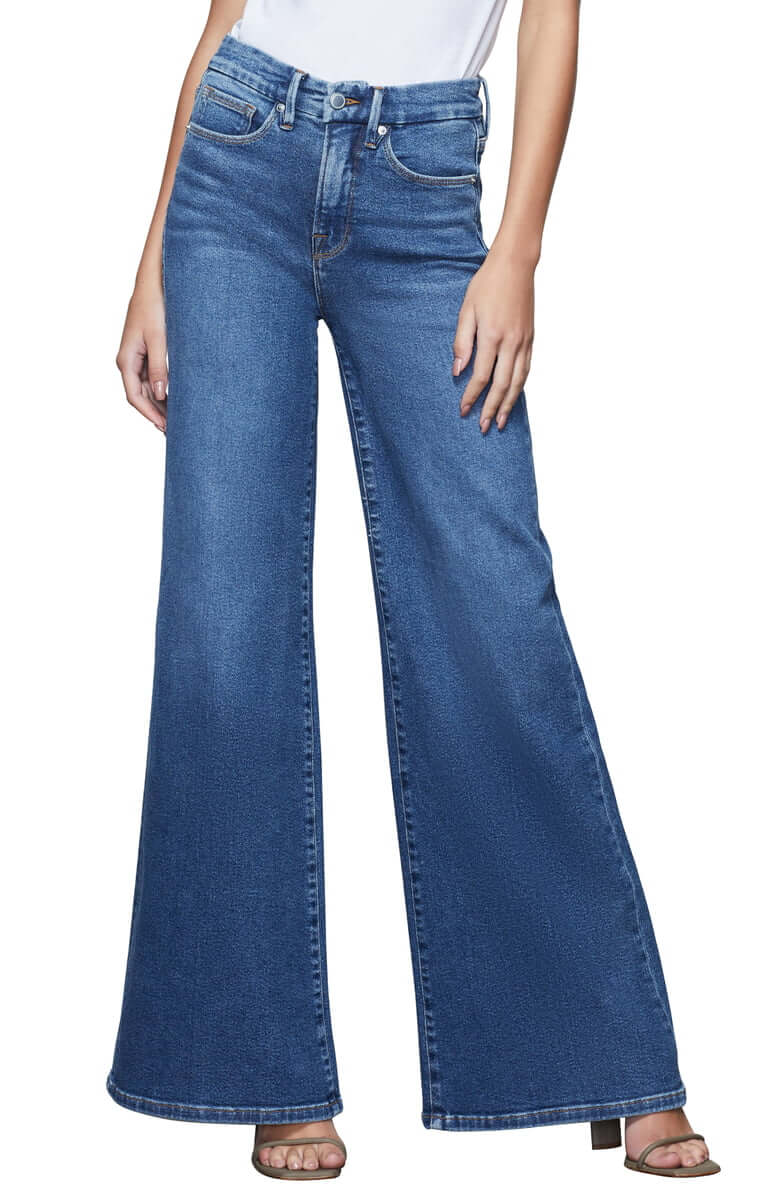 Source: nordstrommedia.com
If you want to go basic and laid back look, go for the tucked-in tee. To add glamour to the outlook, go for the one-shoulder tee or off-shoulder bodysuit and pair it with flats for the elegant look. 
10. Belted High Waist Flare Jeans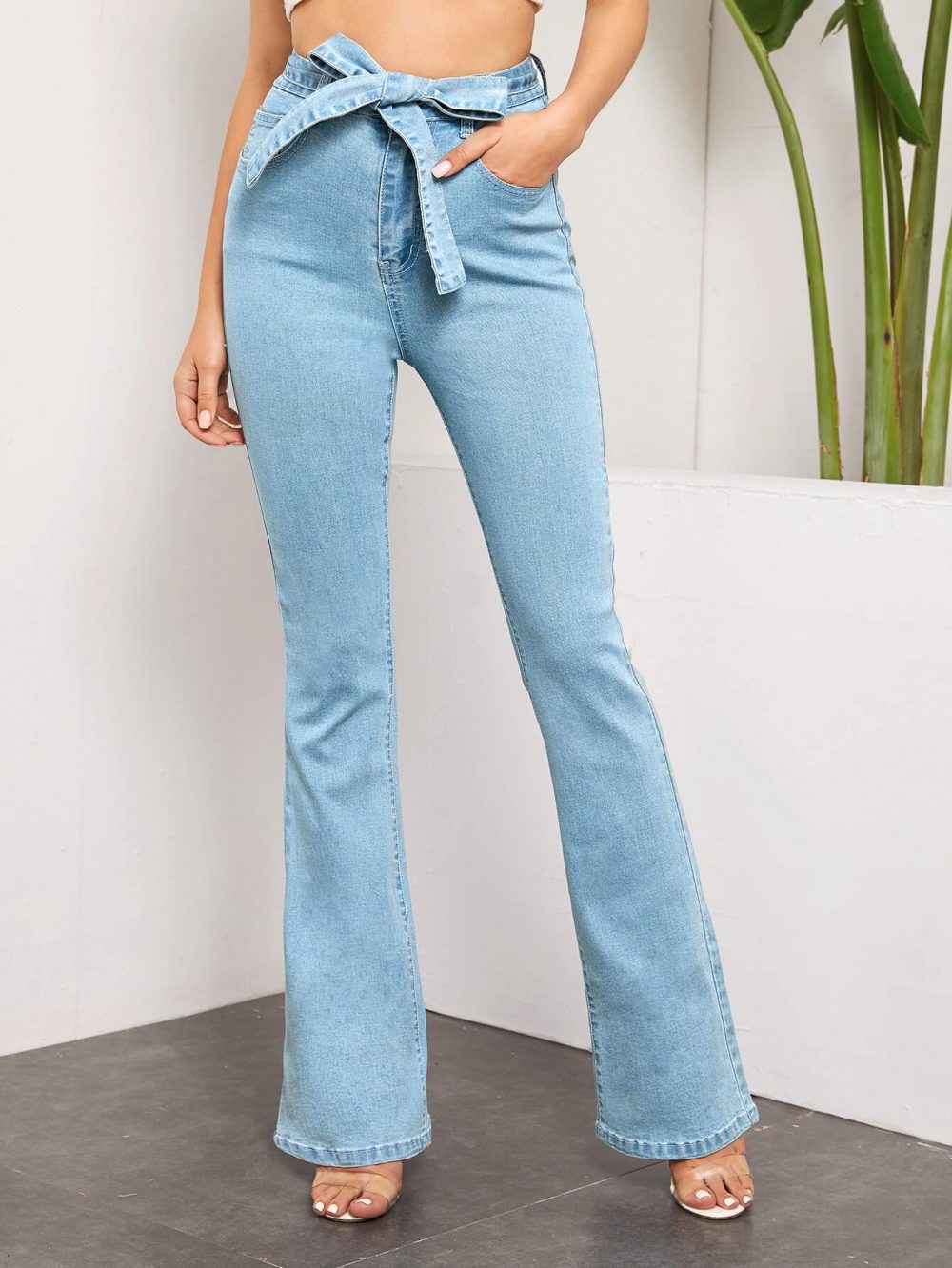 Source: shein.com
The flare of this one is nominal, but like the 6th one, this also has a focal point, its belt. The belt is already uplifting the look, let's not complicate it further. Pair it plain and basic tee of contrasting color. You can go for a neckpiece to add the glam.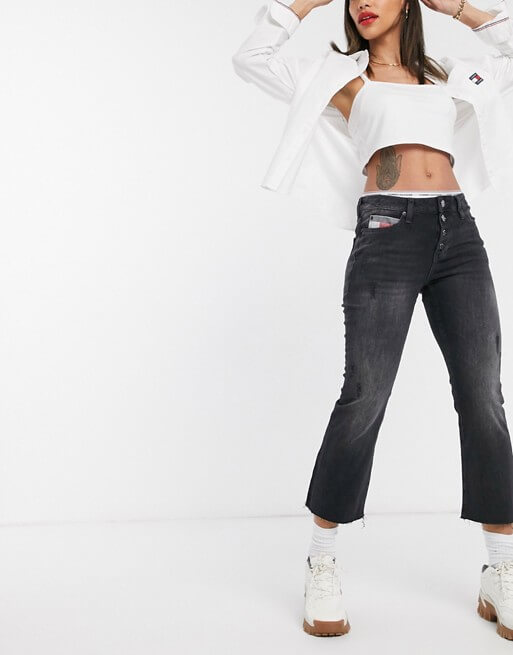 Source: asos.com
The cropped length flare jeans by Tommy Hilfiger is all you need to acquire a sport and cool look. Pair it with a sports bra and a denim jacket for the complete look. Don't forget to wear shoes and socks. It will complement best with the length of the jeans.
12. Ripped Wide-leg Jeans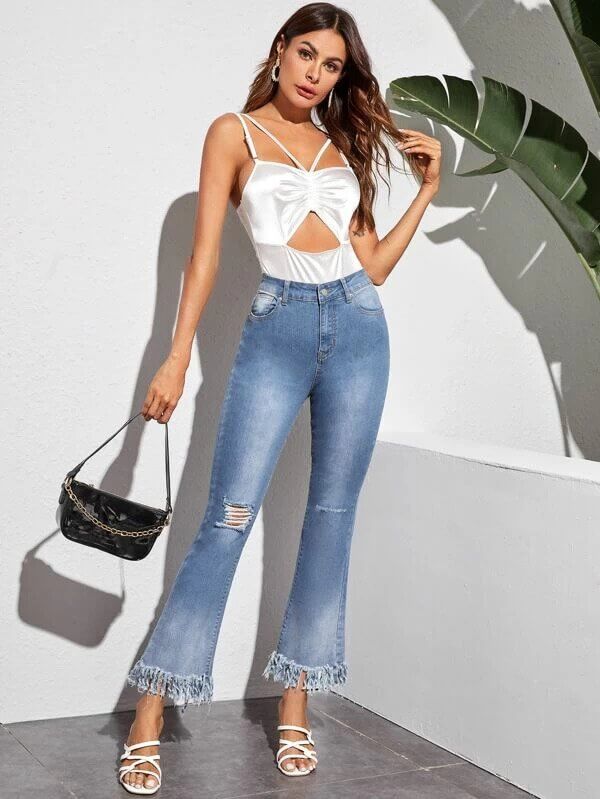 Source: shein.com
Ripped is the pattern that doesn't wait to show its influence on fashioners. Even wide-leg jeans also have the ripped version. Torn-out jeans add a quirk and badass look to the outfit. Go bold with the selection of this companion, from tank top to any tied up t-shirt will look great with it.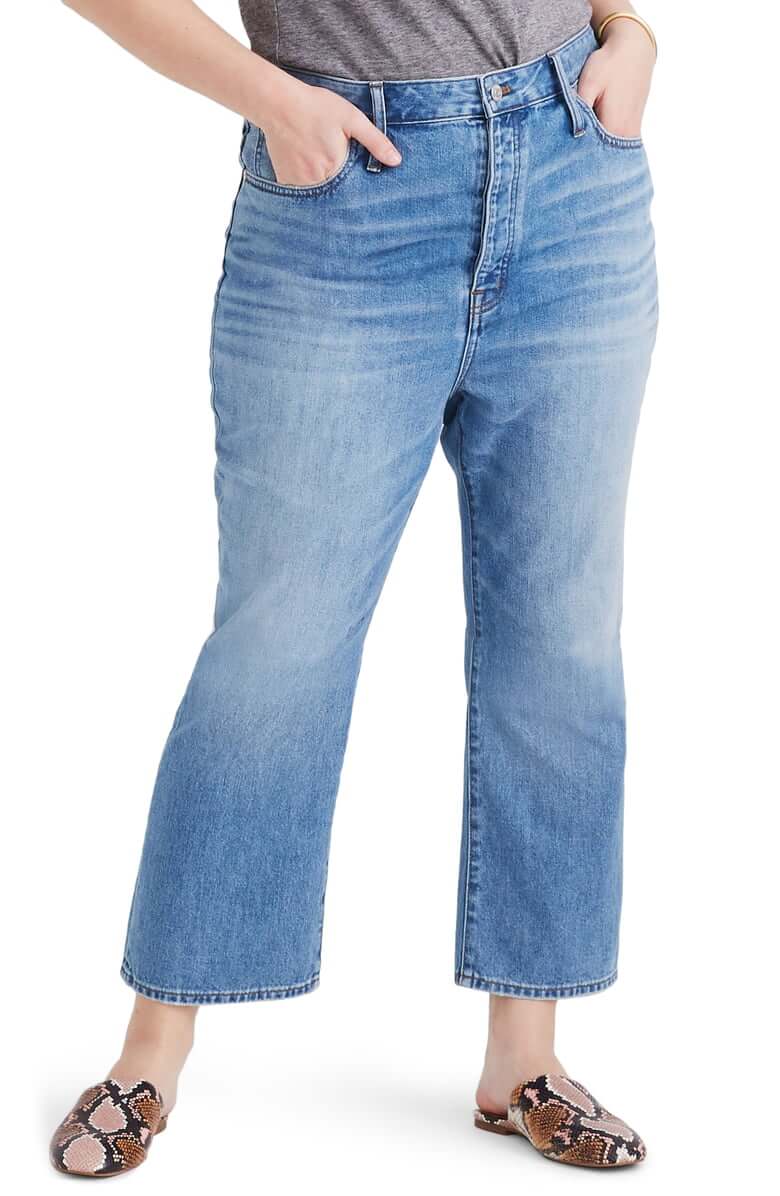 Source: nordstrom.com
Don't want to tuck-in entirely? Don't worry! You can still slay the look. This boot cut version of the jeans is the option. Pair a shirt or t-shirt (tucked-out) with it and it will look just cool and other outfits. If you want, you can go with the half-tuck-in look as well.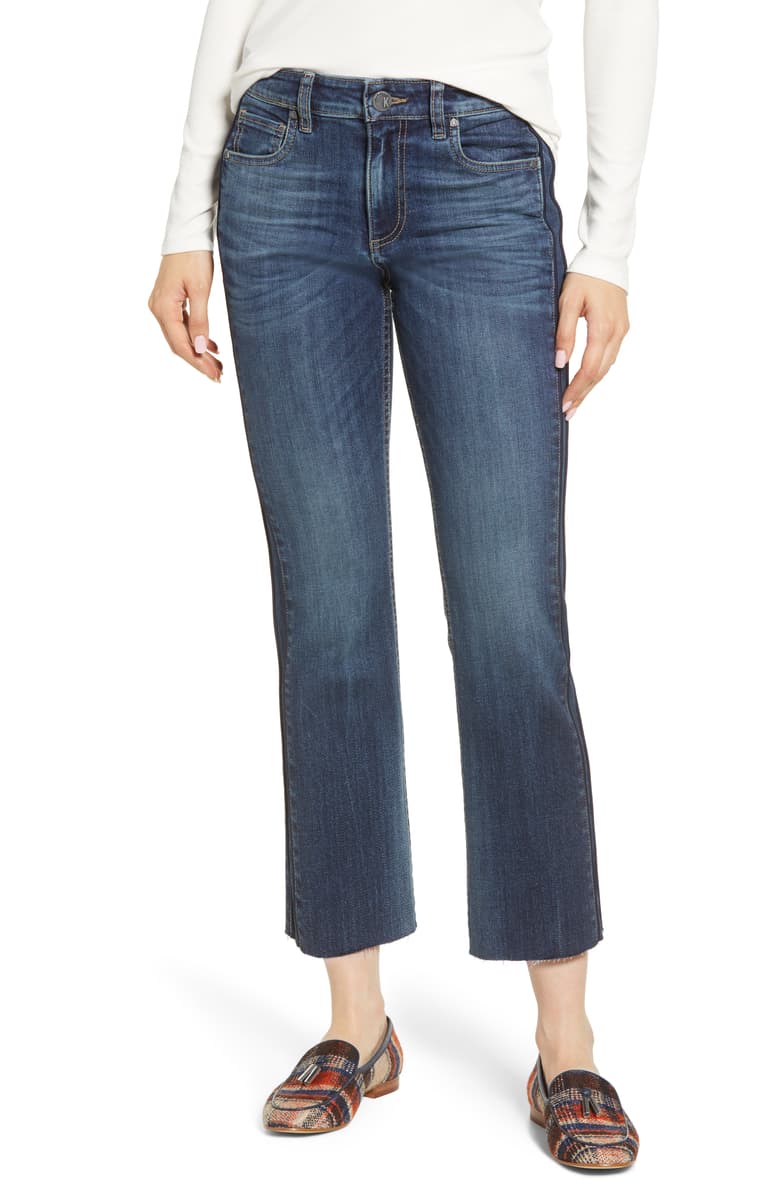 Source: nordstrom.com
You can pair the ankle-length flare jeans with a statement top or a shirt with the waist belt. Make sure the size is perfect for the belt and there should be around 3" of cloth peaking out.
Also Read: 11 Fashionable Types Of Jeans For Women
15. Knee Cut High Waist Flare Jeans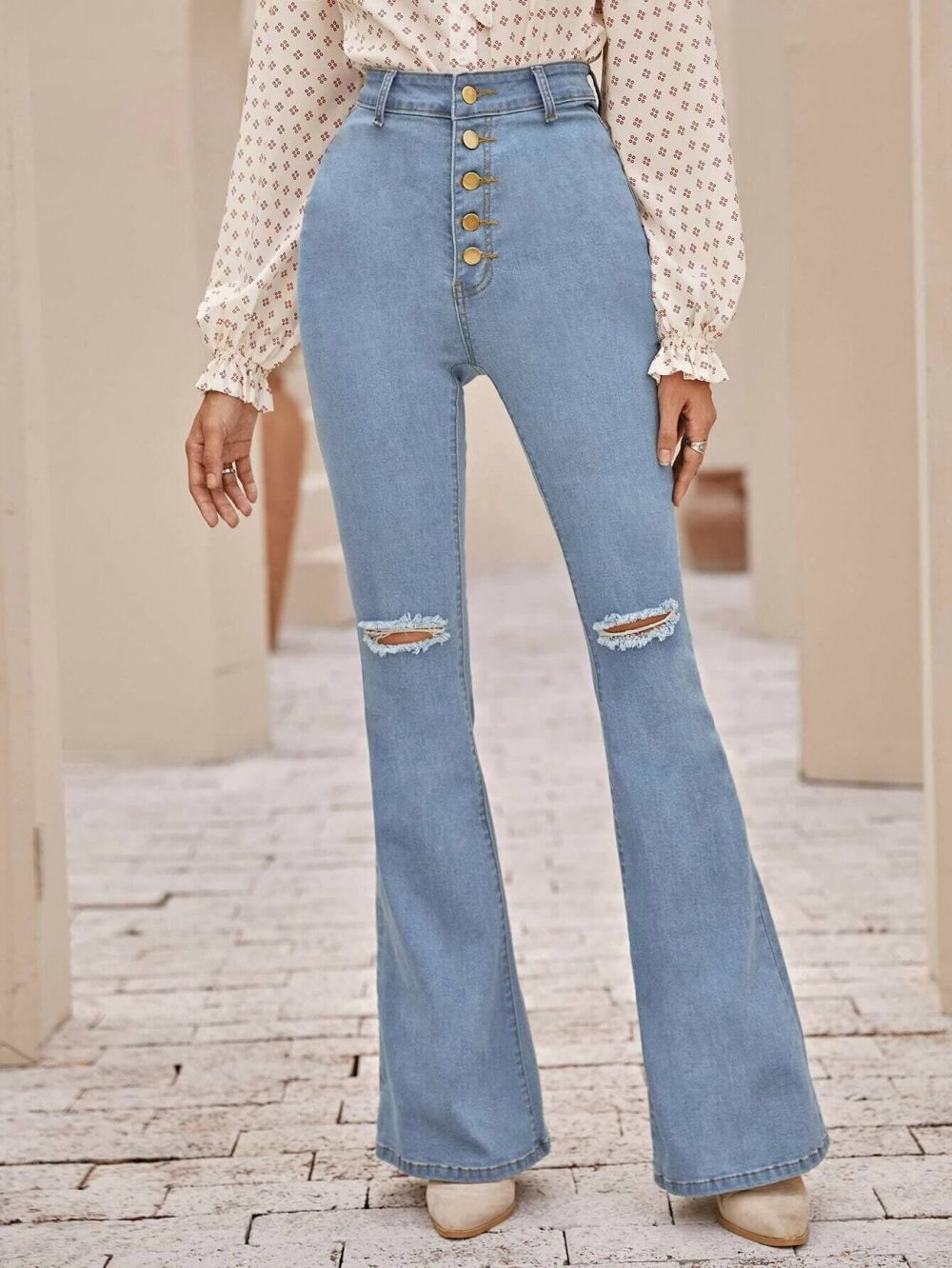 Source: shein.com
Like the ripped one, the knee cut has its place in the industry. Pair this knee cut high waist flare jeans with a graphic tee, bralette, or a tank top. To play at a safer side, you can always go with the block-heels.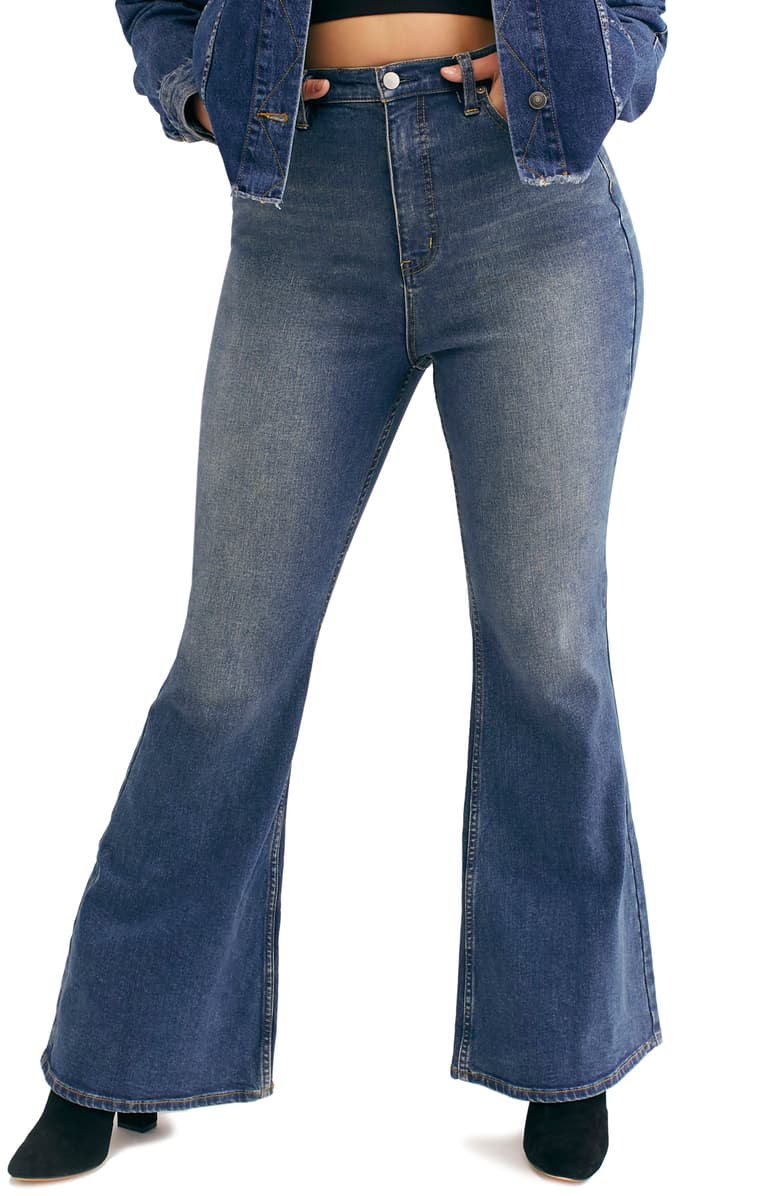 Source: nordstrom.com
When in doubt grab your denim jacket, put on it with a bralette and a black velvety boot and you are good to go.
17. Striped Flare Jeans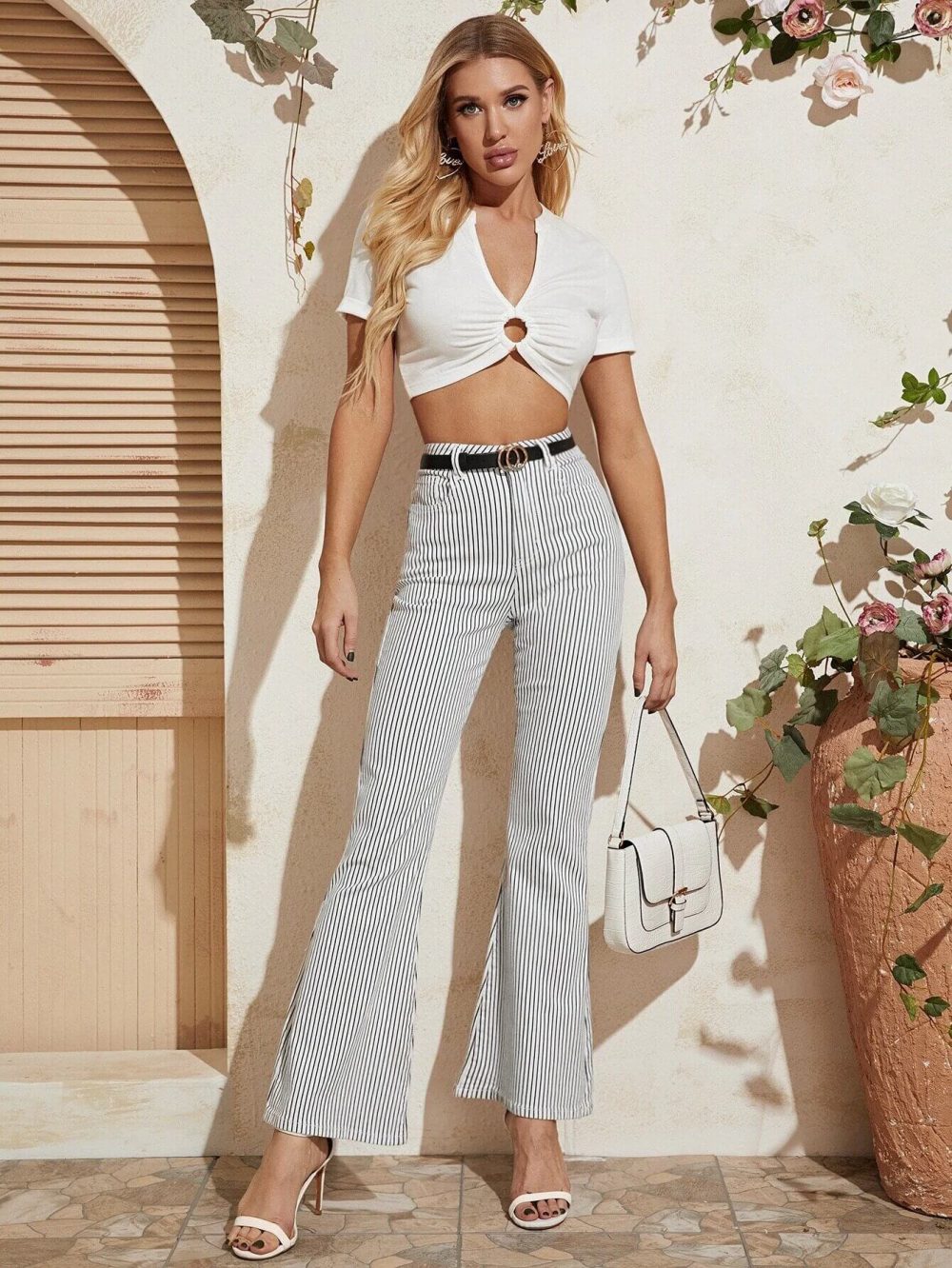 Source: shein.com
The most unique one of the list is striped flare jeans. When you are getting this one, keep in mind, you can't play with the color combination more. It will already have two colors, like this one, have black and white, so you can either go with white or black. Pair it with a semi-formal top for the office wear look.
Also Read: Most Fashionable Jeans You Can Find in a Korean Store
Add Flair to the Life with Flare Jeans: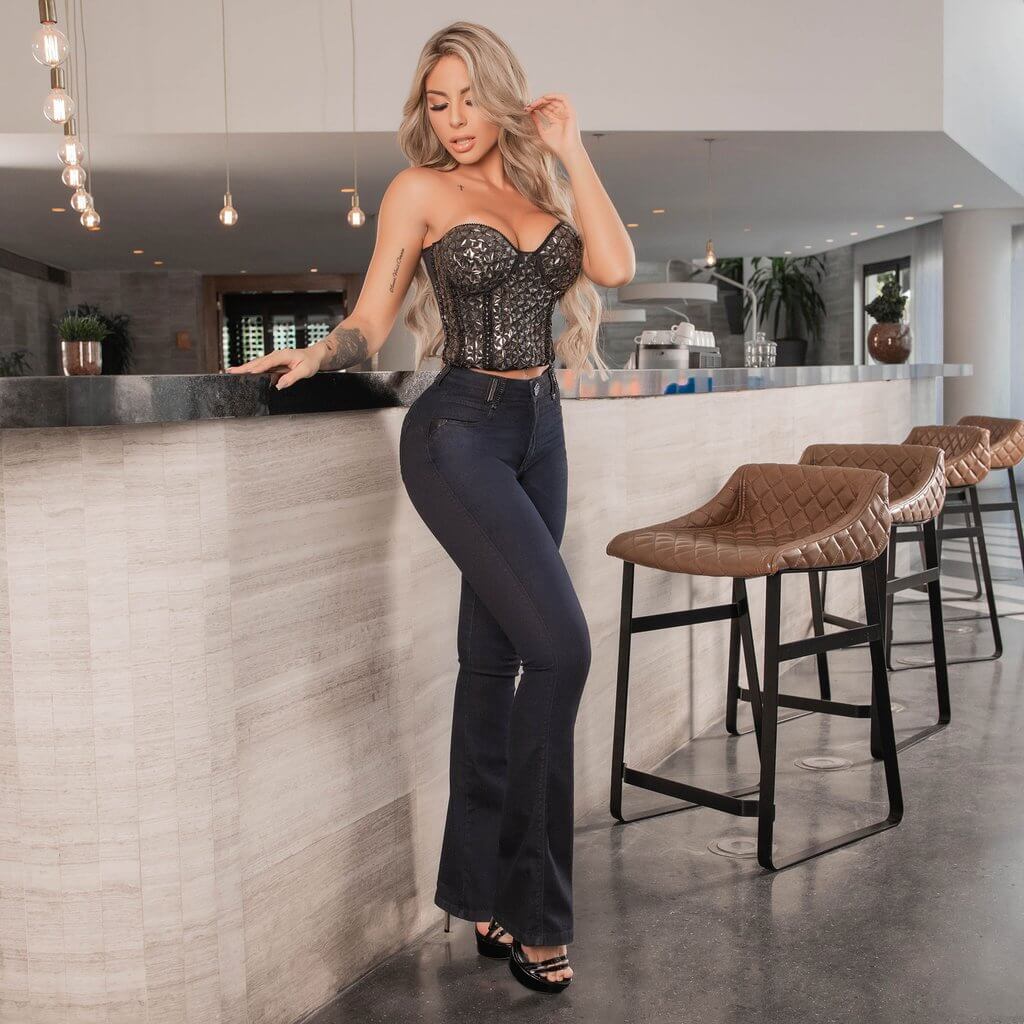 Source: shopify.com
So these were ideas on how to style high waisted flare jeans for the ultimate look. Use this guide and slay wherever you go. When you can't decide on anything or confusion, takes place while pairing wide-leg jeans go for any tee or shirt but tuck it in, and tada! You are done.
For more insights and advice on fashion styling, visit Fashionterest.