Regardless of how many pairs of jeans you have in your wardrobe, the search for "the perfect pair" never seems to fade. Let's admit it – a perfect pair of jeans is the White Whale of today's fashion world. You would hardly find a woman who doesn't have at least one pair of jeans in their closet. 
But finding the right one that beautifully flatters your body can be challenging. You might be trying at least five or ten pairs of jeans in the trial room or getting them fitted to get that amazing pair. That said, buying the right jeans can be simple. You need to pay attention to the details – from length to size, silhouette, wash, and distressing. 
Here are some valuable tips to help you find the best aesthetic jeans for your closet;
1. Find the Perfect Rise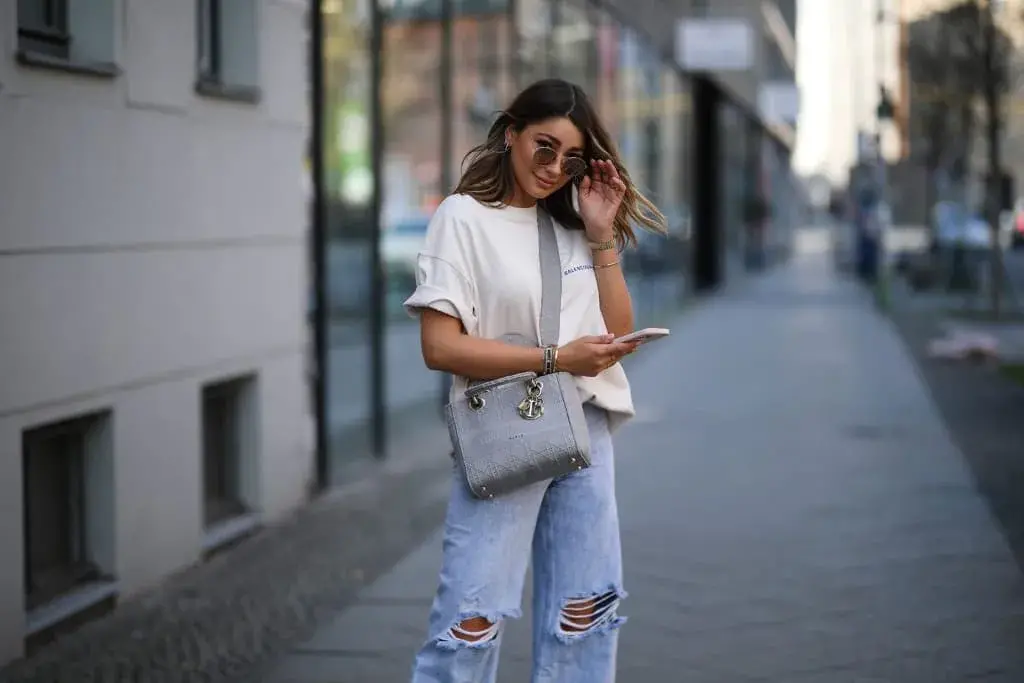 Source: instyle.com
Do not follow the trend; pick aesthetic clothing that matches your personality. Depending on the fashion statement you flaunt, figure out the waistline that makes you look and feel your best. Are you happy with retro-looking high-waisted fits? Love to wear it low rise? Or obsessed with mid-riser? It depends on you. 
However, women across the world love a mid-rise. It seems to flatter your waistline amazingly. On the other hand, high-waist jeans can make the midsection appear broader. Low-rise jeans tend to put pressure on the belly. But the choice of rise entirely depends on the aesthetic style you flaunt.
2. Choose the Right Silhouette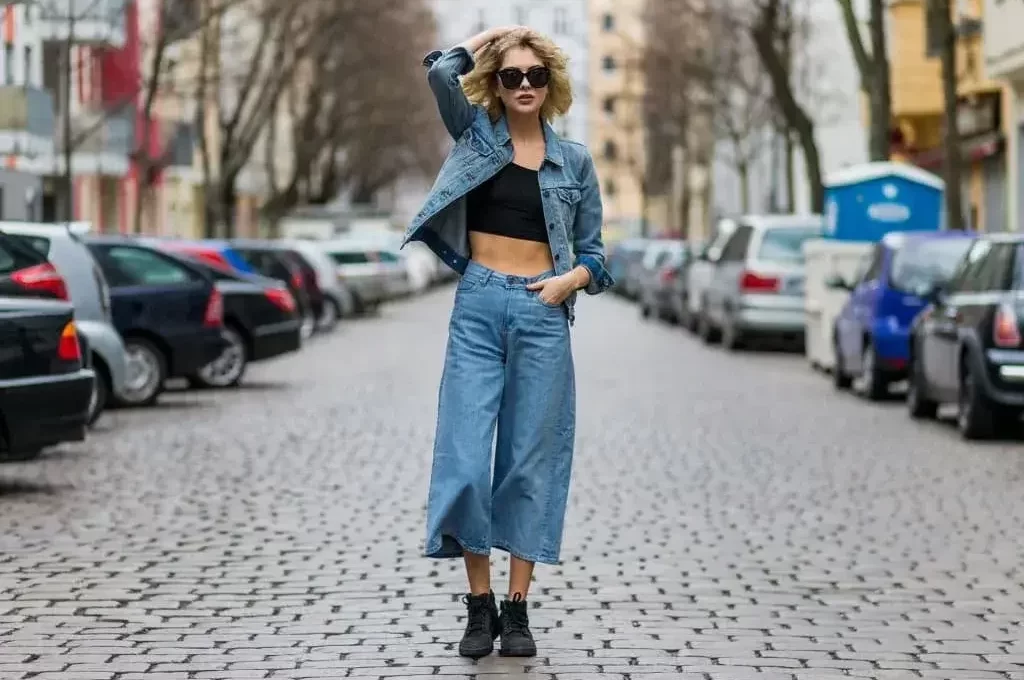 Source: vox-cdn.com
When it comes to picking the right silhouette, there are so many options available. There is much to choose from, from vintage wide-leg flares to baggy boyfriend styles or skinny rockstar fits. However, you do not need to limit yourself to one aesthetic style. You can explore various options based on the occasion or your mood. Find a silhouette that looks great on you and makes you happy.
Also Read: A DIY Guide on How to Fray Your Jeans That too in 3-Steps Only
3. Prints and Colors Do Matter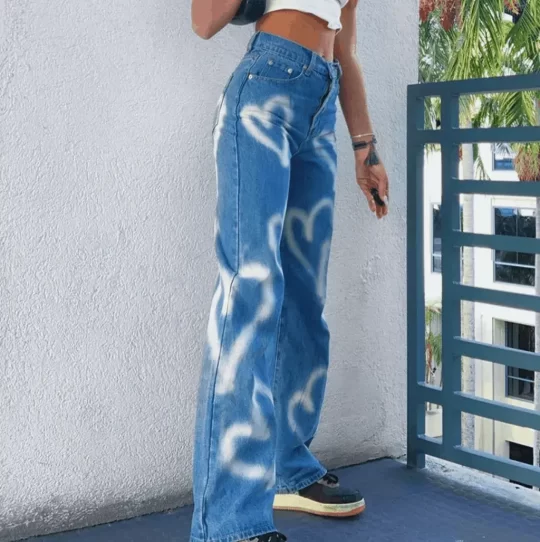 Source: alicdn.com
When shopping for aesthetic jeans, keep the prints and colors in mind. The blue denim color will be your preferred choice if you love the classic style. For women who flaunt the western aesthetic style, consider something in white.
Anime lovers have a whole lot of options in printed animated characters. Washed colors or gradients render a retro style. And if you love to wear the Kidcore aesthetic, plenty of cute prints are available in hearts, butterflies, etc.
3, Want it Distressed or Classic?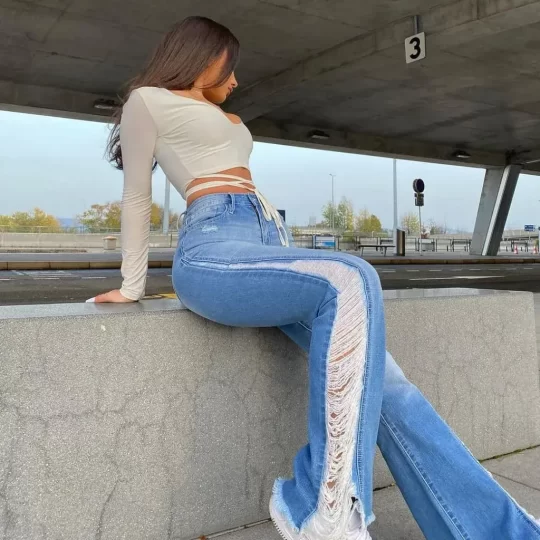 Source: alicdn.com
Another important factor to remember is whether you want the classic style or something distressed. If you flaunt the grungy and cool aesthetic style, a pair of shredded jeans will help showcase your unique personality. The right level of distressing will depend on you, but keep the shreds and rips within good reason. 
The classic style goes well with the cool girl aesthetic and can be paired with any stylish top.
5. Get the Perfect Length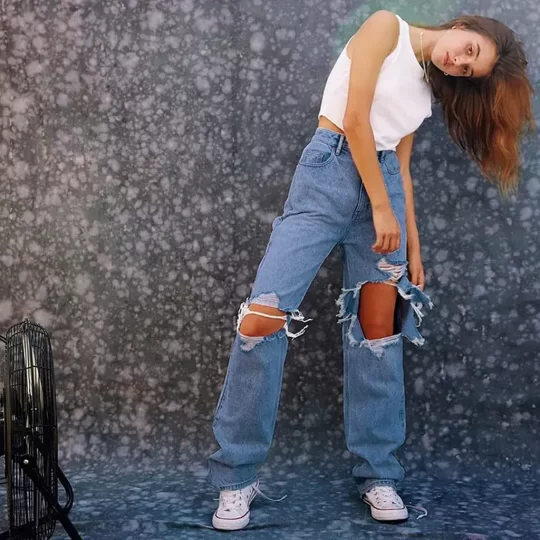 Source: amazon.com
The length of your jeans typically depends on your height, body type, and size of the pant. If you prefer ankle-length jeans, ensure the hem is right on or above the ankle bone. It should render a clean and stylish ankle-length look. Typically, skinny jeans go well with ankle length. 
On the other hand, if you love baggy pants, freestyle jeans, pick something that covers the top of your feet. Many women prefer wearing loose-fitted jeans that fall right over their chunky sneakers.   
Also Read: How to Stretch Out Jeans Easily? (Without Cutting or Sewing)
6. Choose the Right Fade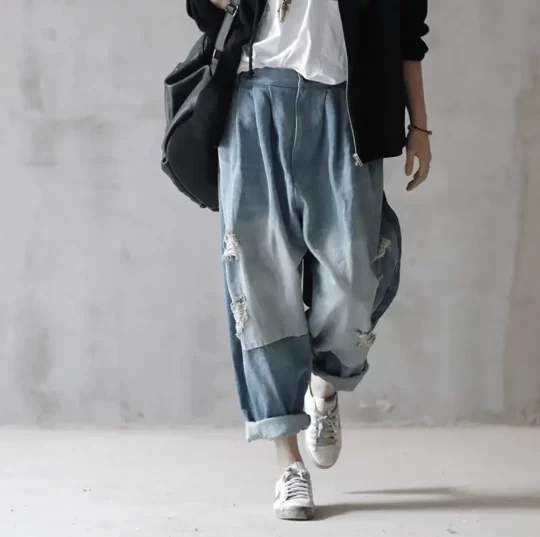 Source: cloudinary.com
When buying aesthetic jeans, focus on the Fade or wash. If you want to flaunt your slender, long legs or wish to have an illusion of it, pick a light pair of jeans in the center of the portion. If you want a slimming effect, do not pick jeans that fade on the thighs or butts. They act like a spotlight on these areas and make you look fatter. 
Conclusion 
Finding the right pair of aesthetic jeans can be tricky with so many styles, colors, and designs. Keeping the factors mentioned above in mind will help you find the perfect one that doesn't look stylish but flatters your body. Most importantly, keep comfort in mind.