Brown nail polish is swiftly gaining traction for the season, with different shades of brown acrylic nails, including espresso, chocolate, cinnamon, and mocha, demonstrating the color's versatility. Here, we bring you the different shades of brown nails; you should go in this year.
Why did I decide to come ahead and let you know about the different shades of brown for your manicure? Well, while I was searching for the perfect nail paint to go, I saw many celebrities, influencers, and other renowned figures adorning brown nail designs.
This is when I decided to get my nails painted brown. However, little did I know that I will have to choose from various shades of brown and trendy designs to get it done! To save your time, I penned down all my research in this article. Go and find the ideal one for you!
And as Tammy Taylor said, "Nails are not about being noticed; they are about being remembered." So, pick the brown nail design that will reflect your personality and mood.
Different Shades of Brown Nails and Design
The most fabulous nail polish color to wear is brown in the fall. You might go for a simple brown french tip nails manicure or a bold color. Use a contrasting nail paint color on the other fingers to make your hands stand out even more! Brown is the hue of peace, and many individuals believe that when they wear brown nail paint, they are in their most comfortable mood.
Brown is also a fantastic color for brown nails ideas since it works with almost any outfit. The options are unlimited, and we're confident you'll discover the perfect brown nails ideas to compliment your look!
Whether you prefer a gentle coffee hue, a delicious chocolate brown, a trendy caramel tint, or something darker, this article has it all. When it comes to finding the ideal shade from different shades of brown acrylic nails or brown nail paint, there's no need to seek any farther than here.
1. Chocolate brown
Every cosmetic bag should have a rich, intense chocolate brown. Why? Because the color is not only fashionable but also quite lovely. It compliments both extremely dark and very light complexion tones. Shades of brown nails have the same impact as dark red in that it appears celebratory, mature, and exceptional.
The choice of color could be dramatic but warm, demonstrating how even the deepest shades of brown nails are welcome. This looks wonderful on every skin tone and nail length, and while it's perfect for the cooler months, it's a must-have for your year-round collection. It's also worth noting that this is a hue that enthusiasts of the 1970s and 1990s may use to attain that look.
2. Mocha
We can all agree to one point that mocha is the polar opposite of caramel. The calm brown tone blends in beautifully with pale skin tones. The chilly style is the least noticeable of the three and blends nicely with our daily lives. It gives the appearance of well-kept brown french tip nails without attracting attention.
It may also be paired with almost any other hue. All those who wish to jump on the trend of brown fall nails will find a haven at this pace. You can find a mocha shade of brown that is very soothing and elegant when you are going for an outing or chilling with your friends.
3. Caramel
Those who like to be a little more understated would adore a caramel-colored nail color. The light brown nails compliment warm and golden complexion tones well. The skin seems even more golden and browned as a result of this. Who wouldn't want something like that? On the other hand, a caramel tone might rapidly seem sickly on ashen skin since the undertones do not harmonize well.
If you still want to give it a go, go for it! The most important thing is that you like it. Caramel-brown french tip nails go well with any skin tone with yellow undertones.
4. Cinnamon Brown
Cinnamon or light brown nail polish needs a little longer length and a darker skin tone to enjoy the lovely contrast. When applying this one, make sure to wrap the nail paint (around the top edge) to prevent chipping and extend the manicure's life. As for the design, it is a Yin-Yang brown nail design.
This shade could be ideal for women looking for bold and sassy looks. Also, this shade gives a flavor of elegance and classy with being bold. To enjoy and make the most out of it, make sure you have longer nails, as they tend to look sexier on longer nails.
5. Matte Brown Nails
These light brown nails are an excellent mix of matte and brown tones. It's one of the most incredible nail designs for individuals who wish to keep a low profile. Matte brown nails are the pinnacle of refinement, with a hint of edginess. Keep it plain with no decorations or patterns for a sleek and elegant style.
Also, it gives you a sense of satisfaction and makes your hands look sexier than ever before. Matte nails have a smooth, non-shiny appearance. Matte paint can even hide flaws, and they're becoming increasingly popular among Gen Z. It also has a flat and frosted appearance, ideal for the winter months.
6. Taupe Caramel Browns
Taupe caramel brown, with its creamy shine, is the perfect blend of striking and understated look. The color looks fantastic on a medium to dark skin complexion with cooler undertones. Don't forget to wear the long-wear top coat, as the manicure of taupe caramel brown color is highly noticeable when it crumbles.
Caramel nails are luxuriously rich and delicate but intensely pigmented. It is even better if you're searching for a different hue than your regular nude nails. Caramel nails go well with any skin tone that has yellow undertones.
7. Eggplant Brown
If you want a hue with a purple undertone, eggplant is your color. An eggplant brown acrylic nail design looks great on any nail length but is best paired with a highly glossy top coat to make it seem even more profound and darker.
As the cold makes nails more dry and brittle, applying a moisturizing lotion and filing them frequently is suggested to avoid snagging and breaking. Don't forget the cuticle oil! Deeper and darker shades also give your nails a lavishing look and make your hands look bold and classy.
8. Glossy Brown Nails
It is recommended to use a solid color on your brown french tip nails for autumn if you want an essential yet elegant manicure style. It will be ultra-luxurious to use a glossy brown.
If you're a wobbly painter, use your favorite brown nail polish to paint your nails, or buy press-on nails that will give you the brown manicure appearance you want.
Glossy nails, as we all know, last longer than matte nails. However, if you're searching for a new and exciting appearance this season, we recommend breaking away from the glossy nails now and again.
9. Brown Swirl Nails
Swirl nails are another popular nail style that has recently been spotted. The thing you would like about this manicure design is that you can make beautiful nail designs with almost any hue, including our favorite brown fall nails.
So, if you want to have the popular swirl nail design for your hands, it is recommended to try out this shade.
To get the look, draw one or many curved lines on your fall brown nails and finish the look by applying a topcoat. The swirl may be as long as you want it to (from top to bottom, around a corner, or anywhere between). You can keep it as thick as you want it to be and in any color. The goal is to create a colorful and almost soothing-to-look-at finish.
10. Brown & Gold Glitter Nails
Pairing your favorite shade of brown acrylic nails designs with gold glitter is another beautiful fall nail trend.
The combination of gold and brown is stunning. Plus, if you enjoy glitter, this manicure design will allow you to use a lot of it.
With salon reopening, nail art is regaining popularity, and glitter nails are at the forefront as one of the most popular trends. Glitter provides color and texture to summer manicure trends, from sheer glittering bases to elaborate metallic motifs.
These were some fantastic brown nail designs that would make your fall brown nails ready to shine and luster.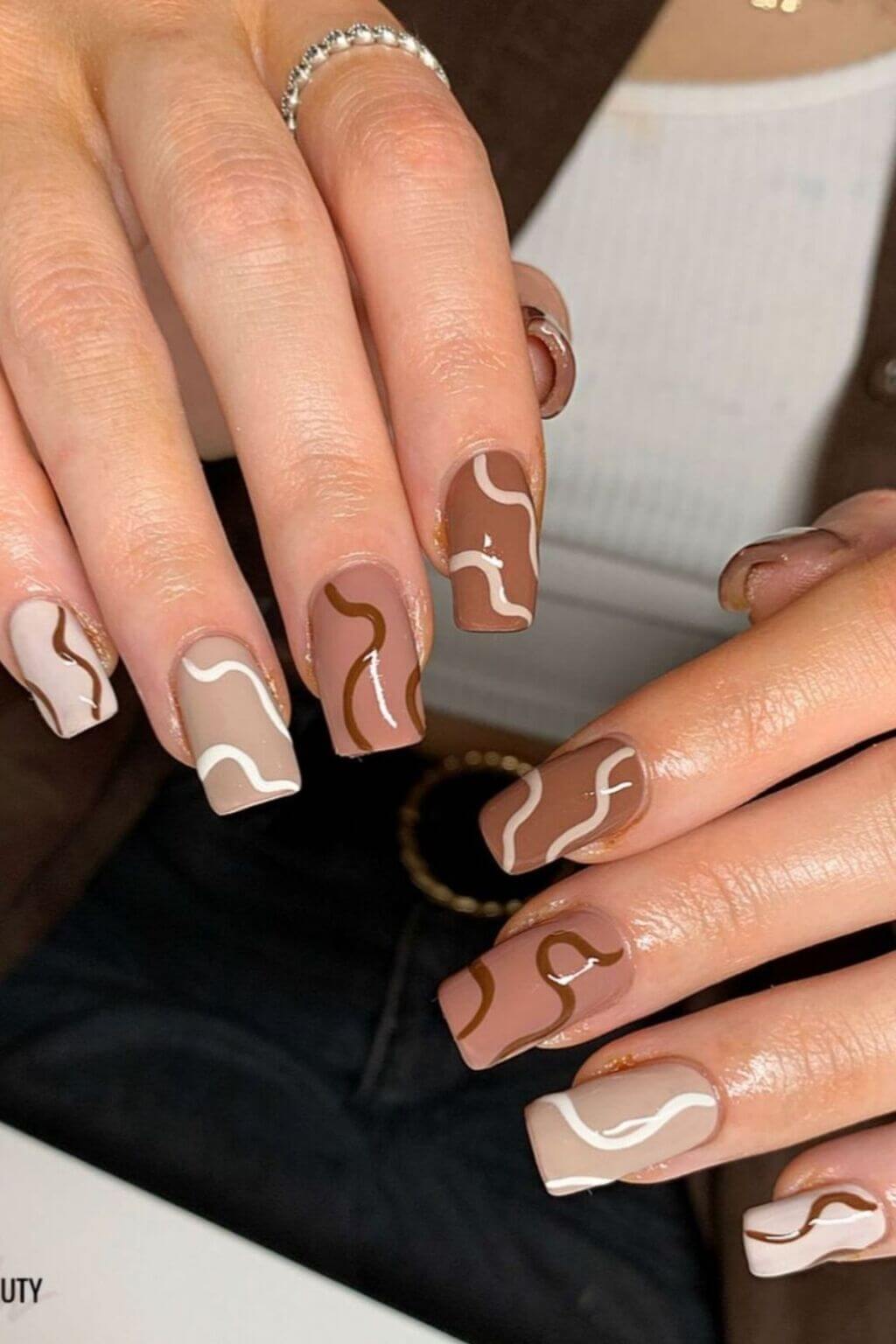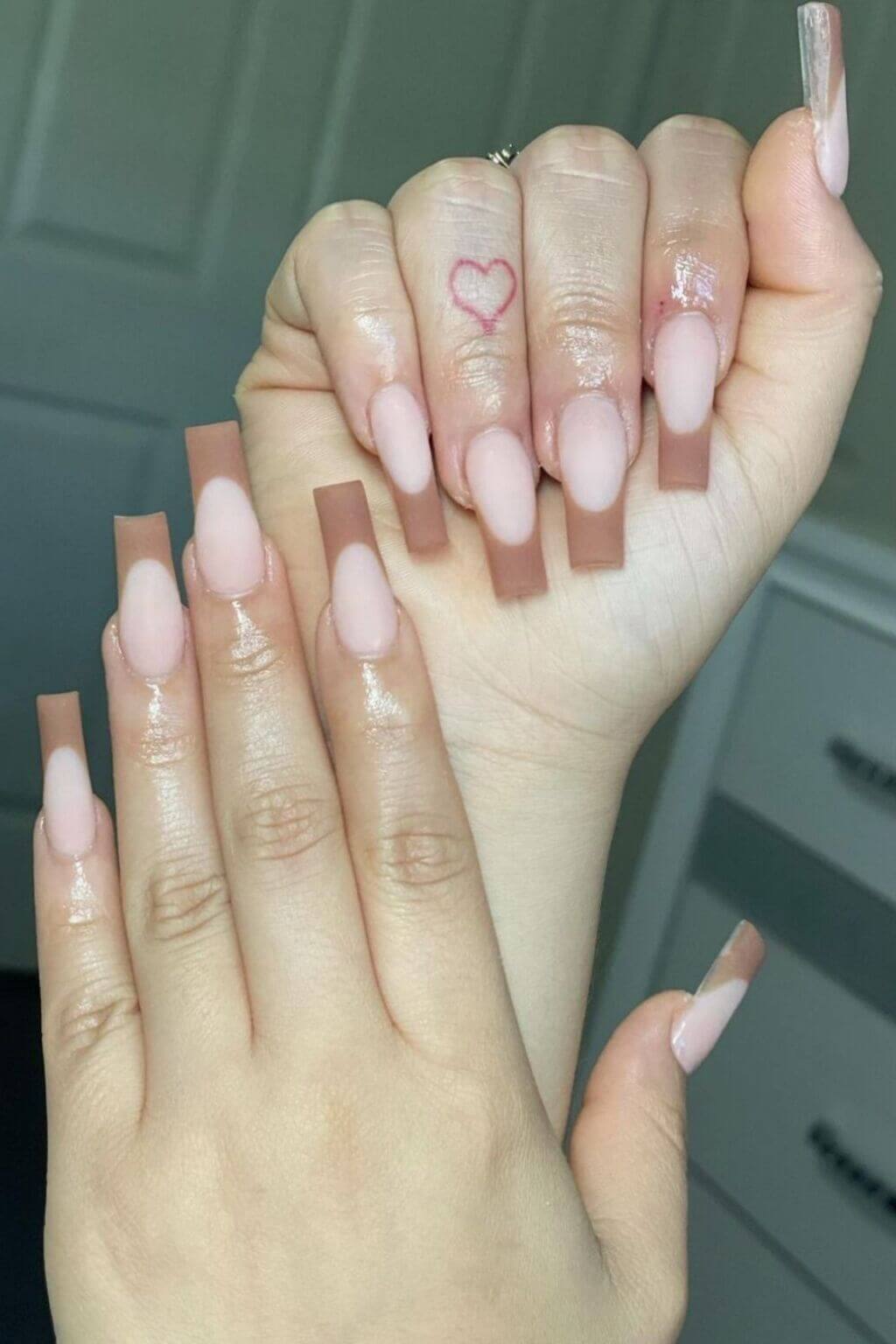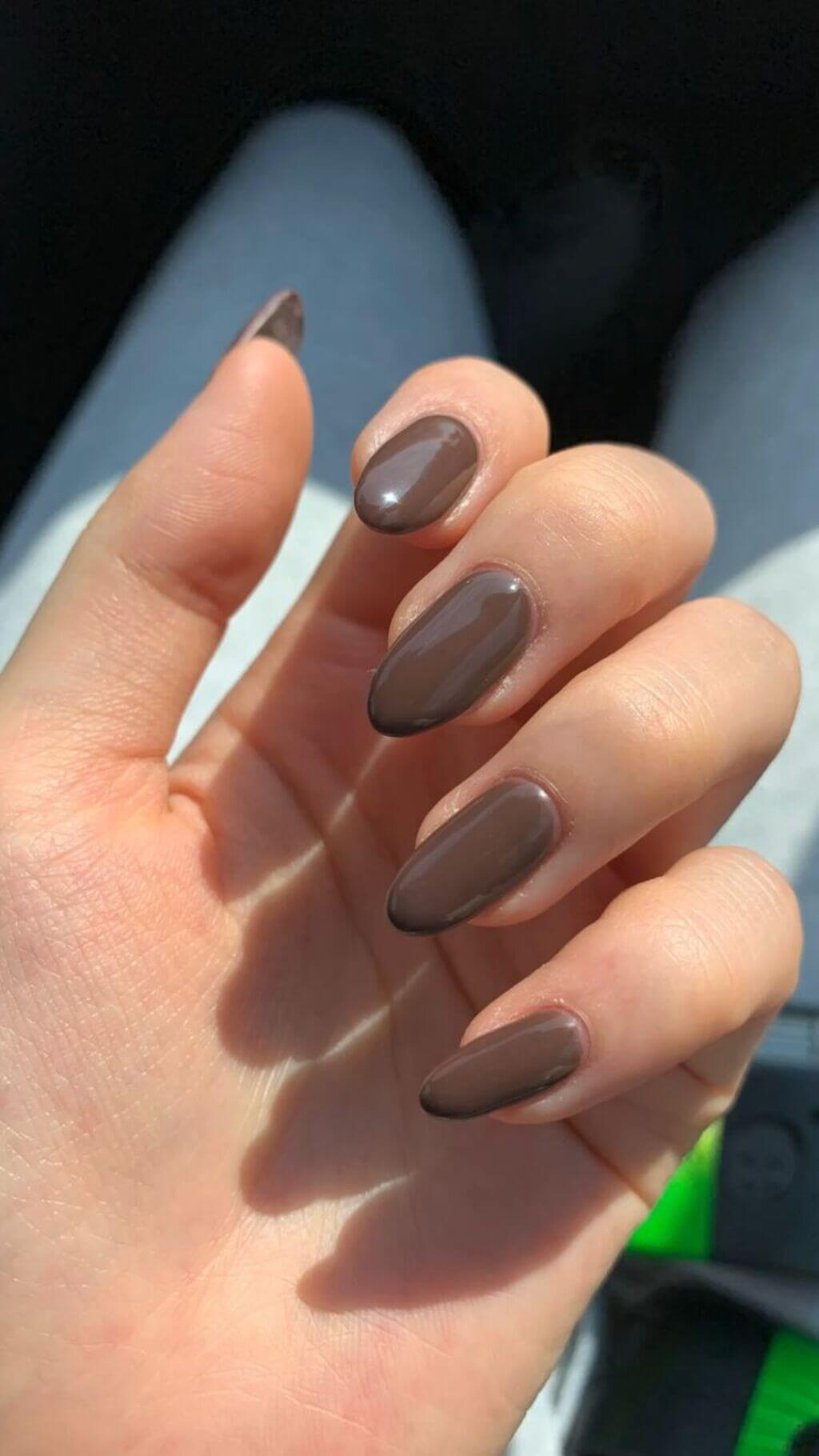 Get to the Nail Artist Now!
Try developing fresh brown manicure designs with skilled nail artists to create your style! We can say that brown nail polish is timeless, to add a few lines. If you're heading to work or hanging out with friends, you can wear brown nail color without any hesitation.
The most delicate brown nail polish goes well with all skin tones and clothing. The brown tint looks excellent on nicely groomed hands (both during the day and at night). This hue is also appropriate for all seasons. If you want an earthy look, brown should be your go-to shade.
So, I hope you might have got the different shades of brown nails that you may want to try right away.
Find out more:-