Nowadays, the French manicure, perhaps one of the most traditional nail patterns, has been around for decades, but nail artists are constantly coming up with new methods to make French tips seem fresh. A design French manicure is a timeless nail art that has withstood the test of time and trends. This manicure is quite popular among fashionistas who prefer to show off their French nail tips. French tip nails are simple, attractive, and adaptable design makes them easy to modify depending on the occasion and mood.
Although the classic French nail design is known for its prominent white tip over your fingers, you may add several twists to it to elevate your nail French manicure designs to the next level.
Which are the Trending and Different Color French Tip Nails?
While white tips were a popular manicure style in the 1990s and early 2000s, they gradually faded out of favor. However, just like your favorite girl groups, the French manicure gradually made a comeback and is now regarded as a salon classic.
The french tip nails come out to be the clear nail polish that works well as a topcoat for a French manicure. The basic French manicure nail polish color is regarded to be a sheer pink. Moreover, finding a hue that produces less streaking is crucial when selecting this finish.
Also, a conventional French manicure, marked by the white lacquer across the tip of the nail, is a timeless and sophisticated appearance. It exudes refinement and can be worn in several beautiful and marvelous designs.
16 French Tip Nails To Try This Season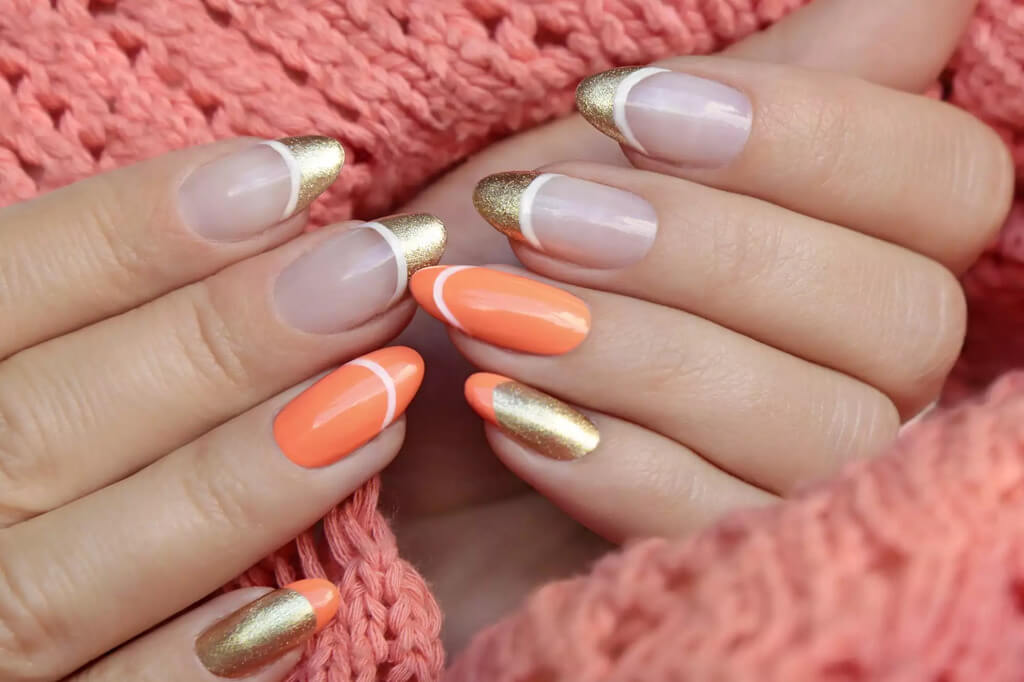 A French manicure is a style of nail lacquer that is genuinely timeless and never runs out of fashion. The French manicure is a popular choice among many for a particular occasion or function since it adds a tidy, fashionable touch to any attire. Women are a huge lover of the French manicure finish, whether it's for a wedding, a party, or just everyday use. But there are so many other variations you can use to elevate your French manicure!
Let's go through some of the most popular French tip nail designs.
1. Ombre French Tip Nail Designs
The french pink and white ombre nail design is a more contemporary version of the french manicure. It has been quite popular in recent years.
The pink and white hues combine to create a gradient appearance over the nail. You can get them done at any salon, or buy nail wraps online to make them look incredibly easy to create.
2. Glossy Brown French Tip Nail Designs
This brown and white nail combination definitely deserves your attention. The subdued tones utilized in these French tips make them inconspicuous, but the glossy finish makes them stand out. This white and brown french tip gives you a stylish look as well as makes them appear sexy.
3. Long French Nail Designs
Although long nails are highly feminine, they can have a few drawbacks. First and foremost, they are quite pricey. But, these glossy dark chocolate french nails are worth trying.
Be cautious with your nails if you are new to the long nail trend. If you chip or shred one of them, it may be excruciatingly painful.
4. Classy Short French Nails
Classy short french nails are traditional and epitomize femininity. This is a great look for schoolgirls, moms, ladies who work in the business and can't have long nails, people who are growing their nails, or simply all girls and women who enjoy short nails.
The French nail tip creates the illusion of longer nails. White tips appear fantastic, daring, and cool. You may select a different design for one or more nails to boost the entire manicure and aesthetic.
5. Thin French Tip Nails
The traditional French manicure is unquestionably the power backup of manicures. This classic thin french tip nails manicure is made by starting with a light pink base coat, and adding a clean black smile line. The traditional French manicure is appropriate for both a boardroom and a wedding.
6. Abstract French Nails in Black and White
Abstract designs by far are one of the top designs in 2023. As seen by these black and white french nail designs, the style may also be applied to the french manicure.
This nail design features a neutral base color that is enhanced with abstract black and white lines that give four out of the five nails a french manicure appearance. It's a must-try; the general feel is contemporary, sleek, and very cool.
7. French Manicure with Ombre
We're just halfway through this exquisite collection, but we already think this stunning modern take on a French manicure is our favorite. This is a stylish design that has a gentle ombre transition from one hue to French ombre to nails, as opposed to the start white tips of a typical French manicure, using the traditional nude white shades of a French manicure.
8. French Manicure with Black Coats
The black tip nail art design ideas don't not only looks good but also look stylish and elegant. The black tip has completely overpowered this look. Apply coats of your black nail paint at the tip after using clear nail polish. In the end, you will have incredibly elegant and fashionable nail art!
9. French V-Tip Nail Design
Every nail tip design complements many nail shapes, such as the coffin, almond, and V French styles. They look good in any style, from the traditional white tip to the vibrant bright hues and patterns.
The finest feature of these nails is that they can even sport a transparent base while still looking classy. Alternatively, you might select both bright and light colors simultaneously.
10. French Tip Nail Art with Flowers
Consider adding some flower accents to your French manicure for an even more feminine appearance. The ideal appearance for an Easter party, springtime picnic, or bridal luncheon. You may make floral nail art by hand painting the patterns with a fine-tipped nail brush, using a nail stamping kit, or utilizing nail stickers. For a floating flower effect, some nail artists may even implant dried flowers right onto your nails and seal them in with a transparent gel top lacquer.
11. Nails with a Square French Tip
One of the most typical nail forms in a French or American manicure is square nails. This is due to the ease with which short to medium-length nails may be worn with square French tips. To have a sophisticated look with square tip nails, you don't need lengthy nails. If you have long and slender nails, they will look amazing on any outfit.
12. Glitter French Manicure
This gorgeous French manicure is a simple yet effective take on the standard design! Begin by painting your nails in the traditional French manicure style, with a transparent base and a curled glitter tip for contrast. Gently paint a glitter top coat alternately with other nails.
13. Neon Different Color French Tip Nails
Different color french tip nails are the ideal summer adornment. They represent fun, sun, and a breezy casual attitude that suggests you're not scared to stand out. A dramatic manicure includes nails in brilliant yellow, fluorescent orange, hot pink, and neon green. Especially if your foundation is a transparent nude or matte pink. Pair this manicure with an outfit that lets the vibrant colors show, such as neutrals and whites, to make it stand out.
14. Thin French Tip Nails in Cobalt Blue
Cobalt blue is a serene and relaxing hue that has long been associated with enlightenment and sounds fantastic. Thin french tip nails in cobalt blue color are associated with communication and self-expression. If you're having trouble expressing yourself and articulating your desires, consider having this hue of blue into your life with a cobalt blue French manicure. This hue goes well with neutrals, white, and other blues.
15. Black Color French Tip Nails Stilleto
The black stiletto form gives you a bold look and the form is intended to resemble the shape of stiletto heels. Its points are razor-sharp. Of course, this form is not suitable for everyone. Long nails are popular among women and give them a bold and stylish look.
French stiletto nails are striking and incredibly modern. If you appreciate the latest trend, this is the form for you.
16. Coffin Color French Tip Nails
Try French tip coffin nails for a longer nail design. Coffin tip nails are long, squared-off nail shapes similar to stiletto nails. This pink color french nail form works nicely because it maintains the squared-off tip of a typical French manicure. Add baby pink tips for a wonderful warm-weather appearance that matches any summer clothing.
These were some of the top french manicure that are trending right now.
Conclusion
Right now, your mind must be swimming with ideas for the next French tip nails style to try with all the manicure ideas mentioned above, but I'm sure this list has made your search a lot simpler. You now have a tonne of unusual alternatives to select from thanks to this compilation, and if all you need is a style for everyday wear, you can also pick from a vast array of timeless options.
In case you missed it!