Green is vibrant, Green is eye-catching, Green is bright!!
Are you tired of the normal nail colors?
Think of something different!
How About Some Exciting Green Nail Design?
It is one of the most amazing and elegant nail colors. The green nails design are simply awesome, not that bright and shiny but still have a profound impact. The green nail design ideas are truly unique. Green and gold nails, emerald green nails, etc. have the power to transform any look.
In this blog, we will discuss different green nail designs out there that you will simply love.
Read on
Green and Gold Nails
Green and gold nails are an excellent green nail design. The beautiful combination of vibrant green and glossy gold creates a significant look with any green-shaded dress that you wear. Green and gold nails can make you look simply ravishing! All you need to do is just mix and match it with the vibrant hues and that's it, you are done!
Dark Green Nails
If you want to have a luxurious look, dark green nails should be your thing! Also, dark green nails are one of the simplest and stylish nail designs. The dark green nails are the best march for you if you love looking trendy. Create a snowflake design on one of your dark green nails and you will definitely adore the look.
Dark Green Acrylic Nails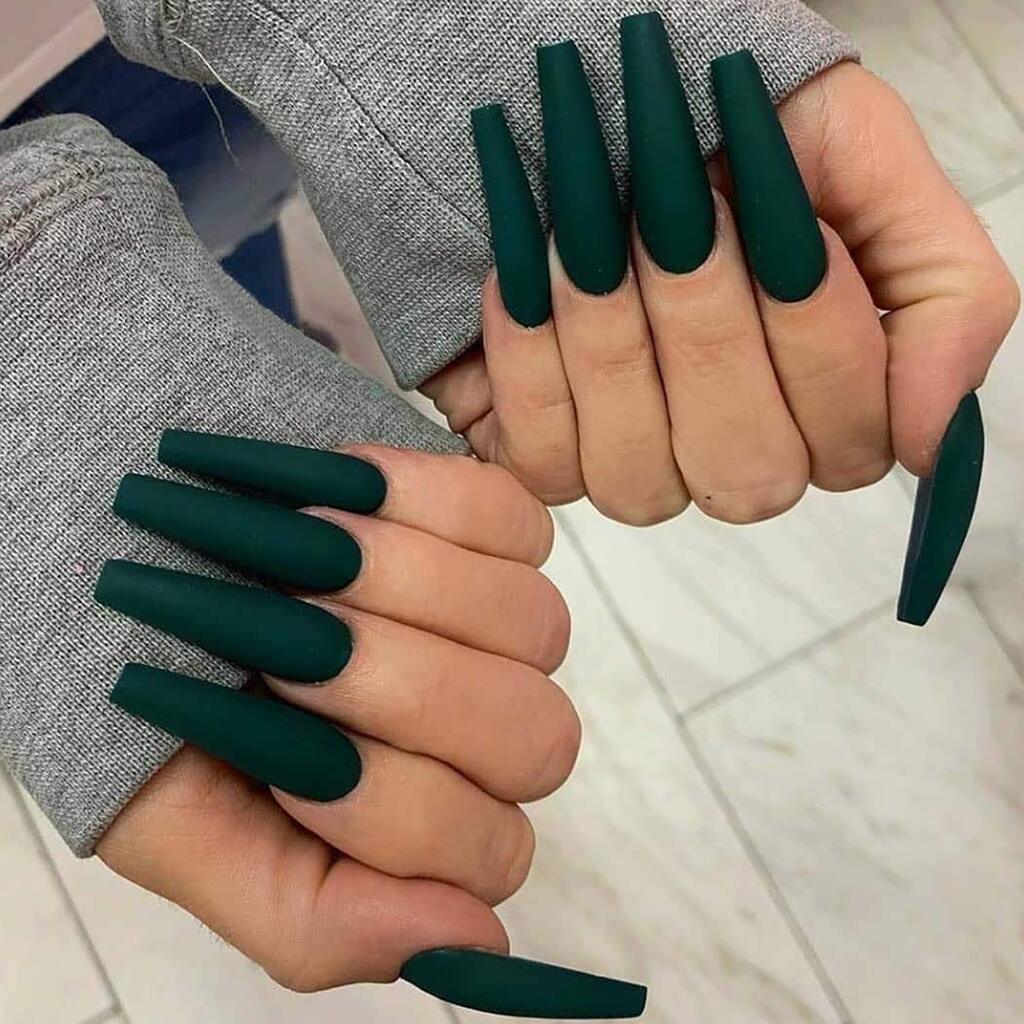 Acrylic is beautiful and when it comes to the dark green hue in the acrylic shade, it looks even more beautiful. The dark green acrylic nail is one of the best green nail designs that can completely take your trendy look to the next level. Just mix and match or wear it with a dazzle and you look extremely unique!
Green Stiletto Nails
The Stiletto Nails designs has an extreme feminism-specific and luxurious look. It is one of the best green nail designs that have a shiny gold polish. If you want to make this green nail design look prettier, just add a small golden bow with it and you will definitely be able to create a majestic look!
Green Squiggle
This asymmetric green nail design has the look of modern art. In this type of nail design, there is an extraordinary combination of two shades of green. If you want to create a stunning look for yourself, just start with a light green base and then once it's dried, all you need to do is use an ultra-thin striping brush dipped in lime green and you will see the magic it creates.
Emerald Plaid
Well, you can't deny the fact that the emerald plaid green nail design is something that can fit just perfectly for the holiday season. The strip designs different bright shades like red, green, gold, and silver make this nail design look extra festive! For creating this nail design for yourself, just start off with a green base and top it with the plaid-inspired colors that you love.
Jade Nails
If you think that a light green nail design looks good on you, the jade nails would be a perfect choice. This has a marble manicure look which can have a very sophisticated impact on your nails. It is one of the most swirling and bewitching creations when it comes to green nail designs.
Green and White Nails
Green and White nail is an effortless nail design that involves effortless painting. As we know that white is a neutral color and it can be easily clubbed with any other color, which surely adds freshness to it.
The green and white nails have a timeless and very classic appearance. So, unlike opting for any dark color, if you use green with a lighter shade like white, it will have an absolutely iconic effect for sure!
Another thing that is really exciting about this nail design is that you can play around with different patterns and stay creative with your angles and sizes if you for green and white nails. Just finish it with emerald lacquers if you want a luxurious look or go for a muted color like olive if you want it to be subtle. You will definitely end up loving this nail design.
Holographic Green Nails
How can you not love the holographic green nail design? The holographic green nails have a very high reflective appearance that makes them look absolutely amazing when light falls on them.
Moreover, the holographic green nail design looks fantastic on nails of all shapes, sizes, and lengths. Although, the longer your nails are, the better it is.
There is a high-shine polish in this nail design and that is truly a special feature about it. Because the polish is created with an extra pigment that gives a holographic look to it, this kind of nail design is trending nowadays. The holographic nails can be created using different colors but green is one of the prominent ones among them as it gives a fresh look.
This hue is a solid color, which makes it a perfect choice for all those women who like to look different in the crowd. Above that, if you want to add an overall effect, all you need to do is complete the look with your favorite shiny rings and we can vouch for the fact that you can't ignore the maximum attention on your hands!
Hunter Green Nails
This green nail design is truly an astounding one because of its dark yellow-green color. It got its name because this nail was and is still very common among hunters. It helps them create camouflage for their prey. Typically, hunter green is a muted shade that you have to pair with natural colors like browns and yellows so it creates the ultimate outstanding look.
If you plan to create nail art on hunter green nail design, pair it up with white and nude and it will definitely have an awesome look. It is a highly versatile green nail design that is easy to wear and you can try out this shade in different ways.
Moreover, whether you want to paint only one fingernail with this green nail design or try out negative spacing, hunter green nails are perfect for everything.
Neon Green and Black Nails
Often people confuse this nail design with forest green nails designs. Neon Green and Black nails are truly one of the best green nails design ideas. This combination is such a striking one that it will definitely help your hands get noticed.
If you are someone who loves bright colors, go for neon shades in green nail designs. It will surely help you create the most amazing contrast when you pair it with black.
The neon green nail design in combination with pitch-black is one such excellent nail design that needs a lot of confidence to pull it off. Wait! You have to be a little cautious while wearing this nail design unless you have very cool office rules.
In the opposite scenarios, it's better to avoid this bold nail design. However, you don't have any restrictions to create this nail design. Combine it with any color you want and be as creative as you can.
Emerald Green Marble Nail Design
The marble nail is a very classic form of nail design that goes well with any color. It is a very classic green nail design when combined with the brightest shade of green. It can be combined with emerald green nails to create an even more stunning look. You just need to paint one or two nails with the marble green nail design and others just have to be decorated with glitters, that's it!
Glitter Green Nail Design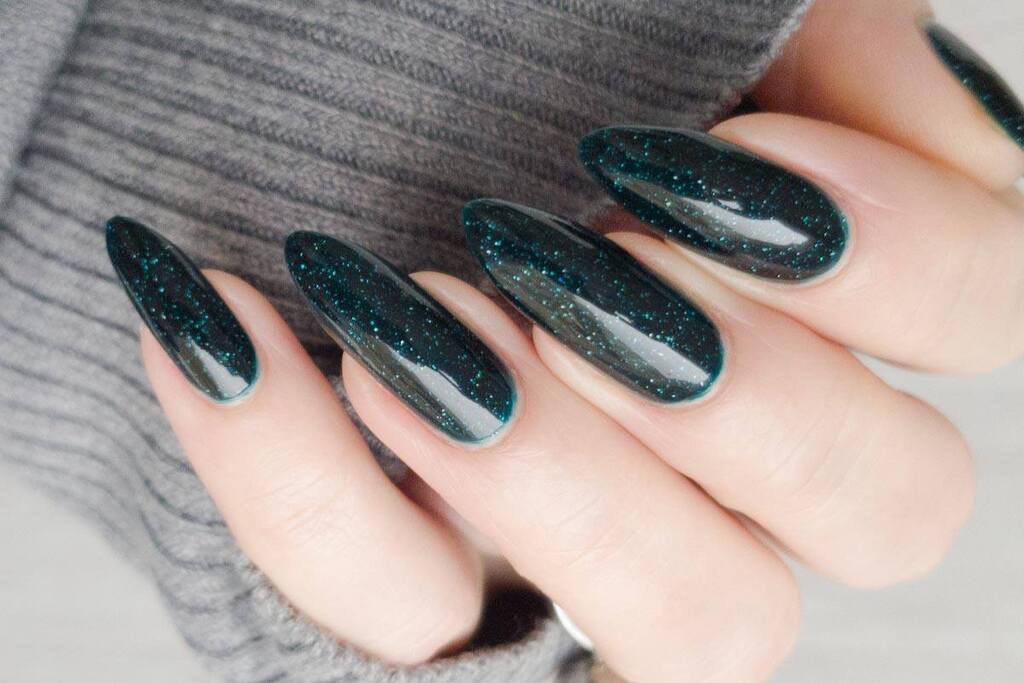 Glitter is always the best choice for the festive season. So, why not try out this beautiful glitter green nail design this Christmas? If you want a modern and bold look, go for this nail design and just decorate it with some rhinestones to give it an even brighter look.
Mint Green Glitter Nail Design
When it comes to green nail designs, don't just play with colors, you are open to playing with textures as well. All it takes is just combining a traditional satin applying nail polish with sparkling color and it will surely have a huge impact.
Lime Green Nails
The gorgeous lime green nail design is one of the best creations and brightest green paint that we have in store for you. When you create lime green nails, make sure you are decorating some melting tips with them and you will be able to take your manicure to the next level.
In a Nutshell
Green nail designs are vivid and dazzling!
We have discussed the fifteen most extraordinary ones. Try out these scintillating green nail designs if you are someone who doesn't care to flaunt yourself in the crowd and you will definitely see a remarkable effect.
Find out more:-