The holiday season brings a lineup of must-do events: decorating the tree, shopping, and attending Christmas parties. Whether it's hanging out with pals or dressing up for office gatherings, these celebrations are all about rocking your most festive and fun attire.

This year, expect loads of sequins, velvet, and jazzy holiday patterns. These Christmas dresses for women strike the right balance between glitz and comfort, fitting perfectly for any bash on your calendar. Worried about sticking to a budget? No problem! We've got you covered with a bunch of Christmas party outfit ideas that'll steal the spotlight without breaking the bank. And hey, your wallet's secret is safe with us!
1. MEROKEETY Women's Party Dress
The combination of 95% polyamide and 5% spandex makes this cocktail dress very comfortable and easy to wear. Easy to put on and take off, these Christmas party dresses have a square neckline, long lantern sleeves made of mesh, and a hidden zipper in the back. The ruched front and back, solid-color accents, and elasticized cuffs and shoulders make it both fashionable and functional. Its elastic folds accentuate contours and keep you warm on cold nights; it goes well with a leather jacket, sandals, and your favorite jewelry, and it will be the life of the Christmas party.
2. ANRABESS Sweater Dress
This sweater dress is crafted from a comfortable mixture of nylon, viscose, and polyester—an ideal combination for autumn and winter. It has a women's design and is tailored to fit. Get the perfect fit with the Christmas party dresses for women—it comes in sizes XS to XL and has a pull-on style that's easy to use.
This stunning item will keep you warm and glamorous with its figure-hugging cut, long sleeves, and stylish turtleneck. For a casually chic appearance, try it as a mini dress or with leggings and boots. It has a sleek form and is just above the knee length, which makes it seem leggy.
3. Dress the Population Plunging Fit and Flare Dress
Made entirely of nylon and embellished with eye-catching sequin lace, this fit-and-flare midi dress is sure to turn heads. It has a flexible lycra lining for comfort and a hidden back zipper for a seamless style. These Christmas party outfit ideas are form-fitting and have a stunning spaghetti strap neckline that is both daring and sophisticated. It's fashionable and high-quality. This show-stopper will ensure that you appear your best at all times.
4. Adrianna Papell Sequin Gown
This magnificent sequined evening gown is the perfect attire for your next special event. It oozes class and elegance because of its luxurious construction of 100% Nylon and 100% Polyester lining. This stunning gown has all the right proportions: short sleeves, a crew neck, a full, flowing skirt, and a zippered back with delicate detailing that will turn heads. Impressive train intricacy and all-over decoration make it one-of-a-kind for any special event. Wearing this stunning short-sleeve sequin gown with strappy heels and dramatic red lips will be sure to turn heads.
5. Women's Ribbed Long Sleeve Sweater Dress
For the next chilly days, try on this stylish and comfortable sweater dress. Featuring a soft and very elastic fabric, this red Christmas dress for women is available in different sizes, guaranteeing a comfortable fit. Feel free to go down a size if you're on the borderline. A solid hue, ribbed knit fabric, and charming ruffles at the collar, cuffs, and hemline make this one-of-a-kind design shine. This dress will be a great addition to your closet because of its flattering bodycon silhouette and mid-knee length.
Dress it up for a night on the town, dress it down for the workplace, or throw it on for a casual Christmas party. Wear it with your go-to boots for a chic winter outfit that accentuates your curves and welcomes the chill.
6. Allegra K Velvet Mini Dress
This velvet minidress with a star motif is perfect for the holiday season; it's 97% polyester and 3% spandex, so it's both comfy and stretchy. Its long sleeves and square neckline evoke a stylish, vintage mood, and the invisible zipper completes the style. This gorgeous fit-and-flare green Christmas dress is ideal for holiday gatherings or a night on the town.
For those with lower statures, it should hit just above the knee, while for those with larger statures, it should hit at the mid-thigh or higher. Beautifully highlighting your contours, the A-line silhouette stretches out from the gathered waist.
7. Alex Evenings Short Shift Dress
A pretty short sheath dress by Alex Evenings is made of a mix of fabrics: lining: 100% Polyester, top yoke and sleeves: 80% Polyester, 20% Spandex, bodice and skirt: 94% Polyester, 6% Spandex. The crepe fabric of this beautiful dress is both comfortable and fashionable, thanks to its softness and stretchiness. Elegant details like the transparent bell sleeves and embroidered illusion neckline make it stand out. It is an elegant and multipurpose item with a center-back length of 39.25 inches. Keep in mind that this dress will retain its pristine condition if you wash it by hand only.
8. Calvin Klein High Low Dress
Wearing this sheath dress will give you the confidence boost you need. This dress is the epitome of sophistication with its fitting knee-length silhouette and exposed zipper fastening at the back. Because it doesn't have sleeves, you may dress it up or down depending on the event. Featuring a modest but attractive design, this garment is ideal for professional situations thanks to tailored elements like the princess seam, which highlights the body's natural contours.
These Calvin Klein casual Christmas party outfit ideas are very adaptable; you can wear them to the office, out on the town, or just about every day. For a stylish and versatile style, try wearing them with sandals, blazers, or high heels. To keep this dress looking beautiful for as long as possible, dry washing is your best bet.
9. SOLY HUX Velvet Bodycon Dress
The SOLY HUX is a plus-size velvet bodycon dress with a tulip hem and a combination of polyester and elastane for very elastic, comfortable, and gorgeous fabric. This wrap-style, one-shoulder dress is asymmetrical, has long sleeves and a narrow cut that will put all your curves on display, and is one of the best plus size Christmas party outfit ideas.
With its sophisticated style and adaptability, this dress is a great addition to any wardrobe. Wear it for casual dates, club nights, parties, or just about any day. Whether you're heading out for the evening or just going about your daily business, this dress will keep you comfortable and in fashion.
10. ANRABESS Bodycon Short Dress
Wearing this stylish and functional sweater dress is the epitome of elegance and practicality. With its long sleeves, figure-flattering ribbed knit fabric, and crewneck, this white Christmas dress is available in sizes S–XL. An elegant touch adorns this sweater dress for autumn with its tie waist and A-line shape, which create a figure-hugging bodycon fit.
Its sleek silhouette and trendy crew neck give off an air of understated glamour while drawing attention to your alluring contours. This dress is perfect for any formal event, whether it's a wedding, engagement, family reunion, party, club, or dinner. This gorgeous dress combines comfort and flair, making it perfect for any event, big or small.
11. GRACE KARIN Maxi Dresses with Slit
This stunning sequined party dress will turn heads no matter where you go. Its one-of-a-kind style includes sequins, a split along the front, a sleeveless shape, and an invisible zipper. The figure-flattering bodycon wrap ruched skirt deftly tucks the stomach as the exquisitely fitted lines highlight the contours. You will be the center of attention in this sequined dress that is both comfortable and stylish.
The fabric is light and airy, so it won't irritate your skin. This dress is sure to get you praise no matter where you go. It's one of the perfect work Christmas party outfit ideas. You can make it work for every season by layering it with jeans, jackets, or coats; add shoes, jewelry, and a handbag for a stylish appearance.
12. MEROKEETY Lace Floral Cocktail Dress
Comfort and elegance come together in this midi-length lace dress, which is 65% rayon and 35% polyester. This dress is full of elegance with its slimming sheath silhouette, gorgeous eyelash lace pattern, and wide range of sizes (S–XXL). An elegant detail is the full-zip fastening at the back.
This Christmas cocktail dress works well for a wide range of occasions, including cocktail parties, date nights, weddings, prom, formal gatherings, and even casual wear. Machine washable for convenience, but best cared for by hand; no ironing required.
13. Adrianna Papell Linear Beaded Gown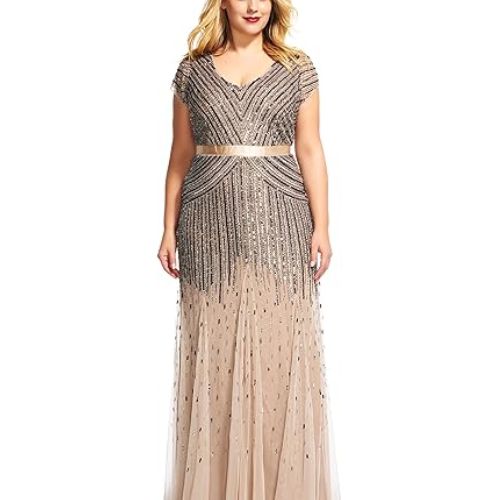 This stunning, all-Nylon gown is sure to turn heads at your next holiday party. The sequined cap-sleeve bodice is quite lovely, and the skirt flares out into a beautiful shape. With its beaded detailing, back zipper, and all-over ornamentation, this dress for Christmas party is perfect for any cocktail dinner or a romantic holiday getaway. With its knit structure and 100% polyester lining, this dress is sure to be both comfortable and stylish for any formal event.
Conclusion
The secret to looking and feeling great at a Christmas party is nailing the right attire. Think about the atmosphere and location of the party, whether it's more formal or casual. Feel free to experiment with joyful hues like green, red, or gold, and add some festive accessories to make it even more festive. And remember, ease is paramount! Being at ease will allow you to fully immerse yourself in the festivities without any concerns. Our Christmas party outfit ideas are here to help you get into the holiday spirit and make a statement at your next Christmas party.
Explore Further: