Christmas is all about having fun and creating memories with the family. Okay! I know there's more than that, like having a perfect Christmas decoration, gifts (the obvious ones), lots of amazing food, and a picture-perfect outfit. Well, when you thought about the Instagram perfect picture, there was indeed a click in mind. Right?
Exactly family Christmas pajamas edition! You might have followed this tradition for years. No? Don't worry, you can adopt one right now (I mean this Christmas).
Imagine waking up in the matching family Christmas pajamas on 25th December and opening gifts under the tree together! Won't that look picturesque? I guess this is the perfect definition of #familygoals.
Now when you are planning to get pajamas for your family, it is necessary to have something that can define you. If not that, at least it should be trendy. Here in this article, I have mentioned the best family Christmas pajamas that you and your family can wear. The list has everything, from personalized family pajama-sets to the quoted and plaid ones.
Funny Christmas Pajamas
"Only behaved and the least naughty one gets gifts from Santa." Remember this saying? My mom always used to taunt us with this statement so that we behave well. Do you get to hear this as well? Maybe, yes.
However, this year there was only one naughtiest kid in the entire world. Who? itself. This funny Christmas pajama set for family depicts the meaning in the perfect. You will spot every size available in the list, except for infants or newborns.
Red and Black Family Christmas Pajamas
You can never go wrong with red and black on Christmas. There are few classic Christmas color combinations that are timeless, and this is one of them. Here the t-shirt in the pair has an elk figure drawn on it with mommy, daddy, kids, and baby written on it. The raglan sleeves and plaid pants are the perfect sleepwear designs.
Matching Christmas Onesies for Couples
Why should a family with kids have all the fun? Even if you are just married, get your hands on these really cool onesies for you and your partner. This one is available in different patterns and colors. You can try Matching Silk Pajamas as a couple. As for size, you will get from XS (extra small) to 3XL. Get cozy and 'gram picture-perfect in these matching Christmas outfits.
Unisex Family Christmas Pajamas
Normally, all the family matching pajama sets are unisex, but you will get the specific ones in some. The one mentioned here has text on it, for adults: "Peace, Love, & Joy" and for kids: "Candy, Cane, & Cuties."
Family Christmas Pajamas With Dog
A dog is the most important family member. When you are planning for a matching outfit for the family you would have considered a dog as well. Here on the list will find many ideas that have a dog's outfit too. This one is the cutest and lovable of all (especially if you are a hardcore minion fan).
Family Christmas Pajamas Plus Size
Want to go basic yet chic outlook for the family pajama sets? Here's the right one for you! These family Christmas pajamas are also available in plus sizes like 2XL and 3XL. The pair of red and white striped pajamas with a plain red t-shirt is simple, but stylish in its own way.
Quarantine Christmas Pajamas
We all are going to spend Christmas in Quarantine only. The cases of COVID are rising rapidly, it isn't safe to go out and celebrate. Also, if you are planning a night-in or day-in Christmas celebration, why not wear pajamas all day long. These quarantine Christmas pajamas are a perfect choice.
Christmas Pajamas for the Whole Family
This Christmas slay in unison with the black, red, and white pajama set for the whole family. The full sleeve t-shirts make it winter perfect, but you will need to add socks to complete the look. The material of this PJ set is 100% cotton. Have a fun coordinated picture in your matching pajamas, post it across social media platforms, and see yourself acing the #familygoals.
Family Matching Christmas Pajamas
Wish each other Merry Christmas through outfits. This is 2-piece sleepwear with snowman printed pajamas, a t-shirt with three of them, and a 'Merry Christmas' written. The cuffs and neckline are of knitted material providing enough warmth.
Disney Family Christmas Pajamas
Get into the Disney vibes at your home and in the coziest outfit of the world. This Christmas pajama set for the family has Mickey and Minnie drawn on it.
Buffalo Plaid Matching Dog and Owner Christmas Pajamas
One more red and black pajama set on the list! These matching dog and owner Christmas pajamas have a buffalo plaid pattern giving them a festive look.
Christmas Tree Pajamas Family Matching Sleepwear
Imagine yourself looking like a Christmas tree on the 25th of December. No, I am not telling you to take part in a fancy dress competition. The sleepwear, or you can say jammies here, will make you look like one.
White and Green Matching Family Pjs Set for Christmas
Holiday loungewear for the full family, where the pajamas are green and white striped and tee are either plain green color or the same as tees. This one is available in two colors, green-white and red-white.
Merry Christmas Family PJ Set
Do you remember Olaf – the friendliest Snowman of Arendelle? The one in the Frozen movie! Let's get it on your tees as well. Just add a hat and muffler for the festive look. The pant in the set has a plaid pattern.
Quoted Family Pajamas for Christmas
Quoted tees are in trend, then be it in sleepwear or casual wear. So here I have added this one to the list too. Here the quote, "It's the most wonderful time of the year," is printed on the tee and has red & black checkered pajamas.
Family Holiday Pajamas for Christmas
Celebrate Christmas with your tribe this year. This family holiday pajama will allow you to say this perfectly. The pajama in the set is of buffalo plaid pattern in the classic color combination of Red and Black.
Flapjack Matching Onesies for Family (Including Dog)
Stripes and plaid pattern is the trendiest for the Christmas collection and you can never go wrong with them. Get this cute outfit with working flapjacks on the adult's outfit and a cute 'Tailgate' tag on the bum.
Matching Winter Holiday Pajama Collection
The winter-perfect holiday pajama set for the family. The print on the loungewear makes it perfect for the Christmas theme. The polar bear messed in the light resembling the Christmas tree but in white color.
Christmas Organic Cotton Pajama Sets for Family
The Christmas theme pajama from the Calla Dream store even beats the old navy's fitting criteria for one customer. The same overall sleepwear is all you need to slay the festive season in a matching outfit.
Black and White Plaid Christmas PJ Set for the Whole Family
This is the monochrome Christmas pajama version. The polar bear on the middle front of the tee is looking as cute as anything. The full sleeve tee with long pants is the ideal outfit that will give the total amount of warmth.
Family Christmas Santa Hat Tee and Pajama Set
The black outfit isn't only all-time-favorite-outfit it is also a timeless piece. The Santa hat printed on the t-shirt makes it look like Christmas-friendly sleepwear.
Santa's Favorite Christmas Pajama Set
Wearing this outfit will basically tell Santa that you are one of his favorites and maybe to all the other people around you as well. This one is an overall red color cotton sleepwear.
Fleece Matching Pajamas for Entire Family
The only one button-up sleepwear on the list. It is made of Fleece fabric that makes it even cozier. The checkered pattern and classic color combination make it festive-proof wear.
Candy Striped Family Christmas Pajamas Set
As said in the above points, the stripes are one of the trendiest patterns of Christmas. Here the entire sleepwear is printed with candy stripes. The green piping on the edges gives it the stylist and elegant look.
Family Christmas Light Pajama Set
You can light up this festive season with the Christmas light pajama set for the whale family. Ohh! Yes, the printed ones, not the wired and real ones. Haha! You might actually lit up. (Sarcasm Intended)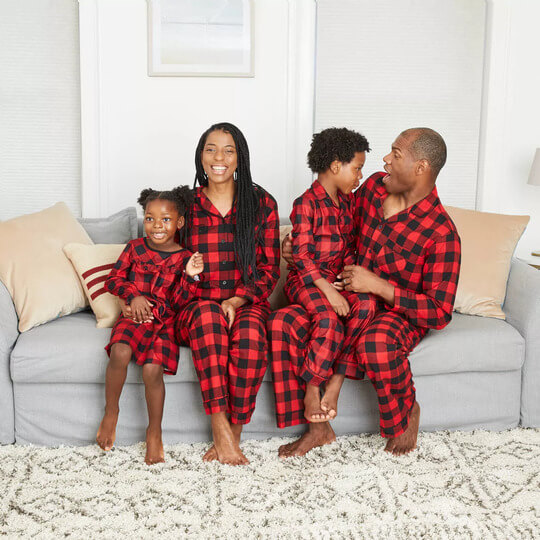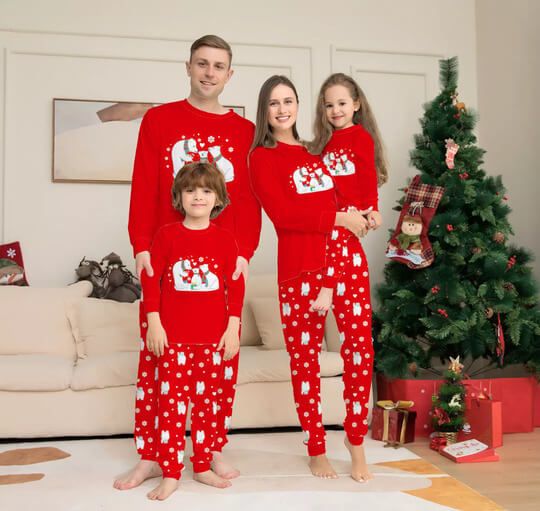 Wrapping Up:
So, these were the trendiest and most stylish products for the Family Christmas Pajamas edition. While curating this list, I had to control myself from adding it to the cart. They look so cute, funny, comfortable, and cozy, even in pictures. The real will definitely steal my heart.
For additional insights:-