Who doesn't love braids? They are an efficient way to keep your hair away from your face! We all know about braids, as they have been in trend for the past few years, and will still be here with us. However, you might not be knowing that they are with us for a very long time. Hence are sometimes known as Tribal Braids as well.
So, whether you want a sexy look, a classy one, or the nerdy one, tribal braids got your back. Before we move ahead and look at some of the best tribal braids hairstyles, let's first see what it is! 
Tribal Braid Quote: 
"Invest in your braids, it is the crown you won't ever take off!"
What are Tribal Braids?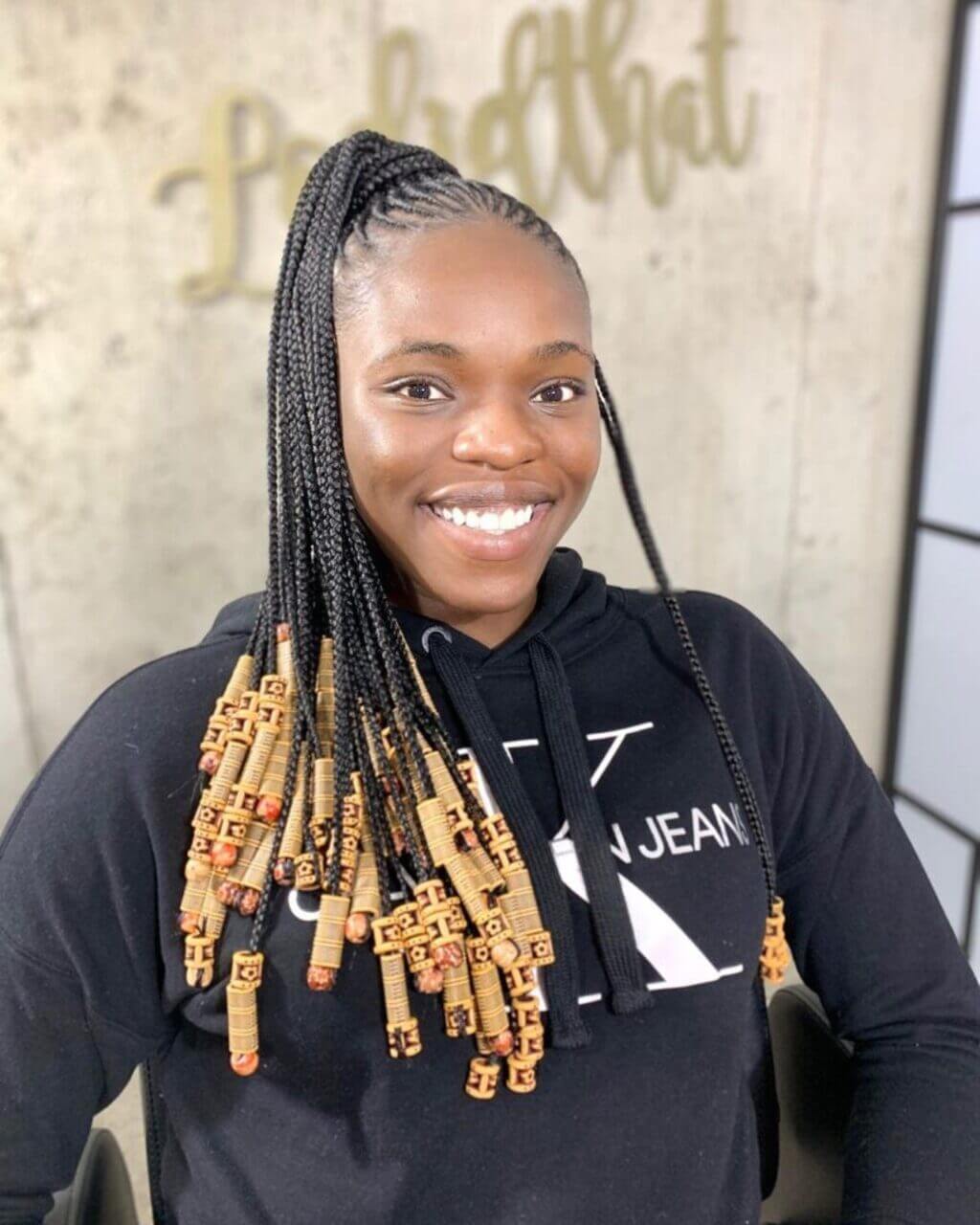 Source: zaineey.com
The tribal braids have their origin in Africa and are a part of the culture over there. The tribal braid is a type of braid which has sub-types as well. Tribal braids are the ones that you can design and organize with different accessories and patterns. A few tribal braids are Ghana braids, Fulani braids, and Box braids. 
Have you got a hang of what tribal braids are? Now, let's move ahead and look at the trendy, chic, and hottest tribal braids that you can try in 2022.
19 Tribal Braids Hairstyle Ideas
Keep your heart at bay and hold up on your device, you might want some of the braids to try right away. However, hold the urge, you can always bookmark this page and come later to try it on! For now, just go through the best tribal braid ideas for your hair.
1. Classic and Simple Tribal Braids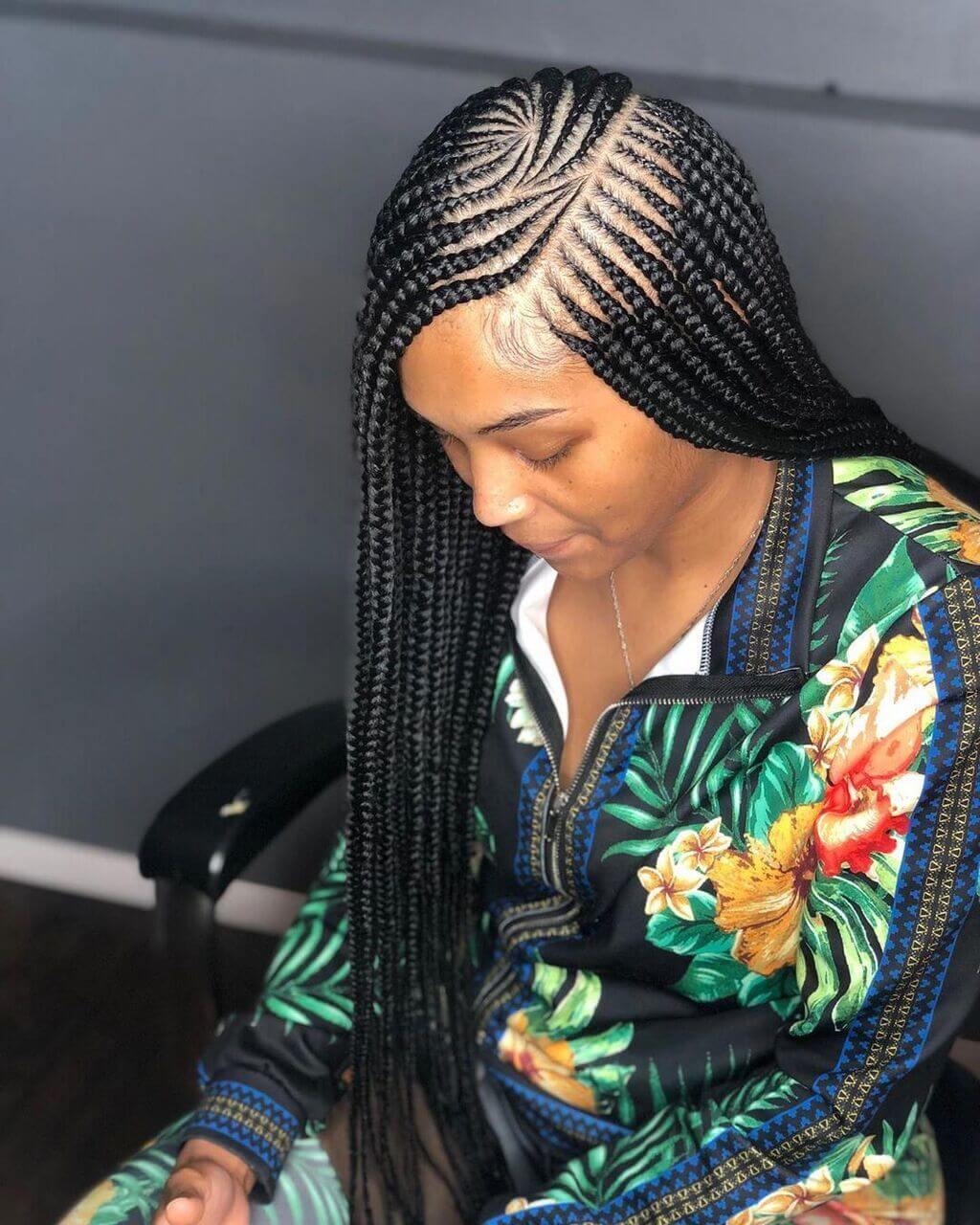 Source: pinimg.com
Let's start off with simple yet classic tribal braids that you can do. As in the image, it is easy to look at and do. All you have to do is keep your hair cream and tail comb ready. Make the sections and their sub-sections, now pick the hairs cream well and start braiding. So the same thing around your hair and you'll have this look in a few hours.
2. Fulani Tribal Braids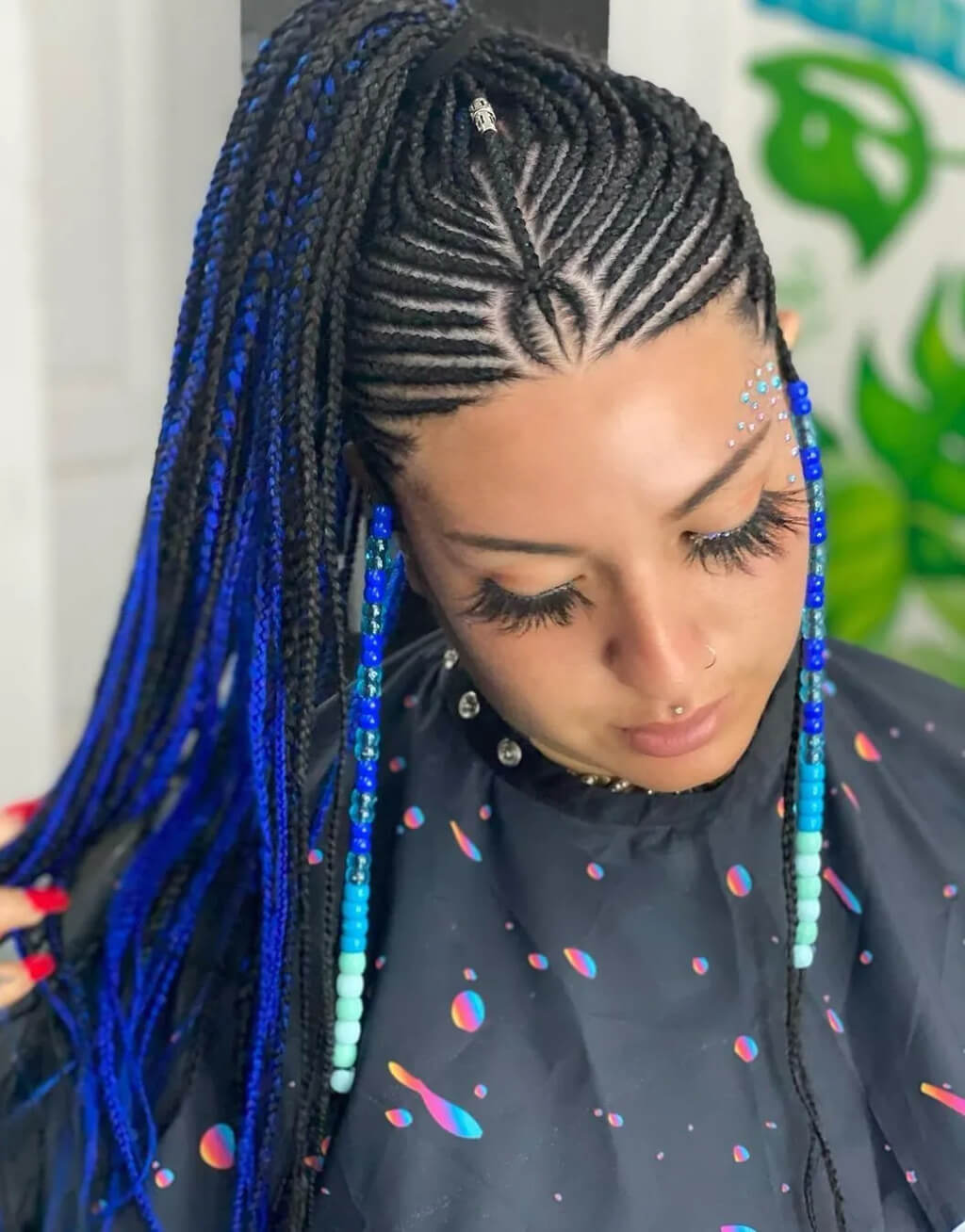 Source: wp.com
Fulani braids were introduced to the world by Fulani people and it was passed down from generation to generation. Tribals are simple, however, for Fulani tribal braids you'll have to do cornrow braids and the direction can vary as per your choice. You can go from front to backside or either way around. 
3. Long Tribal Braids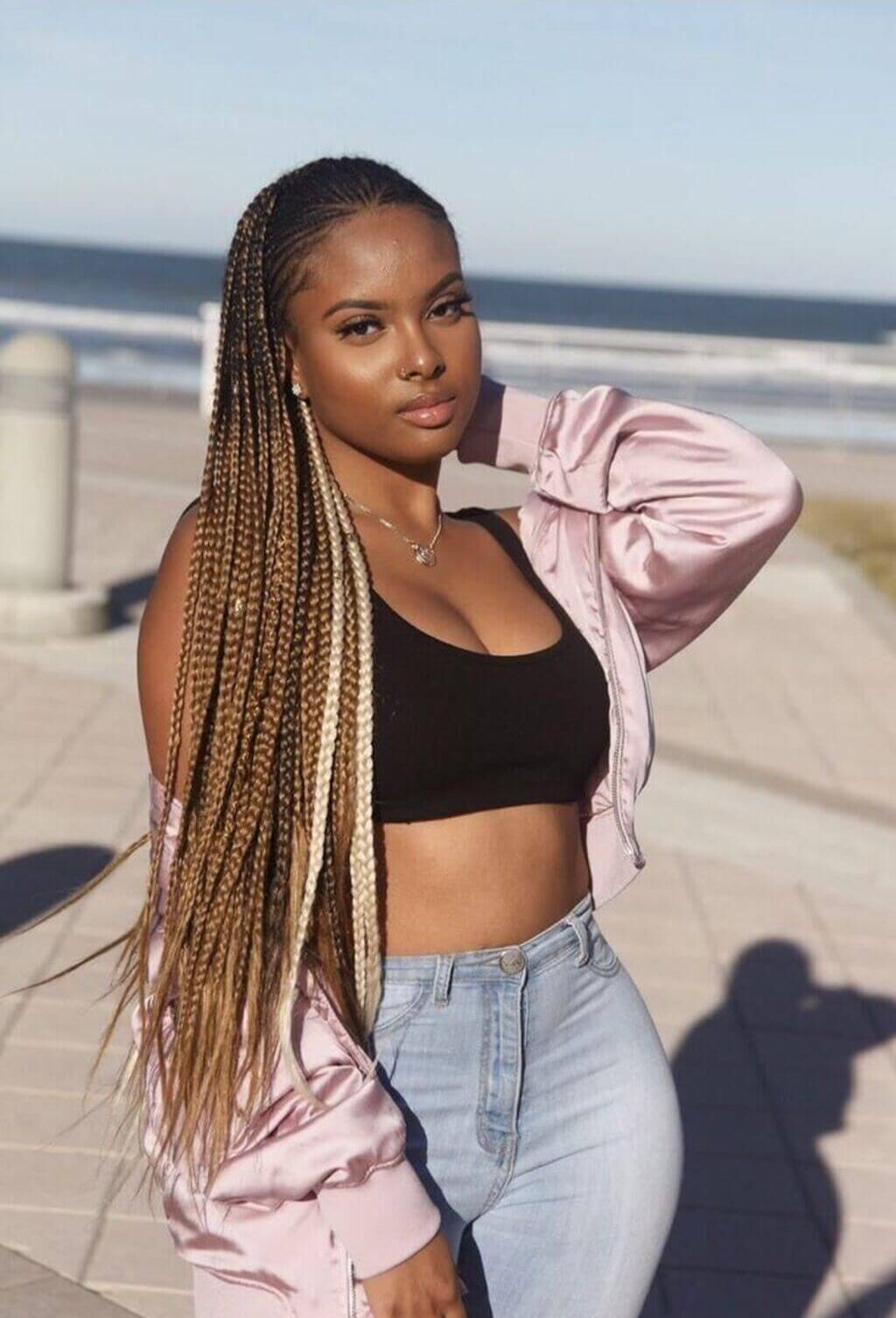 Source: pinimg.com
Braids are one of the protective hairstyles for black hair or any hair. So, if you have long and unmanageable hair, long tribal braids can rescue you. You can either go for a simple one, the Fulani one, or half braid and a half left as it is! The choice is yours.
4. Short Tribal Braids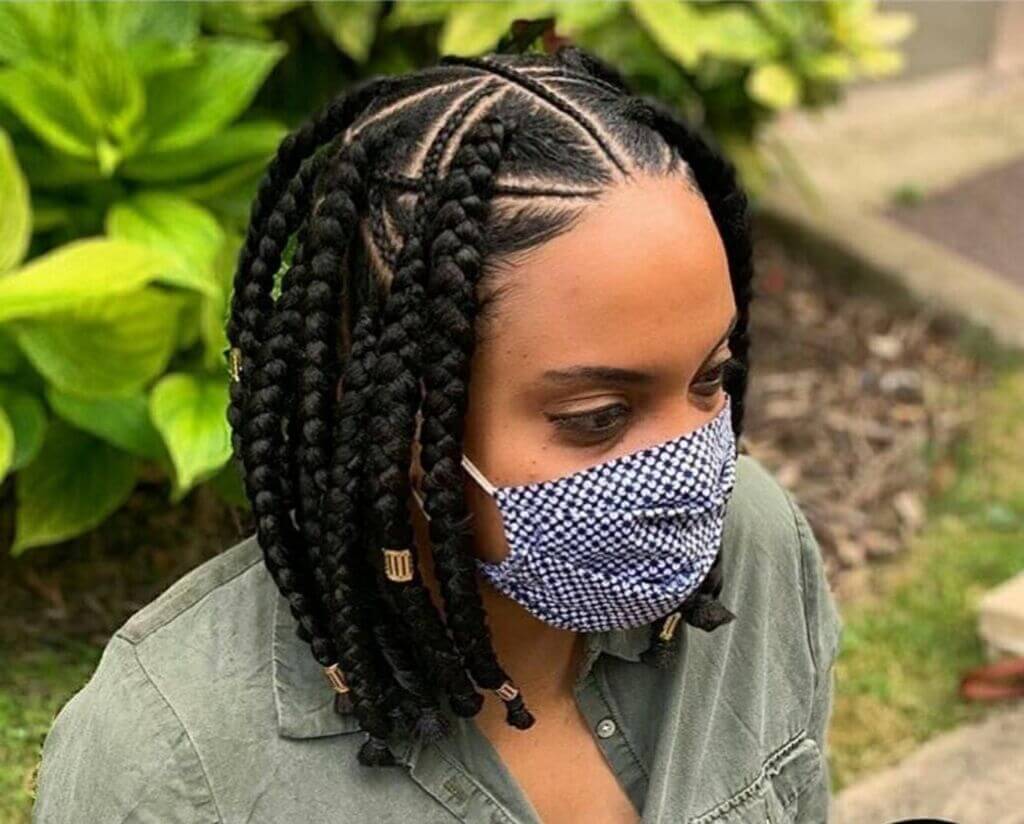 Source: pinimg.com
Even if you have short hair and you need to look modern and classy chic, go with the short tribal braids. You grab the attention of everyone around you and add a few accessories to your hair like beads, cords, silver coins, etc. if you are not an accessory person, you can also go with tribal braids with a heart or any other pattern for a chic look.
5. Ancient African Braids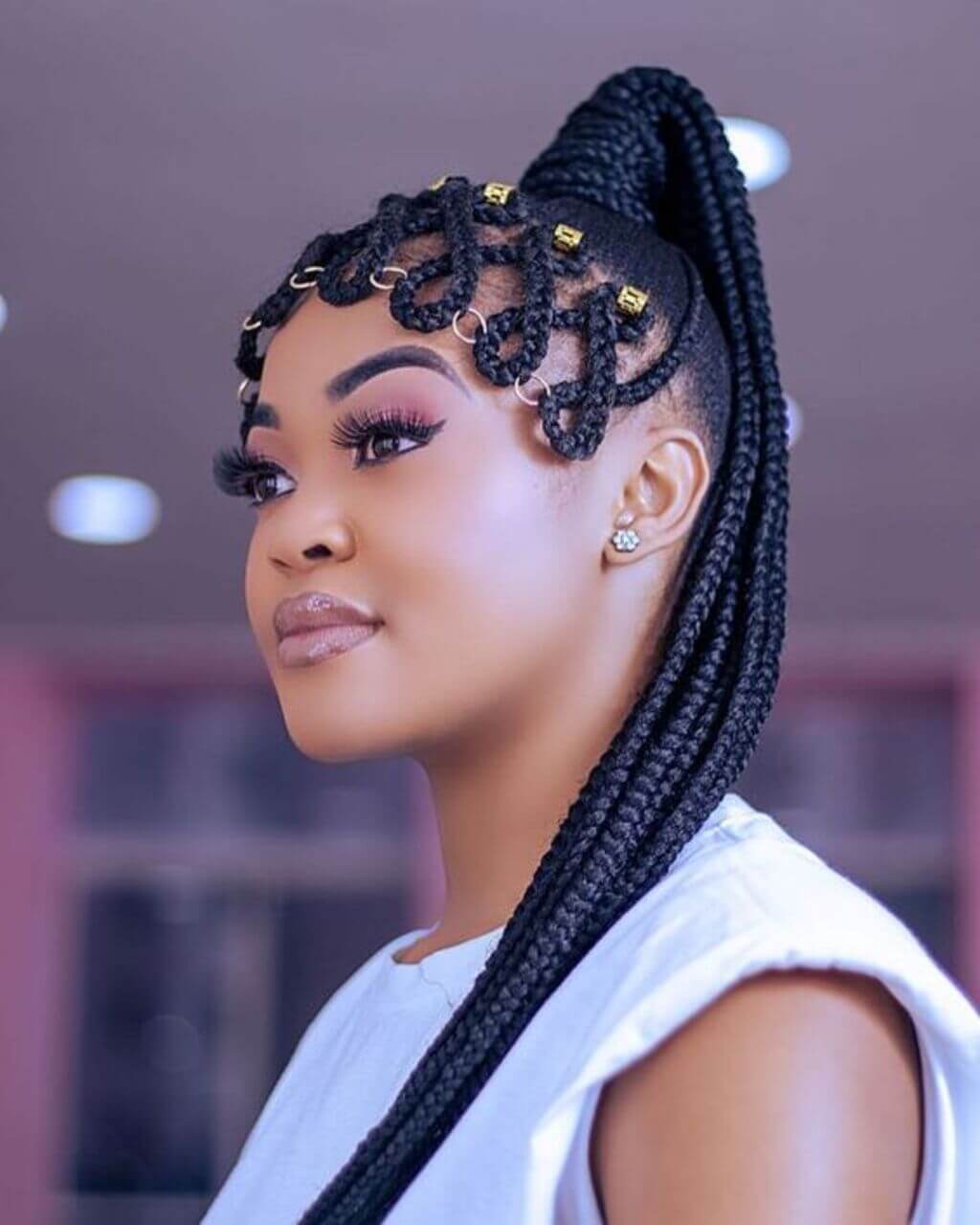 Source: pinimg.com
You might have seen this hairstyle in ancient African movies adorned by the queens and princesses. Well well, now is your tie to be one! It is a bit tricky to get African braids done by yourself. I would suggest going with a professional hairstylist and letting him/her do the magic for you.
6. Tribal Braids with Beads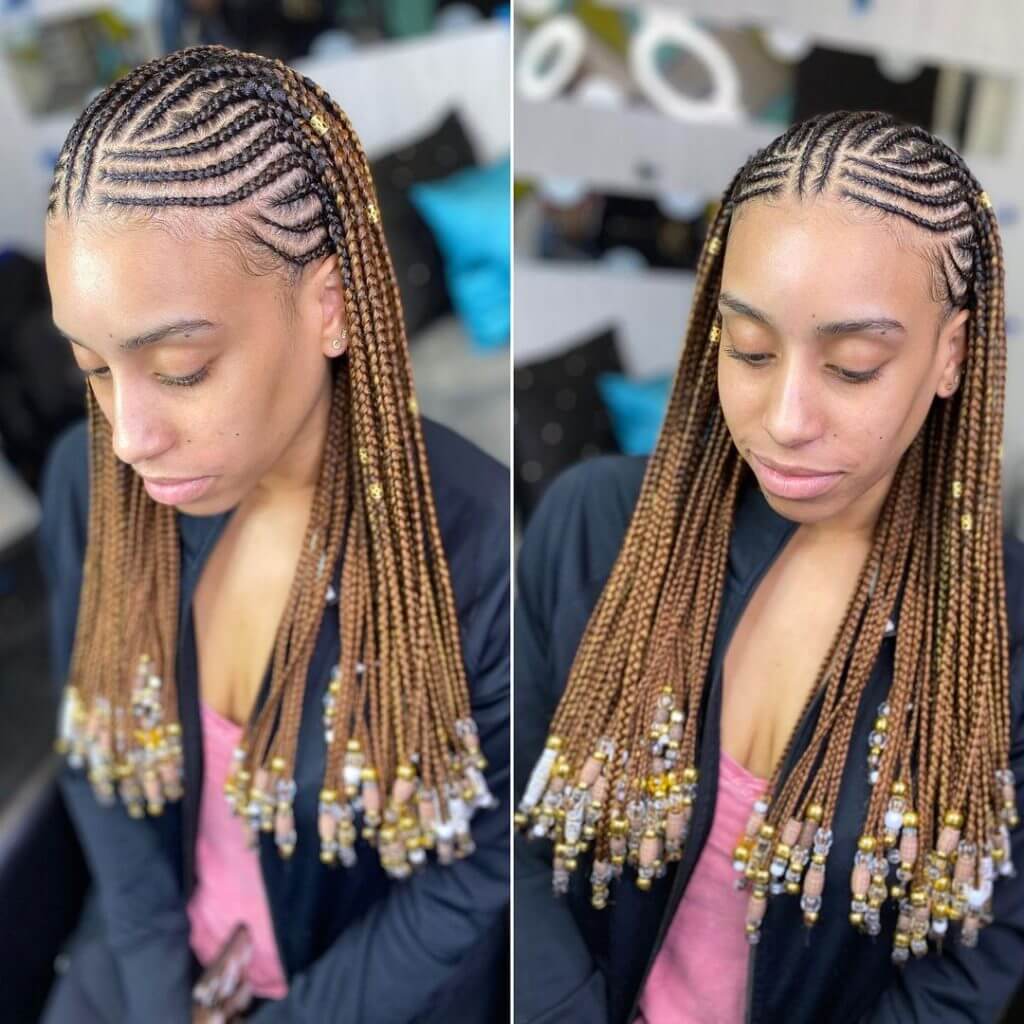 Source: maboplus.com
Tribal braids were known for their look and accessories. Among all, beads were loved and famous. This look goes with every occasion, be it a wedding or a spinster. Also, it is not much of a hassle either. How? You just have to add the beads before completing the braid and secure it. 
7. Woven Tribal Braids
Source: unileverservices.com
In ancient times, Africans used to braid yarn thread along with the hair to get that quirky and attention-grabbing look. They didn't only look gorgeous but also made women stand out among others. You can either go for one color or take inspiration from a unicorn. The choice is yours to make!
8. Patterned Tribal Braids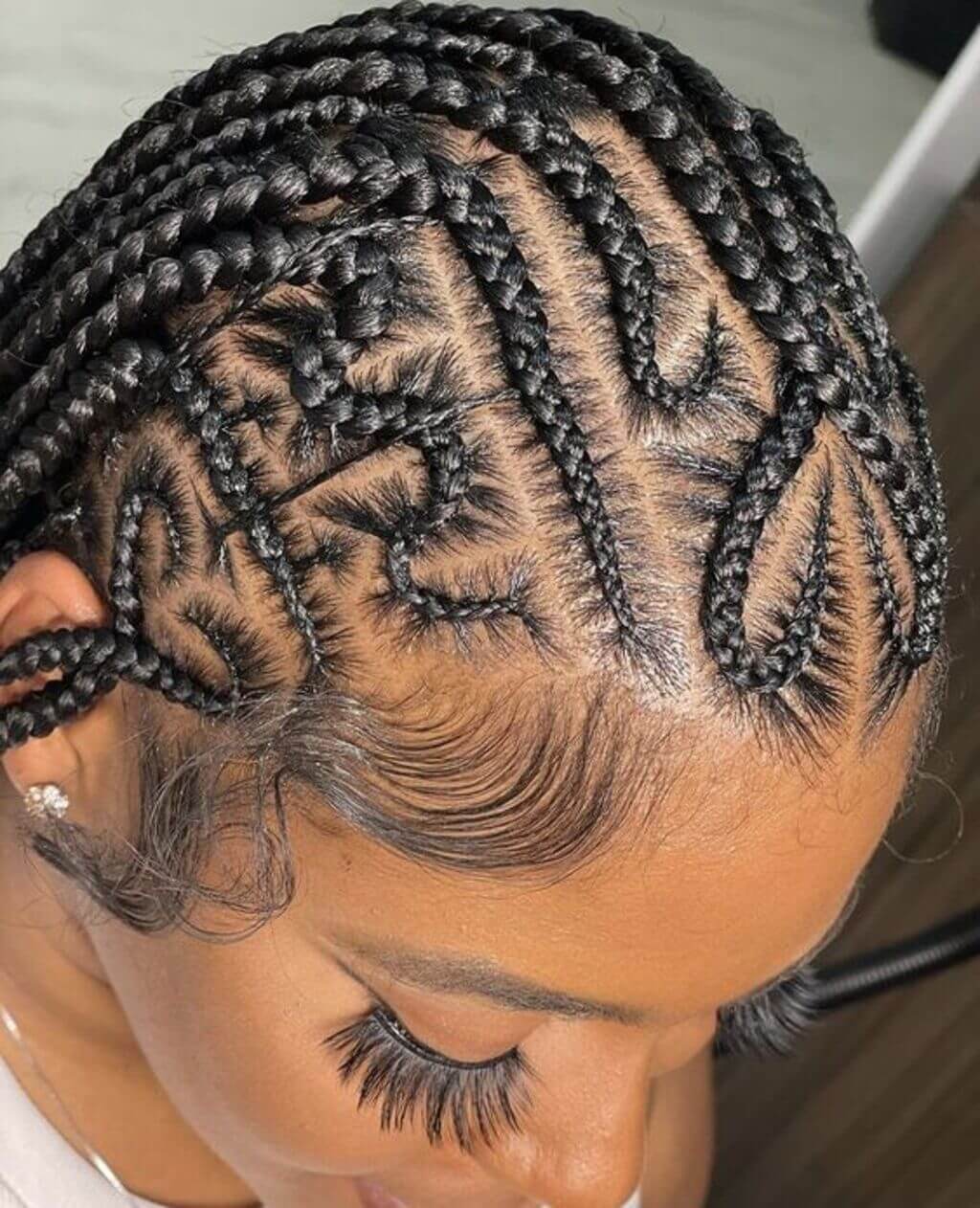 Source: pinimg.com
You see, how many patterns are there in this braided hairstyle? Yes, you can create tribal braids with heart shapes, snake shapes, zigzag lines, or any pattern you want and it will still look cool. Try this out and let your friends gasp in awe.
9. Crowned Tribal Braids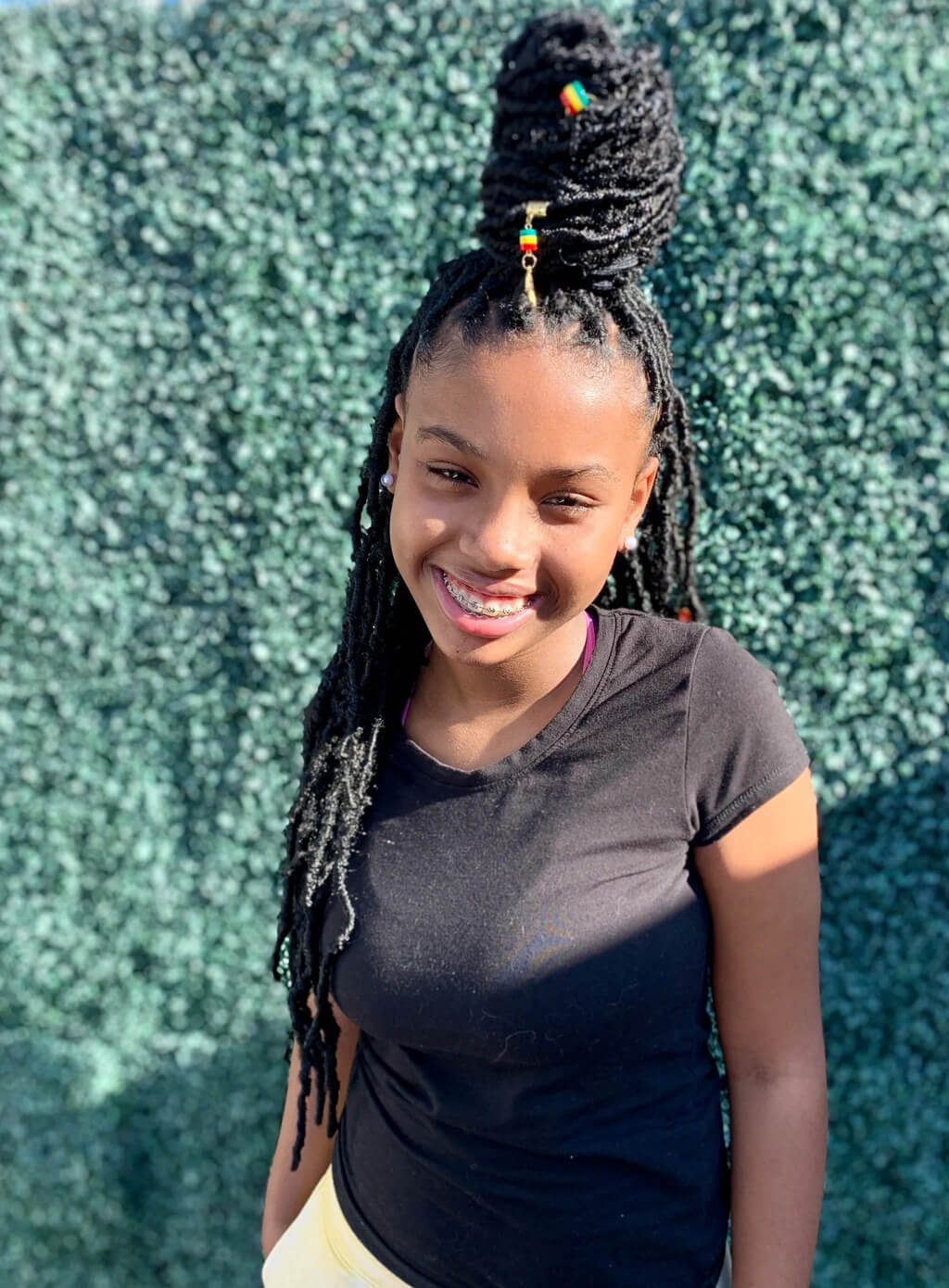 Source: wsimg.com
To achieve this royal look, all you have to do is braid your hair completely. The next step is to take the upper half braids and make a bun, secure it with bobby pins and you're good to go. Yes, you have to leave the remaining braids down. It is also a half-up half-down look in braided hair.
10. Highlighted Tribal Braids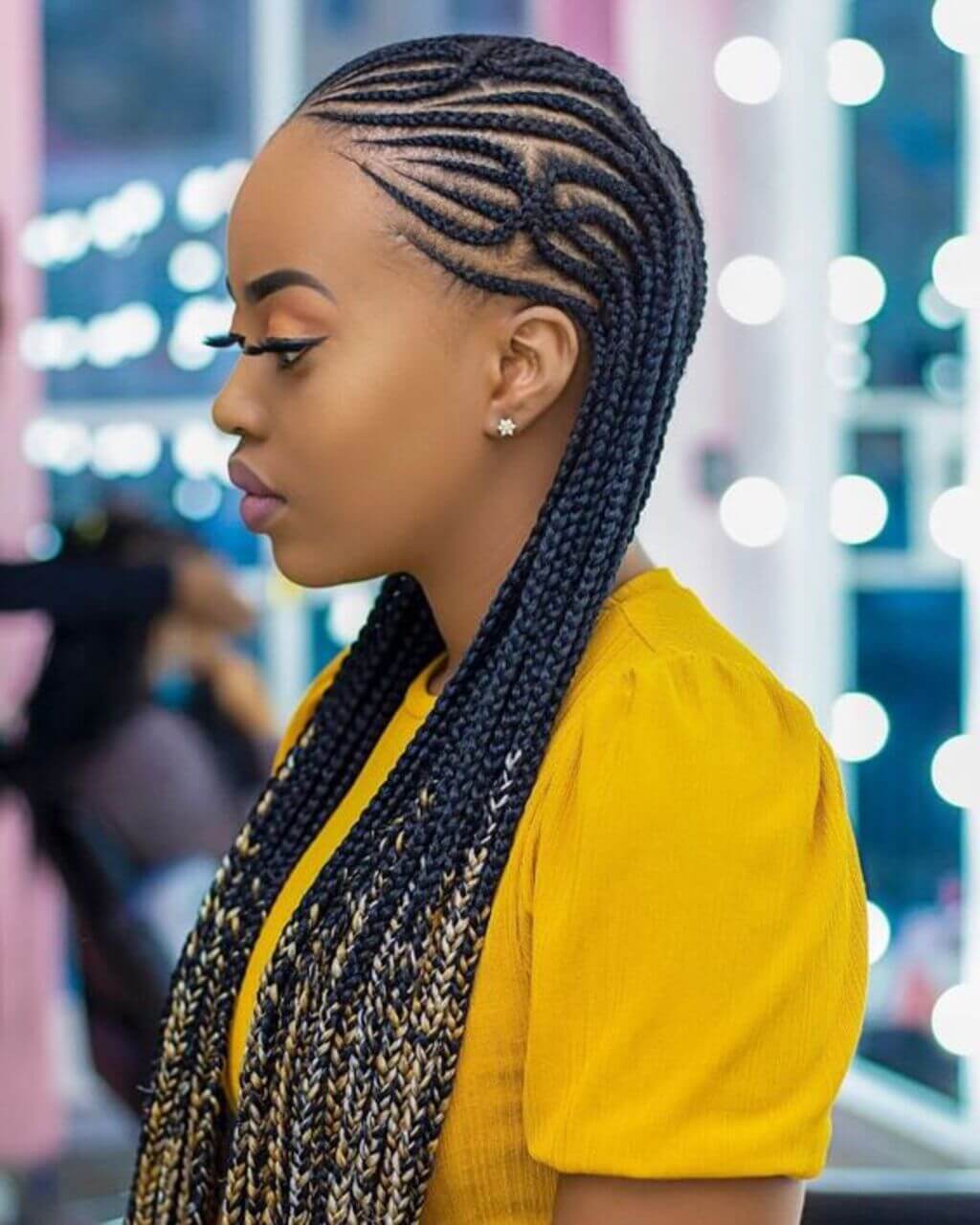 Source: pinimg.com
Pick whichever braids you want to go with, be it Fulani, Ghana, or box, you can recreate this look only if you have highlighted hair. The first step for you is to get your hair highlighted and then move ahead with the highlighted tribal braids. You can wear this hairstyle to college, the workplace, or even friends' outings, it will make you look gorgeous.
11. Tribal Braids with Bun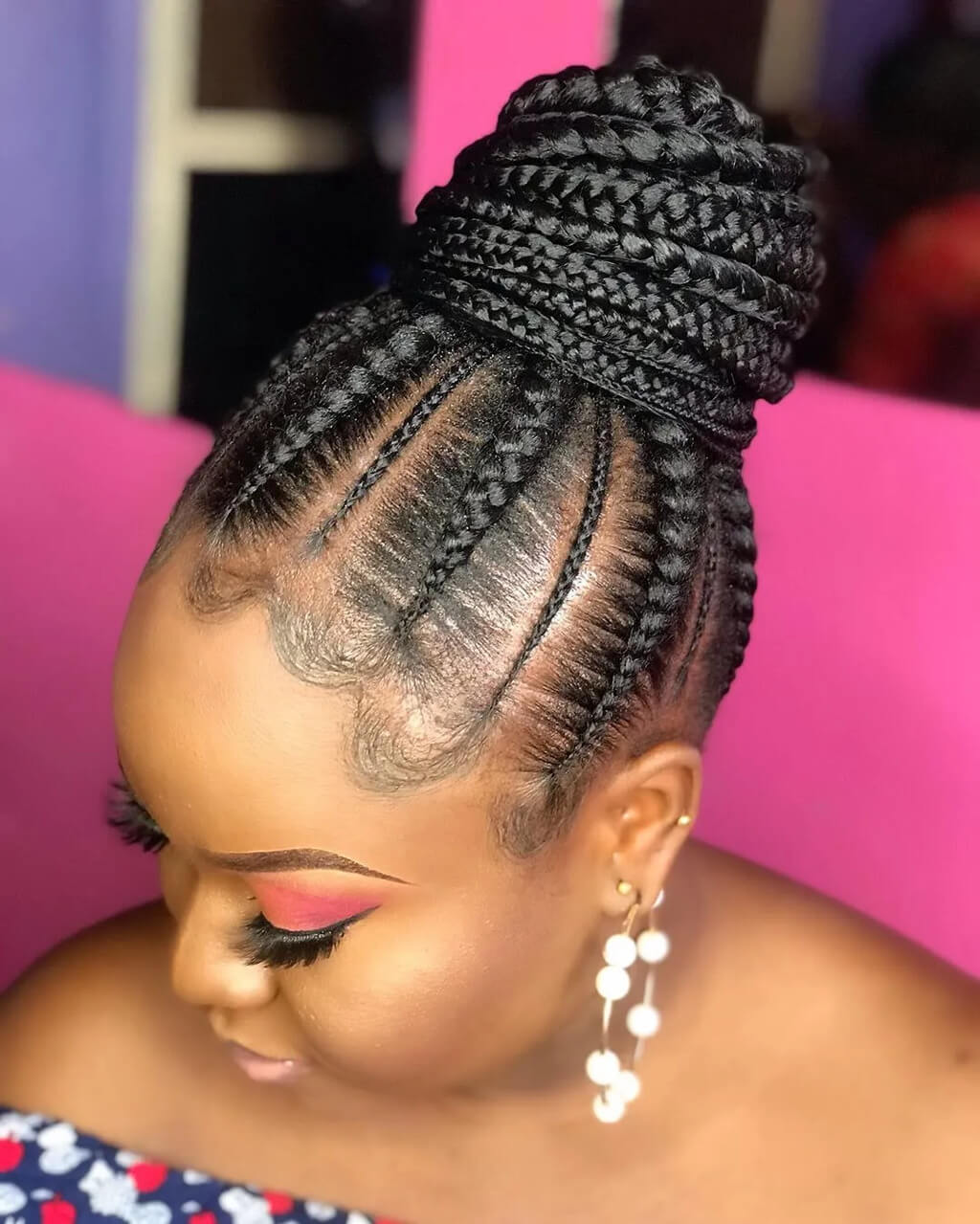 Source: wp.com
Open braids also kind of irritate you? Then, my friend, these tribal braids are for you only. Once you have completed the simple tribal braids, all you have to do is tie them all in an upper bun. Tada! You have a tribal braid bun to slay. Make the bun cautiously not to pull your hair harder and you feel pain on the scalp.
12. Ghana Braids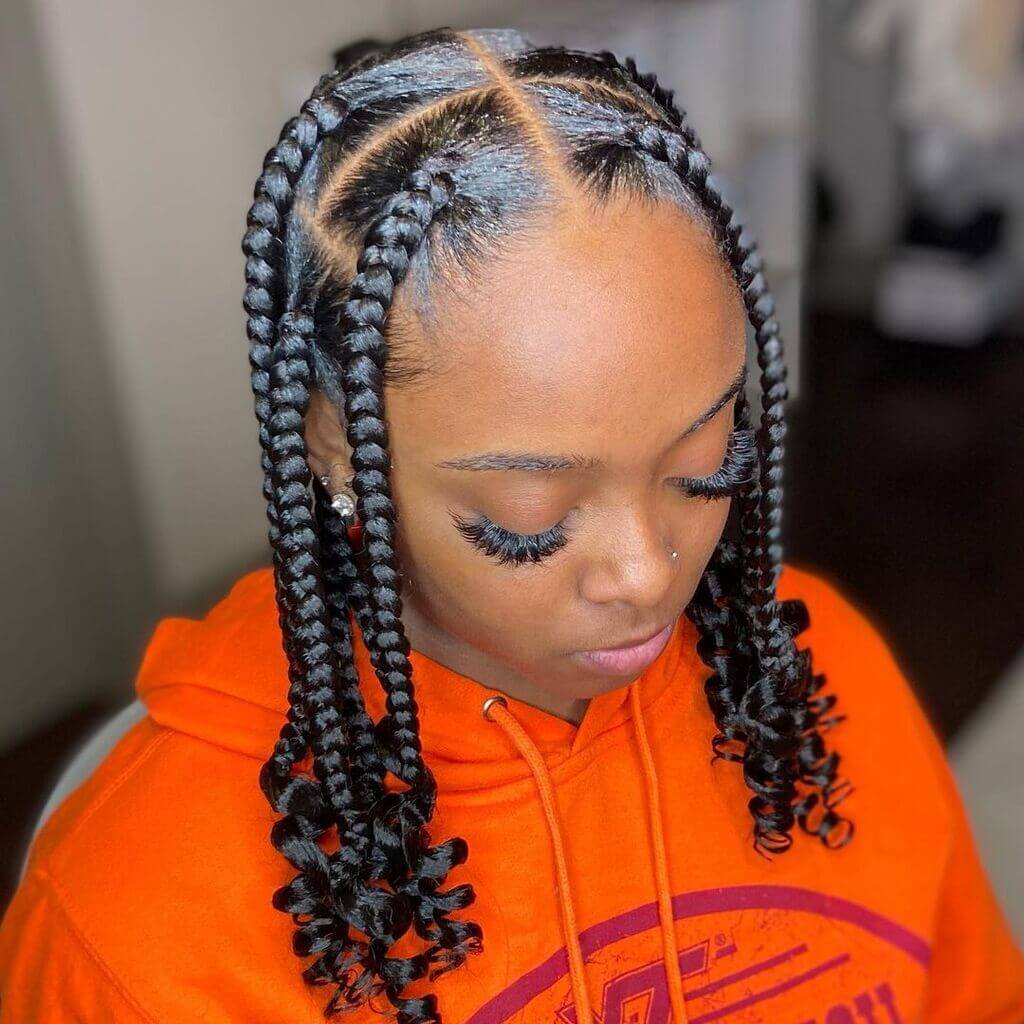 Source: pinimg.com
Another one of the popular tribal braids is the Ghana braids. The origin of it is mentioned in the name only, Ghana! The ghana hairstyle is straight back braids or cornrows. You can add accessories if you want, or else the Ghana braids with extensions look just fine.
13. Box Braids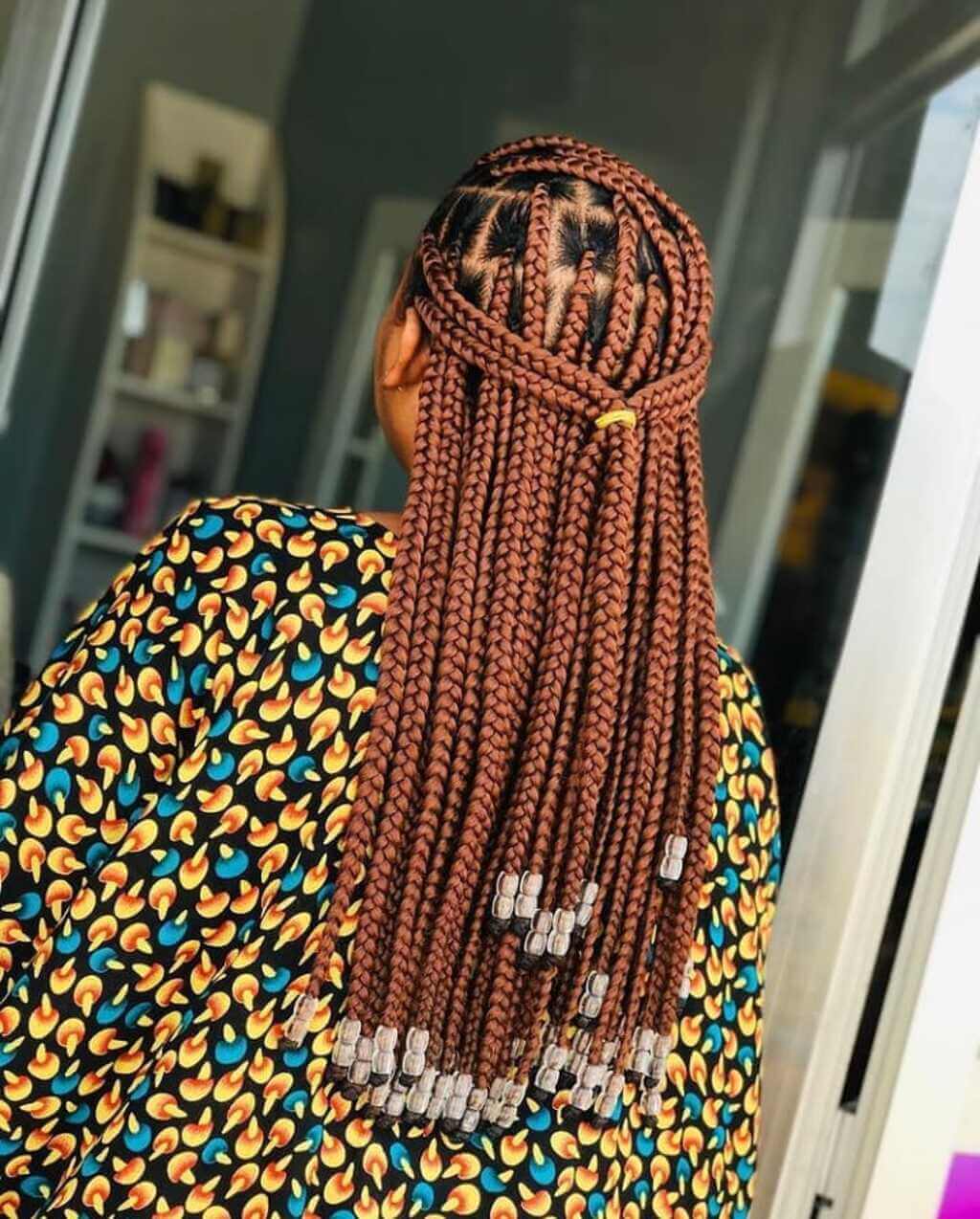 Source: kadosh.ng
Another one of the popular braids is the box braids. The name itself suggests what they look like. They look like boxes on the scalp and the hair is then braided till the end. To add more definition and charm to your hairstyle, you can also go with the beads and other accessories. 
14. Accessorized Tribal Braids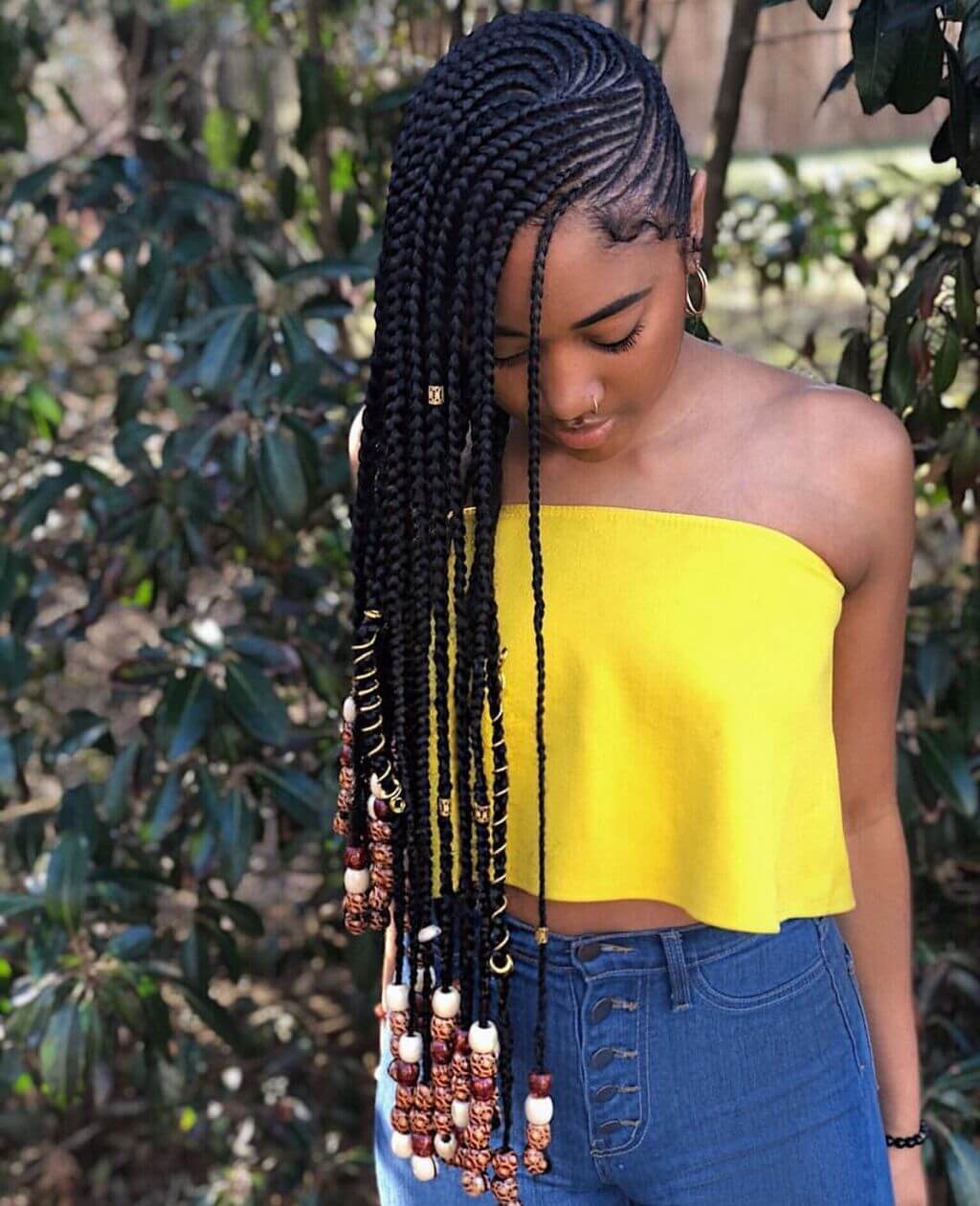 Source: pinimg.com
Till now, we have read too much about the accessories on tribal braids, that I think it is useless to explain. The tribal braids with accessories are mostly favored when someone has to attend any specific event like weddings and other festive seasons. They add a pop of shimmer as well as glam to the hairstyle.
15. Side Part Tribal Braids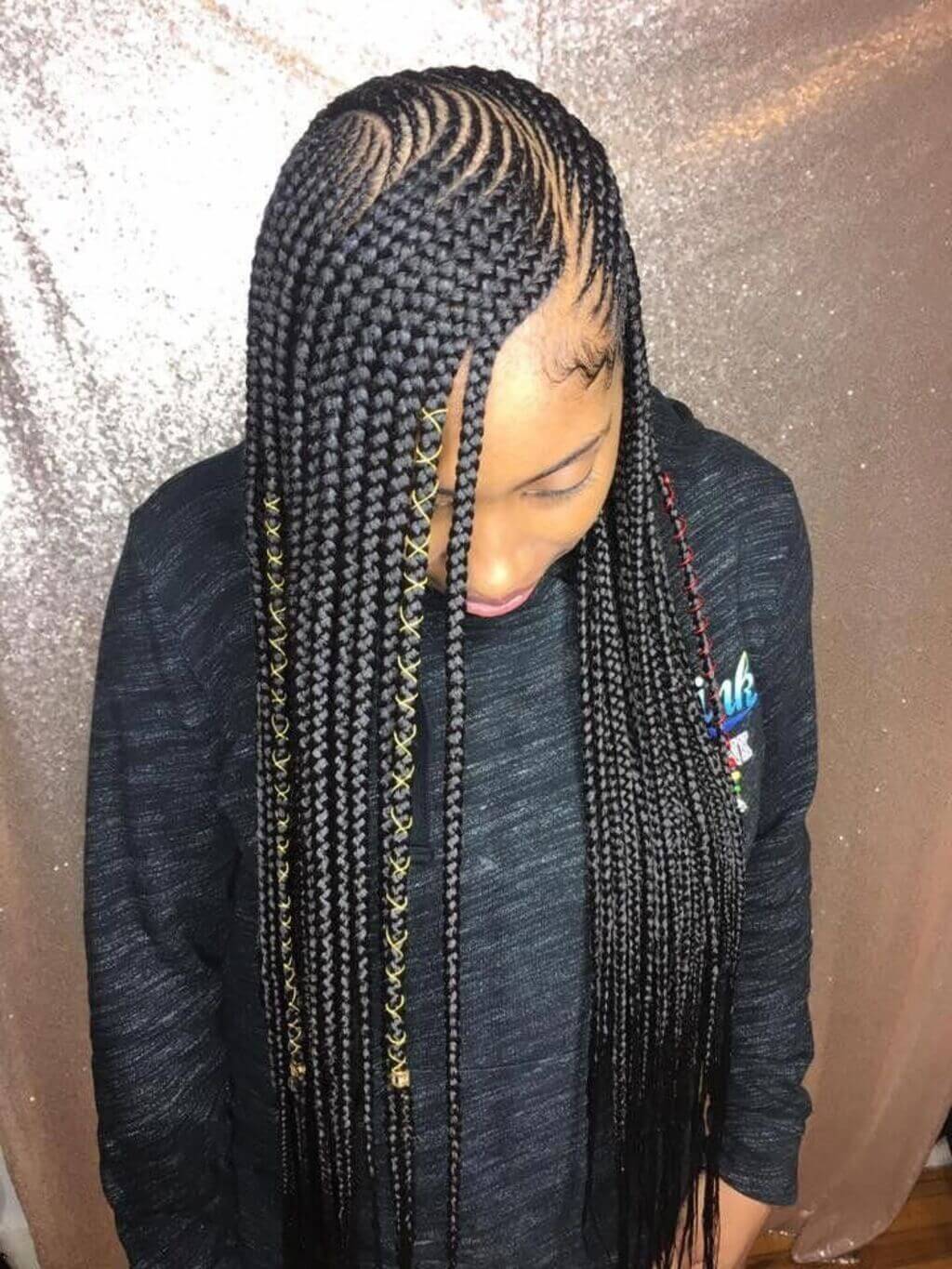 Source: pinimg.com
The side part tribal braids are not as simple as it looks. You will have to give a side part to your hair before starting a hairstyle. Now, from there each side of the braids will go straight down towards the respective sides. With this, you'll get a side part tribal braids. Similarly, you can also do the tribal braids with middle part as well.
16. 3 Layer Tribal Braids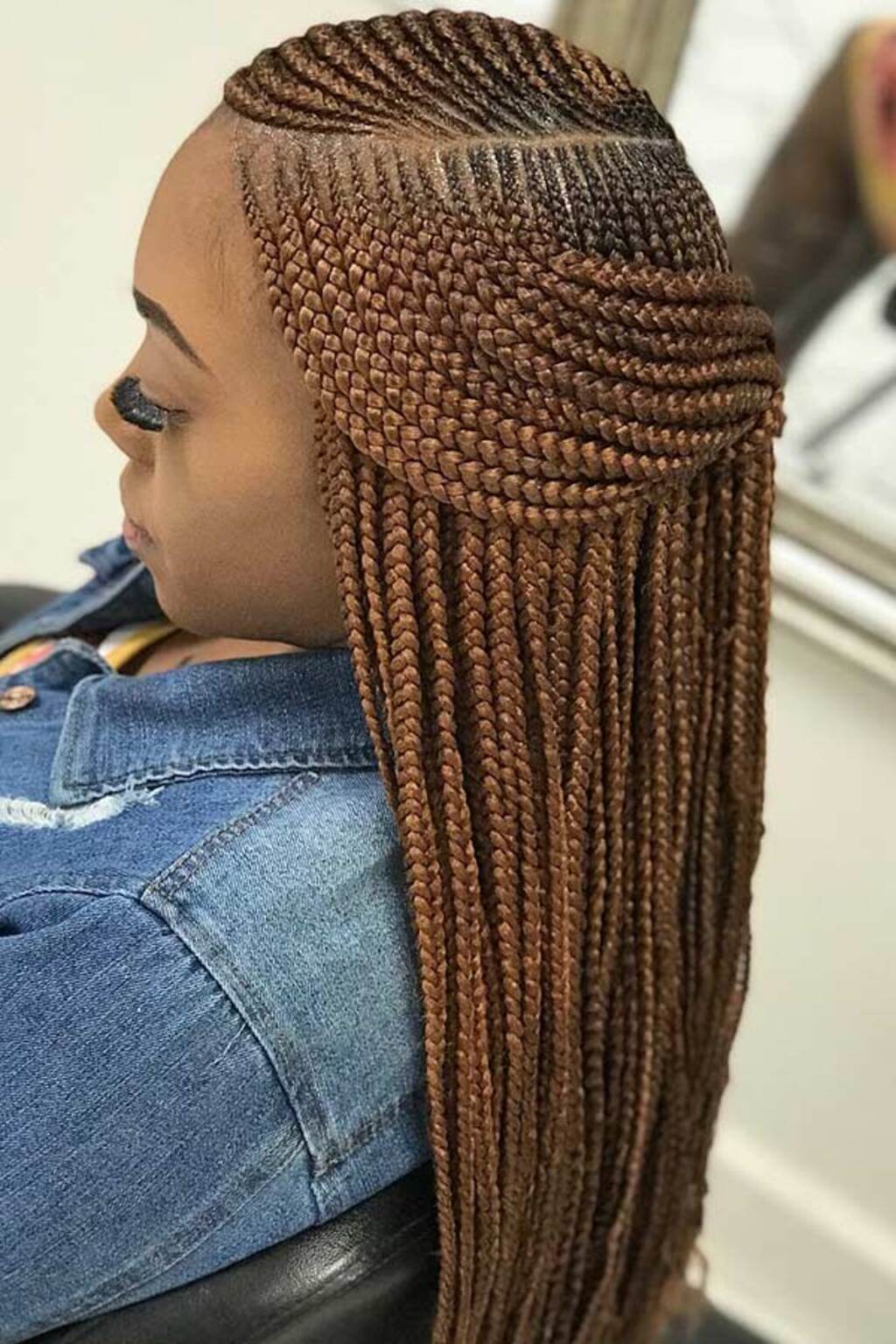 Source: stayglam.com
It is all about layering. Part your hair into 3 layers and then start braiding your hair. You can create this look with any of the above-mentioned tribal braids ideas. The 3 layers can be in any direction you want. If you want to create one layer on the right, another on the left, and the last one at the back of the head, do it. You'll get a result like the one in the image. 
17. 2 Layer Tribal Braids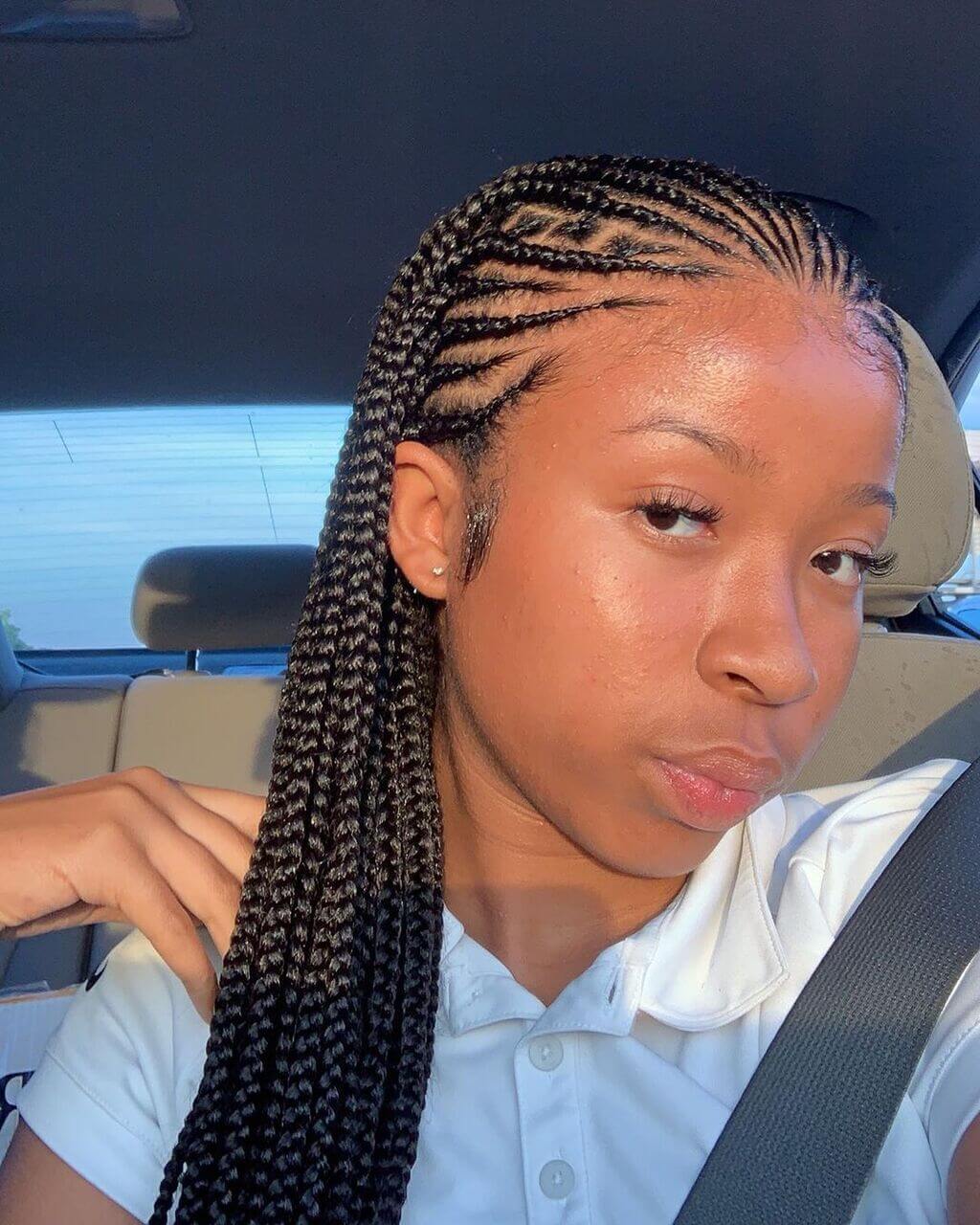 Source: pinimg.com
Just like the 3 layer tribal braids, you can do it in 2 layers. I would suggest going for the diagonal part, or triangle at the top and one line at the back of the head. Be creative with the design and you'll have amazing 2-layer braids.
Also Read: 15 Knotless Box Braids Hairstyle to Make Stunning Look
18. Jumbo Tribal Braids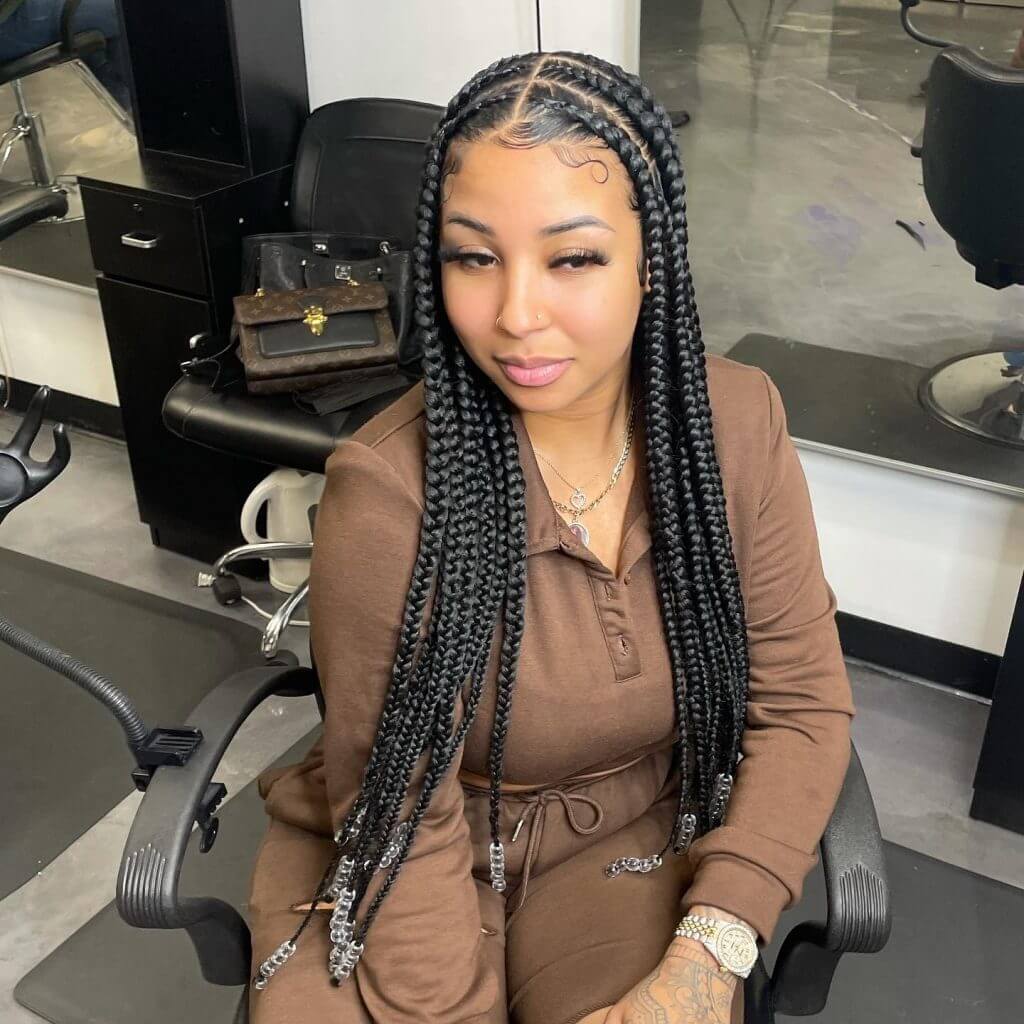 Source: kadosh.ng
You can also call these jumbo braids Pop Smoke braids. The rapper actually has given the hair goals with his classic jumbo tribal braids. This beautiful hairstyle is not gender-specific, so men and women both have tried this hairstyle, you should try it too!
19. Tribal Braid Ponytail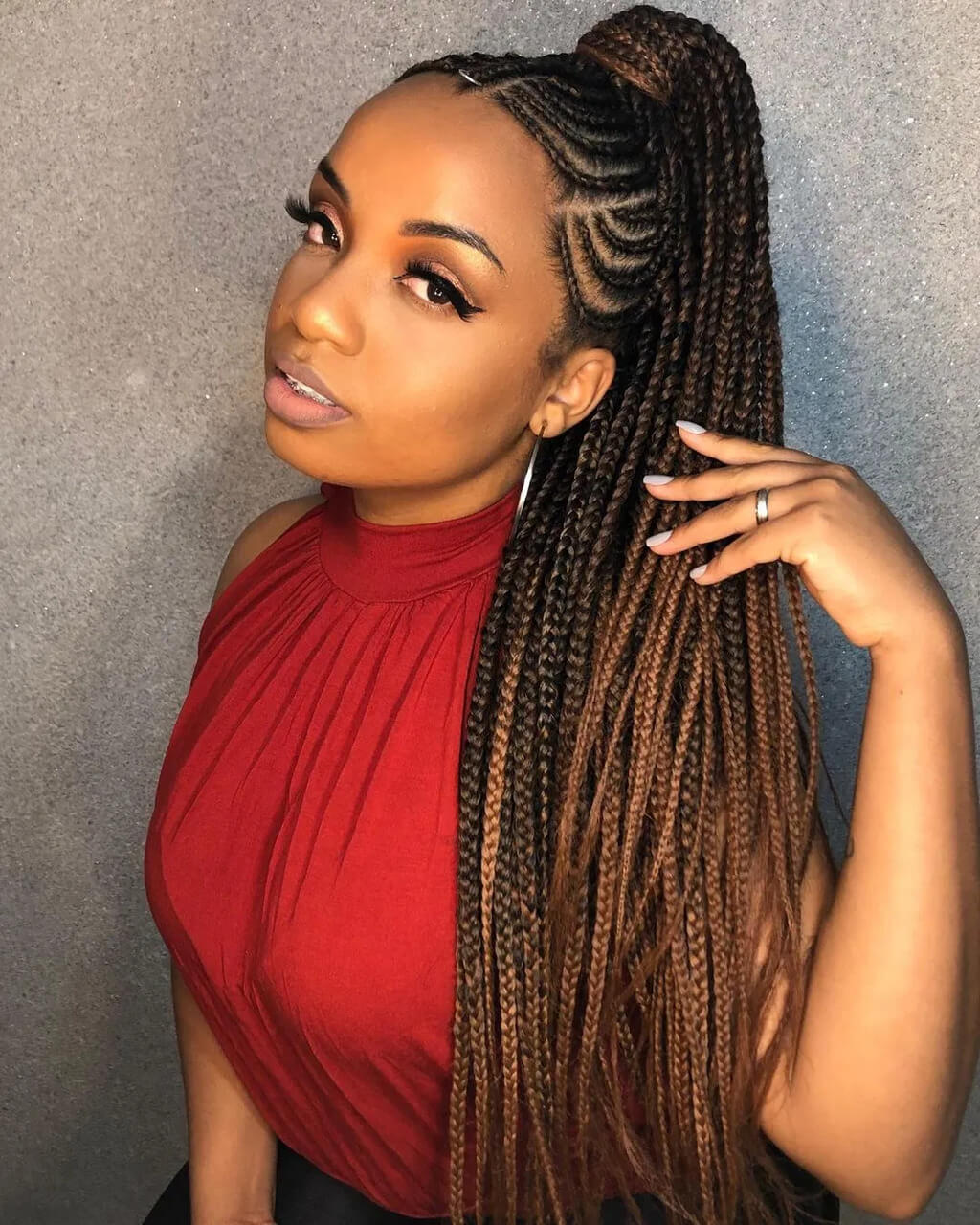 Source: thrivenaija.com
I don't think I need to tell you how to get this ponytail look. You already have figured it out by now. Complete the braids, and tie them in a ponytail. That's it! This is all you need to do for a college-worthy tribal braid ponytail.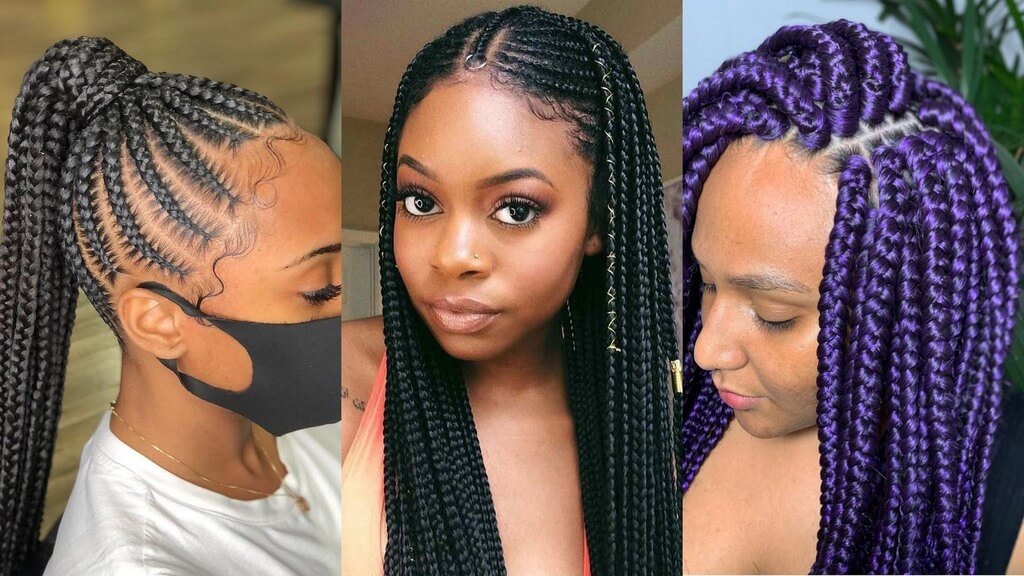 Source: blogspot.com
Final Words on Tribal Braids!
These were the 19 tribal braids hairstyle ideas that will help you in finalizing which one you would want to go for! However, don't forget to pick it wisely and have your hair cream and tail comb ready. All kinds of braids are so much in trend nowadays.
For more blogs and articles on fashion and its trends, visit Fashionterest!