Braids have recently risen to prominence among emerging talents. Pop smoke braids are one of the most visually appealing braid styles. These stunning braids, which are both safe and fashionable, were inspired by the particular style of legendary rapper Pop Smoke. By looking at his style, my desperation towards having one eventually grew up and I ended up having pop smoke braids for myself. 
Braids, which are suitable for everyone, produce stunning appearances by easily adjusting to every hair type and style. This amazing style is created by finishing the middle-divided hair with feed-in braids.
Pop Smoke braids, one of the star trends of the 2023s, are popular among both men and women and are on the rise. Pop Smoke braids are a fantastic protective style for natural hair that has been increasingly popular in recent years. It was named after the artist Pop Smoke and has a particular appearance that allows you to play with your hair.
As it was rightfully said by a Pop smoke rapper, -"You are only as real as the people you surround yourself with".
What Is Pop Smoke Hair?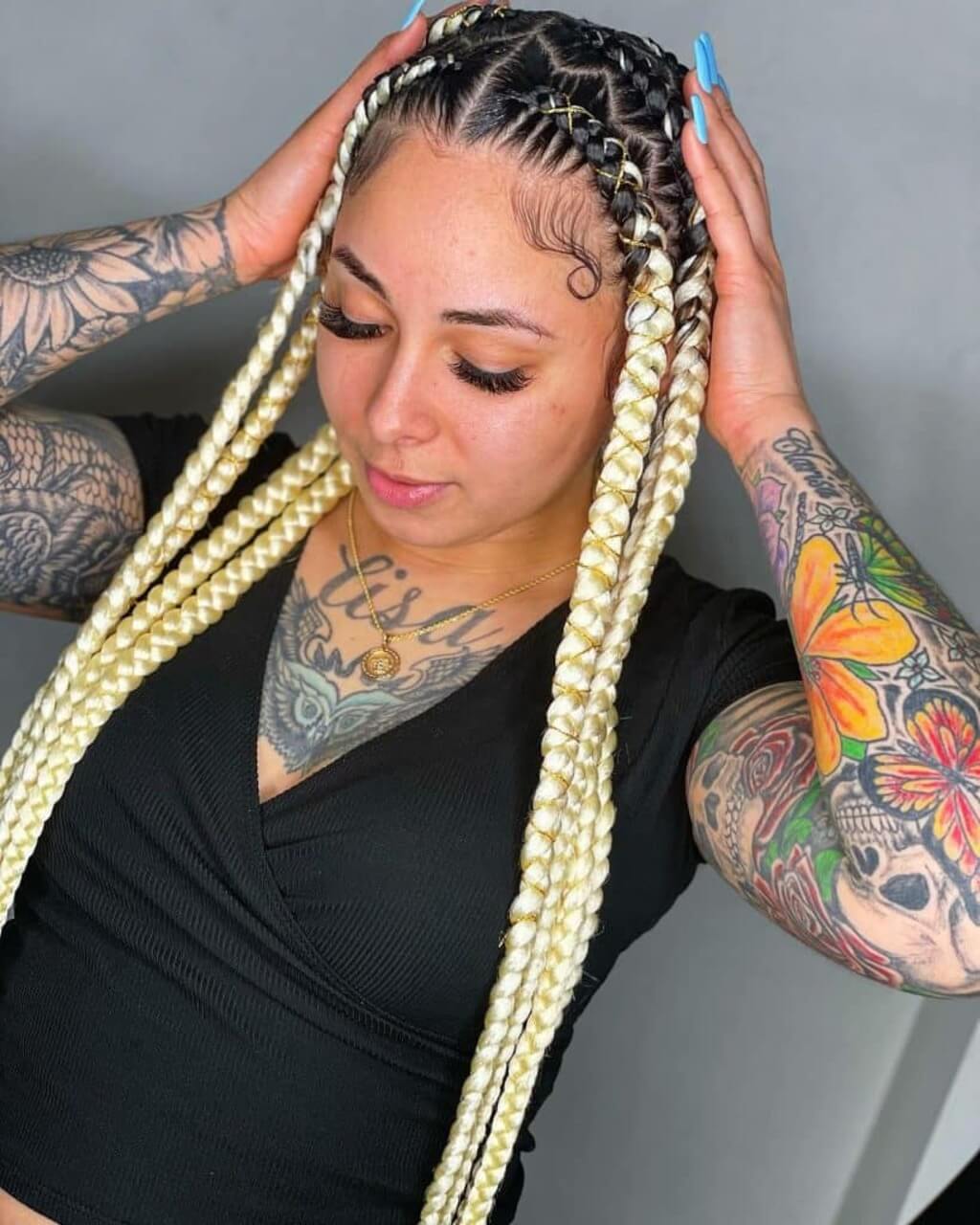 Source: hairstyleandmakeup.com
Pop smoke braids have been increasingly trendy in recent years. It was inspired by the late rapper Pop Smoke's unique haircut. The appearance may be worn by both men and women, and it is a protective style that can help you save time on your daily grooming routine and minimize friction damage. Hairstyles like this usually feature a center part and four feed-in braids on each side.
The basic idea behind this hairstyle is to braid your hair in the middle and produce four braids on each side, made by stitch-in knots. This hairstyle may be personalized in a variety of ways, including cornrows with straight, oval, or zig-zag designs. You may modify the volume of your braids, add color, or add beads to your hair.
We may claim that Pop smoke braids are simple to do if you're already familiar with the techniques. It may cost up to $150 depending on your desired length and volume.
Read our in-depth guide to discover all there is to know about this hairstyle, from the basics to popular styling suggestions.
How To Make Pop Smoke Braids?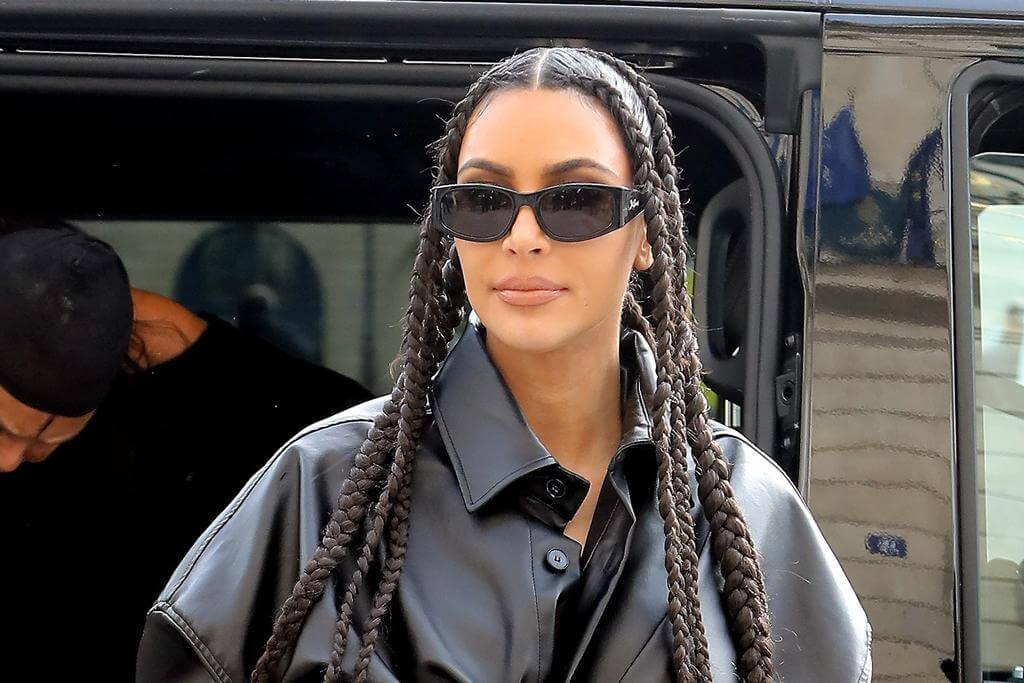 Source: yimg.com
You need hair (High-Temperature African Braiding Kanekalon Hair, usually 5-6 packets can fill ahead), a rat tail comb, mousse, and an edge tamer to get this look. 
Here's a three-step tutorial for making Pop Smoke Braids at home. 
1. Detangling
One of the most critical stages is to detangle your hair before getting braids done. It benefits both your hair and this procedure in a variety of ways.
Detangling also softens your hair strands, making your braids last longer and your hair healthier.
2. Styling
First, divide your hair into two primary sections on either side of your head. Maintain a center collection of hair strands for the central braid. Tie a vertical braid across the hairline using the middle strand. Tie a clip on the end and pull it around your head.
Tie four stitch braids on each side for a classic style, then clip them at the end. Finally, after you're finished, you may customize your Pop Smoke Braids with beads, chains, or rings.
3. Maintenance
This third and final step aids in the maintenance of your braids and the health of your hair. You must follow several procedures to keep your pop Smoke hair for an extended period. These will not only assist your braids last longer but will also keep your hair's natural strength.
Pop Smoke Braids, as you know, are protective hairstyles. You should use them even more for the best results. To begin, you can sleep wearing a satin scarf or a silk hat. This keeps the hair strands from becoming boring and monotonous. In terms of products, before going to bed, you can apply leave-in conditioners. It aids in the retention of moisture and nutrients in your hair.
10+ Pop Smoke Braids To Go For
Jumbo tribal braids are another name for pop smoke hairs. This hairstyle has taken the internet by storm, and it is currently incredibly trendy. I mean, I see why everyone loves the hairstyle; it's nice, attractive, and trendy, as well as a wonderful protective hairdo.
1. Original Pop Smoke Braids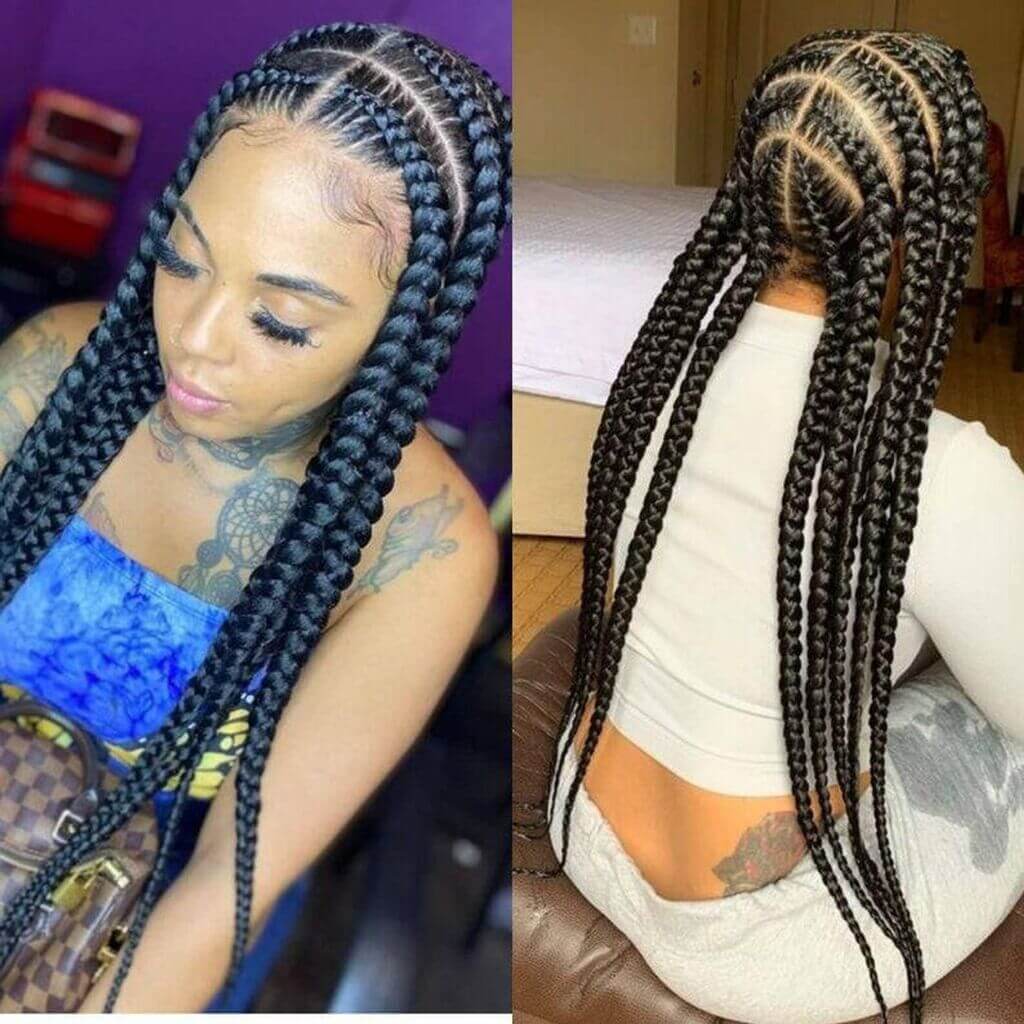 Source: pinimg.com
Braids are a great option for afro-textured hair since they give a protective solution that is often low-maintenance and lends itself well to a range of styles. Traditional pop smoke braids, which may be done in a range of lengths, are among these. These original smoke pop braids are ideal for achieving a nice and feminine appearance. If you're trying to grow your hair, this is an excellent way to help it along. This braiding is a protective style that reduces friction and breakage.
2. Pop Smoke Braids with Accessories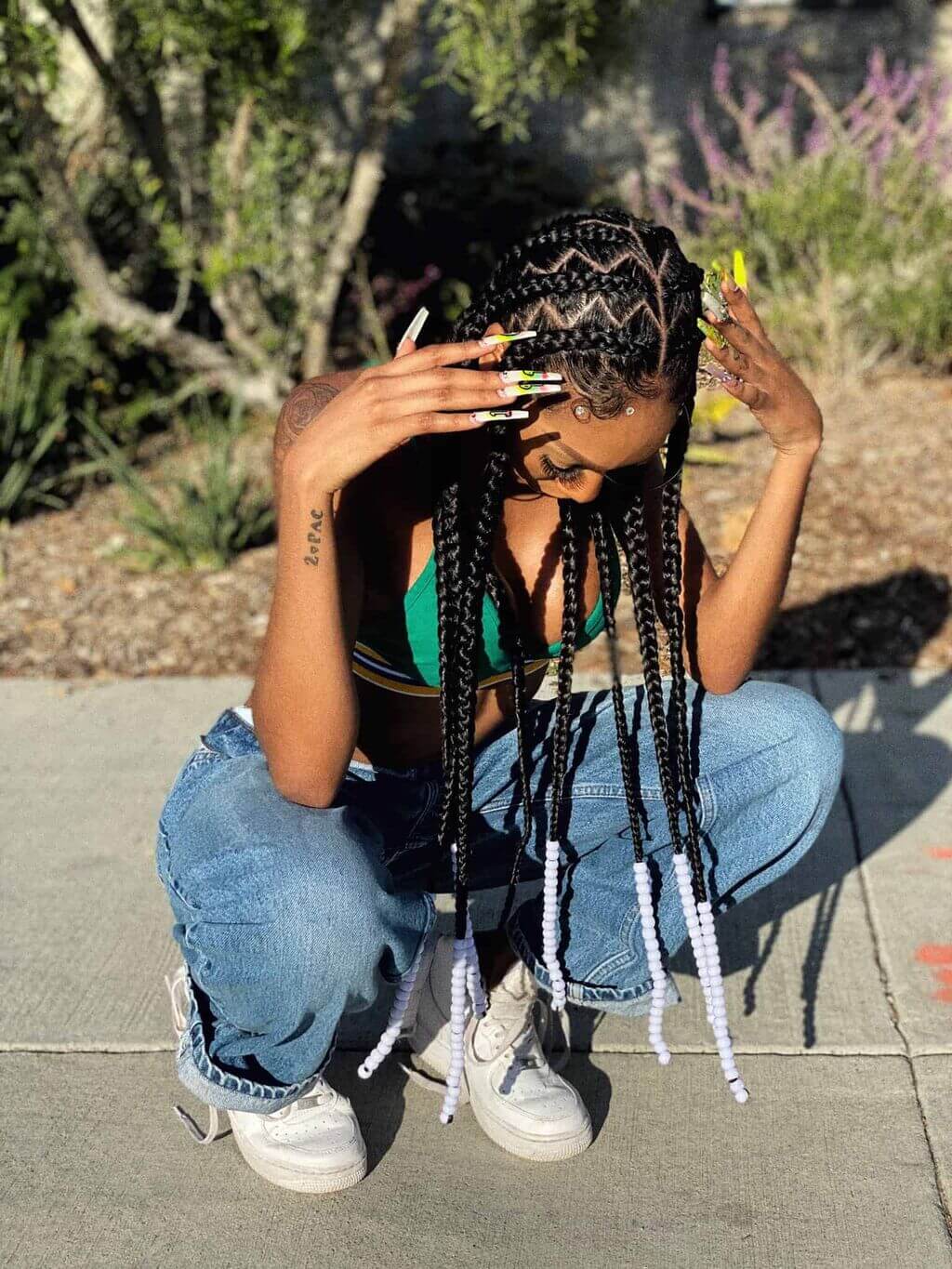 Source: pinimg.com
Some ladies may find making pop smoke braids with accessories or beads at the end appealing. It is also one of the simplest methods to embellish braids, whether for teenage girls or African ladies, and you may progress from simple to exquisite and faultless. We propose that you add some beads to the ends of these braids to make them seem more exquisite.
Wrap a tiny elastic band around the braid or use a bead pin to keep the beads in place. Consider how many beads you want to use and the weight of each to minimize strain. 
3. Pop Smoke Braids Men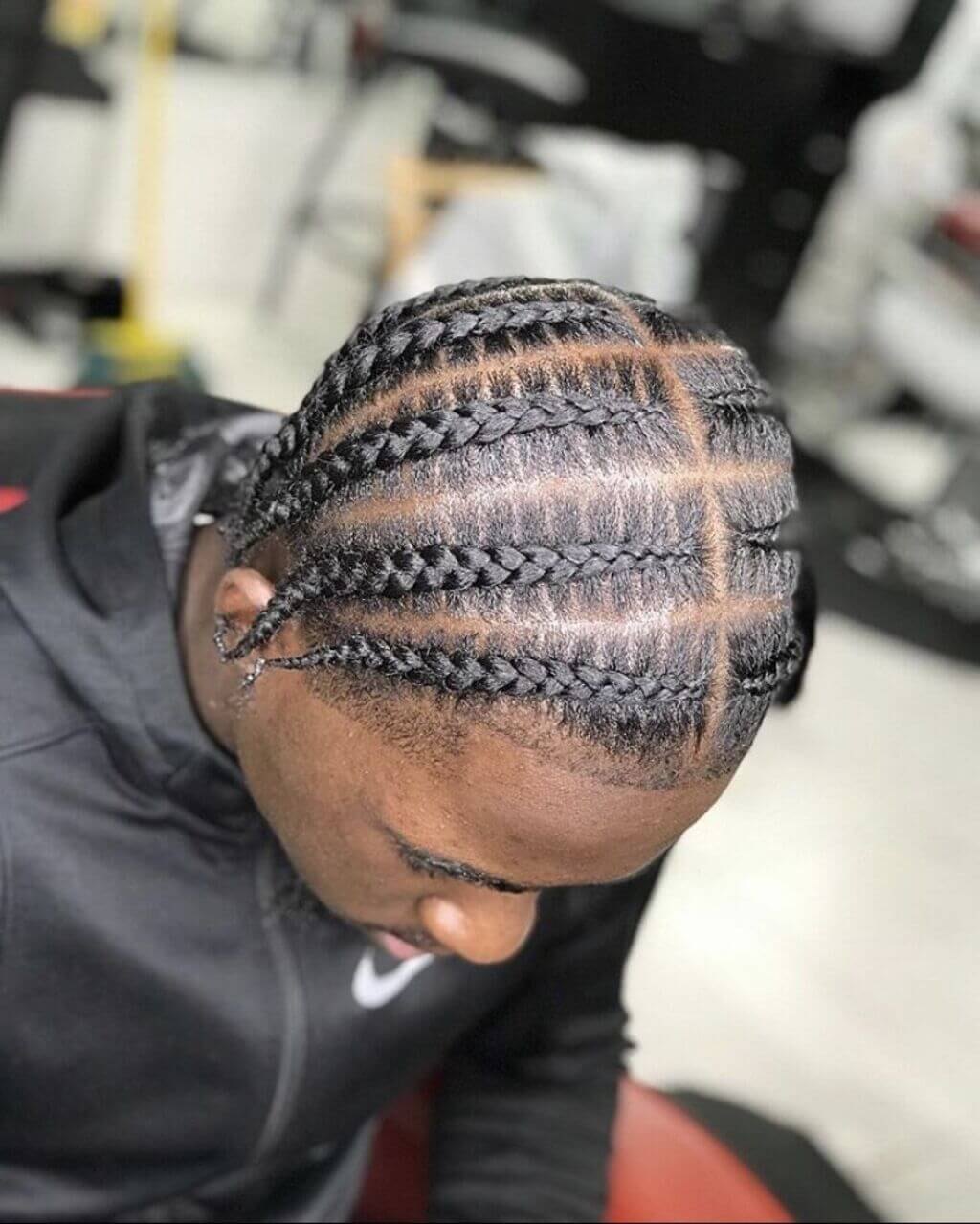 Source: pinimg.com
Pop smoke braids and stitch braid for men are not only for ladies but also for males. People were originally drawn to the hairstyle of artist Pop Smoke, who wore his hair in this unusual style. Pop smoke braids for men are a current hairstyle, and many guys have adopted this stylish stitch braid for men hairstyle. This can assist to maintain their hair healthy while also becoming symbolic and making a powerful statement.
4. Pop Smoke Braids with Color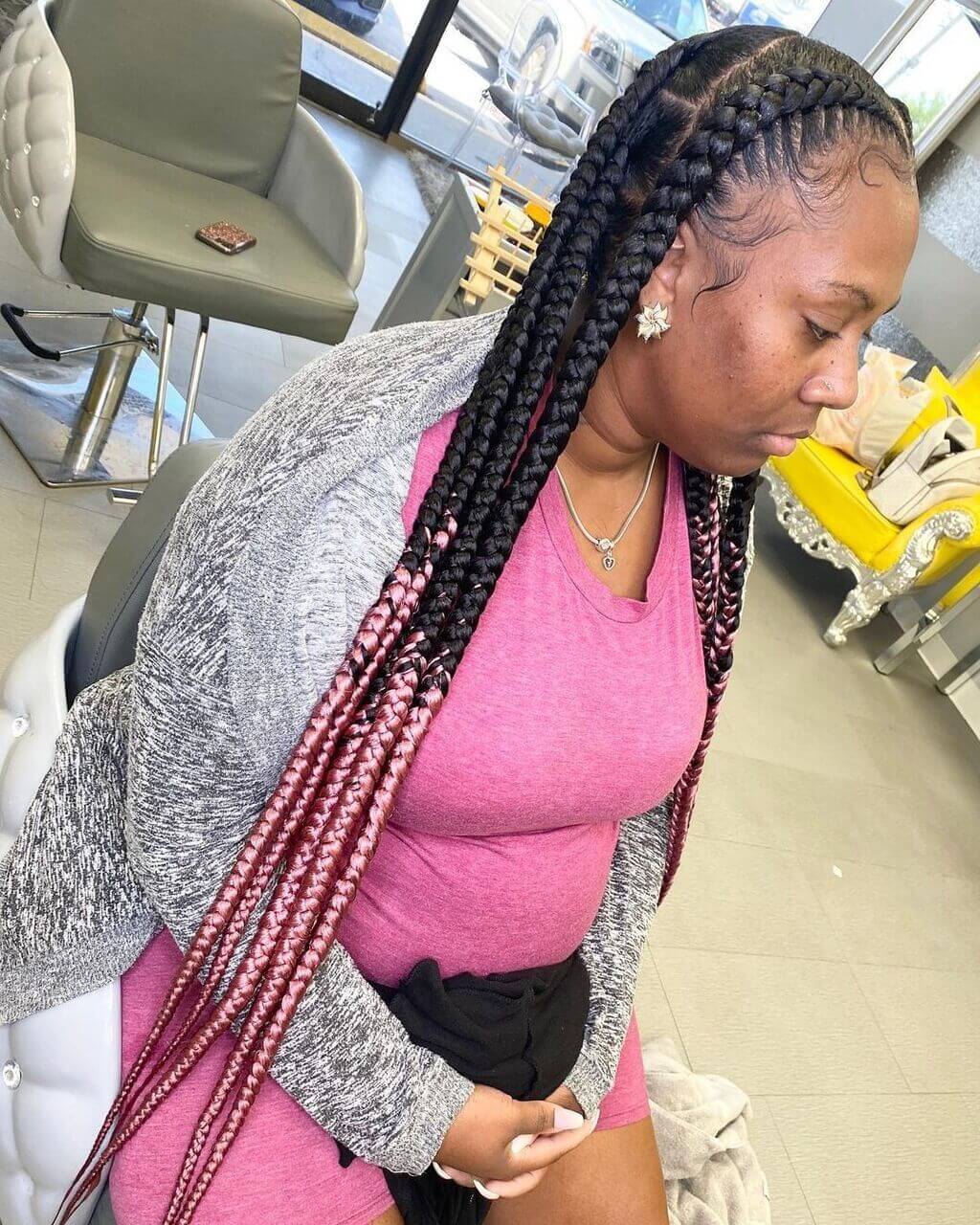 Source: pinimg.com
Pop smoke braids look great, may last for weeks, and come in a range of lengths and textures. They may be done on natural hair, extensions, or braids, making it simple to get the desired look. Pop smoke braids with color, in particular, enhance the look. You may use dark blue and blonde for this.
5. Small Pop Smoke Braids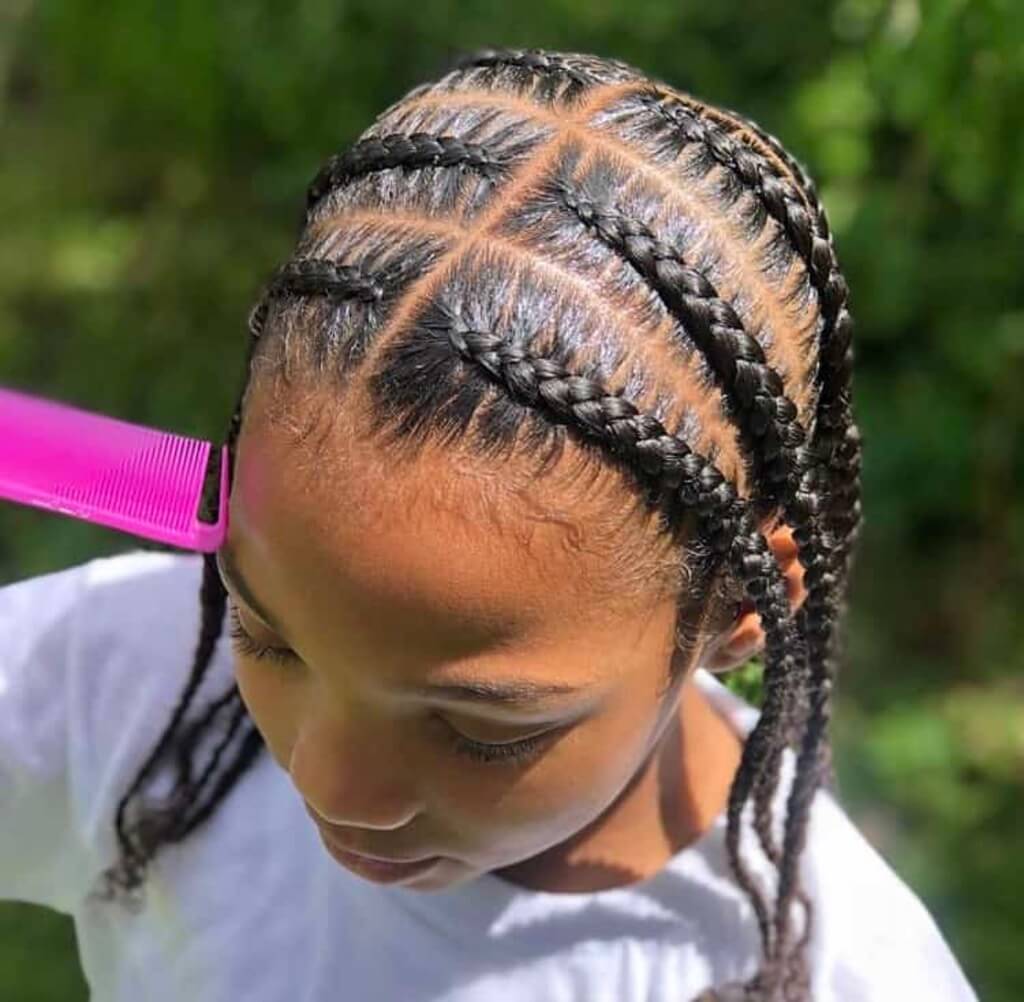 Source: blackbeautybombshells.com
The short pop smoke braids are normal cornrows with various sections, as seen in the illustration. Many females want a fuller look and enhance their hairdo with braids or extensions. Some people prefer the pop smoke style, which includes braids and a blunt cut at the end. 
6. Pop Smoke Braids Front and Back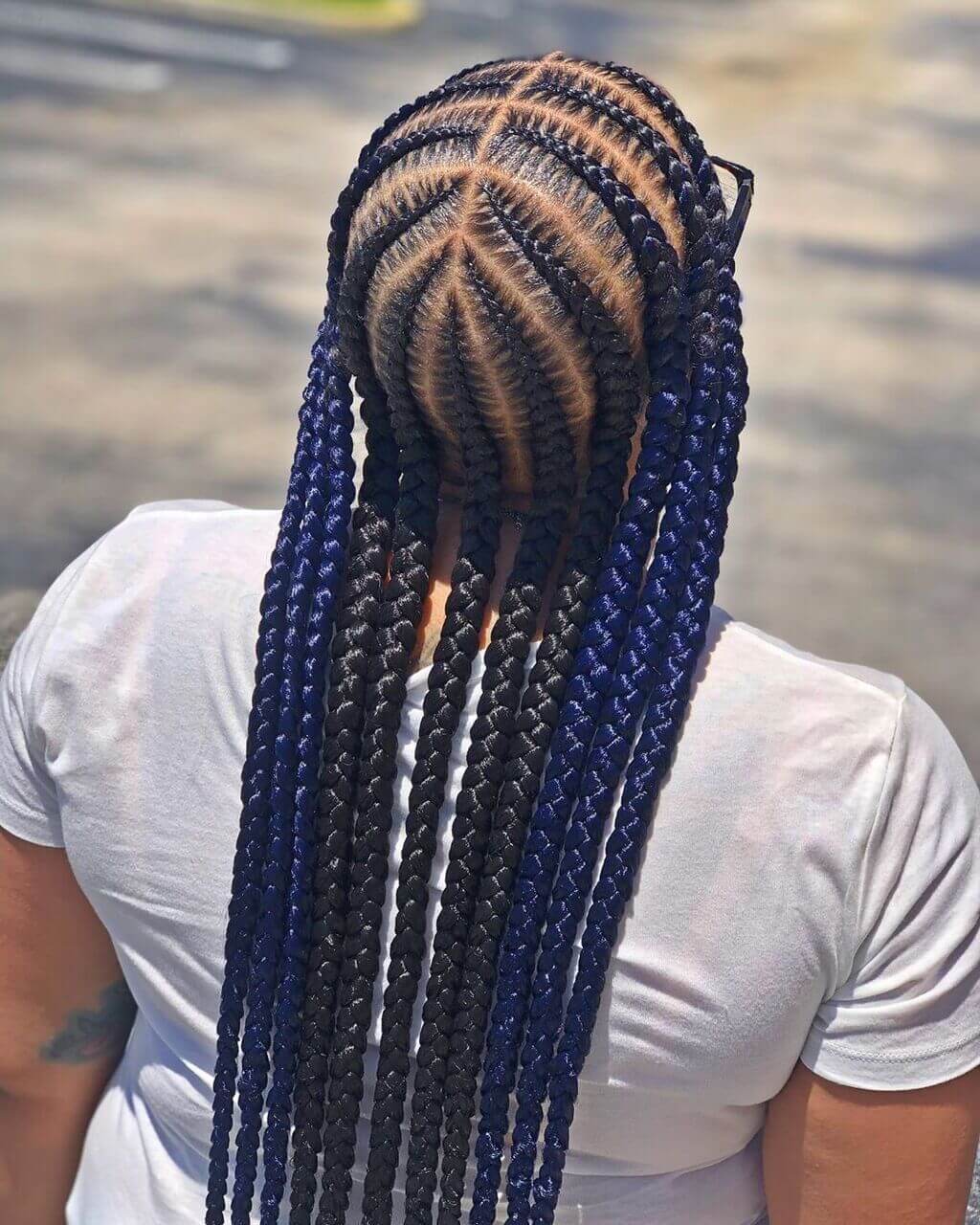 Source: pinimg.com
Pop smoke braids front and back updo look stylish are shown in this image. With two braids done at the front and back, it appears to be somewhat complicated. This hairstyle is ideal for females who enjoy attempting various hairstyles but don't have a lot of time to do so. You can complete this lovely updo in a very less time duration. If you're heading out and want to quickly add volume and height to your hair, this is a terrific hairstyle to attempt. 
7. Popular Pop Smoke Hairstyle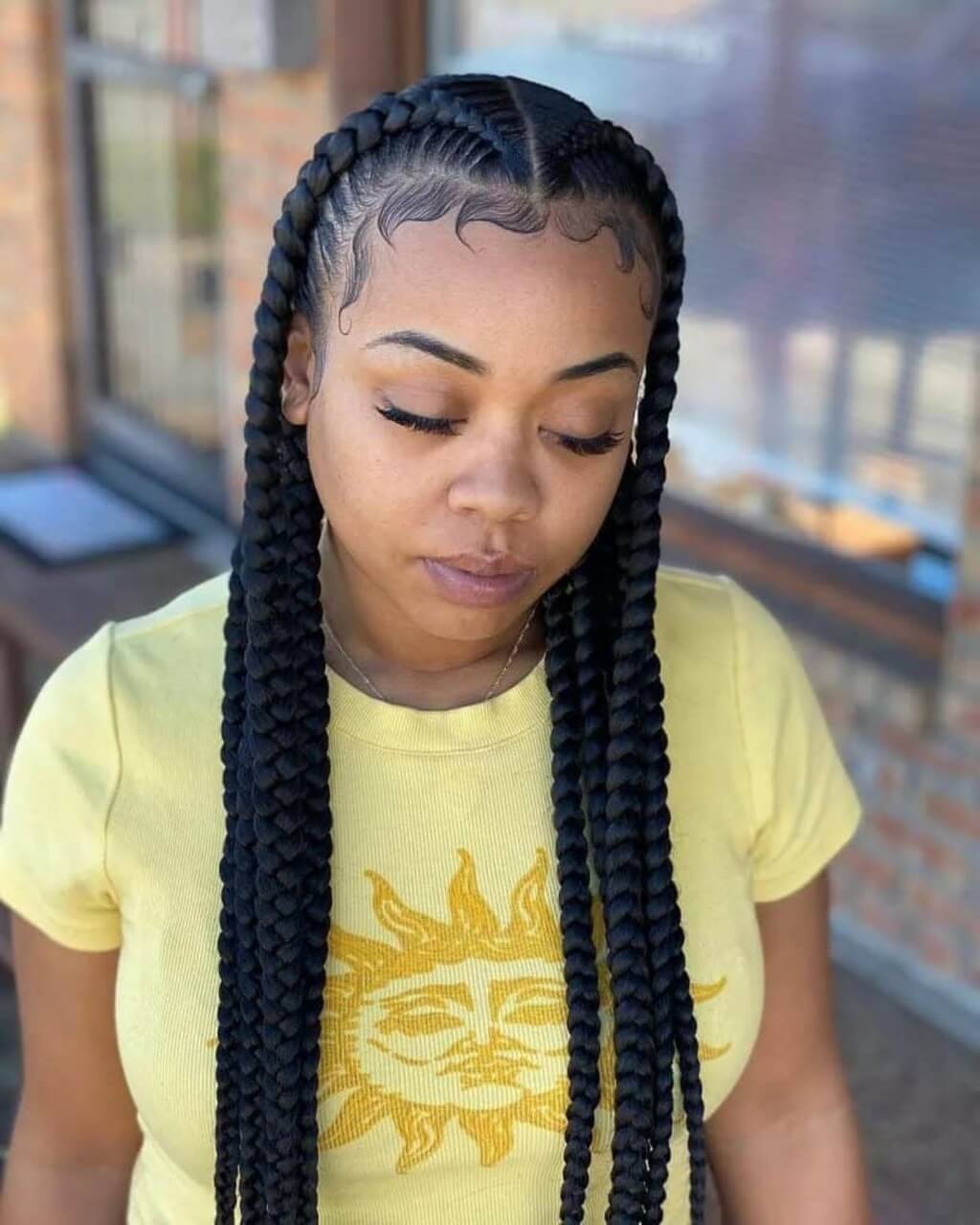 Source: hairstyleandmakeup.com
The pop smoke hairstyle, which is divided in half in the middle, is braided as it grows. Braids, a sleeker version of the iconic pop smoke appearance, will be the most popular hairstyle for outstanding ladies.
8. Pop Smoke Braids for Girls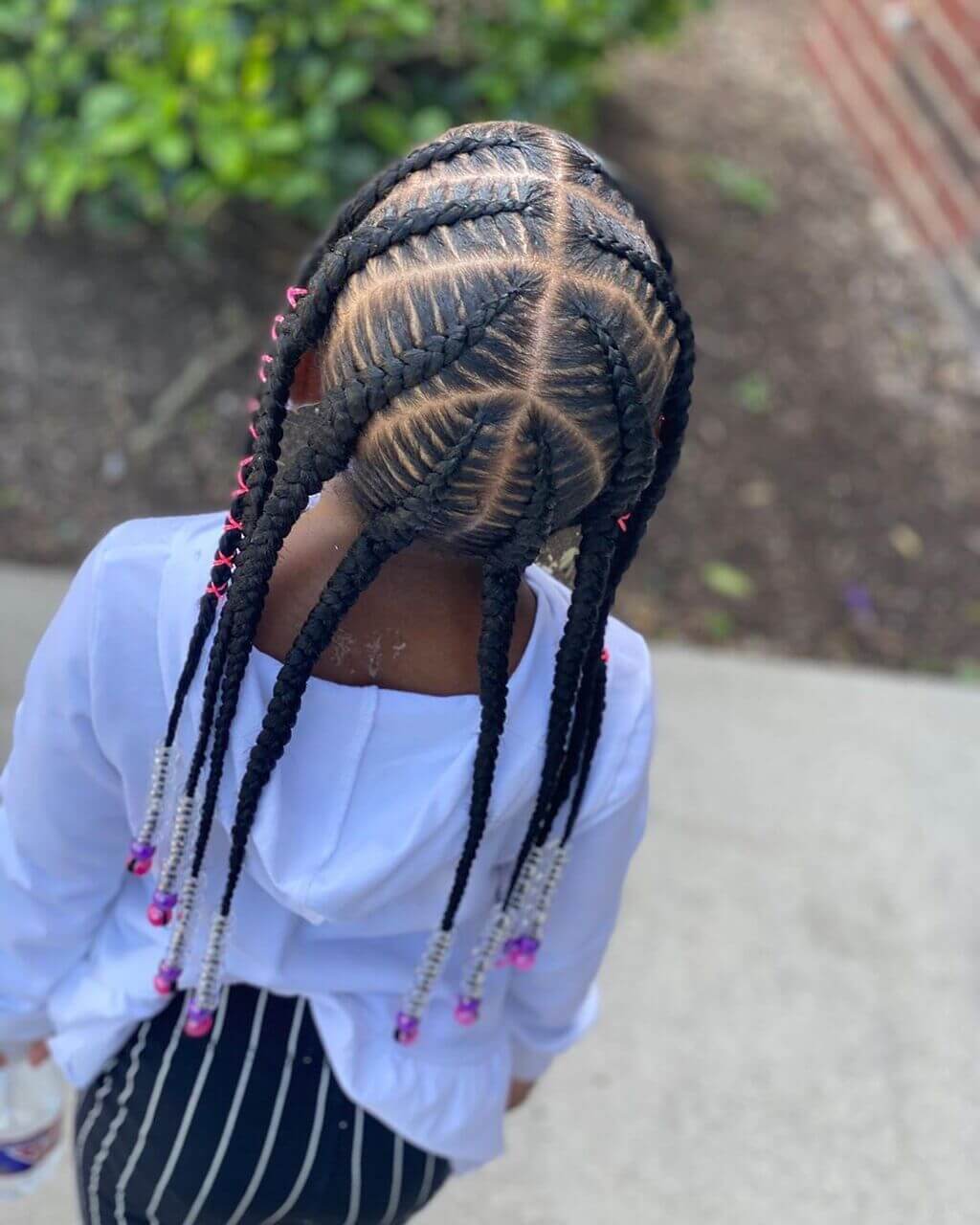 Source: pinimg.com
This is a unique pop smoke braids for girls that will keep flyaway strands in place. All you need are a few elastics and bobby pins! This look is ideal for the summer since it keeps your hair out of your face, which is especially important on hot days. Don't be afraid to play around with your braids.
9. Zigzag Pop Smoke Braids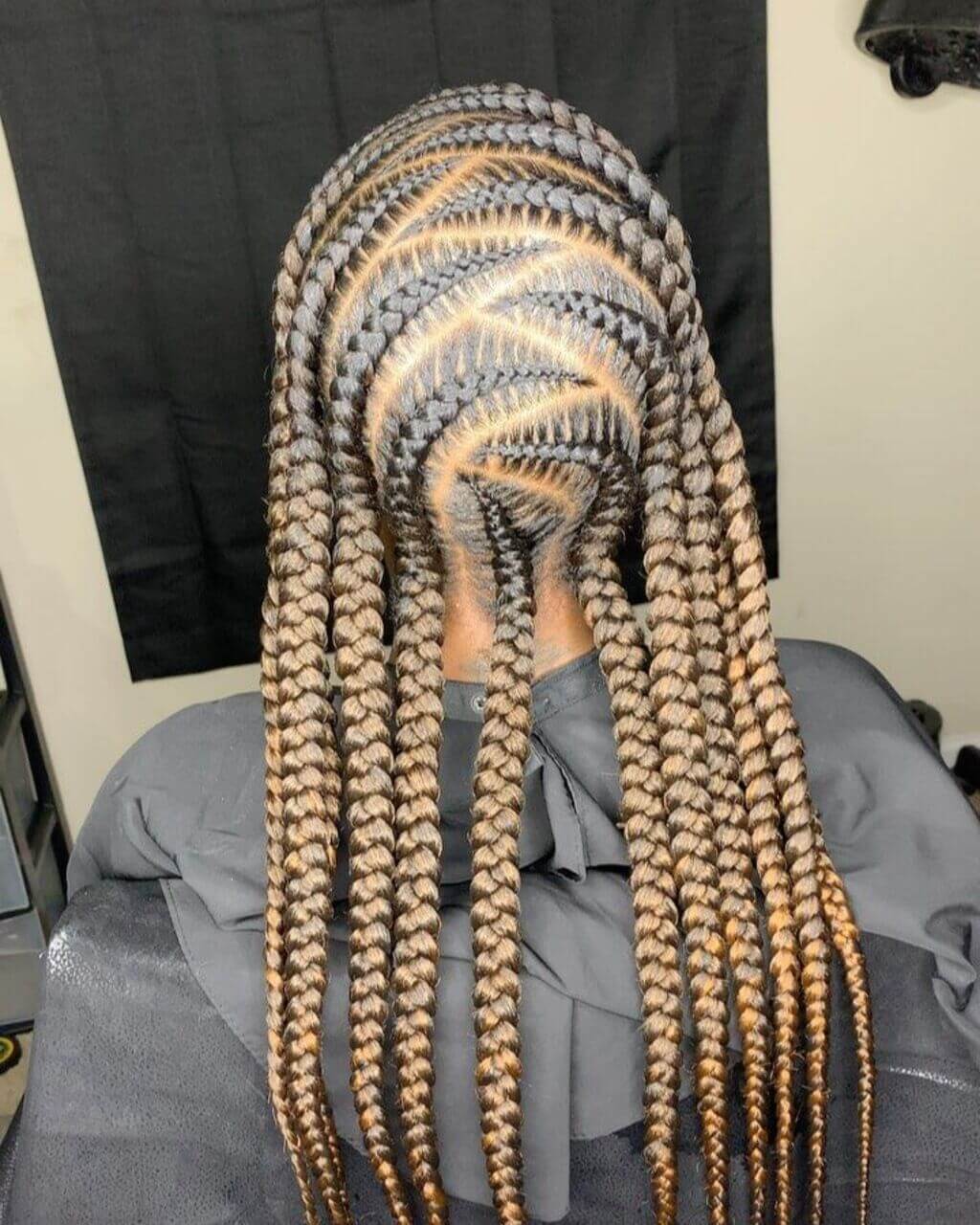 Source: pinimg.com
Pop smoke zig-zag part braids are a combination of two trendy hairstyles in recent years. The braids draw attention to the scalp, and this is an excellent opportunity to try something new and show off your creative side. Although pop smoke braids are often characterized by their unique center parting, here is a variant of the look that can make even the most modest haircut stand out and be aggressive.
10. Long Pop Smoke Braids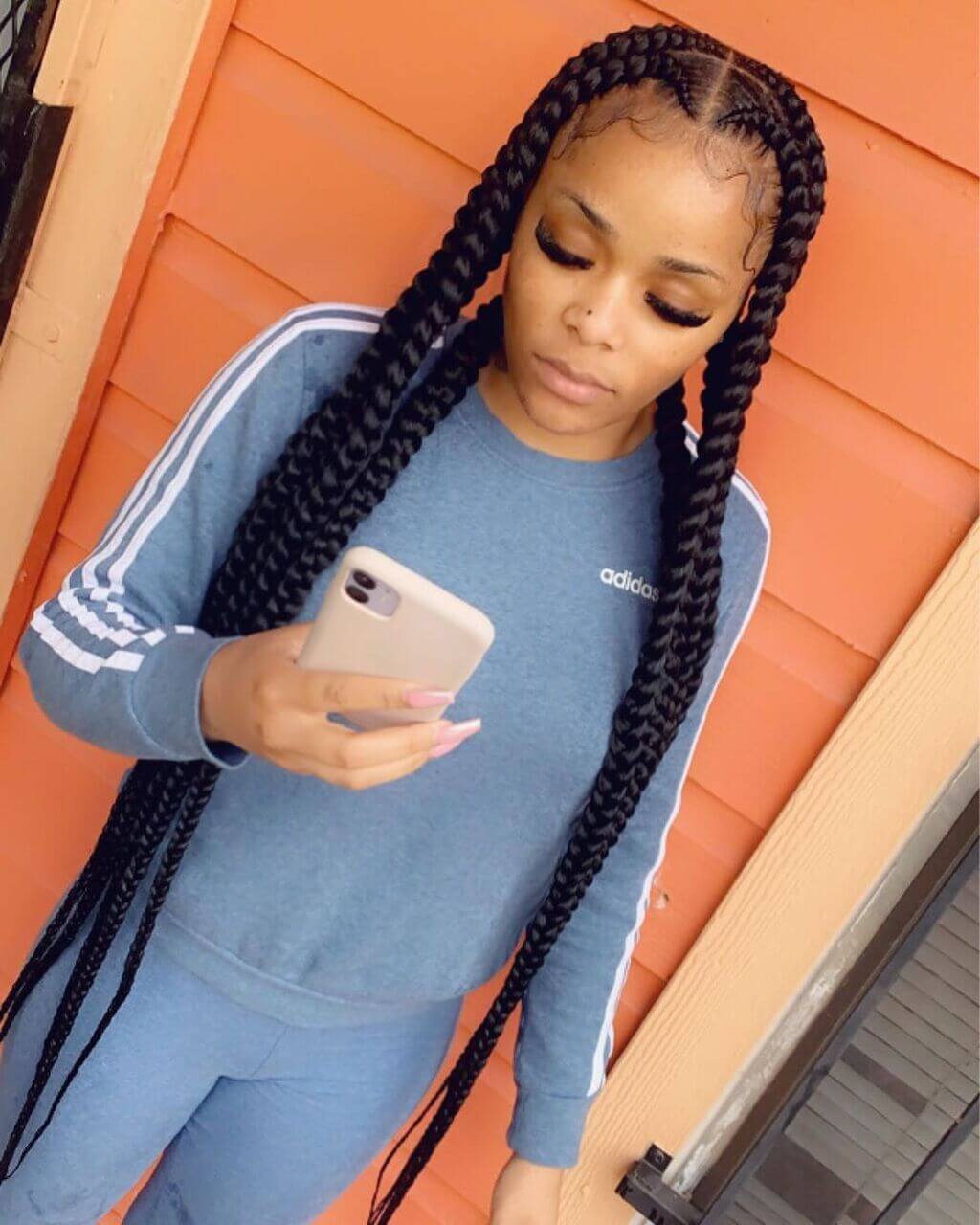 Source: pinimg.com
Many folks use lengthier extensions to make their braids longer. Some people's braids reach their waist level or longer, as seen in this image. Long pop smoke hairstyles can also enhance your appearance from many angles. Long smoke hairstyles with curving cornrows at the front are also popular.
11. Medium Pop Smoke Braids
Source: pinimg.com
Medium Pop Smoke braids are a versatile and feminine protective style that not only traps moisture and supports natural hair development. The thickness of these types of braids is medium. They are easy and quick to put up. 
Medium Pop Smoke braids are making a fashionable reappearance and are soon becoming the hottest look in the world of black hairstyles! In other words, if you've tried long box braids and would like to try medium-sized box braids and this is the perfect example of it.
12. Jumbo Pop Smoke Braids
Source: twimg.com
Pop jumbo Smoke braids are also known as gigantic tribal braids. This technique is simply another variation in braiding. You have control over how tight each strand is. The tightness will have an impact on the overall look. Pop Smoke would have them in medium tightness, but you can make it your own. 
Tribal braids are another name for jumbo pop smoke braids. The braids on this style are much thicker and require extensions to give it a fuller look. It's all about the volume, and the massive appearance can be both entertaining and appealing.
Also Read: Coolest Box Braids Hairstyles To Try in 2023
13. Stitched Pop Smoke Braids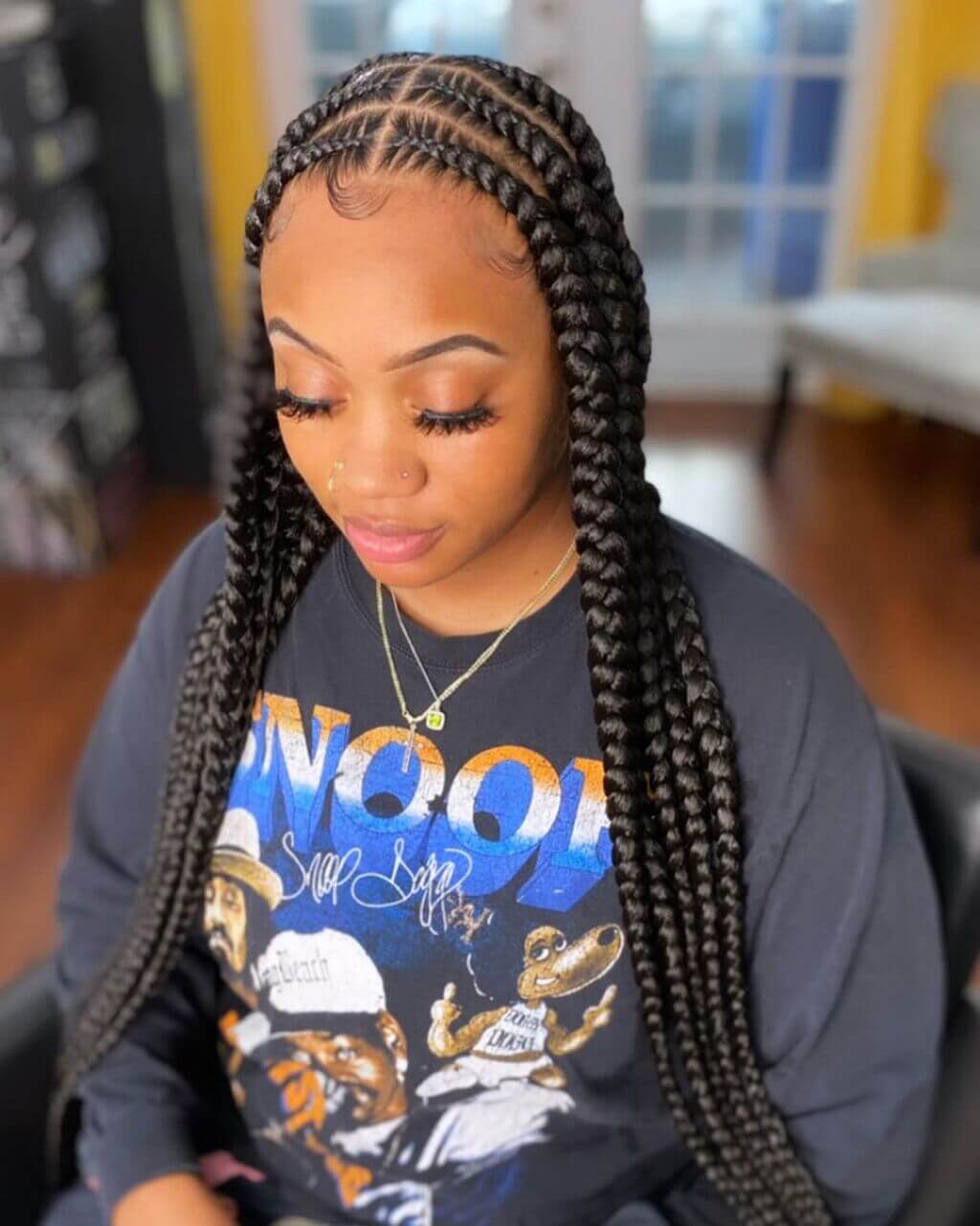 Source: thrivenaija.com
If you are looking to try something new and fun, then this sophisticated stitching and stylish appearance could be your ideal choice. With these amazing stitches, you will be enchanted with Pop Smoke braids.
Final Words on Pop Smoke Braids!
To sum up everything, African-inspired braids are a perennial fashion trend. These Pop Smoke braids became popular in 2018 after they were inspired by the famous pop musician Pop Smoke and represent the old traditional African form of braiding hair close to the scalp. I hope you can adopt one of the above 13 pop smoke braid styles mentioned in the blog.
What are you still waiting for? Show your love for Pop Smoke and adopt his hairstyle to give him tribute. For more on fashion and beauty trends, stay tuned to Fashionterest!
For more, you can browse through Fashionterest.