We all know braids have been in trend for quite some time, and when some celebrity puts on a trendy hairstyle with their own twist, it is obvious it will be in trend. Right? Coi Leray braids are the result of that only. In this article, we'll read about all the Coi Leray braids hairstyle that people are trying and adding new twists to. Along with that, I will also add how you can achieve this look on your own.
Without any delay, let's begin to read all the information you need to know about!
Who is Coi Leray?
Coi Leray is an American rapper and singer known for her songs like Push Start, No Parties, TWINNEM, BIG PURR, Mountains, and Slides. Right now, she has made her way to the magazine and news headlines with her hairstyle.
Coi Leray hairstyle is the version of tribal braids you can say. Still, confused? The hairstyle she adorned and went trendy is short jumbo knotless box braids with curly ends. Wanna learn how to do this Coi Leray hairstyle? Let's go then!
How to do Coi Leray Hairstyle?
It is simple to recreate her look if you focus on learning and have all the essential things required for Coi Leray braids.
What You Will Need?
Rat tail comb
Braiding extensions
Black rubber bands
Mousse
Hair tamer cream and gel
Perm rods
5-Step Guide on How to Do Coi Leray Braids
Step 1: Do the Sections
The first step is to part sections of your hair. Do the sectioning as per the number of braids you need on your head. The section should have a boxy shape.
Step 2: Apply Hair Gel for Extra Hold
Once you have done the sectioning, it's time to apply hair gel for extra hold and tame your wild hair down. This you'll have to do with every section you braid.
Step 3: Do the Braiding
Here comes the most important step. This is where you do the braiding. As usual, you'll have to start braiding your own hair and gradually add the hair extensions. Add the braiding extensions as per the thickness you need for your braid.
Braid to your desired length and secure it with the black rubber band leaving a bit of hair for the curly ends. Repeat the same process for other braids.
Step 4: Curly the Ends with Perm Rods
As soon as you are done with the braids, use perm rods and surround your left-out hair from braids on it. Then, gently dip it in hot water or keep it for a few hours. Dry out the hair with a towel, and you have the curly ends. If not this way, you can also use a curler to curl the ends.
Step 5: Apply Mousse
The last step is to apply a mousse to your Coi Leray braids to secure them. Apply mousse all over the head and make sure you leave no space.
See, it is that easy to recreate a Coi Leray hairstyle with braids. You can also add your own twist like spicing it up with cords, beads or do it on highlighted hairs. Let's have a look at some Coi Leray braids for inspiration.
11 Trendy Coi Leray Braids Hairstyle Inspiration
1. Long Coi Leray Braids with Curly Ends
2. Short Length Coi Leray Braids
3. Coi Leray Hairstyle for Kids
4. Coi Leray Braids with Highlights
5. Coi Leray Hairstyle with Fulani Braids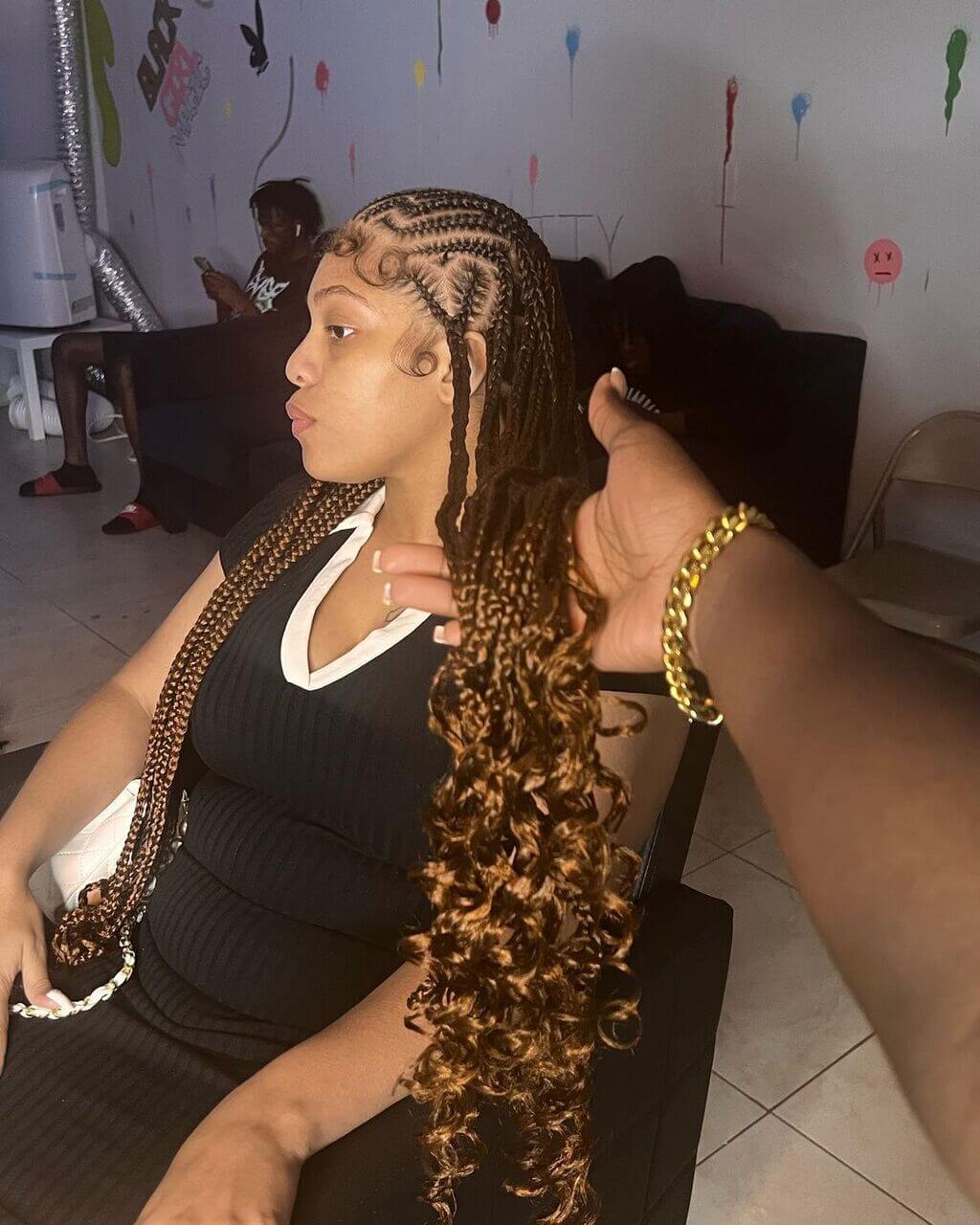 6. Coi Leray Braids with Heart
7. Coi Leray Braids with Beads
8. Half up Half Down Coi Leray Braids
9. Colored Coi Leray Hairstyle
10. Middle Part Coi Leray Braids
11. Coi Leray Braids Ponytail
Wrapping Up!
This article had everything you needed to know about, from what Coi Leray braids are to how to do it and a few inspirations. Recreate your own version of Coi Leray braids hairstyle and flaunt it on Instagram and other social platforms.
Find out more:-