Transform a BAD hair day into a BRAID hair day!
We all know that braids are cute and beautiful! You can wear them with any outfit for so many different occasions. Yes, braids look absolutely gorgeous every hour, every month, and every season of the year!
Gone were the days when only African women used to wear this hairstyle. They used to wear this hairstyle to protect their hair. Nowadays, girls and women of all ages love to style their hair in braids, regardless of ethnicity. Whenever anyone talks about popular hairstyles, braids are always one of them!
Braided hairstyles are cute and super fun to make, and when it comes to options or variety, you'll get plenty of choices. From box braids to knotless braids, there are thousands of different braid hairstyles that you can try.
These days knotless braids with hearts are getting popular among girls and women of all ages! Heart braids are considered one of the hairstyles that can help your braided hair look more prominent.
So, why go for simple and boring braids when you can have heart braids?
You can add a touch of glam to your regular braids with knotless braids with hearts and wear them daily!
Looking for some hairstyle inspiration for the upcoming Birthday party, dinner, or any special event? If yes, we've got you!
Today in this blog, we've gathered up a list of some of the best knotless braids with heart hairstyles. From single-heart cornrow braids to braids in a bun, we've included a wide variety of hairstyles that you can wear to any occasion.
Box braids with hearts and knotless braids with hearts are the perfect hairstyle that can make you stand out in the crowd. The best thing about this hairstyle is that you can also wear them every single day while doing your daily activities. So, next time you go to any function or event, wear this hairstyle and make a statement look.
Let's dive in.
What Are Knotless Braids?
Knotless Braids are pretty similar to box braids. The only difference between the two is that knotless braids don't have small knots at the roots like traditional box braids. In a knotless braiding hairstyle, the braids are created and attached in a feed-in style instead of using a snot; that's why it is known as knotless braids.
Black people mostly wear knotless Braids for a long time. This hairstyle is similar to box braids which are also used to protect natural hair. They protect the hair roots and also make the braiding experience more smooth and pain-free.
30+ Latest Hairstyling Ideas for Knotless Braids with Heart
1. Knotless Braids with Heart in a Bun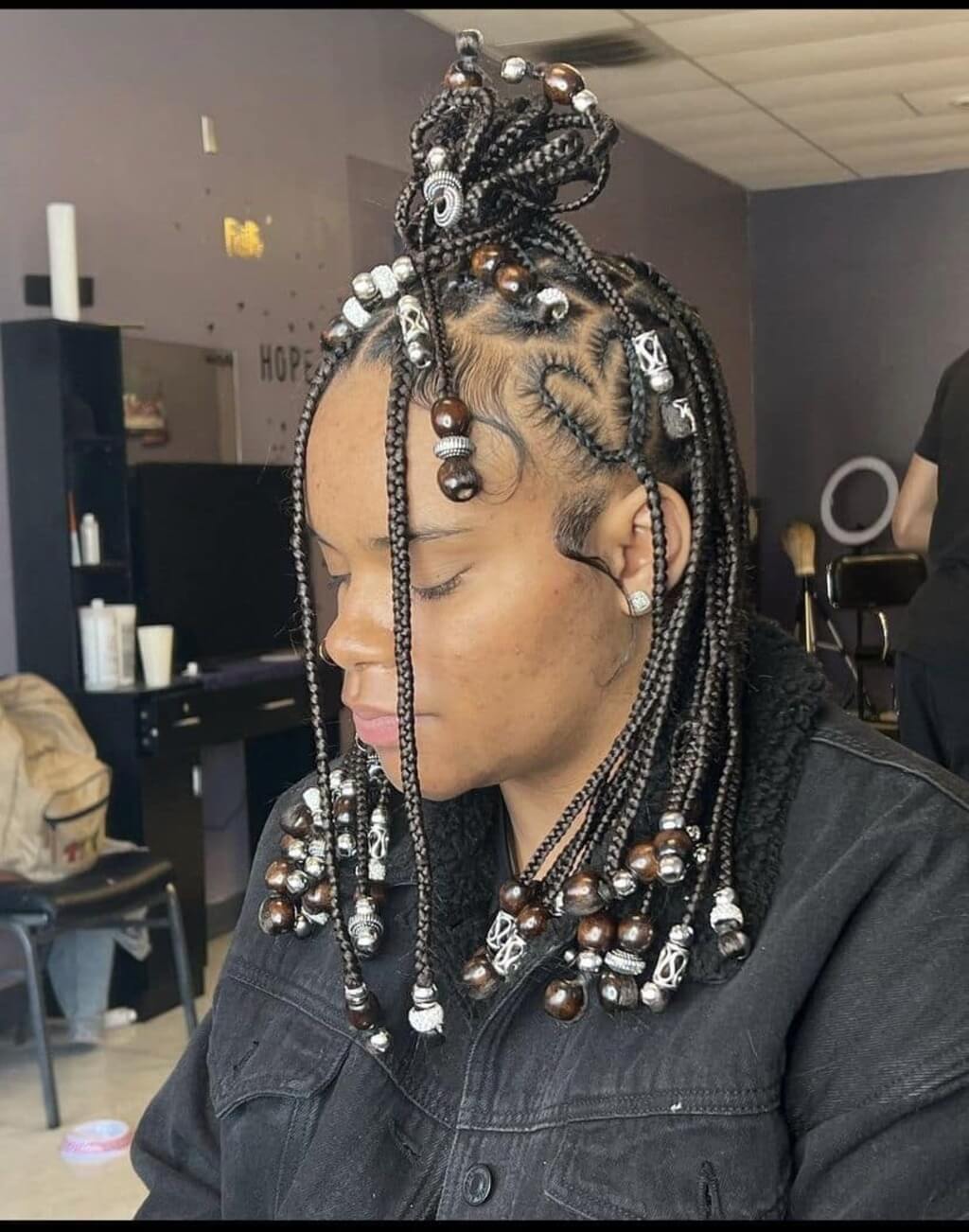 A bun is officially considered the best everyday hairstyle! So, why don't you add some fun to this hairstyle by adding some knotless braids with a heart? Braided buns with triangle and heart designs are always a great option, whether you want to switch your hairstyle or don't want your hair to get in your daily activities.
2. Heart Cornrows With Front Two Braids
Make your ordinary hairstyle a real show-stopper with this trick. Instead of braiding all your hair and putting them in the back, leave two braids at the front. These cornrows with two tribal braids will create a stunning non-banal effect.
3. Boho Knotless Braids with Heart
Have you ever tried boho braids? If not, this is the sign you're looking for!
This style has various curly hair pieces placed along the braid. This gives them a unique appearance. Due to this, it is pretty famous among braid lovers. So you also give these styles a try with cute heart braids.
4. Low Bun With Braids & Hearts
This hairstyle looks so basic but still is completely different. That's because you may have seen a low bun hairstyle but not with heart braids! This is a fantastic braid design idea that you can wear on many occasions. And look at those styling of baby hair. Stunning, right?
5. Eye-Catching Medium Knotless Braids
If you're a beginner and don't know much about braiding, we recommend these simple yet attractive-looking medium knotless braids. This is a heart braid with knotless box braids, which is super easy to create. You can use extensions if you don't have long hair to create a perfect lengthy braided look.
Take inspiration from the above picture. Ere, this girl has everything top-notch, from her box braids to heart detailings. To add more drama, she curled her hair at the end and overlapped two braids together.
6. Simple Single Braids with Heart
Women often prefer to have heart braids in a cornrow style, but if you don't want that, here's another cool idea for you. This is a simple single braid with hearts! This hairstyle look is easy to make and looks sophisticated!
This is a perfect option for those who like to keep their braid simple. So this time, instead of doing the cornrows, do a heart-shaped parting and make a regular braid. Don't forget to create slayed edges like the ones shown in the above image.
7. Triple Knotless Braid with Heart For Girls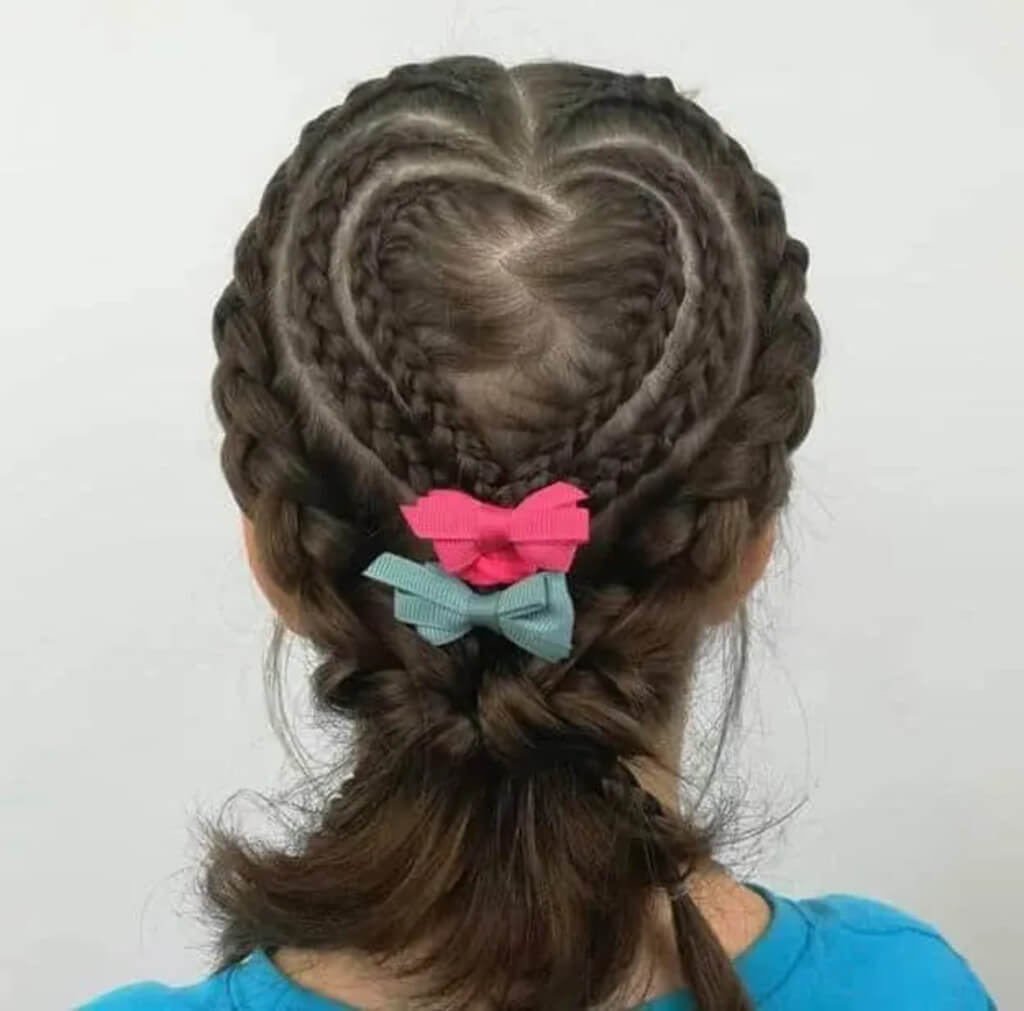 Looking for some easy and cool hairstyles for your little girl? No worries, we've got you!
This is a triple-braid style with hearts. The best thing about this hairstyle is that it will work even if your girl has short hair. With some patience and time, you can create this beautiful-looking hairstyle for your school-going girl.
8. Pretty Knotless Braids with Two Hearts
Just look at this hairstyle, and you'll be amazed!
This tells the truth about why this hairstyle is one of the most reshared braided hairstyles with a heart on the internet!
To make this hairstyle, you have to use your braiding powers! The original photo belongs to an Instagram influencer who is viral for her amazing braiding hairstyles. So, next time you're going to get your hairstyle in a salon, show this picture to your hair stylist and ask her to make this masterpiece.
9. Cool Lemonade Braids with Hearts
One heart inside another heart and inside another one! That's such a cool and cute braid hairstyle! If you also think the same, you should try it.
To make it more fun, you can add beads, cuffs, and other top-trendy braid accessories.
10. Stunning Double Heart Cornrow braids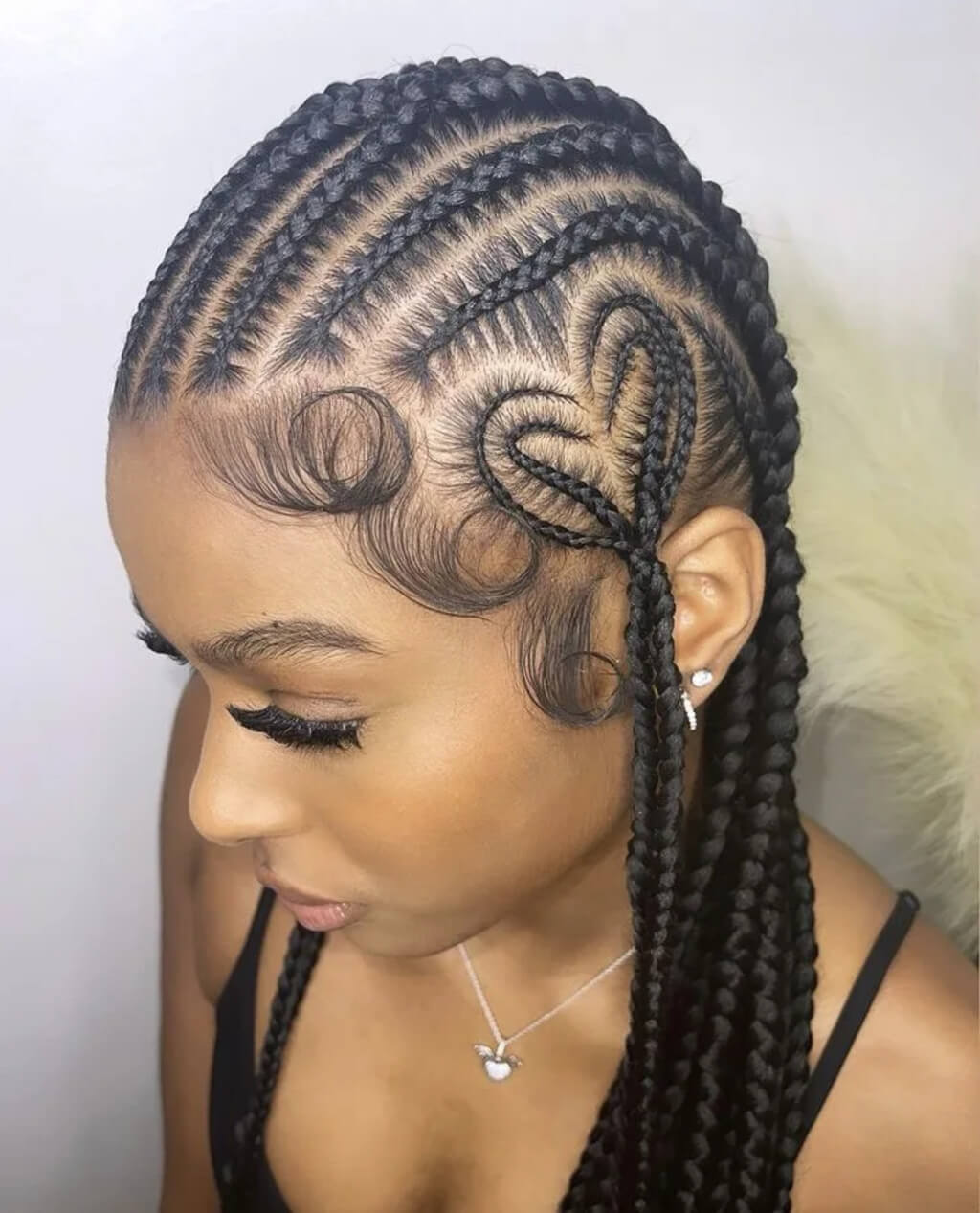 This hairstyle screams perfection!
Look at those knotless braids with hearts. You can get this done, and everyone is going to ask you where you got the inspiration to create such a fantastic and breathtaking braided style.
11. Cute Criss-Cross Knotless
Looking for a cute and classy braided hairstyle? Look no more; here is what you're looking for!
This combines a criss-cross style with the knotless braids and the heart braid. Together they look classy with a touch of cuteness. From regular wear to special occasions, you can have this hairstyle for any event and time of the year, and you'll look beautiful.
As you can see here, the blonde braiding hair has been used down the length for the braids. You can also add some transparent beads at the end to make this hairstyle more gorgeous.
12. Purple Box Braids with Hearts
Love the box braids but also want to try something different. Here's the perfect braided style for you!
Most of the time, you braid your hair in box braids with square partings, but this time, go with heart parting and see the difference! You can also add some fun colors like red or purple to your hair for an elevated overall hair look.
After completing the look, don't forget to share your hairstyle on your social media accounts to get the right attention.
13. Sleek Braided Ponytail
Another popular braided hairstyle is the ponytail with box braids!
So, keep your hairstyle diary updated with this unique box braid ponytail hairstyle. This is a creative take on box braids where you can include many things to make it more fun, like colorful braiding and beads or cuffs.
In the above picture, the women chose the red and black braiding look to create a highlight effect. Her hairstyle looks spectacular, with a long ponytail and red beads at the end.
14. Middle Part Heart Knotless Braids
You have no time for a braided hairstyle; no worries, here is the fast and easy heart braid look you can make in no time!
The cute heart-shaped design and low buns will immediately draw attention to your hair. To take this hairstyle on another level, ask your stylist to apply various tweaks and beads in various colors. This will make it look more alluring and eye-catching.
One of the best things about this hairstyle is that you'll feel light as it is done by the feed-in technique. This way, you can easily make a seamless transition between your natural and synthetic hair.
15. Classy Kanekalon Braids with a Heart Design
Want to try another visually alluring and appealing hairstyle? If yes, here is another braiding hairstyle!
Look at the above picture to get an idea of how to create the braids. The stylist has used white-blonde extensions and natural hair to create this masterpiece. The best thing about knotless braids with heart hairstyles is that it is for every hair type. Whether you have straight, wavy, or curly hair, you can try this one!
16. Unique Queen of the Heart Knotless Braids
This season, rock this stunning Queen of the heart hairstyle! To get this look, use a metal rat-tail comb to create a perfect top-tier braid fusion. After making parts, you can also apply a non-flaky gel formula to lay your braids.
17. Knotless Braids with Heart on Side
Do you have medium-length hair, and you're confused between different hairstyles? Here's an idea for you!
This is a cool side heart-shaped braid that can be created with medium to long hairs. You can either make it simple just by braiding it or do updos and other hairstyles with the braids. Both ways, it will look great. You can do this style on young girls who like to have their hair down or up.
18. Knotless Braids in a Top Bun
We have already told you about the ponytails with braids, so how can we skip the bun with braids? On our list, this is another trendy braiding style of the year. Whether you have knotless braids or traditional ones, you can create this style. All you need to do is to make a top bun from your braids. The best thing is that this one is perfect for both formal and casual events.
19. Sleek & Thin Knotless Braids with Hearts
With the braiding style, you can make many creative designs and shapes using knotless braids. This will look great on everybody, no matter what or how long both ways. Here you can see how small knotless braids with hearts look sharper and more distinct. You can achieve this on the two strands of braids on your head's left or right side.
20. Pink Cornrow Braids with Heart
Why go with boring black or brown braids when you can have colorful braids?
Yes, look at these bright pink cornrow braids with hearts on the temple. Here the braids are well made in a criss-cross pattern in the front and also neatly braided at the back.
21. Feed-in Braids with Heart
This time, try something different and unique. We're talking about the stylish feed-in braids with a curly sew-in with a heart design. Get this done at a professional salon, as it will take less time, and you'll get a clean, neat, braided look.
22. Fancy Ponytail Stitch Knotless Braids with a Heart
Love the idea of fancy heart box braids? If yes, style this hairstyle in a sleek ponytail and get all the attention. You can add various accessories and shades that look best on your hair and face shape.
23. Trendy Heart-Parted Knotless Braids
This braided hairstyle seems a bit complicated to do, but it's not that hard. However, it will take some time if you're doing it all by yourself. So we recommend going to the salon and getting it done! All your efforts and money will work for this unique and fashionable hairstyle which is perfect for your next date.
24. Simple Three-strand Braid with a Heart Part
This hairstyle is dedicated to girls who are new to the braiding world. They don't know much about braids and can't make complete heart-shaped braids. No worries, there are still many hairstyles that you can try, like this one. It has three strand braid with a unique and big heart parting.
25. Traditional Tribal Knotless Braids with Heart
Braiding styles and patterns completely depend on the individual choice. Some people like small braids, while others like long braids. Similarly, some women don't like black braids; they like to add some fun colors to their hair to make a statement look.
If you also like to have something different with a non-conventional approach to fashion, get this mixed colors tribal braids. Don't forget to add the heart design on both sides of your head or just one side. Give it try to these tribal braids with hearts!
26. Cool Braided Space Buns
Do you want to match your hairstyle with your sister or best friend? Here's an excellent hairstyle idea!
This is called the braided space buns with a twist. To do this, do your normal braid with a heart and then separate them into two parts. Finally, make a low bun from these two parts and finish the look with some glitter. You can wear this look to any event at school, at parties, and at dinner.
27. Jumbo Boho Knotless Braids with Hearts
Don't like small boxy braids as they put a lot of stress on your scalp? Don't worry; this won't happen again! People suffering from the same problem should go for the jumbo knotless braids. This type of hairstyle will surely reduce stress on your scalp as there are only a few sections.
28. Boxer Braids & Cornrow Braids Combo
Here's the BOMB COMBO for your next party look!
This hairstyle combines the goodness of the boxer braids and the sleekness of the cornrow braided with hearts. Together they look so irresistible and appealing. Appropriate for summer, winter, and fall seasons, you can rock this style on both day and night events.
29. Bright Red Cornrow Braids with Beads
Go with a fiery red hairstyle and catch all the attention on any occasion!
This is a red cornrow criss-cross braid with a heart design. You can also dye your hair in other colors like green, violet, blue and purple.
30. Box Braided Heart Design in the Front
There are dozens of braided hairstyles, so if we're going to explain everything, the list will go on. So, this is the last but not the least braided hairstyle for you. To create this look, create box braids and heart braids in the front and back. Lastly, put them all in a single bun while leaving some curls.
Still, your heart craves more knotless braids with heart design. Scroll down!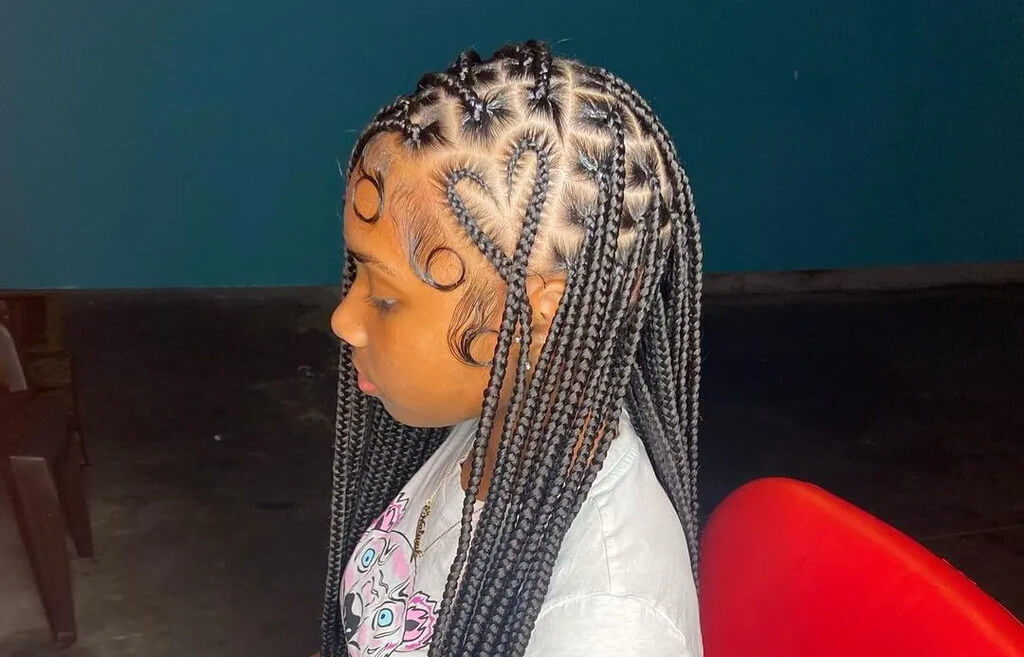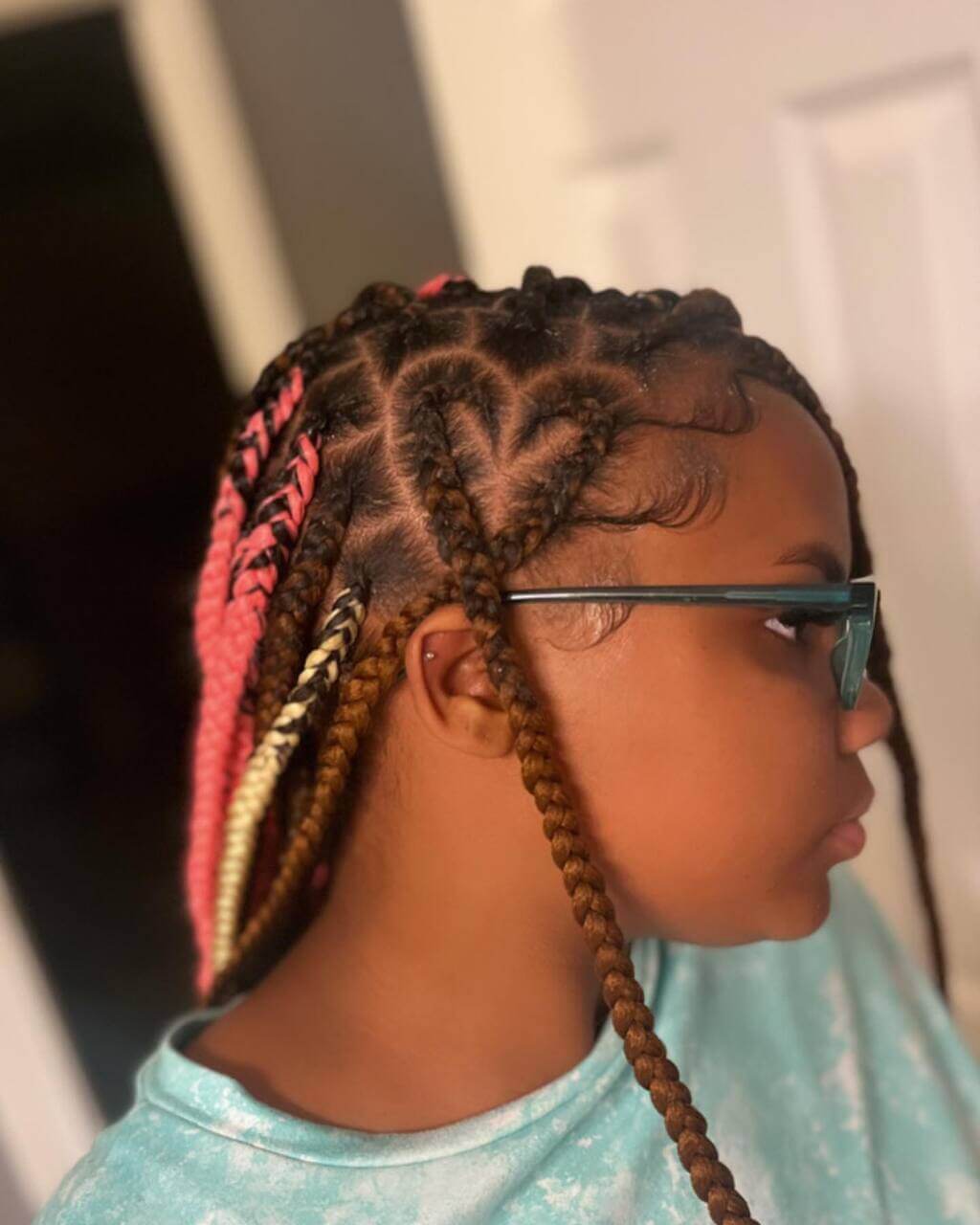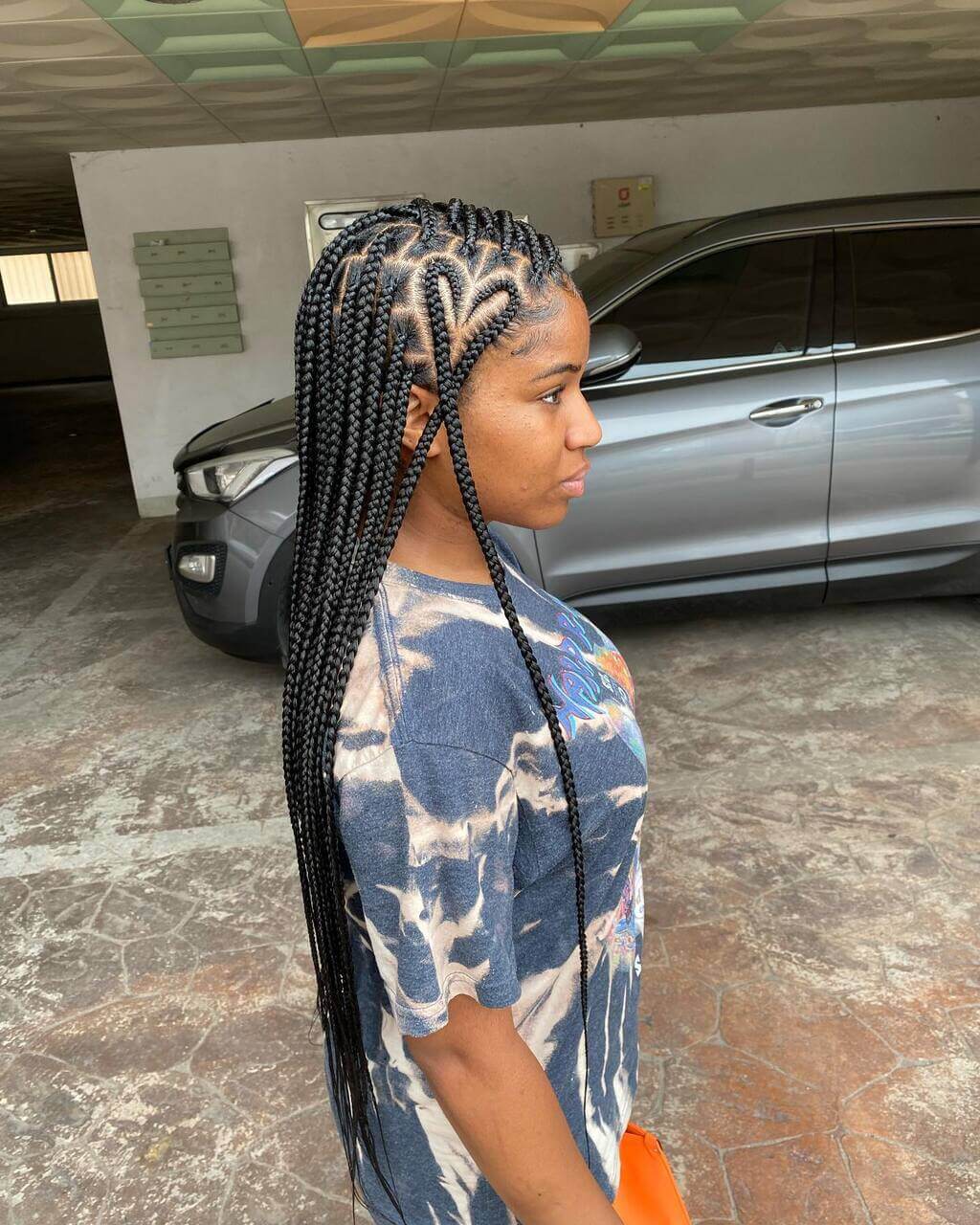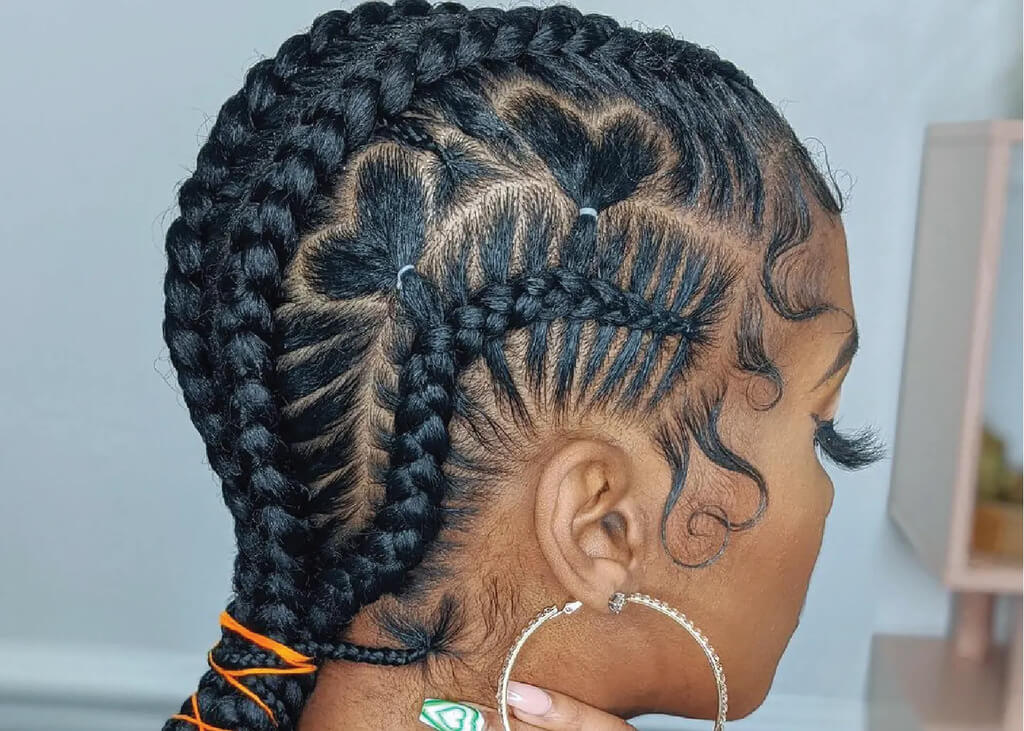 Final Thoughts
So this is all about the knotless braids with heart hair ideas. Whether small or long, short or jumbo, heart braids are cute, gorgeous, and really popular these days. There are so many different styles and looks that you can easily create with knotless braids with hearts. From box braids with hearts and smooth braids with heart on the side to tribal braids with hearts and cute heart knotless braids, there are endless options.
You can go through the list and pick the one you think will look best for you or your girls. From ponytails and buns to colorful braids and highlights, there are some things that you can add to make your hairstyle look distinct.
I hope this blog on knotless braids with heart hair designs has helped you to pick the best-braided hairstyle. Don't forget to share this blog with your loved ones and friends who are looking for the latest braided hairstyles.
Explore further:-