Every year new hairstyles make their way to the trending list. However, in recent years, we have seen one hairstyle that is constantly on top – box braids. All its variations including short, long, and even medium box braids are loved among girls and women nowadays.
Box braids are a classic style that never goes out of fashion. If you're looking for a new twist on this timeless look, you are at the right place. Here in this blog, I will brief you about the medium box braids, how to do them, and 11 amazing medium box braids hairstyles to try in 2023. From classic styles to modern, there's something for everyone.
What is Medium Box Braids?
Medium box braids are a type of braided hairstyle that involves creating small, uniform sections of hair and braiding them close to the scalp. This type of braid is often used as an alternative to traditional cornrow braids and can be styled in various ways. While box braids medium can take some time to complete, they are relatively low-maintenance and can last for weeks.
How to Do Medium Box Braids?
medium sized box braids are a great option for those who want the convenience of braids without having to deal with very long hair. They are also a good choice for people who want to add a bit of texture and interest to their hair.
First, you'll need to gather your supplies. You'll need some hair extensions, a comb, some hair elastics, and some patience! Once you're ready let's learn how to do medium box braids, you just have to follow the steps below:
Step 1: Start with clean, and dry hair. If your hair is oily, shampoo it before starting.
Step 2: Section your hair into four or six small sections. The smaller the sections, the thinner the braids will be. So, do the sections as per your width choice.
Step 3: Do their subsections and start braiding each section of hair, adding in a small piece of hair from the extension.
Step 4: Secure it with the elastic at the end. And make sure you are braiding in one direction only.
Step 5: The last step is to secure them with the mousse and hair spray. You will have to take care of it to make it last longer.
7 Benefits of Medium Sized Medium Box Braids
There are lots of benefits to wearing medium size box braids. Let's take a look at a few of them as of now:
They can give your hair a break from the heat and chemical styling, they protect your hair from damage.
They can last up to 8 weeks at a time with proper care and also look pretty darn cool. So, you don't have to worry about re-doing your hair every few weeks.
They're also low-maintenance which will again save time on your hair routine.
Plus, they're a great way to add some extra length and volume to your hair.
Another great thing about medium box braids is that they're extremely versatile. You can wear them in a variety of styles, from unleash to a top knot, and they always look chic. You can also dress them up or down, depending on the occasion.
It's a hairstyle that will save you time and money, medium box braids are definitely worth considering.
And lastly, be prepared to get a lot of compliments – people will definitely notice your new hairstyle.
Also, keep in mind:
If you're thinking about getting box braids medium size, here are a few things you should know. First, they take a bit longer to install than smaller braids, so be prepared for a bit of a time commitment. Secondly, you'll need to use some specific hair products to help keep your braids looking their best.
11 Medium Box Braids Hairstyle For You!
Here are some of the best medium box braids hairstyles that you can try in 2023. Whether you are going to college or the office, this hairstyle will give you a sophisticated and chic outlook. Without wasting more time, let's dive in!
1. Classic Medium Box Braids
This style is nothing but the basic version of box braids with medium length. When going for classic medium box braids make sure the braids are tight enough to give you that defined look. You keep them in side parts or let loose, the choice is yours.
2. Medium Box Braids Long
Medium box braids long look better on anyone. If you don't have lengthy hair, add extensions and get your desired look in minutes. Don't forget to tame your baby hair and frame the forehead with hair gel or mousse.
3. Medium Box Braids Updo
Another style you can create for the effortless look is an updo. Once you are done making medium box braids, take all the braids and tie them together on the crown part in an updo with elastic rubber. You can also add the beads and other hair accessories like the one in the image!
4. Medium Box Braids with Curly Ends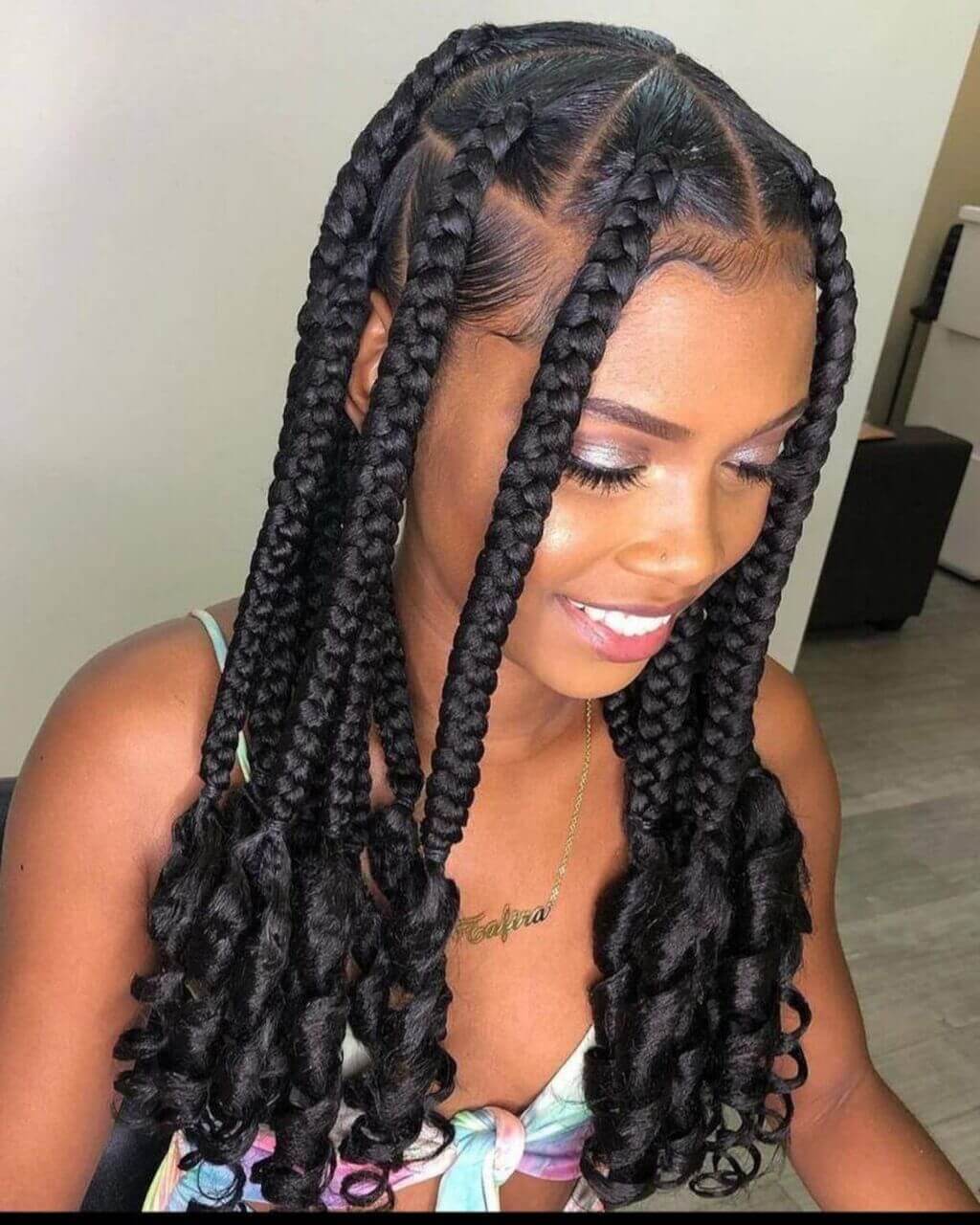 If you want something that is more undone and is perfect for the beach vibe, go with the curly ends. The procedure is the same, you just have to skip securing it with the elastic. Instead, you can apply mousse or cream on the ends and curl it for the exact look as shown in the picture above.
5. Medium Box Braids with Beads
Another beach look, with medium box braids, is adding the hair accessories. Get yourself some colorful beads and add them randomly to your braids for a colorful yet classic look. To get the look of the model here, you can pick the see-through beads and add two of them at the ends. Then, tie a few braids on the crown.
6. Medium Box Braids Knotless
Do the knotless box braids for the unfinished yet defined look. For this look, you've to braid till the end, not leaving a single part. To keep them stuck together, use hair gel or cream. This medium box braids knotless hairstyle is ideal for college-going girls.
7. Medium Box Braids with Parting Pattern
This one is nothing but another way of styling your medium box braids hairstyle. Start with parting your hair in the pattern you want, like a diagonal, triangle, etc. Then, start doing the box braids within those sections. The end result will make you happy, that is for sure. You can take inspiration from the image above.
8. Medium Box Braids with Color
If you have highlighted or colored hair, then you can slay these medium box braids as well. Carry them to your college or on friends' day out and look how cool you appear to them. It isn't only about looking cool, but it also adds beauty to your overall look and goes well with any outfit you decide to carry.
9. Side Part Medium Box Braids
This one is as easy as it sounds. It is just like the medium box braids with parting patterns, all you have to do is make a side part as per your choice and do the box braids. However, make sure the braiding direction is on the same side only. This will make your hairstyle look more natural and authentic.
10. Medium Box Braids Ponytail
If you are going for the thin medium box braids, you can also create the look in the image. Yes, a ponytail, who doesn't love them. All you have to do is grab all the braids and tie them on the crown part of your head with an elastic rubber band. Then take a few braids and wrap them around the elastic tie and fix it under your ponytail for a trendy look.
11. Half Up Half Down Medium Box Braids
Last but not least is the half up half down medium box braids hairstyle. Half up half down hairstyles have been in trend for a while and more and more models are trying it out regardless of the hair type. This looks best on all outfits and occasions.
Slay the Medium Box Braid Hairstyle Look!
With this, I will put an end to the medium box braids article. In this article, you read about its meaning, how you can do it, the benefits, and 11 different medium box braids hairstyles.
Hurry up and try any one of these and tag us on your feed. We will definitely have a look. Also, you might get a chance to be featured in our story. For more articles like this, subscribe to Fashionterest's newsletter.
Keep reading: