Long hair is a dream of every woman. According to professional fashion stylists, if women have long, strong, and flawless hair, they can look amazing. If you have maintained your hair nicely, you can try various hairstyles for different occasions. And when we talk of occasions, one of the most awaited and best ones is the wedding. There is a range of wedding hairstyles for long hair in 2021 that make any woman the most beautiful bride. Have you ever wondered if you fail to select the right choice of hairstyle for your wedding, you may spoil the entire look? 
In this blog, we will discuss some trending hairstyles that you can try at your wedding or any wedding in that case. It is complicated to try a different hairstyle if you have long and voluminous hair, as it takes ages to get it done perfectly. Today, I am sharing some of the most trending hairstyles that you can try in some quick and easy ways. 
When discussing hairstyles, we must understand the importance of good, strong, and healthy hair. For that, by the end of the blog, we will discuss some of the professional tips, which will definitely be beneficial to keep your hair stay strong and thriving.
Wedding Hairstyles for Long Hair
Now, let us start with the hairstyles and decide which one will perfectly set on your hair type and style. 
Half-Dutch Style Ponytail
Source: latest-hairstyles.com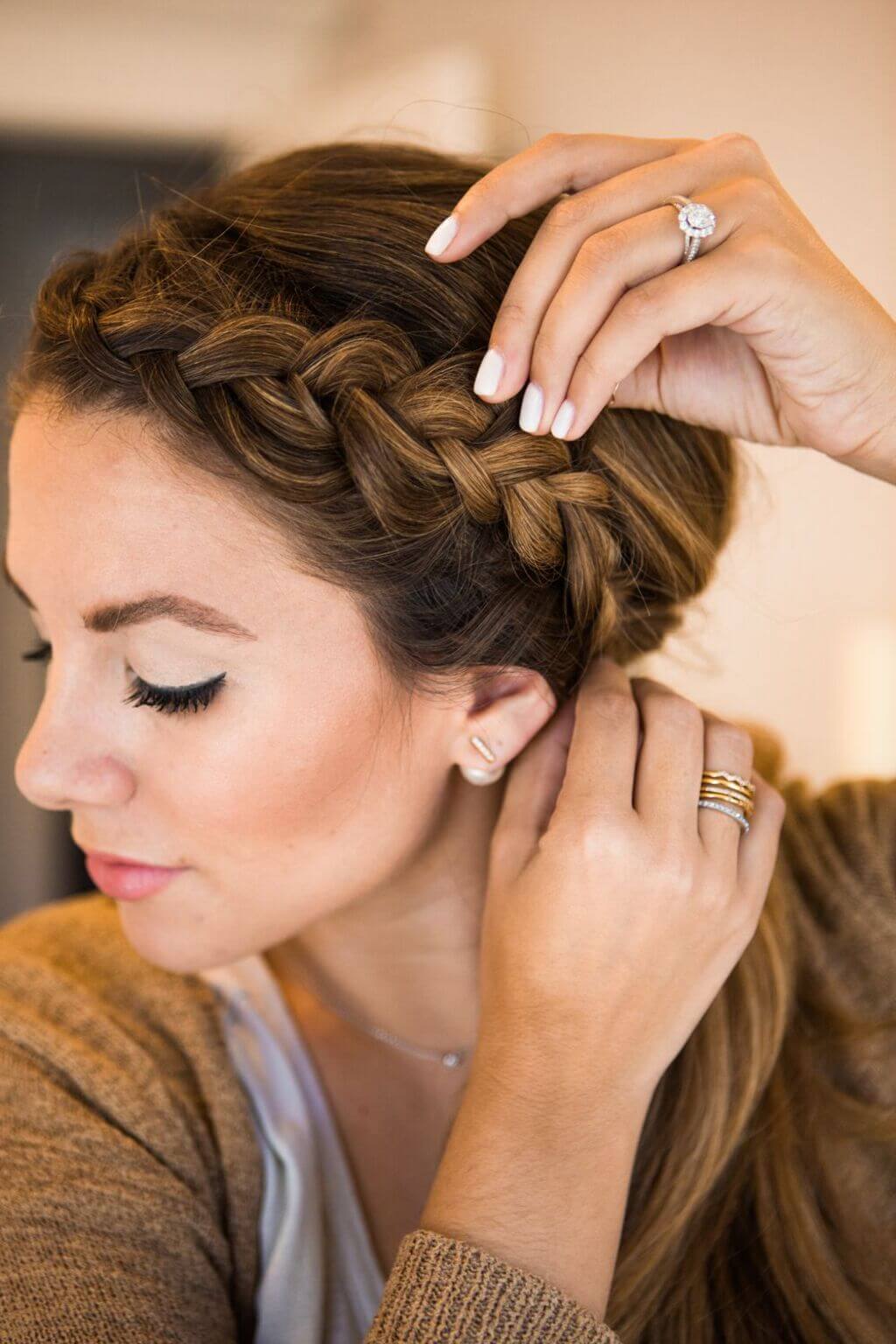 Source: pinimg.com
If you are a bridesmaid and looking for the right hairstyle, Half-Dutch Ponytail will help you with it. It adds some hotness to the look, and you can definitely be one of the most beautiful bridesmaids over there in the wedding.
Dutch hairstyle makes your hair look voluminous, which adds a flow and enhances the beautiful shades of your hair. For slaying this hairstyle, you need to ensure you have brushed your hair nicely to tie the knots on the braid. 
Steps to follow:
Firstly, brush your hair nicely to resolve all the knots in the hair. 

Spray over some texturizing spray that will help you maintain the hair at a fixed place for a longer time without any mess. 

For this, you have to decide on the shape and size of your ear based on which hairstyle this hairstyle will set on your face. profile s Take a proper strand above your hair ear and start forming the Dutch braid by adding strands in every section. 

Now you have to just follow up with the same braid section until the end once you are done with adding hair strands up to the edge. Lastly, tie up all the hair, including the

Dutch braid

, into a ponytail. Brush-free hairs thoroughly to enjoy a flawless hairstyle. 
With this, your beautiful Dutch braid ponytail is ready, and it turns out to be one of the easiest and lovely girls' hairstyles for long hair. 
The Ideal Rope Braid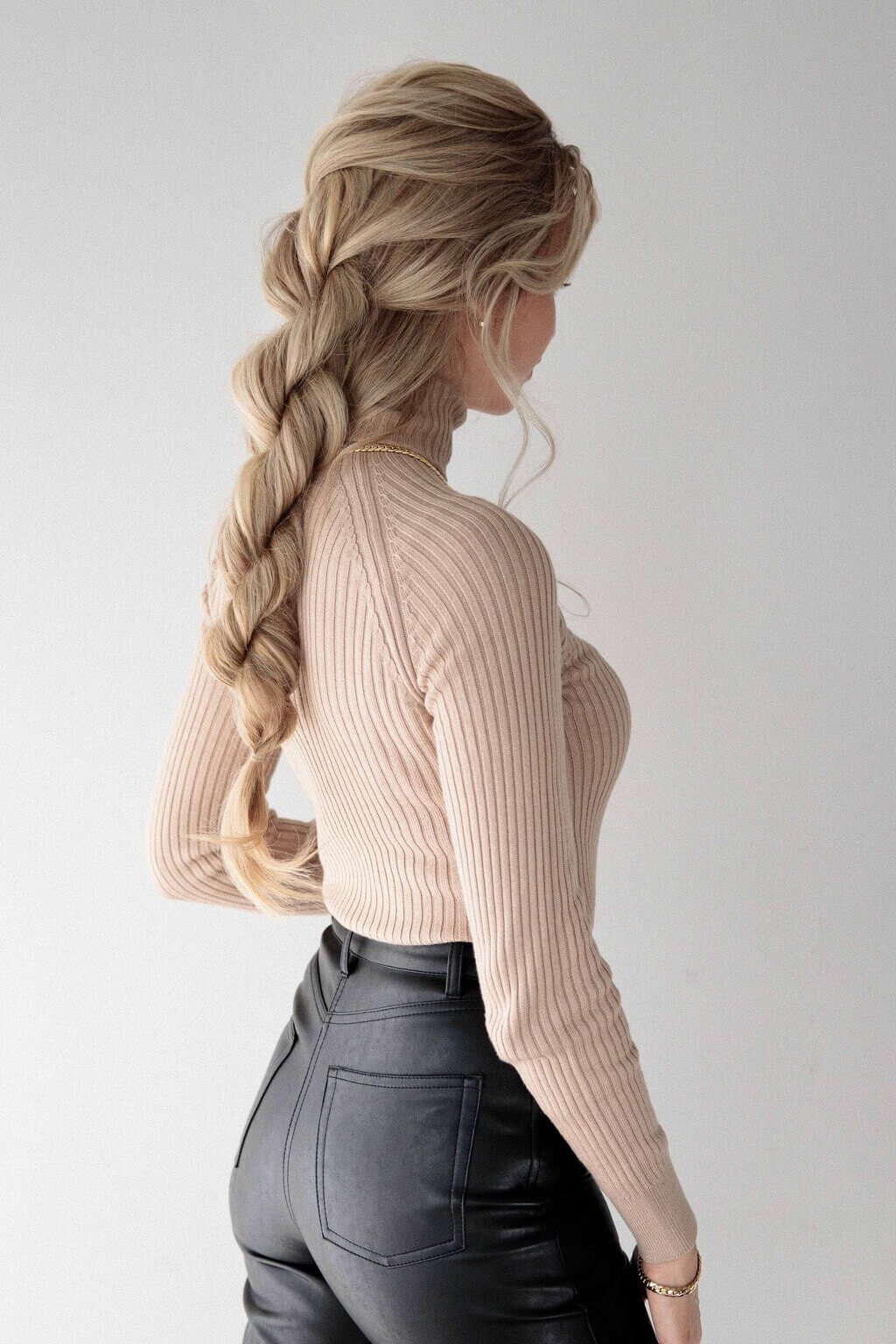 Source: alexgaboury.com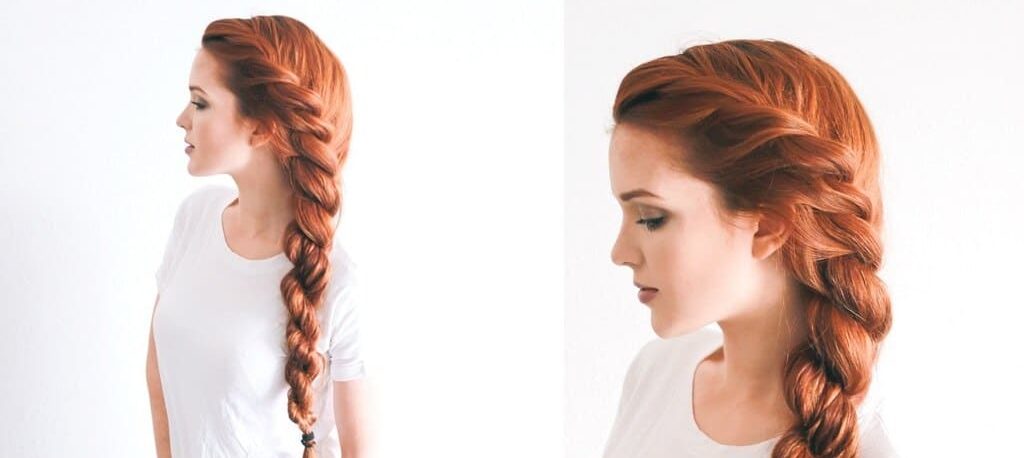 Source: ytimg.com
You love your long and healthy hair and really love to try different hairstyles on a wedding occasion. What are you waiting for?  You can definitely try this Ideal rope braid hairstyle for your hair.
If you think this hairstyle will need a lot of time to get a perfect look, you are wrong, my friend! The fact is that it is an easy hairstyle and takes less time than any other braiding hairstyle. All that you need is a hair elastic band and a texturizing spray. 
Steps to follow:
As always, brush your hair to get flawless strands. Clear all the knots and spray the texturizing spray to set your hair and provide a smooth texture. 

Shift all your hair strands on one particular side based on your best profile. 

Now partition all your hair into two parts. 

Twirl them and then intersect them with each other.

Keep following this step of intersecting the twirled part with each other till the end of the hairdo.

In the end, secure the twirled braids with the hair elastic band.

To add volume to the braids, you can loosen the twirls to enjoy the voluminous look. 
Rope braid is a  are pretty and straightforward pinned-up hairstyle for long hairs. 
Double Layer Halo Braids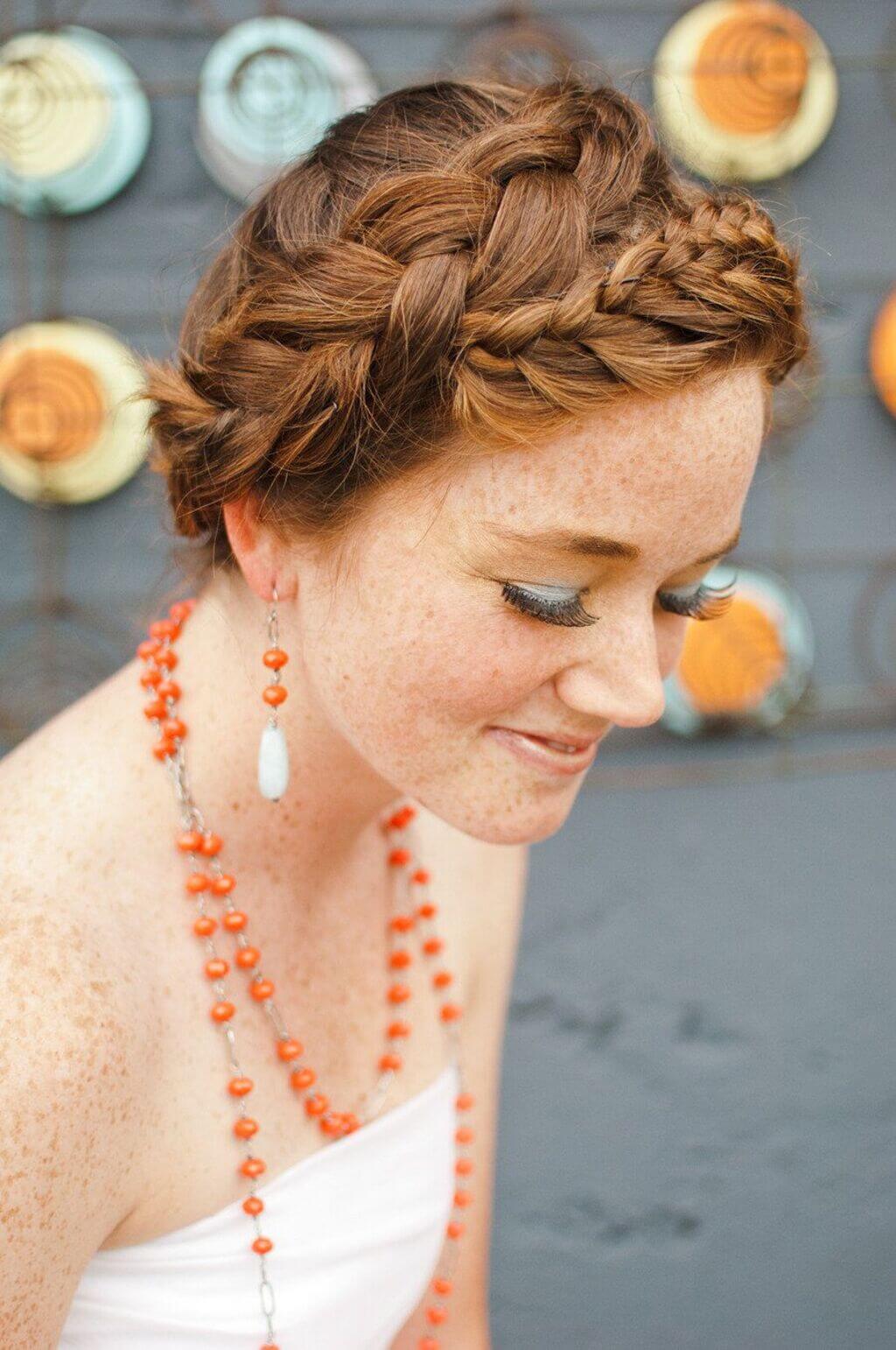 Source: pinimg.com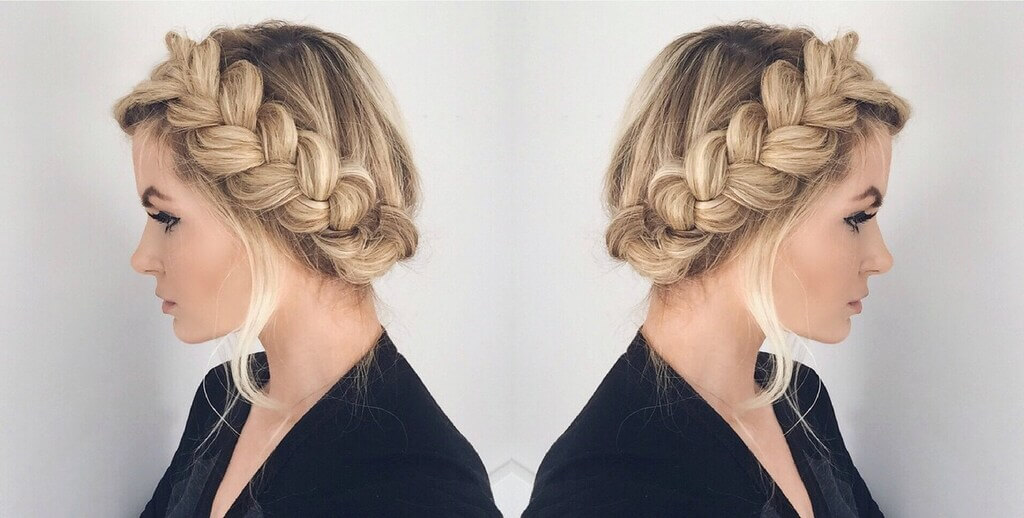 Source: vistapointe.net
If you are searching for a simple-looking wedding hairstyle for long hair, this is the one. If you are not interested in trying a challenging or heavy hairstyle, halo braids will definitely save your date. They look so beautiful and classy if tied neatly.
This is one particular hairstyle that even a teenage girl can try on her hair. It seems challenging, but if you understand the steps precisely, it is one of the easiest hairstyles you can try. Brush your hair to get rid of the tangles before you start with the styling of the braids.
Steps to follow:
Once you brush your hair to resolve all the tangling from the hair, apply serum to have flawless, smooth hair.

From the back of your right ear, select a 2 to 3-inch strand and start forming a braid till the end of the right ear. Once you have reached the end of your right ear, secure it behind the ear. Follow the same step from the back of your left ear till the back of your right year and secure it with some securing pins. 

This will form one layer, which means two straps of the braid. 

If you want a double layer, follow both the steps again and secure them with a pin.

In the end, you will notice the hairband that has been formed with the styling of the braids. 

It looks stunning and sexy. Brush all the hair at the back to have a beautiful flow of your smooth & silky hair. 
You can try this hairstyle with any of your attire. It maintains both a formal as well as a casual look. 
Quince Style French Braids with a Twisted Bun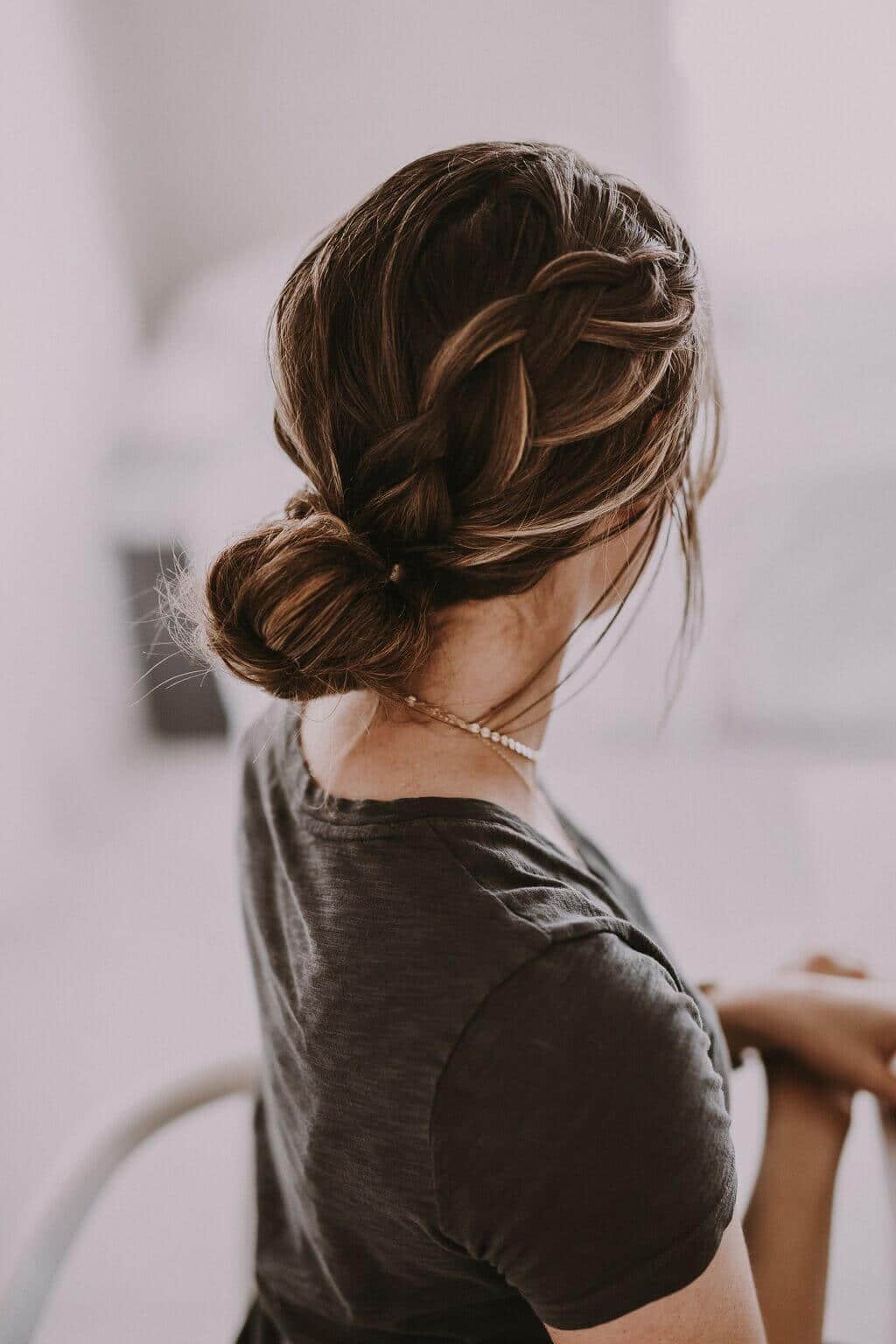 Source: pinimg.com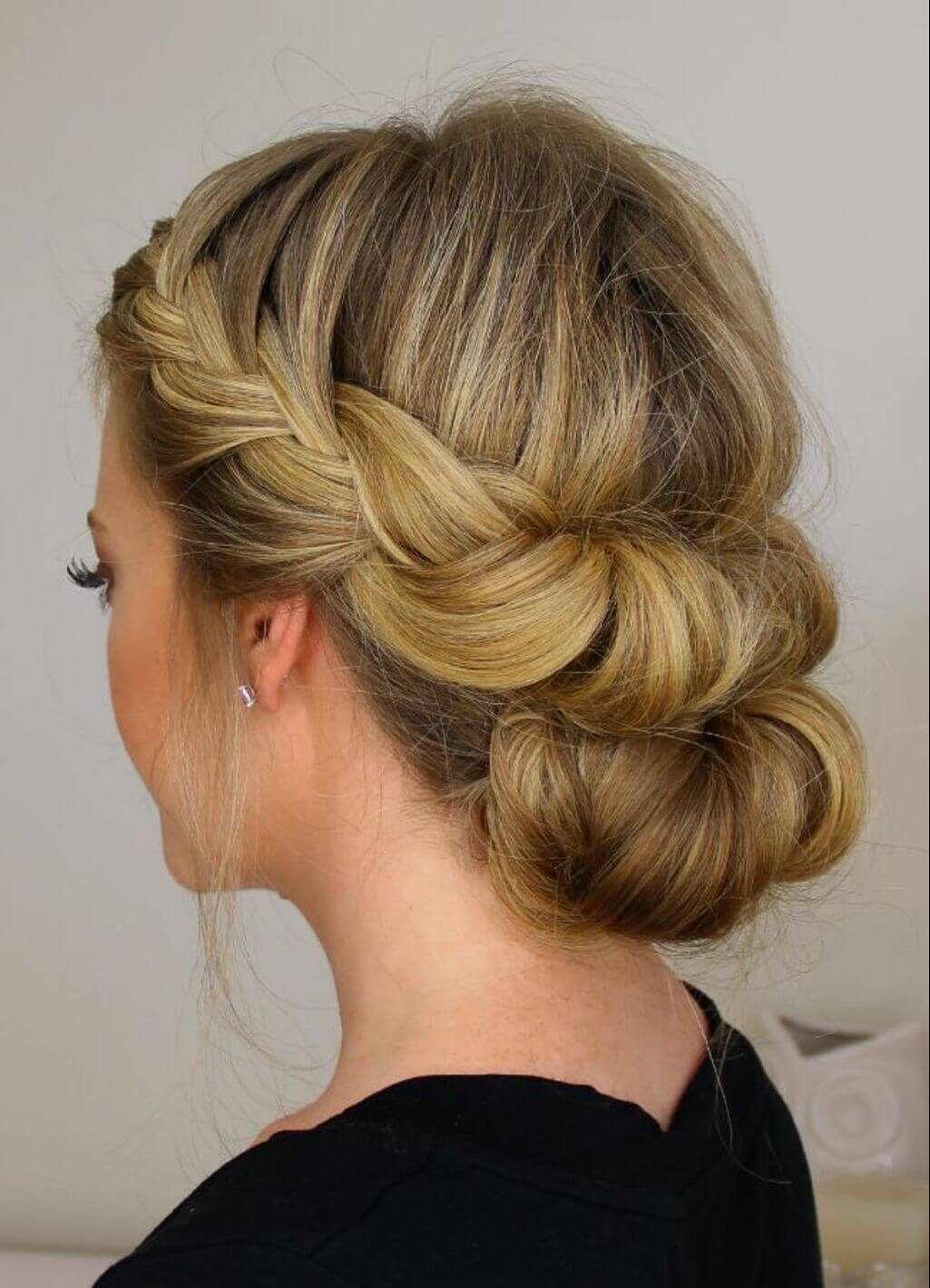 Source: pinimg.com
A Quince hairstyle for long hair provides you an exact royal feel of being a bride. Wedding hairstyles for long hair is a challenging job. In this pandemic situation, we fear reaching out to a professional for doing a hairstyle.
To enjoy the royal bride feel, try the quince style. It is a perfect mixture of a messy look, voluminous feel, and a royal or luxurious bridal hairstyle on long hair. You need to nicely follow all the steps after brushing your hair. Every hairstyle starts with brushing your hair as they clear the knots, which can create a hurdle while trying the hairstyle. 
Steps to follow:
After brushing your hair, spray the texturizing spray all over the hair to stabilize them in a particular place.

Select a medium-sized layer of hair strands from either of your ear temples and split them further into three equal sections. 

Now start making a French braid and keep adding the same amount of hair strand from the outer ends of the hair. 

Keep following this step till you reach the end of your head. 

Once you reach the end, collect all your excess hair, twist it, and twirl it nicely into a bun.

Secure the bun with a hairband, or you may use bobby pins to have a better grip on the bun. 

Now what you have to do is start loosening the braids and free some of the strands from the front of your forehead, to enjoy the messy hairdo. In the end, wear your beautiful tiara or the crown and slay like the royal bride of your groom. 
Isn't this one of the best wedding hairstyles for long hair?
Tie Up the Knot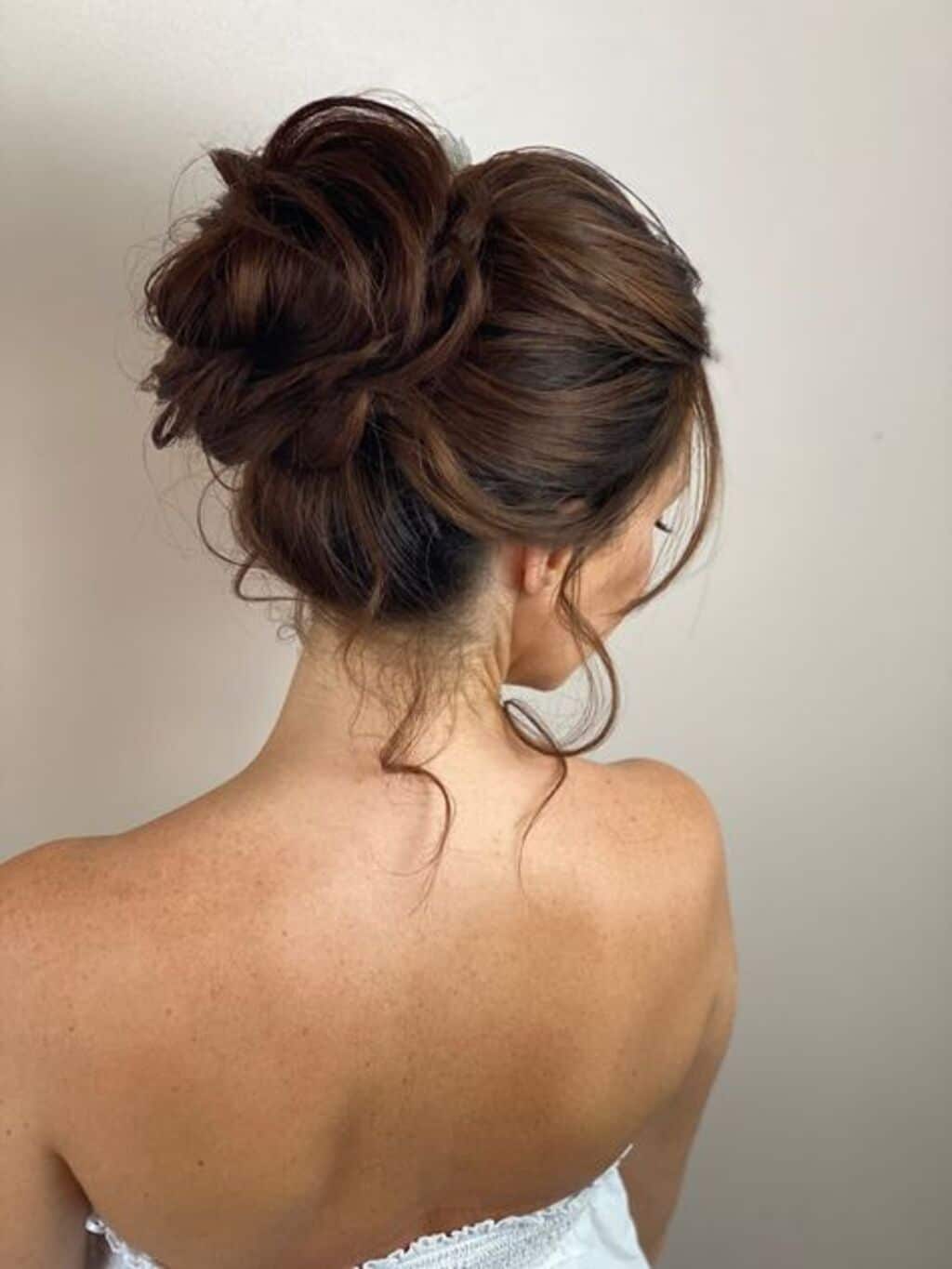 Source: pinimg.com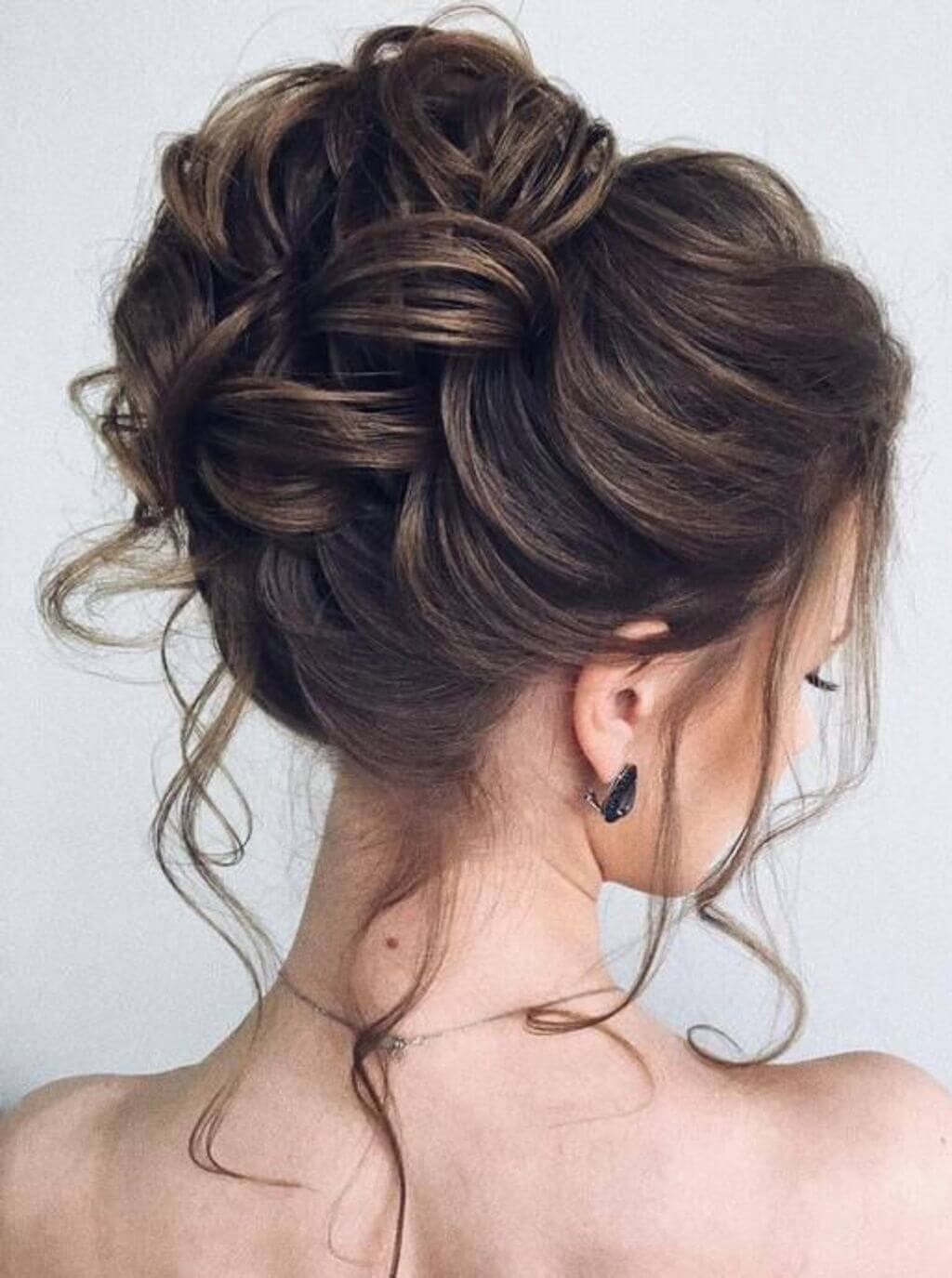 Source: pinimg.com
The top knot is one of the easiest pinned-up hairstyles for long hairs. Topknot turns out to be a formal as well as a casual wedding hairstyle. At times we want to try something formal for a wedding, or if we are not in a mood to try something exciting, we find a simple and classy hairstyle, which can justify the occasion.
In such circumstances, the top knot proves to be an ideal hairstyle if you have long and healthy hair. As usual, brush your hair before you start with the styling. Apply a serum or texturizing spray to smoothen and enhance your hair.
Steps to follow:
After brushing and applying the texturizing spray or serum, brush your hair finely with your fingers. 

While brushing your hair with your fingers, collect them and take them to the back of your head.

Once you have collected all your hair at the back end of the head, decide the height where you want your bun to be pinned up.

Roll and twist your hair forming a bun.

Secure it with a hair elastic band. 

Now gently place your finger inside the bun and start pulling out the strands slightly to create a messy and voluminous bun. 

Try creating a puff in the front of your head to enjoy the perfect look.

In the end, fix your hair with a Spritz spray to secure them at their place for a long day ahead. 
The most lovely and straightforward hairstyle for long hair.
Double Ponytail with Ultra Long Hair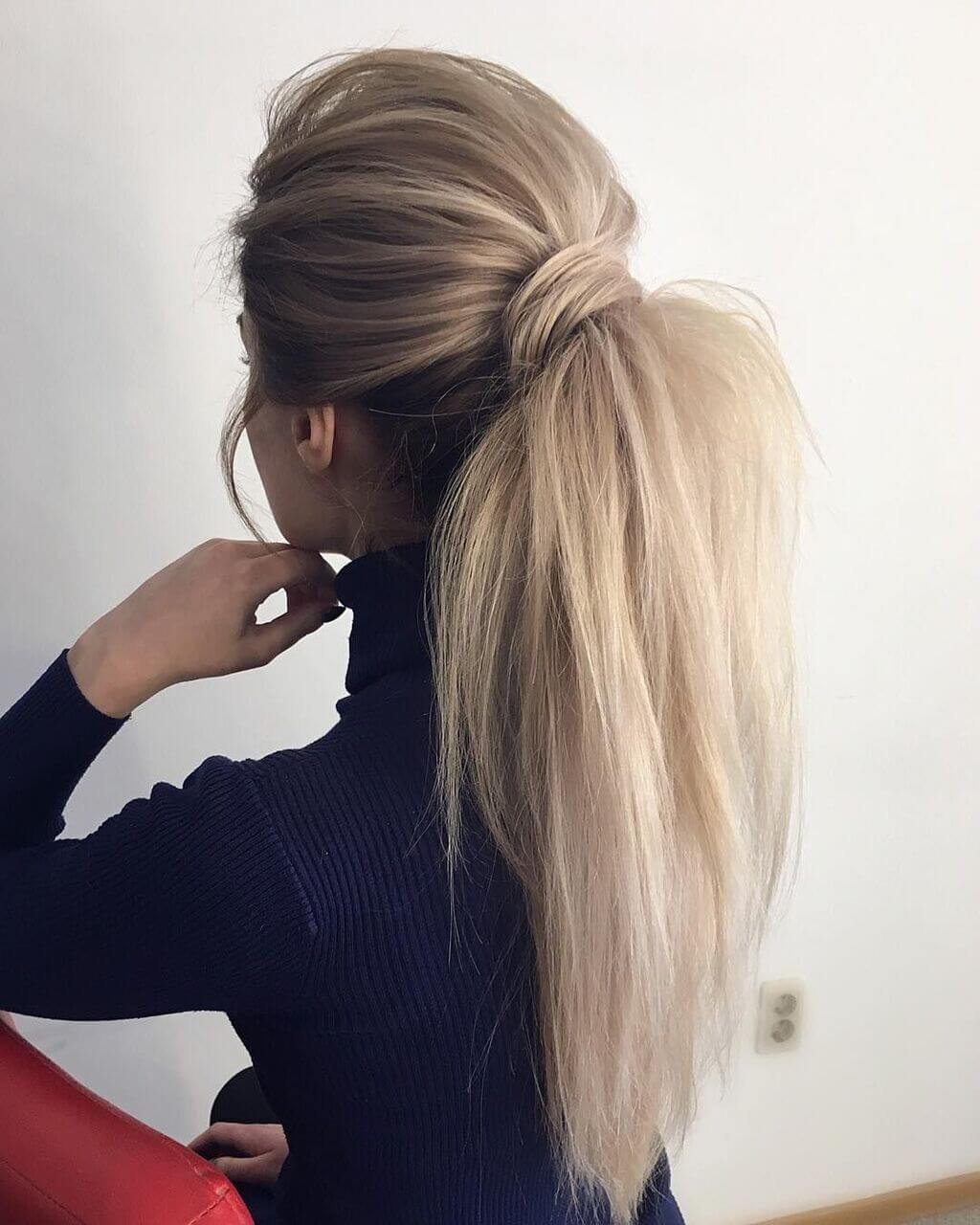 Source: pinimg.com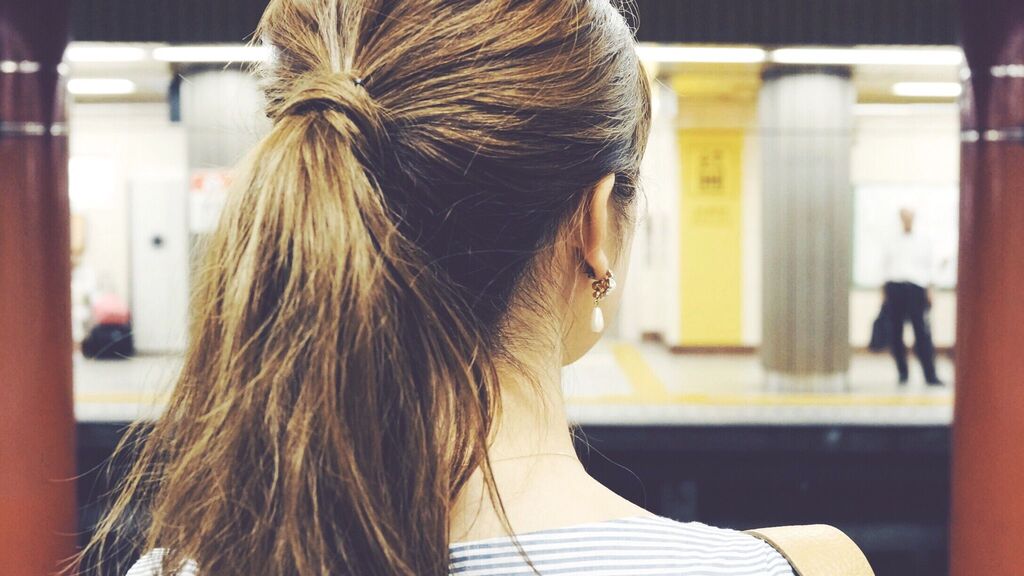 Source: byrdie.com
Suppose you want to showcase your long hair at a wedding. In that case, a double ponytail with an ultra-long hairstyle will suit your personality. It may seem to be challenging, but, believe me, it is an exciting and simple hairstyle.
You can try this for your wedding engagement party or any of the wedding parties or events. It looks absolutely stunning and adds volume to your hair. Having long hair with an extra book gives them a bouncy effect with flawless strands. Brush your hairs to resolve the tangles in them before styling your hair. 
Steps to follow:
Ensure that you have dried your hair nicely after washing them to add fluffiness and volume to your hair for this hairstyle. 

In a horizontal partition, your hair in two different sections. 

Tie up the upper section in a bun style to part them away from the lower area.

Now, brush the lower sectioned hair and tie them up at a mid-level length ponytail. Secure it nicely with an elastic hairband. 

Now open the bun you have tied on the top. Comb or brush them nicely and collect them all to the crown. 

Collecting it to the crown will add volume. 

Secure it in a ponytail style with the elastic band. Fan the upper ponytail over the lower section to cover them out. 

Enjoy the double ponytail with ultra-long hair.
The double ponytail is an absolute classy hairstyle every woman wants to try if they have long hair. 
Khaleesi Twist Braid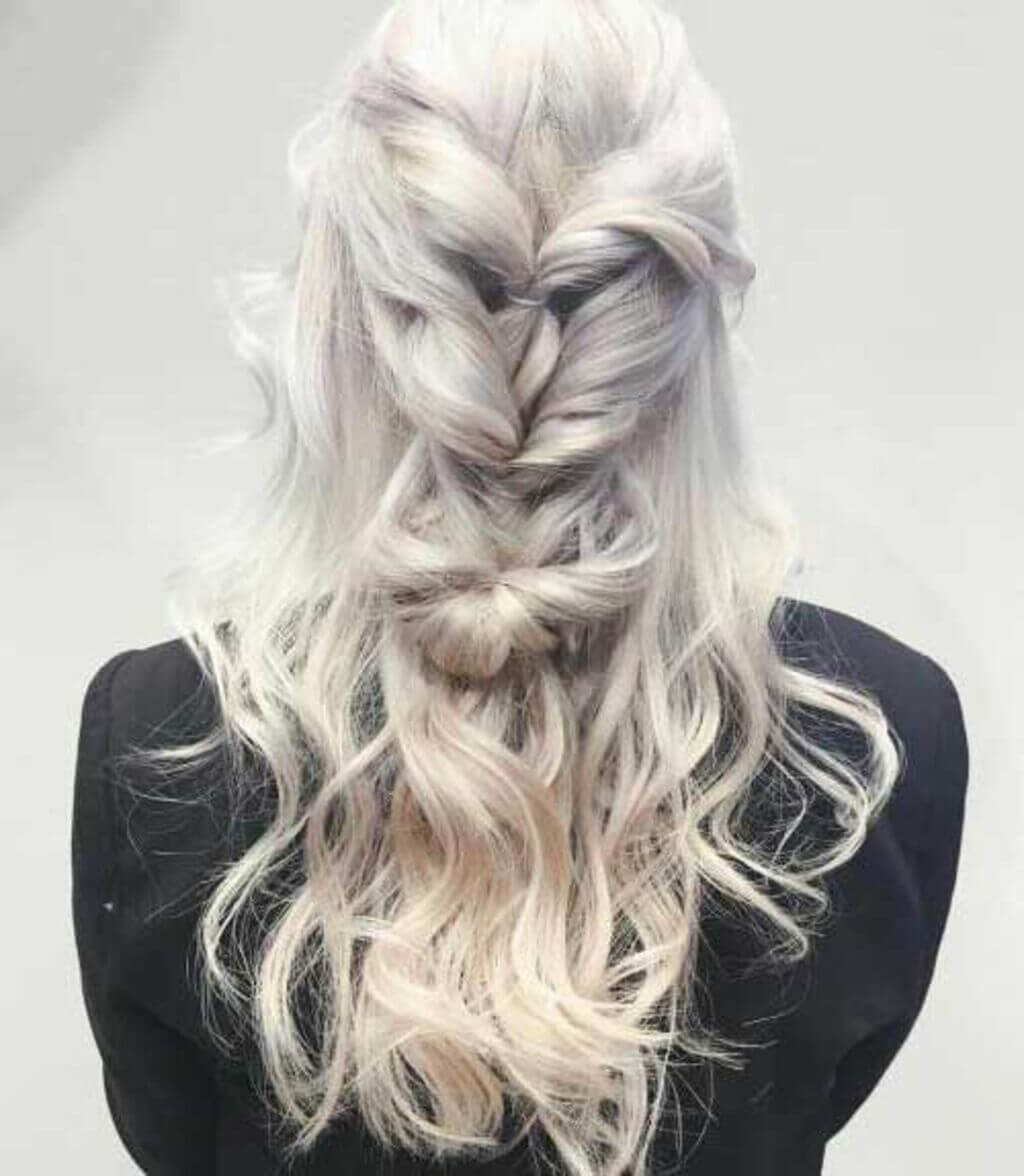 Source: pinimg.com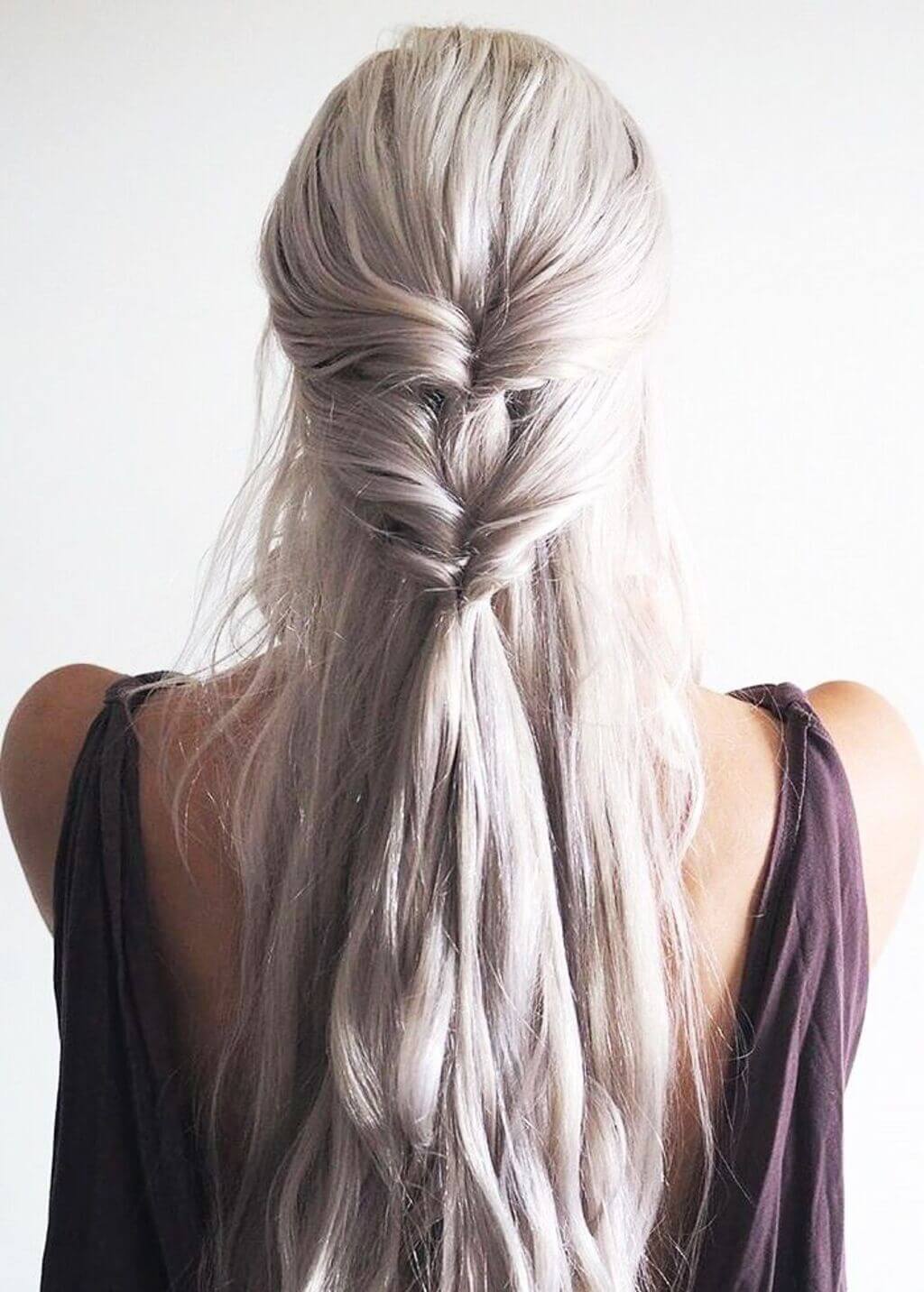 Source: pinimg.com
Khaleesi twist braid adds a volume to the upper section of your hair and enhances your look to a queen feel. It is absolutely easy to style and won't take much of your time. A perfect wedding hairstyle for long hair. It is definitely not the wedding day hairstyle.
Still, you can definitely try the hairstyle at one of the events of the wedding. It is simple and looks really beautiful. If you are a bridesmaid, believe me, this is a lovely hairstyle that you can try on your friend's wedding day. Brush your hair firmly before following the steps to try the hairdo. 
Steps to follow:
Leave a few sections of hair strands in the front to frame your beautiful face. Collect the remaining hair and pin it up in a ponytail.

With the help of your fingers, create a space above the elastic, which is securing your ponytail. 

Now understand the flow, flip out the ponytail from the gap you have made to create the topsy tail. 

From both the ear ends, collect 2 sections of hair and tie them up in a ponytail exactly above the top of the first ponytail. 

Topsy tail the ponytail twice. This will lead you to the final result.

For a long-lasting hairstyle, secure it with spritz spray. 
The hairstyle is confusing, but you can definitely achieve the do if you follow the steps thoroughly. 
Half Bow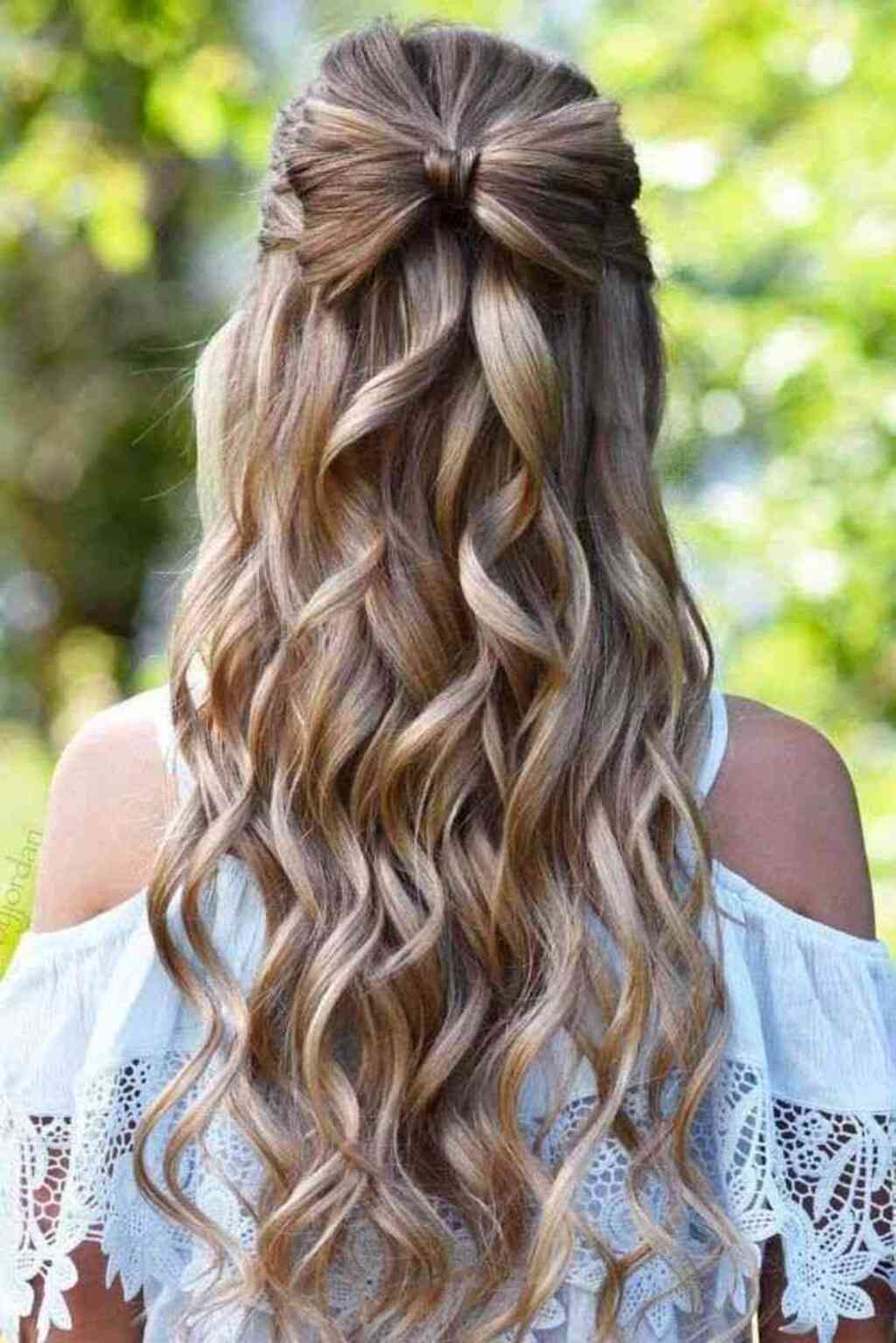 Source: scoopwhoop.com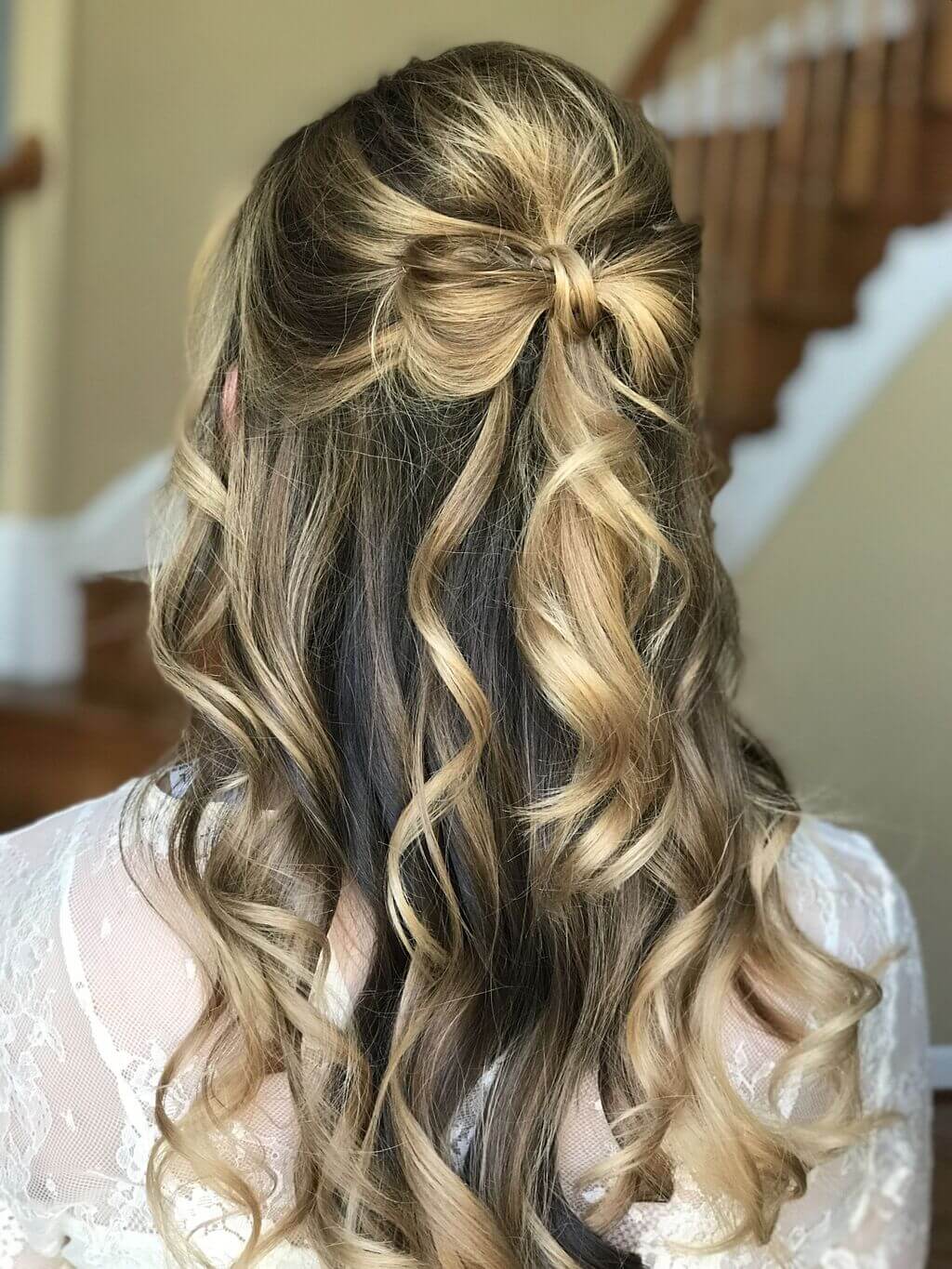 Source: pinimg.com
Are you a Minnie-mouse fan? Do you like to wear bow pins on your hair? If you have long hair, a half-bow is a beautiful wedding hairstyle for long hair.
If you are not interested in trying any complicated hairstyle for your wedding day, you can definitely try this hairstyle. It looks very simple yet sophisticated. All you have to do is wash your hair nicely, dry them and brush them well. 
Steps to follow:
After brushing and spraying your hair, section down your hair to the middle. 

Take two big-big sections of hair from either side of your head and tie them in a ponytail. 

Do not wholly pull out your hair from the elastic band. Keep it in a loop form.

Split the hair loop into two sections. Separate both the circles with a partition clip. Now n

Repeat the same step on the other side of the loop. 

Now flip the ponytail from the middle of the loop from the bow and secure it down to its place. 

Ensure that you use a spritz spray to secure your hair half-bow for a longer time.
This wedding hairstyle for long hair is a perfect match if you want to keep it simple. 
Pinned-Up Triple Twist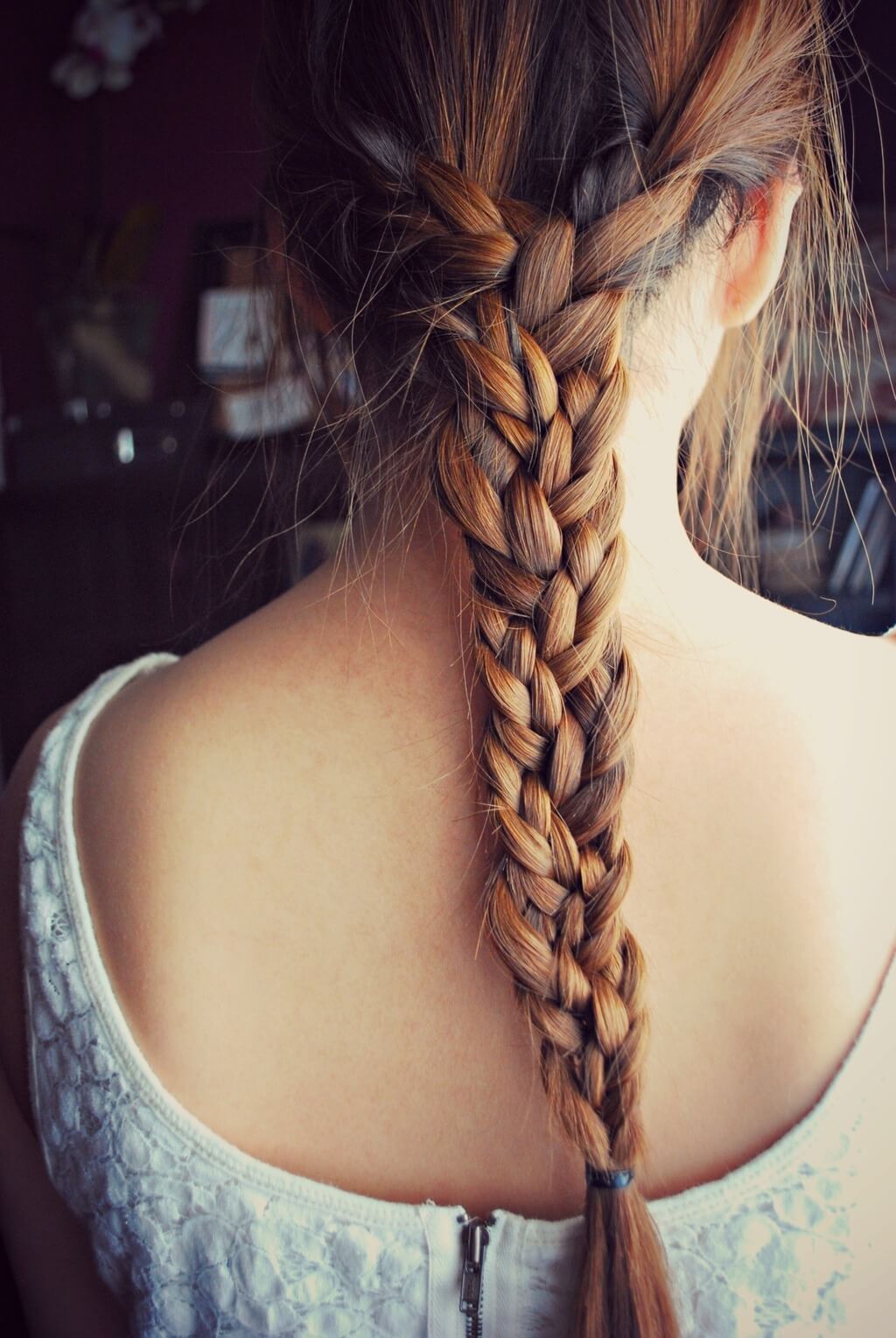 Source: whicdn.com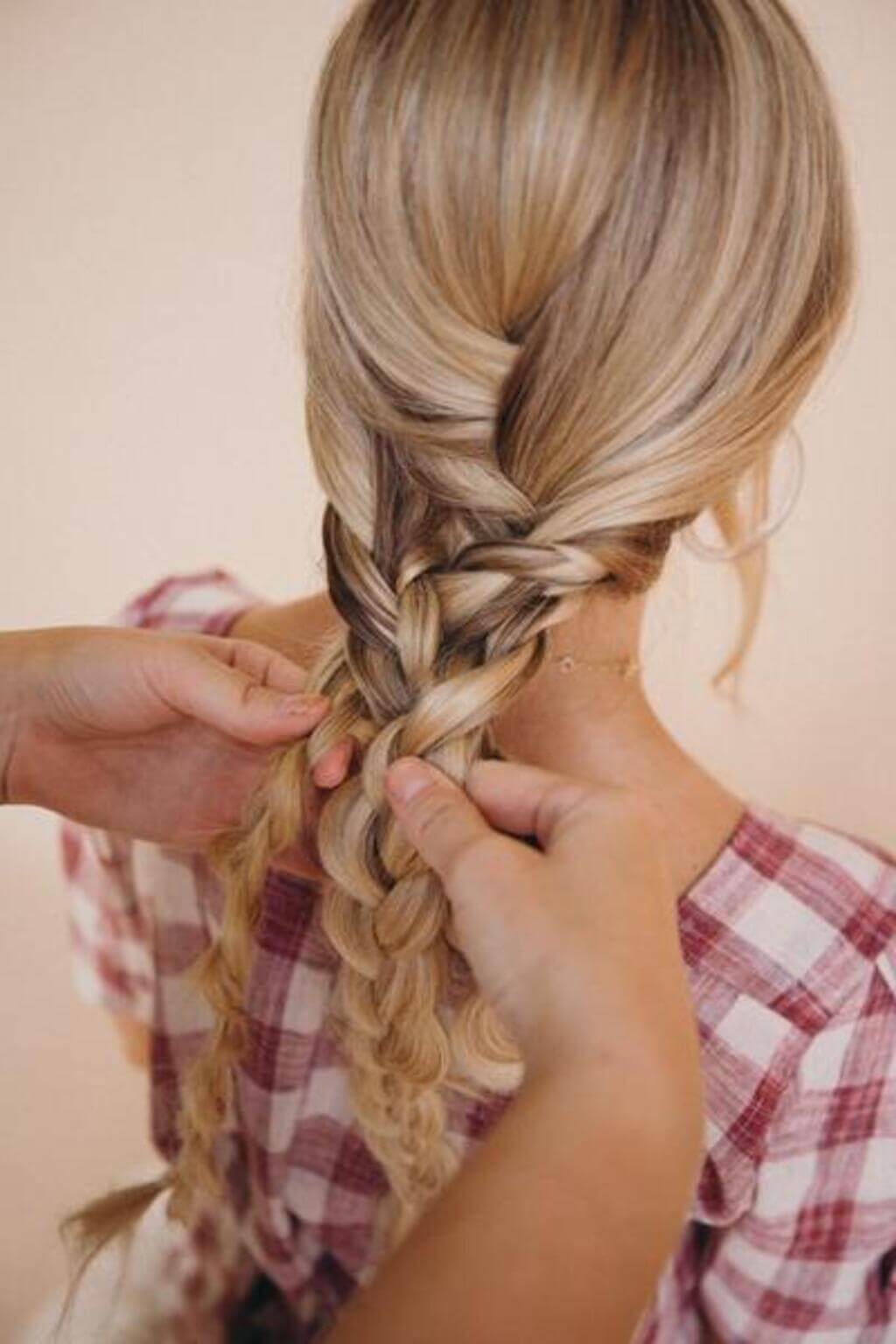 Source: shopify.com
Triple twist pinned up hairstyle is a perfect bead wedding hairstyle where you can crown a tiara to enhance the wedding hairstyle. Isn't this exciting? The hairstyle is very simple and easy to try if you have no time to get ready for the wedding. 
Steps to follow: 
Apply some serum and curl all your hair with the curlers. 

Apply texturizing and spritz spray to secure them for a longer time. 

Section your hair down to the center. 

Take a small section of hair strand from your left temple and start twisting it till the end of the right end. 

Pinup the twisted part with the securing pin in a diagonal manner to the end of the head. 

Repeat the same steps almost five to six times on the same side and secure them at different angles.

Calmly loosen the twists to add volume to the hair. 
Also Read: Top 15 Wedding Hairstyles for Women
The Knot Half Up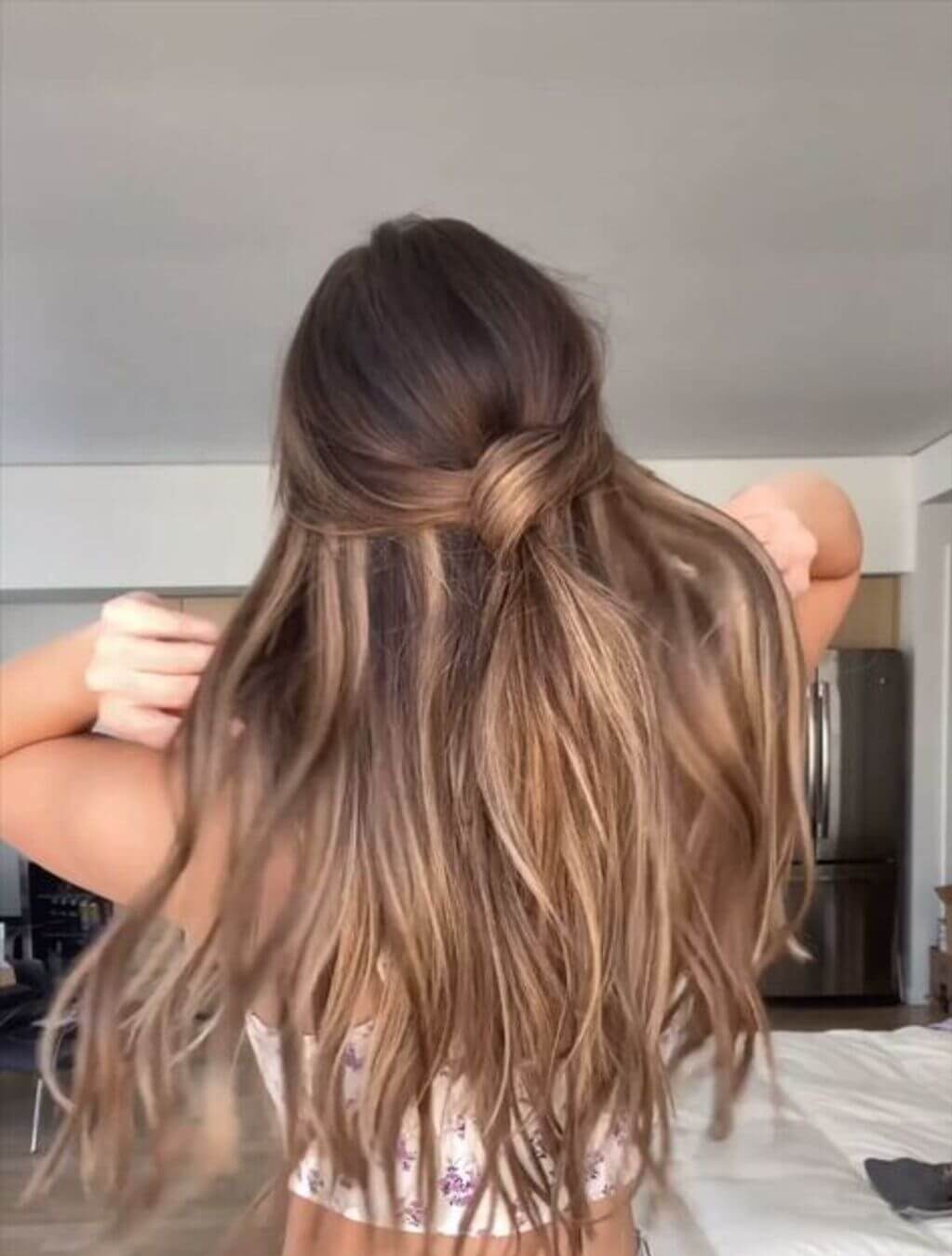 Source: pinimg.com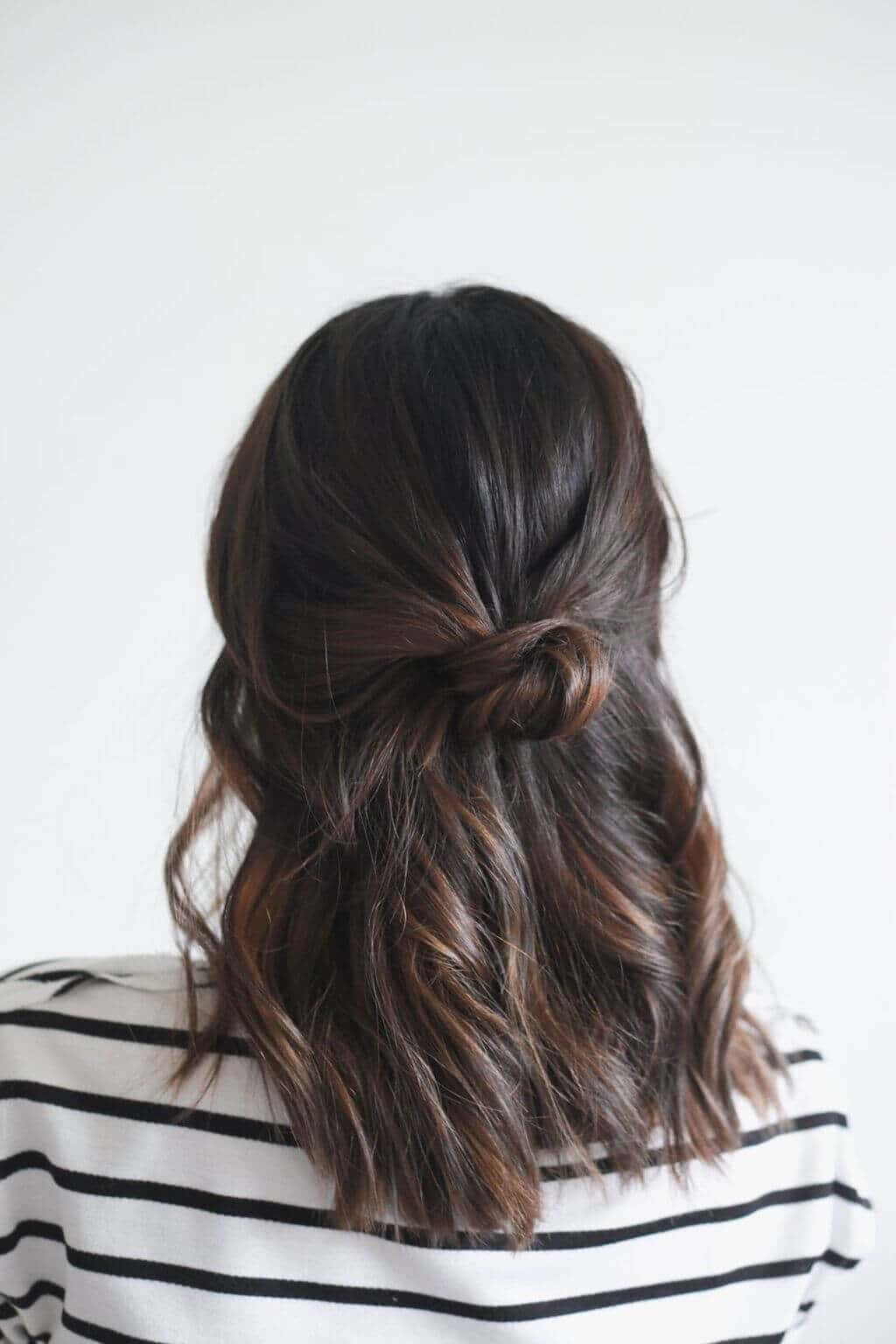 Source: pinimg.com
The half knot up is a beautiful and simple wedding hairstyle for long hair. 
Steps to follow:
Apply serum on dry hair with the heating curler, curl your hair. 

Collect a 2-inch long section of hair from both the side of your head and while twilling, – pull them back.

Tie both the ends in a simple loose knot on the back end of your head.

Secure the knot in the place with the hairpins and spray the spritz spray.
Wasn't this an easy and less time-consuming wedding hairstyle?
Professional Tips for Solid and Long Hairs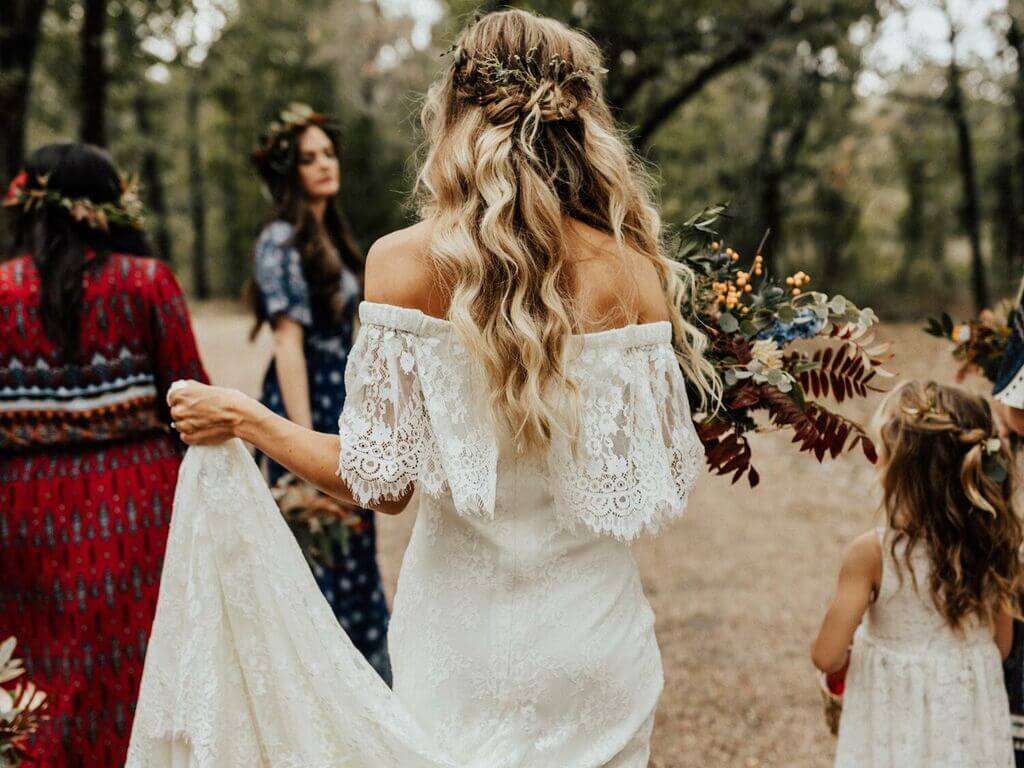 Source: theknot.com
According to professionals, wedding hairstyles for long hair are possible if your hair quality is solid and healthy. For that, follow these simple steps. 
Oil your hair regularly with essential oils.

Wash your hair nicely with satisfactory products.

Reach to professionals to attain treatment services.

Have a healthy diet and water intake. 
These are some simple steps you have to follow for maintaining healthy hair. 
For more, you can browse through Fashionterest.