Someone once said, "The right hairstyle can make a plain woman beautiful & a beautiful woman unforgettable." And that goes for everyone, regardless of the age or race. Today here we are going to look at some of the beautiful hairstyles for black girls.
Why are we covering an entire article on black girls hairstyles? Well, maybe because it is in demand or the black girl's hair is tough to tame and create a new hairstyle for school or college. Let's face the truth, we all know the black girl hair is thick and fluffy. The moms get bored creating one and only hairstyles for their girls, and the girls get bored wearing the same hairstyle every day!
So to get the solution, here we are with the best hairstyles for black girls with natural hair to wear at school and college!
35+ Naturally Beautiful Hairstyles for Black Girls
Here are the best, beautiful, cute, and trendy hairstyles for black girls for your baby to adorn! Without any delay, let's move ahead!
1. Classic Braids for Black Girls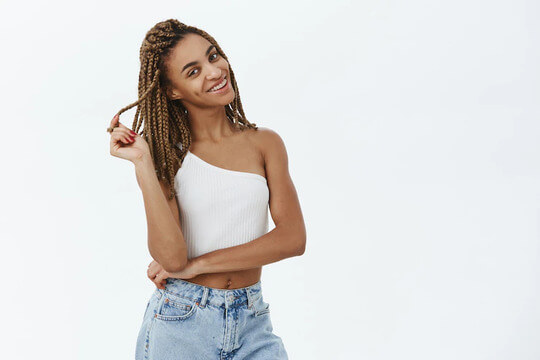 Source: freepik.com
Braids are the go-to hairstyle for black girls. Hairstyles for black girls' braids have gotten quite popular even in the western world and other cultures. It's a classic hairstyle and cannot be beaten in the coming hundred or thousand years. There are a million ways in which black girls can ace the braid looks, even if you try it every time you go out, you will still have something different to flaunt every single time.
2. Triangle Box Braid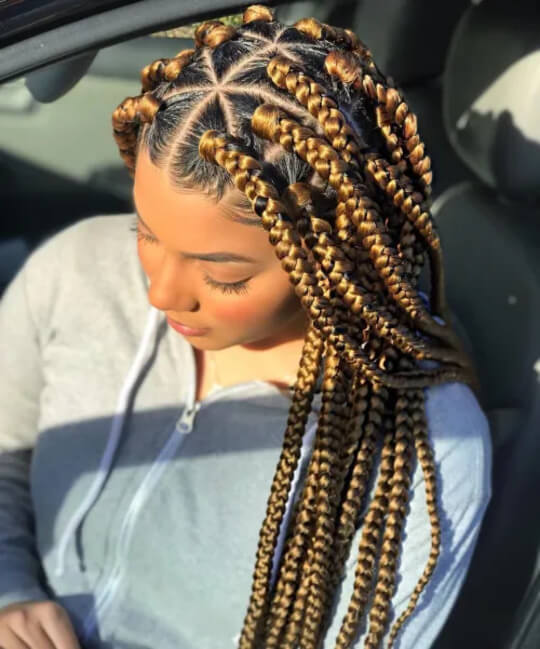 Source: therighthairstyles.com
Want to do something bold with the braids? Here's what you can experiment with Triangle Box Braid. It is a creative form of the braid where instead of boxy sections; the hair is divided into triangles. This hairstyle gives you a stylish look whether you go for a traditional or western.
3. Low Bun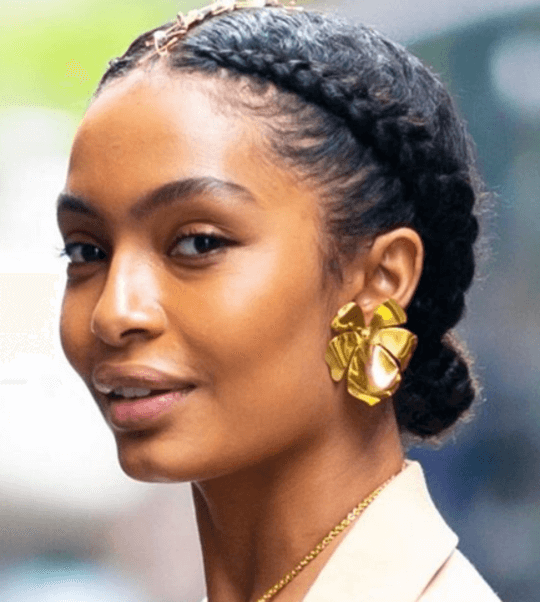 Source: hairstylelaboratory.com
It's easy and it's fun. You can add your magic with funky hair clips and pins. You can pair them with comfortable jeans or loungewear. This hairstyle is an all-rounder. You can tie your hair up in a Low bun while traveling or during formal events. It gives you a neat and one of the cute hairstyles black girls can have!.
4. Bantu Knots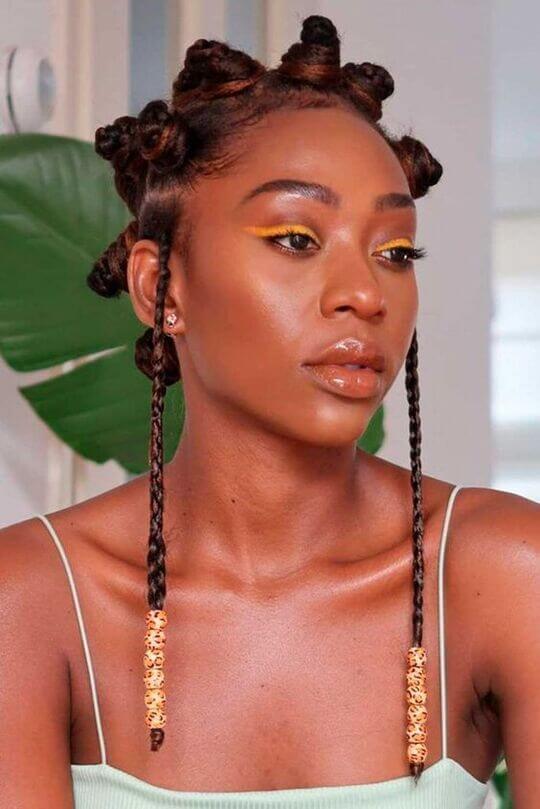 Source: pinimg.com
Bantu Knots are a hairstyle in which hair is divided into sections, twisted, and wrapped such that it stacks on top of itself to form a spiraling knot. It is recommended for all the pretty ladies who want their hair tied up tight. 
5. Big Afro Puff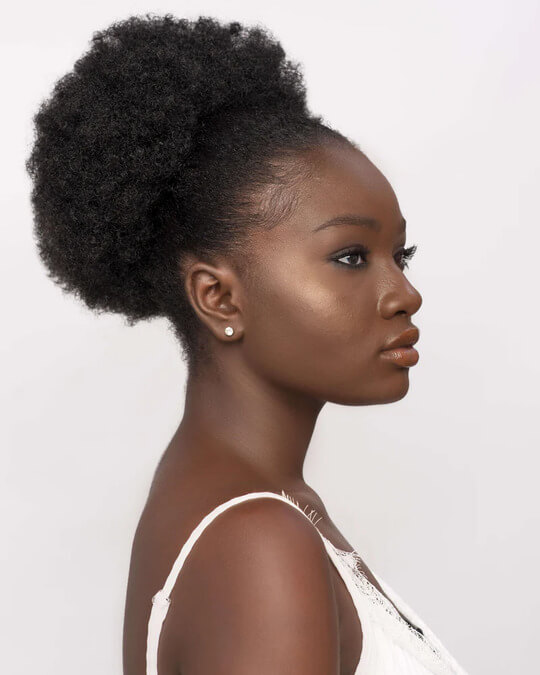 Source: shopify.com
Flaunt your roots & wear your African Hair like a crown. In this hairstyle, the hair is pulled back into one or more puffy ponytails. The puffs are typically located on both sides of the head or in the center and are extremely enormous.
6. Rod Sets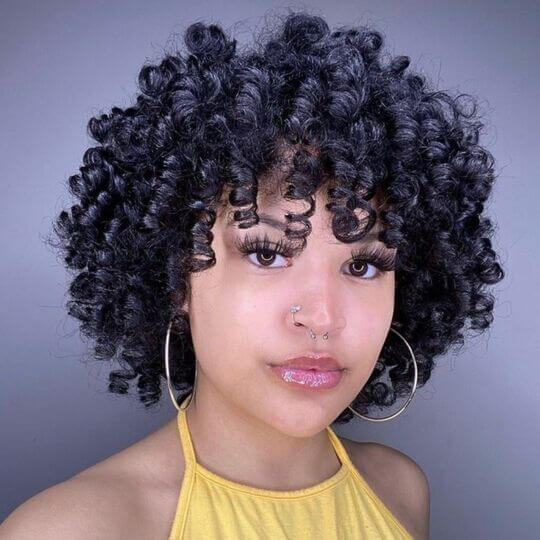 Source: coilsandglory.com
As they say, embrace your curls. Enhance them with the charming Rod Sets Hairstyle. The best part about this hairstyle is that you do not even need to be an expert in hairdos. Simply wrap your hair around the perm rods, allow it to air dry, and then take the perm rods out after your hair is completely dry. Here's your girl next door looking ready!
7. Black Chunky Twists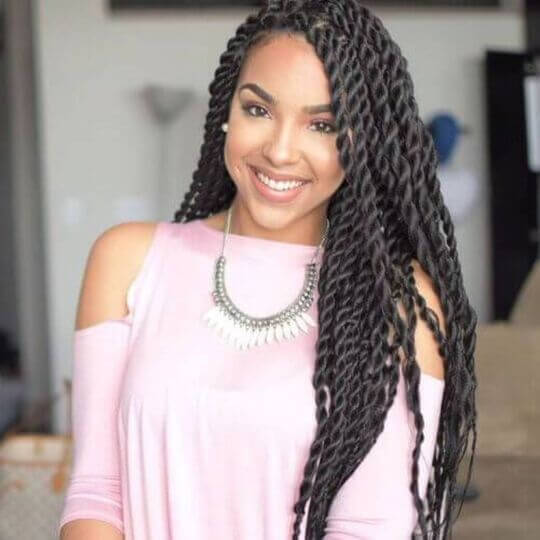 Source: coilsandglory.com
These thick twisted locks enhance your sharp features and add tremendously to your beauty. The Chunky Twists give you a simple, tidy, and sleek look. It's more popular with college girls or casual wear.
8. Braid Out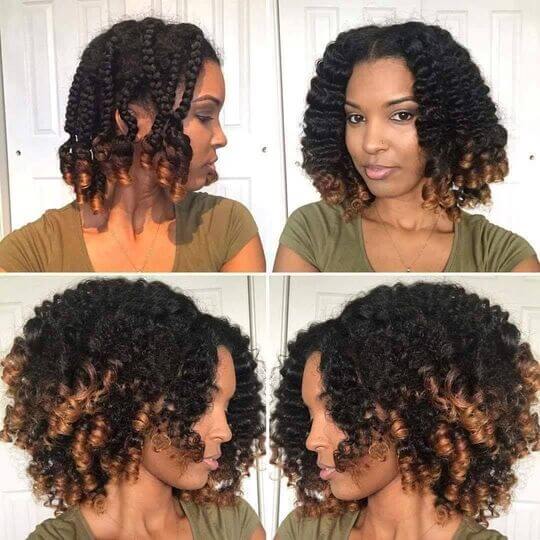 Source: pinimg.com
Set your hair loose, and try a braid-out hairstyle to give your hair a natural wavy look. It's effortlessly easy. Just tie braids on your hair and leave it overnight. Set them free the next day and flaunt this natural hairstyle for black girls.
9. Box Braid Bun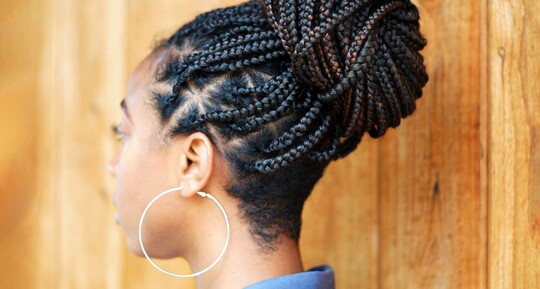 Source: wordpress.styleseat.com
Box braids are cool but can be difficult to manage at times. Box Braid Bun is your solution when you want to don a box braid look but don't want to spend the day managing your long hair. Tie it up, beautiful!
10. Lemonade Braid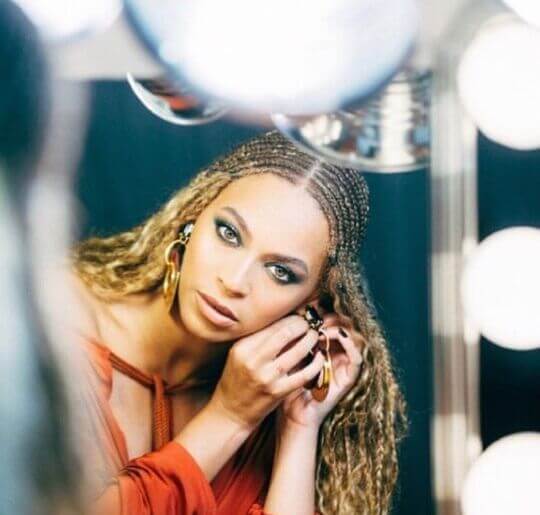 Source: pinimg.com
Lemonade braid is made by braiding long cornrows in small, simple designs. This Fulani braid version emphasizes your features by using a combination of lengthy cornrows that fall on one side of your head. 
11. Braided Natural Updo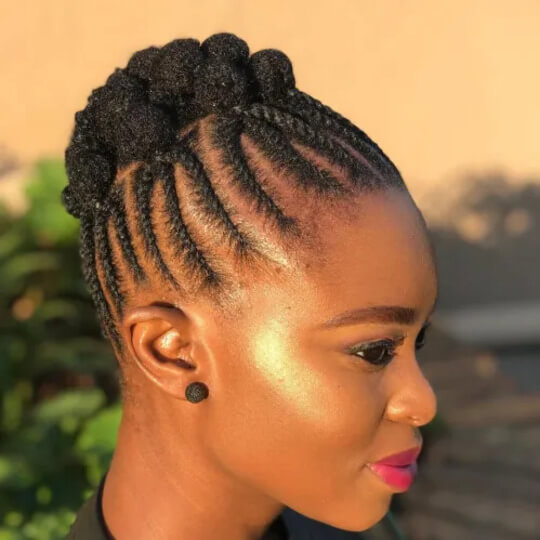 Source: therighthairstyles.com
A braided natural updo is one of the natural hairstyles for black girls. It is quite popular in hairstyles for black girls' braids. It does not just give you a sleek look, but it comes in handy in getting ready for an important formal event.
12. Braided Pony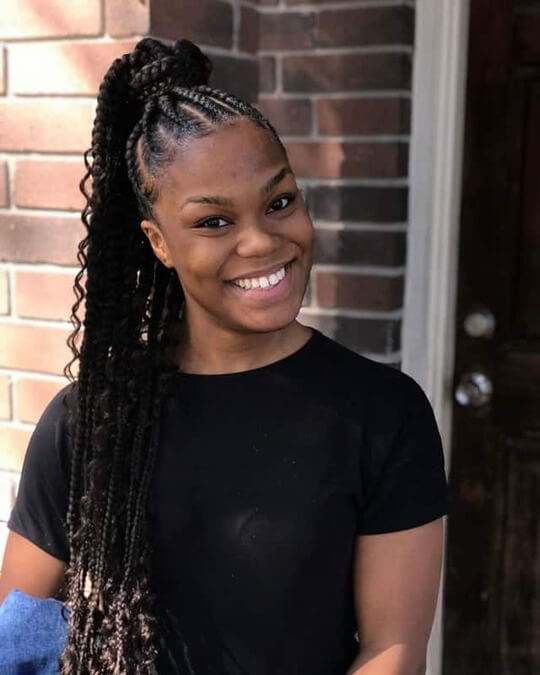 Source: hairstylecamp.com
Simple, classic, and always in trend. A braided pony is one of the cute hairstyles for black girls. In this hairstyle, you get your hair cornrowed to the top of your head, and it is then pulled back into a ponytail. The pony then has each braid hanging down.
13. Coiled Bun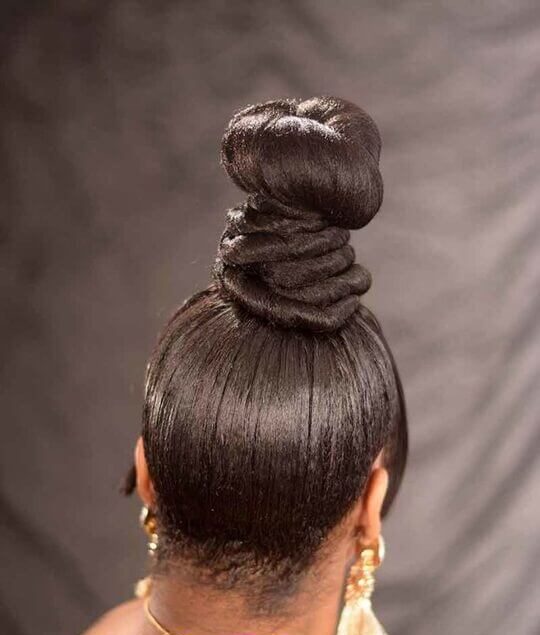 Source: new-universalsalons.b-cdn.net
Try something different this time with the braids and buns. Make your hair in box braids twist and Coil your braided hair and tie it into a bun to don a boho–chic look.
14. Box Braids Into Space Buns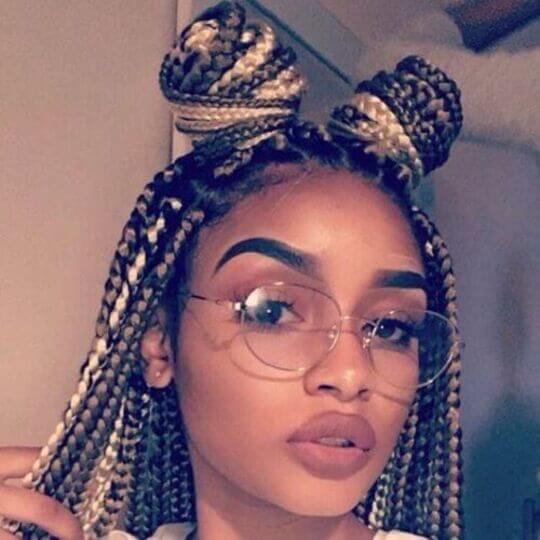 Source: pinimg.com
Let's try something, even more, funkier with the boxer braids. It is an immensely cute hairstyle for black girls. You cannot stop adoring those box braids into space buns on girls acing their fashion statements in schools, colleges and life. 
15. Fulani Braids with Beads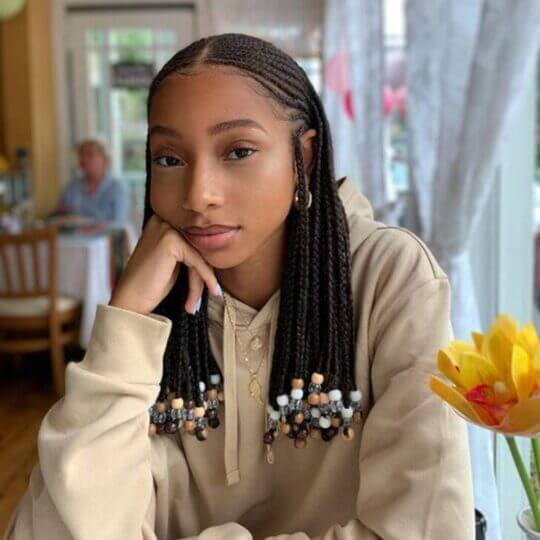 Source: coilsandglory.com
Fulani braids with beads are one of those braids hairstyles for black girls that make them look much prettier. Adding beads at the end of your Fulani Beads is that perfect hairstyle for your perfect date.
16. Twisted Updo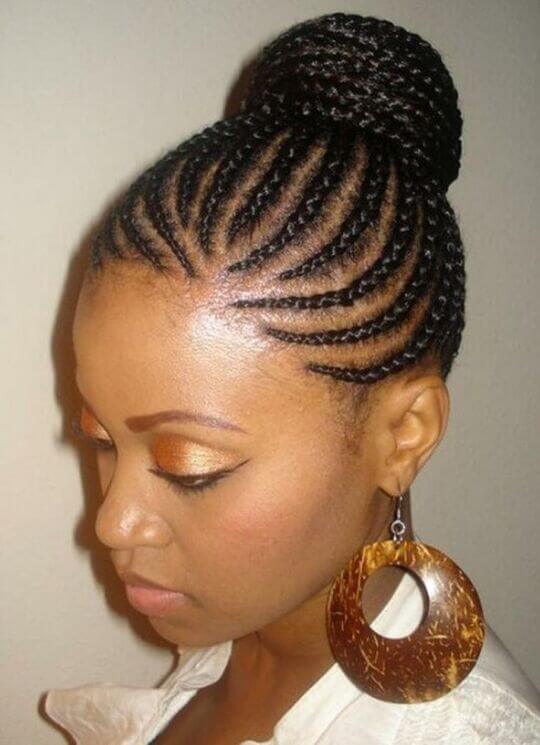 Source: pinimg.com
This hairstyle is a synonym for elegance. It not only makes you ready for that soiree but also gives a great volume to your hair. You can also add creativity and fun by twisting it your way and adding beads or extensions to it. 
17. Detailed Halo Braid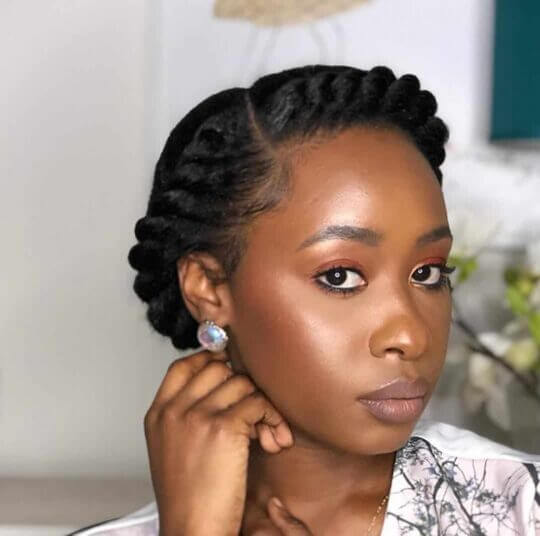 Source: thrivenaija.com
This is yet another classic African hairstyle deeply rooted in the beauty of African Culture. In this hairstyle, you make delicate cornrows braided into the crown of your head as well. They can be braided either straight or with more intricately patterned portions. The middle braids are braided into one large braid that encircles your head, and the crown is cornrowed outward.
18. French Braided Hairs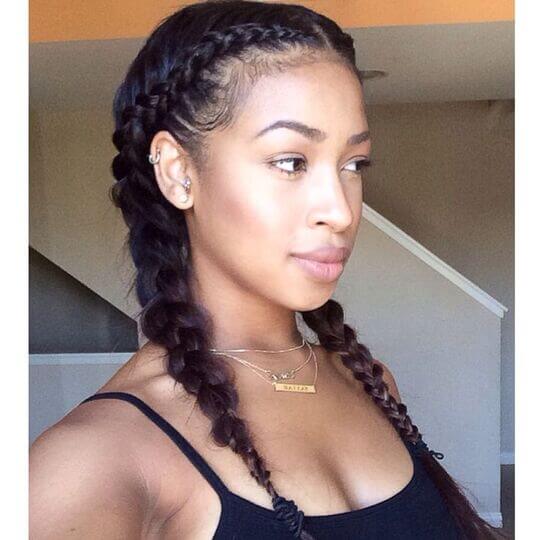 Source: pinimg.com
Let's add some French love to trendy African American Hairstyles. French braided hair gives you a romantic look that is great for dates or casual outings. Tie two tightly braided French braids that reach down your back if you want to go the braided route.
19. Braids with Colored Hair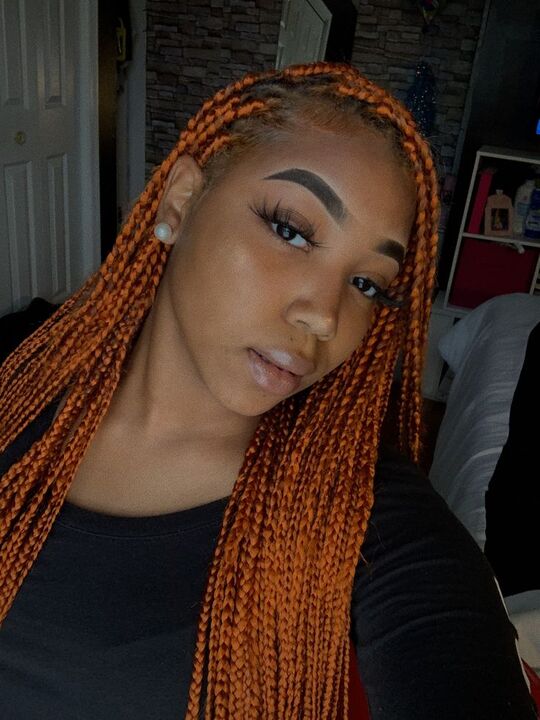 Source: pinimg.com
Add some colors and fun to your hair. You can go for global color or highlight. Go for highlights with funky hair colors. Flaunt them with your braids, and shine out of the rest.
20. Stitched Braids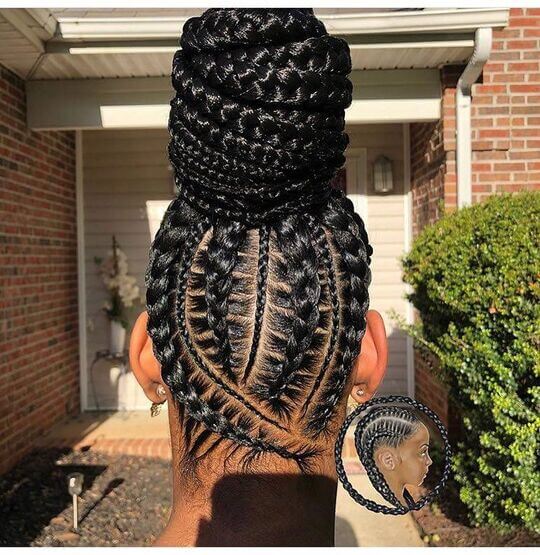 Source: pinimg.com
We all love braids, but love for switched braids is simply one step ahead. They are highly creative and an enhanced version of simple cornrows. It gives you a much more precise and versatile look. It is lightweight and does a great job of protecting your hair from damage.
21. Chunky Braids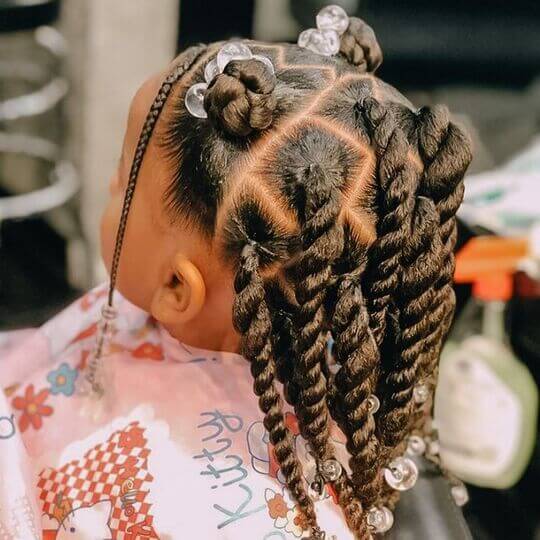 Source: pinimg.com
Yet another neat and natural hairstyle for black girls. It is simple yet creative and goes well with color highlighted hair. It also stops your hair from falling all over your face and gives you a relaxed and presentation-ready look for weeks.
22. Loose Black Curls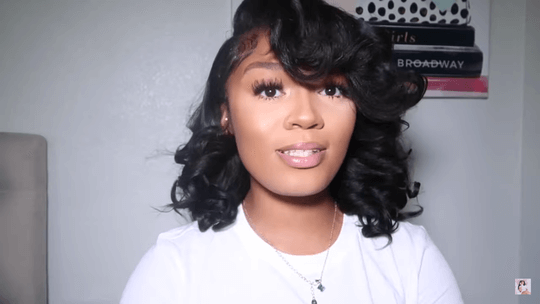 Source: youtube.com
A bit of hair spray and a day full of gorgeousness. Keep your hair open and set your curls loose. Be it casual, romantic, party or formal. This look can ace it all. Explore these best short curly hairstyles for black women.
23. Blonde Braids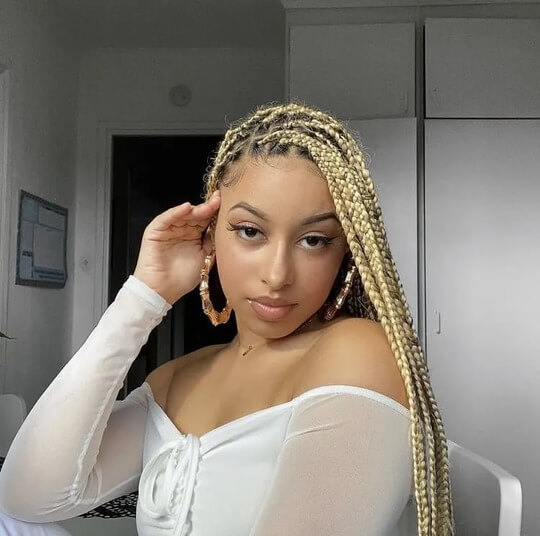 Source: blackbeautybombshells.com
Be golden with blonde braids. It gives you that cool rockstar look and can be most suitable for college-going or teenage girls.
24. Spiralled Ends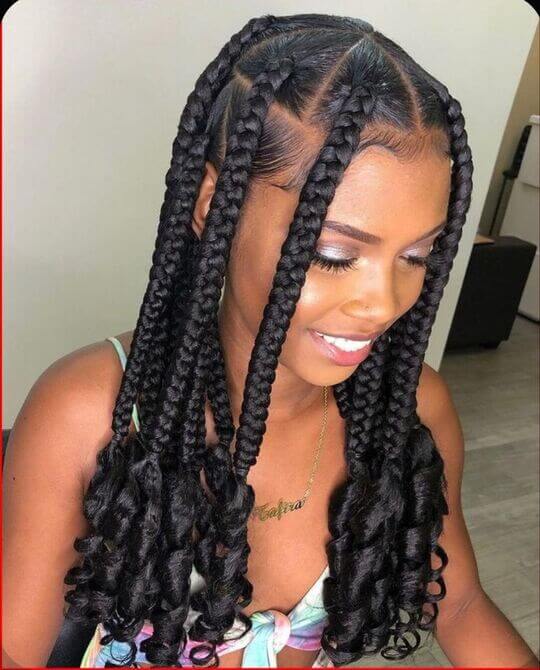 Source: pinimg.com
Mixing textures is the key element of this look. Imagine it as conventional box braids with undone ends that may be made in any diameter, be it chunky or really thin. 
25. Crochet Braids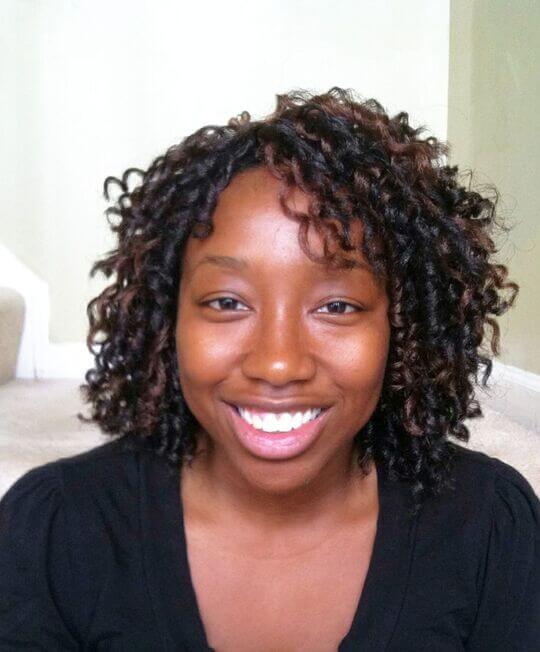 Source: pinimg.com
Crochet braid is a bit similar to making box braids. The crochet method employs loose extension hair. The base required to latch and hook the extension hair through is referred to as the "braid" portion of the process. Cornrows or box braids twisted with your natural hair serve as the basis for crochet braids, just like with a sew-in weave.
26. Crochet Jumbo Twists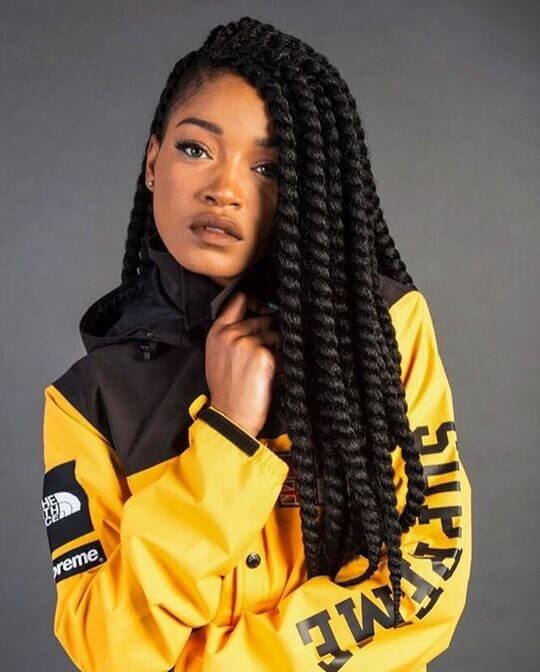 Source: pinimg.com
These Crochets are large and funky. They not just look super-stylish but also are super soft, smooth and lightweight.
27. Curly Half Updo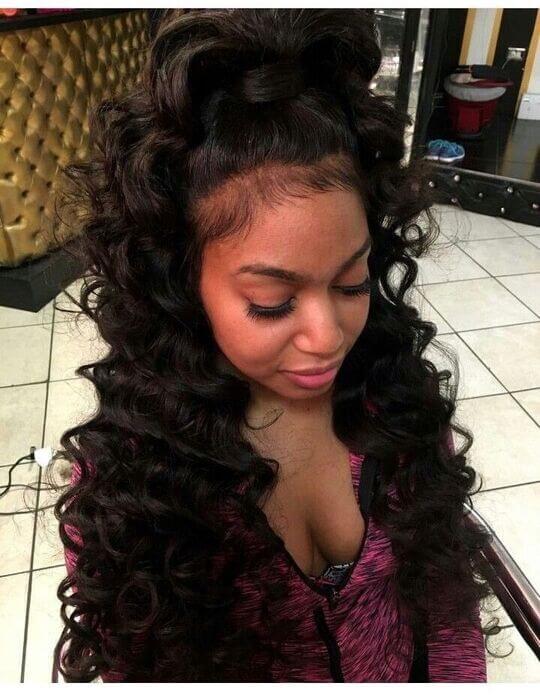 Source: pinimg.com
This delightful hairdo enhances your natural curls and can be styled half-up to highlight their shape and definition while still keeping the look off your face.
28. Knotless Braids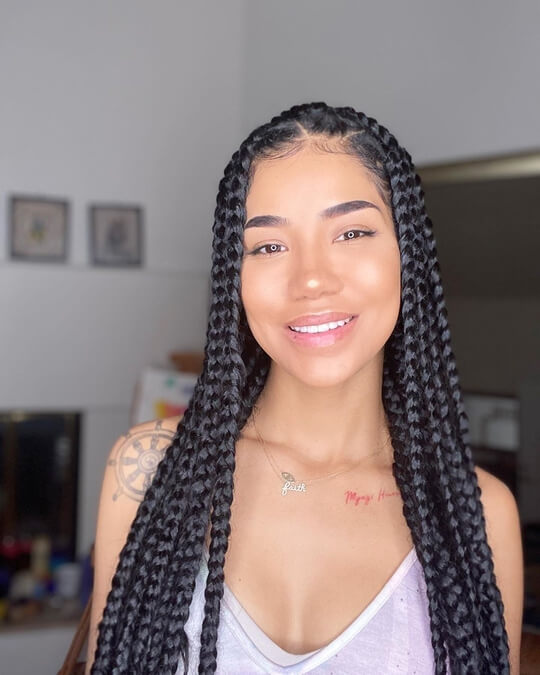 Source: stylerave.com
Go braidy without knots. Knotless braids either extend into cornrows or exit your head in a manner like the Fulani braids.
29. Side Bun With a Twist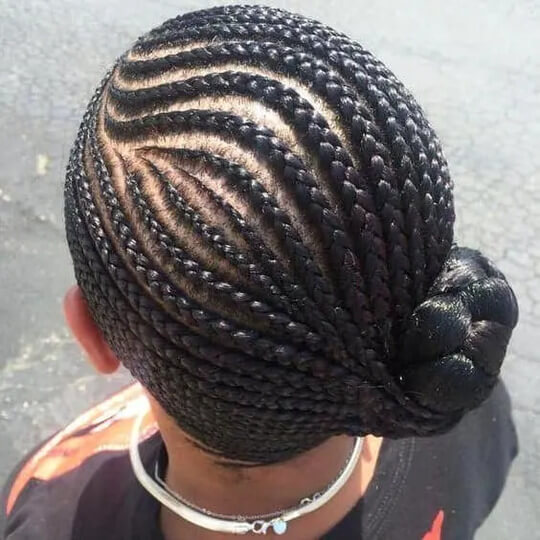 Source: hairstylecamp.com
This is bun fun with twists for hairstyles for black girls. Begin with two ponytails and tie them with bobby pins. Twist both the top sections and tie them in the not. 
30. Heart Braids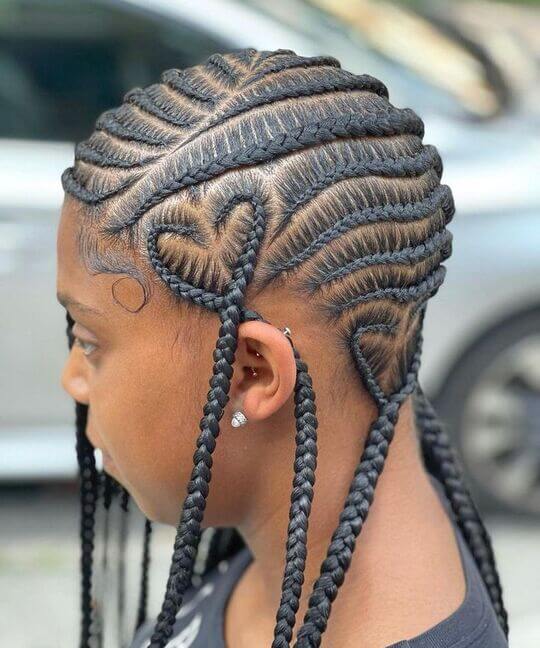 Source: pinimg.com
Braids as you know are the most popular hairstyle for black girls. Black girls had come up with a million versions of braids with their creativity. Heart braids can definitely get your heart.
31. Short Afro With Side Parts
Source: pinimg.com
If you're looking for something cool and funky then this should be your pick. Short Afro with side parts is a cute hairstyle for black girls and suits the best to teenage girls.
32. Braided Buns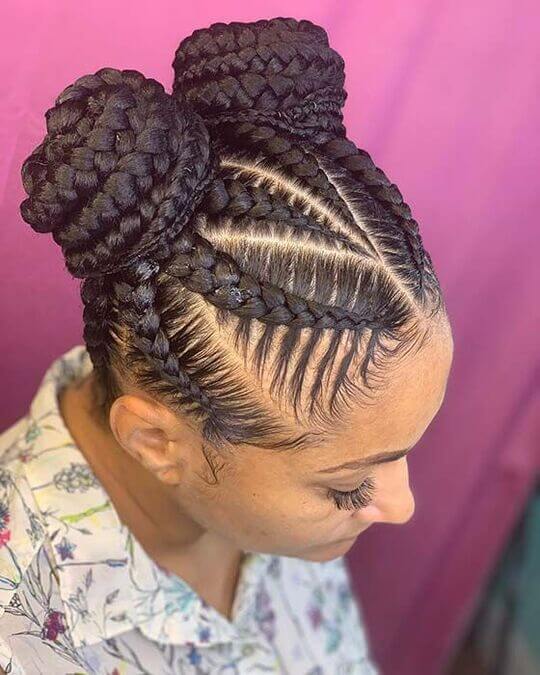 Source: pinimg.com
While braids and buns are two favorite hairstyles for girls black. There is no reason why we can combine them and enjoy the best of both worlds.
33. Passion Twists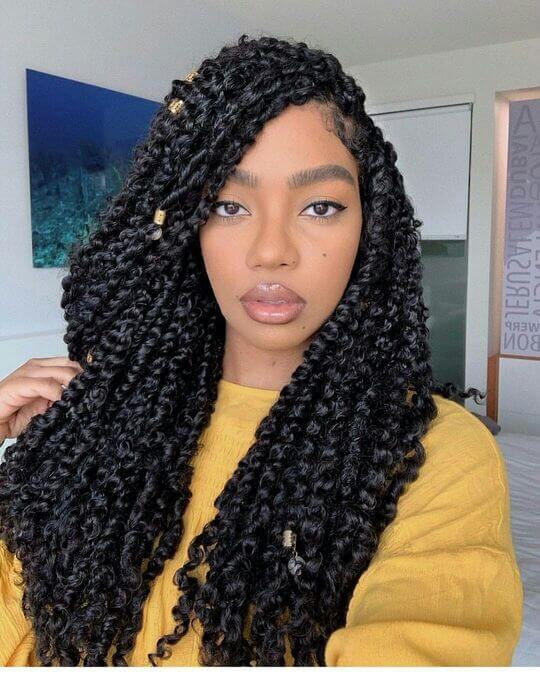 Source: pinimg.com
Enjoy this latest and trending hairstyle at your next house party or movie with friends. It gives you a trendy and dapper look even with box braids. To achieve passion twists, get looser hair merged in with the box braids' crisp lines. On their own, the twists resemble an effervescent two-strand. You're all set to win the world.
34. Wild Black Curls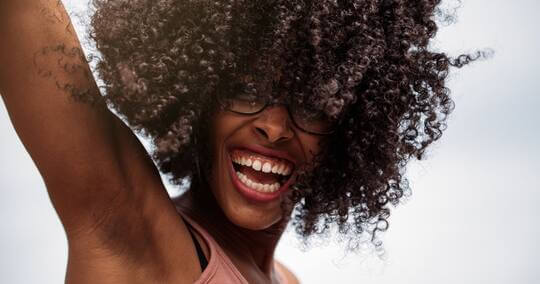 Source: imgix.bustle.com
This hairstyle is perfect for those free-spirited and revolutionary girls who want to break free from being defined as normal. Those revolutionary wild black curls are your choice of hairstyle to show the world that you are not bound by society's set of rules.
35. Goddess Braids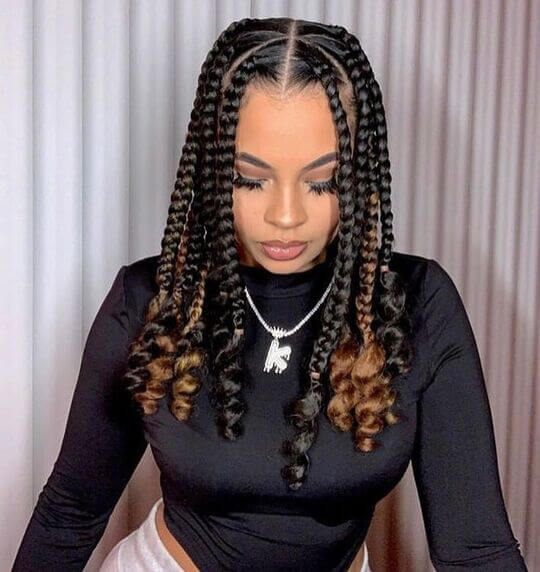 Source: pinimg.com
The name says it all. Acquire the beauty of a goddess with this majestic hairstyle. These Goddess braids are made of different-sized cornrows tied up in an artistic pattern. 
36. Pearls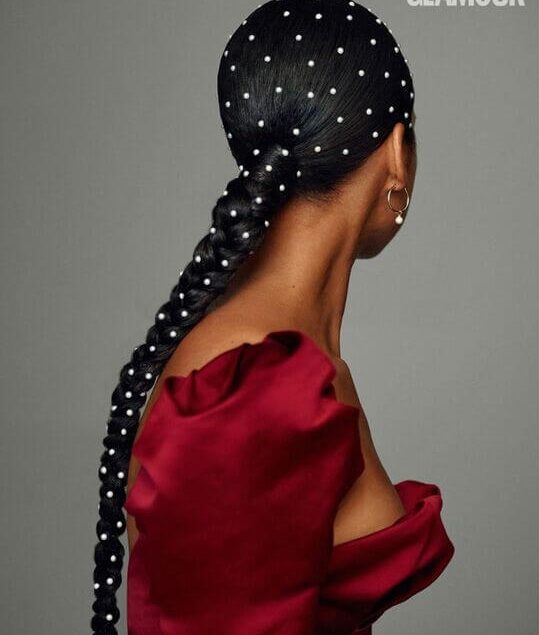 Source: pinimg.com
This one is special and could be used for an extremely special event like parties or weddings. Embellish your African American hair with pearls and become the queen of the event.
37. Snake Braids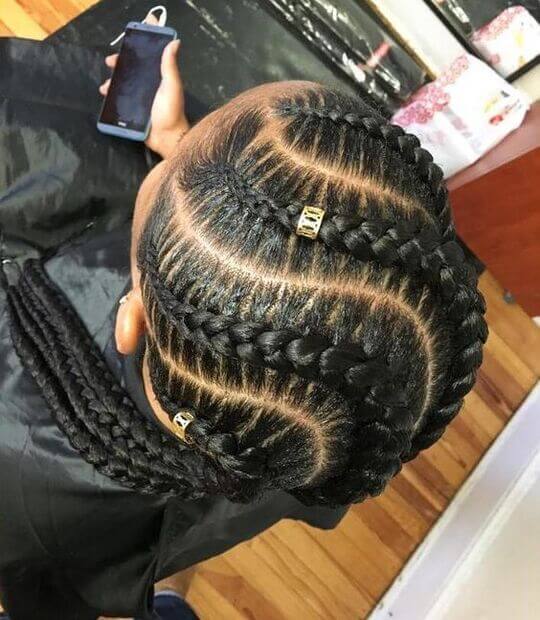 Source: pinimg.com
Snake braids are not popular among Black girl hairstyles but also worldwide. It makes you celebration ready and enhances your look in a magnificent gown
Also Read: 11+ Short Hairstyles Women That Suit Every Face Shape
38. Side Swept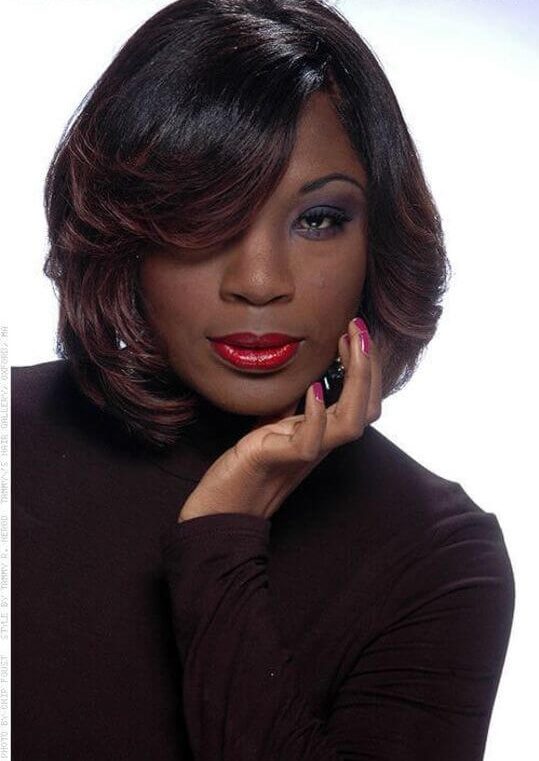 Source: pinimg.com
This is a great choice for a chilled outing. It gives you that carefree look, enhancing your beautiful and outgoing personality. You can add more creativity to this look by using hair ties, hair-bands or ringlets.
39. Braided Bob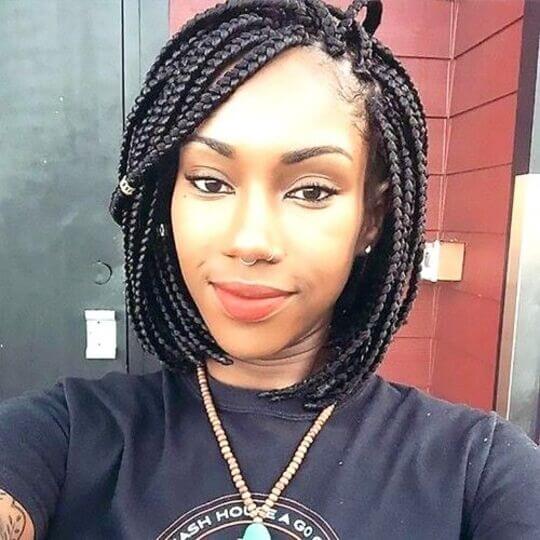 Source: pinimg.com
Short hair fan? Then this hairstyle is for you! It gives you that chic look but also gives you that bosslady look during those important business meetings.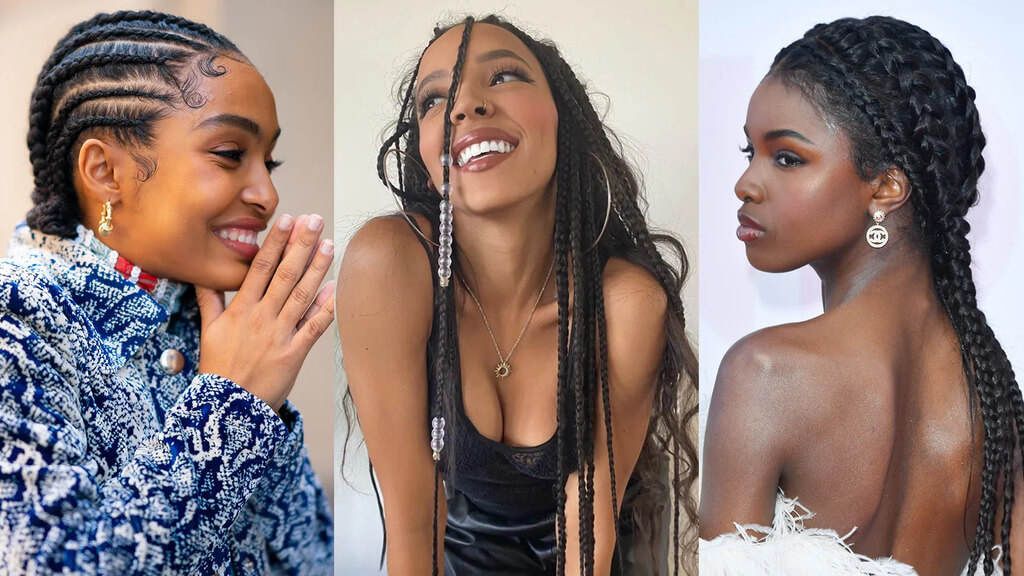 Source: media.glamour.com
Final Thoughts on Hairstyles for Black Girls!
So, above were the few best hairstyles for black girls that you can give your kid to slay. Pick anyone among the ideas mentioned in the list or take inspiration and create your own new hairstyle for black girls with natural hair.
For more fashion and beauty trends, stay tuned to Fashionterest.