Who doesn't love fall and the gentle transition from summer heat to crisp mornings bundled up with a hot coffee? After months of hot weather, we are ready to break out the sweaters and start layering once again. One of the best ways you can get into the fall mood is to have fun planning your fall wardrobe pieces and your fall photo ops.
The cooler temperatures give you a little more variety in your clothing choices, and layering is a fall fashion must. If you're feeling a little overwhelmed or don't know where to start to get your wardrobe fall-ready, you'll want to check out these nine tips for upgrading your fall wardrobe and coordinating your colors for the perfect picture every time.
Focus on Fall Staples
Source: trixxi.com
Finally, we get to break out our scarves, trendy sweaters, and classy jackets once again. The most notable classic fall fashion staples are actually your accent pieces. You can pair just about anything with some classic, fall-colored accent items and look like you just stepped out of a fall fashion magazine.
This is the perfect time of year to incorporate different cozy pieces of clothing like your favorite cardigans, leggings, and sweaters. Don't forget about the power of a pair of dark wash denim jeans and some brown leather boots to tie it all together.
Learn to Layer Your Pieces
Source: trixxi.com
While those crisp fall moments can send a chill down your spine, they also present the perfect opportunity for you to start layering your pieces. Layering is an ideal way to get the most out of your wardrobe. Think about textures and how varying textures can add dimension to your overall look.
Try mixing heavy and soft textures, and make sure you have a more significant overcoat as an outside layer. Keep your color layering between about two distinct shades, and remember to play around with different lengths of clothing. Some longer lengths can help elongate your figure and add depth to your overall look.
Consider Autumn-Colored Options
Source: trixxi.com
Fall is an excellent time of year to start wearing your favorite dark-colored pieces instead of the light shades of summer. Embrace the autumn weather by wearing hues that sing fall style. When deciding on your fall color scheme, one of the best places to look for inspiration is right outside. Fall is all about earth tones, so think browns, burnt oranges, and dark purple—these are all staple fall colors that can help complete your seasonal look.
Considering autumn colors doesn't stop at your accents, either. You can wear showcase pieces with that lovely flair of autumn color in date night dresses or dresses for juniors. The most important thing to remember is to keep your fall colors close at hand so they're easy to weave into any outfit.
Pick Out Tasteful Tights
Tights are such an amazing and underrated clothing accessory. And fall is the perfect season for you to show off your tasteful tights because it's not too hot and not too cold outside. Wearing tights underneath your favorite date night dresses, skirts, or casual juniors' dresses is a fashionable way to express your style.
Darker-colored tights are a great place to start because darker shades tend to tie in with fall colors seamlessly. But you can get a bit creative with different patterns and styles to show off your unique taste while keeping your fall fashion looking chic.
Flaunt Your Date Night Dresses
Source: trixxi.com
There are so many fun date ideas you can try out in the fall. One of the best parts of going on dates in the fall is giving your favorite date night dresses a fall vibe and finding new date night dresses you love to wear out. Whether it's a date at the pumpkin patch or you're going to a scary movie, you can look adorable and cozy by incorporating some tights and a cropped sweater into your outfit.
The tights will help keep your legs warm as the temperature dips throughout the evening, and a cropped sweater allows you to flaunt your dress and keep yourself cozy. And let's not forget about those varying layers and textures that add dimension to your date night outfit.
Get Comfortable with Casual Styles
Source: trixxi.com
Fall weather just makes us want to curl up with some comfortable and cozy clothes. And the chilly fall season is the perfect accessory to your relaxed and comfortable outfits. Casual dresses for juniors, leggings, oversized sweaters, cardigans, and more make it so easy to stay comfortable and keep your fall style.
There are so many casual falls looks you can create with some simple layering and fun textures. Play around with what looks good and feels right in the mirror.
Also Read: Essentials for Your Fall Fashion Checklist
Shimmer with Gold-Toned Jewelry and Accessories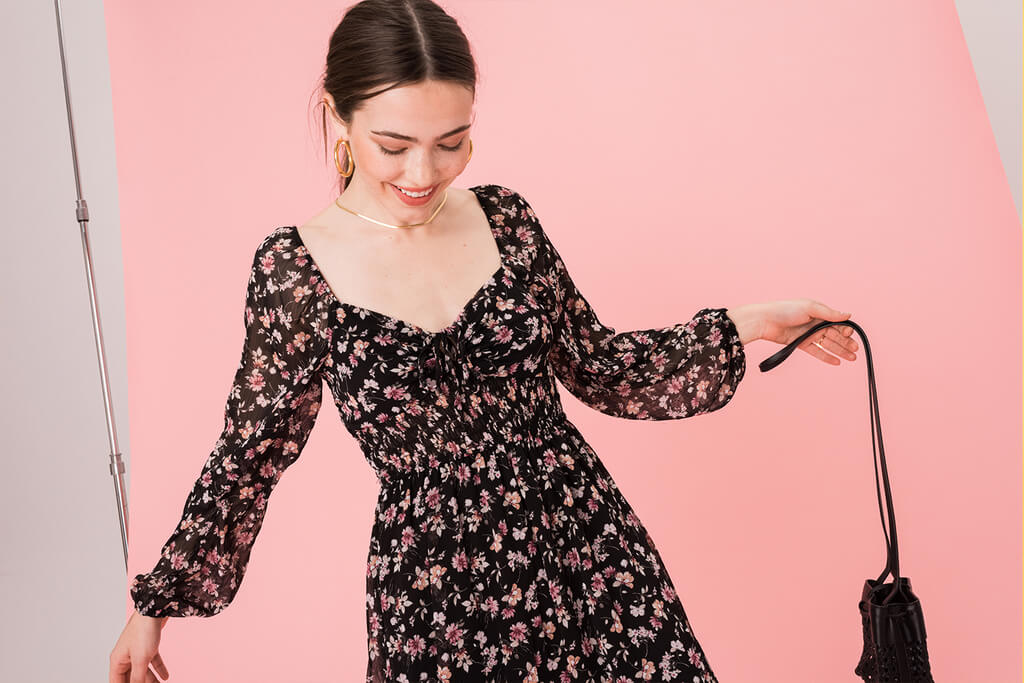 Source: trixxi.com
Jewelry is essential to a well-put-together outfit, and in autumn, gold-toned jewelry is the perfect complement to your fall style. The warm tone of gold jewelry reflects the changing colors outdoors and pairs perfectly with many different earth tones pertinent to the fall aesthetic.
Think about layering gold necklaces and matching them to other accessories like your belt buckle. Get your gold flare on by including matching earrings or bracelets to round out your shimmer throughout your outfit.
Choose Hot Hats for Cool Weather
Source: trixxi.com
One of the undeniable perks of the cooler weather is getting to introduce hats back into your wardrobe. We're trying to have a good-looking head on our shoulders, even on those bad hair days. From brimmed hats, cadet-inspired caps, and beanies, there are so many cozy and adorable hats to choose from that can help keep you cozy and give you the fall style you love.
Neutral colors are always a great choice when looking for hats for the fall season because they aren't exclusive to fall. A khaki brown hat always flatters a fall style if you want to keep your fall flair from head to toe.
Also Read: 8 Awesome Summer Wardrobe Picks for 2022
Buy Boots Built for Fall
Source: trixxi.com
Finally! The return of boot season is about to arrive. Make sure you have at least one ankle boot, mid-calf boot, and knee-high boot ready to complete your fall style. You can play around with different lengths of socks to complement each boot length and give your legs a cozy aesthetic.
Not only do boots look amazing with any fall-inspired outfit, but they are also built for beauty and brawn. They keep your feet warm and give them a sturdy layer of protection. It's the final outfit piece to complete any fall-ready wardrobe.