Shoulder tattoos for men can be stylish and masculine. They can bring out a fearsome look when spread over the arms, chest, and back. The shoulder provides ample space for rich tattoo designs, and a design that extends from the deltoid to the trap on either side looks cool.
However, choosing a design that holds personal significance is important to avoid regrets later. Numerous traditional and modern designs are available for tattoos on shoulder for guys. These meaningful simple shoulder tattoos for guys will inspire you to be creative with your ink.
5 Reasons to Prefer a Shoulder Tattoo Design
Tattoos on shoulder for guys are a preferred choice for many reasons:
Traditionally, the shoulder is associated with strength and power, making it a desirable location for men. 

Unlike other body parts, such as forearms or wrists, which may not look appealing when ext

ended, shoulder tattoos for men offer

the opposite solution. 

Shoulder tattoos for men co

me in distinctive designs, shapes, and sizes and are applied using various techniques to create outstanding body art. 

The versatility

of shoulder tattoos in siz

e and placement makes them popular, and people quickly notice them regardless of shoulder width.

Although tattoos on other body parts might be excruciating, those on the shoulder are more bearable than others. As a result of the dense layer of muscle under the shoulder's skin, it is less likely to be easily hurt.
31 Shoulder Tattoos for Men
The idea of a single tattoo is too limiting for some men. The tattoos on shoulder for guys come in a wide variety of styles.
1. Armor Shoulder Tattoos for Men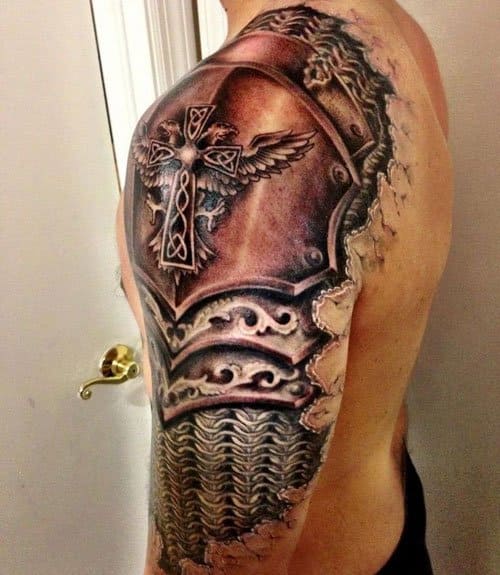 Source: zestvine.com
Armor tattoos on shoulder for guys are a great idea for the shoulder, capturing masculinity and strength through realistic and 3D designs. Shading is used to create the appearance of armor, with various styles available from modern to medieval. Tribal designs can also be incorporated, with popular materials including leather, metal, guards, clasps, bolts, and fish scale layered metal.
2. Tribal Shoulder Tattoos for Men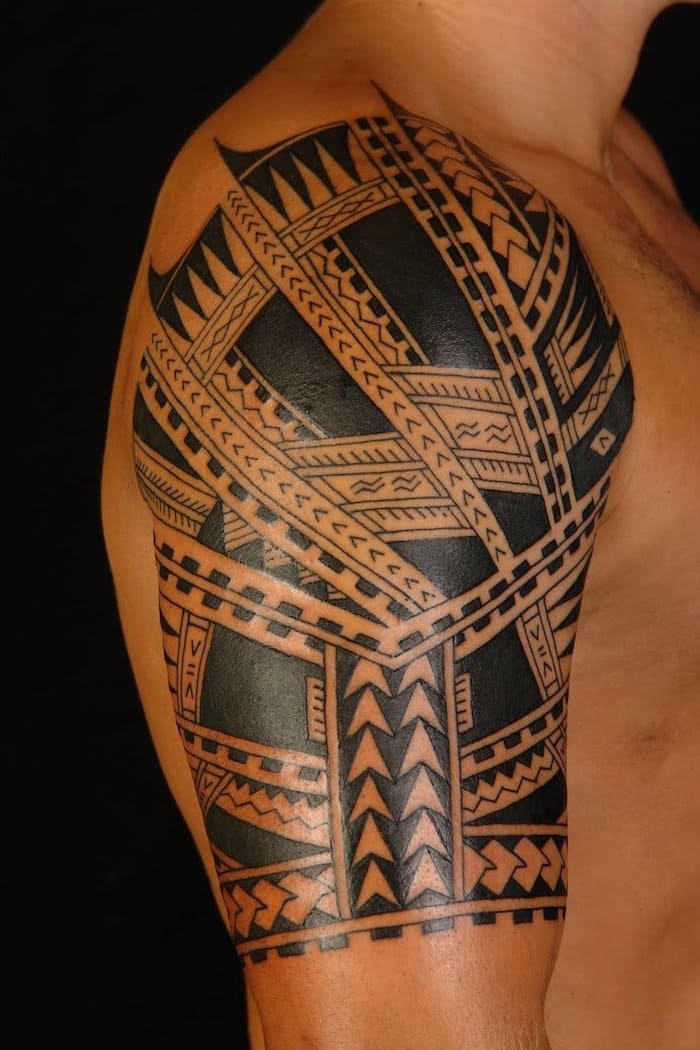 Source: zestvine.com
Tribal tattoos are a popular way to showcase cultural heritage on the shoulder and arm area. Styles range from Samoan, Maori, and African to classic and American tribal.
Typically done in black and white, these tattoos often incorporate curving shapes, negative space, and heavy shading influenced by Polynesian or Japanese Yakuza styles. Single colors can also be added to bring a refreshing twist to traditional designs. You can also check finger tattoos ideas.
3. Blade Shoulder Tattoos for Men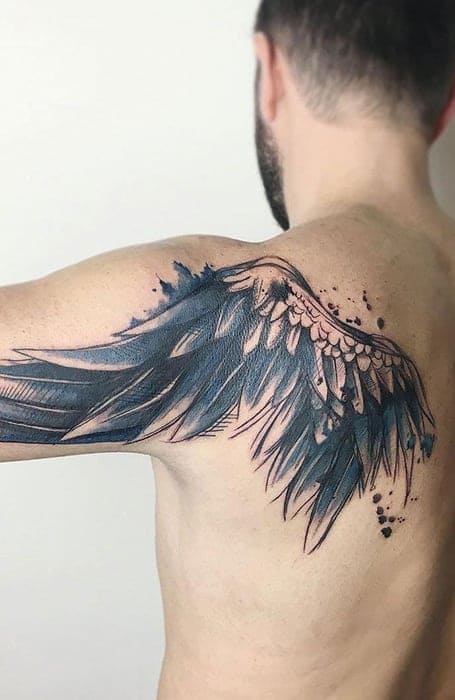 Source: thetrendspotter.net
The shoulder blade is a versatile spot for various tattoo styles, with designs that can continue over the shoulders or end at them. Portrait-style tattoos are a popular choice for mens shoulder tattoos in black and white color. These come with realism and flowing designs that follow the shoulder blade's or back shoulder's contours.
4. Trap Shoulder Tattoos for Men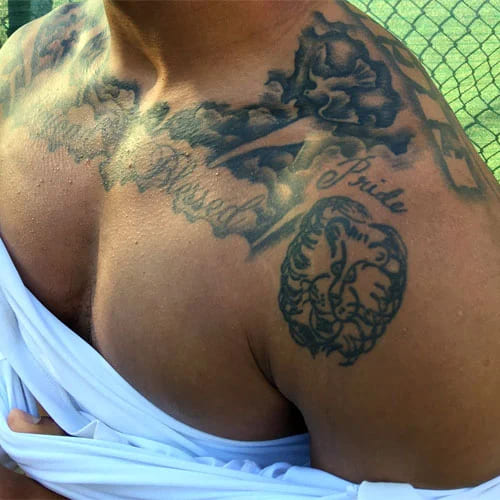 Source: toptrendsguide.com
Men often choose to have names, words, or dates written horizontally across their shoulders in bold text or fancy calligraphic fonts. The text can be crooked towards ​​the center, forefront or rear. Sleek and elongated patterns are also ideal for this area because the top of the shoulder creates a link between the shoulder and the neck. 
5. Cross Shoulder Tattoos for Men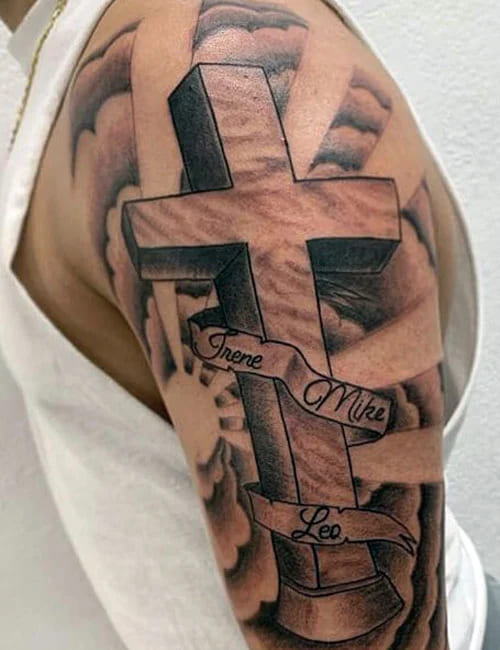 Source: toptrendsguide.com
For ages, cross tattoos have been a symbol of Christianity and protection from evil spirits. Today, men use them to express their faith, military service, or family commitment. 
A cross shoulder tattoo typically has two lines across the shoulders and the center of the chest, often filled with various patterns or images such as anchors, stars, flowers, etc. You can opt for a simple black cross on the outer delt or a large angel that stretches from the biceps to the shoulder blade.
6. Dragon Shoulder Tattoos for Men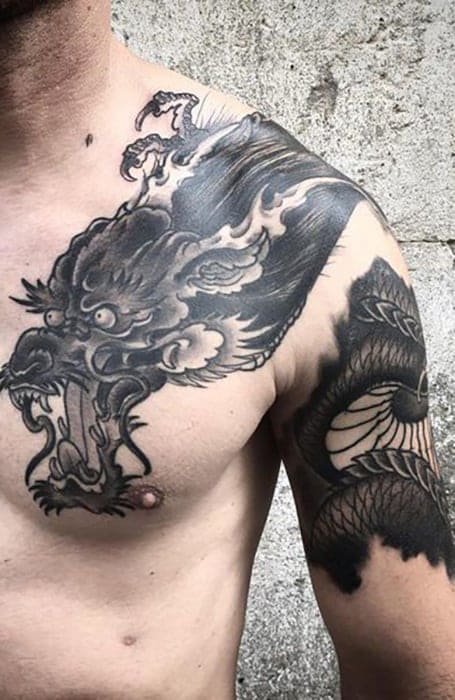 Source: thetrendspotter.net
A dragon tattoo on the shoulder is a bold and striking design that conveys wisdom and prosperity, as well as strength and balance. The tattoo can feature the entire dragon, just it's head or tail and is typically depicted as a red dragon with green eyes and yellow scales. 
Designs may also incorporate other elements such as waves and clouds to represent the dragon's power over water and storms. There are various styles of dragon tattoos, with the Chinese dragon tattoo being a popular choice.
7. Phoenix Shoulder Tattoos for Men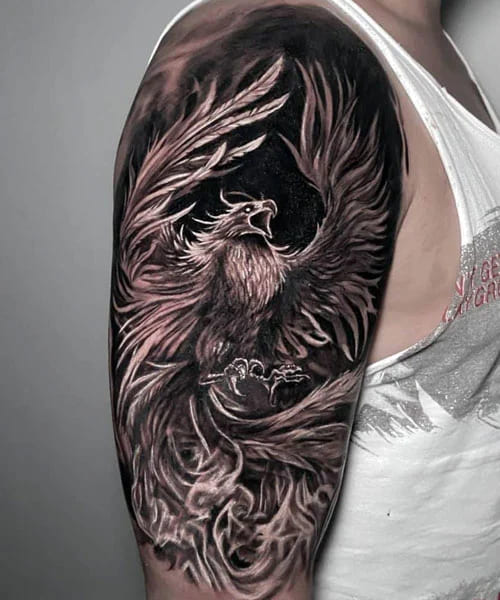 Source: toptrendsguide.com
Men often choose phoenix shoulder tattoos for their powerful symbolism of renewal and rebirth. Typically placed on the upper arm, the tattoo can remind one of one's resilience and ability to start anew after difficult experiences.
8. Skull Shoulder Tattoos for Men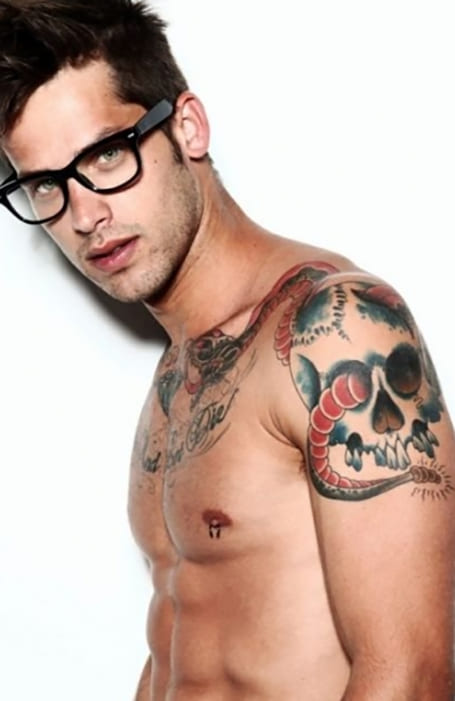 Source: thetrendspotter.net
Skull tattoos are popular in the West and associated with death in Japan, signifying a feeling of entrapment. Skulls symbolize birth, death, and rebirth cycles. They also represent defiance and freedom from fear and guilt.
9. Lion Shoulder Tattoos for Men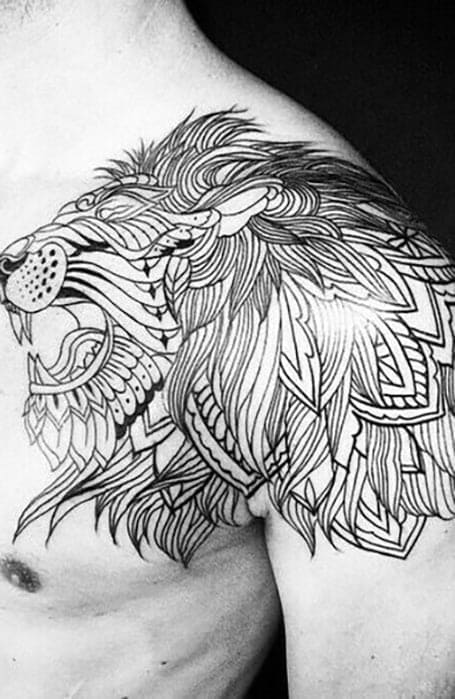 Source: thetrendspotter.net
Men commonly choose lion tattoos, symbolizing strength and power across various cultures. The lion is seen as the king of the jungle and represents royalty, courage, and power. This tattoo design also holds Christian meanings of valor and strength in battle. In many cultures, the lion is associated with the sun and the sky and is depicted as the sun's guardian. It is best to get this tattoo on the dominant arm's shoulder.
10. Norse Shoulder Tattoos For Men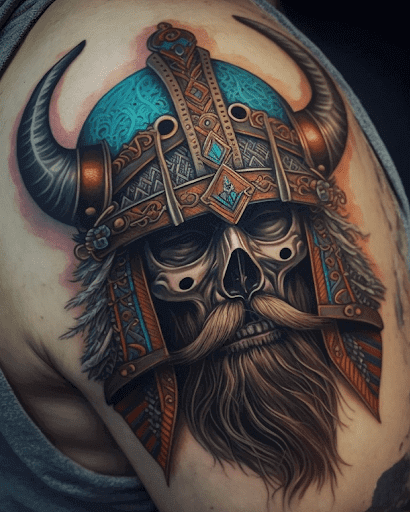 Source: googleusercontent.com
Men can display their admiration for Norse culture through Norse shoulder tattoos. These tattoos have various designs to select from, and you can have a tattoo on both shoulders if desired.
Norse tattoos have been popular since the Viking era due to the Norse people's notable work ethic and bravery.
Younger generations commonly get Norse shoulder tattoos, which have several meanings and can be worn in diverse ways. Let's see the best sleeve tattoo ideas here.
11. Flag Shoulder Tattoos for Men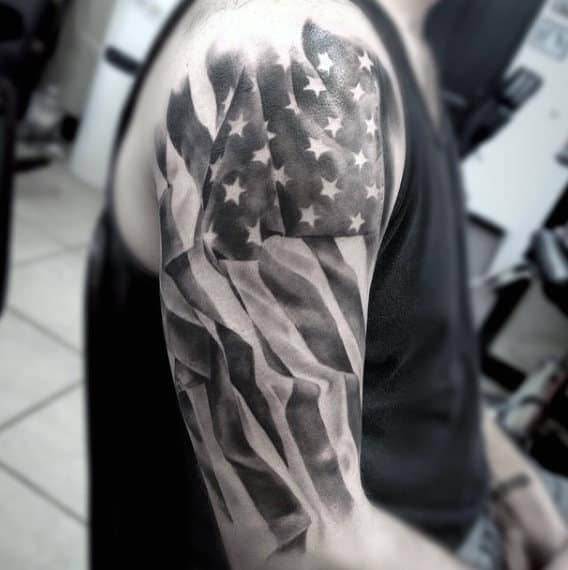 Source: nextluxury.com
The flag shoulder tattoos for men are a popular tattoo design. It consists of a flag on one shoulder and a patriotic symbol or the name of a fallen soldier on the other. Its popularity has grown in recent years due to its meaningful nature.
12. Warrior Shoulder Tattoos for Men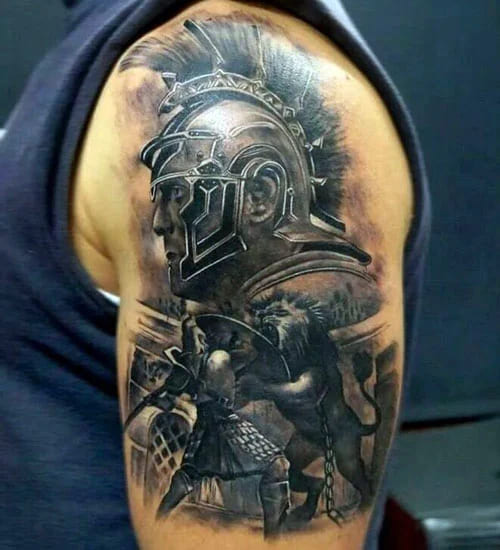 Source: toptrendsguide.com
Tattoos are a popular form of body modification, with the warrior shoulder tattoo being a trendy design among mens shoulder tattoos. This design portrays a fierce warrior holding a spear and shield on the right side of the body, with varying meanings such as symbolizing strength, courage, bravery, or honor to different people.
13. Bald Eagle Shoulder Tattoo for Men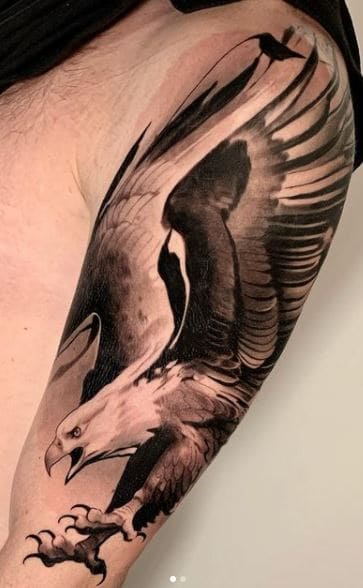 Source: tattoomenow.com
As a national animal and symbol of American patriotism, the bald eagle has been a popular tattoo design for showcasing national pride. Men often choose to ink the design on their shoulder in black or grey, featuring the eagle with spread wings and shading that gives it a unique and ethereal appearance.
14. Winged Shoulder Tattoos for Men
Source: tattoosbag.com
Shoulder wing tattoos are a popular choice among mens shoulder tattoos as they represent courage and taking risks. The tattoo can be placed on the upper or lower arm and is usually created using black ink, although other colors can also be incorporated. You can add more significance to the design by including additional elements like dates or script.
A winged shoulder tattoo is a meaningful way to symbolize freedom, independence or honor a loved one. 
15. Mandala Shoulder Tattoos for Men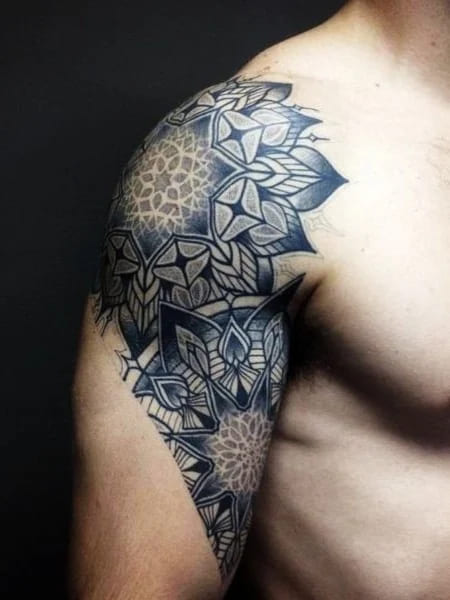 Source: thetrendspotter.net
Mandala tattoos are detailed circular designs that hold personal significance, symbolizing the balance between physical and mental realms. They aid meditation, and look stunning on any body part, particularly the shoulder.
16. Celtic Shoulder Tattoos for Men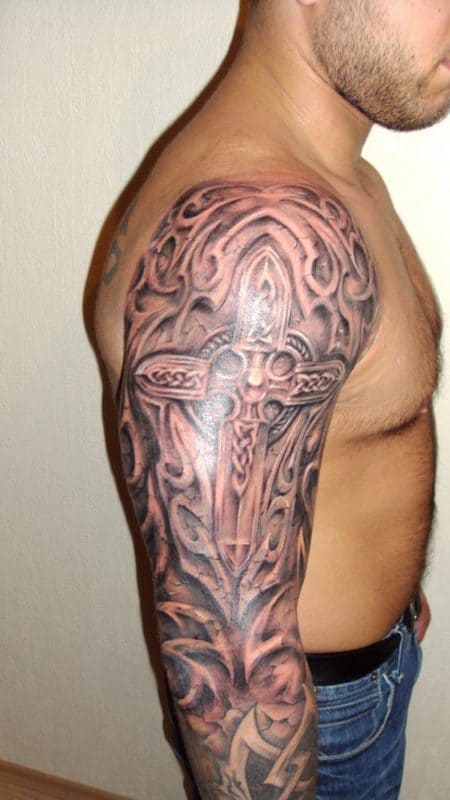 Source: shouldertattoos.org
Celts had a unique culture that included tattoos for decorative and spiritual purposes, using symbols such as spirals, zigzags, dots, circles, and crosses. Both men and women could have tattoos on any part of their bodies, providing inspiration for shoulder tattoo designs.
17. Tiger Shoulder Tattoos for Men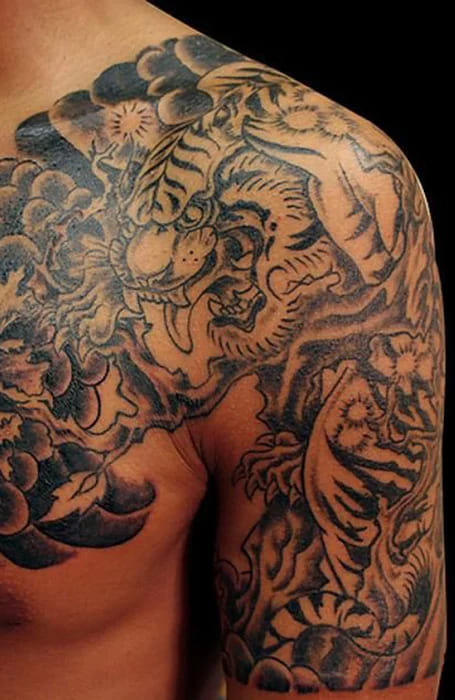 Source: thetrendspotter.net
Tiger tattoos are a popular design for mens shoulder tattoos, symbolizing masculinity, bravery, strength, and courage. They are often placed mainly on the upper arm. Tigers also hold cultural significance in Asia, making them a great way to pay homage to one's heritage and family.
18. Clock Shoulder Tattoos for Men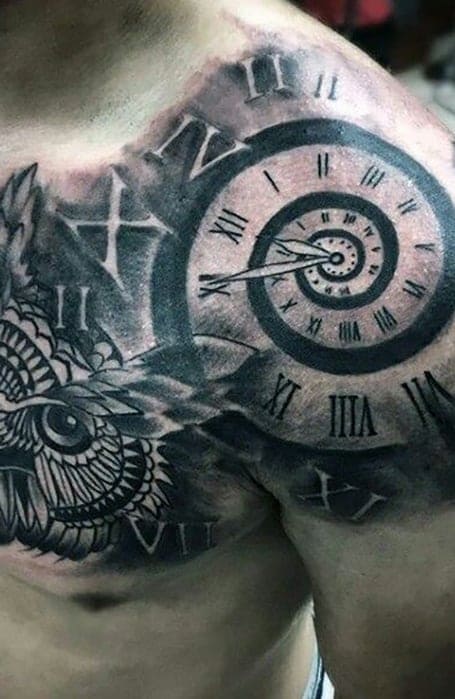 Source: thetrendspotter.net
Clock tattoos are a popular design for both men, often combined with other elements such as a compass or musical instrument and placed on the shoulder. The tattoo symbolizes the passage of time, serving as a reminder to live life to the fullest. For some, it may also represent their desire for order and punctuality.
19. Geometric Shoulder Tattoos for Men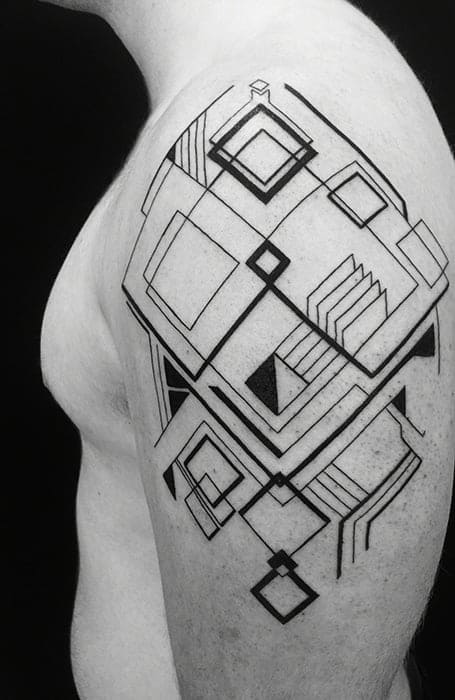 Source: thetrendspotter.net
Men who desire to display their toughness may opt for multiple tattoos, particularly a geometric shoulder tattoo. This tattoo style, which can include mandalas, arrows, and lines, is perfect for showcasing muscular physiques and creating a distinctive, rugged appearance.
20. Compass Shoulder Tattoos for Men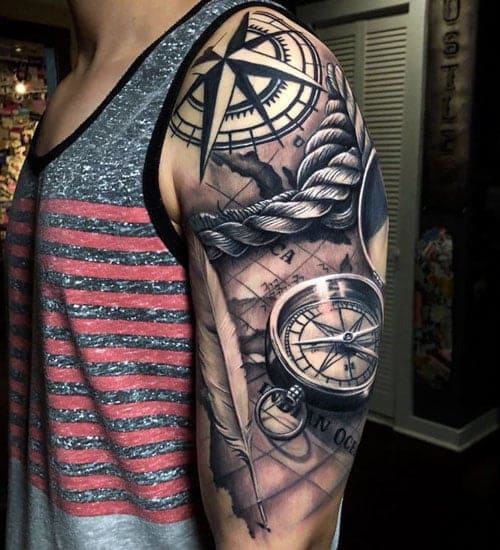 Source: toptrendsguide.com
Compass tattoos are a popular choice among men, symbolizing direction, guidance, and stability. The needle of the compass points north, indicating the way towards a life destination. Some designs feature an arrow pointing forward or backward, representing life's direction, while turning the needle towards one side can signify detachment from material desires and spiritual growth.
21. Shoulder Sleeve Tattoo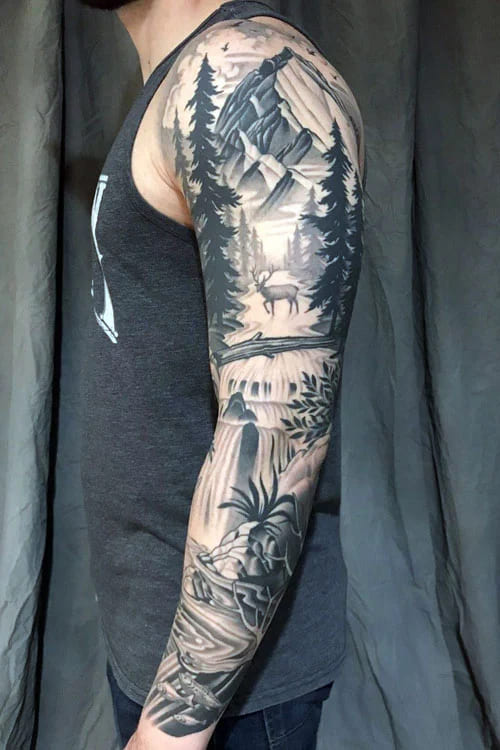 Source: toptrendsguide.com
Shoulder sleeve tattoos make a bold and fashionable statement for mens shoulder tattoos. The best designs feature connected images with a cohesive theme that seamlessly blend down the arm. Photorealistic pieces work well as full sleeves that extend to the wrist. 
For a smaller option, a half sleeve incorporating chainmail, and biomechanical or nautical imagery is a stylish choice. To pay homage to your roots, consider a tribal or Celtic sleeve with traditional knots or deities.
22. Upper Shoulder Tattoos for Men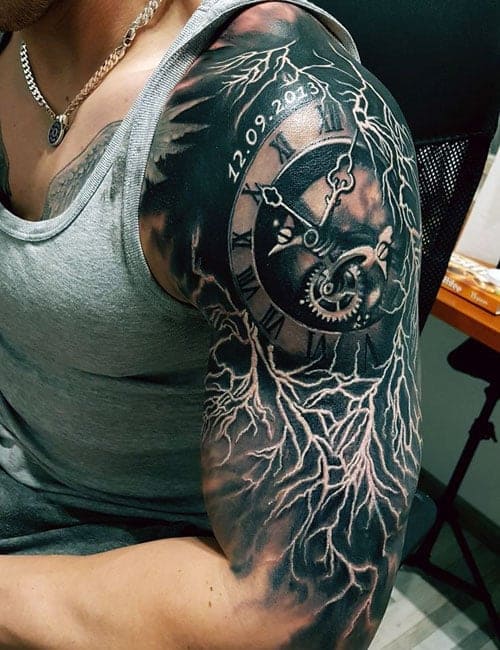 Source: toptrendsguide.com
Shoulder blade tattoos are ideal for men seeking detailed, oversized artwork. Such shoulder tattoos for men have a different design. The upper shoulder's natural curve lends itself to slim, horizontal designs, with simple quotes or elaborate images of animals and flowers snaking down to the shoulder blade. Minimal shading and outlined artwork can emphasize muscular shoulders and make the tattoo stand out.
23. Badass Shoulder Tattoos for Men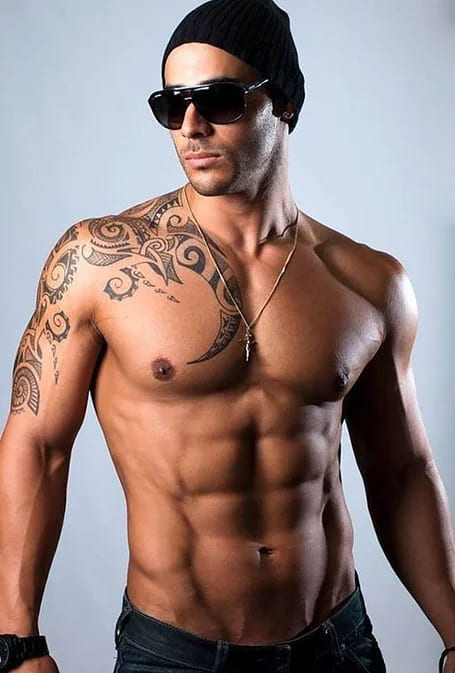 Source: thetrendspotter.net
For men who want to showcase their bold flank, a badass shoulder tattoo is an edgy and intimidating choice. This style often features terrifying visuals, but can also be subtle and thought-provoking. Skulls and death-inspired elements like daggers are popular choices for a daring collage, while strong strokes and eye-catching tones can create an Americana sleeve.
24. Top Shoulder Tattoos for Men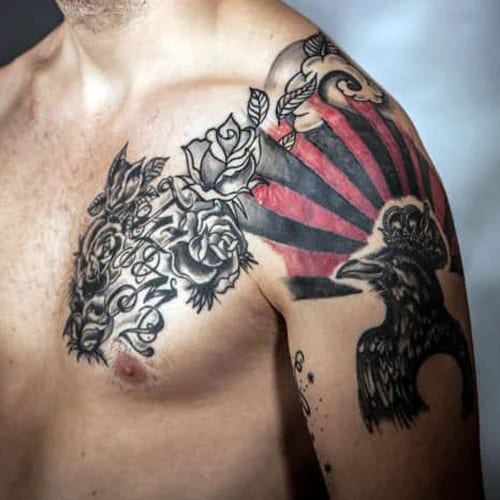 Source: toptrendsguide.com
Top shoulder tattoos for men can look amazing with eye-catching artwork and vivid hues that draw attention to a strong upper back and traps. Those with blended cultural roots may opt for a concise yet deeply meaningful quote in their mother tongue atop the shoulder. We also suggest the coolest hand tattoos for men.
25. Cool Shoulder Tattoos for Men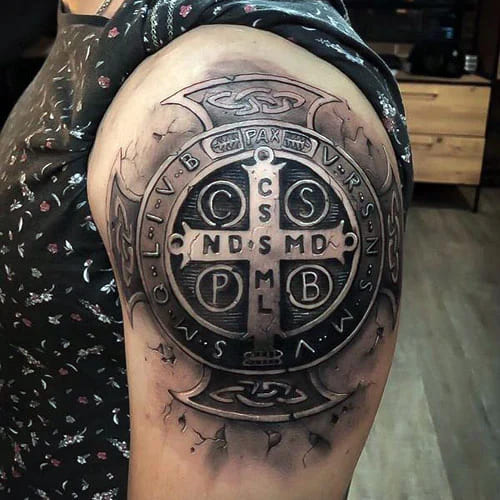 Source: toptrendsguide.com
Trendy shoulder tattoos for men allow self-expression with stylish designs. The shoulder blends well into a sleeve, giving space for biomechanical, chainmail, or large animal designs. Focus on the blade for flat surfaces or muscles for detail. Trendy tribal pieces or passion symbols will enhance your style.
26.  Small Shoulder Tattoos for Men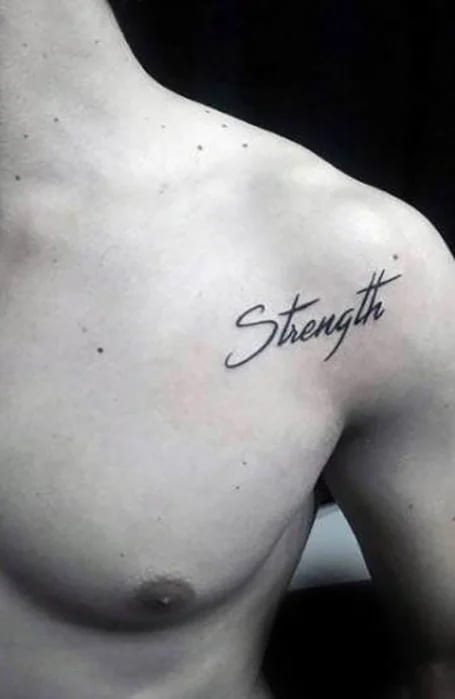 Source: thetrendspotter.net
For men who like simple artwork, a small shoulder tattoo is a modern and minimalist choice. Place it anywhere on the shoulder for a discreet and clean look. Geometric pieces or single words/initials with symmetry are reliable. For bold linework and color, American traditional designs work well on the lateral or rear delt.
27. Simple Shoulder Tattoos for Men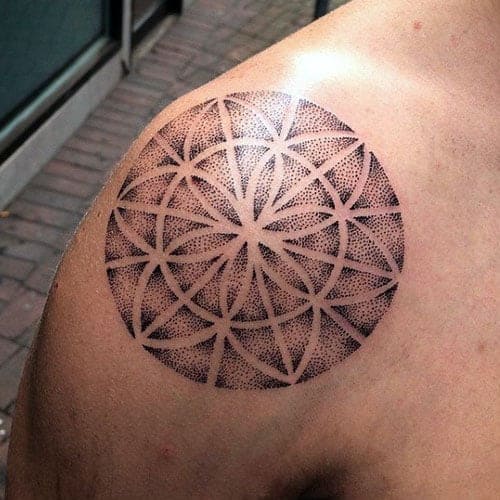 Source: toptrendsguide.com
Clean and sharp simple shoulder tattoos for men use understated linework and minimal shading to create a fresh and straightforward design. Intense colors and bold lines should be avoided to keep the artwork looking clean. Negative space and thin linework can incorporate multiple images into the piece and create a timeless style.
28.  Zen Shoulder Tattoos for Men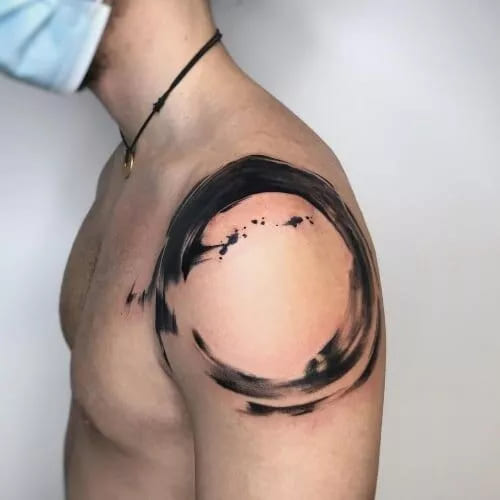 Source: nitrocdn.com
Zen Buddhist symbol Enzo represents the ideals of oneness, grace, power, and harmony. Those who prefer to ink it on their shoulder do so because it represents something important to them.
29.  Family Shoulder Tattoos for Men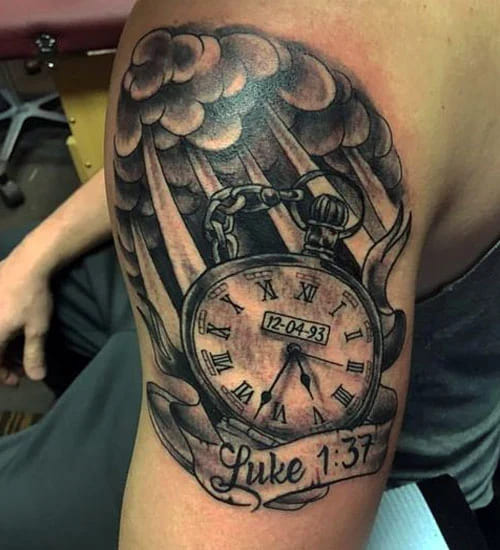 Source: toptrendsguide.com
Honoring family members with a trendy and meaningful shoulder tattoo can be achieved with a horizontal design crossing the deltoid and bicep or a silhouette piece reaching the forearm. Incorporate block lettering, photorealistic portraits, and blank space to create a unique and impressive piece.
30. Demon Shoulder Tattoos for Men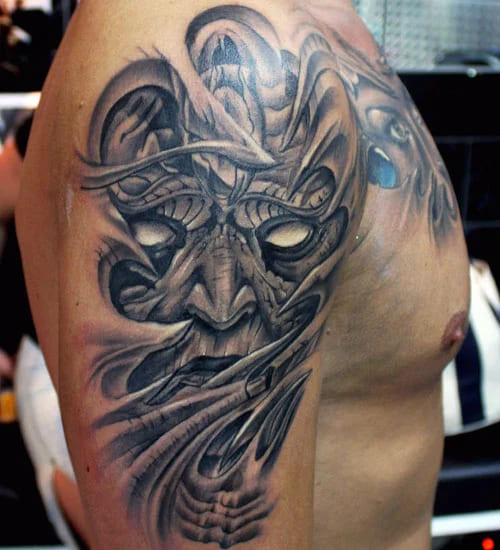 Source: toptrendsguide.com
While demon shoulder tattoos for men may not be preferred by all, it's a daring and attention-grabbing design. Intense shading and red accents work well for a bold finish, while a monochrome piece can offer a sleek look. Consider a horned demon on the outer shoulder for a sexy option.
Also Read: 25+ Creative Tattoos Cover Ups Ideas [2023 Inspiration Guide]
31.  Shoulder Tattoos for Men To Bicep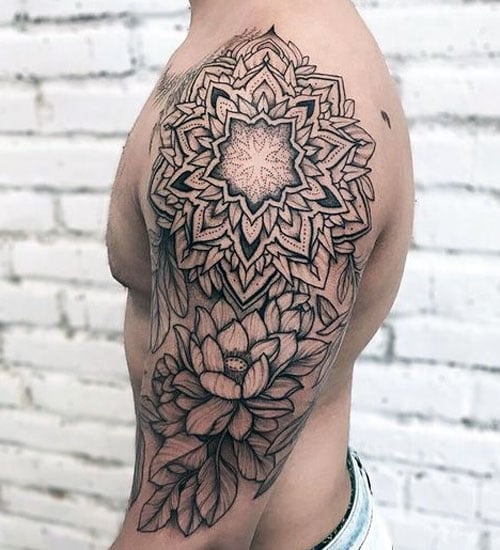 Source: toptrendsguide.com
Shoulder tattoos for men to biceps are a different option to create a sprawling design that commands attention. You can opt for a thought-provoking piece with clock dials, skulls, or predators to symbolize life's fleeting nature. Alternatively, a bold tribal tattoo with black linework and negative space can showcase impressive muscularity.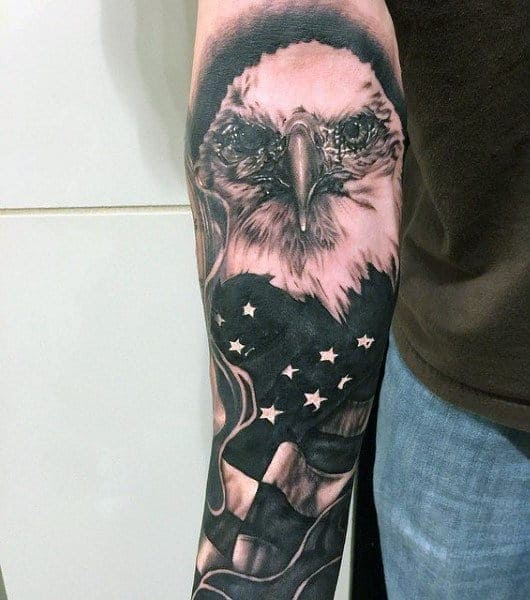 Source: nextluxury.com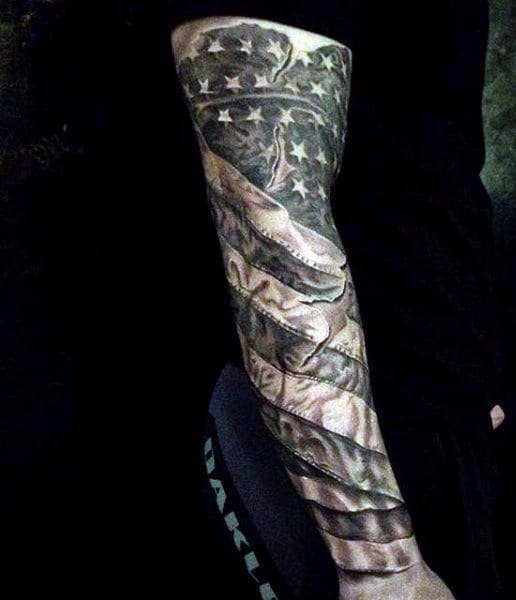 Source: nextluxury.com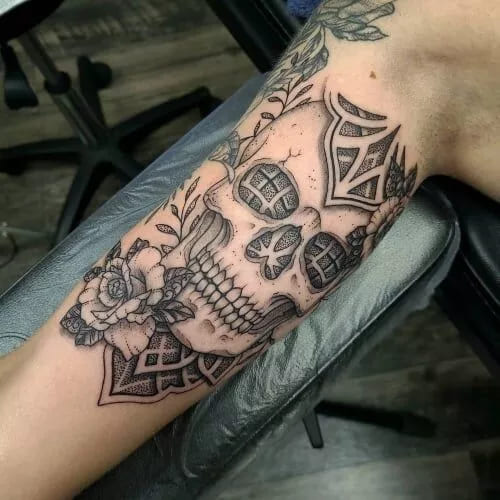 Source: nitrocdn.com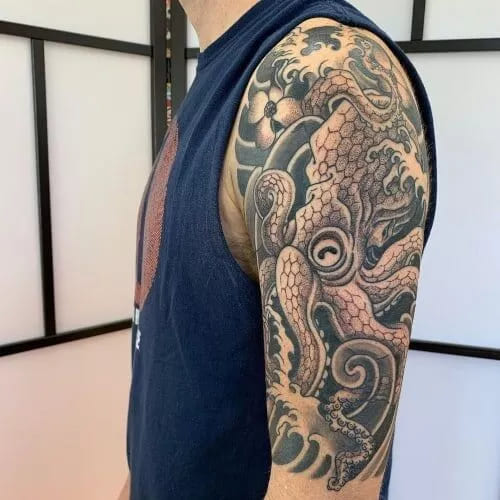 Source: nitrocdn.com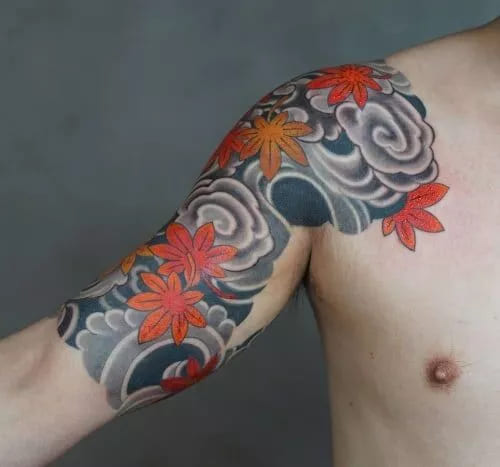 Source: nitrocdn.com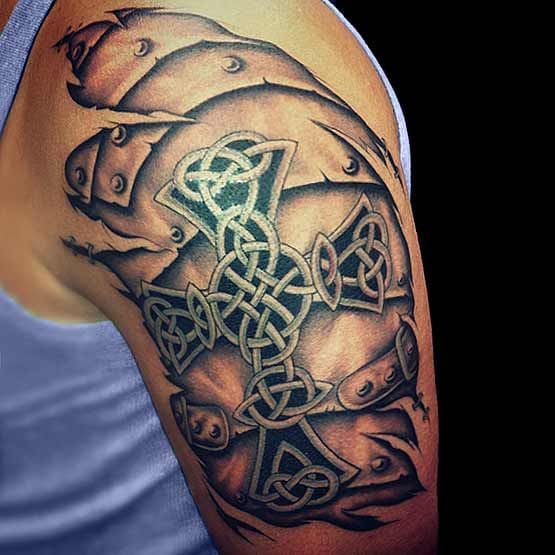 Source: shouldertattoos.org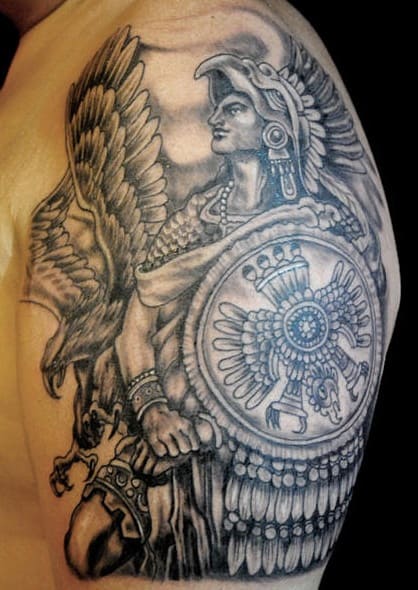 Source: shouldertattoos.org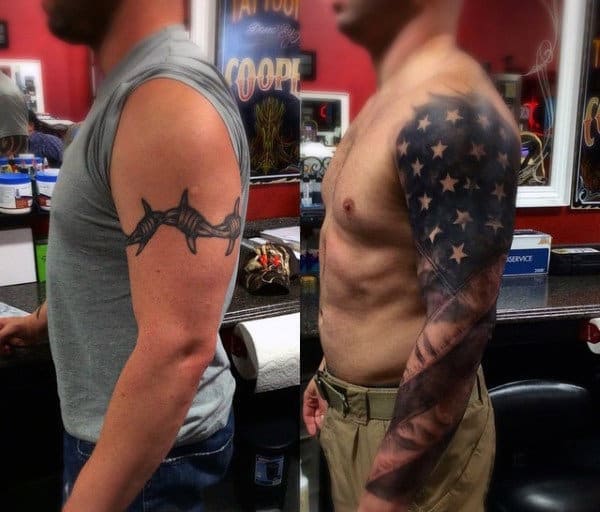 Source: nextluxury.com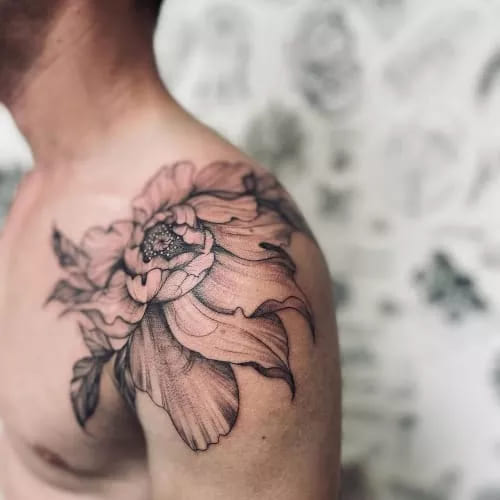 Source: nitrocdn.com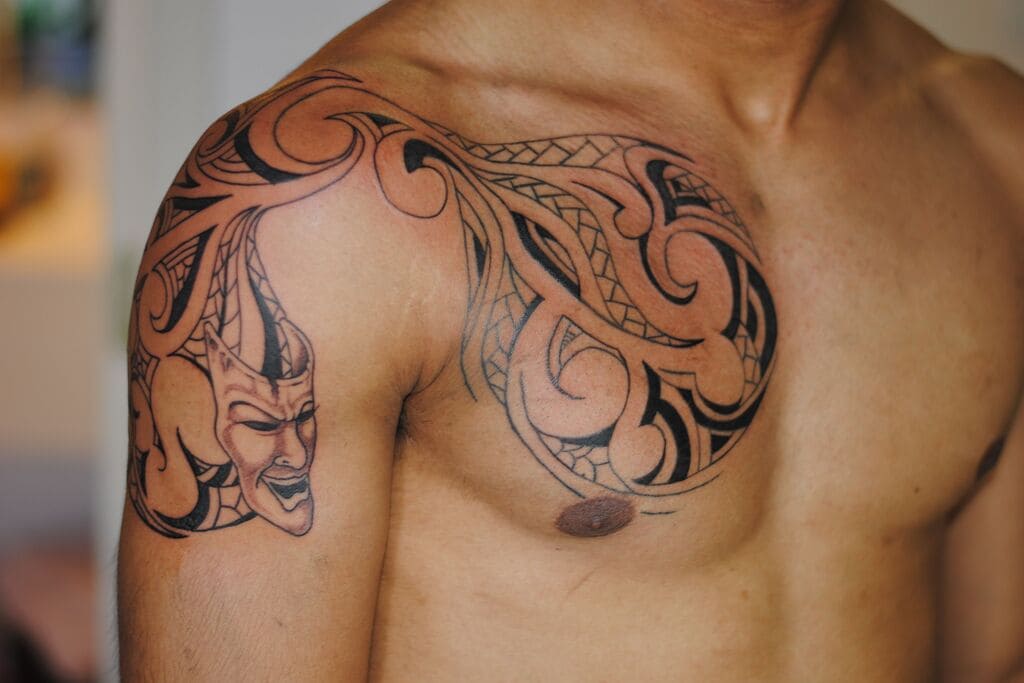 Source: pinimg.com
Conclusion
Men may rock any design, but a shoulder tattoo is an epitome of cool. For males, the shoulder blade is a good spot for a tattoo, but ink should be kept away from the sensitive skin of the neck if at all possible.
Men's shoulder tattoos come in various shapes and sizes, from little patterns to massive works of art that span the whole of the back. Shoulder tattoos are a safe bet in any situation.
FAQ's: 
1. If You Have a Tattoo on Your Shoulder, Does It Hurt?
Shoulder tattoos are not much more painful than other starting locations, such as the arm.  Trapezoid and upper shoulder tattoos are somewhat more painful. Tattooing the shoulder blade is the most uncomfortable, although you may take pauses. Shoulder discomfort is manageable for most.
2. Do Shoulder Tattoos for Men Lose Their Ink Overtime?
Shoulder tattoos, for example, may not be the best idea if you often use a backpack due to the potential for friction from the straps. It's exactly like any other tattoo that might endure a long time. You may always touch it up if you see that it's fading.
3. What Is the Cost of Shoulder Tattoos for Men?
The hourly pricing at most tattoo studios depends on the artist's expertise, visibility, and popularity. Average $100–$200 per hour. The size and complexity of your tattoo will also affect its cost. You may get a rough estimate when you meet with the artist to discuss your design.
4. Are Minimal Tattoos More Affordable?
Your minimalist tattoo concept may wind up costing less if it is tiny and extremely basic since the cost of a tattoo is often determined by the size, placement, and intricacy of the design. Discuss your options with a local artist before making any final decisions.
5. Does Time Reduce the Beauty of Minimalist Tattoos?
Minimalist tattoos, in particular, may lose some of their initial striking aesthetic impacts as they age, as is the case with all tattoos. To ensure the longevity of your tattoo, choose a skilled minimalist tattoo artist.
More from The Fashionterest
For more, you can browse through Fashionterest.