When thinking about big tattoos, biker gangs, and motorcycle riders are the first things that come to mind. Out of all the tattoos out there, the favorite ones will always be their mean machines, aka bikes. And of all the bikes taking the glory is the magnificent Harley-Davidson. Keeping that in mind, let's look at the different types of Harley-Davidson tattoos to awaken your inner riding spirit.
Founded in 1903, it all started with William S. Harley, Arthur, and Walter Davidson and an ambitious project in their little garage. After years of hard work, they rolled out their first bike, and the world has bowed to the name "Harley-Davidson" ever since. That's how the fantastic Harley-Davidson Tattoo History began.
The robust American brand has been paving its way throughout the globe, flying its flag high across each nation. The intoxicating sound of large pistons rings in the hearts of the bikers throughout the world.
From the Softail to the FLT, Road King, and Electra Glide, HD delivers if you're searching for a heavyweight champion with stump-pulling torque that lasts as long as it does. This is why the traditional Bar and Shield image tattoo has become famous out of all the types of Harley-Davidson tattoos over time. Since the emblem was first trademarked in 1910, it has stood undefeated on the street.
Of course, there's also the eagle, the number one type of Harley-Davidson tattoo, and variations of the words Harley-Davidson and MotorCycle. Recently, the number one has been developing in reputation, though it dates back to HD's AMF days.
Whether you own a Harley or dream of riding through the country with one, if you have a Harley fever, you'll love these exceptional types of Harley-Davidson tattoos for women and men. From antique engines to cool bike-themed designs and more, there are many concepts and ideas to roll with. Harley-Davidson tattoo designs stand out in crowds.
Harley-Davidson Tattoos: Culture and History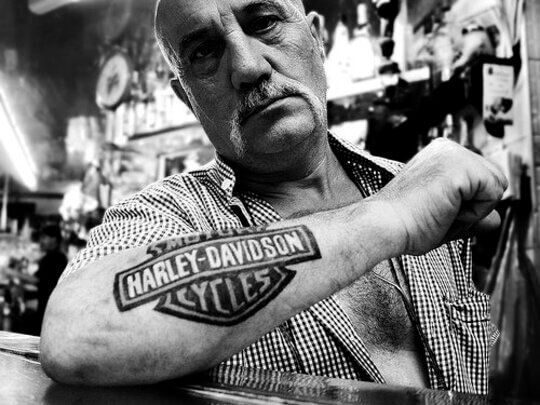 William S. Harley finished the first actual blueprint drawing of his engine in 1901. After that, a mere two years later, Harley, along with the help of Arthur Davidson, produced the first version of the Harley-Davidson bike. This marked the beginning of the Harley-Davidson as an enterprise and Voila! Gave birth to different types of Harley-Davidson tattoos for Harley enthusiasts.
The early 1900s was a pivotal time for the young Harley-Davidson business enterprise. Three varieties of Harley-Davidson were available in the primary years, and each motorcycle was a big hit. The word began to spread as the American men accepted Harley with open hands Harley-Davidson. Harley-Davidson started to win hill climbs and different racing competitions.
People started using the famous Harley-Davidson "Bar and Shield" for the first time in 1910. This is the same specific image that represents the logo these days. The Harley-Davidson "Bar and Shield" became trademarked the following year. The famous "Bar and Shield" is a favorite design in many Harley-Davidson tattoos.
Furthermore, in 1912, Harley-Davidson made its first-ever export across America. The first Harley-Davidson motorcycles were exported to Japan, marking the beginning of their global empire and feeding ideas for several Harley-Davidson tattoos.
The practice of biker tattoos experienced an uprising in the 1940s and 1950s. While biker tattoos usually depict the association with a biker gang, some tattoos were also vastly associated with being the proud owner of a Harley. Speaking of Harley-Davidson tattoo history, remember that Harley-Davidson tattoos have been around for a long time, denoting the biker lifestyle, the courage, and everything that comes along.
Harley-Davidson Tattoos: Meanings and Designs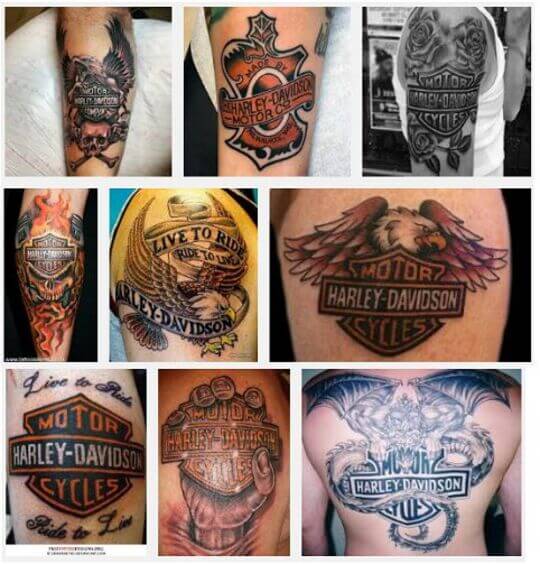 Harley-Davidson was among the first of the sturdiest bikes ever made. While its popularity has been growing by leaps and bounds, its tattoos are another reason for its worldwide admiration.
The meaning of the acclaimed Harley-Davidson tattoos is not restrained to one; there are several meanings to these distinctive types of Harley-Davidson tattoos. Going from the creativity of the American dream, the spirit to rebellion, the longing for bone-chilling adventures. 
Coming in both small and large sizes, numerous Harley-Davidson tattoo designs can effortlessly be inked to embrace different parts of your body, such as the neck, shoulder, chest, back, and more. They can be inked to give you a Gothic, Phoenix, and Gothic feel; whatever you choose, a standard "Harley-Davidson" or "HD" will go with it all.
But wait, there's more! There's plenty of room for creativity, be it "bar and shield" the burning flames or the minimalist designs that enhance your look most subtly. The several types of Harley-Davidson tattoo designs are set to leave an everlasting impression.
Irrespective of whether you own a Harley or are simply a bike enthusiast, you can fashion its feel to your personality with utmost confidence with the broad-ranging types of Harley-Davidson tattoo designs symbolizing attributes such as Power, Unity, Freedom, No Limits, Strength, and Thrilling Life. Now, look at some of the most common yet voguish types of Harley-Davidson tattoos one can fondle.
5+ Best Types of Harley-Davidson Tattoos for Men
These are the most popular types of Harley-Davidson tattoos for men:
1. Harley-Davidson Logo Tattoo
One of the most famous Harley-Davidson tattoo types for men is the colorful Harley-Davidson logo. The logo design is straightforward and represents a proud ownership of the rugged bike. You can also include the sharp-eyed American eagle with the tagline "live to experience, experience to stay" under the logo.
Another Harley logo layout represents the American eagle conserving the Harley banner in its claws with the American flag. Plus, a calligraphy tattoo with the textual content "Harley-Davidson Motorcycle" and the year "1903—marking the beginning of manufacturing—makes for a classy tattoo.
2. Harley-Davidson Bikes
Harley-Davidson motorcycles make excellent tattoo designs for Harley-Davidson fans. The Harley Fat Boy, the Dyna, and the Sportster are some of the stunning pieces of the Harley bike collection. When you get a particular Harley version tattoo, make sure your artist can pay attention to the little details of the motorcycle. Your Harley tattoo's appeal may also depend on the tattoo's placement and color shading.
3. Harley-Davidson Parts and Engine Tattoo
The Harley-Davidson engines are one of the most powerful engines in the motorcycle industry. The Harley's Evolution or Milwaukee Eight engines are popular types of Harley-Davidson tattoos.
You can get a tattoo of the powerful Harley engine expertly inked. Get a unique design by adding lightning bolts to the tattoo to show off the electricity output of the machine. You can also add text like "Milwaukee Magic" or "Heart of Harley" to indicate the significance of the motor.
4. Harley-Davidson Eagle Tattoo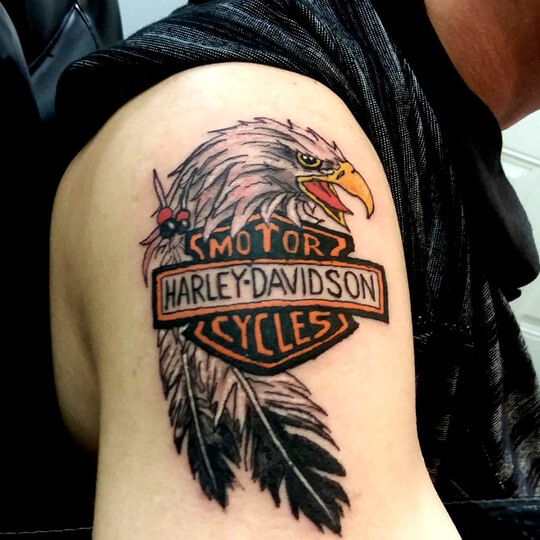 Like the Harley-Davidson logo, you can also get a Harley eagle tattoo. A bleeding wound or ripped skin tattoo layout is likewise renowned. The majestic American eagle's face and claws typically protrude from the torn skin in these tattoos.
Keep it simple and engrave a hovering eagle on its wings with the Harley-Davidson brand name. Be creative, add more details to the eagle to make it stand out and be as eye-catching as it can be.
5. Harley-Davidson Wing Tattoo
The Harley-Davidson motorcycle can reach excessive speeds on open highways. Many riders get tattoos on their motorcycles with wings to display this speed.
A Harley wheel with wings or the Harley emblem with attachments are also famous Harley-Davidson Tattoos for Men.
You can ink the quote "racing the wind with my Harley" to give your tattoo a personal touch and show your love for speed.
6. Grim Reaper Harley-Davidson Tattoo
The Grim Reaper is a traditional type of Harley-Davidson tattoo that looks badass and in no way gets old. The grim reaper riding an antique-style Harley motorcycle with ape-hanger hands and a skull for a headlight makes for a fantastic Harley tattoo.
For this tattoo, you can opt for jet-black ink to signify midnight or maybe lay out a graveyard to add more intricacy and individuality to the tattoo.
7 Best Types of Harley-Davidson Tattoos for Women
These are the most popular types of Harley-Davidson tattoos for women:
1. Harley-Davidson Rose Tattoo
Combine the muscular Harley-Davidson Milwaukee engine with a bouquet of roses. The complex motor and sensitive flora are an excellent illustration of the tough but feminine lady bikers. Use vibrant colors in your tattoo to give it a feminine touch.
This type of Harley-Davidson tattoo would look best on the shoulder. Furthermore, a tattoo of a woman riding a Harley in the direction of roses will bestow a unique appearance.
2. Harley Quinn Tattoo
For a badass biker female tattoo, get an image of Harley Quinn riding a Harley cruiser. The trash polka design will complement the fantastic portrait. Harley Quinn's blue and crimson hair, red lips, and kohl-rimmed dark eyes will appear stunning in the layout. The Harley bike can be an all-black silhouette to create an optical phantasm.
3. Harley-Davidson Sleeve Tattoo
A sleeve tattoo is an extensive tattoo consisting of a smaller set of tattoos covering your arm. Clearing the dust and helping you stand out from the crowd, here's our exclusive idea for a sleeve type of Harley-Davidson tattoo. Why not go for an artistic, colorful tattoo of a woman wearing a Harley Davidson biker helmet that seamlessly wraps around your shoulder? It might not be something everyone's tried yet, but it's worth it.
4. Harley-Davidson Trash Polka Tattoo
Biker girls can slay their way with a Harley-Davidson trash polka tattoo for an intricate Harley-Davidson tattoo. They feature the inseparable duo of Harley-Davidson and Route 66 inked with a biker girl wearing a helmet printed with the American flag and with leather belt. It can be flawlessly styled to portray the blend of the modern and traditional generations.
You can add chains and snakes to the layout to represent how women had to fight for the freedom and equality they revel in nowadays. While the Harley and Route 66 classically ace the American dream and retro feel of the century-old motorcycle company. The black and pink colors will give the tattoo an edgy vibe; however, you can use different colors primarily based on your choices.
5. Harley-Davidson Couple Tattoo
Harley-Davidson Couple Tattoo is an excellent choice for people looking for a tattoo to signify their love. This type of Harley-Davidson tattoo has a distinct romantic appeal to it. Our best idea for such a tattoo is to get an image of a Harley without its engine on the guy's hand and the ink of the bike's engine on the girl's hand. Showcasing the sweet symphony of love, the symphony of how you're incomplete without your significant other, through the portrayal of a bike being nonfunctional without its engine.
6. Harley-Davidson Emblem Tattoo
The Harley-Davidson emblem is an ultra-modern type of Harley-Davidson tattoo for male and female bikers alike. Female bikers can get a logo tattoo on their forearms presenting a girl's apparition with hollow eyes and azure blue light from her eye sockets. Looking up at the dark sky above, her eyes light up Harley's logo with a soaring American eagle and the phrase "Harley-Davidson Motorcycles."
7. Grim Reaper Harley Tattoo
The Grim Reaper represents death; however, you don't always have to picture him as a malicious entity. A lovable female grim reaper riding a Harley motorcycle can make for a quirky type of Harley-Davidson tattoo. If you want to stick to a darker subject matter, get a tattoo of a grim reaper chasing a lovely woman on a Harley.
Conclusion
Be it your chest or thighs, you can ink different Harley-Davidson tattoos anywhere. You can get your love for Harley etched over your body if you're a hardcore biker. You could sport an in-depth, elaborate design on your sleeves, chest, and lower back for that. With the myriad of Harley-Davidson tattoo designs listed in this article, you can grant your biker-tattoo fever an edgy upgrade. Whether a flame or an eagle, Harley-Davidson tattoos have a super-stylish feel.
Celebrities like Johnny Depp also sport several Harley-Davidson tattoos, confirming its stylish appearance. Considering that, it's safe to say that Harley-Davidson tattoo designs are the right tattoo for you.
In Case You Missed it!