Johnny Depp is an amazing actor, musician, and producer. Also, he is very famous as a style statement. He is very particular and unique with all his fashion sense. Johnny Depp ensures that all his attires and accessories go well with the concept of the show where he is performing. When talking about accessories, there are two things we can always connect with him. Johnny Depp rings and chokers or chains.
We believe it is best to upgrade your fashion with some of his daily accessories and it will definitely add a spark in your life! To date, what we have noticed is, Johnny Deep maintains the fashion that everyone can wear in their routine days.
Johnny Depp is also known as Captain Jack Sparrow from the Pirates of the Caribbean Sea. Right from there, we have realized Johnny Depp is very obsessed with rings.
Today we will see some of the fascinating and striking designs of Johnny Depp's Rings that are very popular. All the rings we have collected and described here have a unique design that can be worn regularly.
Unique and Interesting Johnny Depp Rings
If you have ever given a closer look at the rings, something is very particular about them. Johnny Depp ensures he maintains his loyalty and liking towards the skull that he has in all his rings. Whether the ring is made of emeralds, silver, or gold, the design of the skull is always present.
Let us give a closer look at some of them.
1. Jack Sparrow Design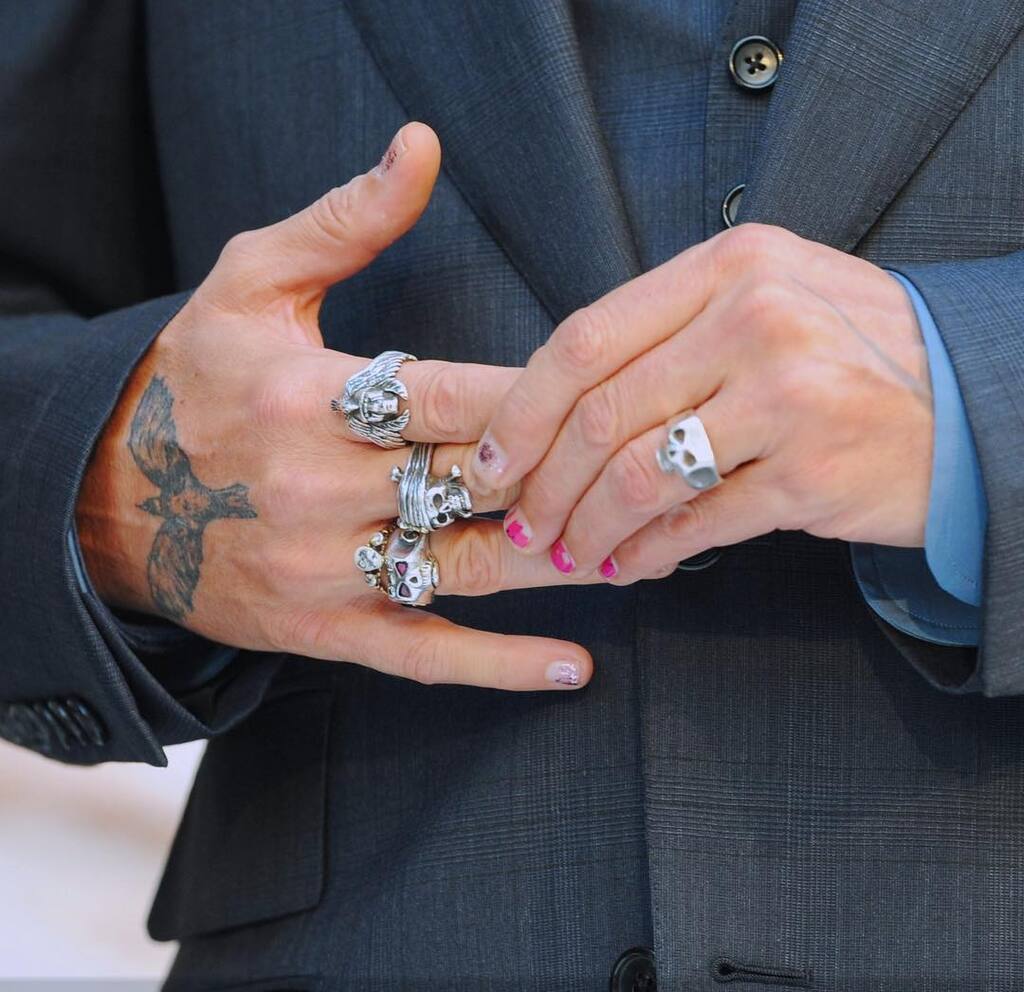 If you are a great Johnny Depp fan, you will know that he is so fond of his famous character of Captain Jack Sparrow. According to Johnny Depp, he felt that pirates always had a rockstar personality.
To maintain the aura of their personality, he enhances his role as a pirate with rings. And since then, The Captain Jack Sparrow rings are very famous. The ring's design is so unique yet so subtle that you can wear it on your regular days. So what do you think of the design, friends?
2. Red Eyes Skull Ring
Johnny Deep is very fond of the Red Eye Skull Ring. he believes that it indicates the entire track or the circle of life to death. The skull is always there in all his rings. Maybe it is not the main motif of the beautiful part, but the skull is also present in other types of rings that he prefers.
The Red Eye Skull ring is the most extraordinary design of Johnny Depp. It brings a lot of confidence altogether when you wear it on your finger. Believe me, it is the most fantastic design and pattern of ring that Johnny has ever worn.
3. Tonto Ring
Tonto Ring is again inspiring from Johnny Depp's famous character, Tonto from Lone Ranger. One of his friends specially design this ring for him. Johnny likes to wear the ring frequently.
If you see the design closely, it has every single element inspired from the film (Lone Ranger) . The exciting part is that it even has a motif of the tattoo that Johnny has had on his body for years.
Johnny's Tonto ring is a perfect one that reminds you that confidence and dedication can help you reach the highest heights! An accessory that not just enhances your look but also your personality.
4. Johnny Depp Pirate Ring
Again the ring is inspiring from the pirate look of Johnny from the Pirates of the Caribbean Sea. The ring was special to Johnny Depp as it was gifted to him from the film's entire team.
If you notice, the ring depicts Jolly Roger in the form of a skull. The skull and the bones are amazingly wrapped with the bandana. The bandana holds the ring in the finger. The design is unique and exciting.
Why Is the Skull Common in All the Johnny Depp Rings?
Have you ever wondered why a skull is always there in all his rings?
Johnny Depp believes that The skull reminds us that even if we encounter problems, we have to face them. Life is all about exploring, experimenting, and questioning ourselves. If we do these in our lives, we can lead the right path to peace and our goal. Johnny Depp believes that what we wear should keep reminding us about our life's goal.
Conclusion:
Johnny Depp is not just a great fashion icon or influencer, the most interesting part about his personality is that he has great reasons and facts behind all his styles and fashion ideas. Every accessory or jewellery you wear should have a story or moral, and Johnny Depp's rings justify this very well! .
Continue reading:-