Learn here how to wear oversized shirts in the 15 most stylish and cool ways! 
There is somethin' about oversized shirts that make us feel so comfy & confident! 
Bodycon dresses and body-hugging tops are great for a sexy and spicy appearance. However, if you want to create a flowy, comfy, yet stylish, there is nothing better than oversized clothes — specifically an oversized shirt!   
A white shirt is a staple for every woman's wardrobe; just like that, these types of loose, baggy pieces are essential! 
Right now, oversized clothing is a big trend. From famous celebrities to Instagram influencers, everyone is wearing and styling oversized outfits in their own unique ways! Also, with the switch in the season, an oversized shirt is a staple! Now there is an increase in the temperature, and it's becoming really heat up outside. These lightweight and loosely fitted shirts are a total lifesaver in warmer months. 
At first glance, oversized shirts may look simple and low key but believe me, this is one of the strongest pieces of clothing that can be styled in so many different ways. From a cute date outfit to a sexy late-night dinner dress, you can literally create any look from just an oversized shirt! 
If this got you excited, and you want to know more about how to style oversized shirts women style, keep reading!   
Today in this blog, we'll tell you how you can easily wear an oversized shirt in several ways. In the end, we've also made a list of how celebrities have styled oversized shirts. So you can also take inspiration from them or create something totally personalized; the choice is yours!  
15 Ways to Slay Oversized Shirts This Summer!
Here we have a lookbook of 15 outfit ideas. From a relaxed and comfy fit to classy and sophisticated looks, we've covered so many various outfits look for you! So read each one carefully and select the one with which you are vibing the most! 
Let's begin. 
Outfit #1: A Monochromatic Look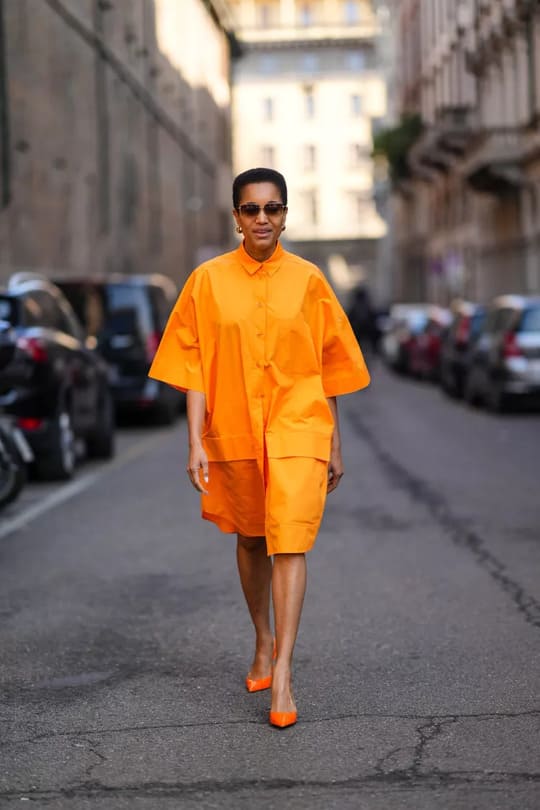 Source: instyle.com
Let's start with a simple yet statement look! 
To create this look, first take a larger, longer button-down and pair it up with matching linen pants. You can also switch the pants with matching shorts. For footwear, you can try flats or boots for a cool Western vibe. This monochromatic look is something that can be effortlessly created, but still, it looks so attractive.  
Outfit #2: An Oversized Shirt Dress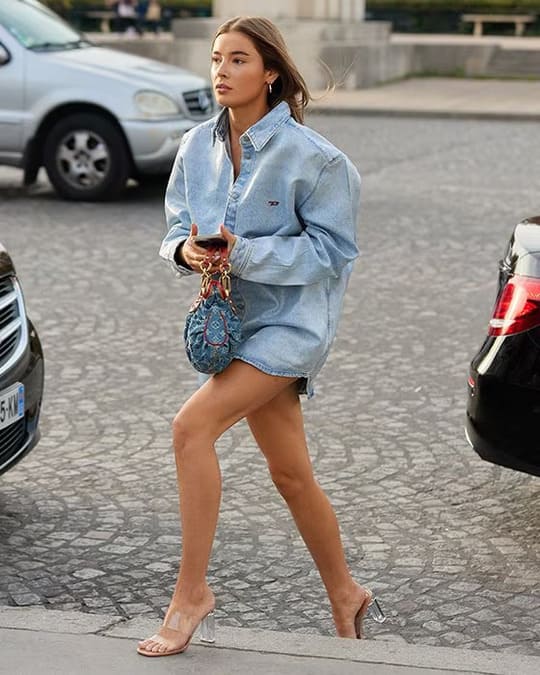 Source: image.s5a.com
Another great way to style an oversized shirt is as a dress! Yes, just take out your oversized white shirt, wear it just like a dress, and that's it! 
Because wearing an oversized shirt and no pants is probably the most comfortable thing in life! 
You can also accessorize it with some hoop earrings, a belt, and sandals. And your fashionable outfit for lunch or shopping with friends is ready in minutes!
Outfit #3: Belt It Up!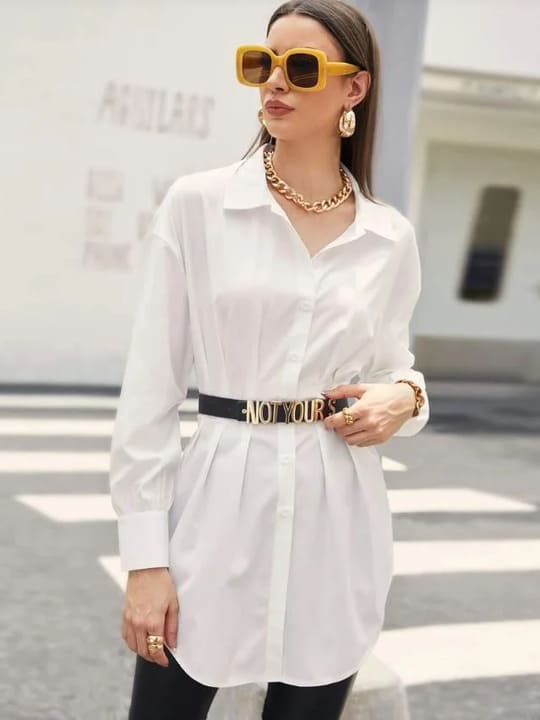 Source: wixstatic.com
Do you want a fitted look while staying comfy? An oversized shirt and a belt will rescue you! 
Wear a thick buckled belt or a fanny pack over your loose shirt. This will immediately cinch your waist and give you an hourglass shape. You can try this trick on any type of oversized clothes. 
Outfit #4: Oversized Shirts with Summer Shorts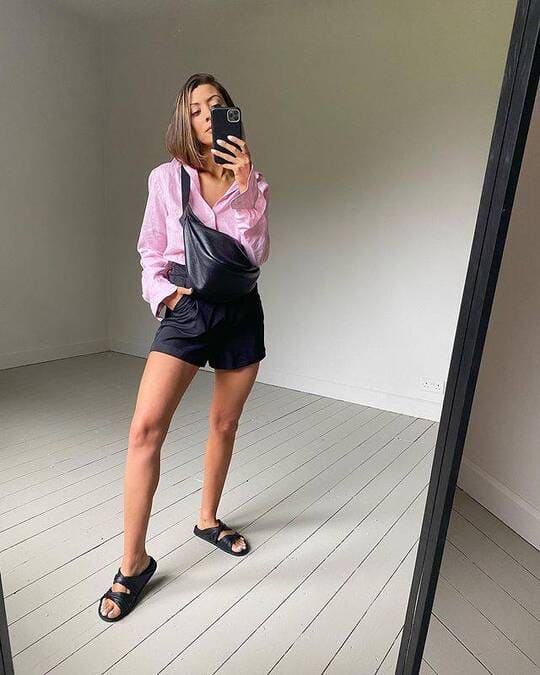 Source: cliqueinc.com
Here is another cool way to style your oversized shirts. 
Take out your summer shorts (both denim and cotton ones will work) and wear them with a light-colored loose and large shirt. Colors like light pink, powder blue, and yellow will be appropriate for the summer. Finally, add some slippers and you're good to go! 
Outfit #5: Oversized Shirt + Straight-Leg Jeans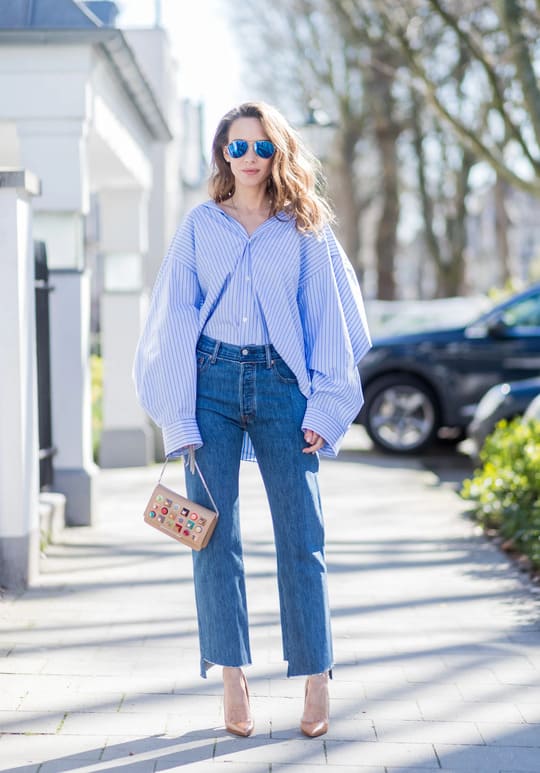 Source: popsugar-assets.com
Girls, who can't live without jeans, here's a great outfit fit for you!
Y'all style your oversized long sleeve shirt with straight-leg jeans or tailored wide-leg pants to create a formal yet casual vibe! Don't tuck the shirt in; keep it loose and flowy. And if you want a billowing silhouette, leave the last couple of buttons open.
Outfit #6: Layer It with a Bralette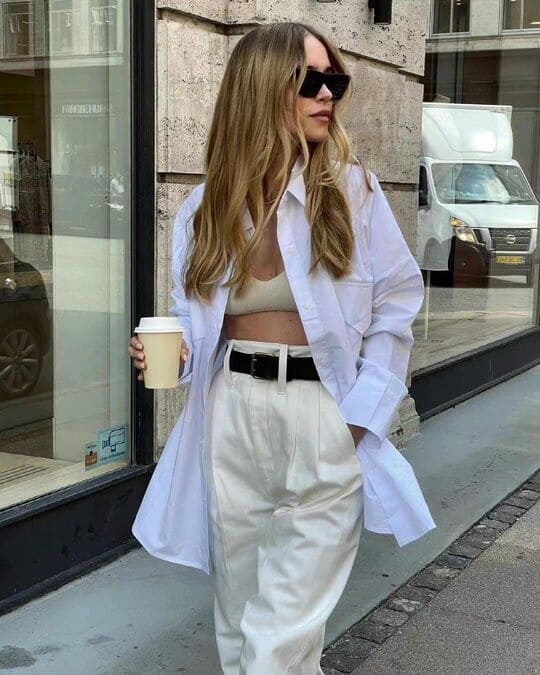 Source: byteimg.com
Did your crush finally ask you on a date, but you don't know what to wear? 
Here's the perfect date outfit idea: Pair your regular oversized shirt with a bralette! You can easily create a cute, flirty look by layering two pieces of clothing. The lightweight shirts are a perfect option for this. 
You can use an oversized flannel shirt or any type of cute oversized shirts and team up with a matching bralette (wear tank tops for more coverage) and a trouser or a skirt.  
Outfit #7: A Minimalistic Maxi Skirt Look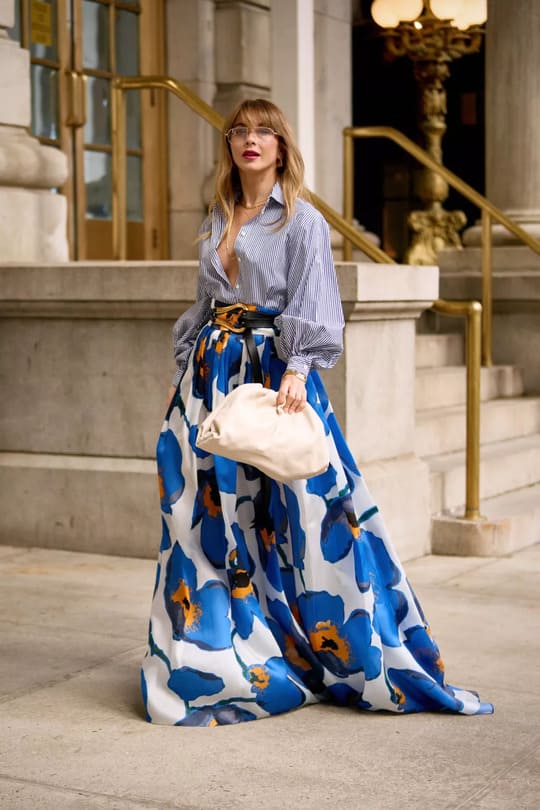 Source: futurecdn.net
Believe in "Less is More"? If yes, you'll love this oversized look! 
But how to wear oversized shirts stylishly?   
The answer is quite simple – Pair them with a maxi skirt! 
There are two ways to style it: the first is to wear an oversized white shirt or a striped shirt with a colorful printed maxi skirt, and the second is doing exactly the reverse! Wear a bold, colorful shirt with a solid-colored maxi skirt. This trick will help you to create a balanced look. Take a look at the above images for reverence! 
Outfit #8: The Ultimate French Tuck!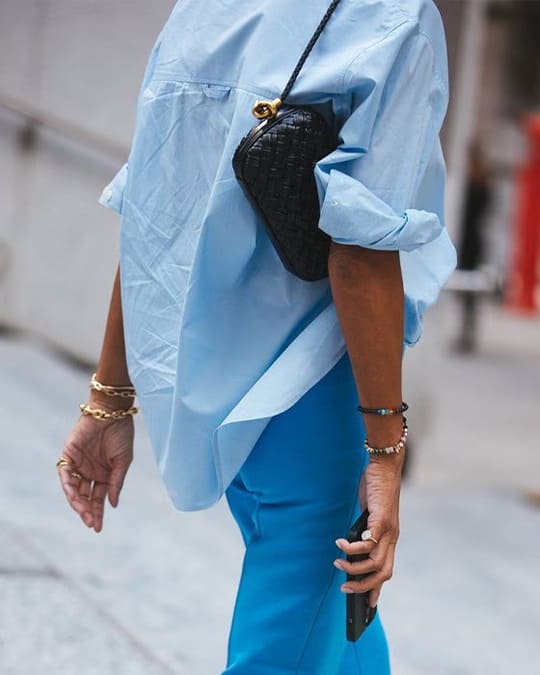 Source: image.s5a.com
How to wear oversized shirts without looking fat? By learning the French Tuck! 
Look at the above model and see how beautifully she wears an oversized shirt women style without looking shapeless. See It's All About the French Tuck! 
So how to do French tuck? First, tuck your shirt in the front; later, pull up the shirt a little bit around the sides and leave the shirt tucked out at the back. Doing this will give a clean but not so form-fitting look.  
Try this oversized white shirt womens style, and you'll surely not regret it!
Outfit #9: Oversized Shirts + Vest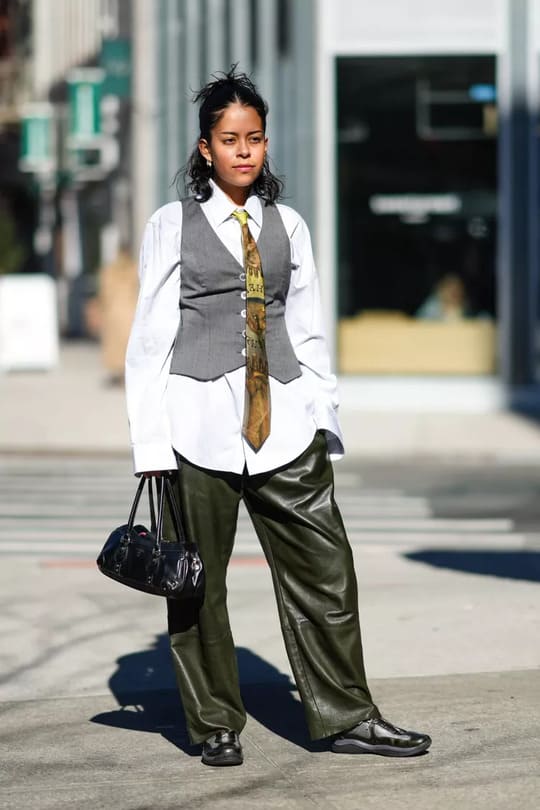 Source: instyle.com
Elevate your basic, oversized button-down with a vest! 
Grab a button-up waistcoat and layer it on top of an oversized shirt. For a more dramatic touch, you can also add a tie. When it comes to bottoms, you can wear anything from leather pants to wide-leg pants. This look gives off a moody, academia vibe.
Outfit #10: Oversized Shirt + High-Waisted Skirt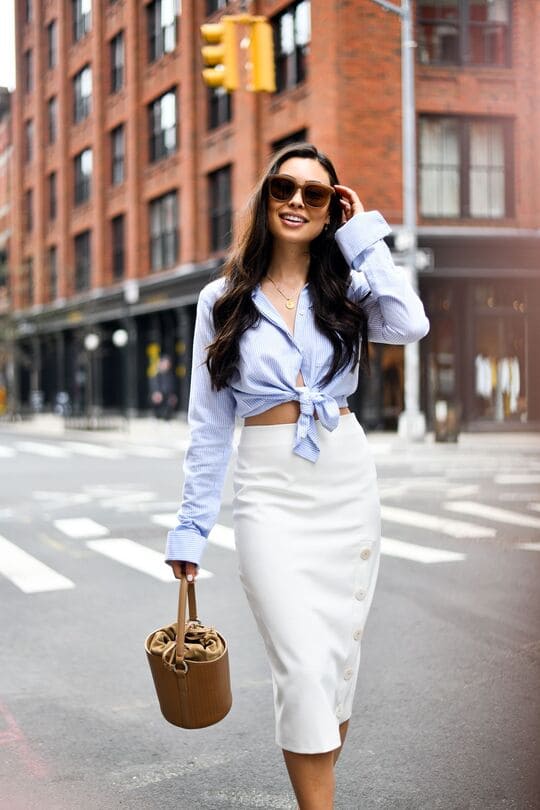 Source: pinimg.com
An oversized shirt looks so chic and elegant when paired with a high-waisted skirt. Tuck the shirt to highlight your waist and accentuate your body curves. Complete the look with some ballerinas or flats for the day or strappy sandals for the night look! Try this oversized shirt outfit idea and add the oomph factor!   
Outfit #11: Style It with Dungarees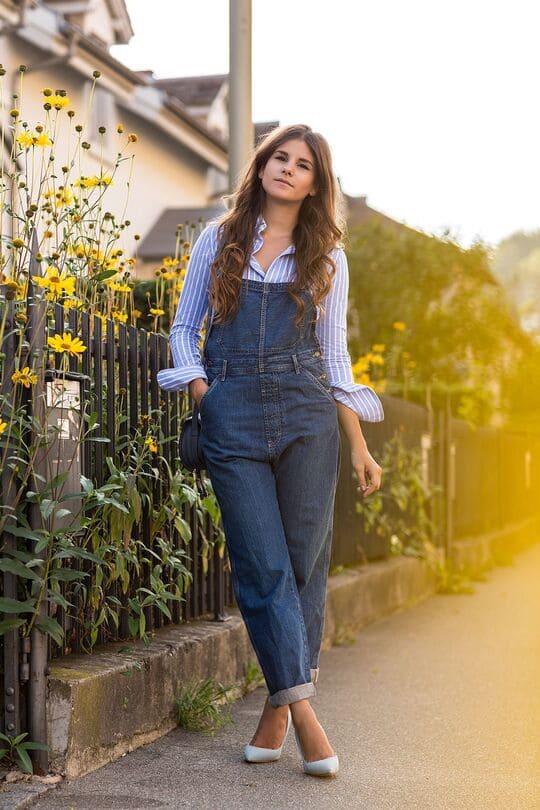 Source: pinimg.com
Dungarees – this only outfit can create both a tomboy and feminine look.
Girls and women are still crazy about Dungarees, which can be seen on social media platforms. You can see that oversized shirts go really well with dungarees. Also, the styling is easy; all you need to do is tuck your large, loose shirt into it and wear some cool white sneakers. For hair, you can try messy hair or a hair bun for an effortlessly chic look!  
Outfit #12: Head-To-Toe Denim Look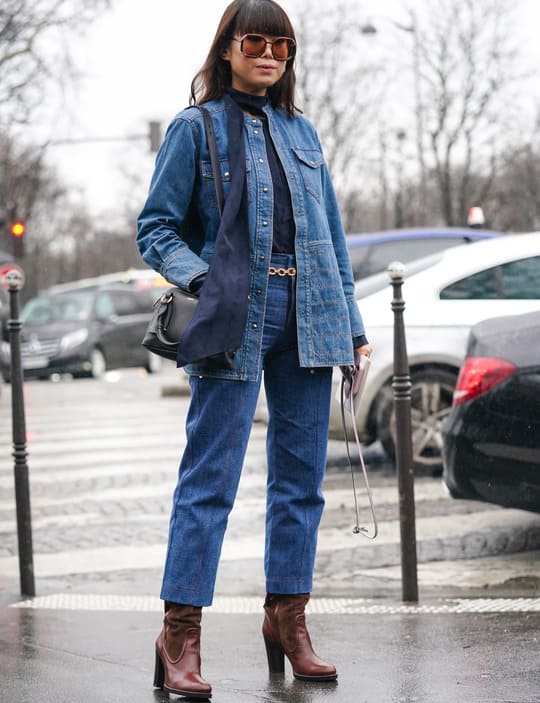 Source: purewow.net
Denim on Denim always looks trendy and stylish! 
Create this stunning look by wearing a soft, oversized jean shirt and pairing it up with matching denim jeans. This retro denim trend is one of the most popular fashion trends of 2023. 
You can try skinny jeans, straight-fit jeans, or baggy jeans with womens oversized shirts. However, make sure to keep everything in a similar tone or shade. This monochromatic look will give an illusion of a slim and tall body.   
Outfit #13: Oversized Shirt as a Jacket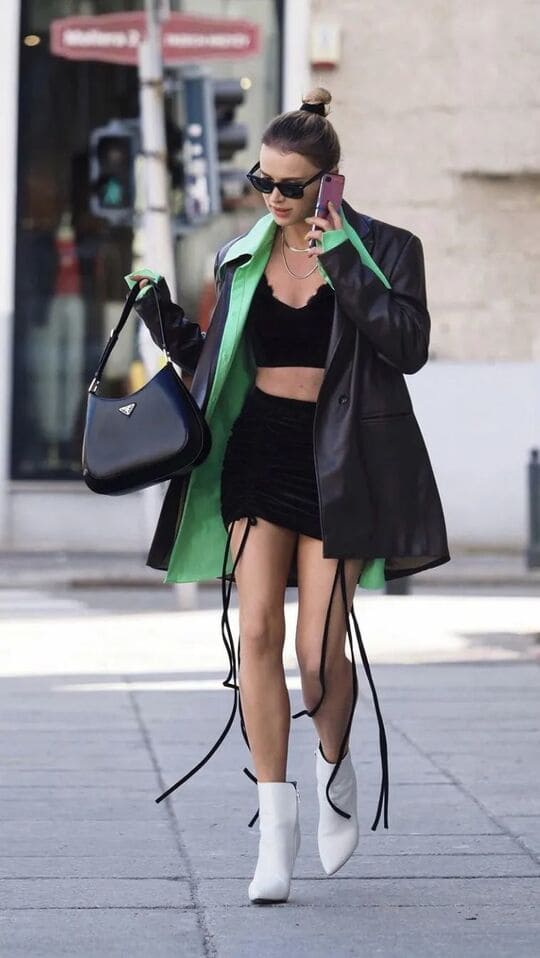 Source: smzdm.com
Switch up your jackets with oversized shirts for this summer!  
Look at the above photo of an oversized blazer outfit; isn't it looking gorgeous? You can also wear your loosely fitted, large shirts over a bra top and mini-skirt as a shrug or jacket. You can wear this to beach parties, brunch with friends, or flea markets for thrift shopping. This oversized outfit will keep you covered and cool during the hot weather. 
Outfit #14: Oversized Shirt Over a Short Dress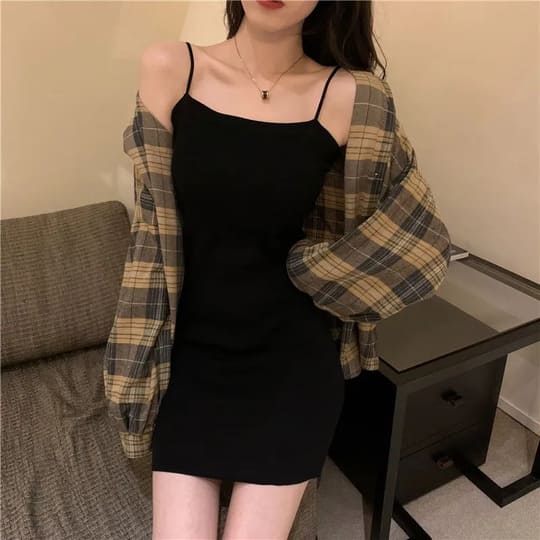 Source: cloudfront.net
Have you ever bought an oversized shirt but still feel challenging to style it? 
No worries, you're not alone; many girls and women face the same issue!  
Here's the best way to style it: pair it with a short dress! 
There are numerous styles of oversized shirts for women and mens oversized shirts available in the market. However, if you don't want to spend, you can always steal or borrow from your partner, brother, or dad. The oversized shirts men style also looks pretty cool. 
Outfit #15: Oversized Shirt + Sweater Vest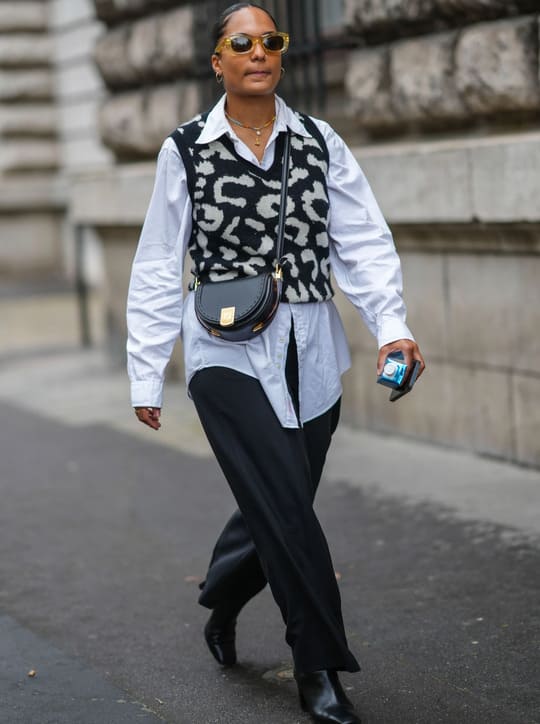 Source: purewow.net
Bring out the classic 80s retro style in your dressing style with the help of oversized shirts. Pair them with sweater vests in colorful colors! Make sure to get the vest in the right size, as you'll be layering it on top of the baggy shirt. This way, you can make the whole oversized outfits look put together. So, be sexy, be bold, and try this outfit idea!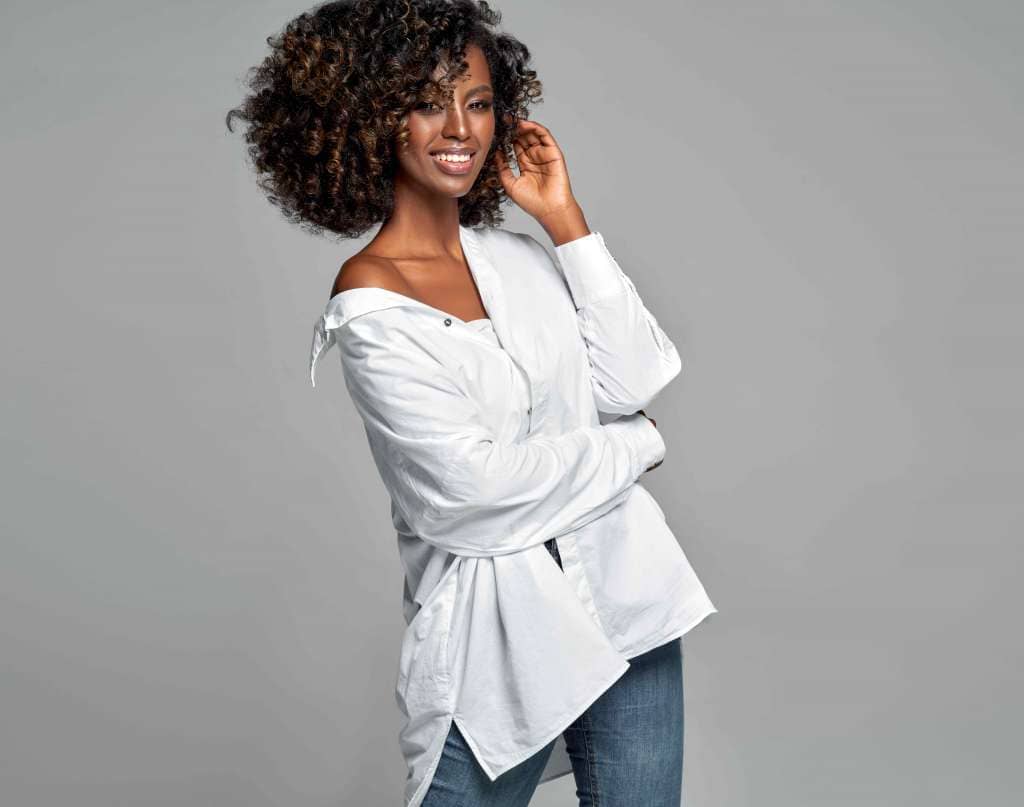 Source: fashinza.com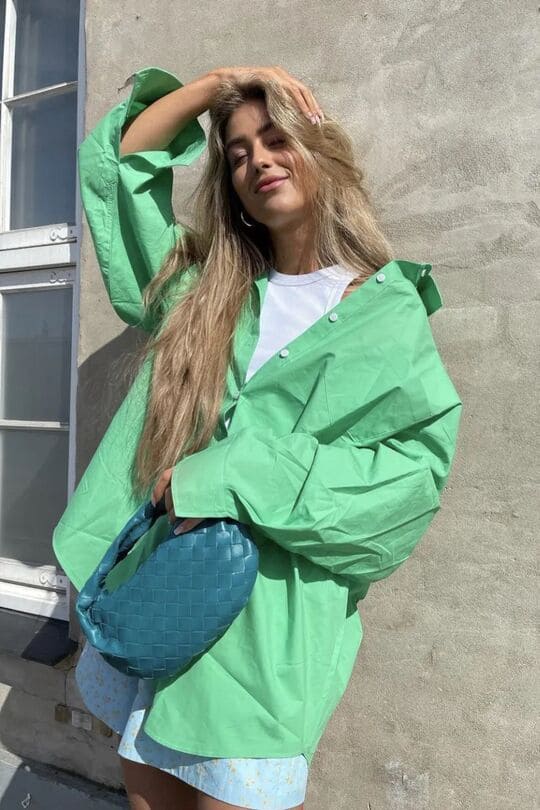 Source: smzdm.com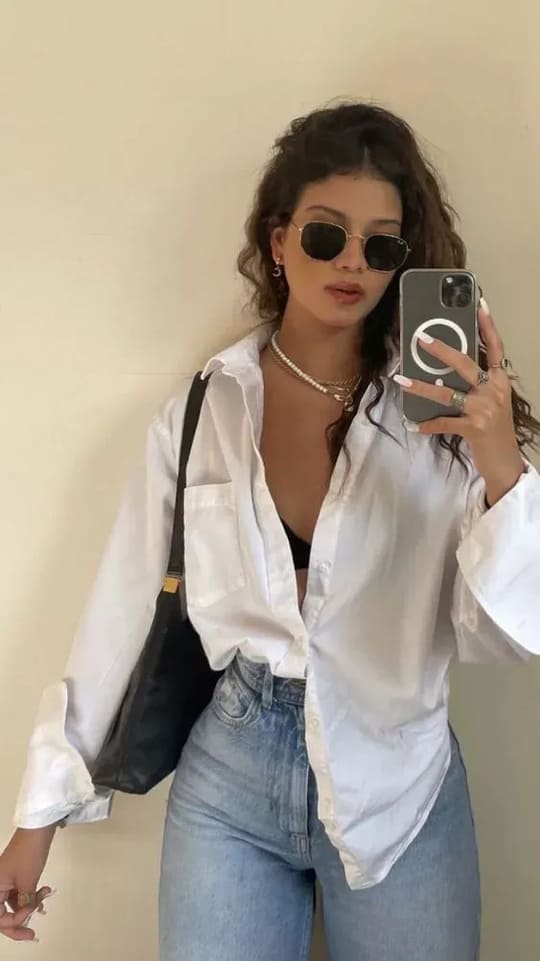 Source: pinimg.com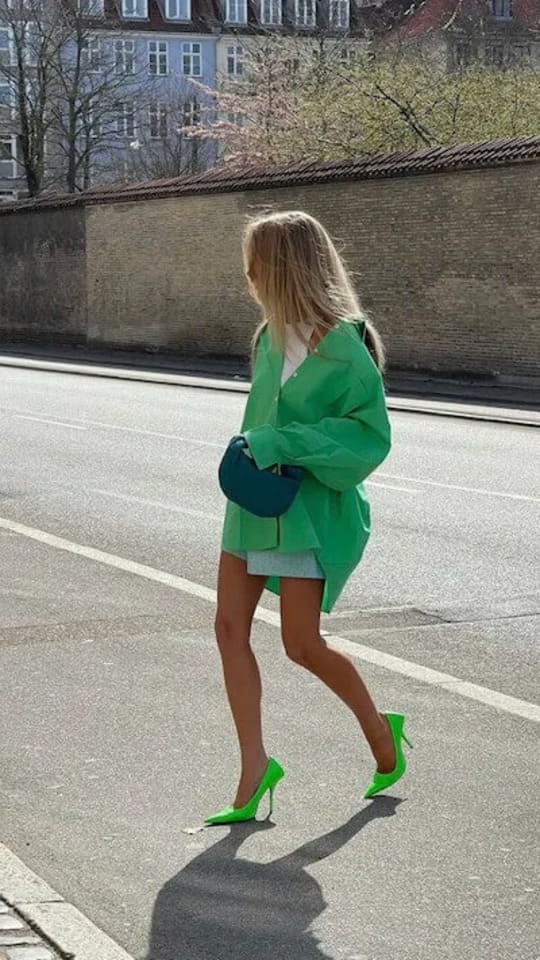 Source: girlsharestips.com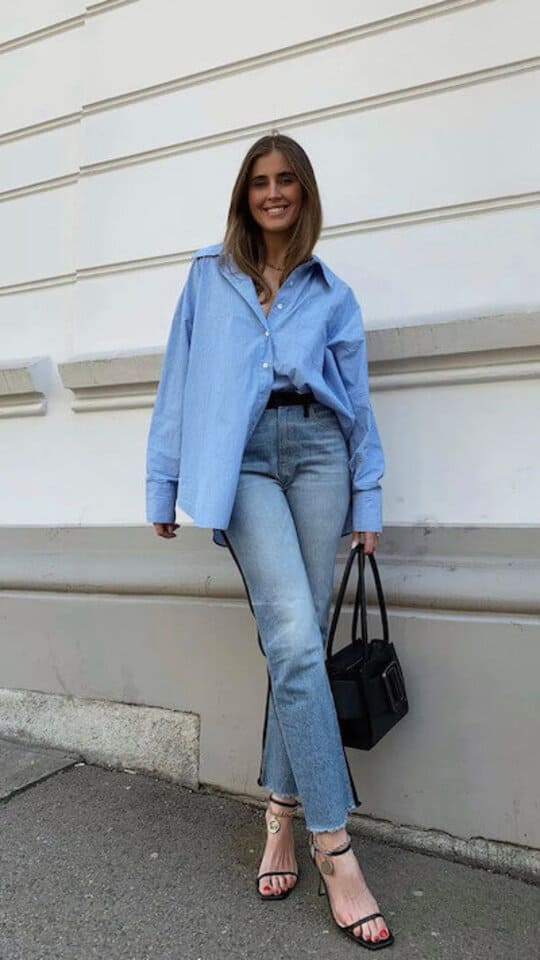 Source: girlsharestips.com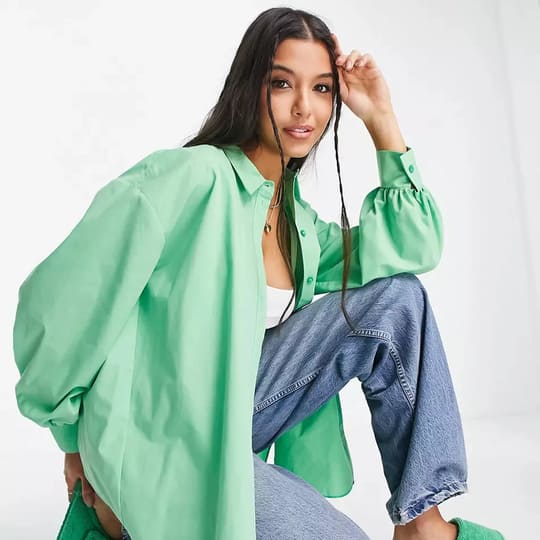 Source: popsugar-assets.com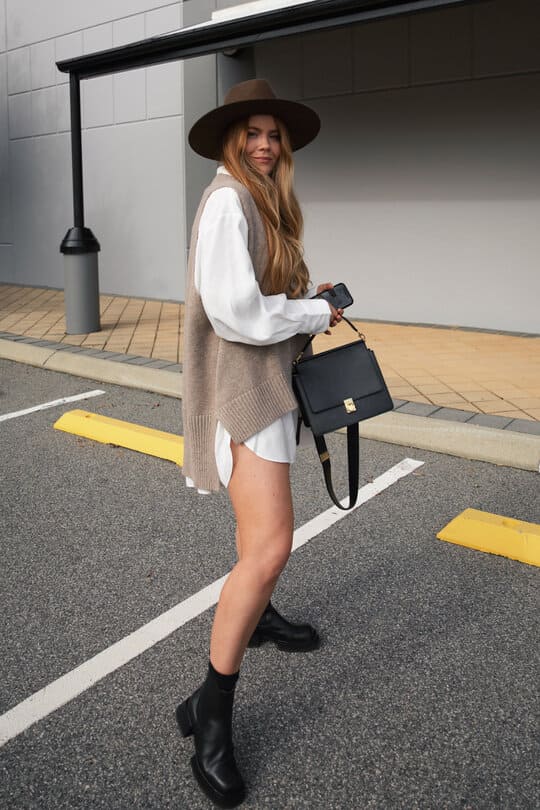 Source: squarespace-cdn.com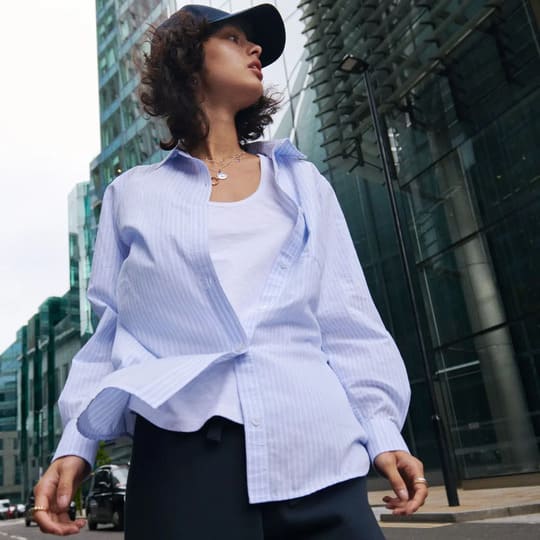 Source: guim.co.uk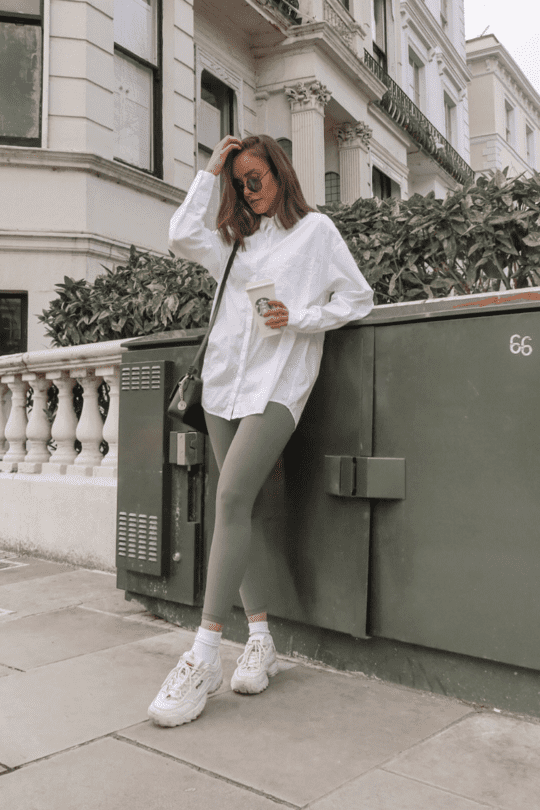 Source: stylebysavina.com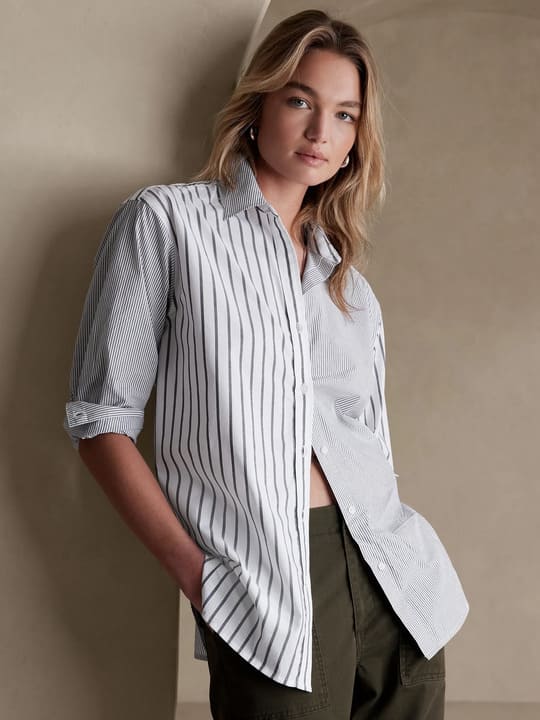 Source: gapfactory.com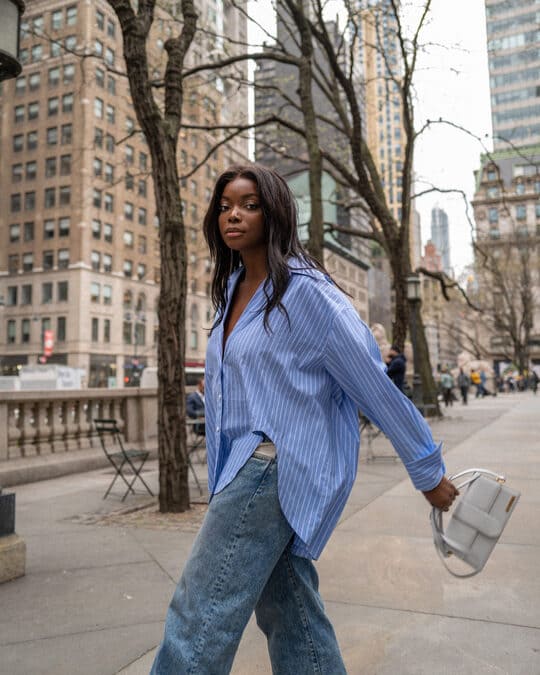 Source: cocobassey.com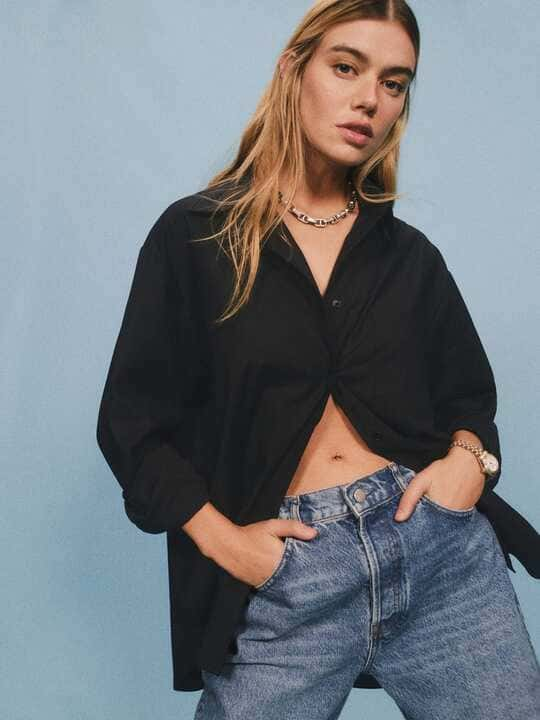 Source: thereformation.com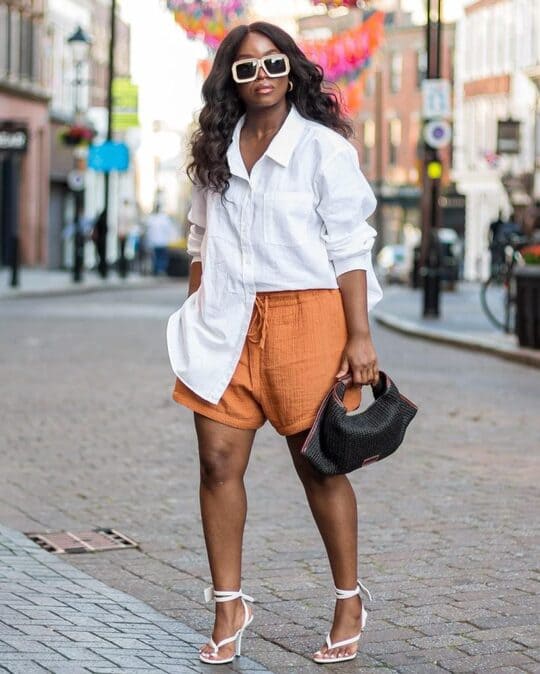 Source: satisfashionug.com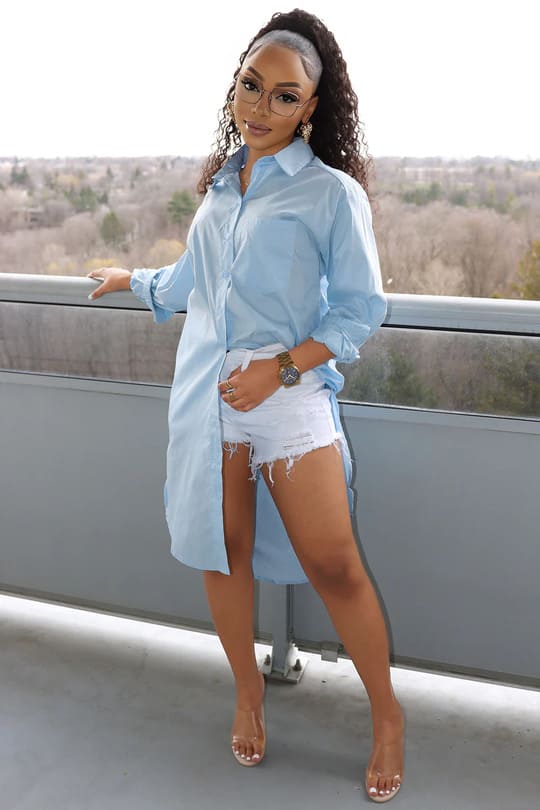 Source: shopify.com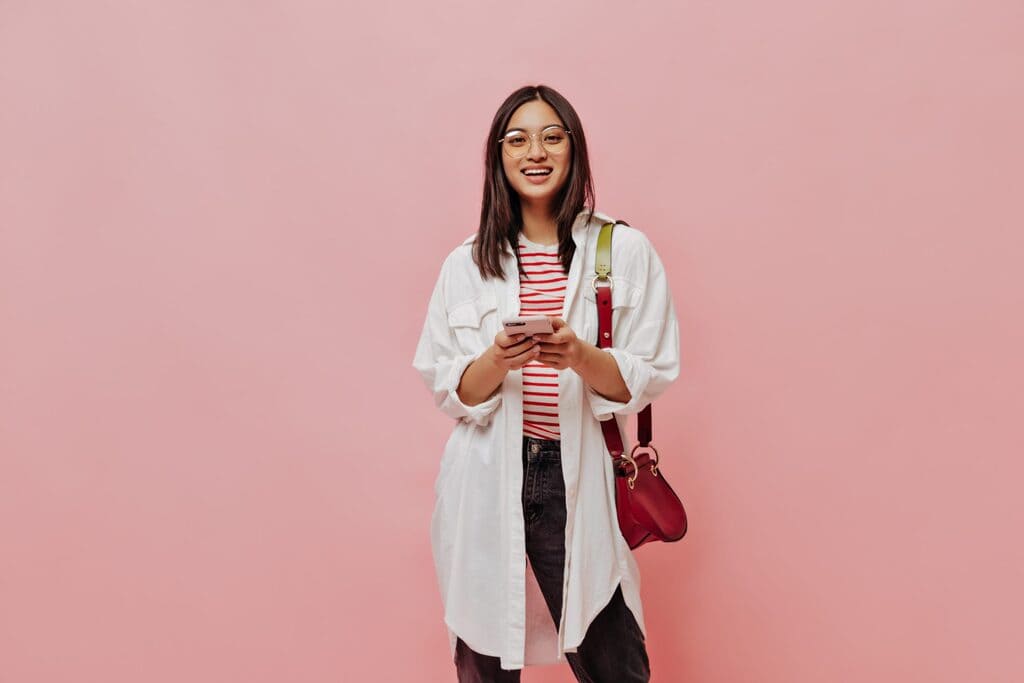 Source: windows.net
Also Read: How to Wear Oversized T-Shirt Like a Diva
Celebs Wearing Oversized Shirts Outfit Looks
Take inspiration from your favorite celebrities and see how they wear oversized shirts. 
1. Selena Gomez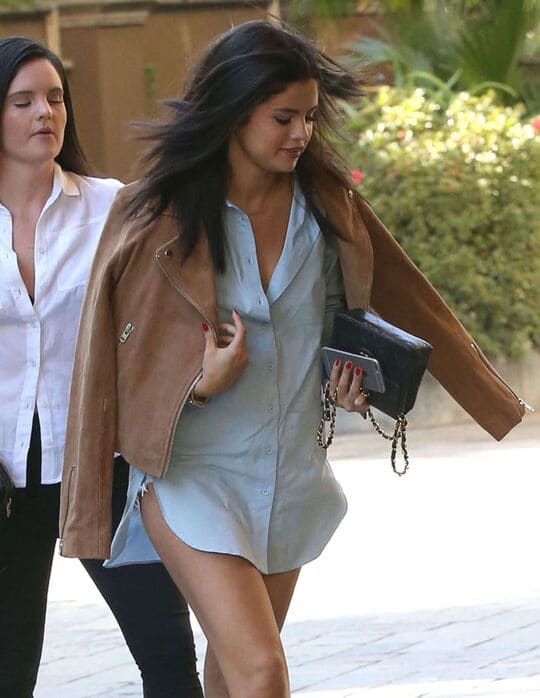 Source: fropky.com
2. Kendal Jenner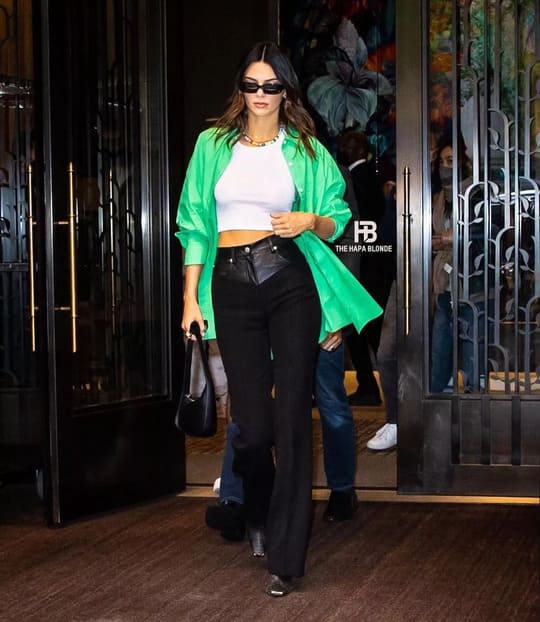 Source: magme.hr
3. Hailey Beiber
Source: teenvogue.com
4. Alicia Vikander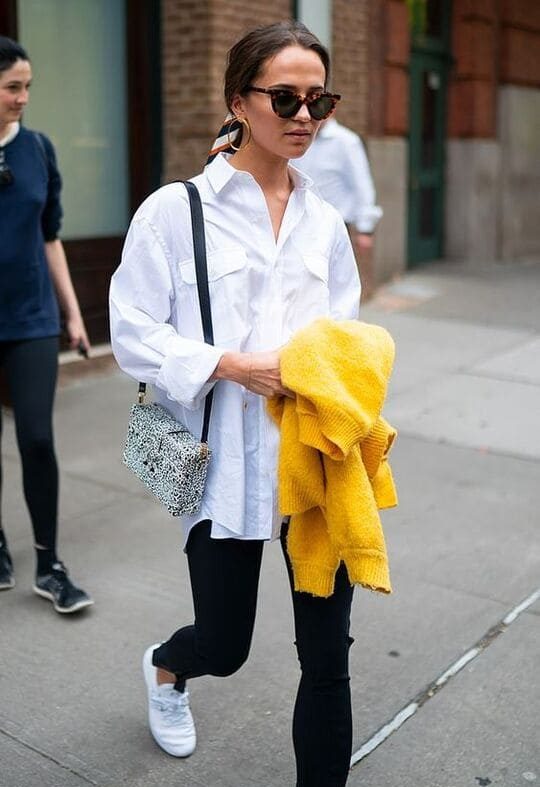 Source: pinimg.com
5. Kylie Jenner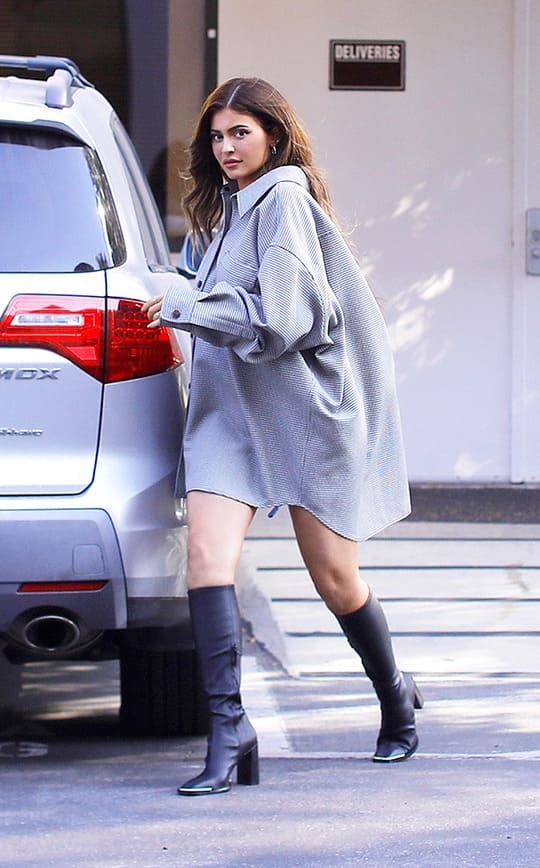 Source: hollywoodlife.com
6. Meghan Fox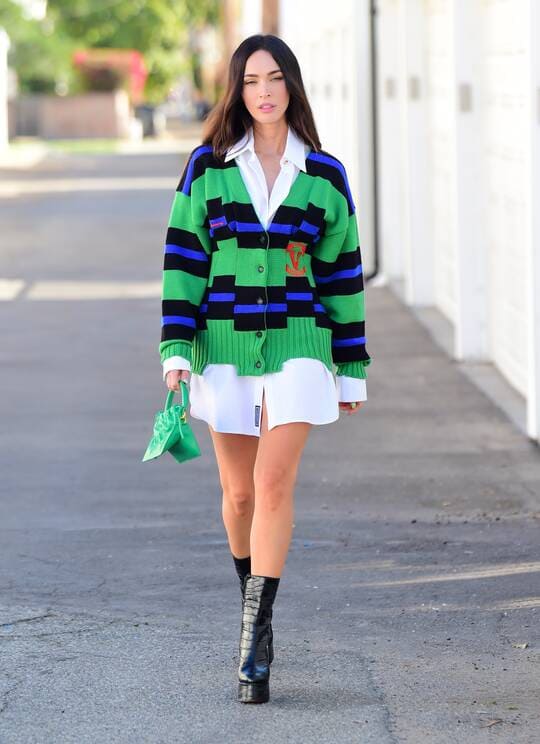 Source: iwmbuzz.com
7. Gigi Hadid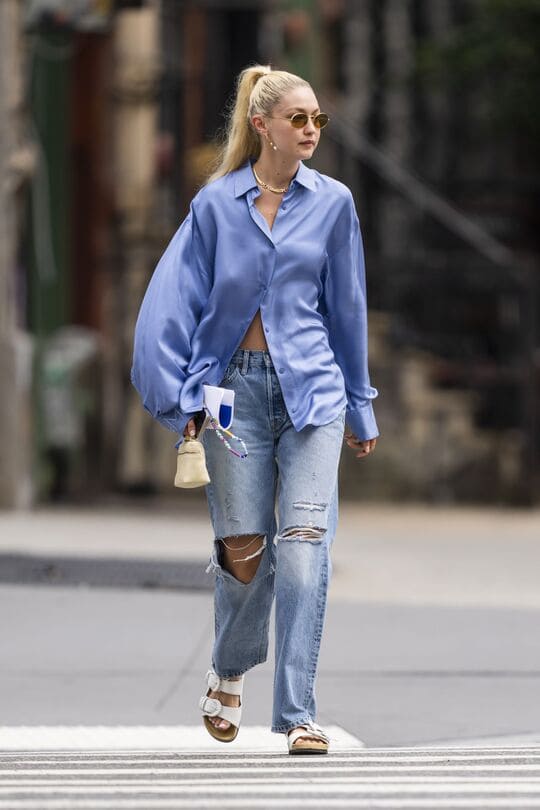 Source: celebmafia.com
Oversized Shirts FAQs
1. What Are Oversized Shirts?
Oversized shirts are bulky, large and baggy shirts that are usually size one or two up from the regular size. These shirts have a loose fit and fall just below the waistline. Different types of oversized shirts are available in the market that can be styled in numerous ways.  
2. Who Can Wear Oversized Shirts?
Everyone! Thin women who want to look more substantial or larger women who want to hide their curves can confidently wear oversized shirts. Find out which oversized shirt outfit style suits your body silhouette the best.     
3. Which Shoes Suit Best with Oversized Shirts?
This usually depends on how you have styled your outfit! For example, if you're going for a casual look, you can wear sneakers or sandals, and for special occasions or events, choose more appropriate footwear like boots or high strappy heels. 
4. Which Accessories Look Good with Oversized Shirts?
These shirts are already oversized, so carrying small and detailed accessories is best. You can add accessories like wider belts, scarves, intricate jewelry pieces like diamond studs, and a watch. 
Grab Oversized Shirts & Stay Stylish! 
Oversized shirts are a fashion closet essential that every woman should have, and if you don't have one, you can always borrow it from your boyfriend! 
So next time you're confused about how to style oversized shirts, you can always look up to this guide. First, you have to decide which vibe you're going for – comfy and cute or glam and chic! And according to that, you can pair an oversized shirt with different clothing and accessories.     
I hope this outfit inspo blog has helped you to pick the right oversized outfit. If you find this blog informative, share it with all your friends. 
Stay updated with the latest fashion trends, skincare routines, beauty tips, and honest beauty product reviews with Fashionterest.
Follow us on our Instagram page, fashionterestofficial, for daily fashion tips.