While denim is something that will always be in style, the trend has slowed down a lot this year with many people turning to softer garments, like leggings, sweats, and joggers to suit the lockdown style. That being said, denim jeans aren't quite off the table yet, so we're taking the opportunity to get you up to speed on the styles to know for the year ahead.
1. Slim Boot-Cut Jeans
Wide flares are starting to look a little outdated and almost costume-like, but if you like the wide leg look, there is a new option you can try. Boot-cut jeans with a slim cut offer a slight kick at the ankle, but a super sleek, elongated effect, rather than a large swoop.
They pair up perfectly with a pair of heeled ankle boots, making them a great choice for the autumn months. We particularly love AG Jeans for this slightly more tailored look that could work in both casual and formal settings.
2. Loose, Distressed Jeans
Everyone loves a good pair of distressed jeans for adding an edgy touch to an outfit, but frayed hems are on their way out. Instead, this year is all about replacing them with loose-fitting ripped jeans, with distressing in the knees and around the pockets.
These are sure to be a staple in every wardrobe this year, offering a laidback quality to any outfit. FRAME is a fantastic choice for soft denim with a distressed edge. The newest trend when speaking of loose jeans, mid-rise has been slowly winning the top, putting high rise in the shade.
3. Slim Straight Jeans
Thanks to the rise of fashion influencers on TikTok, skinny jeans have been branded as out of style for this year, however, there are other alternatives to try if you are a skinny fan.
Swap out the skin-tight fit for slim straight jeans – a hybrid between skinny and straight jeans that offer a bit more shape and room to breathe. These can style in a variety of ways, such as with a tucked-in top, a pair of heels, or a comfy cashmere jumper.
4. Skater Jeans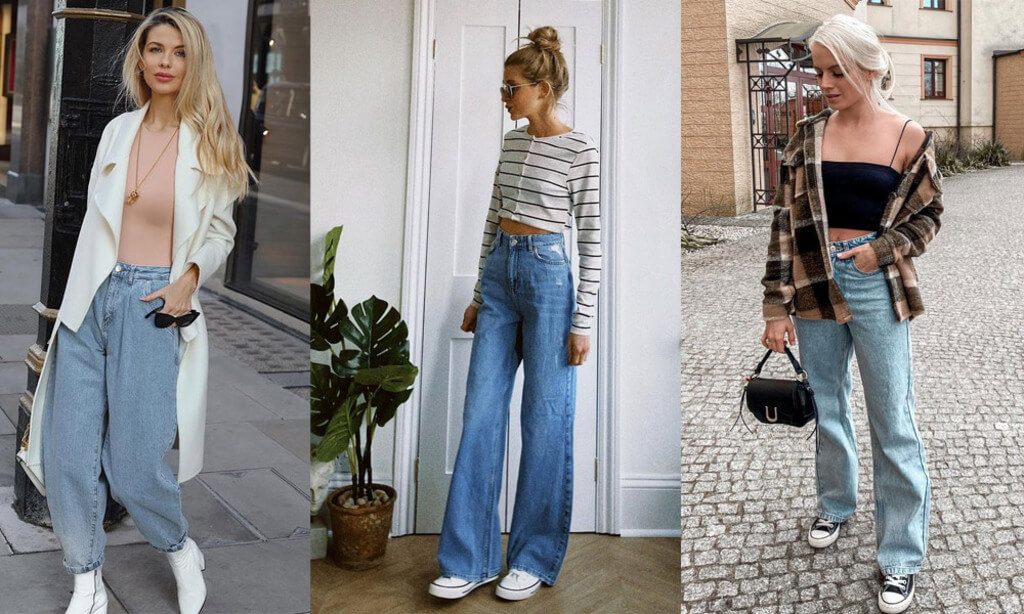 Baggy jeans haven't always been everyone's cup of tea, but in this year, they're the hot topic. These super relaxed jeans are replacing the voluminous pleated style of denim, which offers a loose fit without looking too casual.
However, casual is "in", so the low-slung fit of skater jeans is what you need to gravitate towards. These ultra-cool jeans offer long, slouchy hemlines that are perfect for styling with trainers and a graphic t-shirt to really emulate the skater look.
5. Light Wash Jeans
Jeans come in all sorts of colors and shades, from black to the brightest pink, but this year is all about the light wash look. This means our wardrobes should embrace soft blue denim and paler shades of grey or white, which would be ideal for spring and summer.
This 90s-inspiring look can be worth it in a variety of cuts and shapes and can easily style up or down to suit. Try them out with a pair of casual trainers and a slouchy cardigan – you'll love it!
6. Flare Jeans
With all those baggy trousers, denim flare jeans seem to finally pop out and caught everyone's eyes. The comfort that this jeans model provide might be the biggest reason why are so attractive lately.
Undoubtedly the loose end makes it suitable for whichever body type you have. Go get your flare jeans model and you will amaze at the stylish combinations you will get of it.
7. The Cross-Over Jeans
Every year denim companies are offering different innovations in jeans' styles and models. For denim lovers to spice up their jeans collection, This Year has brought the crossover model. The looks like you have pinned the upper part of the jeans, seems like you did a trick, and certainly looks stunning.
In case you're wondering whether this model will look good, the only thing you should choose is the low, mid, or high-rise type, along with the brand.
The one thing you should keep in mind when following trends and styles is your body type. Always pay attention to it. And no matter which denim you will wear, the way you combine it and how you wear it is also important.
Denim definitely isn't going out of style just yet, and it probably never will, but some jeans are being banished this year. Follow our tips to stay on trend!
For additional insights:-