Grooming yourself gets really difficult when you have to follow social distancing (strictly). Is it getting difficult for you to roam around with full brows (even at home)? Trying to get rid of them? Grooming stations or salons are closed due to roaming coronavirus. Also, you don't have any choice but to trim eyebrows or wait till everything gets normal.
It's not like you can't wait, but the thing is, why should you? Don't you have zoom meetings or online classes to attend? You have to present yourself as a normal human being and not some human turning gorilla. Jokes Apart!
Here we are with the solution of how to trim eyebrows at home? Now before we start, let's see when you need to trim, shape or fill eyebrows. There can be two situations – overgrown brows or half-grown brows.
If it is overgrown, you will need to do shaping and if it's the latter one, the filling will help you. Now, what is most challenging? I would say trimming or shaping. Filling brows is a kind of makeup thing if you go for an artificial look. However, if your hunt is for how to fill in eyebrows naturally, it might take you too much time.
But I won't, so let's move on to our actual topic.
How to Trim Eyebrows?
There are many ways to trim eyebrows from plucking out to waxing. What do you think is the best option? Let's say each has its own benefits. Here you would like to know about how to trim eyebrows easily from the nook of your house. So let's begin.
Eyebrow Trimming Toolkit:
Tweezers
Eyebrow brush
Eyebrow scissors
Mascara wand
White eyeliner
Steps to trim your eyebrows correctly:
1: Define the Eyebrow Shape
First step is to define the shape of your brows. Every face shape and a human being has its own natural brow shape. There are five styles of eyebrows, namely, arched, steep arch, S-shaped, rounded, and straight.
Check the shape of your right eyebrow. It should define your cheekbones and compliment your livelier eyes. Not all shapes will suit every face cut, but the one with a soft arch, medium-full brows, and tapered end will enhance the look.
2: Create an Outline for Tweezing
Once you have defined the shape, make a guideline and fill in the brows. When you are outlining, make sure the arch is lining up with the pupil's outer edge. To know the exact starting and ending points, take a pencil, keep it straight on the nose and angle it towards the eyebrows.
Now, once the outline is ready, start filling it with the eyebrow pencil. Make sure the pencil color you are using is one to two shades lighter than the brow color. Fill-in correctly and make outline darker so that tweezing gets more manageable for you.
Pro Tip: If you want to have naturally grown full eyebrows and want to ditch the brow pencil and powder, try conditioning brows with eyebrow conditioner every night. It will take time, but you see results. You can also take hair growth supplements for the same.
3: Shape Brows
Next step is to shape the brows. You already know how to do it. This step is there in makeup as well. However, here you will have to shape brows for the plucking process to get the perfect shaped brows.
Take a mascara wand and brush your brow strands gently in the upward motion. This will help you in defining the shape of your eyebrow nicely. With the help of brow scissors, cut the excess hair above the brow guideline.
4: Do Tweezing
Here you will have attractively shaped brows, but trimming is still remaining. This is where the pair of tweezers will help you. You might have noticed a few small hair strands growing here, up and down near the eyebrow lines.
You have to pluck them out for the defined brow shape. Pull the eyebrows up and down while working with tweezers. For example, if you remove the hair from the bottom side or near the eyelid area, pull brows upward, and vice-versa. This will help you in plucking out every single extra hair strand.
This doesn't end here. There's one more step left.
Tip: Use tweezers carefully; don't get your skin pulled out with the excess brow hair.
5: Fill in Powder and Give Final Touch or Shape
Last but not least is giving the final touch up. You can skip this step if you have fully grown eyebrows. However, if you are struggling with low hair growth on the brow side, fill it in with the powder and give the proper shape.
The natural brow color's strategic strokes will create an illusion of full brows and add a shape to it. Apply powder using an eyebrow or spoolie brush to get the product saturated evenly. You can also go for pigmented brow gel for the classic look.
Here are some dos and don'ts on Eyebrow Shaping or Trimming:
Never try out even out or soften the arch. If you have plucked hair more than needed, leave it there and hide the shape by filling with powder or pencil color.
Always use a brow gel to make your look natural and even.
Don't pluck a gray hair, as they won't grow back. Instead, tint it or get it professionally dyed.
If you are planning to do the brows at home for like forever, make sure to wax and pluck the stray hairs every three to four weeks. (Maintenance is a must.)
However, if the home brow grooming session is just due to lockdown or an emergency, get the brows shaped with threading.
Use the combination of brow pencil and powder to fill in the gaps in eyebrows.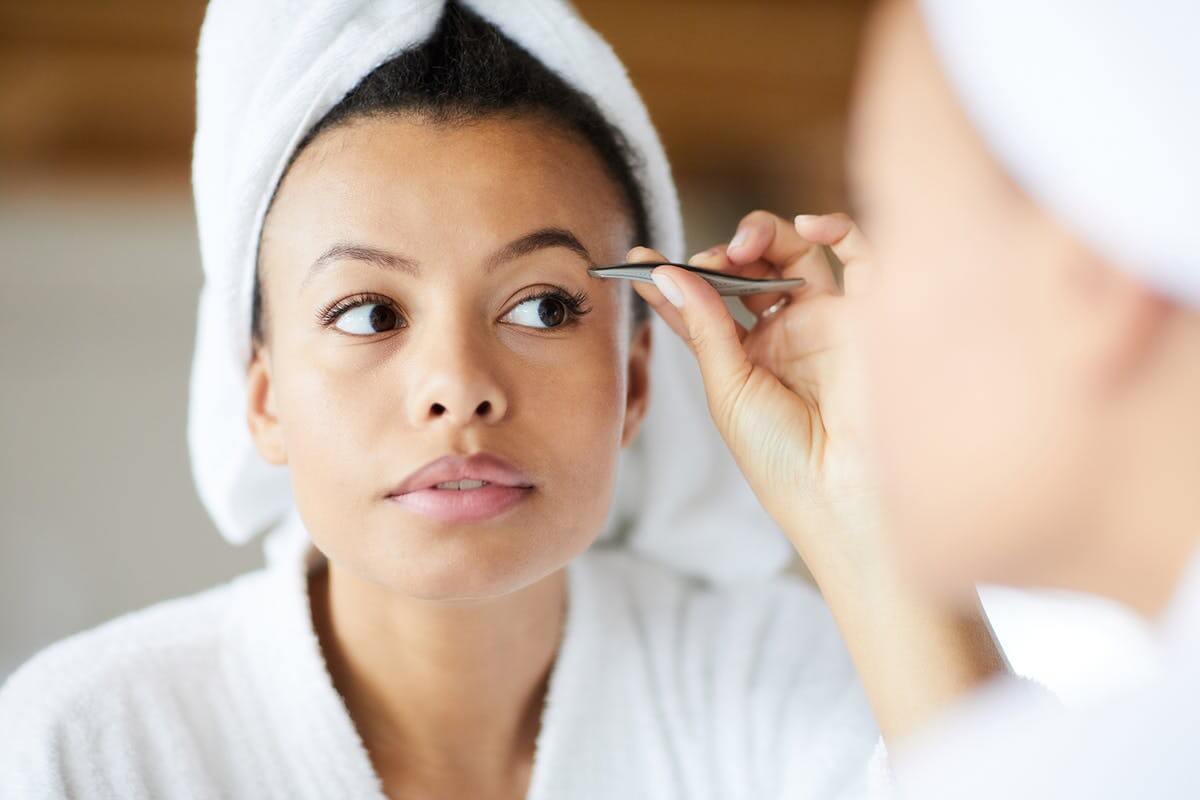 Have a Beautifully Shaped and Trimmed Eyebrow:
It feels like heaven when you have perfectly shaped and trimmed eyebrows. For some people, even filling them does wonders. Here in this article, I have covered almost everything related to pruning and shaping the eyebrow.
The steps we mentioned in the 'how to trim eyebrows?' section also covers the shaping and filling of brows. Also, there are pointers on dos and don'ts of eyebrow trimming for perfection and your brow health.
Learn more:-