Most of the beauty trends are satisfying. You can see people making ASMR videos on that. However, is eyebrow threading satisfying? Well, obviously not, but it's not as harsh as plucking with tweezers.
Yes, today we are talking about eyebrow threading. The reason behind that is to save you from the unbearable pain you experience while plucking. There are many people asking about the safest and low pain way of shaping eyebrows. 
You might have tried tweezer plucking. Microblading, and even waxing on your eyebrows. Yet, did you ever think of trying brow threading before today? You didn't, I know. It's not your fault. Girls don't think of it as an option, because, "If you have to experience pain, let it be in the worst form."
Always remember, "Life is good if your brows are on point, and for that, you don't always need to go through the pain."
That should not be the case. Hence, Fashionterest is here with the article on eye brow threading. Read till the end to know everything about it.
What Is Eyebrow Threading?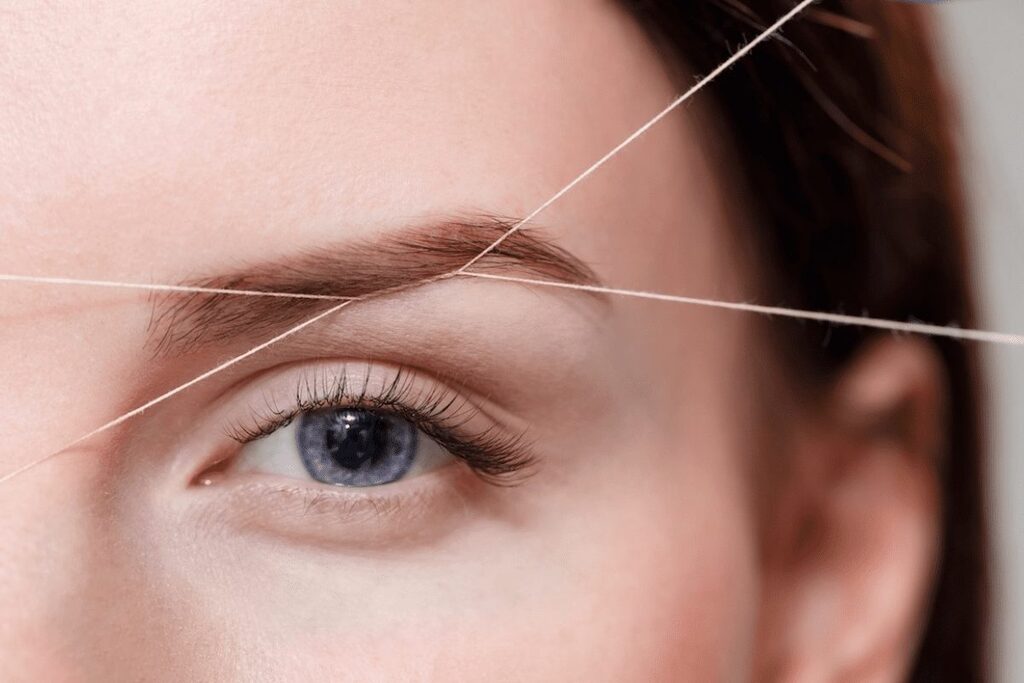 Source: thelashlounge.com
Eyebrow threading is a technique used to pull out the unnecessary hair around the brows and give it the desired shape. This technique originated in India and Central Asia. Not everyone is familiar with brow threading, but in Asia, most people prefer eyebrow threading instead of plucking or waxing.
To be exact, eyebrow threading is the process of removing hair with a piece of cotton thread.
What Tools Are Used in Brow Threading?
The only tool needed for eyebrow threading is a cotton thread. Not any available in the market, but the specific eyebrow thread. Eyebrow thread is made from cotton only, but it is strong and durable enough to remove the unwanted hair from the roots.
What Is the Process of Eyebrow Threading?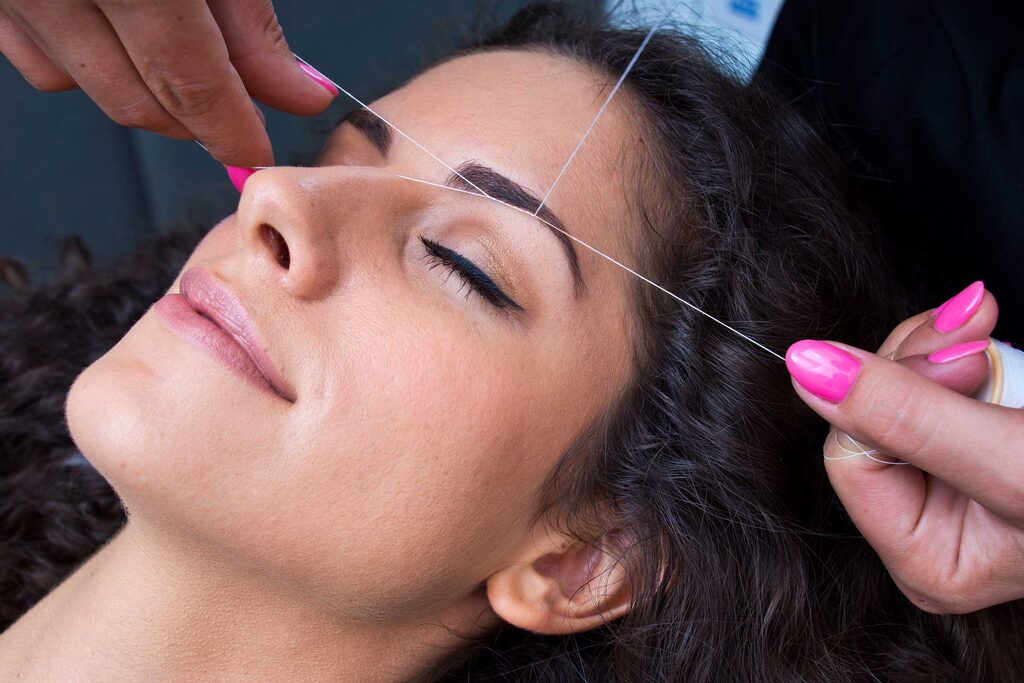 Source: rd.com
The process of eyebrow threading is not very complicated. You have two options, either you can do it yourself or go to the professional. If you are a first-timer, we would recommend you book an appointment with a salon professional. How do they do the threading?
Step 1: They will first cleanse your eyebrows and surrounding areas.
Step 2: Then, apply powder to make hair visible.
Step 3: Next, a professional will hold one end of the thread in their hands and another end in the teeth and twist it.
Step 4: After that, they'll hold the end of the thread over the hair you want to be removed and move it swiftly. The twisting motion traps the hair between the threads and pulls it out.
If You Want to Do Eyebrow Threading at Home, Here's the Guide:
Step 1: Prep your eyebrows with powder.
Step 2: Draw an outline on the brows.
Step 3: Hold the thread in a twisted loop and practice the movement 4 to 5 times (to get the hold of motion).
Step 4: Position the thread.
Step 5: Do the threading carefully. 
Once you get the eyebrow threading done, apply aloe vera gel to soothe your skin.
Also Read: 5-Step Guide on How to Trim Eyebrows At Home (Social Distancing Thing)
Frequently Asked Questions on Eyebrow Threading
1. Is Eyebrow Threading Painful?
It is not really that painful. However, there will be little pain and discomfort. After all, threading is also a process of removing unwanted hair. The reason behind low pain is the speed of the thread pulling out the hair.
2. How Much Does Brow Threading Cost?
The eyebrow threading will cost you somewhere around $14 to $65. If you are doing it at home, the cotton eyebrow thread will cost between $4 to $11.
3. How Much Time Does It Take in Eyebrow Threading?
The professional and experienced eyebrow threader at the salon can complete the eyebrow threading in nearly 10 minutes.
4. Does It Give Your Eyebrows a Precise Finishing?
Yes, the process of eyebrow threading makes the final result precise. The thread removes the tiniest hair outside your eyebrows and the thread removes the hair with a line at the time, making it give your brows the precise finishing.
5. How Long Does Eyebrow Threading Last?
When you go with the eyebrow threading to give the shape to your brows, be rest assured that it will last between 2 weeks to 4 weeks. It also depends on your hair growth.
6. Where Else Can You Use the Threading Method?
You should use the threading technique for facial hair removal, eyebrows, and upper lips. Don't try the threading method to remove hair from hands and legs. For them, waxing is best!
7. Are There Any Side Effects of Eyebrow Threading?
Well, yes. You might feel a little irritation and redness around the eyebrows. To soothe the redness and irritation you can rub the ice cube, apply lotion, or aloe vera gel. It is advised to get the eyebrows done at least a day before you are planning to attend any event or function.
Final Words on Eyebrow Threading:
Here you read everything about eyebrow threading, from its origin to its how-to and FAQs. What are you still waiting for? Aren't these benefits (answered in FAQs) enough to help you make the brave decision of going with the eyebrow threading technique? Yes, that's like a strong girl.
Now, book an appointment with a professional and get your eyebrows done. Let us know your experience via social media or through comments on this article. We will be waiting. Stay tuned to Fashionterest for more informative content like this!
For more, you can browse through Fashionterest.