Did you just get an invitation to the 90s-themed party? Well, that's obvious for you to search for what to wear to a 90s party. The 90s was the golden era of pop culture and music. It had a huge impact on the fashion trends during that period. 
To get a feel of the trends of the 90s, you can start by researching notable celebrities including singers, and actors, or you can do research on film & TV characters from that era. 
Next, select whether you want to recreate an iconic style or combine it with a current fashion trend. Choose one of the decade's major trends and try to incorporate the trend's color palette and general shapes into your ensemble. 
Here, we are going to talk about what to wear to a black 90s party and some stylish dress-up 90s theme parties that anyone can try, be it men, women, or couples. So, stay with us till the end to know more about costumes and what to wear to a 90s party.
In addition to the clothes to match the characteristics of the theme party, most people want to have some personalized things in their appearance to make themselves more unique, especially on similar occasions. Therefore, some popular personalized decorations have formed a powerful trend. One of the most popular accessories is custom soft enamel pins, which can be styled to your liking and are a great way to express your personality when worn on clothes.
Besides pins, patches, such as embroidered or PVC patch, are also very popular. Clothes or hats of different materials
can be matched with different types of patches. Although these items are small, they must be an important part of enhancing the taste and highlighting the personality.
How to Dress for a 90s Party for Men?
There are a huge number of mind-blowing outfits trending back in the 90s from flannel pattern shirts to boyband trends. Let's get to know more about them:
1. Hip Hop Outfit of the 90s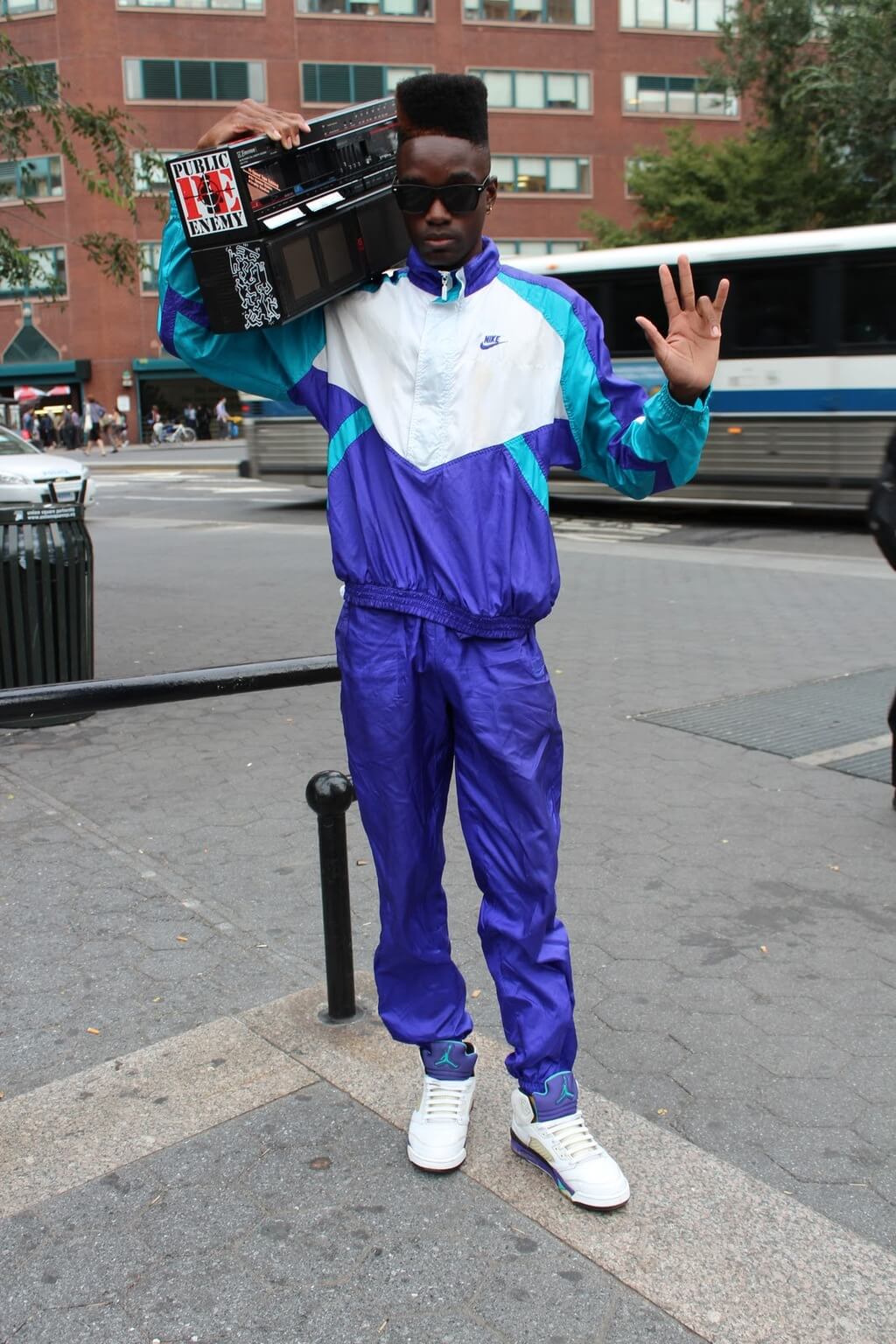 Source: blogspot.com
As we trace back our memories to the 90s, we can clearly remember that hip-hop fashion was all about bright colors and bucket hats. Consider Will Smith's character in Fresh Prince of Bel-Air. Oversized dungarees, jackets, t-shirts, and hoodies were "the thing," and everything was big and bulky. To switch more towards the 90s theme party outfits side, consider wearing a reverse bandana if you want to be truly hip-hop.
2. Flannel Patterns from the 90s Theme Party Outfits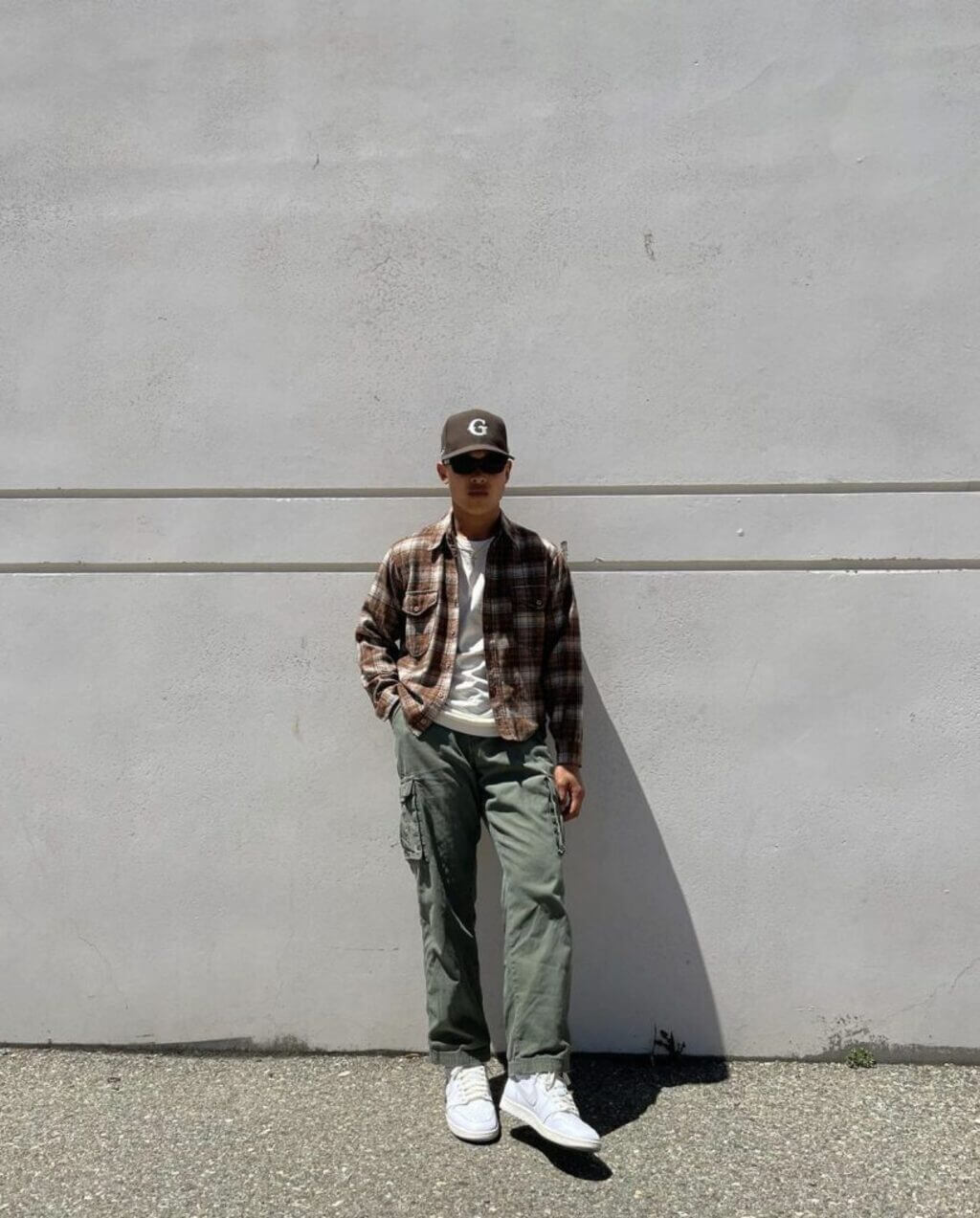 Source: onpointfresh.com
These flannel pattern shirts or big check shirts, they're still a big hit. Pairing up flannel shirts with your jeans and tee style was popular in the dress up 90s theme party and continues to be popular this year.
The large flannel shirts were popular among rock and pop culture fans. They came in a variety of colors and were often worn over t-shirts or just wrapped around the waist.
3. 90s Boyband Dress up 90s Theme Party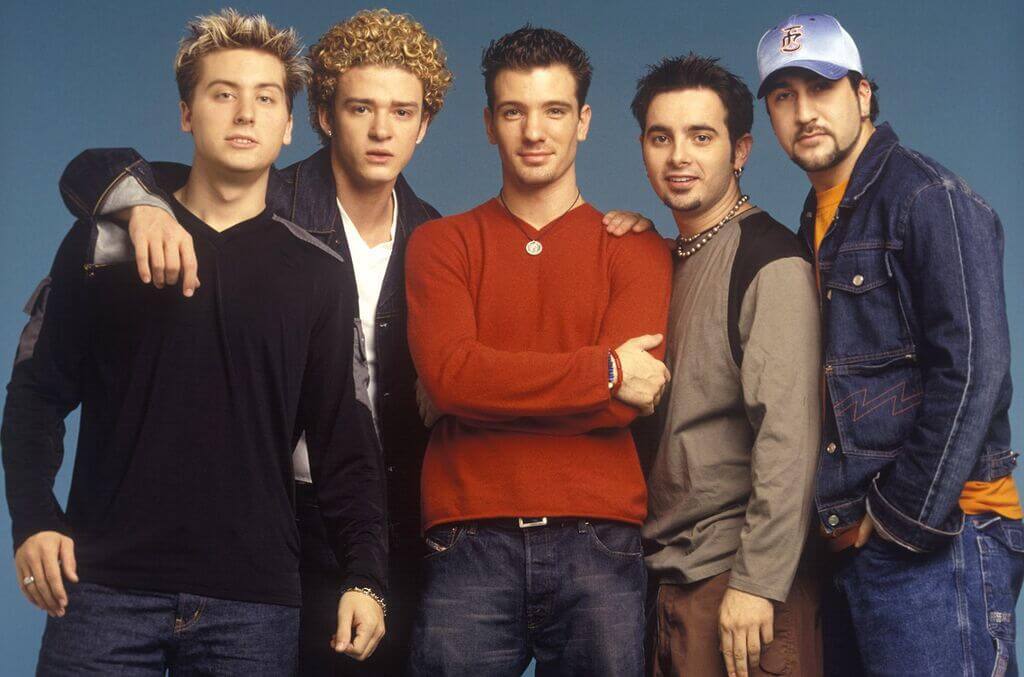 Source: culturacolectiva.com
Boybands were popular in the 1990s, and the clothes they wore made a statement. NSYNC and Backstreet Boys were from the United States, while Five, Take That, and East 17 were from the United Kingdom. 
Wear a branded T-shirt with sneakers. If you're searching for a 90s theme outfit for a certain event, see more of Michael 84's what-to dress style advice.
If you're planning 90s theme outfits for a 90s party, these suggestions will make you look like you just stepped out of the decade. Clothing in the 1990s was all about comfort, style, and making a statement, and you can do all of that right here.
4. 90s Grunge Flannel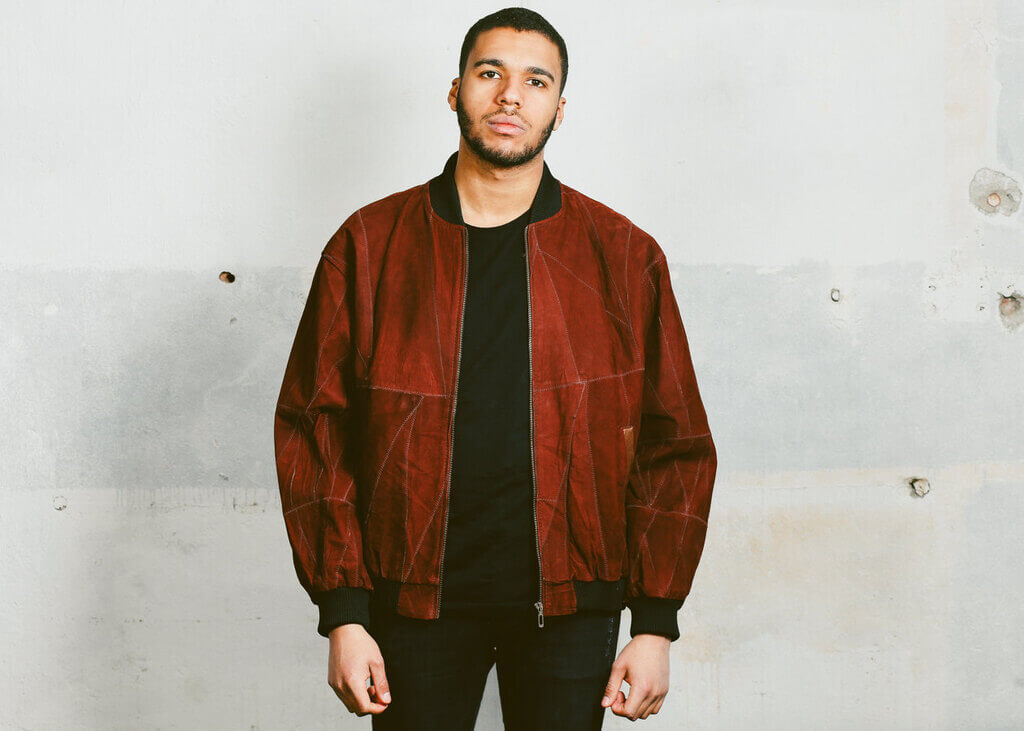 Source: tumblr.com
Grunge and flannel were both popular in the 90s. They're roomy, comfortable, and sure to be a success at the '90s fancy dress-up party. Consider acquiring jeans or torn jeans to go with the flannel if you're going to wear it to the party. 
5. 90s Leather Jackets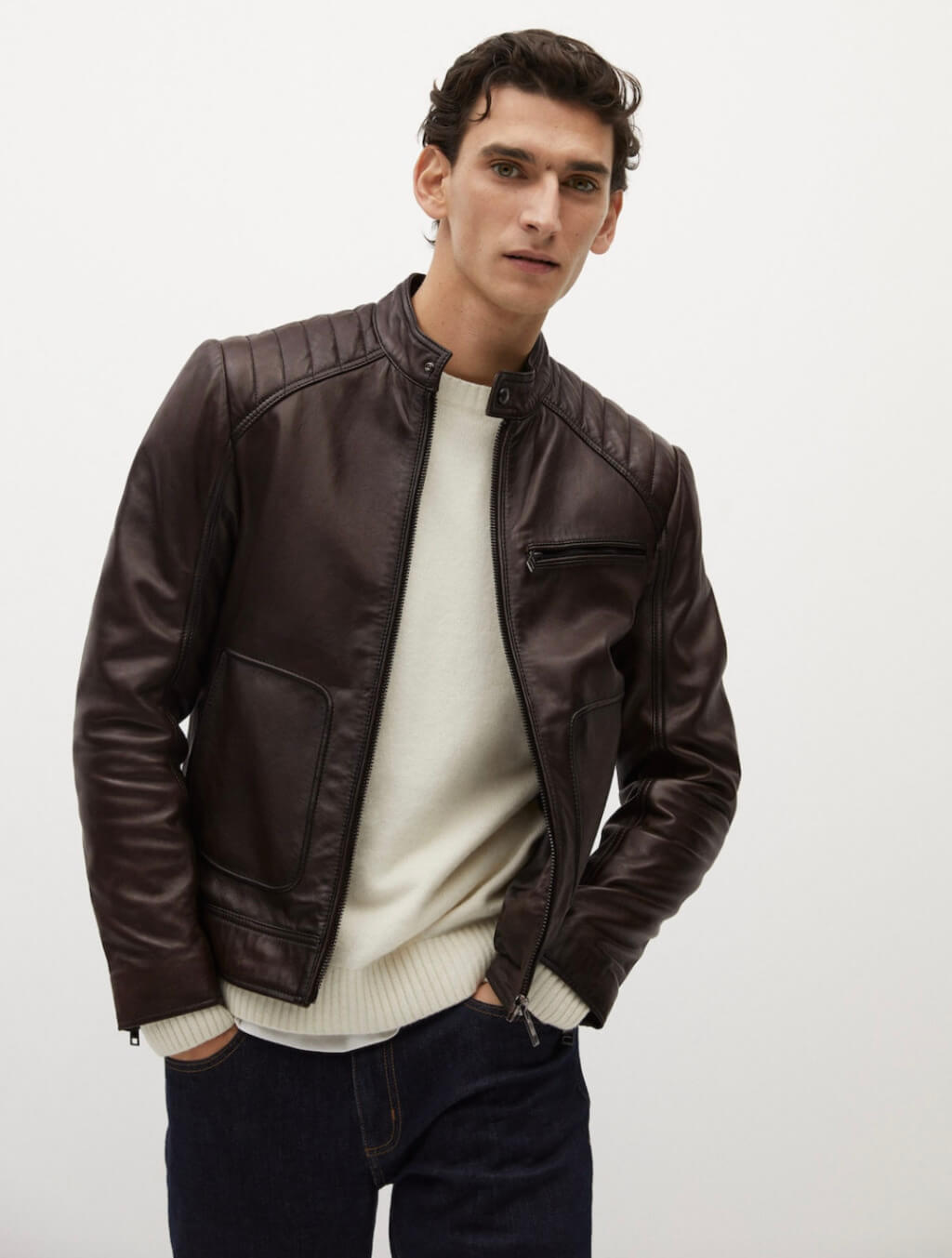 Source: fashionbeans.com
Most probably we have seen the men wearing jackets while giving some biker looks in the movies. Leather jackets, which are perfect for cold season style, appear to be resurrecting the trend in men's fashion. Aside from the usual, the motorcycle jacket trend is what gives this fashion trend an extra dash of flair.
Also Read: 80s Fashion Men: Different Styles, Trends, Designs
How to Dress for a 90s Party for Women?
For the girls, it was either a natural-sexy style with little or no make-up or a flamboyant multicolored one that shouted "the party is here." The 90s fashion style made you feel like you were walking through confetti. This was the spirit of the decade. So, let's go through some of the women's party outfits trending in the 90s.
1. Rachael Green's 90s Outfit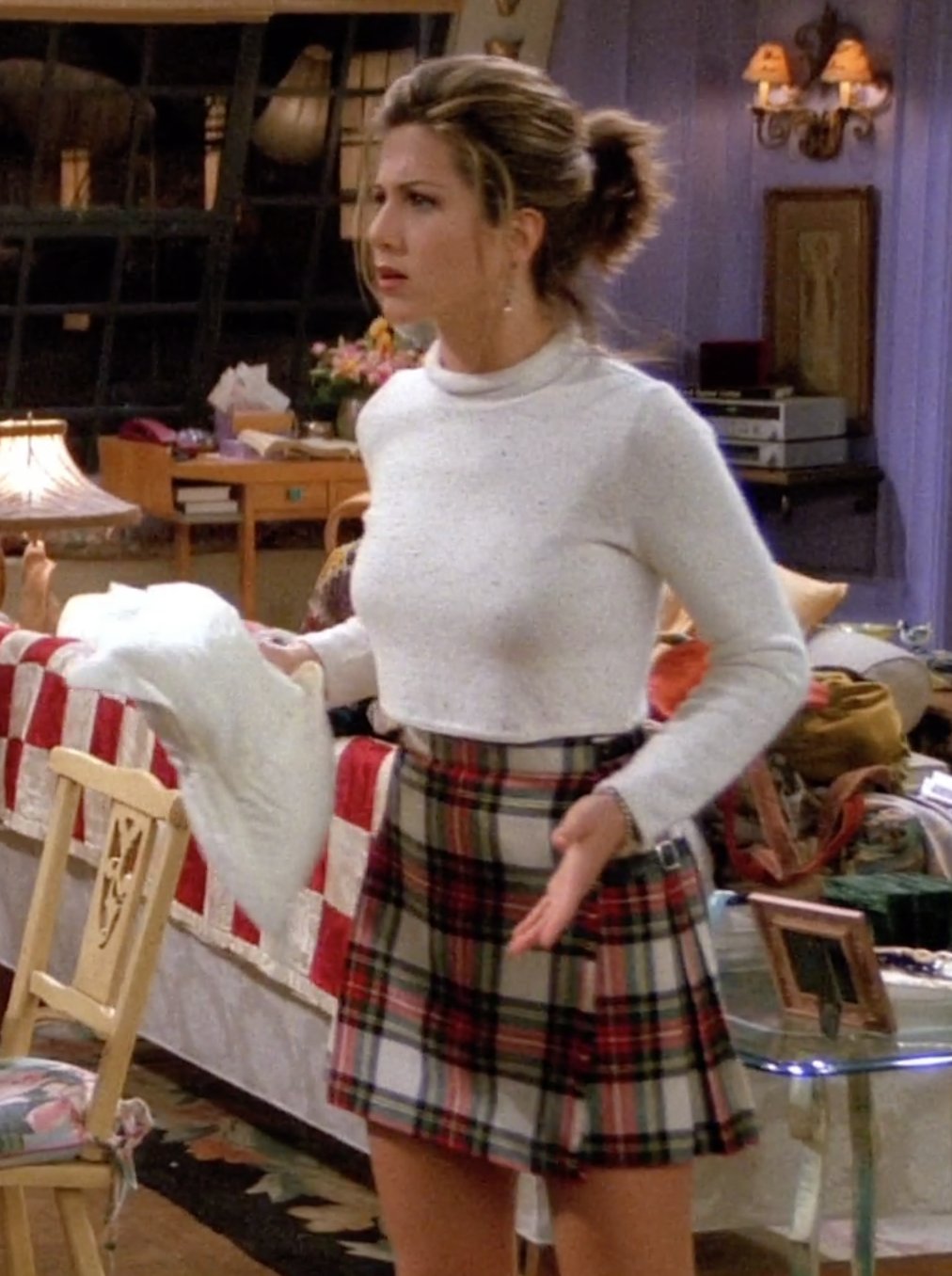 Source: api.news
Simply mix an A-line short skirt with tights or socks just below the knee length and a white half-sleeved turtleneck to appear like this trendy character from Friends. This is what the fashionable wore in the 1990s! And remember not to forget the brown lipstick. Rachel Green's look isn't complete without her signature brown lipstick from the 1990s!
2. Bandanna Tops from the 90s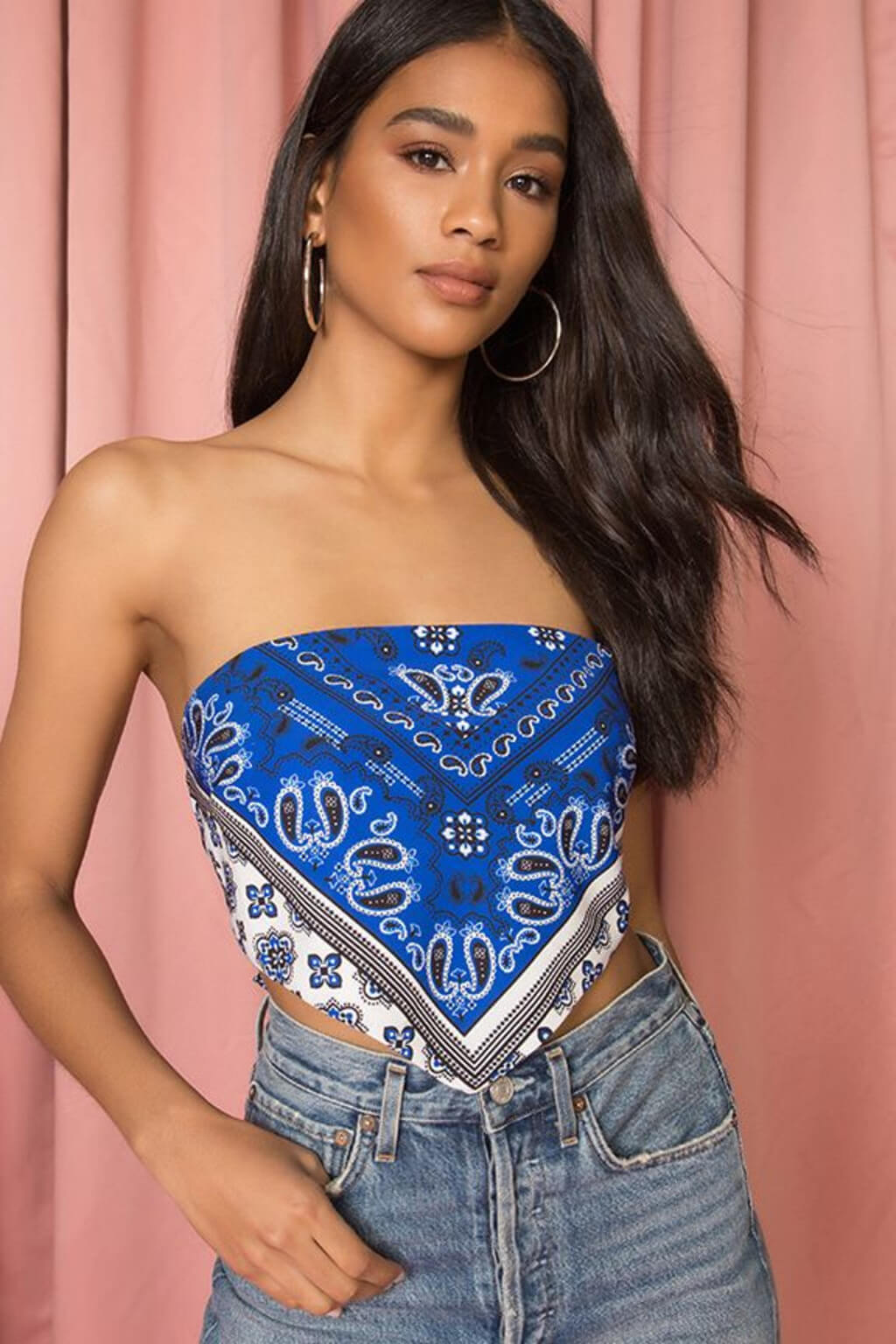 Source: pinimg.com
Many ladies wore bandannas as tank tops in the 1990s. Fold the bandanna in half diagonally and hold it to your chest to do this. Then, tightly knot it around your back. Look for a blue paisley printed tank that looks like a bandanna if you don't want to wear a bandanna on its own. Complete your look with high-waisted jeans or bell-bottom jeans.
3. Ankle-Length Dresses with Chokers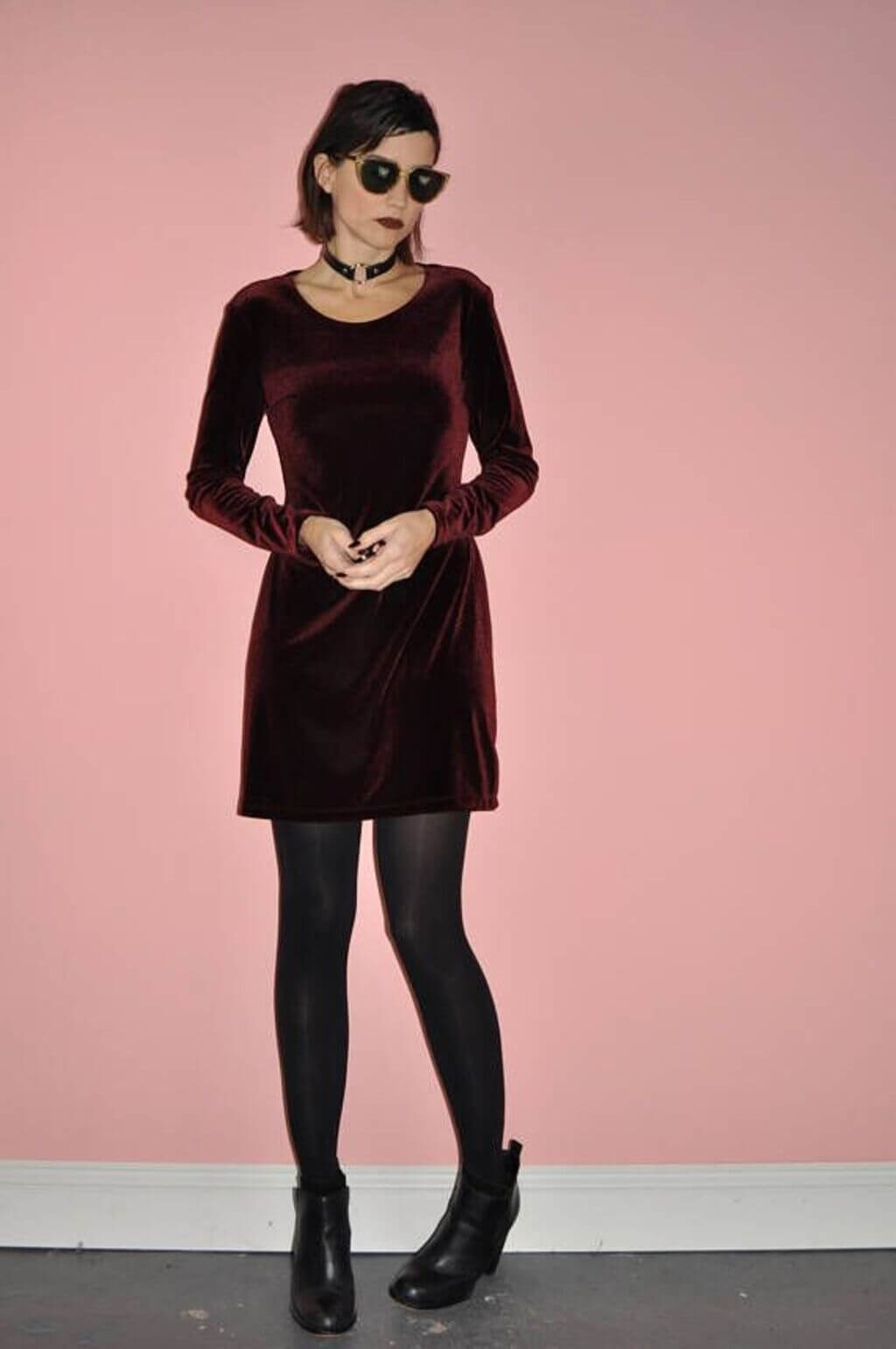 Source: pinimg.com
To start with the look, you can wear a velvet maroon dress with ankle boots, just to elongate your figure. Velvet fabric not only gives you a feeling of fulfillment but also gives a sense of elegance. This look was very much popular in the simple 90s outfits.
Wear a thin, basic choker; after all, the original look was all about simplicity, not overdoing it with accessories.
4. High Fashion School Outfits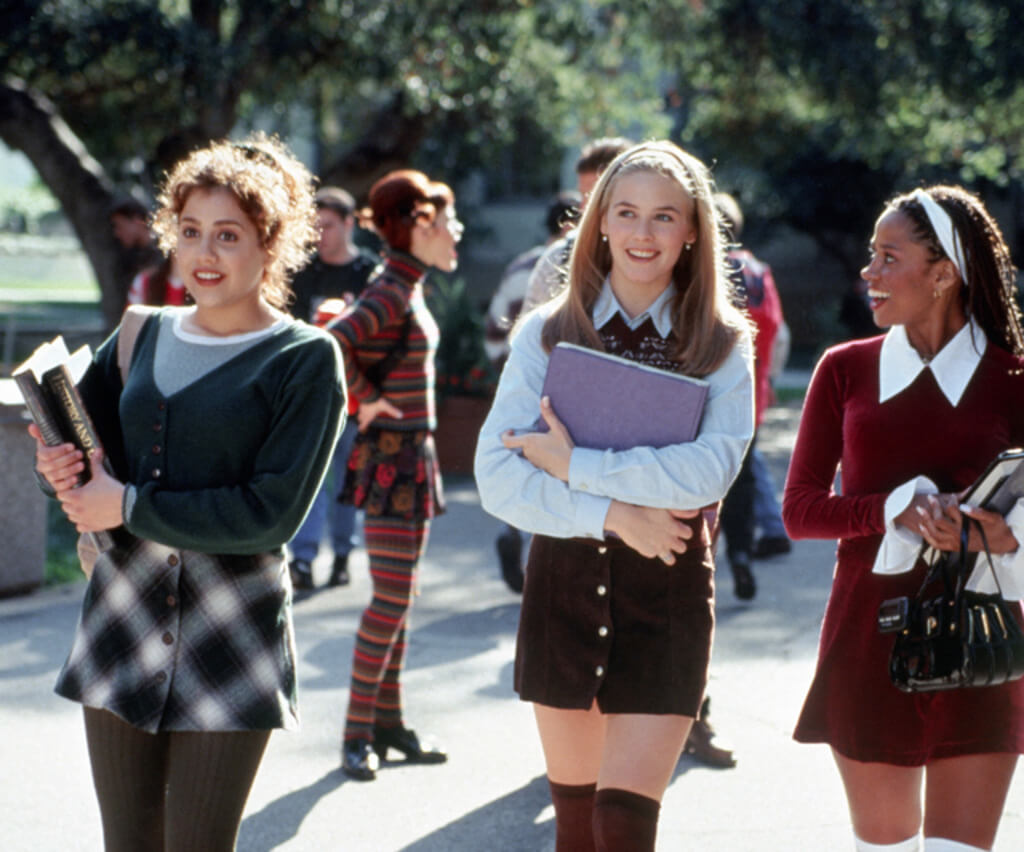 Source: cloudfront.net
Do you remember those fancy school uniforms we watched in these movies? I am pretty sure every one of us might have tried to imitate the look. 
What was it about that gaze that was both seductive and innocent at the same time? These attractive school uniforms were frequently borrowed in pop culture and were immensely fashionable in the simple 90s outfits. Clueless and other films popularized the plaid school uniform, as well as high socks and straight hair.
You can achieve this look with the high-waisted skirt above the knees, a full sleeves shirt, and a V-neck sleeveless sweater layering on the shirt. To complete the school look, you can wear a hairband and or a hair belt.
5. The Punk/Grunge Look of the 1990s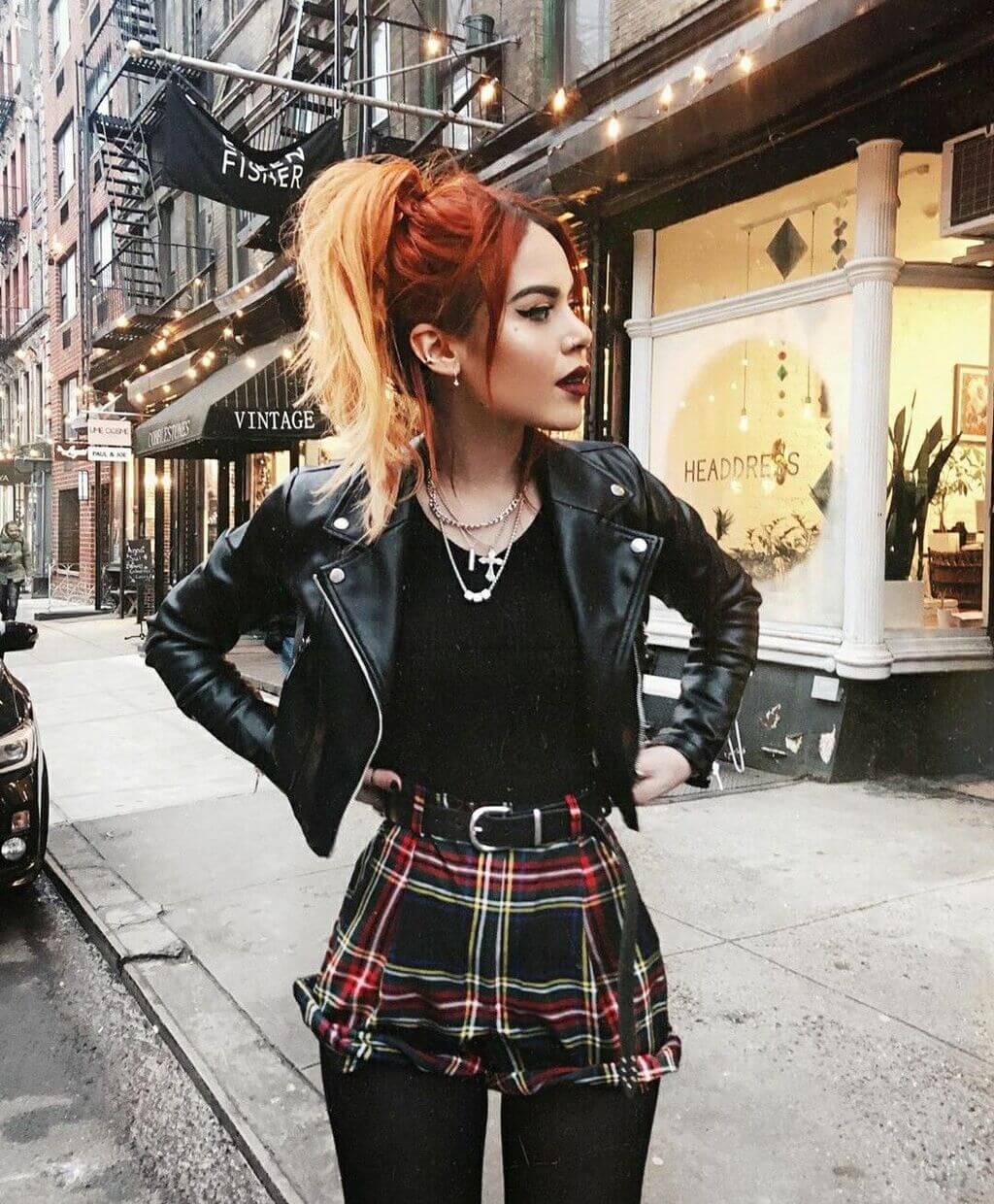 Source: pinimg.com
In the nineties, the grunge subculture had a significant and defining influence on fashion. Create your own 90s theme party clothes by drawing inspiration from celebrities like Drew Barrymore. To create beautiful 90s club clothes, pair flannel pattern shorts or skirts with sheer crop tops. 
Wear a waist-length leather jacket. A pair of combat boots or ankle boots will round off your nineties grunge party ensemble. Add a pair of fishnet stockings or torn tights to complete the look. To accent, the clothing, go for black lips and dark eyes.
Also Read: 7 Outfit Ideas to Dress Grunge Style
90s Party Outfits For Couples
To come up with a comprehensive collection of '90s couple costumes to wear to a 90s party, we had to look back a few times from the late '90s. Let's know some of the popular outfits for couples that were trending in the 90s:
1. Ross and Rachael from "Friends"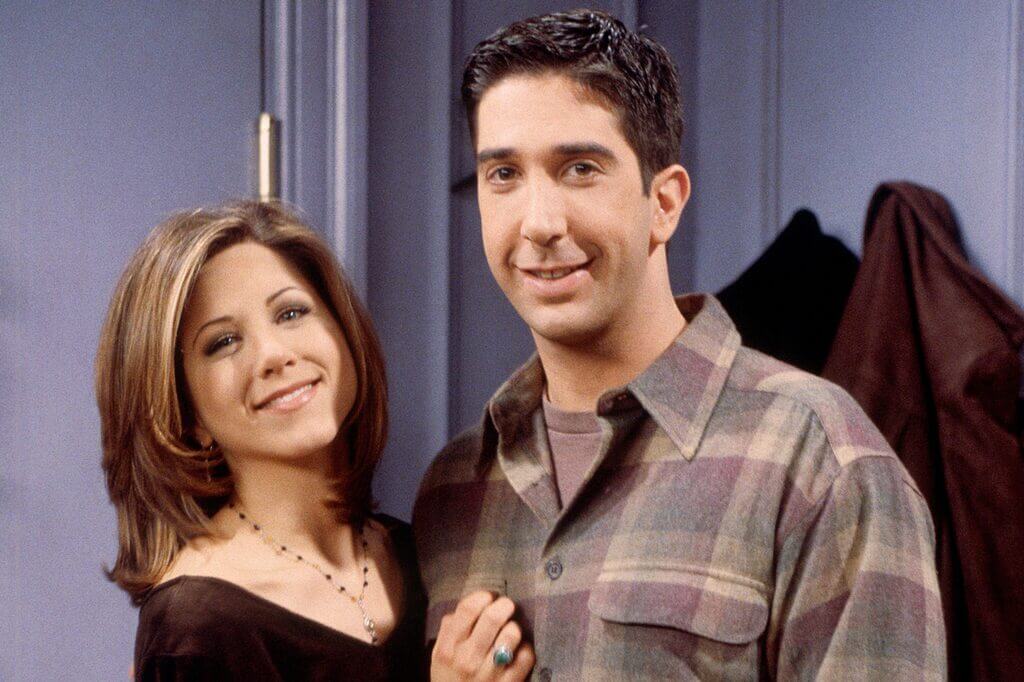 Source: meredithcorp.io
Ross and Rachel were not only iconic couples of the 90s who were known for their back-and-forth love, but their stylishness was also incredibly attractive.
For Rachel's Look: Pair a black short skirt with a denim shirt tied at the waist and a central perk tee. A full sleeves top, silk fabric gray mini skirt, and transparent black tights would be equally as appealing.
For Ross's Look: Pair loose cargo-style pants with a V-neck t-shirt for Ross, and layer up a coat from above.
2. Victoria and David Beckham from "Posh and Becks"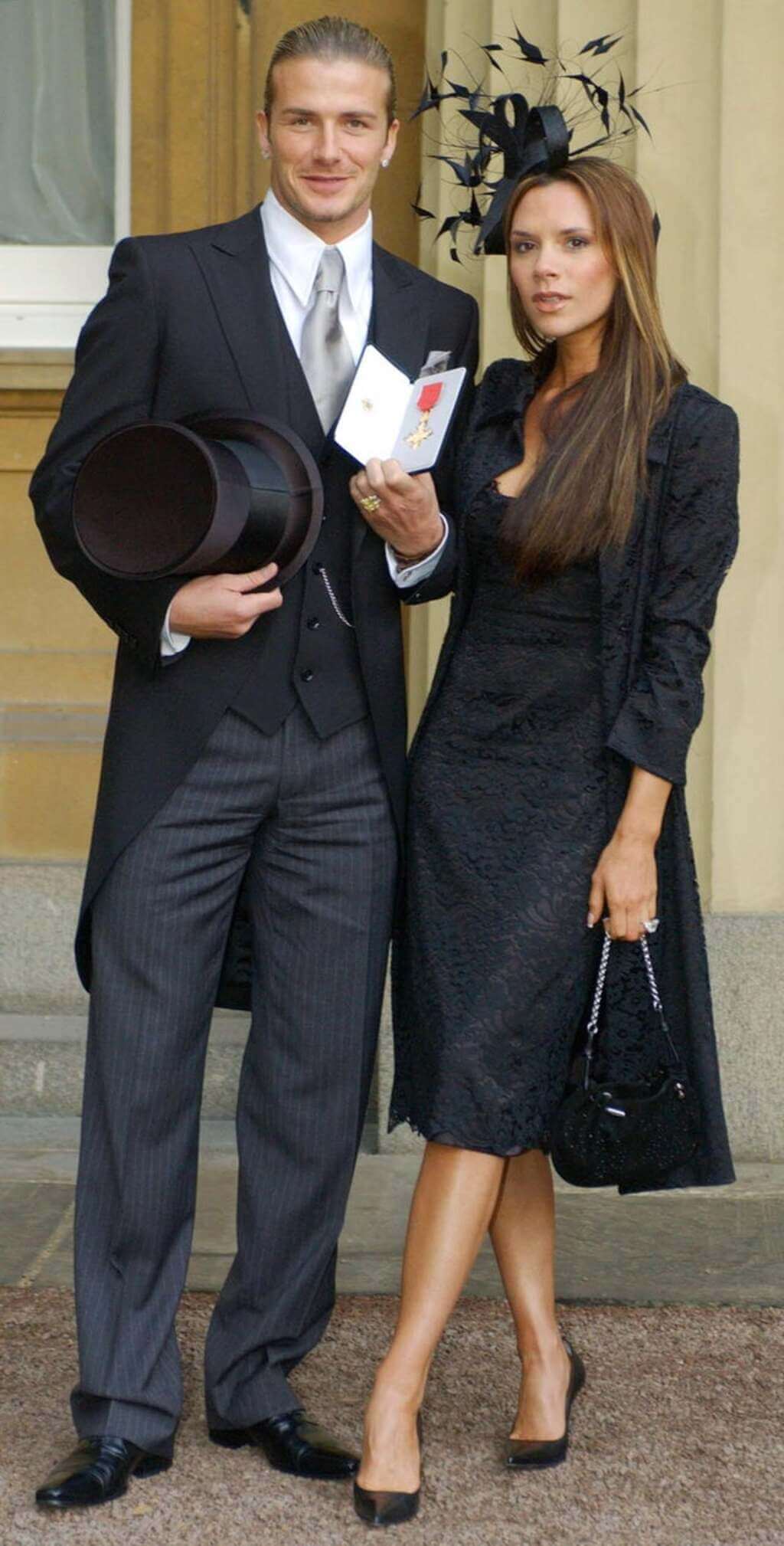 Source: standard.co.uk
Let's honor one of the most powerful and enduring celebrity couples of the 90s and now. In the realm of celebrity weddings, "Posh and Becks" married in 1999 and are still going strong. Through the ages, the football god and the fashion queen provide a multitude of dress-up possibilities.
How to style like this couple? A Manchester United football jersey, black shorts, knee-high socks, and football trainers are all "David" needs. Wearing a bodycon black bandeau dress, and strappy heels are Victoria's things.
3. Mayonnaise by Doug and Patti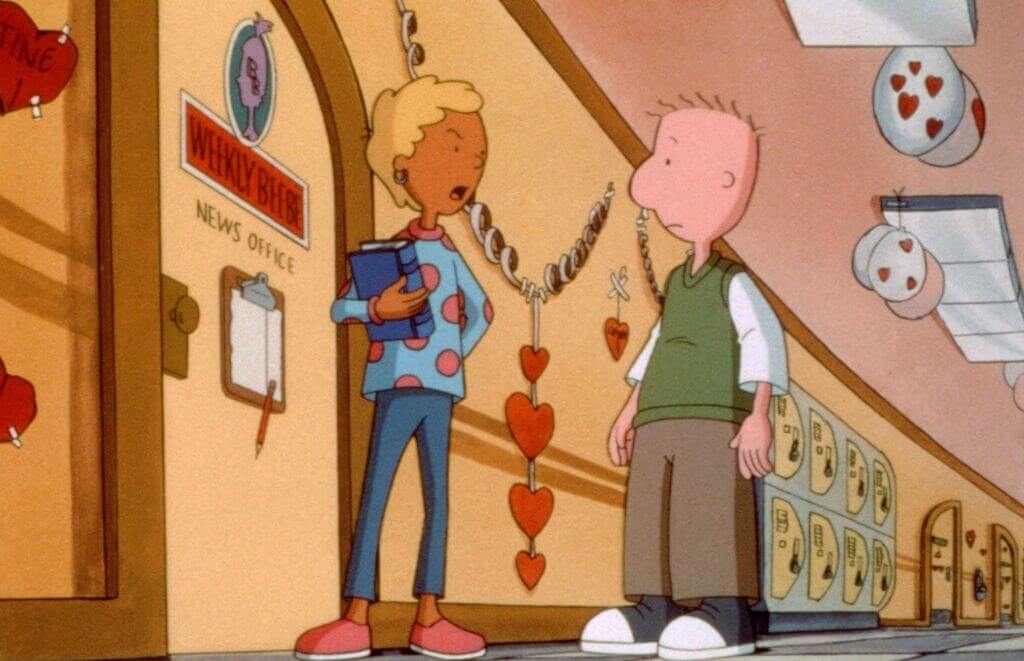 Source: pinimg.com
Kids from the 1990s will remember seeing the cartoon adolescent try to win the love of Patti Mayonnaise. Doug Funnie and Patti Mayonnaise are easy to dress up as, as well as being a lot of fun, pleasant, and nostalgic.
Doug's Look: Doug is complete with khaki-colored loose shorts, a roll-neck white tee, and a green V-neck knit vest from the thrift shop! Finish with a pair of red and white chucks.
Patti's Look: Patti's look is completed with blue crop bell-bottom jeans with pink sneakers and a full sleeves light blue top with pink polka dots on it.
4. Llyod Christmas and Harry Dune from Dumb and Dumber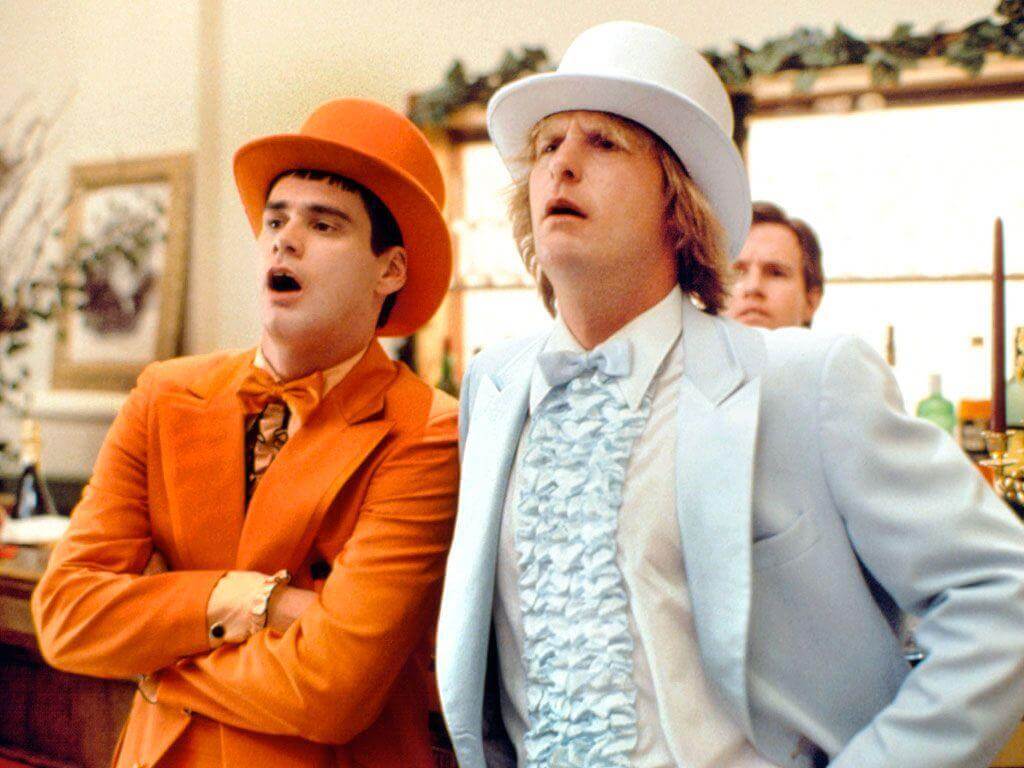 Source: yimg.com
Finally, one of our all-time favorite couples costumes is Lloyd and Harry from the first Dumb and Dumber. Those costumes will put a grin on your face for days.
To start with Harry's look, go up with light blue color trousers and a blazer with a white shirt inside. Adding cherry on the top you can wear a light blue bow and light blue color round hat.
To start with the Llyod look, go with bright orange colored trousers and a blazer, and a round hat. Inside the blazer, you can wear a light orange shirt and a bright orange-colored bow on the top of it.
5. Britney and Justin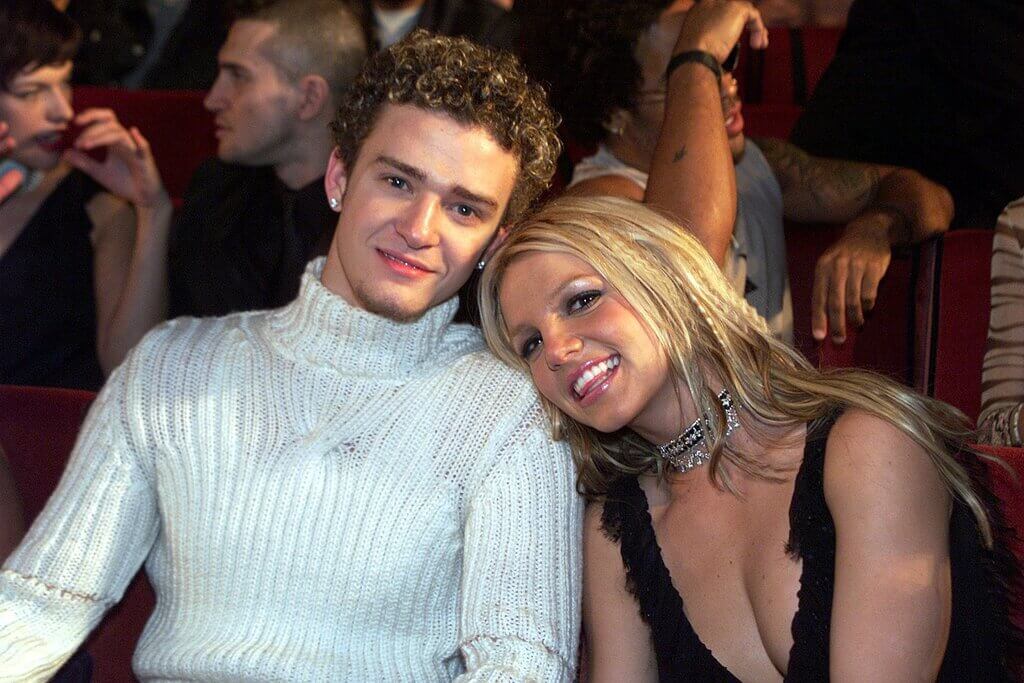 Source: cheatsheet.com
Let's start with one of the 90s' most renowned couples: Britney Spears and Justin Timberlake. This is the look for you if you and your partner are up for experimenting with some stuff.
For Britney's look, you can wear a deep v-neck black top and bell-bottom blue jeans, and a black metal choker.
For Justin's look, you can start by having a light blue turtleneck shirt or a sweater and blue jeans.
Accessories for

90's Party
1. Chokers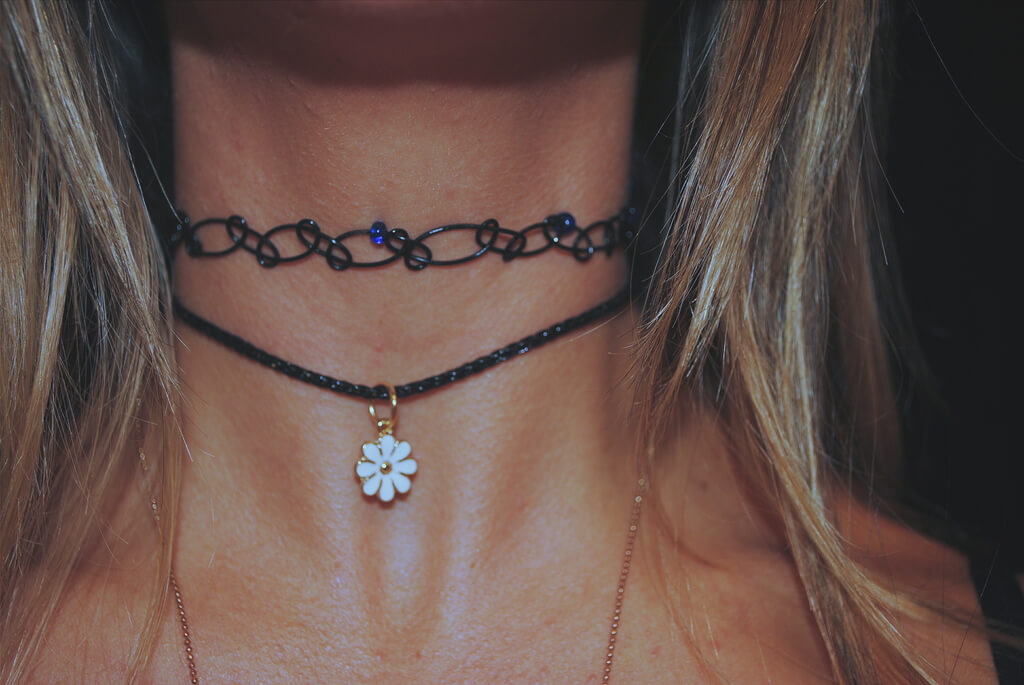 Source: wordpress.com 
2. Fanny Pack

Source: medium.com
3. Denim Bucket Hat

Source: pinimg.com
4. Oversize Sunglasses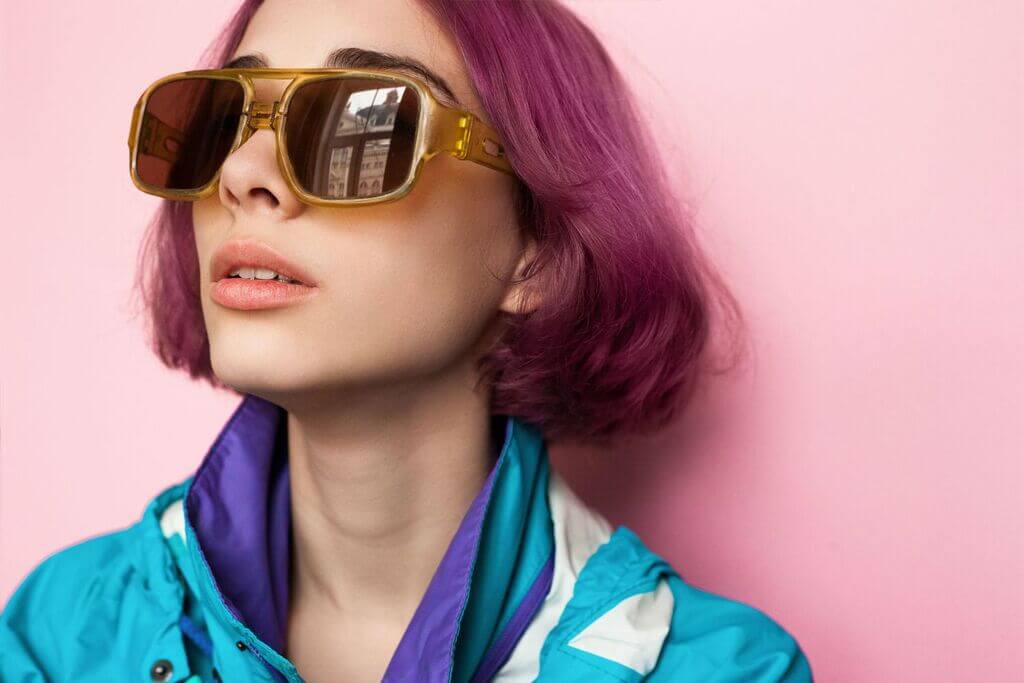 Source: liveabout.com
5. Headbands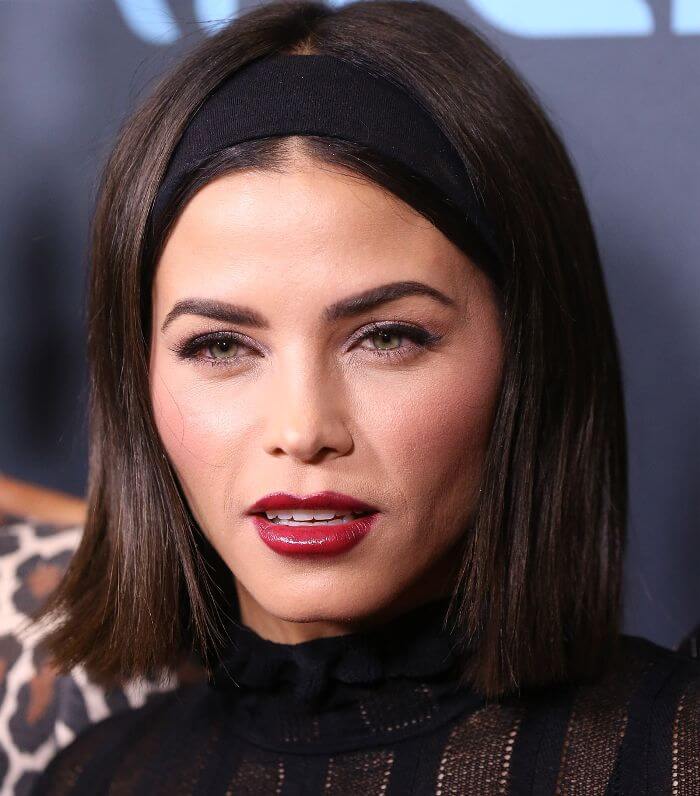 Source: byrdie.com
FAQs on 90s Fashion Statement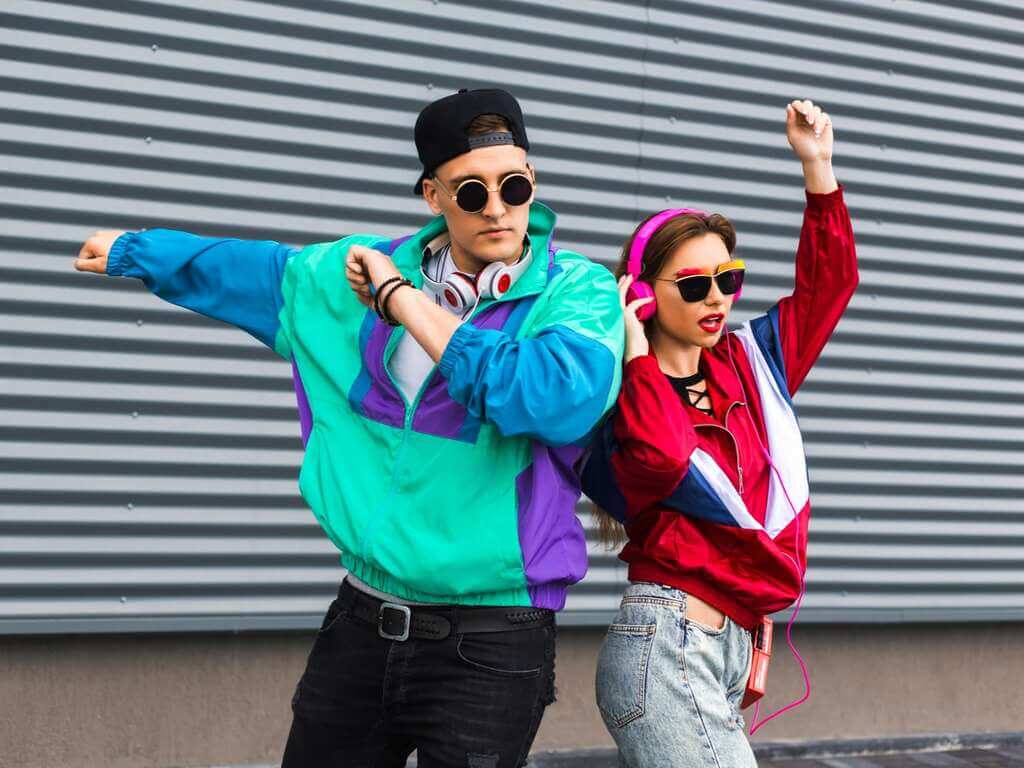 Source: donnamoderna.com
1. What Was the Clothing Code in the 1990s?
Black or red leather (or pleather) pants, fitted shirts, halter tops, cropped tanks, flared pants, and platform shoes were all popular. From deeper grunge tones to plums, navy, and reds, the color pallet lightened.
2. In the 1990s, What Sort of Jeans Were Popular?
Before skinny jeans were so popular, flared and wide-leg patterns ruled. These pants were quite popular in the 1990s due to a fondness for big and loose shapes.
3. What Were the Most Popular Colors in the 1990s?
The decade of the 1990s. After two decades of rich and brilliant colors, the 90s grunge culture ushered in a new era of darker, muted hues. As fashion shifted to flannel shirts, jeans, and combat boots, dark plum, forest green, dark brown, black, and deep red began to emerge.
4. What Had an Impact on Fashion in the 1990s?
As music movements like grunge, hip-hop and Britpop affected fashions throughout the decade, jeans and untucked shirts became standard casual wear. Grunge bands like Nirvana and Pearl Jam had a strong sartorial effect in the early half of the decade.
5. In the 1990s, What Sort of Socks Did They Wear?
If there was one thing that everyone in the 1990s had, it was fancy feet, or more accurately, ankles. Between 1990 and 2000, I'm not sure if any socks without scrunches or ruffles were made. Any '90s shoes looked great with embellished socks that crumpled down or turned over with flare.
The Bottom Line
To conclude everything, we can say that as much as these party outfits existed in the 90s, they are very much alive in the 21st century. We can still find some fashion stylists recycling the 80s, and 90s fashion into this century.
So, if you are up for a party, you can try out these outfits from the 90s, irrespective of whether you are a girl or boy, or a couple. I hope you can try some of the outfits mentioned in the blog, "what to wear to a 90s party".
For more information on the fashion and beauty industry, look up the Fashionterest's social media and website. You can start by subscribing to our newsletter. Welcome to the club!
For more, you can browse through Fashionterest.