A famous style statement of the millennials these days is the semi-permanent lashes or eyelash extensions. Trust me your eyes look stunning with these long and fluttery eyelash extensions. Nowadays, they are customized to suit your eye and face shape. Plus, they are safe. 
However, the problem is these eyelashes need a lot of maintenance, and how to remove eyelash extensions is the big question that trolls fashionistas' minds. 
Why compromise on fashion when we have extraordinary remedies to take off your eyelash extensions? Are you still worried about how to take off eyelash extensions most efficiently? Keep scrolling for more. 
Wearing eyelash extensions, you don't need to worry about the perfect mascara stroke on your bold eyelash extensions to make you look super confident.
Let us discuss the various pros on why to use eyelash extensions before we learn ways how to remove lash extensions:
Why Should You Use Eyelash Extensions?
Super time-saver: 
If you are going with faux eyelash extensions then it is a 30 minutes task to stick them, curl them, and lastly add the perfect stroke of mascara to make your eyes look beautiful. Shifting to use eyelash extensions can save up to 30 mins of your daily makeup time.
Availability to Customize: 
Gen-Z or millennials are fond of products that are customized as per their needs and choices. Then why not the makeup essentials. With eyelash extensions, you have the flexibility to curate them of what best suits your face and eyes.
Mascara mishaps can certainly be avoided: 
What is the most common makeup product that can dirty up your look? Mascara is the obvious answer to this question. The wrong stroke can ruin your beautiful look, and cleaning up the smudges is a real-time waster.
I can guarantee you that going with eyelash extensions is always a safe option because eyelash extensions don't cause any damage to your natural eyelashes. It is all in all the best deal to take as you can hide your undereye bags and the ugly dark circles. 
As long eyelash extensions give your charming eyes awakening' effect. Are you feeling anxious to buy eyelash extensions? Remember less is more when investing in eyelash extensions. All you need is a conditioning serum and a tint to lift your eyelash extensions. That's all!
Is Removing Eyelash Extensions a Safe Choice or Can It Cause Any Damage?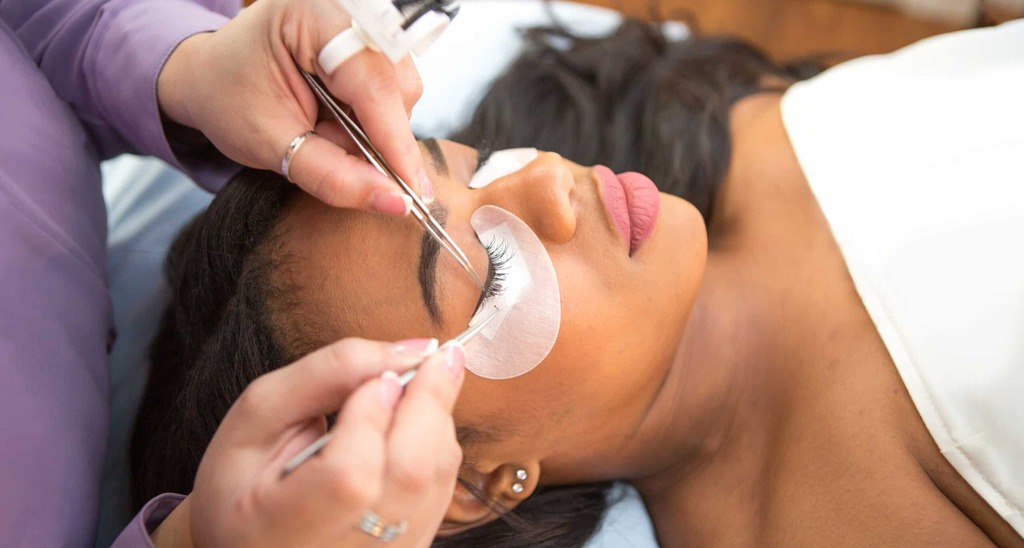 Source: styleseat.com
Everything doesn't last for long. At some point in time, the fluttery eyelashes don't add glamor to your eyes. What is next? You need to take them off and are you skeptical about how to take off lash extensions. Let me guide you further.
Andra Marin is an eyelash stylist, and she quotes, "For the safety of your eyes and the health of your natural lashes, you should always wait for an expert to remove your eyelash extensions."
The eyelash extensions are glued to your natural eyelashes with surgical-grade glue and messing up with this product involves some risk. Risk in terms of damaging your pretty eyes with the spread of unnecessary harmful bacteria. 
The home remedies might at times be dangerous if done without proper sanitization and in haste. Fortunately or unfortunately, there are situations where we need to remove eyelash extensions at home that are in our own space. We did it without the supervision of an expert or professional because the conditions demanded us to do so. 
How can we not forget the times of lockdown post-outbreak of COVID19?
Always consult an expert or a professional about how to take eyelash extensions off if you are doing it for the first time. I recommend that knowledge is the boon, and this article is a comprehensive guidebook on safe practices and remedies that you can perform about how to take off the eyelashes.
How to Remove Eyelash Extensions in Your Own Space?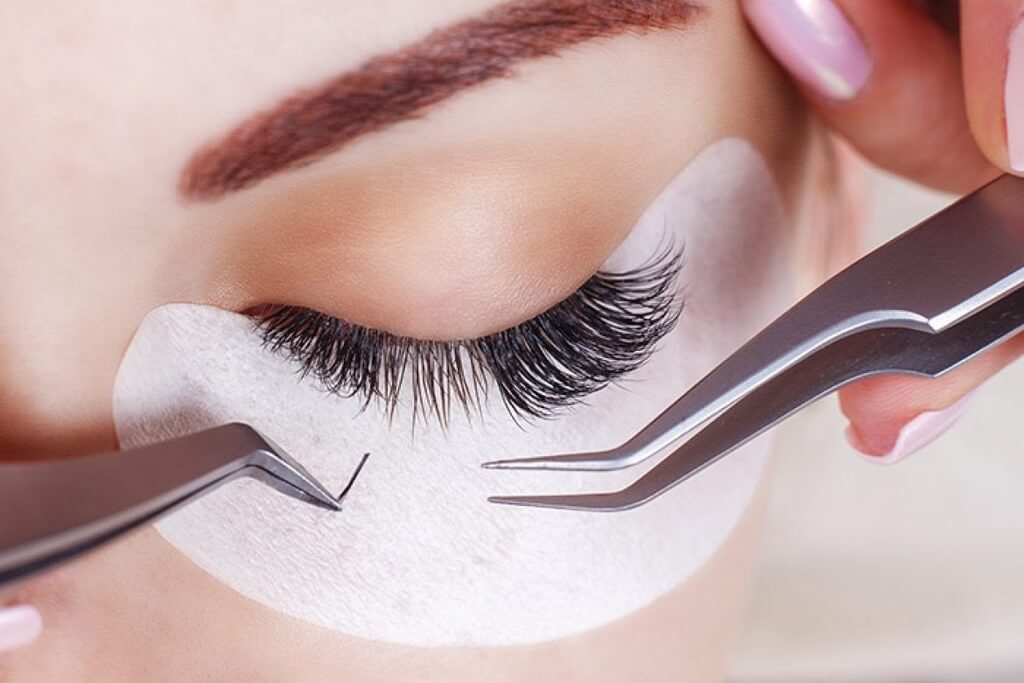 Source: shopify.com
During the worst times of COVID-19, we as individuals were on the verge of becoming maestros of tasks. Being independent is the new style statement. We have learned how to trim our hair and do monthly facial massages. Be it pedicure or manicure we are experts at all of them by now. Then, why not try and learn how to take off eyelash extensions?
Before putting some light on the ways to remove eyelash extensions, let us understand what are the things you need to take off your eyelash extensions.
Things Needed to Take Off Eyelash Extensions at Home: 
A professional glue remover or any excellent quality glue remover

Warm Oil – coconut oil is the best for faux eyelash extensions removal (preferably)

Cotton Swabs

Under-eye cotton pads

Stopwatch or timer 

Large to small deep bowls to hold warm oil and water

Organic oil-free lash bath

Napkin to dab your eyelids
Do's to Keep in Mind While Removing Eyelash Extensions: 
Avoid rubbing your eyes after you apply the remover to your eyelash extensions.

There are chances of damaging your natural eyelashes if the remover is not properly rinsed. So, rinse your face and natural eyelashes well after you complete the eyelash extensions removal process.

Lash bath is a must-have product as most professional glue removers may irritate your sensitive eyes.

Take special care when using adhesive removers as their lids must be tightly closed. If they come in contact with the humidity, they would be of no use.

Always refrain from using low-quality adhesive removers because they might damage your sensitive eyes.
Also Read: Unnatural and Uncomfortable: 5 Signs Your Lash Extensions Need Redoing
Step-By-Step Procedure on How to Remove Eyelash Extensions?
Using Organic Products – Oil: 
1. Gently Wash Your Face  
Don't be harsh when washing your face with eyelash extensions. Because you may pull off the eyelash extensions, and this can cause damage to your eyes. Carefully remove the makeup applied to the eye makeup. The kajal and mascara need to be cleaned with care and special attention.
2. Take a Steam Bath 
Steam helps in losing eyelash extensions. To be precise, take hot to warm water in a large deep bowl and steam for 5 to 10 minutes.
3. Next Is to Take Warm Oil 
A mild hot oil is needed to remove the eyelash extensions. Check the temperature before moving to the next step as we are dealing with the most sensitive eye area.
4. Dip the Cotton Swabs in the Warm Oil  
This step completely loosens the adhesive separating the lash extensions. The oiled pads take off the adhesive.
5. Clean Your Eyelids 
Lastly, go for the organic lash bath cleaning your upper and lower eyelids.
6. Rinse Your Face Properly and Dab Your Face with a Large Cloth
Now, we have understood how to remove faux lashes with oil. It is a necessity to know which oil we should pick in the market and how it will help in our eyelash extensions removal process. 
Coconut oil must be your priority as it helps in breaking the adhesive molecules at a faster pace. However, I recommend you go with other alternatives such as olive oil (if safety is concerned). Olive oil can guarantee your safety. 
If you have a sensitive skin type, baby oil should be the best pick to avoid unnecessary rashes or irritations. Because, when dealing with eyes you are also dealing with your face.
I am up with another solution on how to take off eyelash extensions at home with a professional eyelash glue remover.
Using an Eyelash Glue Remover in 7 Simple Steps:
Place under-eye cotton pads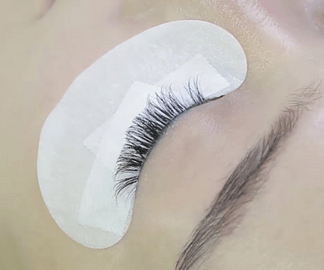 Source: shopify.com
Take some eyelash glue remover on a plate or flat surface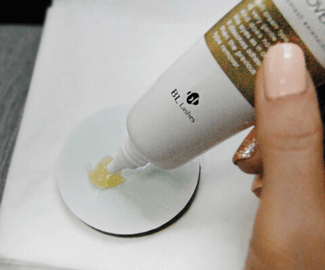 Source: shopify.com
Gently apply on your faux eyelashes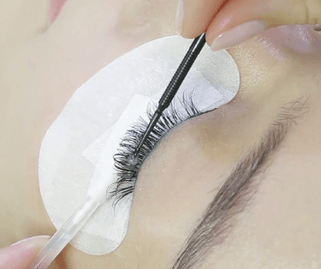 Source: shopify.com
Set the timer for 3 to 4 minutes and wait until the time is up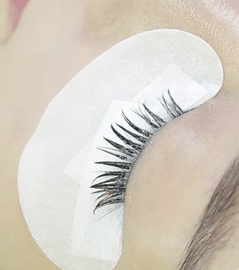 Source: shopify.com
With a swab remove the loosened eyelash extensions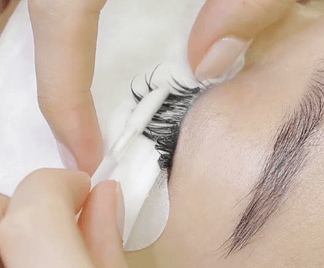 Source: shopify.com
Dip the cotton swab in water and clean your natural or real eyelashes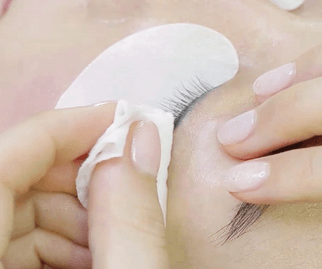 Source: shopify.com
Are you still scared and nervous about how to remove eyelash extensions? I would say worry only if you have gone to a not-so-good eyelash specialist. When getting eyelash extensions, always look for certified and trained eyelash technicians. It is a painful process to remove eyelash extensions when the extended faux lashes are not enacted properly. 
After reading this blog thoroughly, I guarantee the eyelash removal process will be a cakewalk for you (if done with precision and special care). 
It is said that by reading swimming instructions, no one can learn swimming. I believe this blog is contradictory to this statement. The detailed steps about how to remove eyelash extensions will always be a guidebook on practically carrying out eyelash extensions.
Follow These Home Remedies to Remove Eyelash Extensions Before They Fall Off Naturally
The fashion industry does not have a proverb like to be human is to err. Making some small errors of not removing the extended faux eyelashes on time may cause problems such as shedding off, causing irritations to your eyes.
In addition to this, my suggestions on how to remove eyelash extensions are feasible. The natural remedies mentioned in this blog can be carried out with minimal types of equipment. Be ready with your DIY kit to take off your faux lashes and seek further clarification in case of doubts. 
It is sensitive eyes you are dealing with, so you have to take care of the hygiene measures.
For more, you can browse through Fashionterest.