Engagement is a special day in everyone's life, and they want to look perfect on that day. They want to wear the best clothes & accessories and want to shine on that day.
The engagement ring is one of the most important things on this special day. Now, there are many types of rings that one can wear, but to stand out and look unique and beautiful, the brides can wear a green diamond engagement ring.
Wearing a green diamond ring is the best way to shine your personality on a special day. For people who want to have a unique & gorgeous look, the green diamond rings are the best.
The popularity of green engagement rings has grown a lot in the past few years. People now want to escape the ordinary and want something that can look different and pretty, and green diamond rings are best for it.
Best Green Engagement Rings for the Electric Bride.
1. Light Yellow-Green Diamond Ring
The ring has a diamond of yellowish-green color and is around 1.15 carats. It has 27 brilliant round cut natural fancy pink diamonds with a clarity of VS, and 116 brilliant round cut natural diamonds with colors ranging from D to F.
2. Vintage Diamond and Emerald Marrow Fine Jewelry Toi Et Moi
If you love white stone, this is the perfect ring. It is the ideal combination of green and traditional white stone. It includes a 2.17-carat emerald and a 1.87-carat heart diamond that are both GIA certified that blends effortlessly and combines the traditional with the unconventional.
3. Aquamarine Green Teal Sapphire Ring
The ring has a platinum-colored band accented with semi-precious stones, making us want to go on a tropical trip.
4. Double Halo Colombian Emerald Ring
It is not just a simple ring of green color, it is a special ring having amazing look. The enter emerald size can be between one to four carats. The ring is unique, and the double halo gives the stunning green design extra glitter.
5. Gemist Dainty Brilliance
Whether you desire something smaller and less bulky for everyday or special wear, dainty rings are always a treat. Two white diamonds of 0.48 carats flank the 1.12-carat green diamond. It gives a modern look to this classic engagement ring.
6. Jennie Kwon Baby Deco Ring, Emerald
Jennie Kwon's Baby Deco Ring, available in rose, yellow, and white gold, is a dream for art deco fans whether you stack it or wear it alone. It can be the perfect ring for the engagement day.
7. Fancy Grayish Greenish Yellow Diamond Ring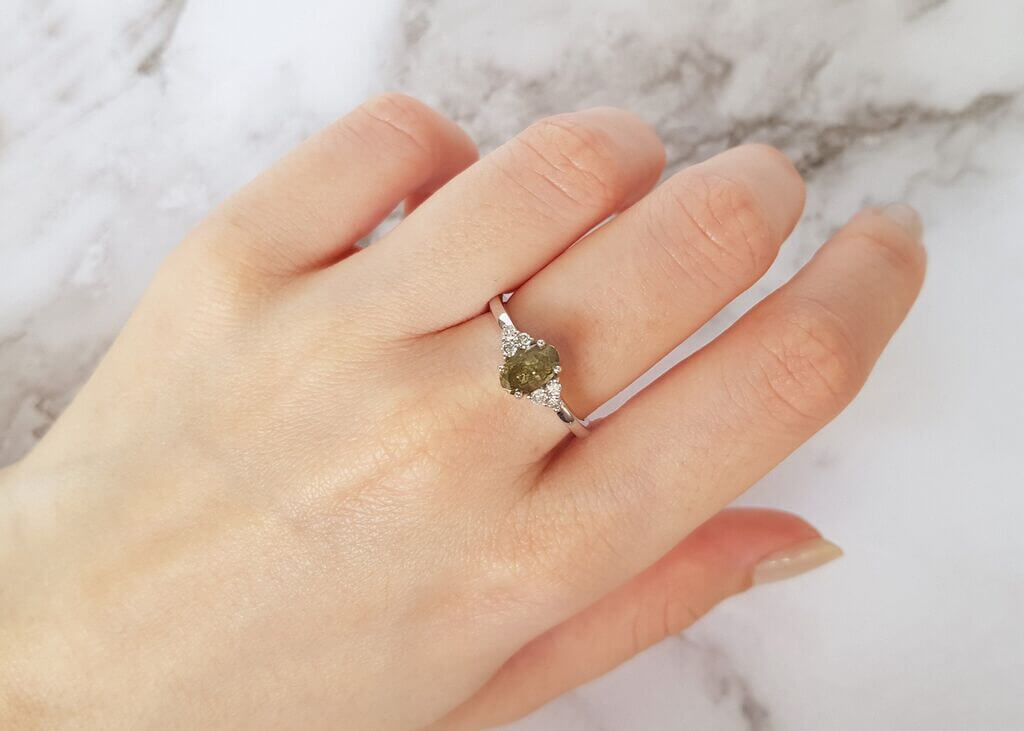 It is a 2.51-carat fancy diamond which is of greyish greenish yellow color. It is a unique diamond that is set in 18k gold.
8. Pear-Shaped Bluish-Green Colored Diamond Ring by Sophia Perez Jewelry
It is a pear-shaped green color diamond engagement ring. It is unique, and its bluish-green color diamond glitters even bright when flanked by two white diamonds with pear shapes.
9. Ohjewel Vintage Engagement Hexagon Cut Moss Agate Ring
There are many amazing things in the ring that people can love about this ring. It is a forest-inspired ring; this green diamond engagement ring is the one that you must consider for your engagement.
10. Fancy Yellow-Green Diamond Ring
Now, look unique with a beautiful fancy yellow diamond ring that weighs 3.41 carats through its 1.64-carat side stones and 1.77-carat center radiant-cut stone. It is GIA certified, and its diamonds are set in an 18k white gold band.
What Things Should You Look for While Purchasing a Green Engagement Ring?
There are 2 major things that you should look upon while buying the green diamond engagement ring:
Stone
Green diamonds are costly compared to white diamonds because green diamonds are not easily available. Thus, their demand is very high, and this is the reason for their high cost. However, green diamonds have many alternatives, like emeralds, sapphires, moissanite, etc., which are generally less costly.
Material
Like any engagement ring, the band should be fashioned of sturdy metal that matches the color of the center stones. The white yellow gold makes the green stand out; platinum or white gold will help you feel more like a conventional bride.
Final Thoughts
At last, we would say that you want to make yourself look good and special on the day of the engagement. When it comes to the engagement function, a ring is very important; wearing a green diamond ring makes you look unique and gorgeous.
Find out more:-