Instead of a bad hair day, have a braid day! 
Today braids are the trendy top hairstyles in 2023 for men and women! One of the popular braiding styles is Box Braids Men Style! Sometimes people also call them black mens hairstyles. These braids may sound simple, but they can actually bring any men's hair to the spotlight! 
From pop stars like Travis Scott and A$AP Rocky to famous actors like Shia LaBeouf and Jason Derulo, many male celebrities wear box braids confidently to several red-carpet events. 
Braiding hair is nothing new; it actually has quite a rich history. Today, there is a wide range of box braids for men available. Each one has its different features and gives a completely unique look. These men box braids are a versatile hairstyle that can be paired with other hairstyles like fade or undercut and dyed in colors for a fresh look. You can also add hair accessories like beads and extensions. 
If you're searching for the latest men hairstyles or want to stand out in the crowd, this is your sign to try the box braids!  
Today in this blog, we've collected some of the best box braids for men. We've included different types of box braids, from short box braids to long braids with buns and ponytails. So, keep reading till the end to find the right inspiration for your next hair appointment!
Let's start.   
What Are Box Braids?
Box braid is a popular braiding hairstyle among black men as a part of African culture. In this hairstyle, the braids are achieved by dividing the hair into square-shaped sections. These segments are later braided using either natural or synthetic hair. People preferred using extensions to get more volume and length. Box braids on men looks attractive and stunning.  
17 Latest Box Braids Mens Hairstyle Ideas To Try
1. Small Box Braids Men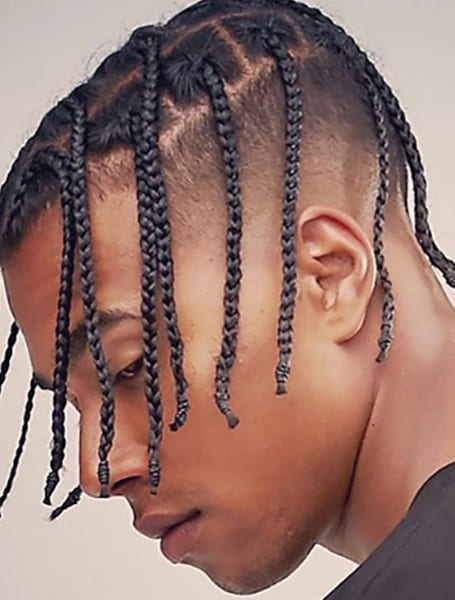 Source: thetrendspotter.net
If you have short or fine hair, these small box braids will be the perfect hairstyle for you! 
Even people with hair lengths from three to four inches can also create this hair look. Many well-known celebrities, including Travis Scott and Lil Yachty, wear these stylish small box braids. You can also pair your braids with a fade for a fresh update.
2. 4 Big Box Braids Men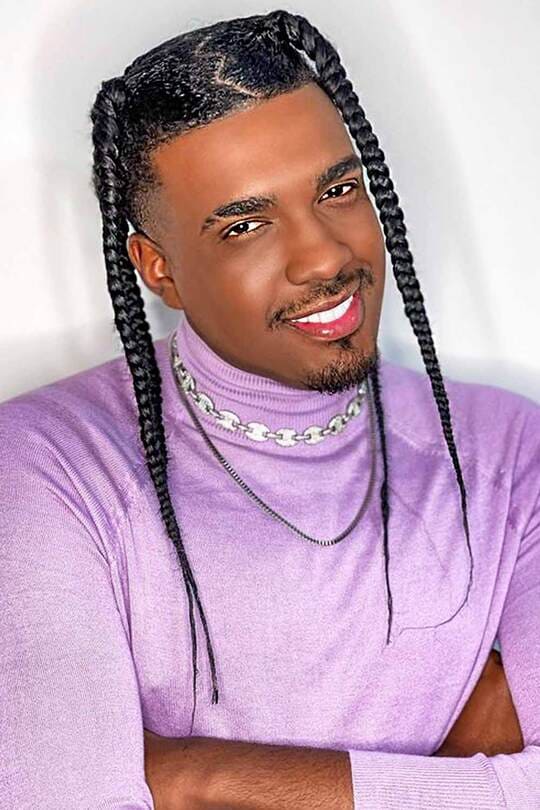 Source: menshaircuts.com
4 Big Box Braids, also known as jumbo box braids, is surely a standout look. This one suits well for men who want a trendy and stylish appearance. As you can see in the above picture, hairs are braided in thick long braids. So if you're planning to grow your hair long, you can surely try these unique 4 Big Box Braids.    
3. Box Braids Men Bun Style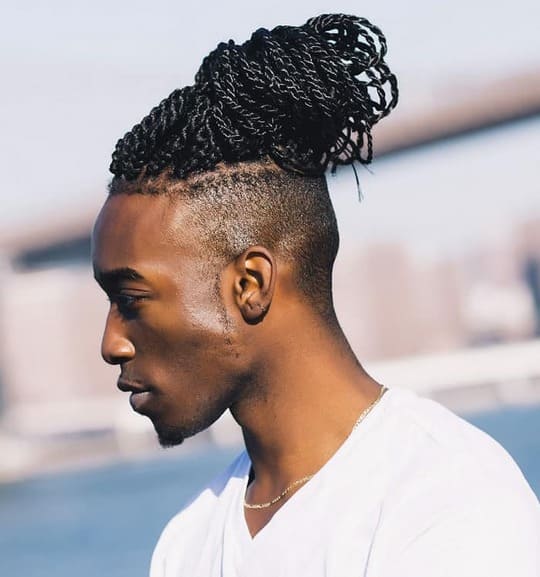 Source: hairstylecamp.com
There is nothing more sexy than a man in a messy low bun!
To get this hairstyle to the next level, pair this with box braids. However, guys with medium or long hair length can only pull this look. To make this low man bun, first box braid the front section of your hair. After this, take the left-out hairs, loosely twist them, and create a bun. For a masculine touch, add an undercut and fade.    
4. Triangle Box Braids For Men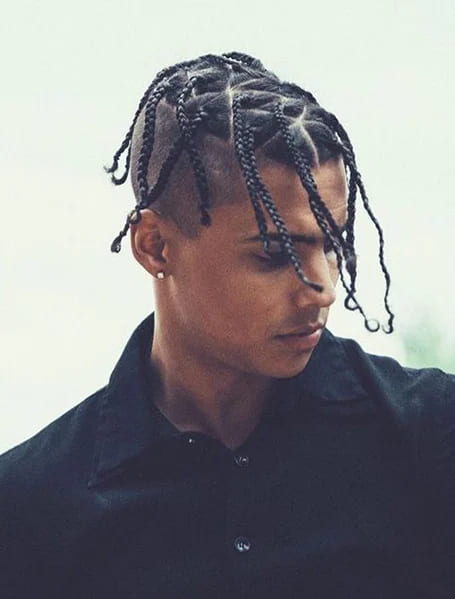 Source: thetrendspotter.net
This time, try triangle box braids men instead of the regular square pattern! These braids will create an unnatural, angular shape drawing attention to your hairstyle. Maybe for some people, these braids are a bit more unique than the traditional box braids. Perfect choice for boys and men who like to show and flaunt their style.  
5. Box Braids With Cornrows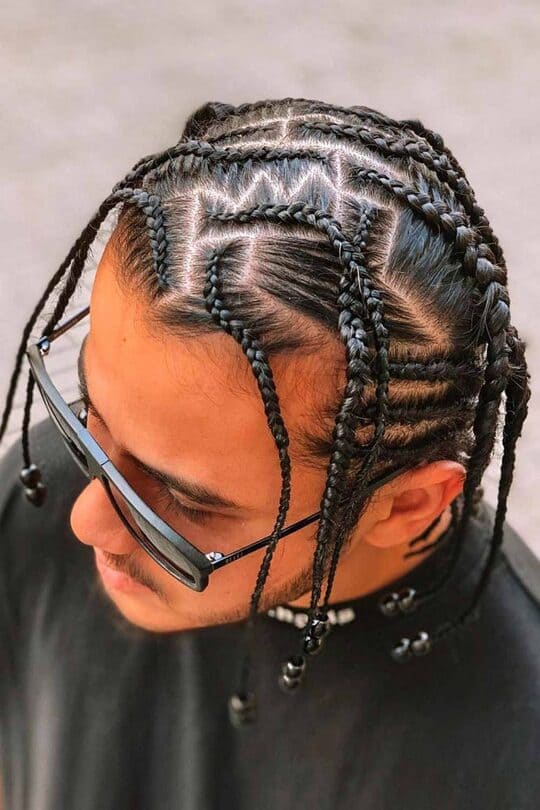 Source: menshaircuts.com
Who says you have to do a lot to create a stylish hairstyle? Look at this picture above!
These are box braids with cornrows for men. Doesn't it look fabulous? This example proves you can still make a statement look just by braiding one pattern! To achieve this, you have to simply braid the top part of your hair with cornrowed sides! Believe me; this one looks really attractive and has an eye-catching look on guys! 
6. Long Box Braids Men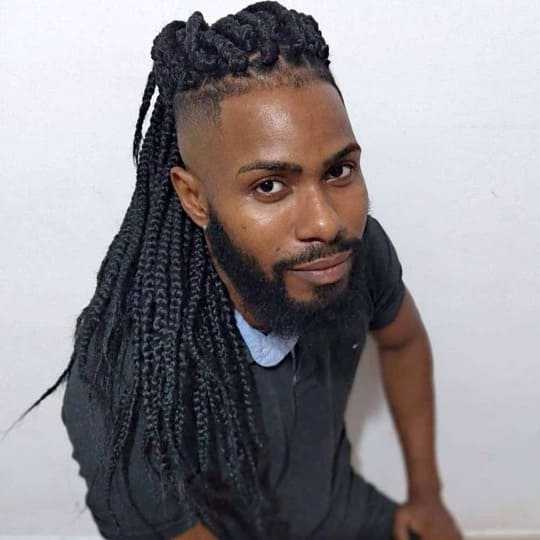 Source: menshairstyletrends.com
Not everyone can pull the long braided style, but whosoever, they definitely make a statement! 
We're talking about the long box braids! Many of you might be thinking you have to grow your hair for this hairstyle. Here's a good thing: you can still achieve it even if you have medium length hair. Have you heard about extensions? Yes, men can also use synthetic hair to get beautiful long braids. So switch from box braids men short hair to long braids. 
7. Reverse Dyed Box Braids in Ponytail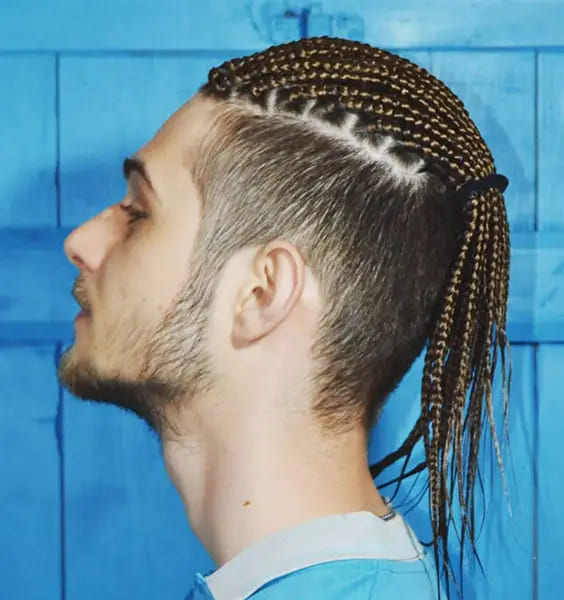 Source: menshairstyletips.com
After a viral video on the internet, everyone knows how hair plays a significant role in the overall appearance of a man! 
Look how the box braids are paired with shaved sides and a beard. Not only this, but the person also tied his hair in a loose ponytail. These shoulder-length box braids are seamlessly blended with the rest of the hairstyles!  
This hairstyle is perfect for Summer as this will keep your hair away from the face. And you'll get a relaxed summer vibe!  
8. Single Men Box Braids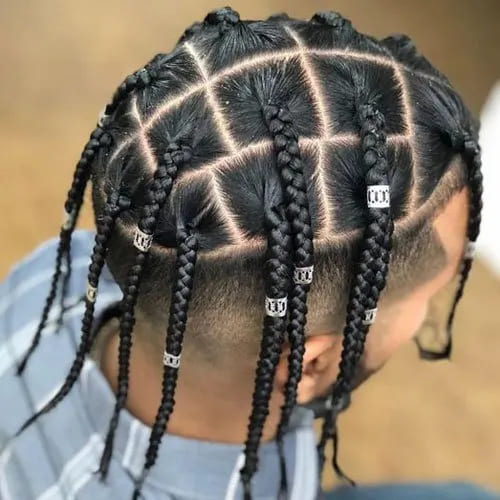 Source: menshairstylestoday.com
Classic and Stylish! 
These two words perfectly define the above look. A perfect option for men who like to keep their life and hairstyle clean and minimal. Single box braids, also known as individual braids, give a cool and casual vibe. However, the best thing about this is that it takes only a few minutes to do this style!    
9. Men Box Braids Ponytail Styles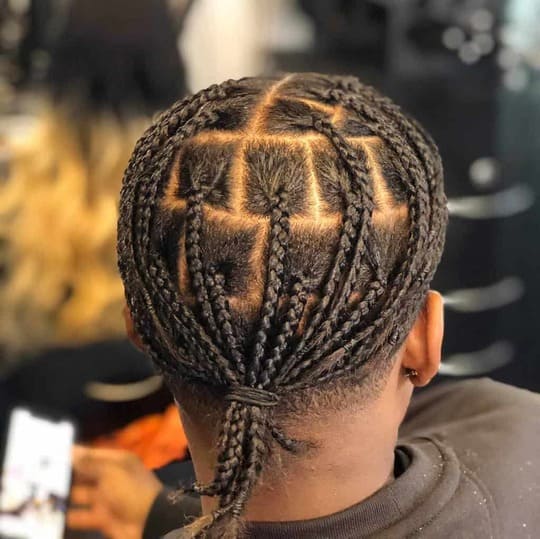 Source: nextluxury.com
Love is in the hair!
Box braids are one of the versatile hairstyles. This means you can literally pair these braids with many different hairstyles to create various looks. Here's another example of this: medium box braids men in a ponytail! Whether these braids remain open or tied up in a bun or ponytail, these box braids men look extremely effortless and cool! You can wear them on formal occasions, at the gym, at the office, or anywhere. 
10. Square Box Braids Men Look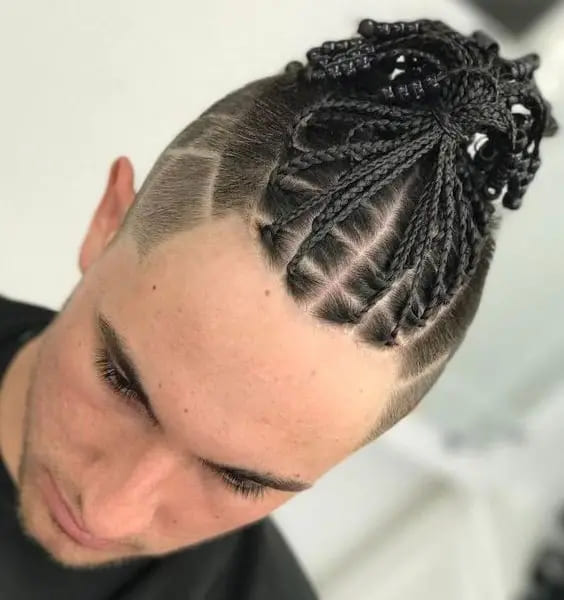 Source: menshairstyletips.com
This is the traditional way to wear braids with a square pattern! The above model has the braids braided in a square pattern with a man bun. How to do box braids men?
Here's how you can style this: tie all the single braided locs in a high bun. After this, shave the trim lines carefully around the head, and that's it! Your easy-to-go hairstyle is ready!  
11. Red Box Braids For Men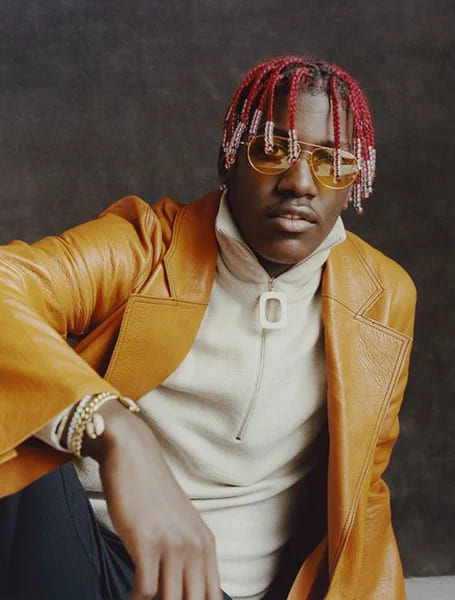 Source: thetrendspotter.net
Life is too short to have boring hair! 
Colorful box braids men styles are as popular as black box braids. Famous rappers like Snoop Dogg and Kendrick Lamar have red box braids. Red is a bright and bold color that instantly attracts attention. 
So guys who want to make a strong, unforgettable impression get the ultimate red box braids! 
12. Half Up, Half Down Box Braids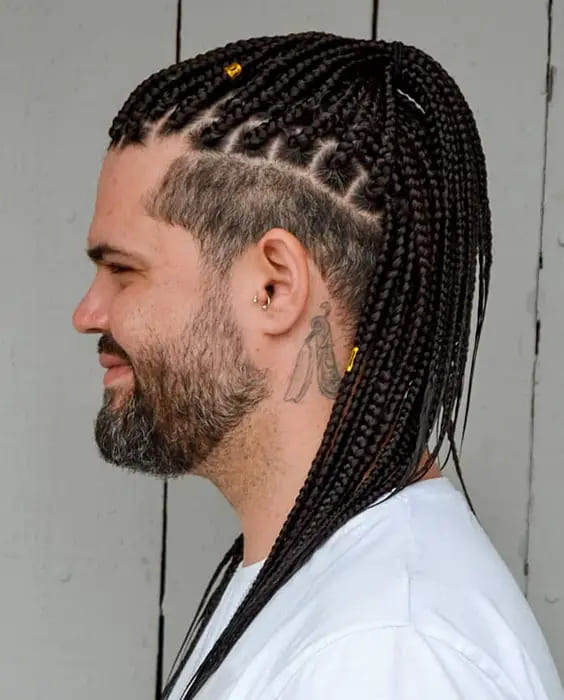 Source: menshairstyletips.com
If you think only girls can pull the updos, you're wrong! Look at this man with a really gorgeous half-up, half-down style! He just created box braids in his thick hair. If you feel that your hair is too heavy to be braided, you can also shave or fade the side parts of the hair. And make box braids from the rest of the hair. To highlight the hair even more, add golden hair cuffs.  
13. Men Box Braids With Fade Cut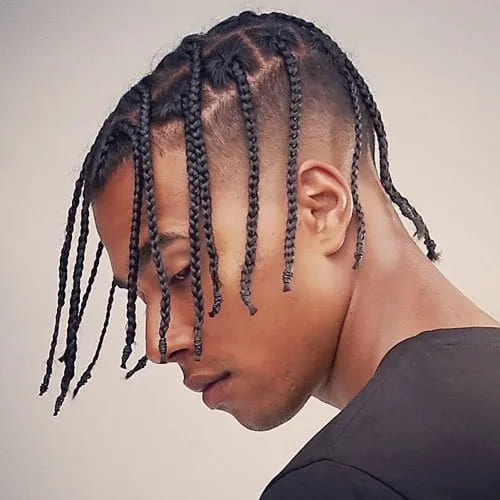 Source: menshairstylestoday.com
A fade haircut is one of the most popular ways to pair box braids!  
There are different types of fade, including low, mid, high, temp, and taper fade haircuts. You can pick anything and pair it with classic box braids. The above man has styled his hair in gentle French braids with accessories. You can also use different types of hair accessories to decorate and enhance the overall look.    
14. Blonde Box Braids For Men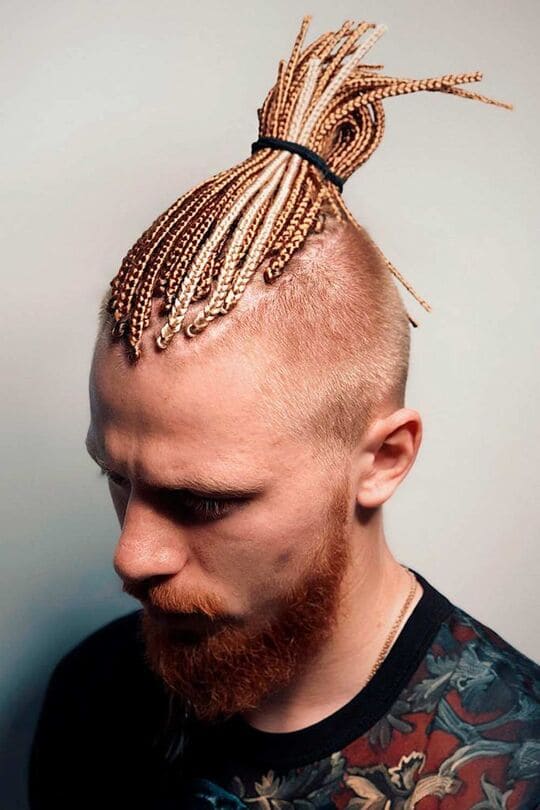 Source: menshaircuts.com
Blonde hair is one of the top 2023 hair trends! 
J Balvin, Odell Beckham Jr, Kanye West, and many more male celebrities have been spotted with blonde box braids. This look goes well with darker skin tones. However, if you still feel that blonde will be too bleached and bold for you, you can try a bit darker shades in blondes, such as icy blonde box braids. You can also use extensions in the platinum blonde shade rather than bleaching your natural hair!  
15. Black and Blonde Box Braids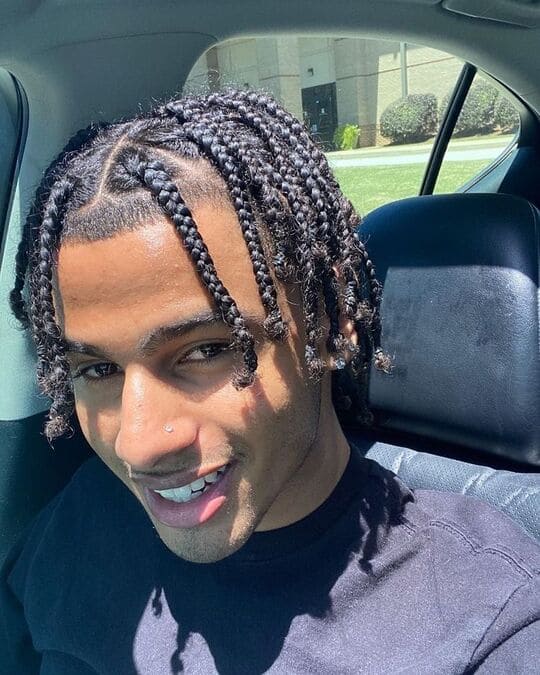 Source: pinimg.com
Here is another trendy blonde hair combo for you – Classy Black & Blonde! 
For boys and men wanting to get a stunning makeover, these box braids will be an excellent choice! This hair look is different from short box braids men, and it is achieved by a hair technique known as dip-dyed bleached tips. Instead of bleaching all your natural hair, you can also half-dye your hair or add extensions at the bottom part of the braid. This way, you can get a contrasting braiding effect! 
16. Thick Box Braids Men Look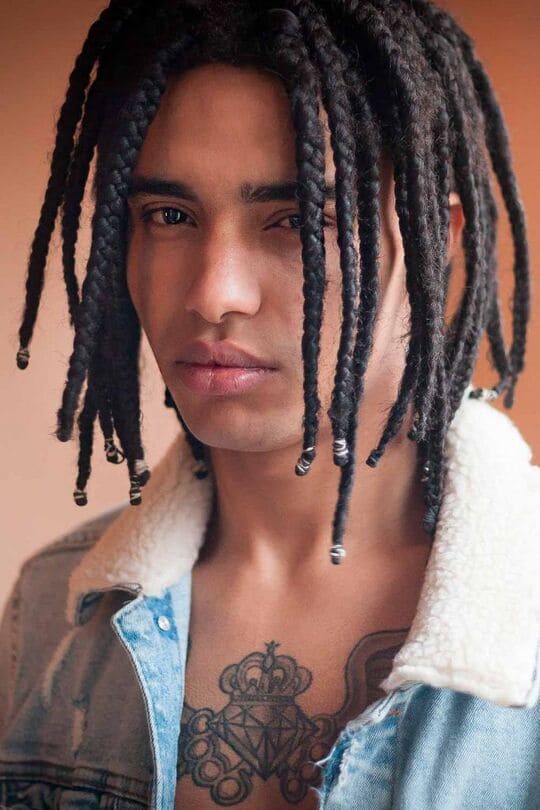 Source: menshaircuts.com
Do you want to get a defined appearance? 
If yes, ask your barber to give you thick box braids! These distinct box braids offer a bold look and are quite practical. If trimmed around the edges of sections, these braids give a smart and casual vibe. Try it, and you'll surely notice the difference with your own eyes! 
Also Read: Mens Fade Haircut: 40 Trendy Hairstyles For Men (2023)
17. Edgy Box Braids For Men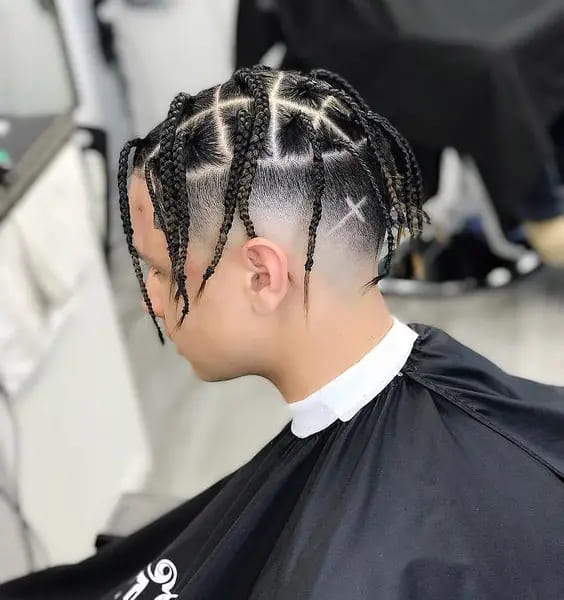 Source: menshairstyletips.com
Are you tired of traditional or regular braids? If yes, these dramatic box braids with fade will be perfect for you! 
This stylish hairstyle gives a pale backdrop that will make your hairstyle stand out in the crowd. The look is even more accented by marking a cross at the back of the head. The razor-sharp edges and fade give a bold appearance. However, remember that this box braids men style requires high maintenance.  
Box Braids For Men FAQs
1. How Long Do Box Braids for Men Last?
Box braids can look neat and easily last up to 2 to 4 weeks. It can last around 6 to 8 weeks if maintained and carefully. Box braids men style is a hairstyle that you have to do again in a few weeks because braids will grow again with the growth of your root hair.  
2. How to Do Box Braids for Men? 
Here is the step-by-step method to do box braids: 
Step 1: Prepare your hair by shampooing your hair with good quality shampoo and applying conditioner. After this, comb your hair well to remove tangles. 
Step 2: If you're adding synthetic hair or extensions in the braids, make sure to give a cut and trim to it to remove any unexpected fiber. 
Step 3: Now divide all your hair into small sections with the help of a wide-toothed comb. Later divide each segment into three pieces for braiding.    
Step 4: Take your hair extensions and start braiding a section of hair from the top along with your natural hair and slowly attach these two together.  
Step 5: The last step is to dip your braid tips into hot water. So, dip the tips in lukewarm water one braid at a time. This will make the braids tight, and they will last longer.  
3. How Much Do Box Braids Cost?
On average, the box braids for men usually cost between $100 to $500. However, prices can go up or down because the box braids men style depends on several factors such as the size of the braids, style, and type of the box braids, and location. 
4. How Long Does It Take to Make Box Braids?
The whole braiding process can take about 3 to 12 hours, and it also depends on how long you want your box braids and the size or thickness of the braid. 
5. How to Take Care of Box Braids?
To make your box braids last longer, you should apply a leave-in conditioner in the braids to keep them hydrating. Add coconut oil to the braids and scalp to moisturize them properly. Also, don't forget to wash your box braids men style at least once a week.  
Men's Box Braids Hairstyles Images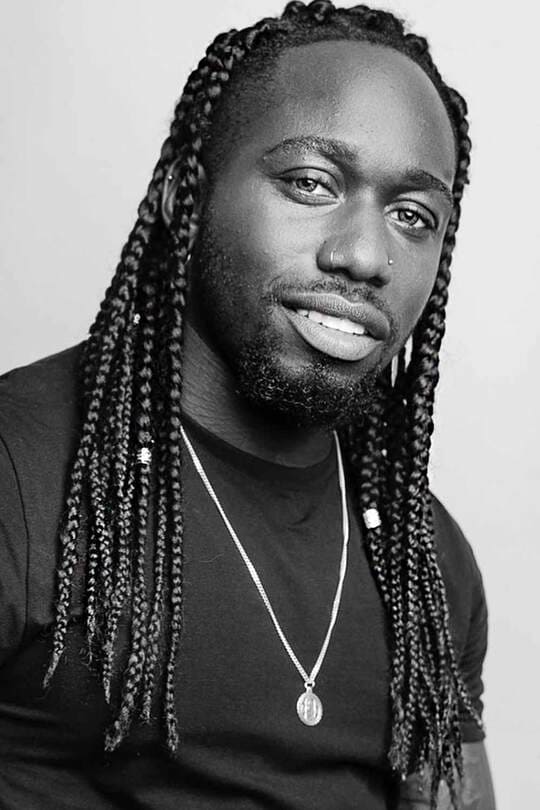 Source: menshaircuts.com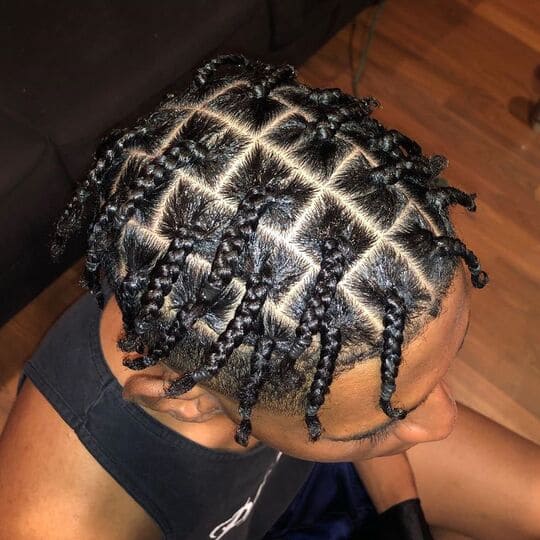 Source: menshairstyletrends.com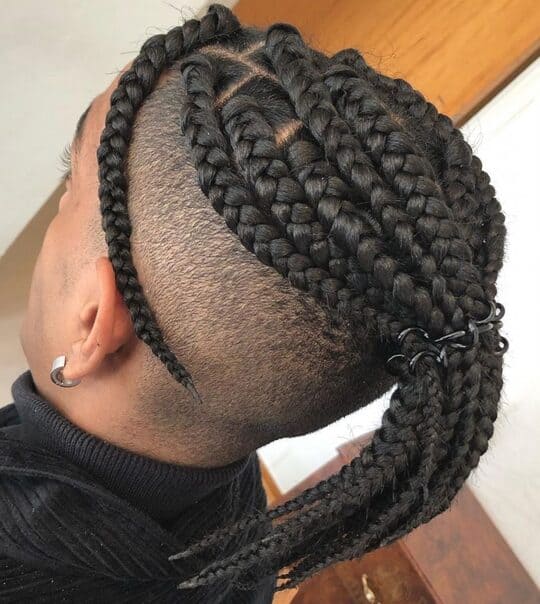 Source: menshairstyletrends.com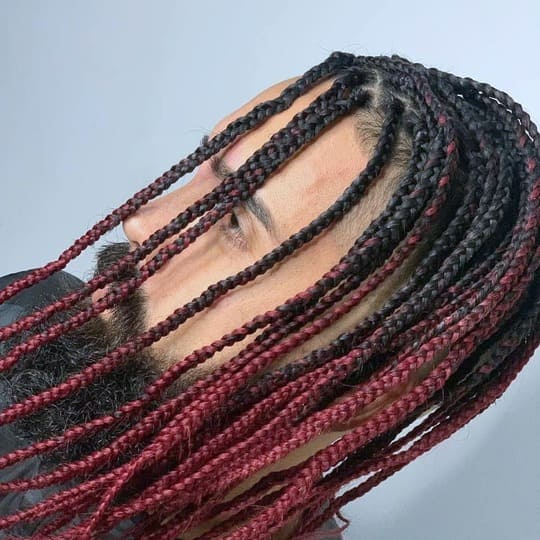 Source: menshairstyletrends.com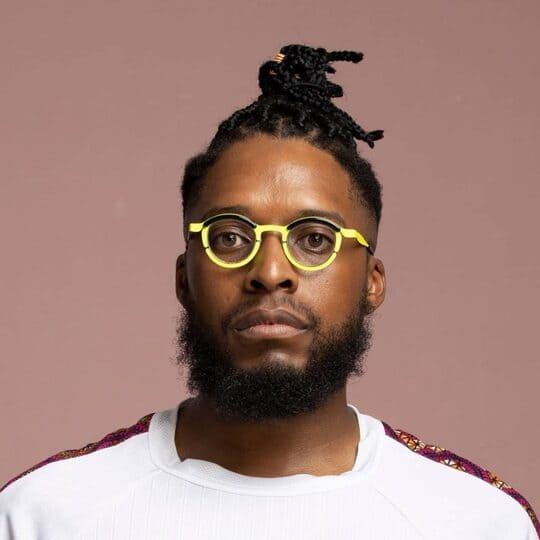 Source: menshairstyletrends.com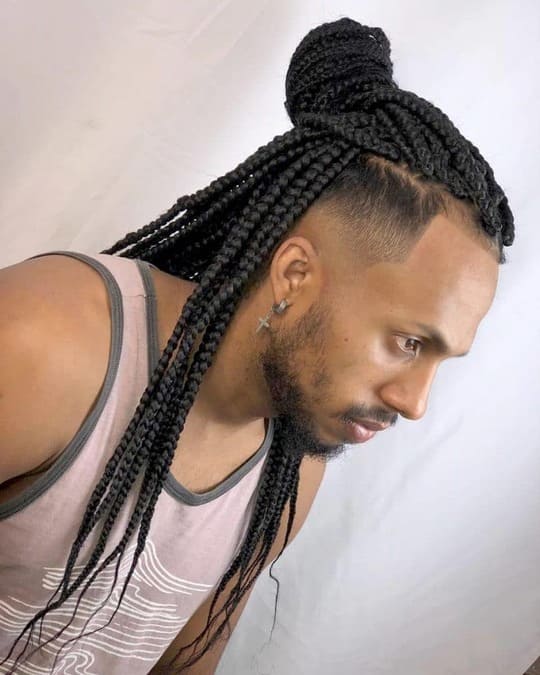 Source: menshairstyletrends.com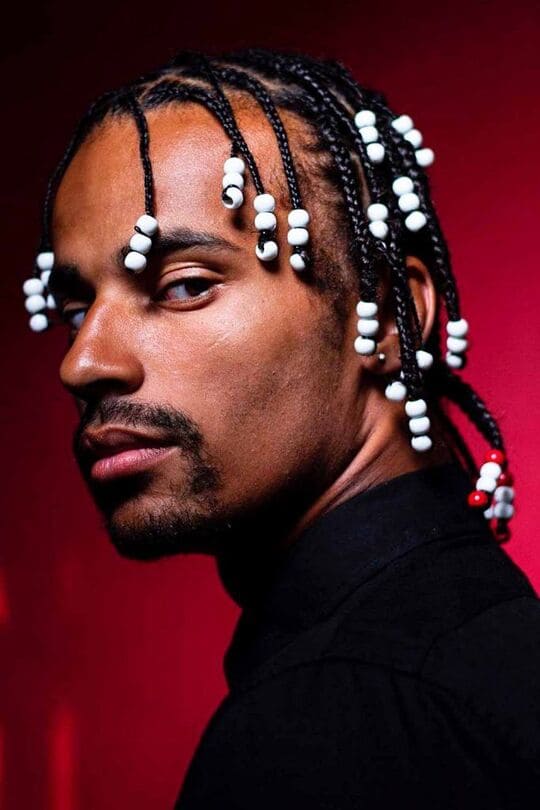 Source: menshaircuts.com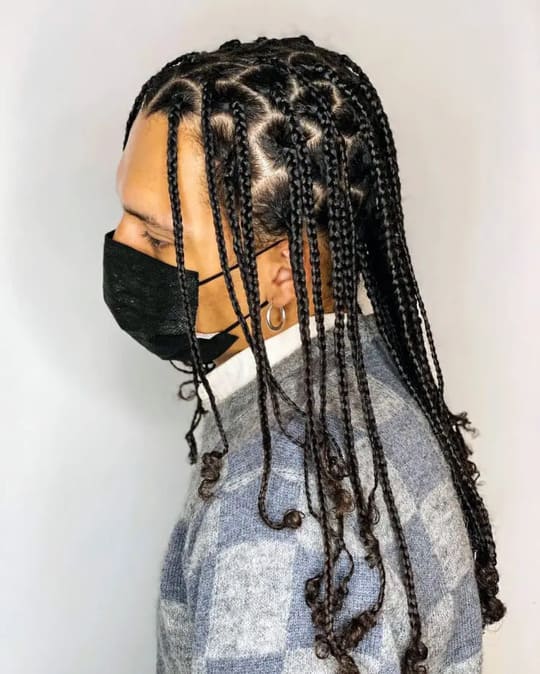 Source: haircutinspiration.com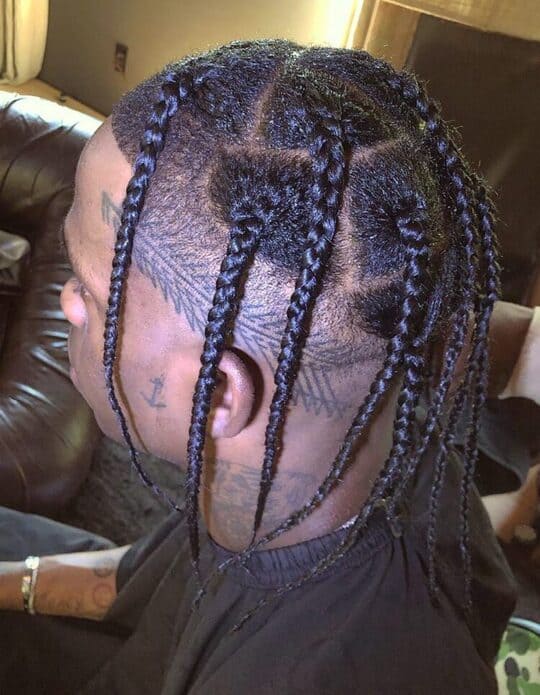 Source: haircutinspiration.com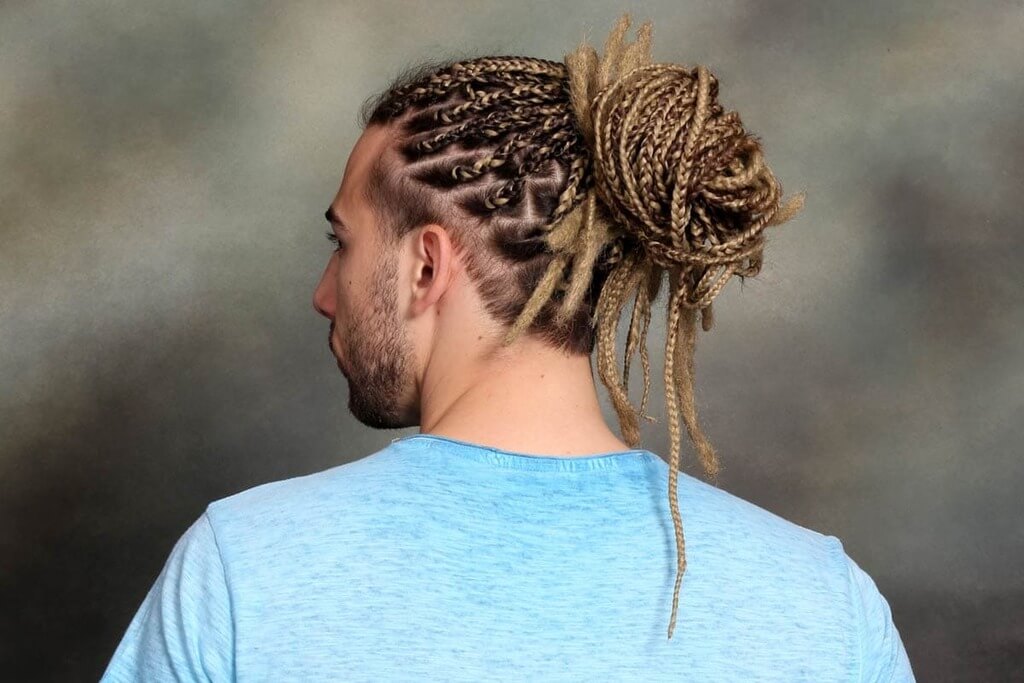 Source: lovehairstyles.com
Stay Calm & Get Box Braids Men Style! 
So this is all about the box braids for men. From stylish triangle box braids men hairstyles to thick and long box braids for men, there are so many options to choose from. You can select anyone mentioned in the above list and add other haircuts, such as fade and undercuts, according to your personal style. 
So, step up your braid game with these latest box braids for men 2023!
I hope this blog on box braids men ideas has given you some inspiration for your next best-braided hairstyle. Don't forget to share this blog with your homies looking for the latest braided hairstyles.
More from The Fashionterest
For more information about fashion, skincare, and beauty tips, explore Fashionterest.
Follow us on our Instagram page, fashionterestofficial, for daily fashion and lifestyle updates.