Are you planning to get yourself a tattoo? I am a tattoo admirer, and if you consider my suggestion, back tattoos for women are captivating. Even a tattoo artist will agree with my point that there are only a few places in your entire body that justify a tattoo design. One of them is your back.
Back tattoos and lower back tattoos are incredibly alluring if you know how to carry them with confidence. The particular back area allows the artist to showcase their skills and creativity. A woman can enjoy and flaunt the best tattoo ideas on her back. You can extend your creations with the minute details that are worth getting inked.
However, you will have to understand that getting a back tattoo will require a good amount of investment. Investment of time & patience as well as finance is both required for the ultimate result. And believe me, when I say this, you will have nothing less than a striking and tempting final design inked in your back!
If you are looking for some inviting tattoo ideas for women, you are on the right page. I have compiled some of the most trending and exquisite back tattoo ideas for women. Just go through all the ideas and decide which one of them is your perfect match.
I have tried to make it easier for you to decide which tattoos you are looking for! I have split the ideas as per your back, upper back, lower back, and utter back sections. Let's start exploring engaging tattoo ideas.
Upper and Mid Back Tattoos for Women
1. The Influencing Sun Tattoo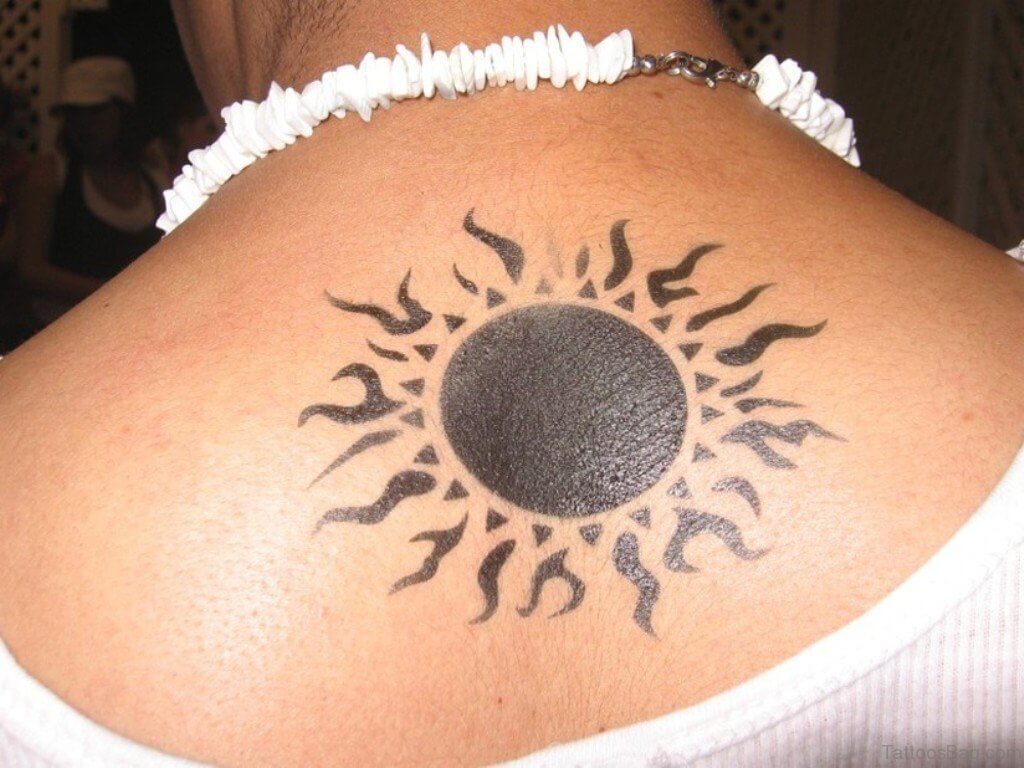 Sun back tattoos for women are exciting and simple tattoo ideas that every artist recommends to first-timers. Sun tattoo design is meant to be imprinted on the upper back. You can try different styles of sun design. From traditional to modern, detailed to simple, fun designs are always engaging and influencing.
If you are unsure what design will suit your personality, the sun tattoo is the best option for every woman. Sun is the symbol of ultimate power. Trying it on your upper back will remind you to stay positive and confident in life. Let's bring a spark with the spark
2. Delightful Lotus Back Tattoos for Women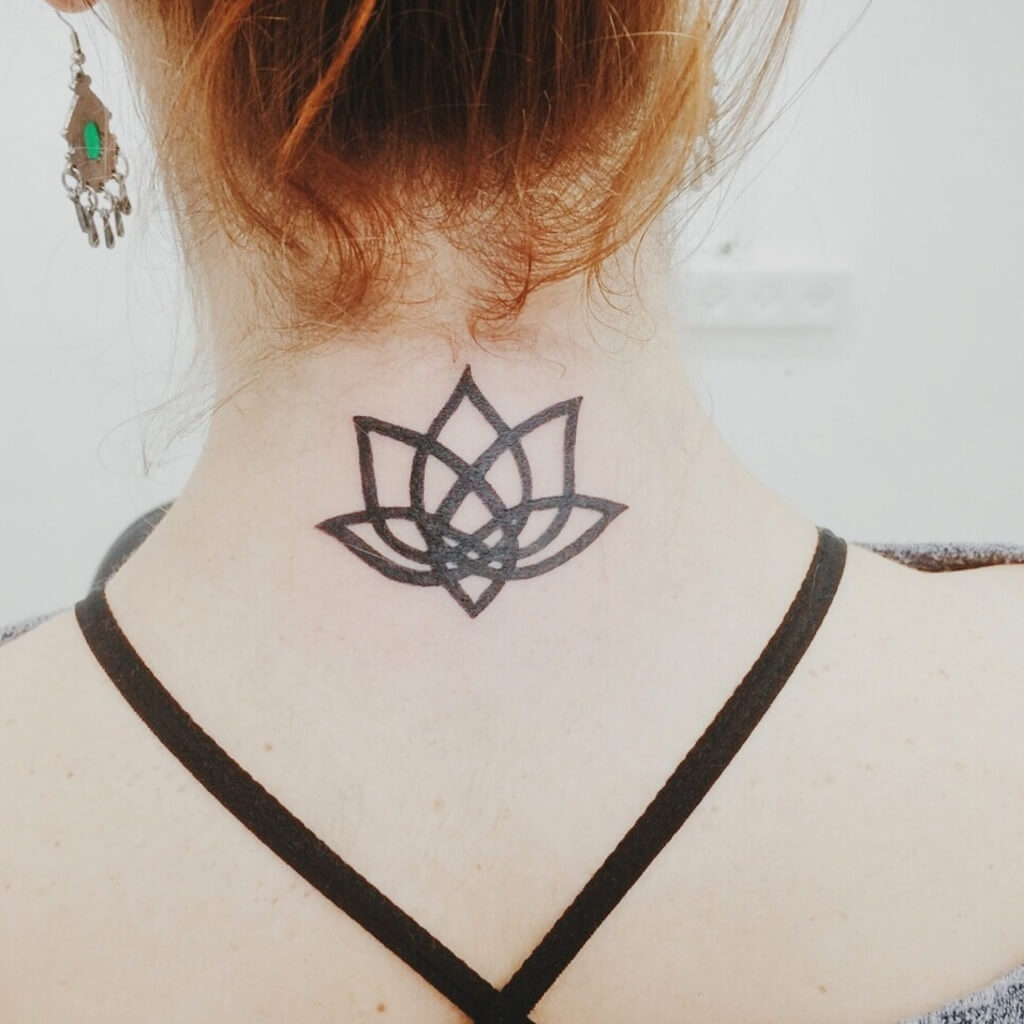 Lotus back tattoos for women are designed with watercolors or black and white ink. You can even try both using your creativity. The watercolors can add fragments in the background, while you can create the lotus details with black & white ink. I am sure your tattoo artist will get the best back tattoo with the lotus design.
The best part of lotus designs is that they can be either a simple lined design or unimaginable detailed art. The choice is yours, how do you want to flaunt the beauty? One of the most attractive back tattoos for women.
3. Quote with a Flower Back Tattoos for Women
Usually, we women try to inspire ourselves with some motivating thoughts and quotes in our day-to-day life. Why not get them imprinted on our backs to remind us that we are worth the effort?
Ask your tattoo artist whether the quote will look engaging vertically or horizontally on your upper back. Adding a flower will remind you that you are beautiful.
Darling! This beautiful upper and mid-back tattoo for women is just worth the watch. Always sexy and engaging!
4. Simplicity of Art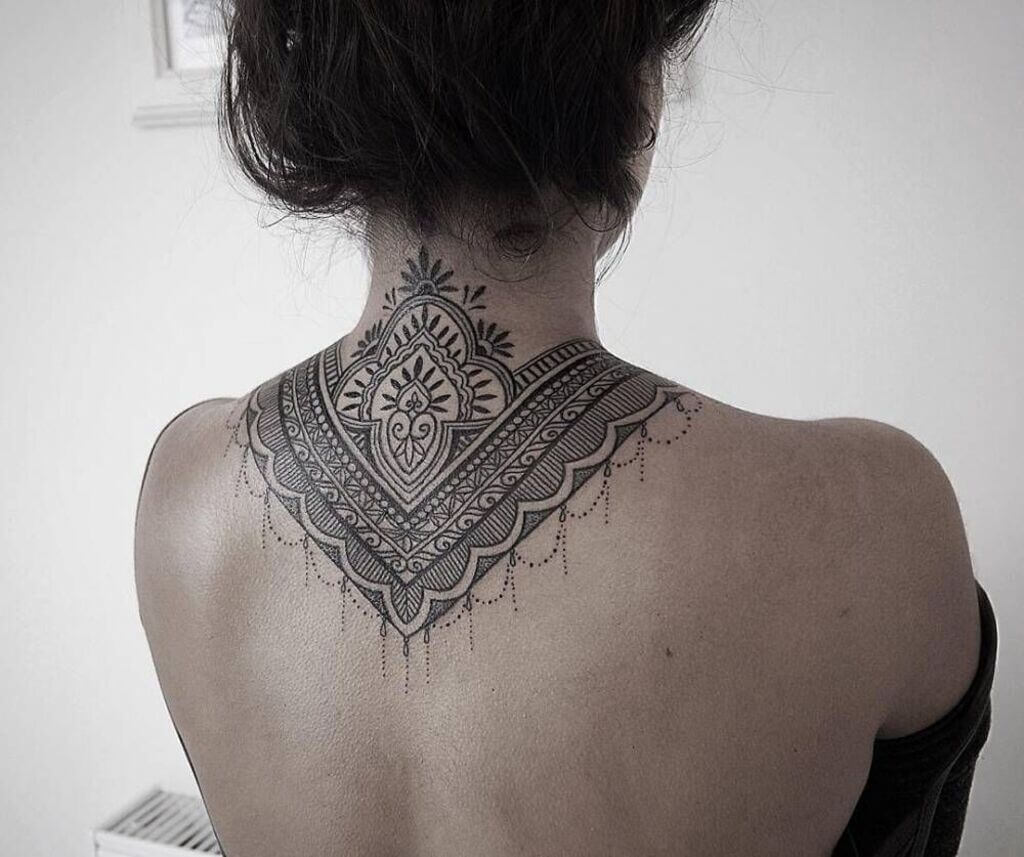 Are you craving back tattoos? Are you confused about what to get done on your back? Why worry when you have this exciting modern simplicity of art? The simple art back tattoos for women are a great way to try tattoos for the first time. They are neither confusing nor detailed in design.
Simple art tattoos for women are absolutely mesmerizing and appealing. Simplicity brings a significant, engaging factor for the viewers. Even artists believe that simple art tattoo designs are beautiful and sensual. Even if you want, you can not avoid the tattoo on her back.
5. Arrow Tattoos
Soon when modern tattoo designs took the lead in the tattoo world, arrow tattoo designs have become very popular. These arrow style back tattoos for women are very inspiring and sensual. The arrows remind every woman of the significance of having a goal in their life.
You can implement this as an upper back tattoo or an upper back tattoo. They will justify this in both situations. You have a range of design ideas for your back. If you want, you can add a scenic design or any design of your liking in between the arrows that will complement the tattoo design.
6. The Beautifying Bird Print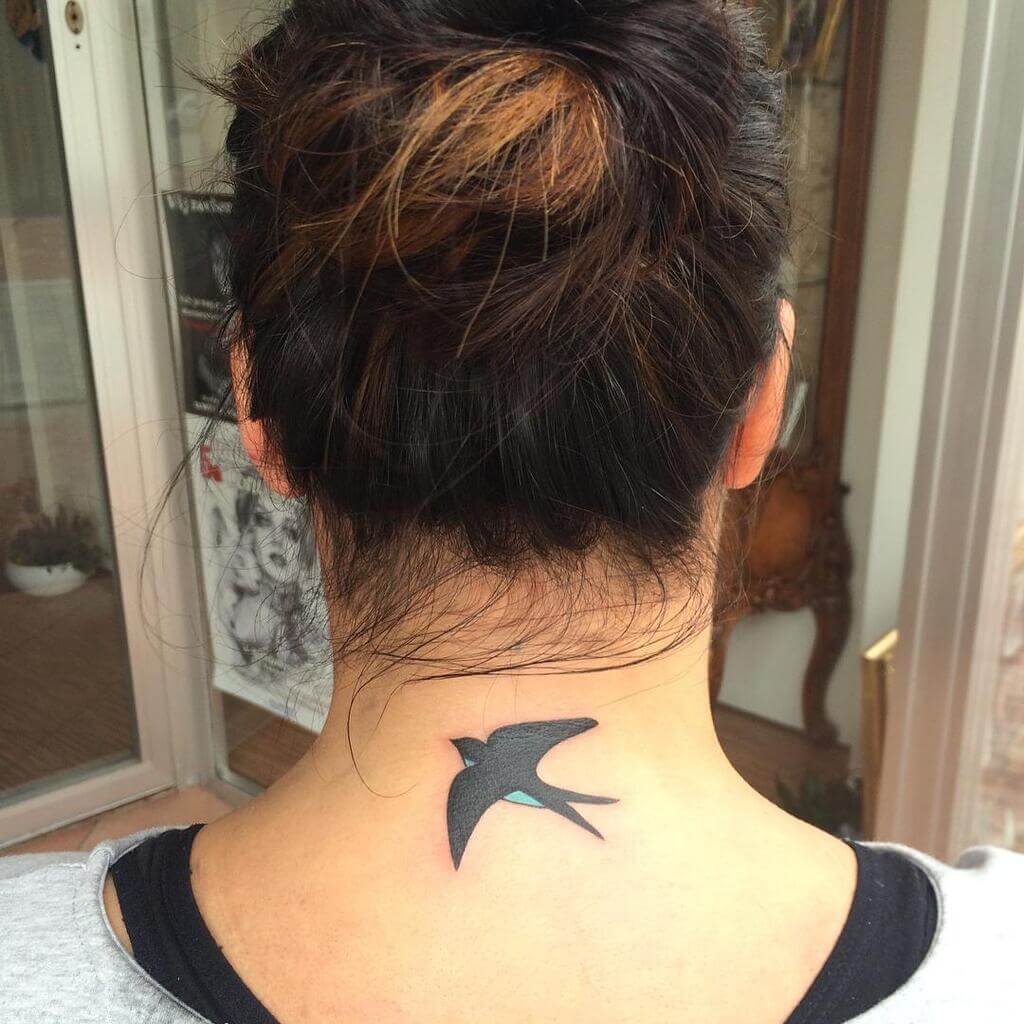 Be creative with your imagination when you are trying Bird print as a tattoo idea for women. I can tell you from my personal experience that the idea seems to be simple, but it is one of the most engaging back tattoos.
If you engrave them right behind your neck on the upper back, believe me, it looks amazingly sensual and appealing.
7. Red & Black Rose Back Tattoos for Women
The red & black rose tattoos are the most trending tattoos nowadays. They are admired and tried a lot on different body parts. The complementary colors, red and black, give the lines life and bring the best result to your expectations. Roses are the classic tattoo ideas for women. Even if you stay in the world of 2050, the craze and love for rose tattoos won't fade.
If you are looking for some challenging rose designs, ask your tattoo artist to break their limits and get you the best result.
8. Satisfying Symbol Tattoo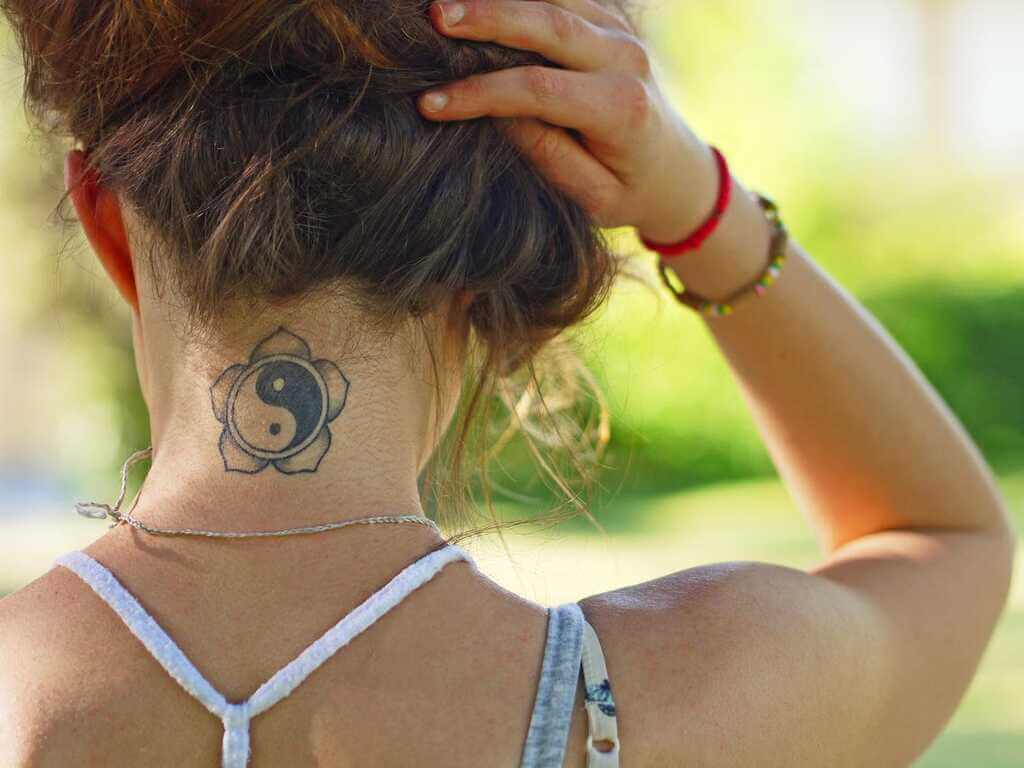 The back is one of the broader areas in the human body. The more expansive space allows you to try the best back tattoo ideas for women. If you are interested, try the amazingly satisfying symbol back tattoos. The tattoo ideas have a meaningful appearance that gives a voice to your thoughts.
If you are ready to showcase and present your thoughts to the world, you can definitely try these Symbol mid back tattoos for women. Your tattoo artist can help you with the ideal symbols, which will depict the real meaning to deliver and express.
9. Ultimate Black & White Tattoo
Black & white tattoos are classic ideas for women. Just have a look at any of the black and white designs. The intersection of the two vibrant opposite-colored inks will definitely allure you.
Find the right design for your back that will mesmerize people viewing it. As I said, your back provides a larger area, you can explore enormous designs that will look perfect with colors.
10. Owl Tattoo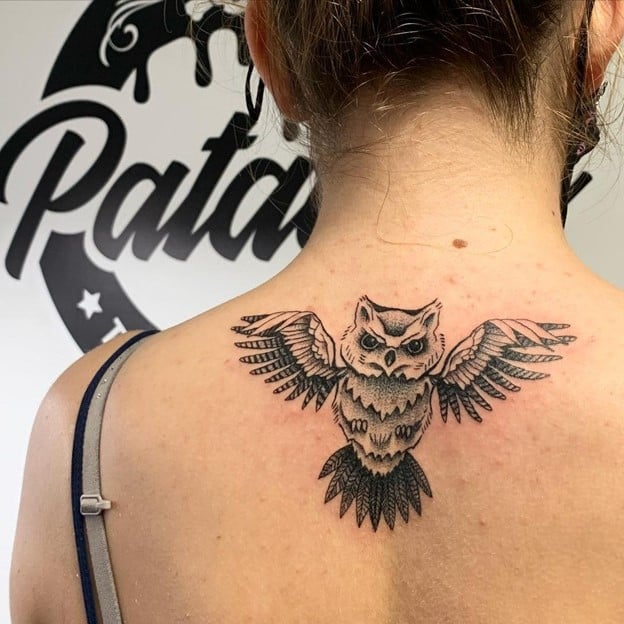 11. Wolf Tattoo
12. Elephant Tattoo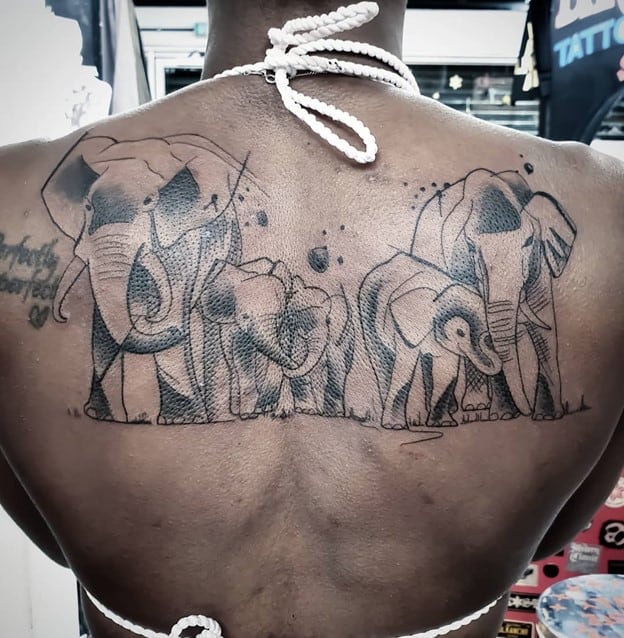 13. Date Tattoo
Lower Back Tattoos for Women
Usually, people mistake the complete back for the lower back. In contrast, the lower back has its own fun of engraving tattoos. If you are a woman to challenge the word, try some of these Lower back tattoos
1. The Fairy Back Tattoos for Women
Usually, women feel that getting a spartan tattoo on the lower back is more advisable. Whereas many professional tattoo artists believe every woman has an excellent lower back.
And if you want, you can get the best design for your lower back, sweetie pie. One such tattoo idea for women is the fairy tattoo. You get to explore a variety of designs to imprint on your back.
You can play with different colors and shades for fairy tattoos to give depth and life to the tattoo design. Let your artist loosen their creative muscles and outspread their creativity on your back.
2. Wave Back Tattoos for Women
Waves have the power to blow away your mind. If you want, you can be bold enough and try these lower back tattoos for women. Believe me, darling, the waves on your lower back will create an alluring image for all the viewers. If you love to flaunt your lower back in public, you should definitely try this tattoo idea.
Let the artist play with colors and shades to bring the ultimate feel and result of the tattoo.
3. The Masquerade Beauty
Are you the lady with secrets? As we know, people believe that your tattoo speaks up for you. So, are you wanting to create doubts in people's minds? Try this masquerade beauty back tattoo for women. They are incredibly secretive and leave people in thought of what the tattoo depicts.
The colors and lines can create a significant impact on people who are looking at the tattoo.
4. Snake Twirl
Snake Twirl is a classic wild back tattoo for women. It will perfectly set on your lower back. If you want, you can try it both horizontally or vertically. I, being an artist, can recommend a vertical snake twirl that fades out as it enters the mid-back. I promise you, this design can turn out to be breathtaking if you get it done correctly.
5. The Heart Back Tattoos for Women
Usually, girls and ladies prefer to get a heart on the upper back. A heart design is with the watch. Why hide it behind your hair and top? Go for a lower-back tattoo of a heart design that is clearly visible when wearing any short tops. It is advisable to use three colors, red, white, and black. Work on the intricate details that will make the heart look appealing.
You can ask your artist to discover some engaging heart designs for the back tattoos.
6. Classic Zodiac Symbol Print
Are you in love with your zodiac or sunshine? Try out the modern zodiac symbol print back tattoos for women. It is gorgeous and meaningful. Your zodiac sign speaks a lot about you.
Let the world know who you are before approaching you. Be bold and accept the challenges that the world has got for you. Every zodiac has its own significance.
7. Feather Tattoo
Let the feathers soothe your lower back. The back feather tattoos for women are evergreen and popular. They are popularly in demand for ages now. If you ask a tattoo artist, they discover new designs and intricacies for the tattoo idea every year. Try out these Feather back tattoos on your lower back if you want to enjoy a simple yet elegant tattoo design.
8. Circle the Tree Back Tattoos for Women
Tree tattoos are one of the classic designs. Earlier men used to admire a lot of these designs. And now, even women all around the world find this tattoo exciting and attractive.
You can try this tattoo design either on your upper or lower back. Believe me, this will turn out to be one of the best back tattoos for women in 2021.
9. Landscape Tattoo
Are you looking for challenging back tattoos for unique women? Landscape tattoos are fascinating and attractive. The colors in this design can bring immense pleasure when you see the result. Let the artist explore various details in your back tattoos.
You can keep it simple or complicated with detailed creativity.
10. Mandala Tattoo
11. Butterfly Back Tattoos for Women
12. Wings Tattoo
Utter Back Tattoos for Women
Now let us lookout for some of the complete back tattoos that are extremely sensual and worth the investment. These back tattoos for women cover the entire back, which is worth the wait.
If you want to flaunt your back with these full-length back tattoos, I recommend you look for these designs that will help you achieve the ultimate result.
1. Lost in Wild
The utter back tattoos for women are never complete unless and until you bring the wildness in them. It is the best way to portray your wildness to people. If you really want to explore wild and engaging back tattoos, definitely try this full-length lost in the wild back tattoo. It will give you the chance to explore creativity in you.
You can take your artist's help to render the best wild tattoo design for your back.
2. The Devil Woman
Devil women are one of the sexiest and most attractive back tattoos. They cover the entire back leaving behind people to wonder about the intensity of your imagination. Devil woman is a great way to make yourself realize that you are worth the respect, or you can even turn into a devil if not respected.
Ever since 2015, the full-length devil woman back tattoos have gained immense popularity. Every woman who is willing to try some challenging tattoo ideas for women opts for this tattoo. Darling, it shows how courageous and bold you are.
Explore further:-