Some future brides start fantasizing about their wedding dress long before they even start thinking about proposing. But we also realize that many of you have no idea how to even begin your search. It's easy to get lost in all the options for wedding dress designs, waistlines, necklines, and sleeve lengths if you don't have a clear vision of what you want.
Although you may have a specific wedding dress in mind, after trying on a few different styles, you may end up choosing something completely different.
1. Bateau Neck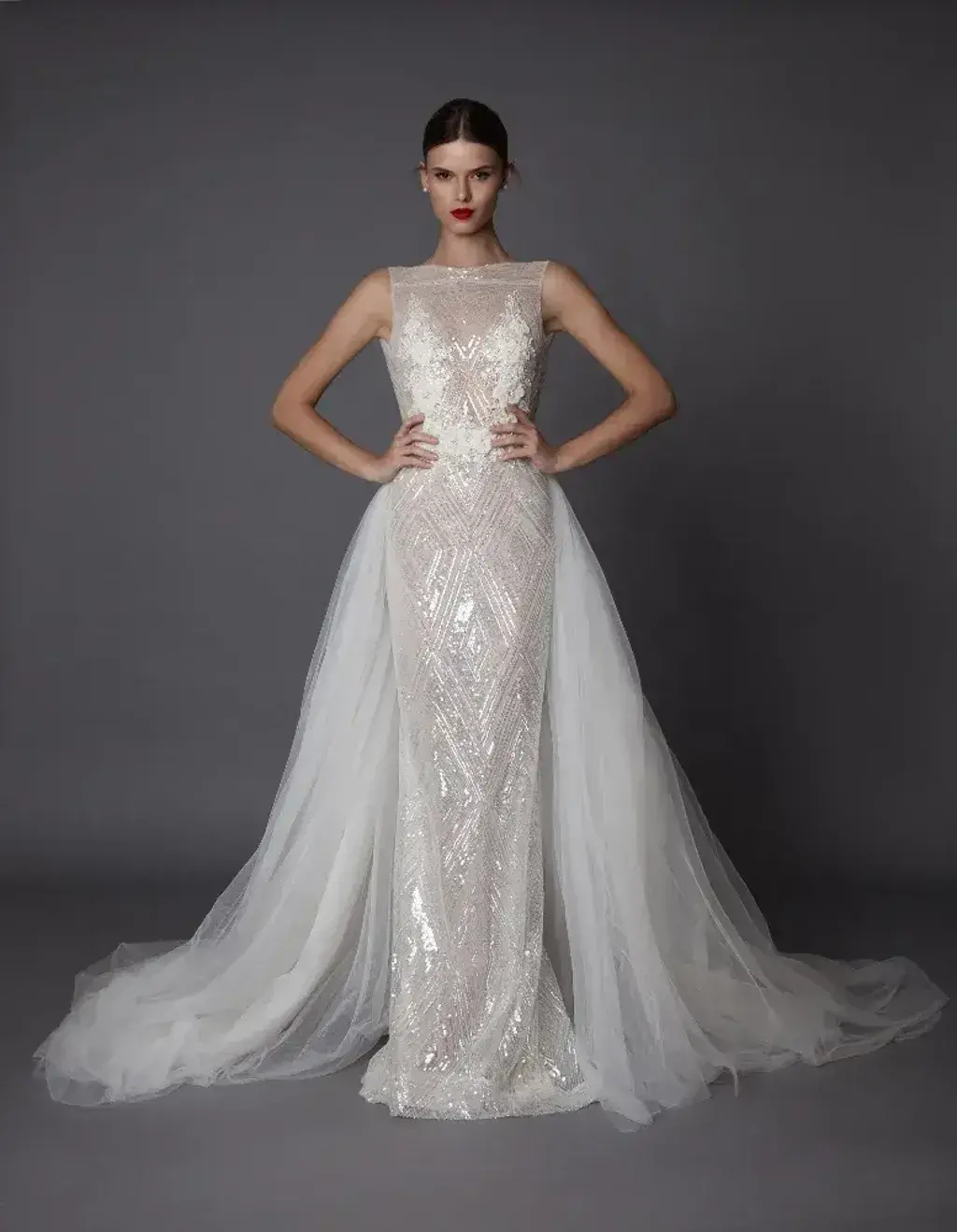 Source: bellebridalmagazine.com
One of the most elegant and classic styles for a wedding dress is a bateau neckline. It has a high neckline that just touches the tops of your shoulders and collarbones. If you have broad shoulders, the bateau neck might not be the best choice for you..
2. Halter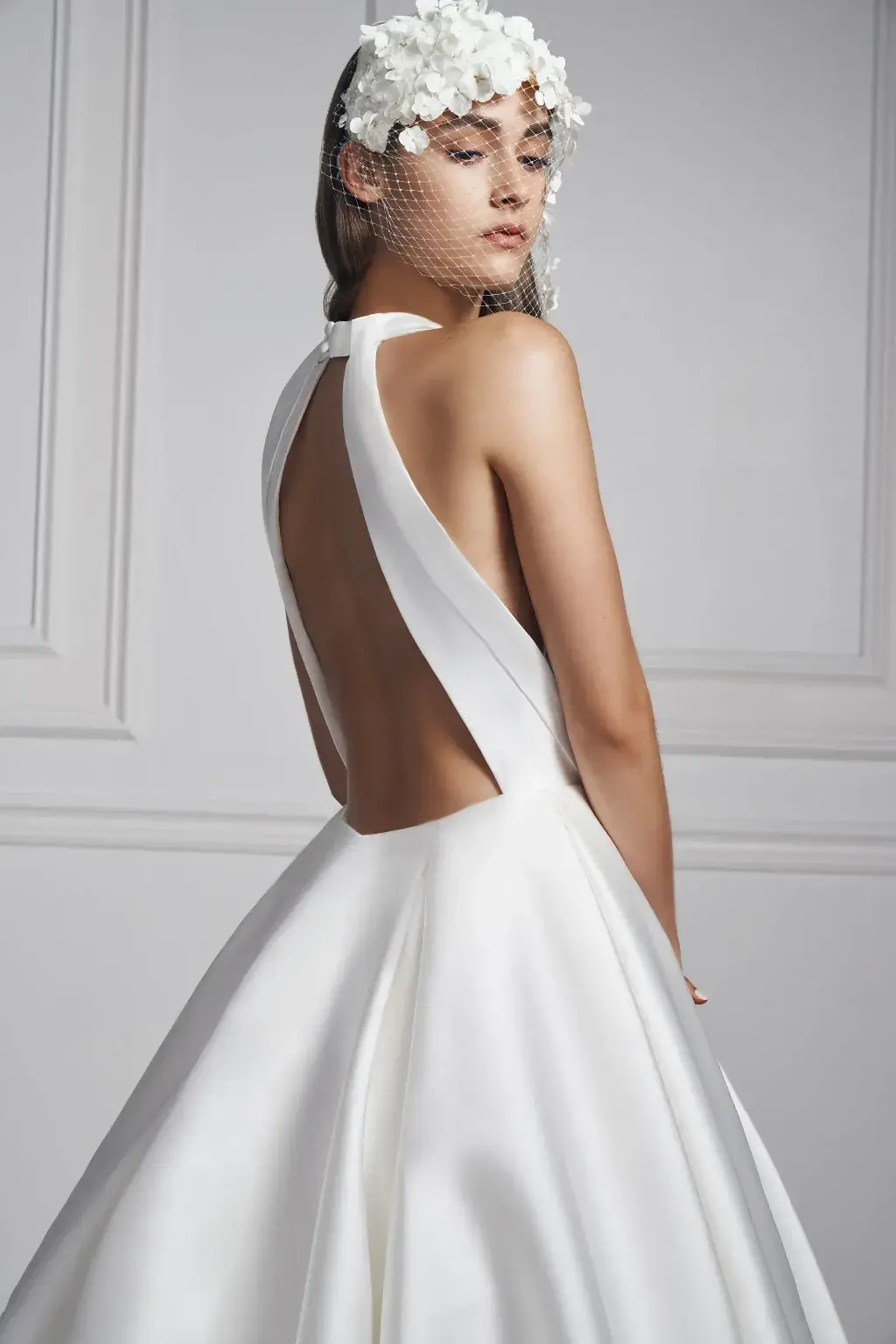 Source: pinimg.com
The halter dress looks good on everyone because it shows off your shoulders and has a low, round neckline. The dress looks like it has no straps in the back because it is wrapped around the front of the neck. This is a great option for you if you'd rather have less coverage in the back of your dress.
3. Illusion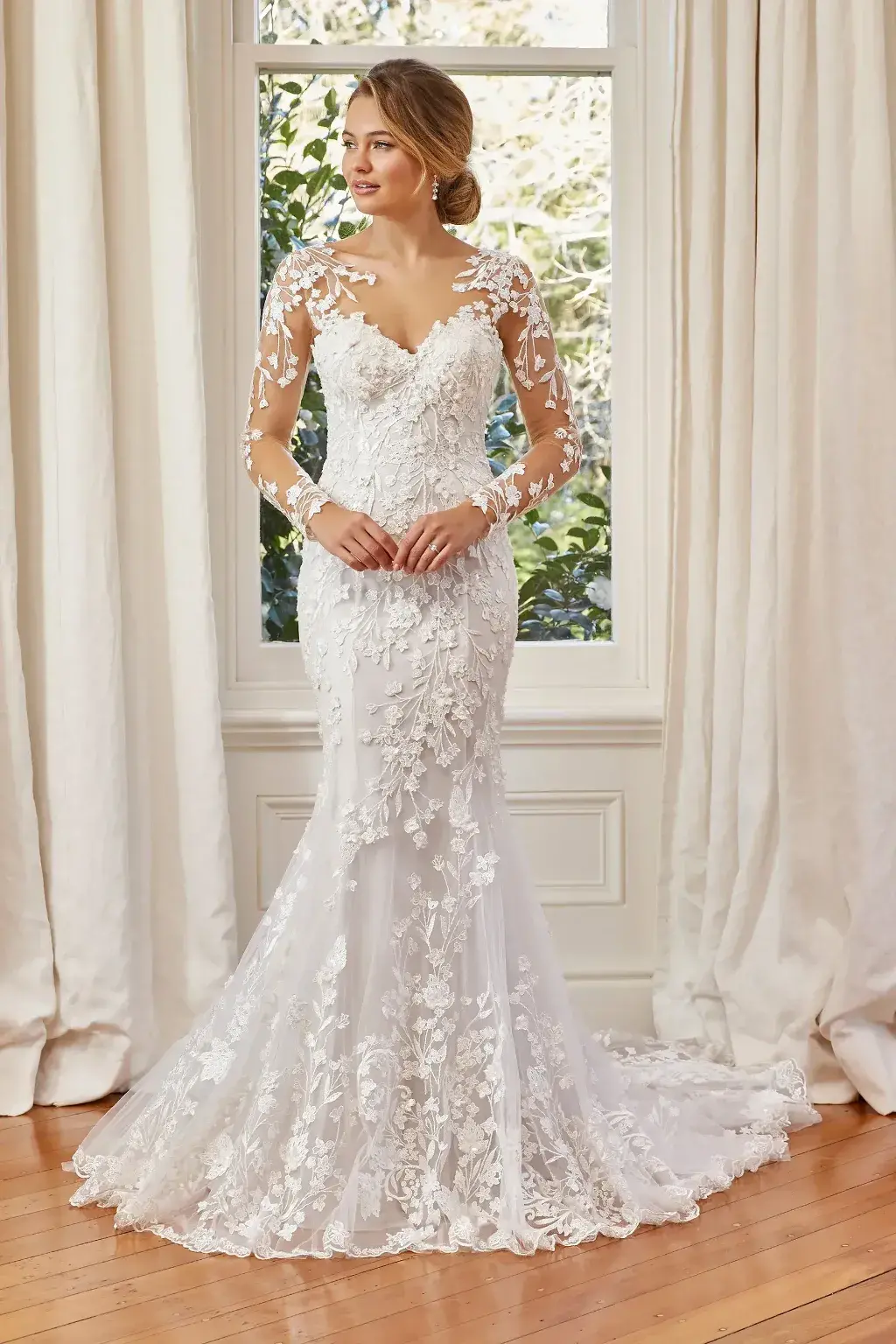 Source: sophiatolli.com
The illusion dress is less flashy than both the sweetheart and jewel necklines. Show off your collarbone and shoulders without going strapless, a sweetheart neckline is a great compromise. Most of the time, the material around the sweetheart neckline is see-through. This is one style of wedding dress that the bride might want to think about for her big day.
4. Scoop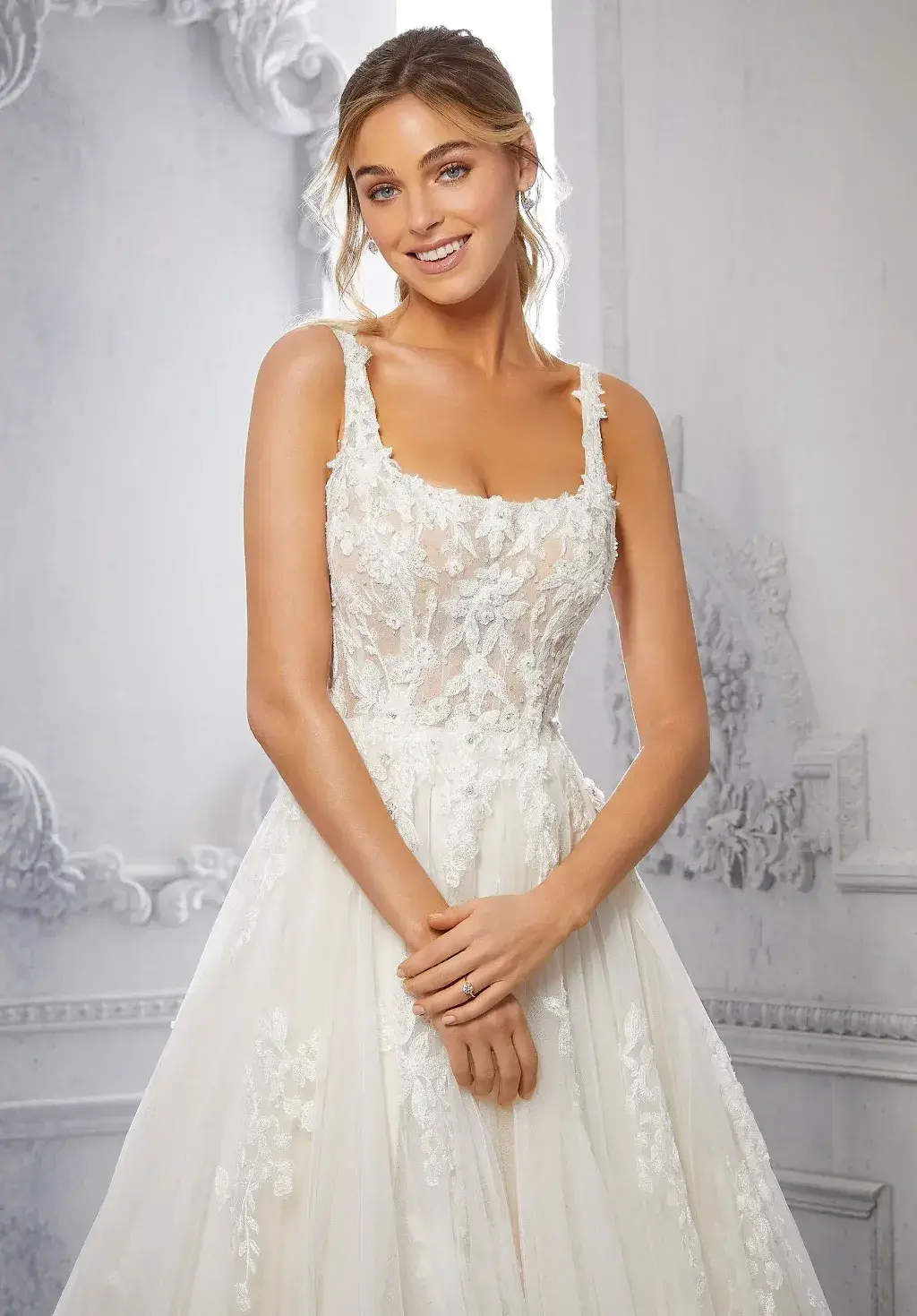 Source: madamebridal.com
The top of a scoop neck is shaped like a low, round U. It is a good choice for everyone because it is both deep and wide. It makes your neck look longer and draws attention to your collarbones. If you have a big bust, this could be a great way to show it off without showing too much skin.
5. Jewel Neck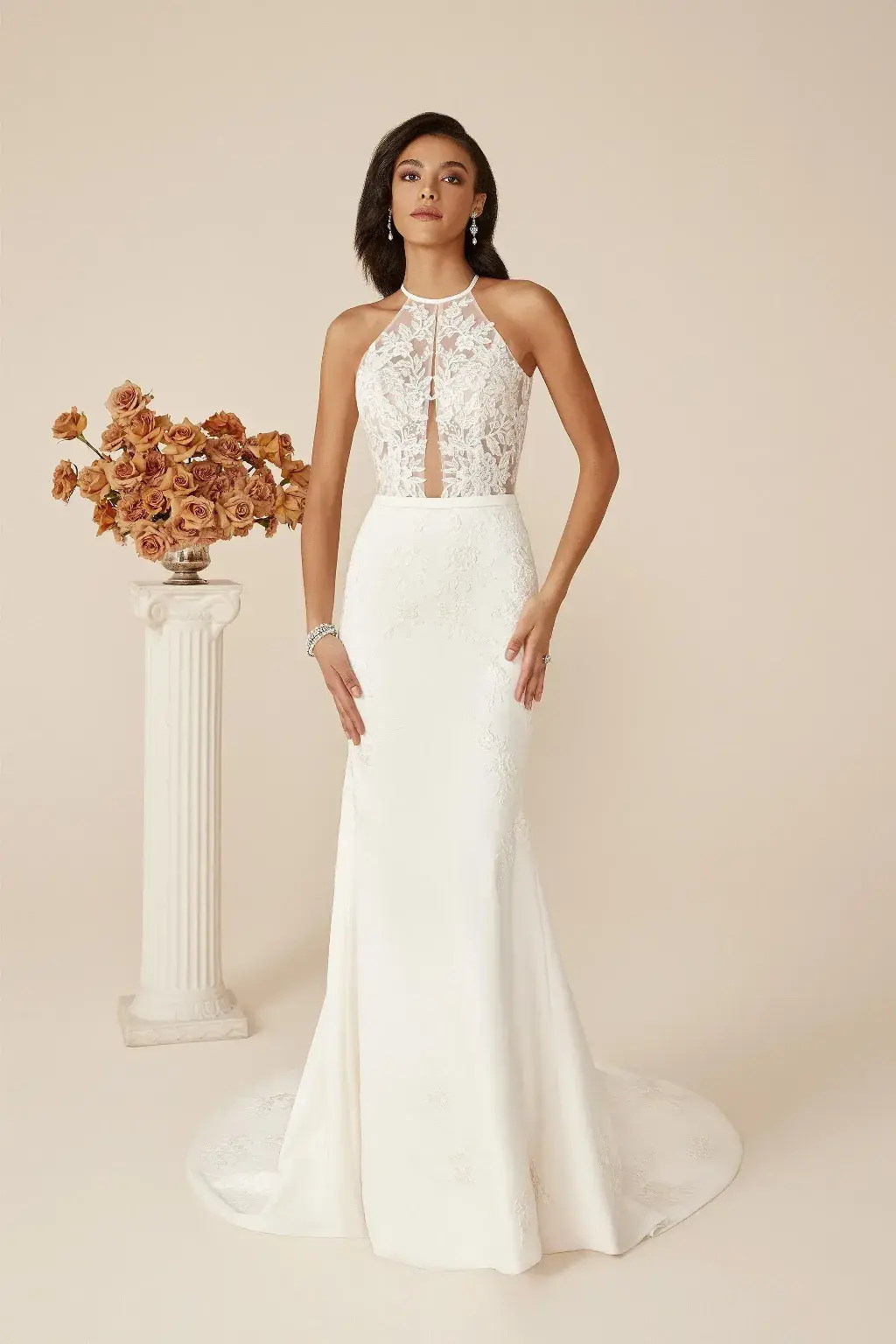 Source: cloudfront.net
The dress in jewel tones has a low, round neckline. If you have small breasts and want a modest wedding dress, this is a great alternative.
6. Long Sleeves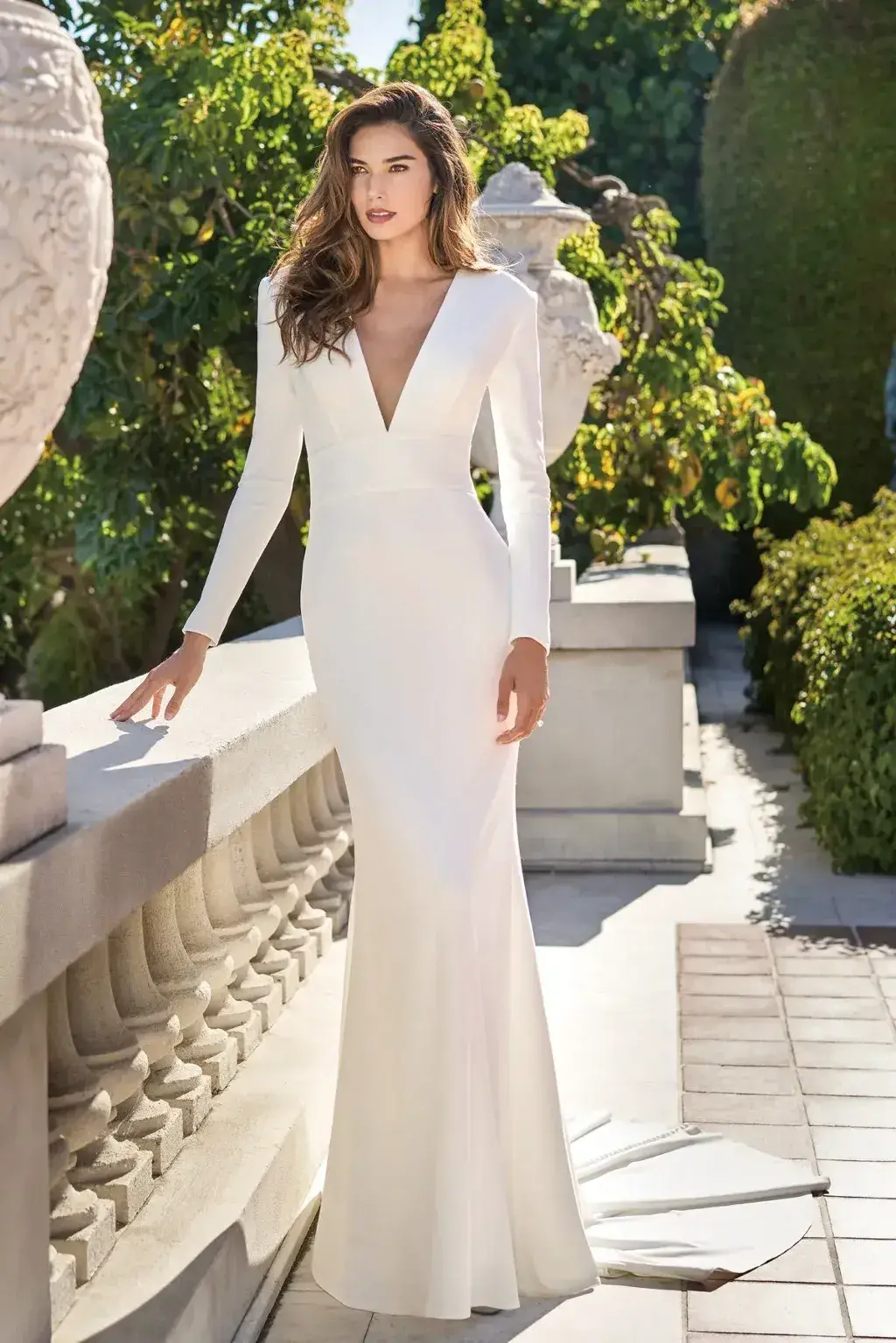 Source: jasminebridal.com
Long-sleeved wedding dresses are a great way to look beautiful and keep your arms covered. Traditional brides look great in dresses with long sleeves. But people who want a more modern look can also wear them, especially if they have cutouts, plunging necklines, and low-cut backs.
Even though fitted and sheath sleeves are popular right now, if you choose bell or bishop sleeves instead, you will stand out. On the other hand, wedding dress styles with 3/4-length sleeves are a great choice.
7. Cap Sleeves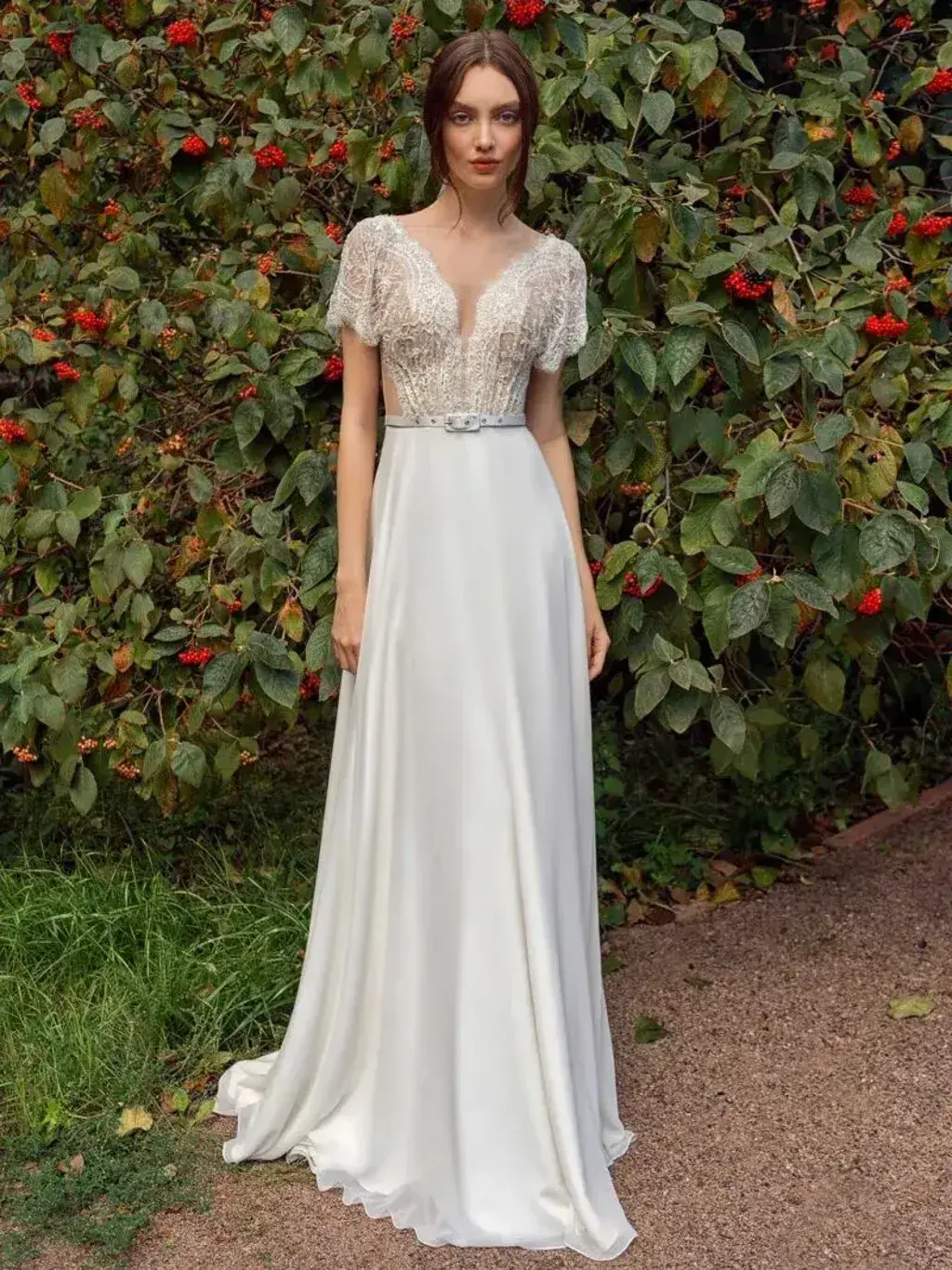 Source: papiliobridal.com
Cap sleeves are a classic detail that modest wedding dresses often have. They are a different kind of short sleeve than the usual kind because they stop at the shoulder instead of going down the arm.
8. Square Neckline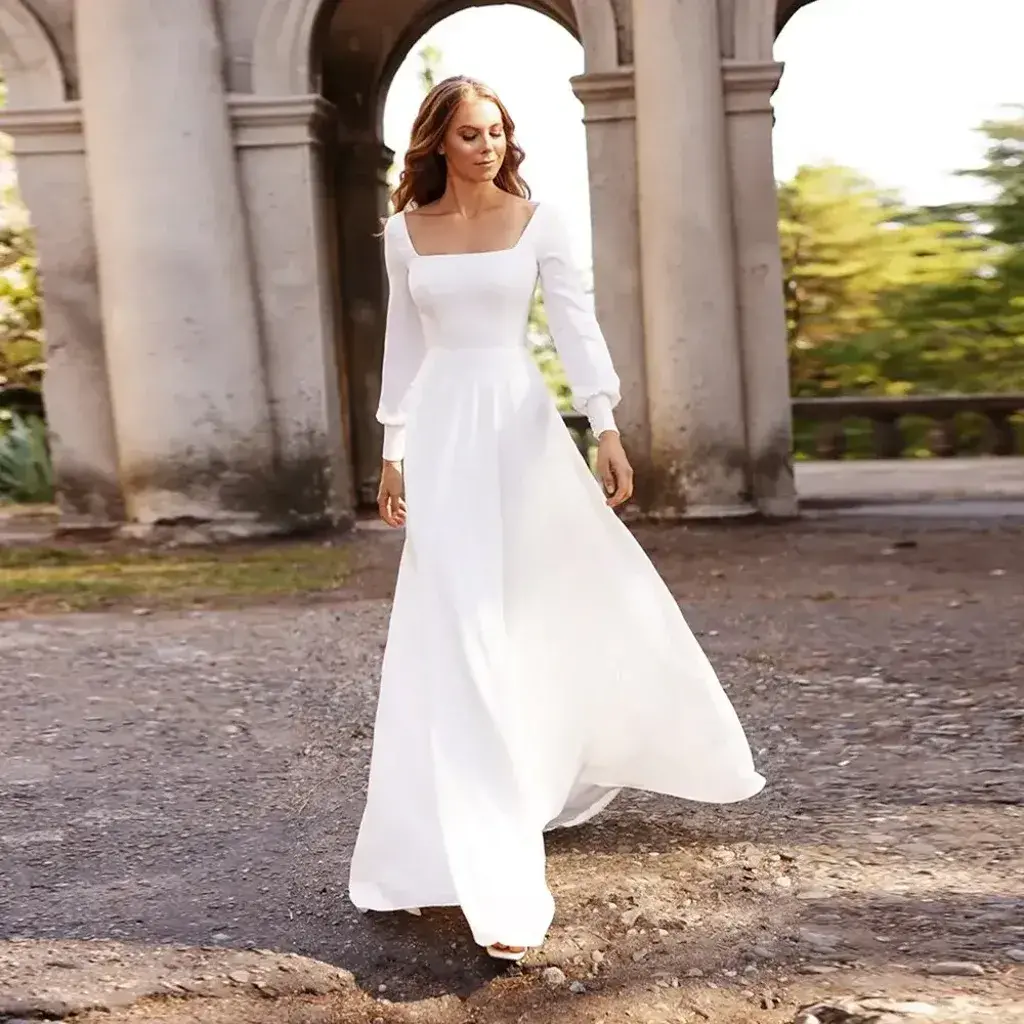 Source: alicdn.com
Square-necked wedding dresses will draw attention away from a round face and draw attention to the shoulders, making the shoulders look wider.
Also Read: Wedding Hairstyles for Long Hair: 21 Ideas for All Hair Type
9. Sweetheart Neck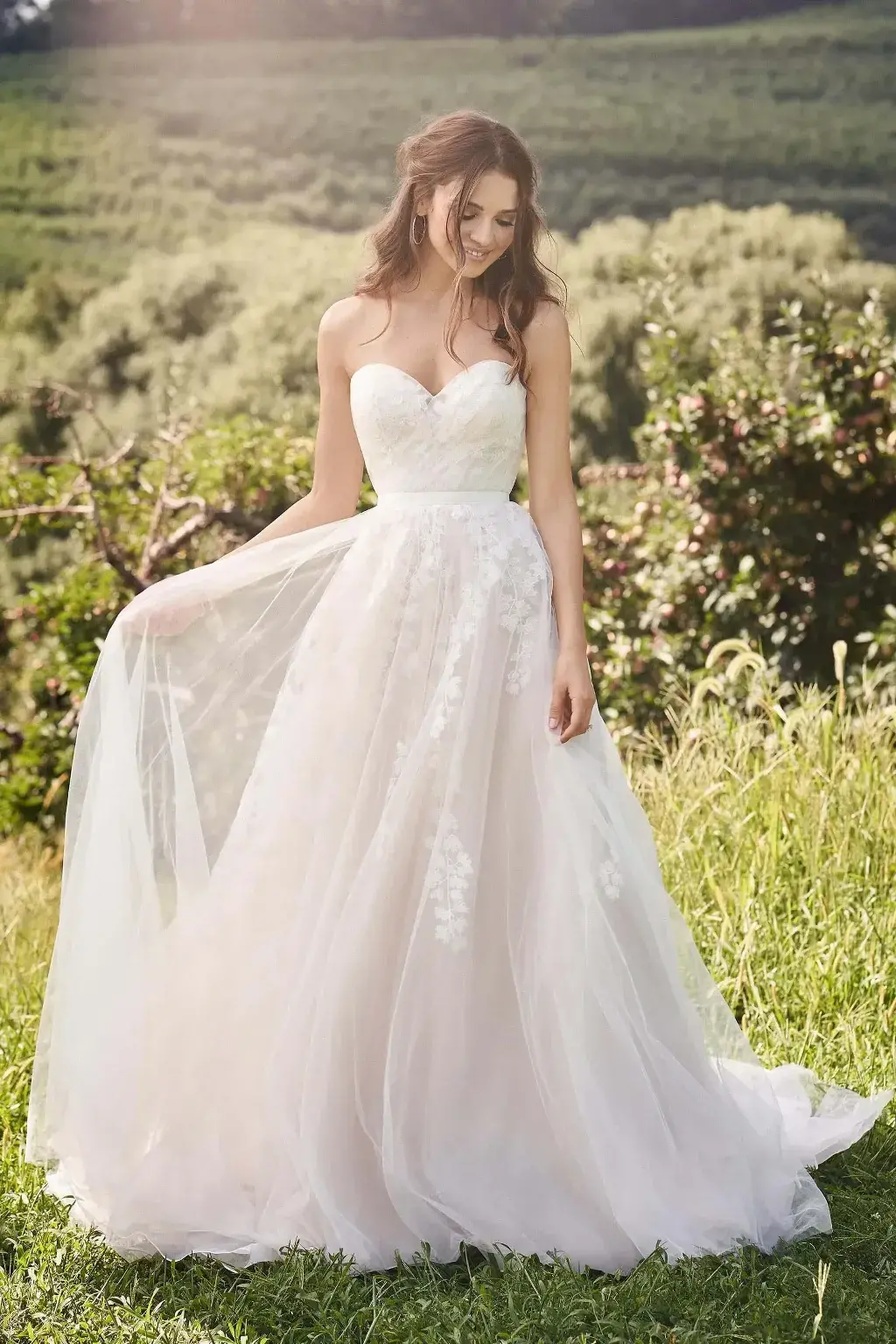 Source: weddix.de
This style of wedding dress is very popular with brides because it makes them feel beautiful and romantic. A sweetheart neckline, which looks like a heart across the bust, can have or not have straps.
It looks good on women with bigger busts because it doesn't show too much skin. The neckline is soft and well-balanced because it has curves and contours. Because of this, it looks great on people with square or triangular faces.
10. V-Neck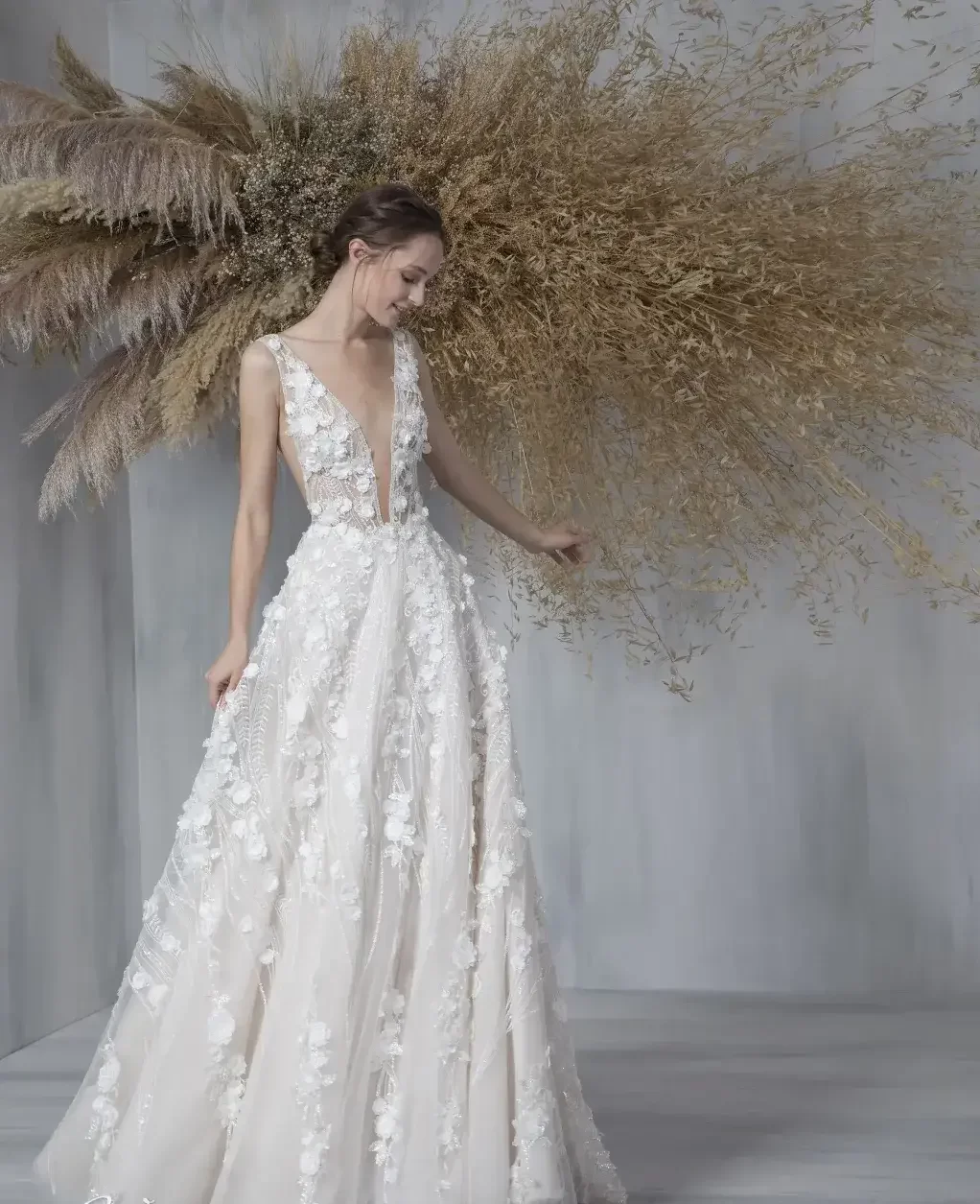 Source: weddinspired.com
Two diagonals cross at the shoulders to make a V-neckline that dips to show the neck and chest. Carefully decide how much skin you want to show, as the plunge can go from a small notch to your navel. On the other hand, if you have an apple shape, V-necks are great because they make you look taller.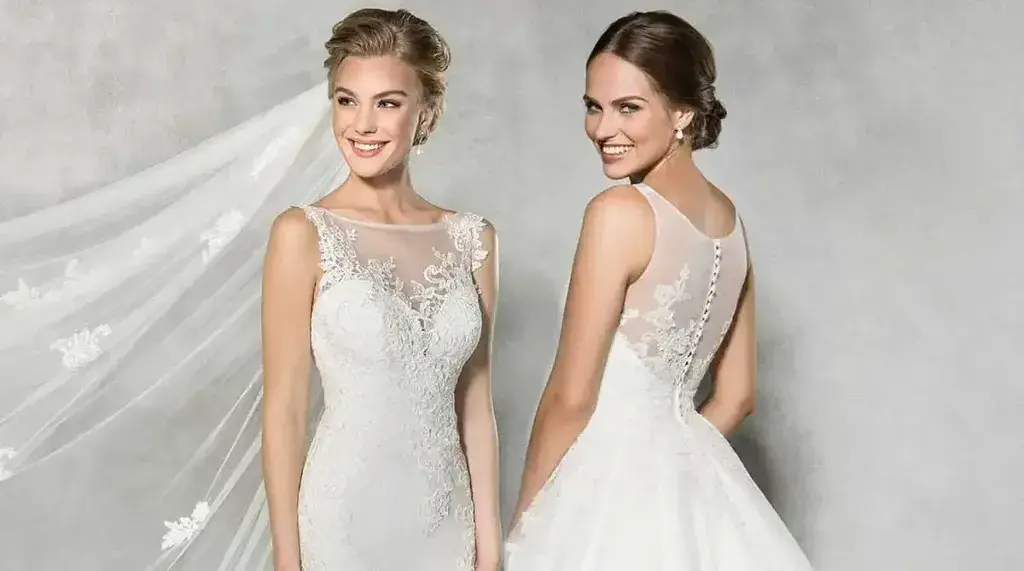 Source: wed2b.com