Welcome to the club if you are looking for creative tattoos cover ups ideas. As unfortunate as it seems, your tattoo is old or faded, and you are tired of it, or you have a tattoo regret. Whatever the case may be, you want to get rid of it.
Instead of going through painful tattoo removal, it is understandable that you want a good cover-up tattoo that removes the old tattoo design and replaces it with something new, beautiful, and creative.
Without further ado, here are 25+ creative tattoos cover ups ideas that will amaze you.
25+ Creative Tattoos Cover Ups Ideas
Here are over 25 creative tattoos cover ups ideas.
1. Go Bright
If you have a black-and-white tattoo that looks old and faded, instead of repainting it in the same black-and-white color, it's absolutely possible to cover up the black-and-white tattoo with something bright, colorful, and amazing. In fact, nobody will only know what was underneath the new brights. Believe it; a bright tattoo is quite the stunner.
2. Go Big
Although the meaning or feeling behind the original tattoo is beautiful, getting an upgrade can be a beautiful work of art. One of the best cover up tattoo ideas is going big. For instance, if you have a small tattoo, such as a rose flower on your wrist or shoulder, that has become old, faded, and in need of revamping, you can get a big red rose tattooed to cover it up. It is super creative and satisfying to take the small original tattoo and turn it into a big gorgeous one.
3. Vibrant Colors
One question people who want to cover up their tattoos ask is, "Can colors be used to cover up a black tattoo?" The simple answer is "Yes!" And creatively at that. For instance, if you have a massive black tattoo, the artist can, for instance, expertly cover it up with a stunning flower in a rainbow of colors.
Nobody will ever know that the tattoo is a cover-up since the leaf or petals that protrude from the design ensure that it covers the old ink completely. The good thing about colors is that you can play around with them and come up with various tattoos cover ups ideas.
4. Blackout with White Ink
A blackout with white ink is one of the trendy and creative cover up ideas for tattoos. This is a perfect tattoo idea to cover up and upgrade an old tattoo with something cool.
5. Go for a Mandala Tattoo
If you have your ex's name tattooed on you and you want to take it off, cover it with a Mandala tattoo. Mandala tattoos are tattoo ideas to cover up names. Mandala represents a spiritual quest as well as eternity and wholeness. It is a great option for replacing your ex and demonstrating that you have moved on and feel complete once more! To add a touch of creativity, your artist can use different colors to convey different meanings and messages.
6. Rebloom with Floral Cover-Ups
Given how popular floral tattoos have been for years, it is not surprising that a wide range of floral tattoos can be used as a cover-up. Floral tattoos are easy cover up tattoo designs with patterns that look fantastic. Best of all, you can choose different flowers to get an aura of uniqueness. While looking creative, floral tattoos help convey the message you want, such as purity and innocence or power and strength.
7. Wings Out Tattoo
Like floral tattoos, wings out tattoos, also known as bird tattoos, are one of the most creative cover-up ideas. Featuring various types, forms, sizes, shapes, and styles, the wings out of a tattoo is a work of art that exquisitely covers the old tattoo. Men usually choose eagles and other strong and dominant birds as cover-up tattoo ideas, while women typically choose doves or swans, which symbolize purity, elegance, and grace.
8. Blackout Defines Cover-Ups
Blackout tattoos are a massive trend in the tattoo industry, and you can cover any old tattoo, no matter the size or shape, with this bold, black ink. No matter how it is designed, blackout tattoos will uniquely cover your tattoos, leaving you wondering if a tattoo existed there before.
9. Cover Up with Backgrounds
If you already have some tattoo cover ups ideas, but you feel the shape might not be right to cover the tattoo, try a background. For the background of your tattoo cover-up, you could use a textured backdrop, a sun, a tree, or something creative that can offer extra coverage.
10. Go Traditional
While thinking of tattoo cover-up ideas, try out traditional tattooing. Simple patterns for a modest yet powerful design, bold, basic, uncomplicated shapes, and primary colors that pop are hallmarks of both traditional and neo-traditional tattoos. Skulls are one of the most popular and enduring traditional tattoo designs, and since they can be used in so many different ways, they're excellent for cover-up work. Traditional tattoos fit in with everything, from photorealistic black and gray patterns to conventional flash.
11. Redo an Existing Tattoo
One of the best tattoo cover-ups is a redo of the existing tattoo. Also known as "blast over," the artist doesn't need to hide the old tattoo; they simply tattoo the new design, using the old tattoo to enhance the beauty of the new tattoo. Once done, this brings the old tattoo back to life.
12. Beautiful Yet Minimal
If you fear that the cover-up tattoo is going to be big, bold, and overly colorful, you don't have to worry. You can choose to have a tattoo cover with minimal delicate, lightly shaded, and very clean colors. For example, over your old tattoo, you can have a black and grey flower and leaves cover-up tattoo with minimal ink, just the right amount of shade, and elegance.
13. Moving from Simple to Complex Designed Tattoos
If your simple tattoo is fading, adding more complexity to the design is one of the tattoo cover ups ideas to consider. If your tattoo was a symbol, how about covering it up with more distinct symbols? Or you could add new decorations to create a visually appealing and impressive tattoo.
14. Increasing the Color Contrast
If you love that tattoo so much, but the ink has faded, consider easy cover-up tattoo designs that increase the color contrast. This is great for those who have pale skin.
15. Use Animals
Aminals make great tattoos. Whether they are your beloved pets or some wild animals, they are excellent for cover-ups. There are a wide variety of creatures to choose from, and you can combine two animals together, such as a bear and a wolf.
16. Consider a Watercolor Effect
Among the most popular trends are tattoos with a watercolor impression. This style is characterized by droplet-like dots and writing that resembles wet paint. An old tattoo can be successfully covered using "brushstrokes," "droplets," and other organic effects.
17. Dotting the Covers
An emerging trend in the tattoo industry is using differing densities of accurately applied dots to produce various pictures and designs. Dot work may not be the first method that springs to mind when considering tattoo cover-ups, but they are very effective.
18. Let Big and Bold Florals Be Part of Your Tattoo
If there is anything you will take away from this list of creative tattoo cover-up ideas, it should be having florals – big and bold florals. Big floral designs cover old tattoos better than most other types of tattoo cover-up designs. They are a big fashion statement and are perfect in any color.
19. Stylish Japanese Tattoos
Just like in China, there is always something unique about Japan. If you are a fan of dragons, try out the Japanese style of tattoos. Japanese tattoos have a luxurious aesthetic and extensively use shading and motion. Japanese tattoos give off a sense of power and strength.
20. Abstract Cover-Up Design
Cover-up tattoos using abstract designs can never be or go wrong. Using a splash of colors, you can turn your basic monochrome tattoo design into something fascinating.
21. Geometric Covering
In a geometric tattoo, the sophisticated and elaborate symmetrical designs are what make a must-include cover-up idea for tattoos. This tattoo cover up idea is excellent for covering up larger tattoos. It can easily cover the old tattoo, making it appear completely fresh, using dark shading and some vibrant colors.
22. Skull It In
Ever watched ghost rider and been fascinated with the flaming skulls? Aside from being stylish traditional tattoos, skull tattoos are a classic, timeless, and common tattoo cover always in vogue. Skull tattoos allow you to be as creative or picky as possible. Even if you don't like gothic designs, you can get a rose-filled skull. Incorporating various aspects into the designs allows you to experiment with various designs.
23. Going Black and Grey
Although amazing and one of the common female dark cover up tattoos, it is a challenging design to achieve. However, when taken to an experienced artist, you are sure to leave the salon with the perfect black and grey-covered tattoo.
24. Biomechanical Cover-Up Designs
Biomechanical tattoos are one of the new cover-up tattoo design ideas that have significantly impacted the past few years. These tattoos look hyper-realistic, appealing, and amazing wherever they are placed. Due to their intricate design, they can only be achieved by skilled tattoo artists.
25. Big Is Better Than Small
Sometimes, the answer to a small tattoo is something bigger and bolder. If you have been head-racking tattoo ideas for a small tattoo, going big and bold will give you something you'll be proud of.
26. Be Free with Your Designs and Express Yourself
Nothing beats being created from scratch. Don't be too reserved about the ideas you have for a tattoo cover up. Think outside the box. Express yourself in your ideas and designs, and you are bound to come up with something cool.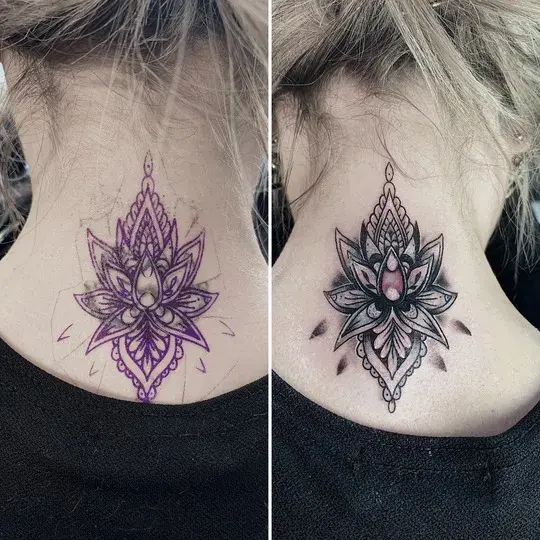 Conclusion
Now, you know that there is a wide range of cover up tattoo ideas at your disposal to choose from and get a new tattoo you will love. Hope you got lots of ideas to cover up that old and faded tattoo.
Explore further:-