Hello Spring! So, the time has come to update our wardrobes with exciting and confident spring dresses. Though I agree, some parts of the world are still under the blanket of cold. But, not to worry, let us pack the winter coats and the woolen dresses.

Every spring, you won't wear the same dress. Every year, fashion gets a new look. Depending on your comfort and style, you can choose from many options on the market. Check out these spring dresses that won't make you look less than a fashion influencer. The essential, classic, and best spring dresses you must have.
1. Go Floral Print with Round Neck Spring Dress
Floral print always looks fantastic and perfect for the spring season. No matter how old this style is, it still manages to take away hearts every spring. Light and pastel colors with floral print are just perfect for your casual day.
Planning to go for a casual day out with your friends and family, flaunt a soothing white base and floral print above a knee-length flare dress. This style will turn out as a cute spring dress for this year.
2. Polka Prints with Ruffle Sleeve Spring Dress
Ruffle Sleeves and waist fit are some of the best spring dresses. Very comfortable and surprisingly manages to give you the perfect, confident look for spring. Spring is everything about choosing and wearing light.
Choose a vise color while going out in the daytime. Bright and bold colors may come up as a challenge to manage with heart. Cool colors like blue, yellow, shades of white and pastel green, baby pink, etc., are one such color you should update your wardrobe with.
3. Style with Black & White Spring Dress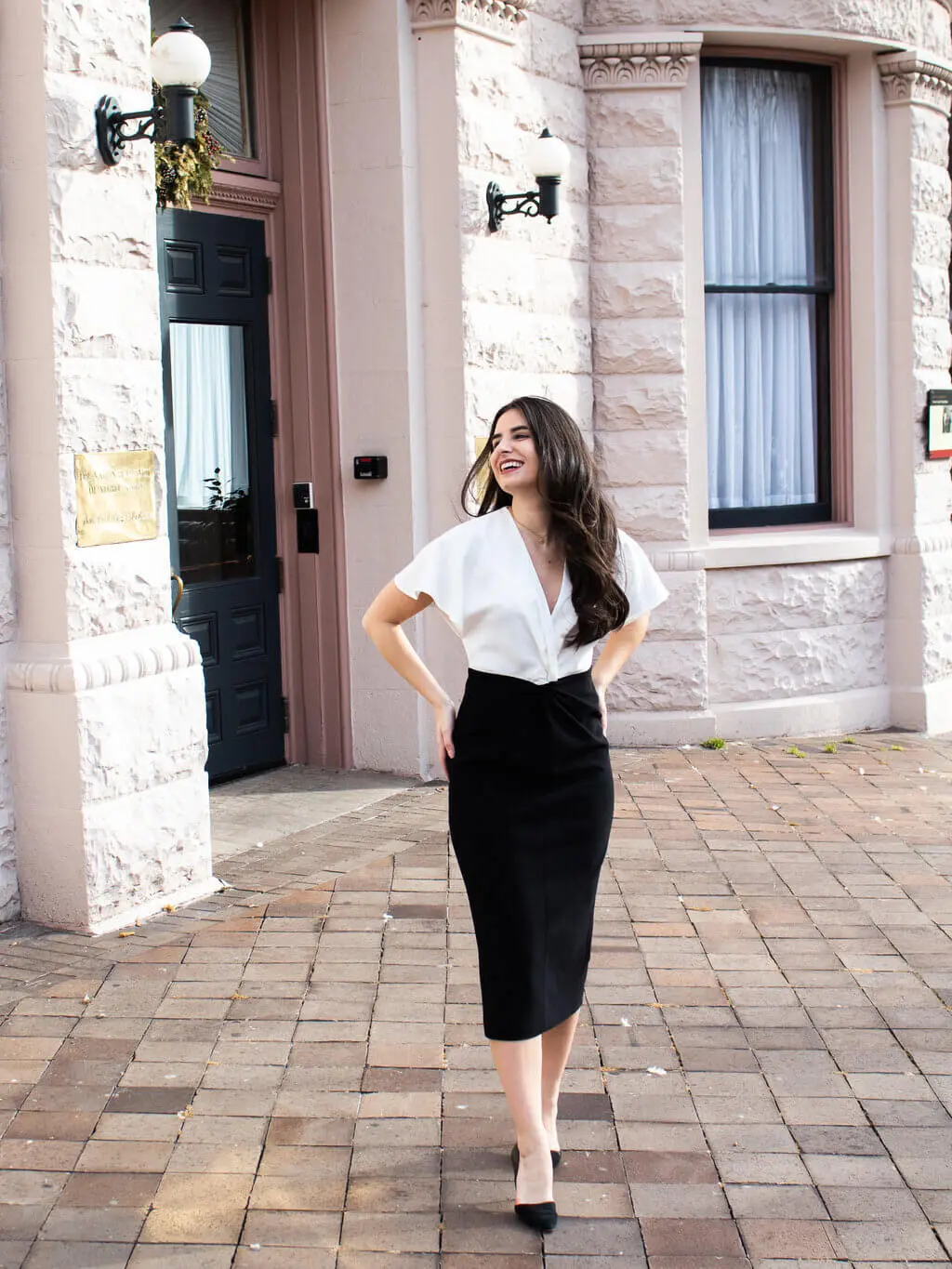 No matter which era we live in, black and white is still the classic style one wants in their wardrobe. The combination of Black and white in a spring dress makes it like a whole pack attire to slay. If you wish to be formal, casual, or partying, this combination is just perfect.
You can wear high heels, sneakers, or formal anything you want according to where you are heading towards!
4. Printed Green Mini Dress
Promoting Green this spring season is the perfect way to take one step forward towards saving the Green around us. The color does depict the message of going green and the best way to stay calm.
Did you ever know this color helps you to stay happy and calm? White snickers and a chick earpiece are just everything you need to match with the printed green mini dress. And you are ready with a perfect spring dress for women.
5. Flaunt with Cool White Dress
WHITE is one of my favorite colors. No matter what the season is around, believe me if you have nothing in white, your collection is incomplete. Yes! You heard it right, without a piece of white, it's all a waste.
A pair of wedgies or snickers, slingback to carry essentials, and a perfect hairstyle is the ideal checklist to work with this stunning spring dress. What do you think about this, girls? Do let me know in the comment section below.
6. Cheetah Print
Spring is all about experimenting with different prints that are available in fashion around you. The cheetah print is one of the most exciting and adopted prints by the beautiful ladies out there. The color and print of the dress material are so subtle that it seems to be perfect for spring.
Keep yourself minimalist and straightforward while wearing this dress for the picture-perfect spring. I am pretty sure you will rock with this print for spring if you carry the right accessories and props to wear.
7. Forever Blue with Full Sleeve
If you are not sure that going sleeveless for springs, try going full sleeve. A full-length maxi with a round neck and a full sleeve is more than enough. Blue is the right color if you want to see yourself confident. However, different bold colors will make you look solid and secure. But, my point is that there is no other color like blue.
Give this a shot, and I am pretty sure you will be happy to add this spring dress to your collection.
8. Long Sleeve Maxi
Everything is not about showing off. Spring dresses are not just about short sleeves, short lengths, prints, and colors. You need to make sure you even take care of your pretty skin when stepping out in extreme heat.
Yes, style does matter, but that doesn't mean we do not take care of the skin. You can still manage to look bold with long sleeve maxi as one of the best spring dresses in extreme conditions. Make sure you wear the right color and avoid wearing too bold and dark colors.
9. Bold Black with High Neck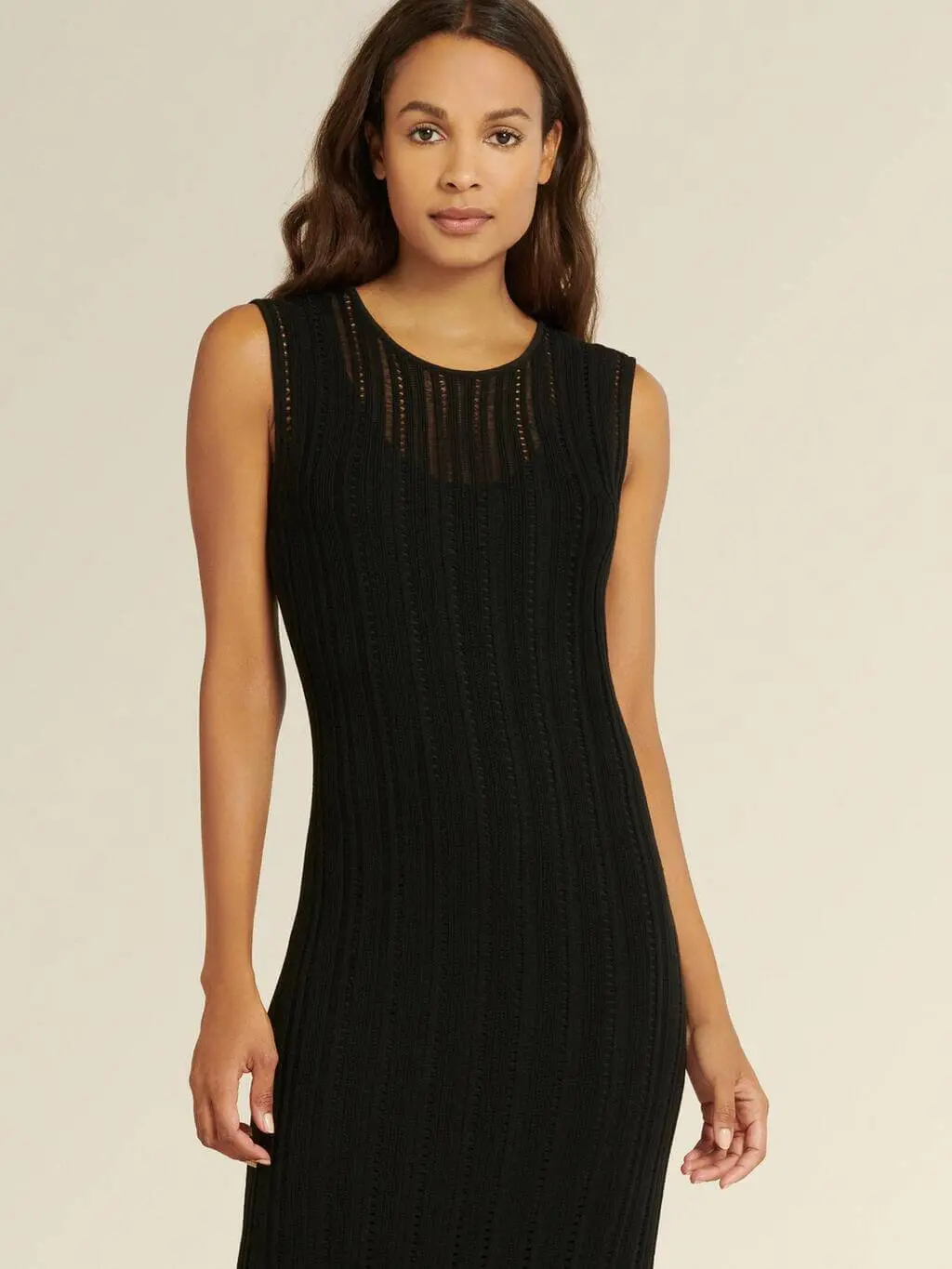 What are you waiting for? Now is the time you be bold with Black. Looking for something that brings confidence in you? Let me tell you, girls, Black is the right color and style for you! Spring evenings are all about showcasing the fashion hidden in you. So, what are you waiting for? Wear it and step out, and you have it!
Black comes in different styles, shades, and patterns. You need to step out and explore the right choice for you. Once you wear black, you will feel confident in yourself, and that is all we girls need when it comes to fashion!
10. Go Green with a Full-sleeve Velvet Spring dress for women
Spring evenings and parties are some of the best things every girl waits for to flaunt her fashion and style. I guess Green is all that we will be looking out for this spring in this year. It has become people's favorite color to carry when it comes to fashion.
A short-length, full sleeve velvet spring dress is a complete package that will make you look bold and confident. The dress that you wear makes a difference.
11. Round Neck Block Print
Block prints are the most liked prints and patterns, and pretty ladies want to carry them on themselves. They give a different level of comfort and ease after wearing it. The best part about block print is, you will get them in different styles, colors, and patterns.
You can go sleeveless, halved sleeves, full-sleeved and full length or full length. There is one more exciting thing about round neck and block print spring dresses, you can get them to stitch with any fabric.
12. Floral White Off-shoulder Spring Dress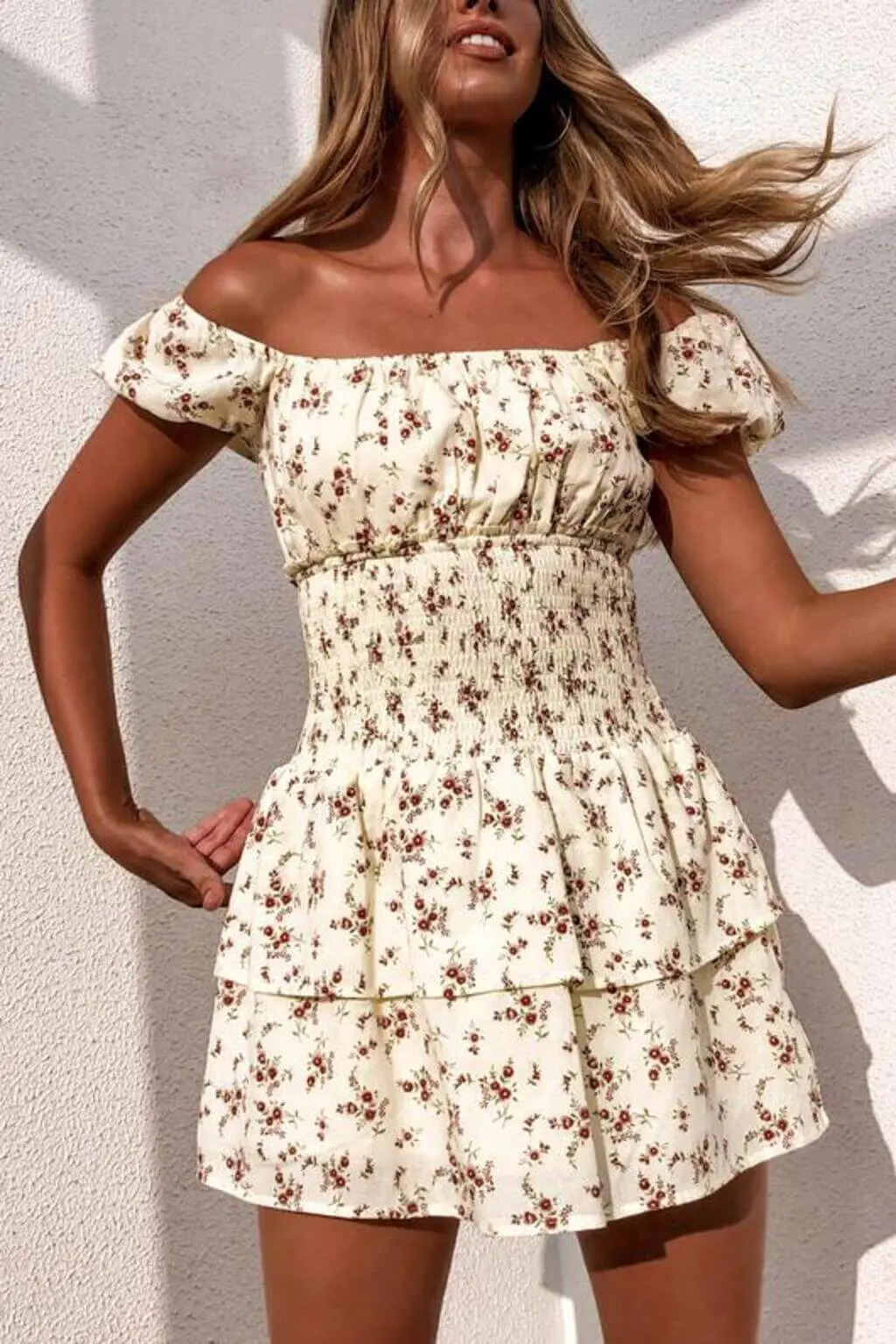 White color and floral print both together make a perfect combination as a spring dress to carry. You will enjoy the light color that gives you coolness, and the floral pattern gives a vibrant touch to the entire cute spring dress.
Whether heading to a sunny day-out or a late-night candlelight dinner, this spring dress is adoring for both situations.
13. Off Shoulder Maxi Spring Dress
Not every dress goes for all types of occasions and situations. You need to make sure that you have the right style and design for every situation. Planning to go to a party? An off-shoulder light color maxi turns out to be a perfect spring dress in your wardrobe collection.
As we discussed, dresses are according to the occasion, and spring is about being light yet bold. It is not necessary you go bold with colors, carry a bold personality with a light color.
14. Doll Collar Short Flare Spring Dress
If you think this has become an old fashion look, then you are wrong, my friend! A doll collar shirt dress still happens to be in one of the most admiring spring dresses. The right color, pattern, and style are all that you need to design this spring dress style.
No matter how old you are, if you know to wear this dress correctly, I mean it, girl, you will look fabulous!
15. Off-White Strapless Maxi Long Dress
Okay! Let us confess that nothing is perfect as the white color. A white color strapless maxi dress is one definite dress you should have in your closet. And let me be clear, white is a royal color, not everyone can carry it.
The right color and style will help you look confident in this look as a spring dress. Choose all the accessories and styles according to the spring dress you are choosing.
Now that we have seen the different spring dresses you can have in your wardrobe collection. Let us know what all accessories are also necessary for your spring collection.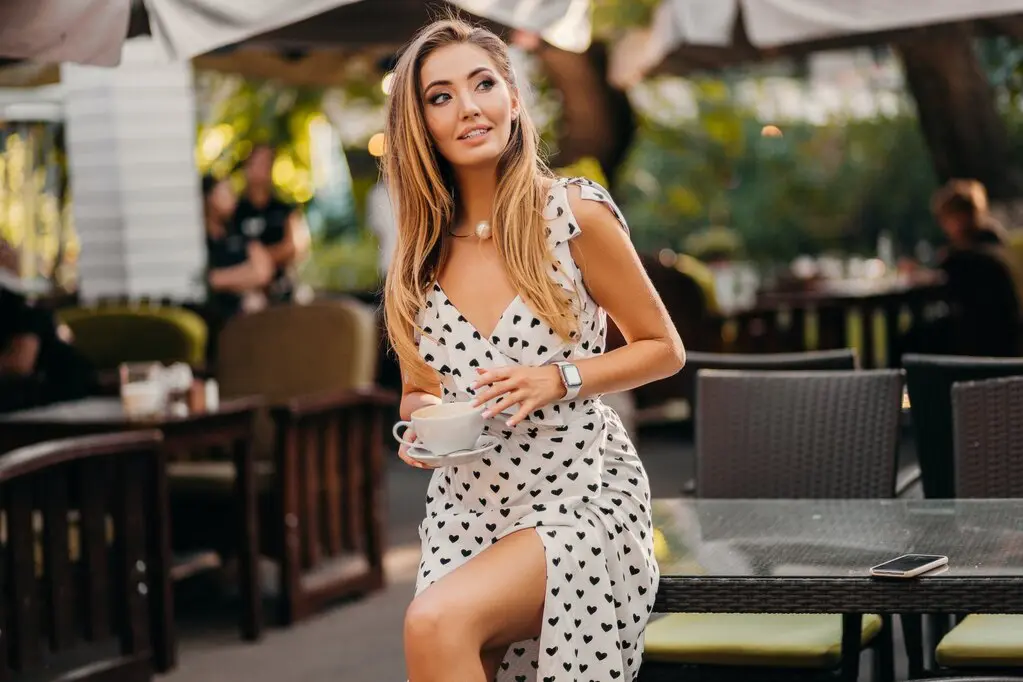 Prints for Spring Dresses
We saw some exciting spring dress styles, let us see some of the prints you can try this spring.
Block prints are designed with the help of imprinting wood or blocks on the fabric's surface to give it the perfect block look. It provides a different feel and flair to the attire.
Floral prints are nothing else but a garden theme, flowers, leaves, and birds imprinted on the fabric to give it a feel of liveliness and excitement.
If you are a fan of animals, you can avail yourself of the animal print fabric for your cute spring dresses. The prints are inspired from different animal skin patterns. Some of the most adapted prints are the; snake, cheetah, and lion prints.
Paisley prints are intricate and colorful patterns that have a teardrop shape and colorful motifs printed on them.
Large circles printed at regular intervals are very famous as polka dots. Polka prints are one of the most admired prints by fashion designers. It seems that the print has made a significant impact on people's hearts.
Colors for Spring Dresses
Now, let's move on to see what colors will suit spring dresses for women.
Lemon yellow is a vibrant shade of yellow. People love the color because it is so soothing to the eyes that it doesn't matter whether you wear it day or night.
The color black is bold; still, there is no such season that does not have Black. If going for black, try to wear it once the sun has set of the day and is comparatively not too temperate.
A perfect color for spring. The color gives you immense pleasure and joy. Neither too bold nor too light, just perfect. You can try different prints to make it more attractive and appealing.
Spring is somehow the color of Green. You will find green everywhere, and that gives a relaxed feel to us. So, why not adopt it to our cute spring dresses! All shades of Green will help you stay cool and slay the outfit with confidence.
No matter what the season is, blue never loses its charm. This will give you the happiness and confidence to wear.
A pastel color is perfect for the season. Spring turns out to be the best season for exploring pastel colors, especially baby pink.
Accessories with Spring Dresses
Spring dresses are always incomplete without the proper footwear. For this spring, snicker is one such footwear that will always suit perfectly all kinds of spring dresses.
Still, make sure you have the proper collection of footwear to make the right match for the entire attire you are carrying for the spring season.
For a girl stepping out of the house without a handbag sounds next to impossible. There are some essential things you have to carry with you while going out. Though there are pockets available in dresses now, it is still better to take a handbag.
Different sizes, styles, and colors of the handbag make a difference to the spring dress, thus creating a wise and smart choice in choosing the right bag is the right thing to do.
Wearing a belt on your waist gives the correct shape to the dress. It provides a defined look to the entire dress. Having a good and variety of collection of belts is an intelligent choice.
Belts are available in different materials. If not interested in going for variations of colors, at least have a black color belt in all the materials to match your cute spring dress.
Necklaces and earrings are one such prop without which your dress and look are never complete. Yes! I am sure you all girls will agree to this. So do not dare to make the mistake of not wearing the perfect match.
Spring dresses are usually light and comfy, so, if you want, you can wear a heavy ornament to balance the look. You may even keep it simple and light to blend it with the attire. The choice is yours!
As we all know, the world is going through a challenging phase fighting against the COVID-19 pandemic. Let us be careful and keep ourselves safe by wearing the best sustainable face mask in such a situation.
The Conclusion
Spring is the season of joy! So, why do we compromise with the best spring dresses available to us? Go for it, girls. You have the option to slay your fashion, so don't miss the chance. We saw so many different spring dress styles, found the perfect match for yourself and added it to the spring collection.
For more information:-