It's June already, and we all can feel the hotness of the summer air. And as we get out our summer wardrobes, it can seem like something is missing there. Yeah, of course, with the pandemic and all the other problems in the world right now we can forget about ourselves, our comfort, and our style. Fortunately, some brands never forget those things. The Sleeper clothing label, for example, still manages to surprise its customers with fresh designs.
The brand's most recent summer collection has everyone talking about all the cool outfits for the next three months. As a brand of not-so-sleepwear clothes, Sleeper continued its tradition of producing outfits on the edge of homeware and casual styles. Indeed, the brand has carried this tradition through all of its lines – from the Party collection to the Bridal capsule. This theme is what distinguishes Sleeper from other similar brands. However, it is also something that has inspired a lot of upcoming, as well as classic designers.
Due to the huge outburst of attention towards Sleeper and its ideas, the fashion scene started changing and evolving to the next level. Brands started to consider the factor of practicality and comfort in their clothes more. Designers started to introduce those notions into the style which undoubtedly changed our perception of the purpose of clothing and fashion. Such a revolutionary spirit can also still be sensed through Sleeper's recent clothing line.
An Impressively Refreshing Summer Collection
So what exactly is so special about this newest Summer Market collection? Let's start by saying that Sleeper loungewear was designed to be the most comfortable type of clothing from the very beginning of its production. And this hasn't changed one bit. This summer's collection has only upheld the point that the brand cares about comfort as well as the style of the outfits. That's why they created the line of clothes made fully out of a natural material – linen in particular. Such a choice is unsurprising for Sleeper.
They always use only high-quality fabrics, and if they are natural fabrics, they are always 100% such. Besides, linen is one of the most breathable materials, making it the perfect choice for the creation of a summer line. Not to mention that linen clothes are pretty easy to take care off:
They are machine washable.

Can be dried out by air.

Can be easily ironed.

If it happens so that the material creases while wearing, it still looks presentable.
The collection presents a lot of different styles. There are unisex pajama sets in a variety of different colors from cream to lavender, linen lounge suits with ruffled shorts and tops, and a Rumba design of a linen suit which is a fun twist on usual nightwear-suit-classic. There are also some sophisticated options of swimwear, such as Ariel swimsuits and Ariel or Opera bikini sets. However, besides all of this, there is also a variety of options for gowns. One of the most beloved pieces is, of course, an Atlanta linen dress. This gown has quickly reached cult status among Sleeper fans. Signature adjustable sleeves, shirred bodice, and a flowing skirt – this piece has everything a perfect dress needs.
The Sale You Need to Know About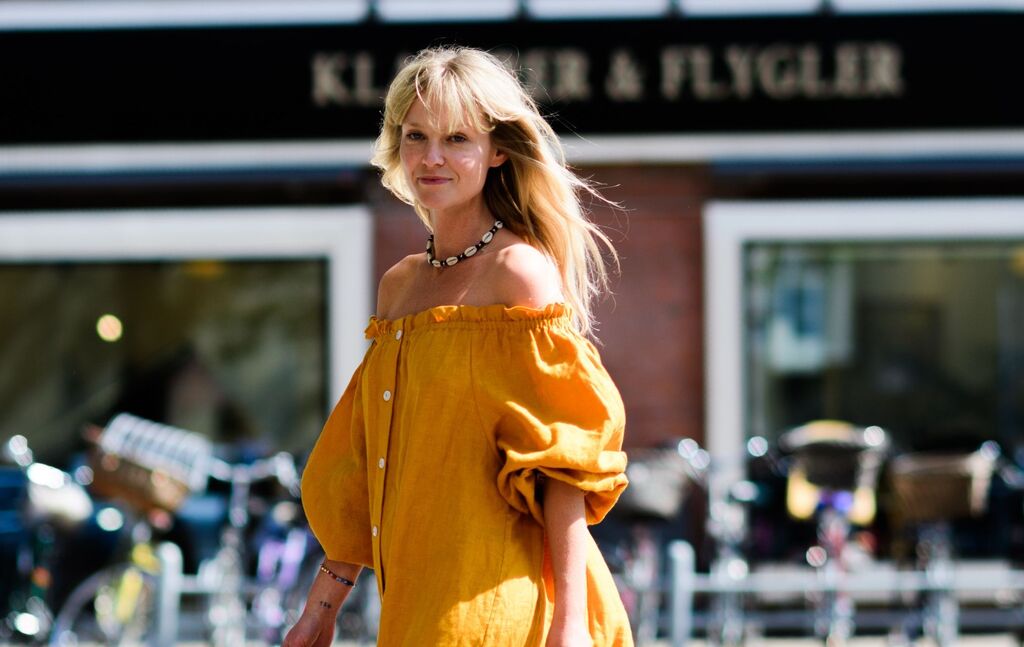 Honestly, the sales that this brand holds never cease to amaze. The discounts can cover anything from Sleeper's iconic Party pajamas with feathers to recent new additions. And don't let the name fool you. In this women's pajamas sale, you won't be presented only with suits or not-so-sleepwear sets. If you wanted to find a dress, just take a quick look at the options available there.
For example, a Belle linen dress in navy with its princess-like silhouette will become a perfect addition to your summer wardrobe. You will also see a pretty recent Marquise design with a corset-like detail, as well as a beloved Atlanta gown. There are also some other interesting gems in this sale, such as the Diana athpleasure sweatsuit with shorts, and the Weekend Chic set.
Besides, there are also a lot of shoe options here as well. The puff slippers, Lulu shearling slippers, Mille-feuille silk flats, Macaroni strappy sandals, Matilda clogs, and Manon mules – are all available in a wide range of colors. Here you will also see a lot of options for kids, some accessories (bags in particular), and many other designs that might be of interest to you. Such a women's pajamas sale can be a great opportunity to get to know the brand and maybe choose something that will become your new style.
The Appeal of Loungewear
When we talk about loungewear, we do not instantly imagine elegant looks. However, this is exactly how this niche of clothing looks now – sophisticated yet comfortable. That's one of the main reasons why anyone would choose a loungewear suit before jeans and a top combo, for example. Besides, these clothes are usually breezy, which makes them a perfect option for the summer season. In addition, loungewear can be easily incorporated into your daily wardrobe.
We are talking about mix-and-matching those pajama sets with whatever you already have: jeans, sweaters, hoodies, T-shirts, shirts, crop tops, shorts – practically anything can be paired up with loungewear pieces. This is one of the factors that also make Sleeper such an appealing brand. Their outfits have their unique style, nevertheless, they still can be combined with regular clothes.
This way people, when buying such outfits, automatically acquire not one look, but many different possibilities of creating new styles and fits. Therefore, it allows for self-expression through style in different settings at that. No matter where you go, to the office, on a picnic, or a fancy evening party – such elegant and comfortable clothes will make your whole look even better. 
Learn more:-