Do you like Gothic fashion or want to dress like a goth?
Goth is another trendy style that can be seen all over social media. From Instagram pages to Pinterest mood boards, this style is extremely popular among girls and women.       
It's true that the past year has been all about Cottagecore, which features puff sleeves, floral prints, and hair ribbons. However, this year people are leaning more towards the opposite style, goth, which is about dark, mysterious, and antiquated clothing style! 
Thanks to many celebrities and style icons like Olivia Rodrigo, Kourtney Kardashian, and Megan Fox, who are already loving this style. Many more celebrities have rocked the goth aesthetic from the red carpet to movie premieres and events. 
So if you're looking for ideas on how to dress perfectly goth outfit ideas, you've landed on the right page. Today in this blog, we'll show you some of the latest and unique ways to wear female goth outfits. We've included both casual goth outfit ideas and cute goth outfits female style, so whatever style suits you the best, you can pick the best one from the list.  
Remove Makeup Before Starting:
Goth or Gothcore is sometimes also called 'Goth Girlfriend.' This dark and mysterious wizard core aesthetic usually features goth outfit ideas for female version with dark colors, cross necklaces, pops of plaid, and metal-inspired accessories. 
These days, this kinda-spooky fashion trend is heavily influenced now by Japanese anime, street-style, Ticktock, witch core, and K-Pop. Nowadays, there are so many different forms of Gothic fashion, including modern Gothic style and Pastel goth outfits. 
Now let's move on to the goth outfit ideas for females.   
7 Ways to Wear Female Goth Outfits in 2022
So whether you want to create a Gothic look for a costume party or for your Instagram or Tiktok videos, below is a list of different Gothic outfit styles. You can also experiment with different styles, colors, and materials and create a personalised and unique goth look.  
Let's begin with the list of trendy and simple goth outfits. 
Look #1: Cybergoth Style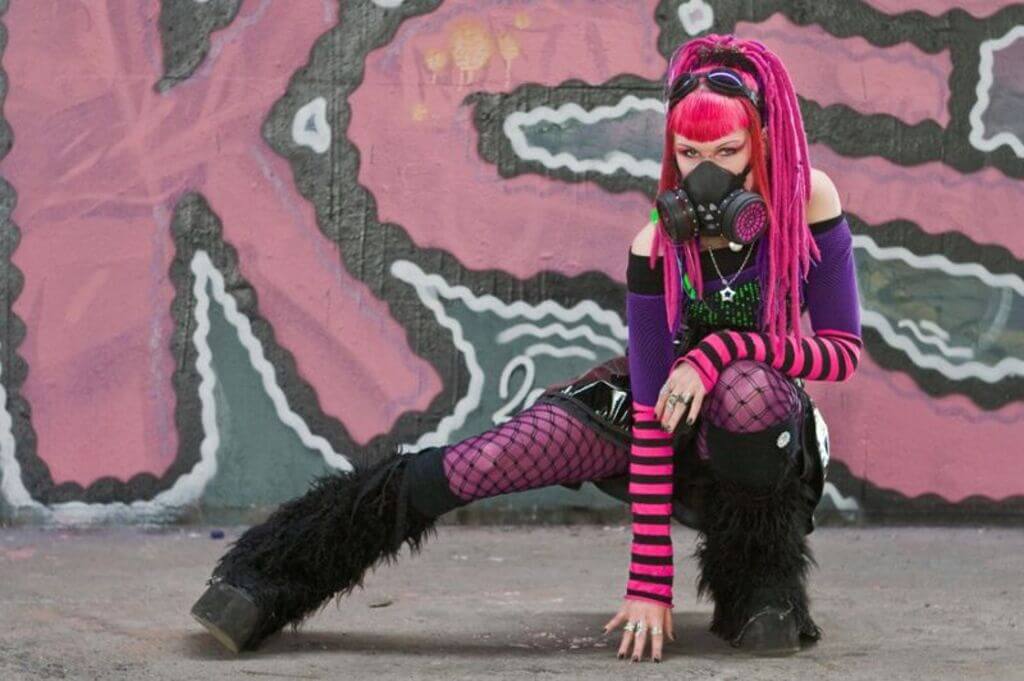 Source: pinimg.com
The first style is Cybergoth! This style has dark clothes, dark music, and futuristic steampunk dressing styles! If these are the things you like, this fashion is definitely for you.    
You can mix dark colors with bright colors, such as bright neon colors. Apart from this, there are also other non Gothic elements like electronic music. To get a complete cybergoth look, wear bright neon colors wigs/synthetic hair/bright hair extensions., fully gloved shirts, chain belts, and use colors like red and purple in your outfits. 
Look #2: The Lace Dress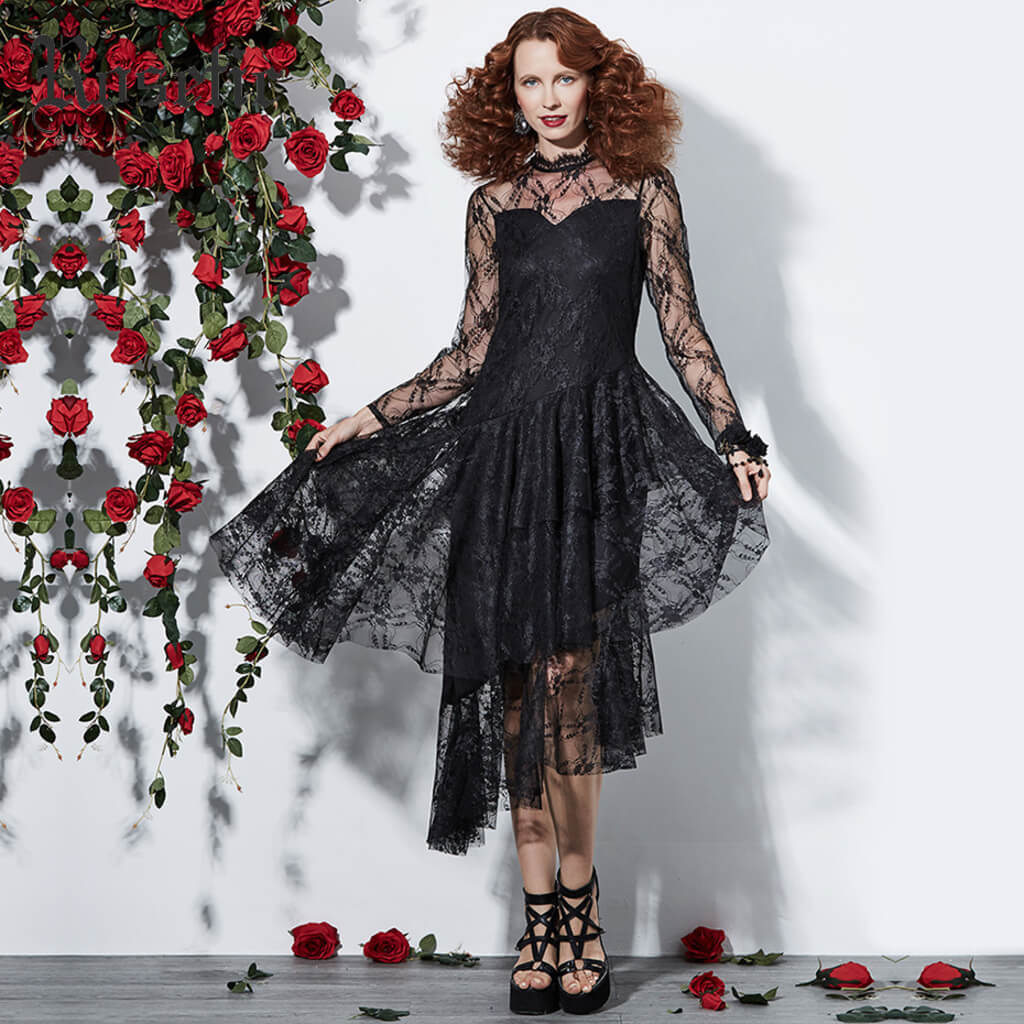 Source: tokyofashion.com
Lace is a wonderful material, and it can be used in so many different ways to create so many different styles and looks. So, if you're more into feminine looks, the lace dresses will be best for you!  
Buy a simple black lace dress and pair it up with a corset. Add some black or silver pearls and sheer lace gloves (leggings if you want) with Gothic make-up. Don't forget to style your hair in a gorgeous braid to get the complete Gothic look. This way, you can be able to create a Gothic look without looking too scary or like a death freak. 
Look #3: Aesthetic Gothic Style
Source: etsystatic.com
This is not an everyday goth look. So if you're going on an adventure or costume days and student's day out, you can carry this look. The aesthetic goth look has different things that you usually don't see in the lacy goth and cybergoth styles.
This style is LOUD, BOLD & BLACK!   
To achieve this look, all you need is black clothing and accessories. You can wear a dark shirt with black tights or fishnet leggings and buckled long boots, or pair your dark shirt with shorts or miniskirts and a hoodie. Leave your hair open and do smokey black eye make-up with red lips.  
Look #4: Pastel Gothic Style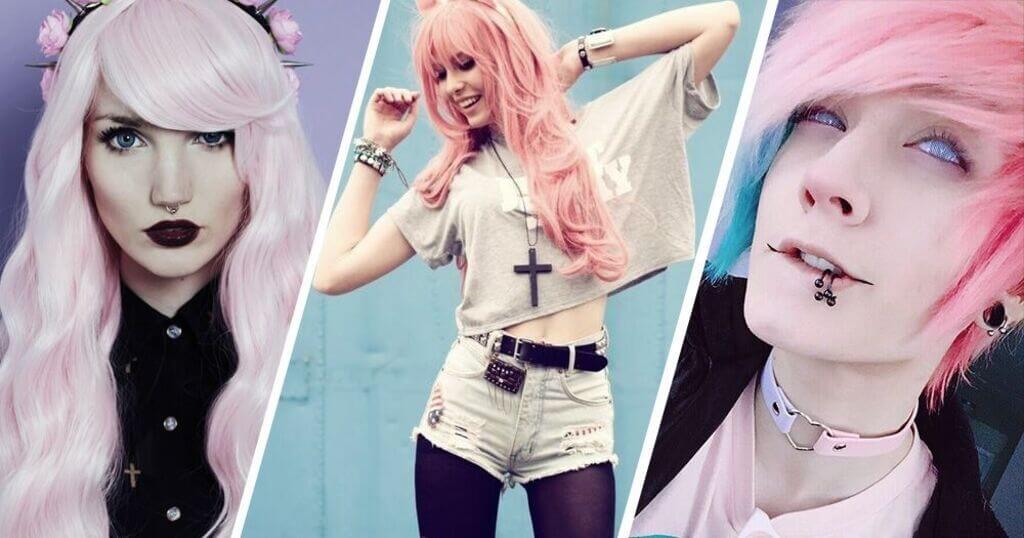 Source: who.com
Do you like Japanese Kawaii fashion? If yes, the pastel gothic style will be best for you! This is the cuter version of the gloomy and dark gothic fashion. This style includes pastel hues like dusty pink and dreamy purple. 
So if you're a girl who doesn't want to wear traditional dark female goth outfits, you can go with this style. Here for this look, start with a silver pleated skirt and pair it up with a black graphic top. Don't forget the heeled boots and top-notch make-up.    
 Look #5: Summer Goth Style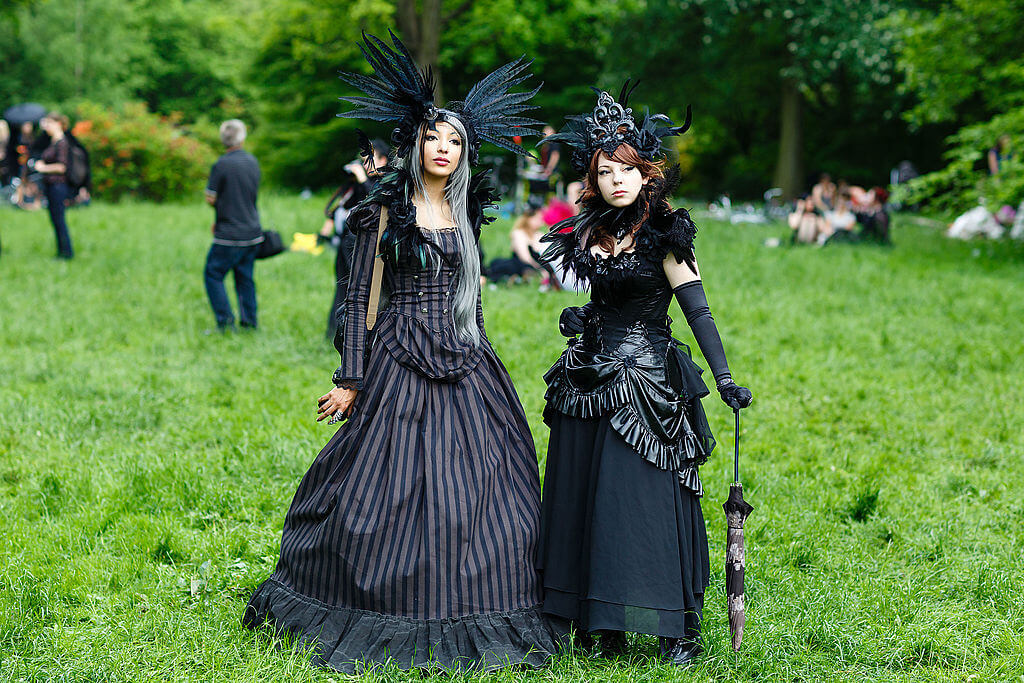 Source: pinimg.com
You're absolutely wrong if you think that the goth style is only for the fall and winter seasons! Goth outfits can also be worn in Hot summer seasons dress! Try mixing two colors with black, such as white or cream. 
Start with a cute white buttoned-down shirt and pair it up with a black lacy skirt or leather pants. Finally, finish the look with boots and choker necklaces. 
Look #6: Street Gothic Style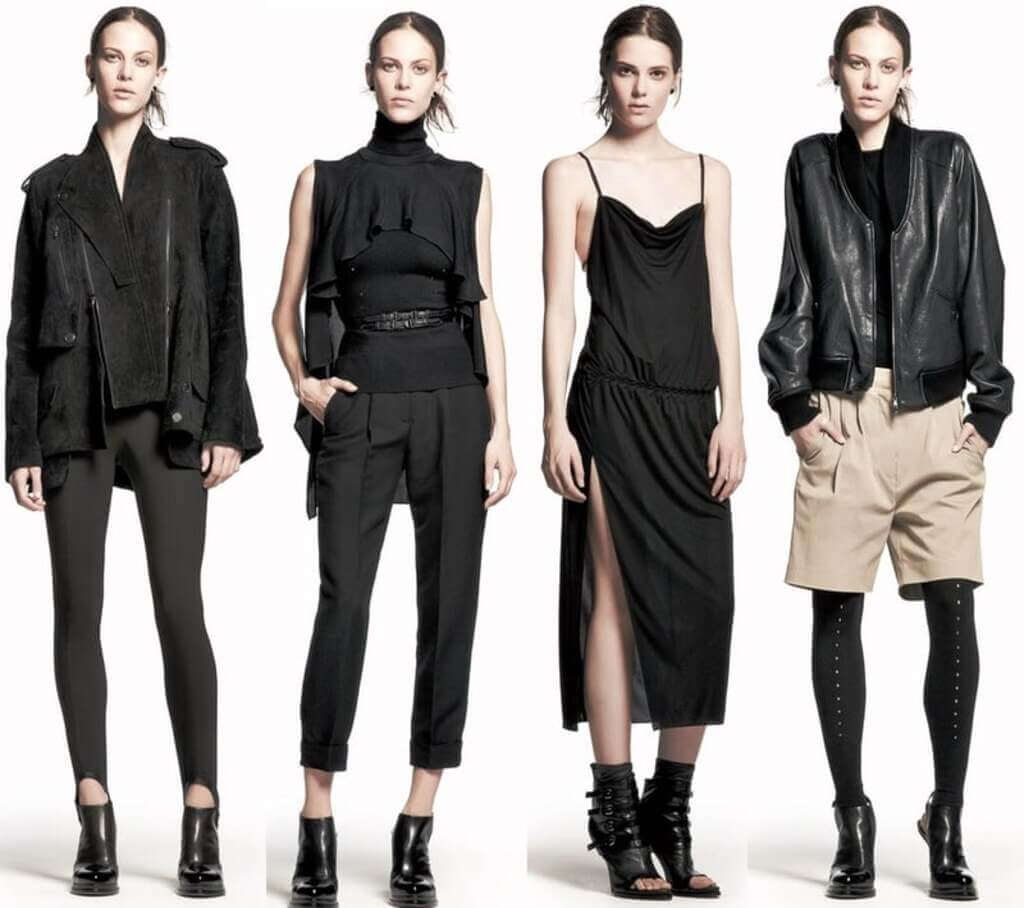 Source: cloudfront.net
If you love to dress goth daily and want to incorporate gothic features in your everyday female gothic outfits, the gothic street style is for you! To get in this gothic fashion, you can start with a black pair of leggings and jeans, a graphic tee, and black boots. For make-up and hair, go with a straight hairstyle, bold lips, and some jewellery pieces of your choice.  
Also Read: French Style for Women: Styling Tips, Essentials & Outfit Inspirations
Look#7: Halloween Gothic Style
Source: blogspot.com
Do you have plans to go to a Halloween party? 
This is probably the easiest event or day to pull off the gothic fashion. You can wear a lacy skirt, a plain black or maroon velvet top, or a big black coverall. Accessorize the look with chokers and bracelets, and add some heeled knee boots. Other than this, you can also try a tank top with black leather pants or shorts and fishnet leggings. 
The Bottom Line
So, this is all about female goth outfit ideas. Goth fashion is all about dark colors, spooky accessories, and stylish hairstyles. You can try the above gothic outfit ideas to create goth aesthetics.