This might not be the most pleasant topic to discuss, but we agree that there is no worse feeling than the sweaty, soggy, or swampy sense down there. Despite liking the summer days, enjoying playing in the park, and having a good workout, the wet feeling is something we all wouldn't want. But unfortunately, we cannot avoid it either. Luckily, there is a solution, ladies! Like moisture-wicking t-shirts, there is moisture wicking underwear. 
It is nothing sort of a miracle where irrespective of the swampy, sweaty days, it prevents the wet feeling while providing a fresh and clean effect.  So, the next time you know there is heat, remember to wear a pair of moisture-wicking panties before putting on your favorite summer dress or workout gear, and you will feel the difference. 
This article will make a choice easier for the ladies with our ten best picks. However, before we get into the top picks, we will discuss it further and how it benefits women. 
What Is Moisture Wicking Underwear?
We know that cotton helps absorb sweat, so how is this different from a cotton panty? Well, this type of underwear is made of a unique fabric that draws it out instead of just absorbing the moisture. 
These moisture-wicking fabrics are often available in a synthetic blend, bamboo, or wool. Organic options like wool and bamboo are more expensive and long-lasting than synthetic blends. Most of the time, the materials used in making the underwear offer a soft feel making it comfortable to wear. Also, the designs are often seamless, ensuring there aren't any visible panty lines (VPL) when worn. 
The high-tech materials used for making the sweat-wicking fabrics ensure they are breathable and have antibacterial, odor-eliminator, and also have temperature regulating technology. Overall, the products are safe and hygienic. 
How Beneficial Are Sweat Wicking Underwear?
Are you wondering why you should opt for moisture wicking underwear for women? The answer is yes because it offers quite a few benefits. Often wrong underwear that fails to absorb the sweat and the wetness becomes an ideal breeding ground for fungus and bacteria. When the moisture gets trapped against the skin, the bacteria multiply. Mainly tight underwear or non-wicking plants doesn't allow the skin to breathe, leading to irritation and spreading bacteria. 
Women's moisture-wicking underwear is often helpful when ladies are unable to change their sweaty bottoms or take a shower. Often the mixture of warmth and moisture causes yeast infection in the area, which, left untreated, can develop into urinary tract infection (UTI). 
One of the best ways to avoid the soggy and itchy bottoms while thwarting the growth of bacteria is by opting for sweat-wicking underwear. 
How To Select The Right Moisture Wicking Panties?
Want to know how to select the right women's sweat-wicking underwear? The answer, unfortunately, is not that simple since there are so many options in the market. However, we are giving you five essential tips on how to select moisture wicking underwear with ideal properties.  
Tip 1: Materials Used: Read the product tag to know the materials used in making the item. Most sweat wicking underwear uses cotton inner linings and is made with sustainable materials that are sturdy yet soft to feel. Unless the brand specifies the materials in detail, stay away from it.  
Tip 2: Breathability of the material: One of the main reasons people prefer undergarments made with moisture-wicking fibers is because they not only drain the sweat but ought to be breathable. The breathable quality allows it to be lightweight and prevents the wearer from getting that sticky and icky feeling. 
Tip 3: Skin test:  While most of these products are made for materials that should not cause skin allergies or rashes, some of us have sensitive skin. If you have sensitive skin, it is always better to check the materials used in making the products. Many products are hypoallergenic and will suit your skin. 
Tip 4: Period-friendly: None of us wants to have that period leakage. Despite wearing a pad or a tampon, leakage always finds its way. So when you are purchasing a moisture-wicking panty, check its leakage resistance capacity, mainly the seams and the lining where the pad will stick properly. 
Tip 5: Odor resistance: It is natural to have body odor, but underwear helps prevent it. Read the label of the garment to check it is made with technology that will contain the smell. Also, check its washability and the reusable date. 
10 Moisture Wicking Underwear To Avoid Unwanted Scenes
Forget about twisting and dancing in weird ways to control your itch down there because of the sweat and the rashes. Without further delay, let's get into the ten lists of sweat-wicking underwear for women. But remember, if you are already suffering from yeast or UTI infection, go to a doctor because wearing wicking underwear will not cure it. However, wearing moisture wicking panties can prevent yeast infection too.
1. Froot of the Loom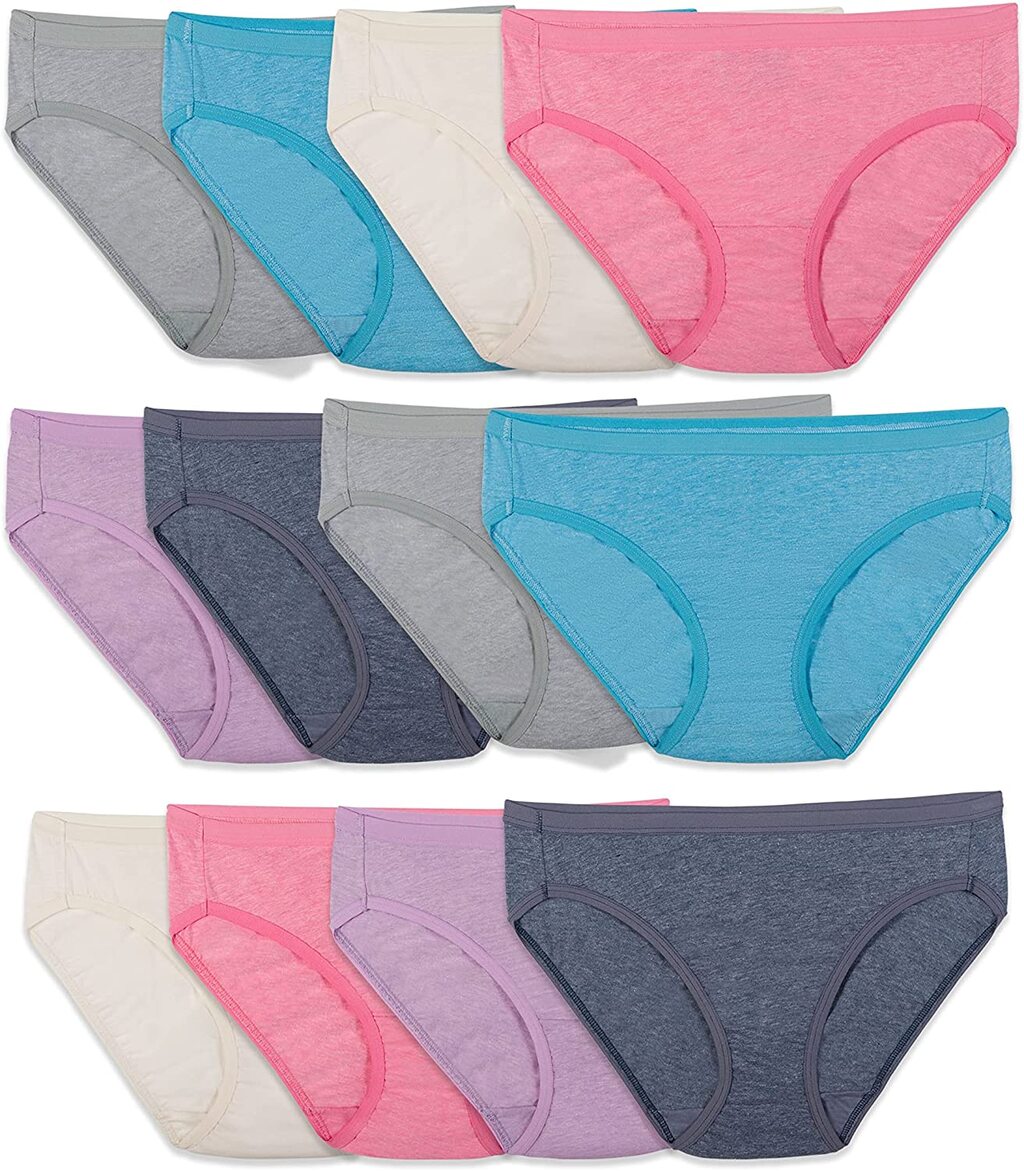 Source: amazon.com
The fruit of the Loom Beyondsoft underwear is one of the most affordable yet good quality wicking underwear on the market. They are available in two different styles, i.e., hipsters and brief. Also, you can purchase them in a pack of 12 in nine different colors and sizes from 5 to 13. The panties are made of polyester and breathable cotton blend with cotton liner.  
2. Seamless Moisture Wicking Underwear By Balanced Tech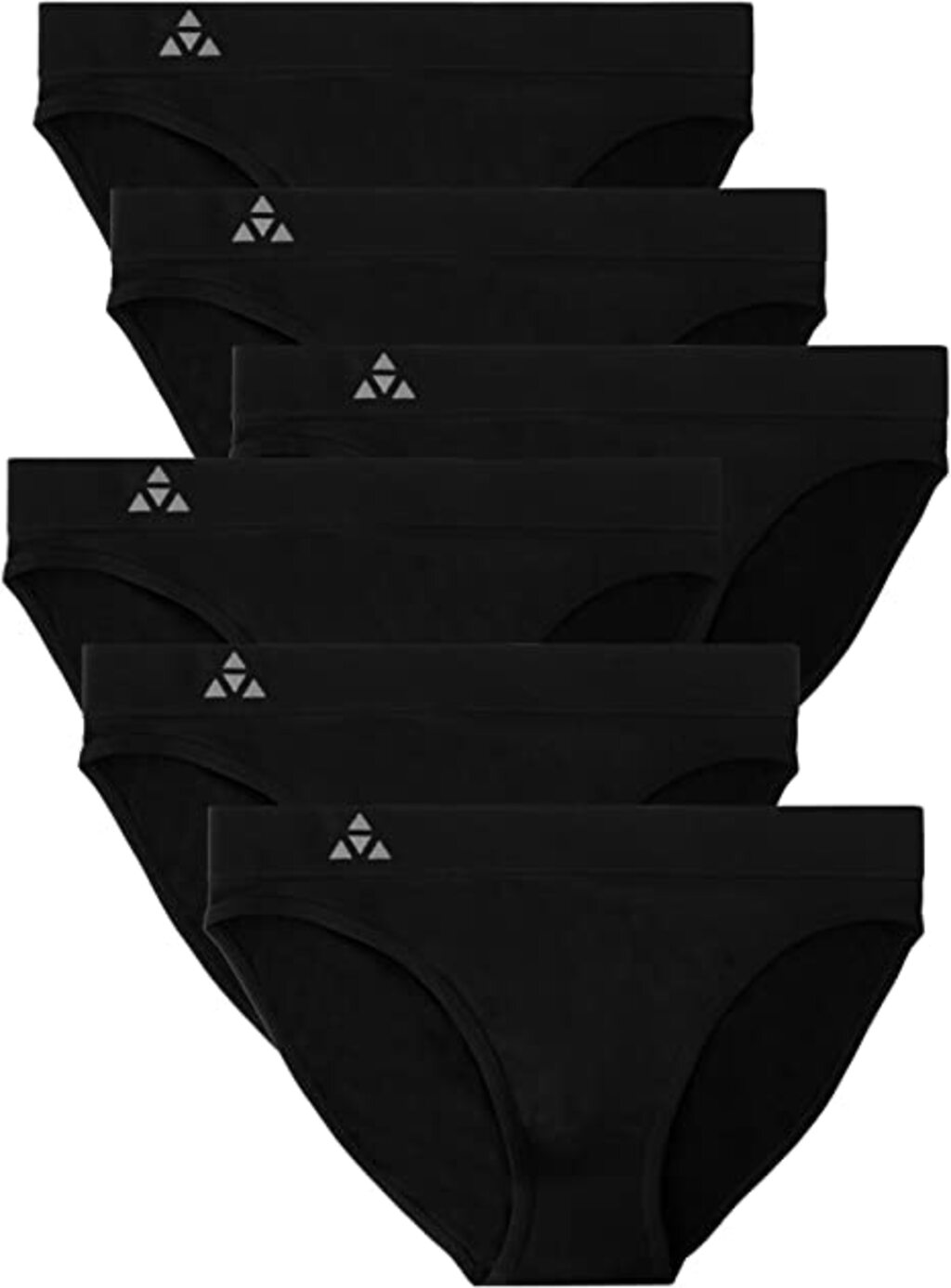 Source: amazon.com
If you are into working out and prone to yeast infection, the Balanced Tech Seamless Low Rise Bikini panties should be your choice of wicking underwear. Made with quick dry technology and has excellent moisture wicking capacity. It is available in fifteen bright and neutral shades, which are available in a pack of six. Also, the seamless design ensured there was no VPL. 
3. Sweat Wicking Underwear By Amazon Essentials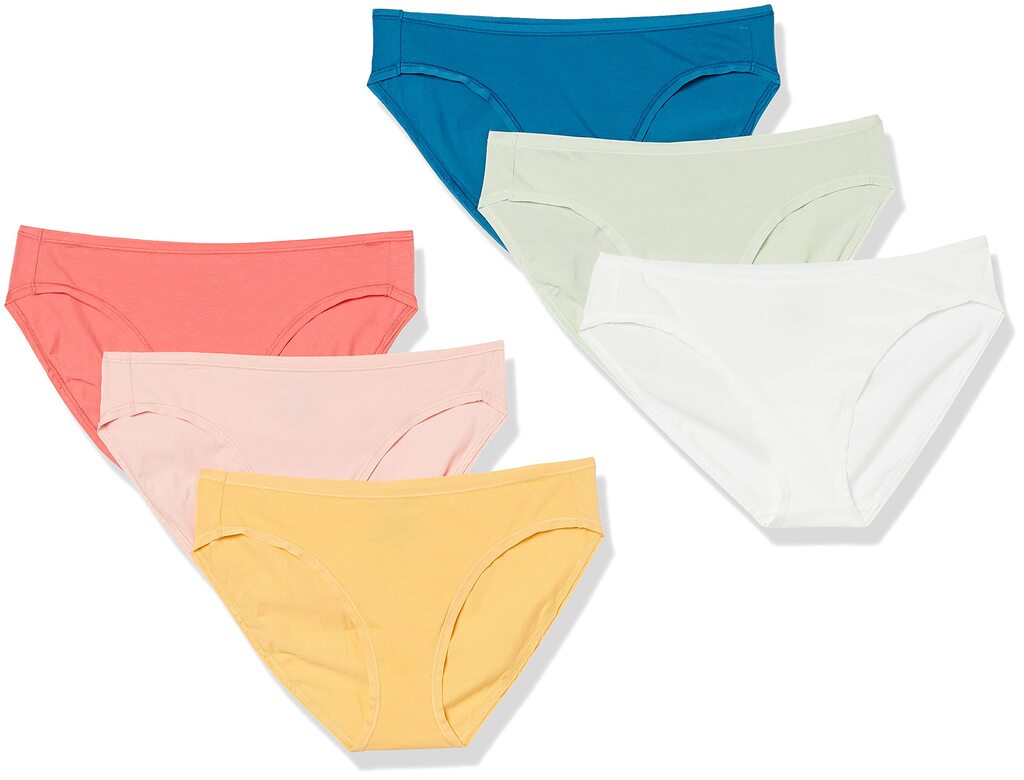 Source: amazon.com
Amazon Essential cotton bikinis are worth the money for their comfort, style, and wicking ability. The items are made of 5% spandex and 95% cotton. They are lightweight panties in a pack of six in neutral and bright colors. You can also get all-black moisture-wicking panties. 
4. Full Coverage Hanes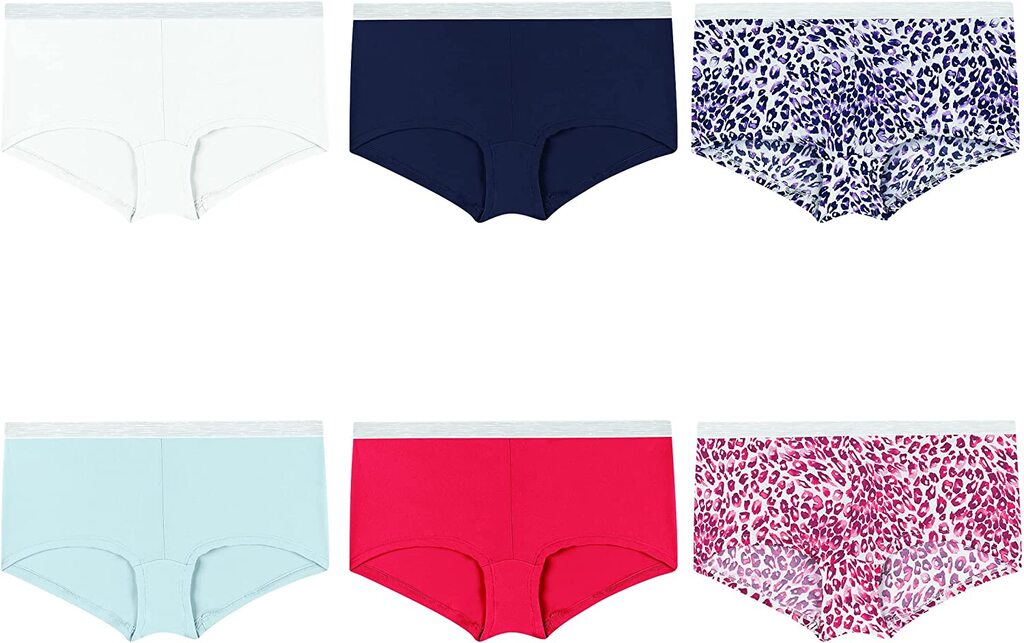 Source: ubuy.ug
Hanes is offering 100% cotton liner microfiber moisture-wicking panties for women. It is known for its silky smooth touch and a seamless finish that ensures no skin burns, irritation, or allergies. It is available in a pack of six or ten and is known for giving complete coverage. You can pick your style from hipsters, boy-shorts to briefs in various colors.
Also Read: 25 Most Revealing Swimsuits of All Time That Looks Sexier 
5. Bamboo-Viscose Moisture Wicking Underwear Women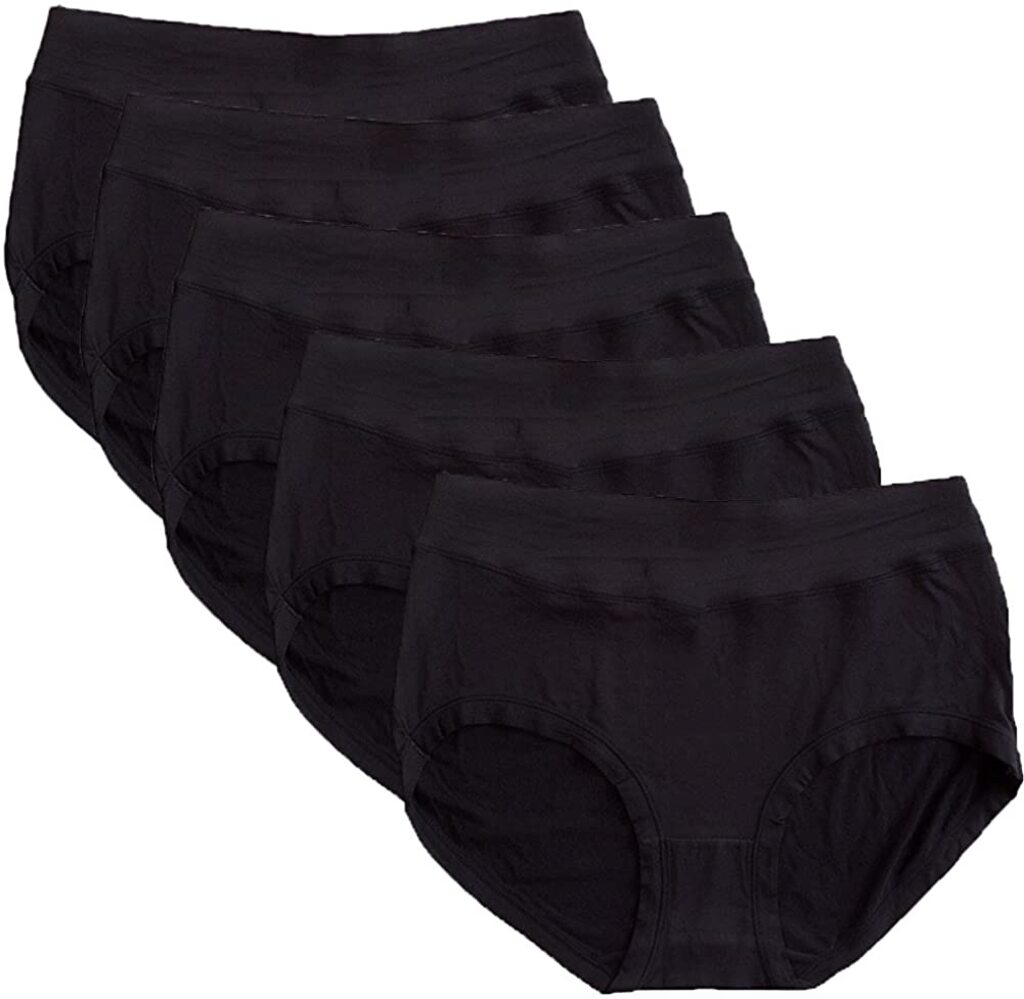 Source: amazon.com
Looking for a mid-raise panty that offers more than moisture absorbing capacity? Well, here is Warm Sun Women's moisture-wicking briefs made of natural fiber like bamboo, which is a perfect alternative to cotton. It allows your body to breathe and hinders bacteria growth, keeping your area dry and clean. The item is available in sizes 4 to 10 and in different solid colors. 
6. Moisture Wicking Panties for Sensitive Skin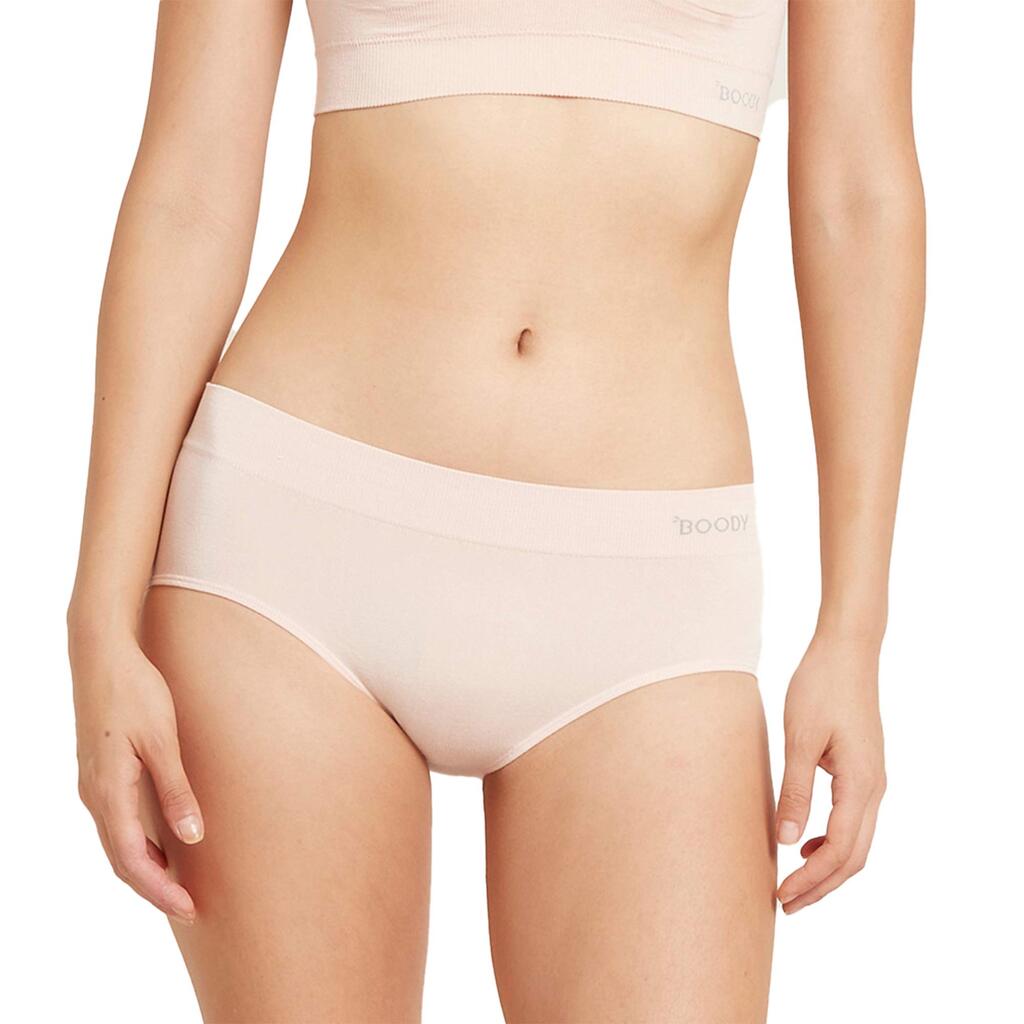 Source: amazon.com
We know finding eco-friendly underwear that can last multiple washes and has been sourced from ethically and organically grown materials is a long order. But here is Boody Body EcoWEar Women's Midi brief. It is made from bamboo mixed with spandex, nylon, and viscose, giving it immense stretchability and firm shape while having a soft feel. 
7. Bacteria Resistant Womens Sweat Wicking Underwear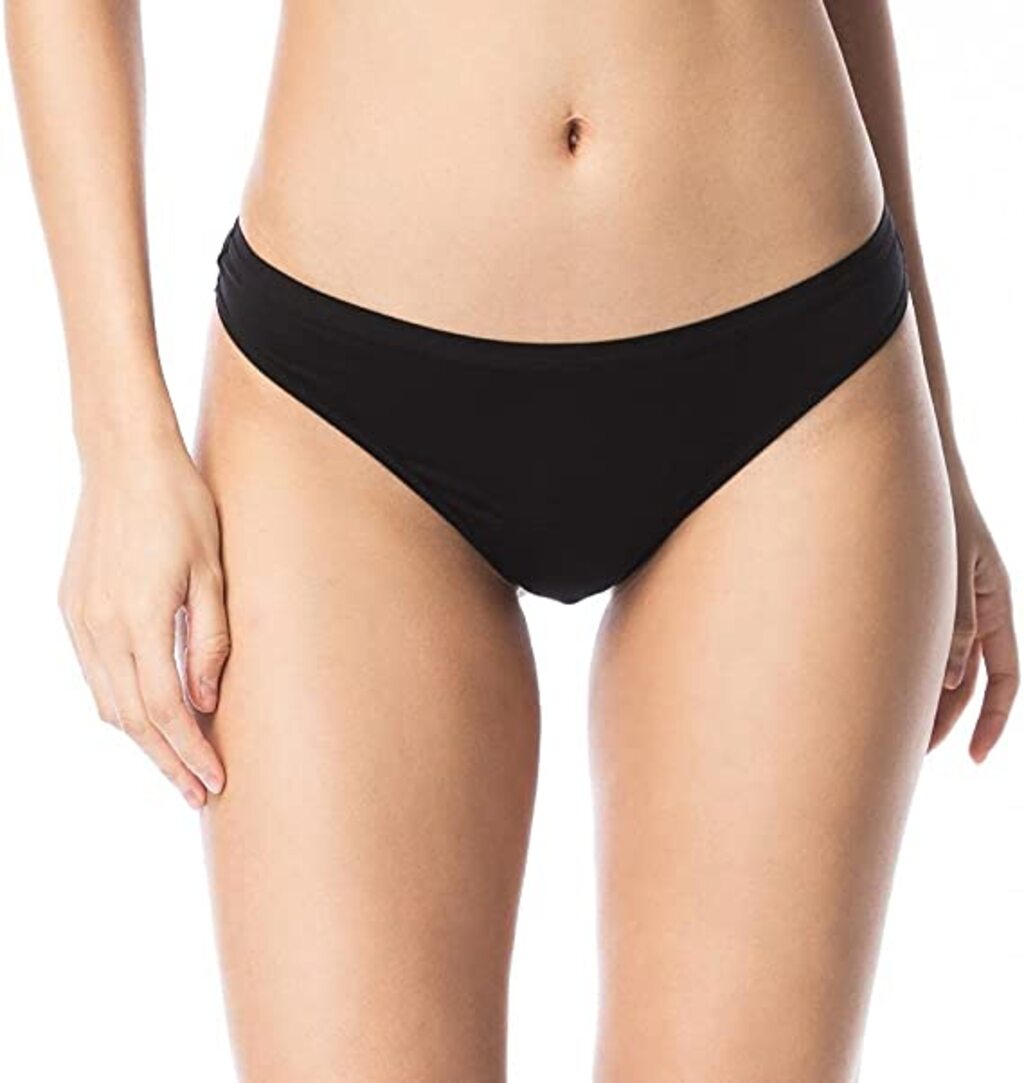 Source: amazon.com
Shero womens sweat wicking underwear is leak-proof and moisture-wicking panties. It is not only super absorbent but also offers odor control and bacteria resistance. The bamboo and charcoal-infused fiber leave the skin dry and soft while allowing the skin to breathe. The bikini-style panties are available in quite an array of sizes also different solid colors. 
8. Moisture Wicking Underwear For Cycling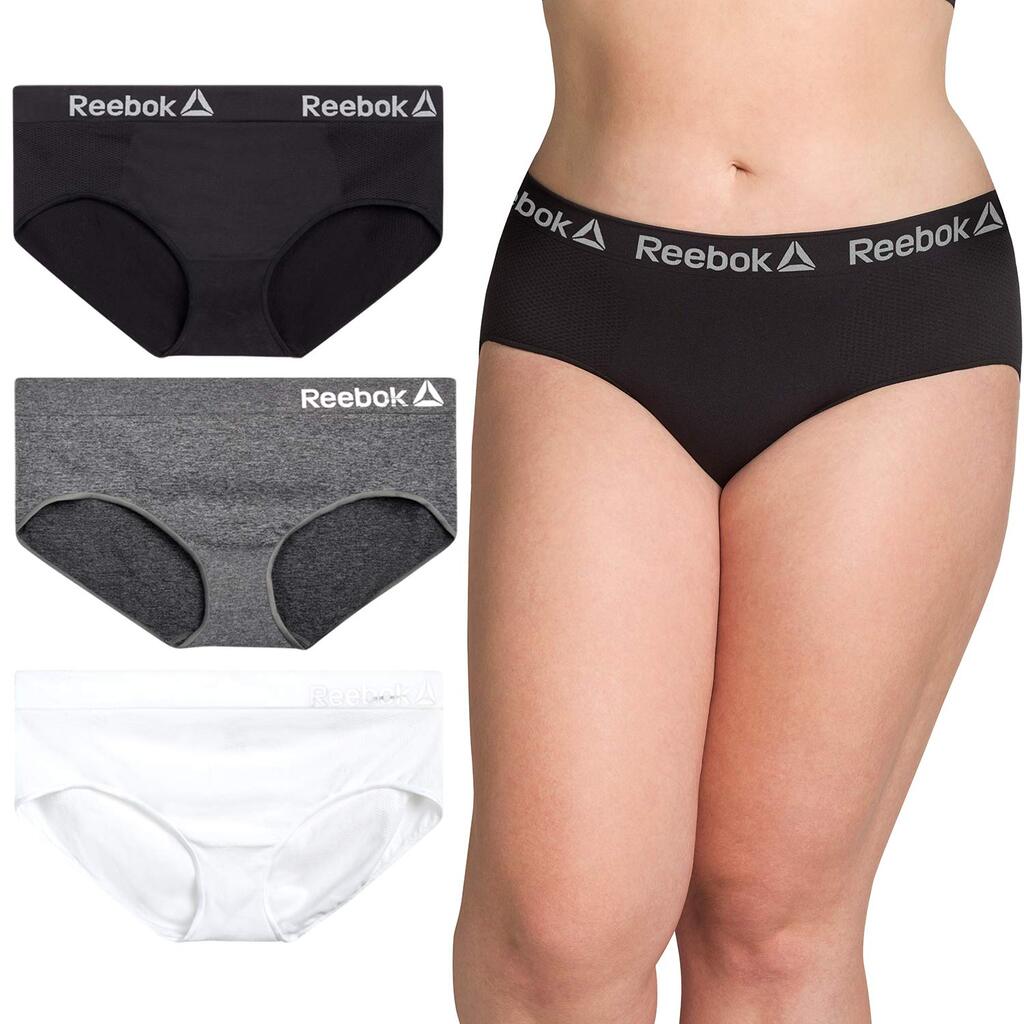 Source: amazon.com
Are you into cycling or heavy workout and hate the feeling of a wedgie? Set aside your worries and get a Reebok Women's Plus Sized Underwear pair. The hipster-designed seamless moisture-wicking panties are made from spandex and nylon, offering full coverage and a wide array of sizes. The underwear is comfortable to wear and breathable, offering a dry and clean feeling. 
9. Anti-Itch Sweat Proof Panties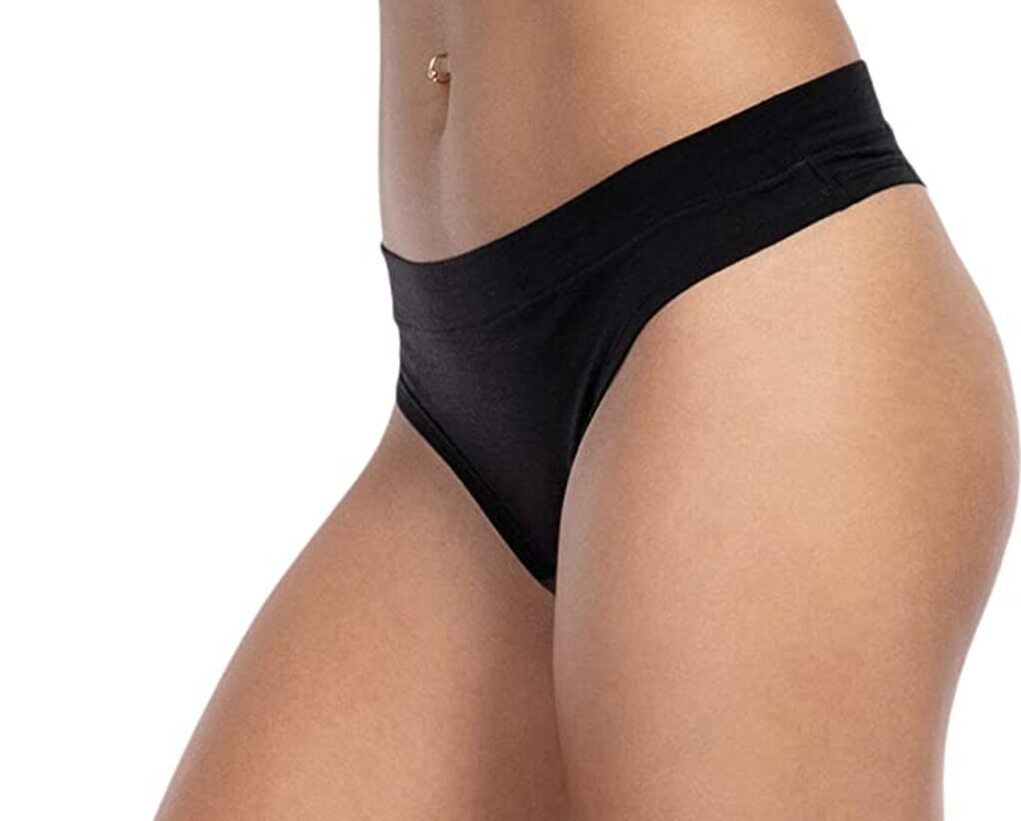 Source: amazon.com
At times finding sexy underwear that offers comfort and high absorption quality is quite a rare thing. But how about you get these while having a pair of flattering thongs too? If you don't believe us buy a Merino Wool Ultralight Thong Briefs. They are not only great to look at, but it also offers a parallel feeling of softness against the skin, with high moisture wicking capacity. It is also hypoallergenic; hence when you wear it, there is no itch. 
10. Long-Leg Moisture Wicking BoyShorts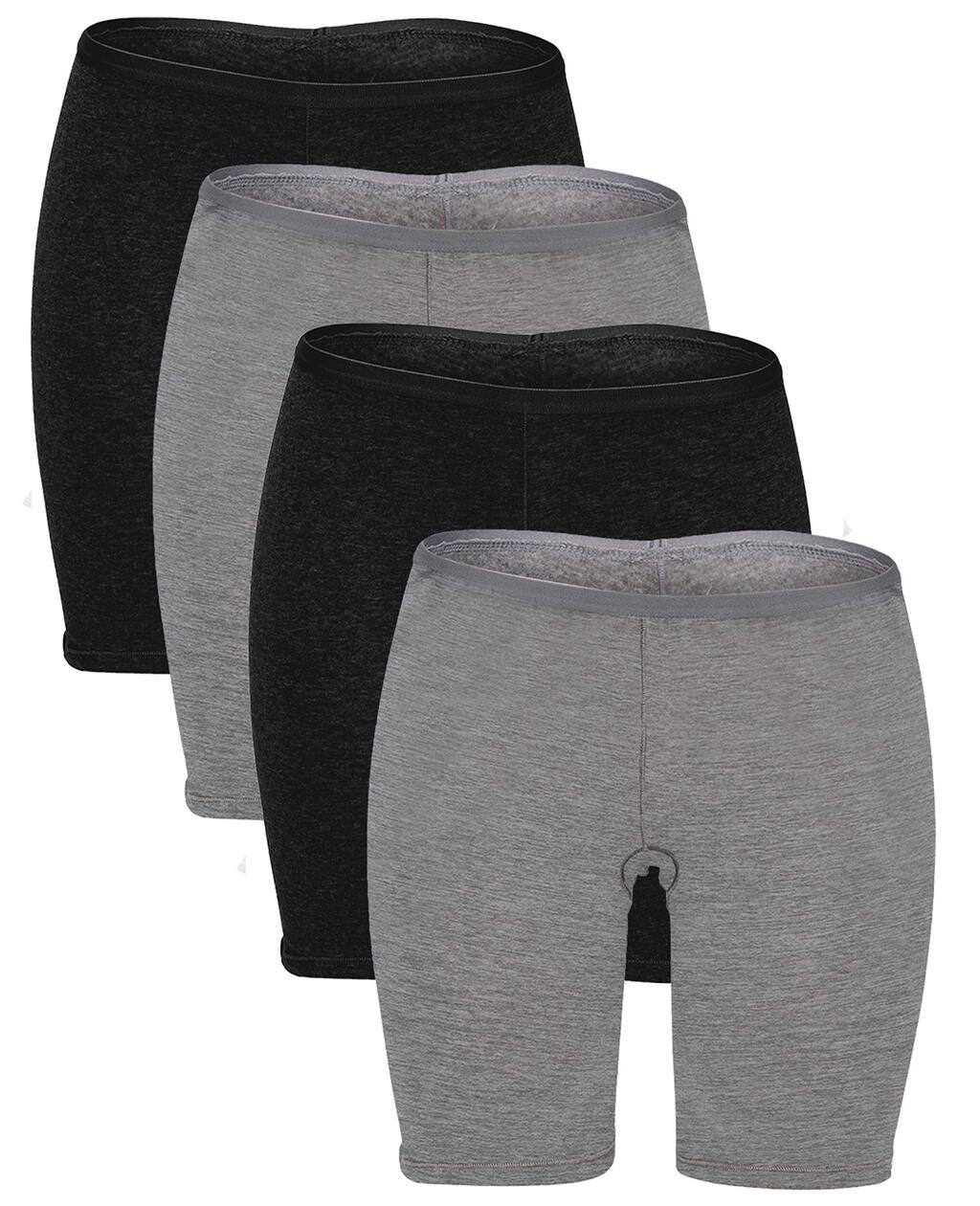 Source: amazon.com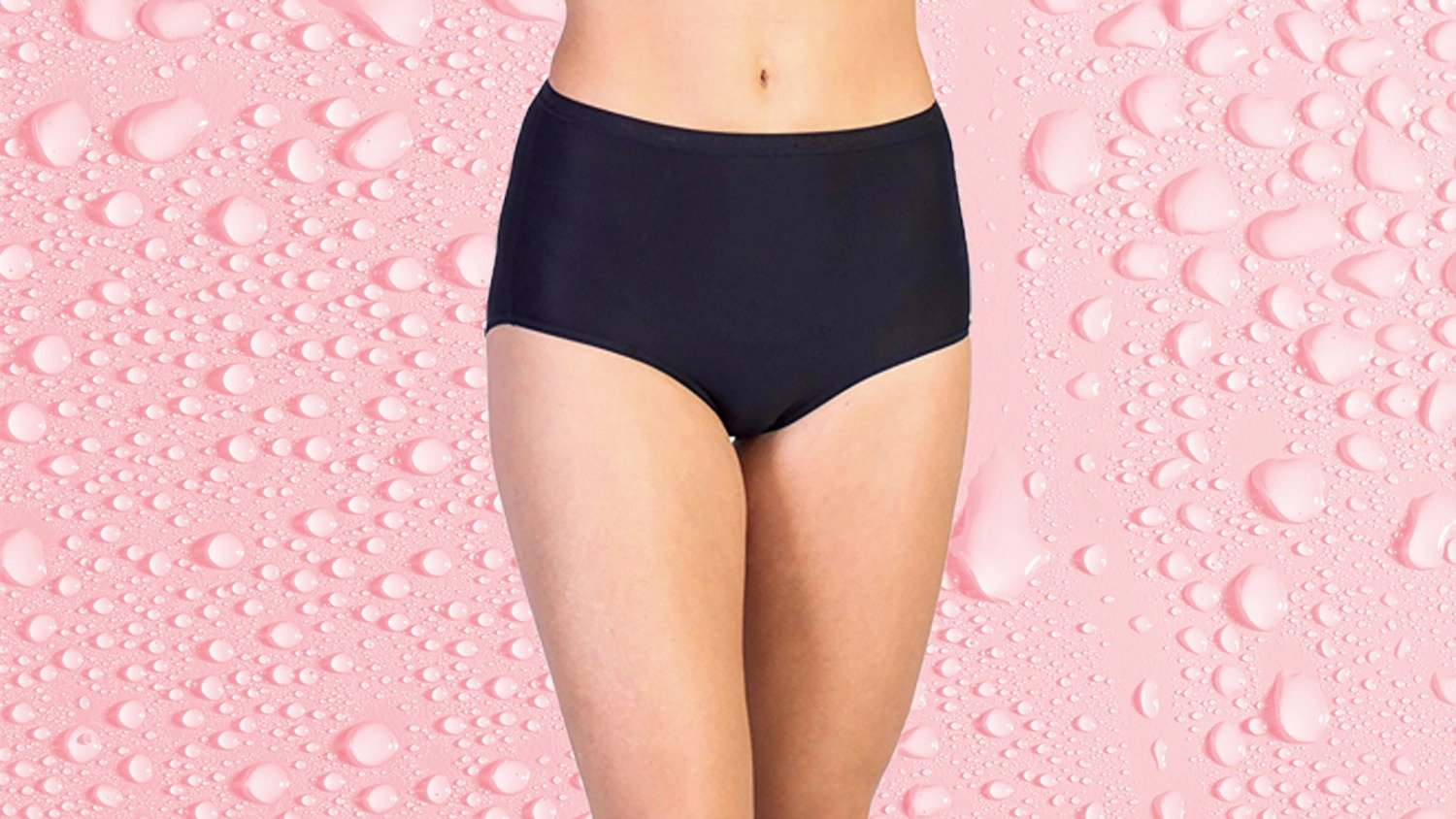 Source: firstforwomen.com
Comfort, functionality, durability, and support are a few primary items on the list when we look for shorts that can take the toll of extreme workouts. Here are B2BODY long-leg boyshorts made with knitted Askin fabric that warrant all these moisture-wicking properties. It also has a 100% cotton line, perfect for sensitive skin. The shorts have good stretch and hence can fit all body shapes. No longer will you have groin and thigh chafing or burns.
Final Words on Moisture Wicking Underwear
When you have to choose, remember to follow the tips above. Underwear made of moisture-wicking fiber can offer a lot of health benefits. It can give you the much-needed comfort and avoid any embarrassing situation in public. However, it is always better to opt for items made from a well-fitting natural fiber. 
Apart from these, you can always pick the panties from our list of moisture wicking underwear women. For more articles on fashion statements, wardrobe filling, or beauty trends, stay tuned to Fashionterest.